Creality CR-10 Plus 3D Printer
There are many great things to note about this 3D printer. And, some limitations and challenges that have been outlined by the users.
PROS
Large build space
Reliability
High Accuracy
Sturdy Aluminium frame
Great Print quality
CONS
It requires huge space for accommodation
Drooping because of Capricorn Bowden Extruder
Product
Specification
Videos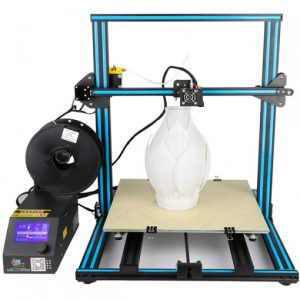 Creality CR-10 Plus
is the latest among the series of different iterations designed to date by the manufacturer. The 3D printer boasts about huge ...
| | |
| --- | --- |
| Model | CR-10 Plus (Kit) |
| Manufacturer | Creality |
| Price Range | $ 969 |
| Release date | 2017 |
| Country | China |
| Availability | Available |
| Classification | DIY/Kit |
| Technology | Extrusion (FFF- FDM…) |
| Material | ABS, Other plastics, PLA |
| Filament diameter | 1.75 mm 0.07 in |
| OS compatibility | Linux, Mac OS, Microsoft Windows |
| Generic material | Yes |
| XY accuracy | 0.1 mm 0.004 in |
| Max. build size | 500 × 500 × 500 mm 19.69 × 19.69 × 19.69 in |
| Max. build volume | 125.00 L |
| Max. print speed | 200 mm 7.87 in /s |
| Min. layer thickness | 0.05 mm 0.002 in |
| Dimensions | 878 × 340 × 759 mm 34.57 × 13.39 × 29.88 in |
| Weight | 14 kg 30.86 lb |
| Nozzle diameter(s) | 0.4 mm 0.02 in |
| Heated print bed | Yes |
| Heated build chamber | No |
| Automatic calibration | No |
| Closed frame | No |
| Dual extruder | No |
| Independent Dual Extruder | No |
| Full color | No |
| LCD screen | Yes |
| Touchscreen | No |
| On-board camera | No |
| Mobile app | No |
| 3D scanners | No |
| CNC mill | No |
| Electronics 3D printing | No |
| Laser engraving | No |
| Conveyor belt | No |
| Air filter | No |
| Pellet extruder | No |
| USB | Yes |
| Wifi | No |
| Bluetooth | No |
| SD card | Yes |
| Ethernet | No |

Table of Contents
This is not the first from the series of amazing 3D printers produced by the company. Creality CR-10 Plus is the latest among the series of different iterations designed to date.
The printer boasts huge volume and various other add on features to bring it up to the range of $1,000.
Among the many great things that the 3D printer exhibits, there are certain challenges as well. Knowing the 3D printer from inside out can help decide users when planning to buy Creality CR-10 Plus.
Let us review the 3D printer and understand what it is worth.
Creality CR-10 Plus Features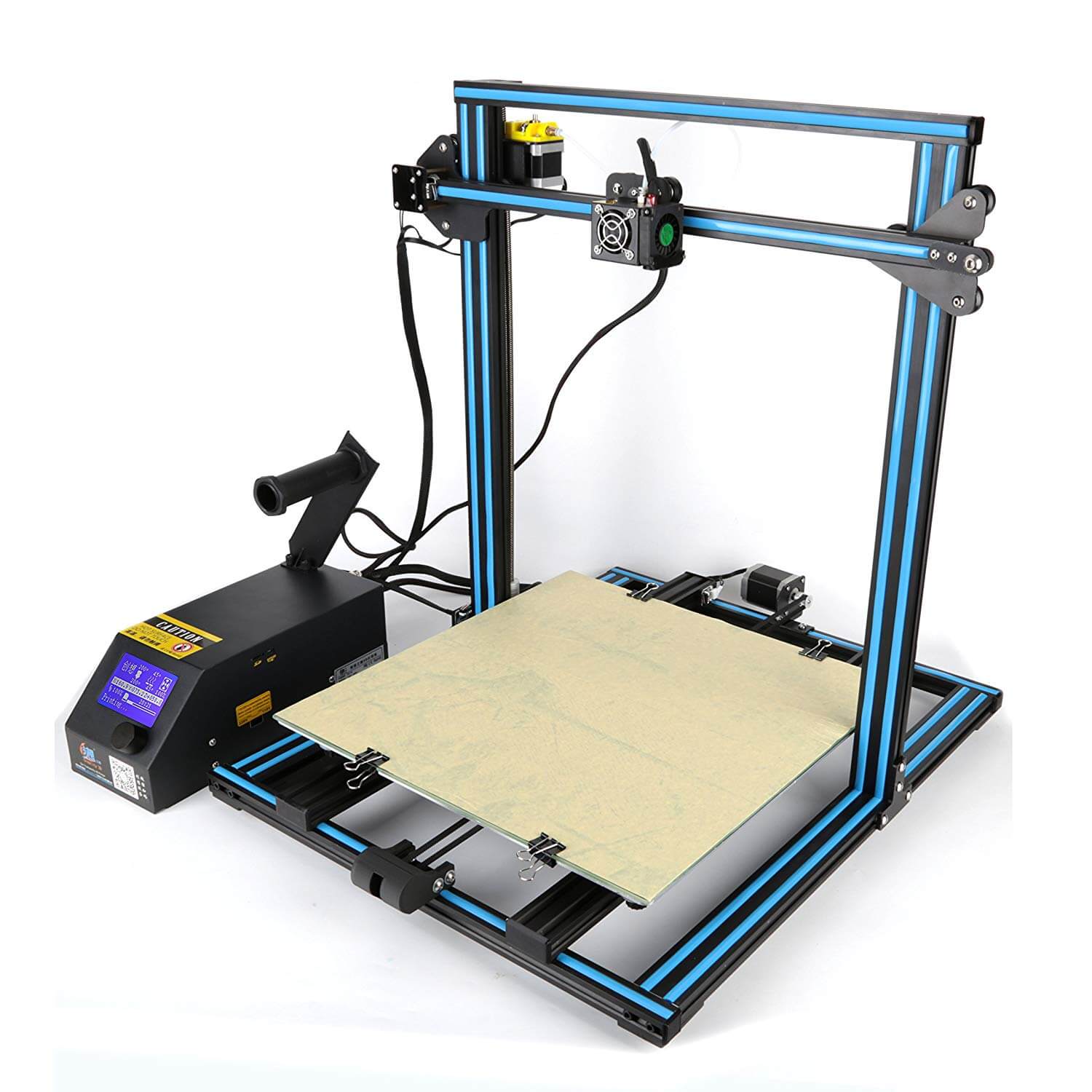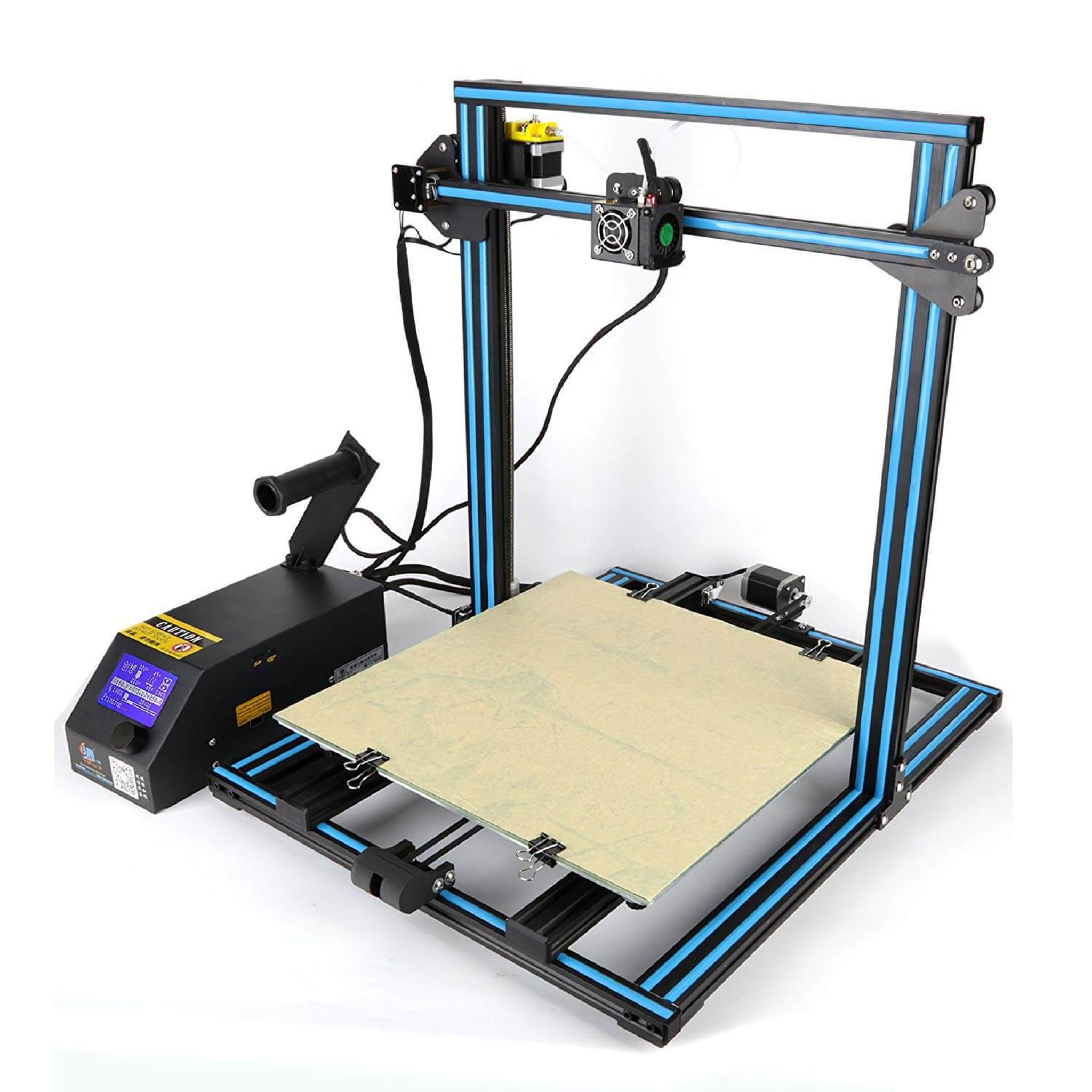 The design surely feels similar to the old versions, but the 3D printer showcases many new features that set it apart from its predecessors.
The 3D printer has been able to impress a lot of audiences with its unmatched performance and reliability that is backed by amazing features.
✔ Golden Triangle Design:
The design of the Z-axis brace that connects to the top of the frame till the base looks like a Golden Triangle, and hence, the name.
The design is included in the printer for helping users achieve a smooth finish. The good news is that the change does have brought great differences in the surface finish of the printed models.
✔ Auto Bed Leveling:
The auto-leveling feature is also included thoughtfully. CR-10 Plus boasts an inductive probe present on the nozzle head.
Using a matrix leveling routine, the measurements are taken for various points across the bed.
This ends up in zonal compensation. Ultimately leveling the first layer. However, if you are a fan of manual leveling, the option is also included in the machine. There are bed-leveling knobs for making the bed leveling possibly manually.
✔ Assorted Nozzle Diameters:
Using this 3D printer, users can print with two different nozzle types. Users can choose between 0.4mm and 0.8mm nozzle.
The larger sized nozzle helps in increasing the speed of the prints. Especially when printing a huge model, the 0.8mm nozzle creates a huge difference.
✔ Introduction of Double Belts:
The Creality CR-10 Plus strengthens the design by using double belts for pulling the bed.
This is included for ensuring strong support for models printed inside a 450 x 450 mm print bed. Doesn't that call for a sturdy assembly for holding all the weight?
✔ Dual Rod-Driven Z-Axis:
The 3D printer drives the X-carriage through both ends of the Z-axis. It is being claimed by the manufacturer of the printer that this helps in providing more stable prints, hence greater accuracy.
✔ Heated Bed:
Again, this is not the same one that you would find in most of the 3D printers. Creality CR-10 Plus adds an interesting new inclusion that features a split-flow power supply to heat its large print bed.
The company claims that the design used for pushing the power of 24V directly to the bed independent of the motherboard is helpful in reducing electromagnetic interference. This further helps in heating the print bed faster.
✔ Capricorn Bowden Tube:
Why a Capricorn Bowden tube? The reason that it provides very high lubricity as well as temperature resistance to the extrusion setup, it is very beneficial.
Although this could be counted as one of the most premium features, it does have its own problems. Limping of Bowden tube that requires a huge distance to span is one such challenge.
This can result in occasional knocking down of prints while being designed by the printer, causing a lot of issues.
✔ Power Recovery Mode:
Boasting a large print bed isn't easy to handle. The long-run prints become more susceptible to witnessing power failures. However, this machine has taken that into consideration.
If the power outage occurs, the printer will save the print status and would start from where it was halted using the power recovery mode.
Hence, you can take advantage of printing bigger models without fearing about electricity backup.
✔ Filament Out Detection:
Not just the power recovery mode, but Creality CR-10 Plus focuses on filament outage detection.
Not just that, mechanical filament out switch helps in eliminating the layer shifting that occurs whenever a filament is swapped out. All this brings huge reliability for the prints created by this 3D printer.
✔ Colorful Touch Screen Interface:
This is not new with the CR series. Like other variants, CR-10 Plus also makes use of color touchscreen user interface.
However, there are few changes made to the LCD screen which according to most of the users, isn't helping much and is confusing a lot of times.
According to feedback from users, the CR-10 Plus's display only shows 3 out of 5 preview screens while navigating through the SD card's directory.
There are other problems reported too. However, this isn't a very big problem that does not have an alternative. But the manufacturer could have definitely done something better in this case.
✔ Build Plate with Great Adhesion:
The build plate is very impressive when it comes to adhesion of the first layer. Many would take that as a disadvantage as popping off prints after it's done becomes a bit tricky with this kind of adhesion.
However, it is welcomed by those who understand what it worth. As long as one is carefree about the model falling off in between, a bit extra work while taking the completed model off the print bed is completely justified. Ask those who are experienced and you will know for yourself.
✔ Connected Control Board:
The difference from its predecessor becomes obvious when looking at the integrated control board in CR-10 Plus. Instead of placing it next to the 3D printer, where the filament spool perches, it stays at the base.
This design is very well planned for increasing the stability of the machine by adding more weight at the bottom and at the same time, keeping the space required for the printer as minimum as possible.
These features add a lot of great benefits to the users operating on CR-10 Plus. The machine packed with useful functionalities is what one needs to accomplish 3D printing with huge success.
Specifications of the Creality CR-10 Plus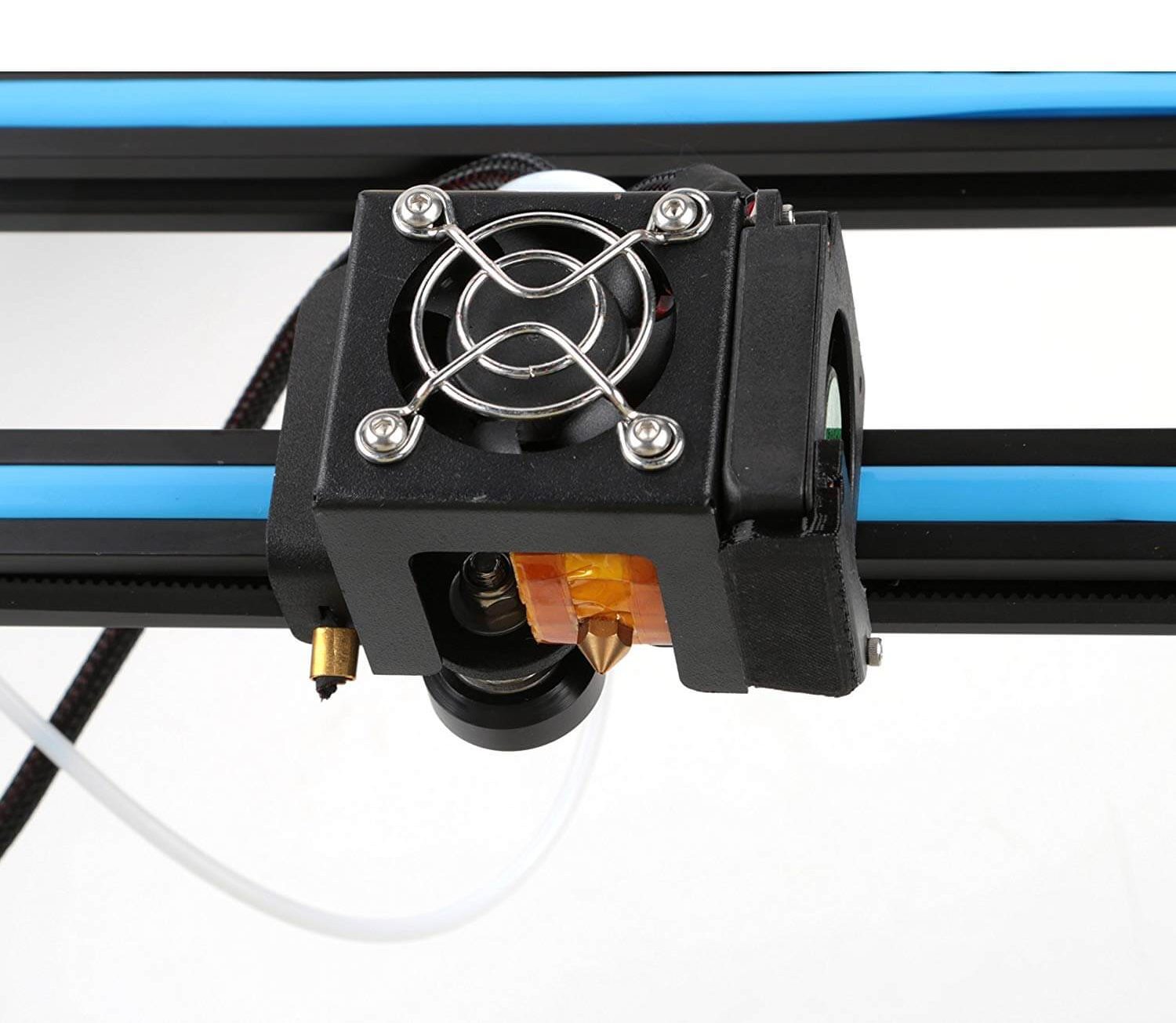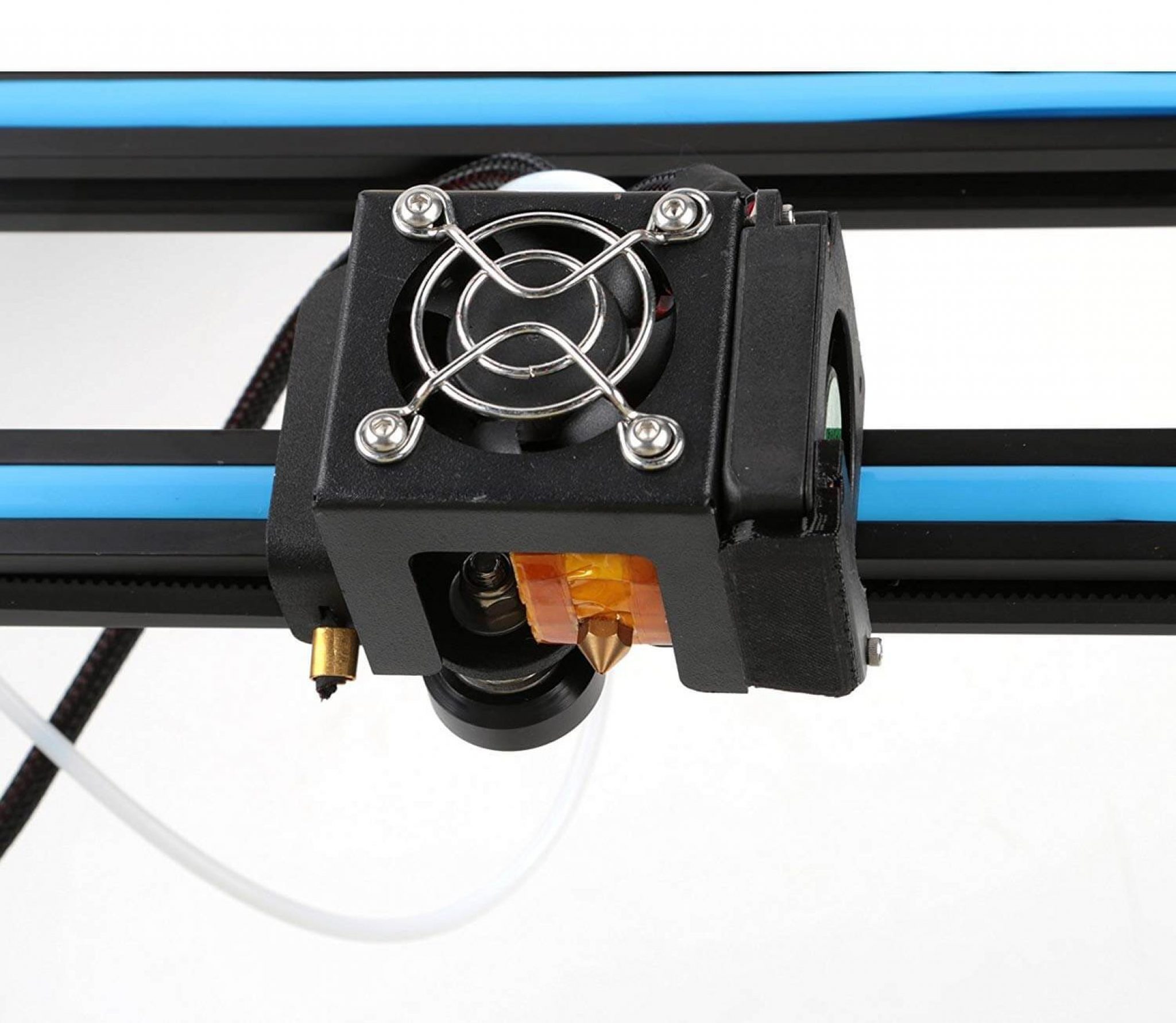 The 3D printer is huge and covers a space of 735 x 735 x 305 mm. The build space is 450 x 450 x 470 mm providing users to create limitless designs.
It offers a layer height of 100 to 400 microns and can reach a maximum extruder temperature of 250 degrees Celsius.
The print bed can be heated to a scorching temperature of 100 degrees Celsius. It has a 4.3-inch touch display.
Creality CR-10 Plus Price
The Creality CR-10 Plus, also known as CR-10 Max comes for a price tag of $1000. This price is not for beginners for sure.
However, if one wants to grow along with experience while keeping oneself engaged in creativity through this 3D printer, you can certainly get hands on this machine.
While there are many features to talk about, the manufacturers would have thought of introducing WIFI connectivity and few more features to the list. A price tag like that expects some more.
First Impressions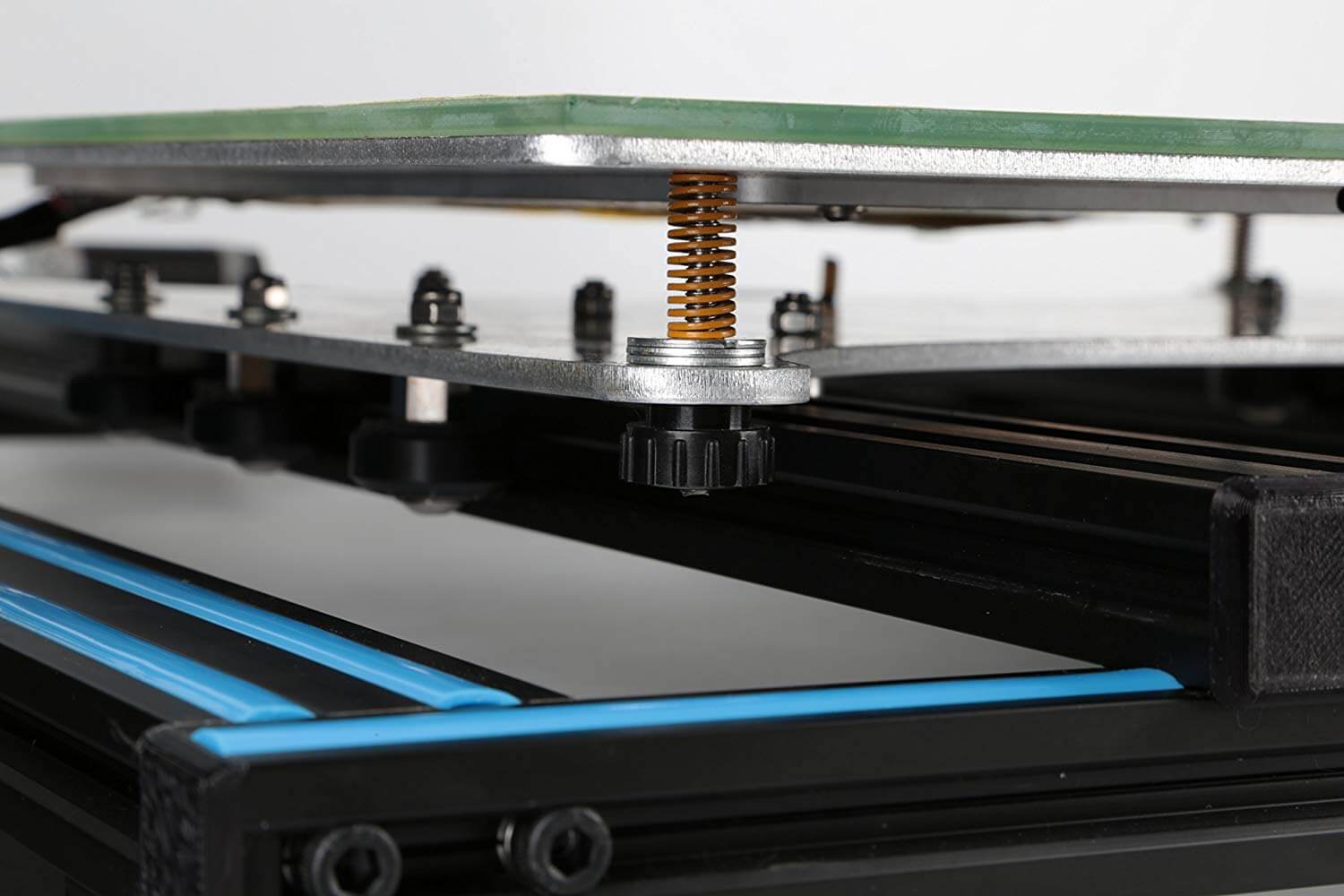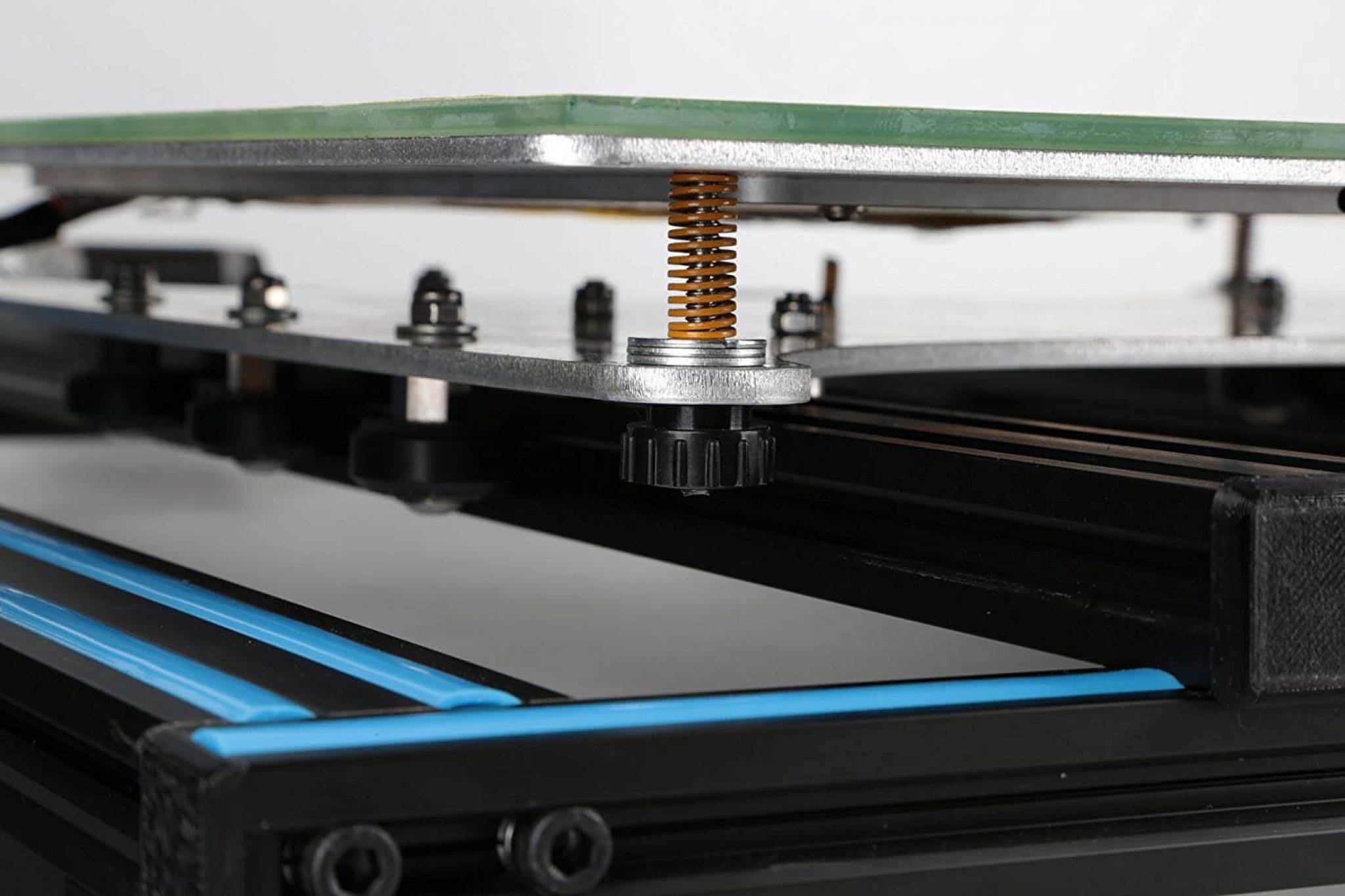 Looking at the 3D printer, users may feel that the only difference the variant brings from its predecessor is the volume which is enormous and is not found in the consumer 3D printer very often.
However, there are other major additions to the features and performance of the machine too. As discussed before, the 3D printer is packed with features to provide great print results, users would also be happy to find most of the parts of the printer stuck in when unboxed.
Creality CR-10 Plus Setup
While it is said that the Creality CR-10 Plus comes assembled, there are few screws you need to install before taking off with the prints.
This also includes plugging in a few electrical connections. There aren't many setup requirements and most of them are already intact.
With the guideline provided with it, the setup can be completed in a few steps. Connectivity is also simple with limited options.
One can use the microSD card or connect the printer to a wired computer connection using a miniUSB. Further, the UI can be used for selecting and preparing the prints.
Printing Type/Cost
The printer is an FDM printer and allows you to print with a variety of materials. One can also use third party filaments to keep the print cost to a bare minimum.
Print Quality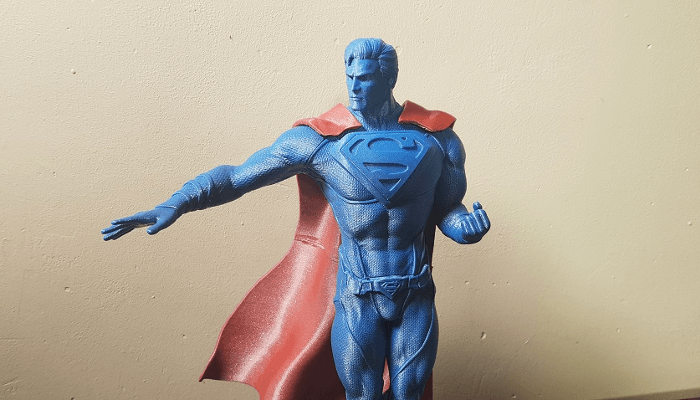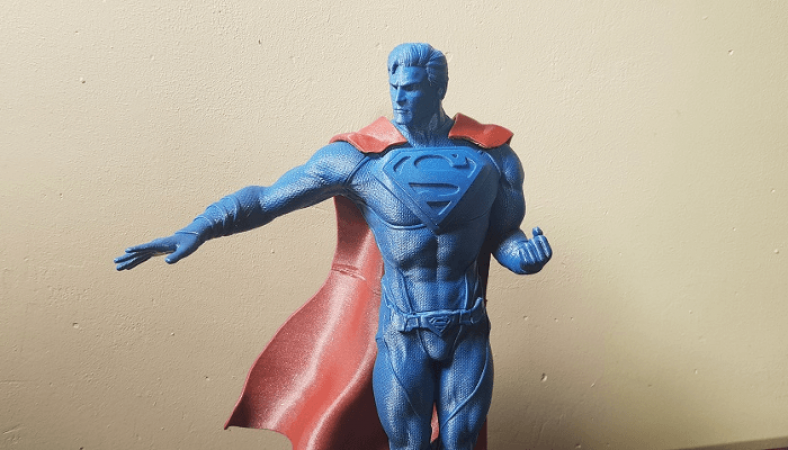 Credit: 3dnatives.com
If you have worked with large prints, you would know how frustrating it is to tackle problems like ghosting, visible layering, ringing, warping, poor layer adhesion, and many others.
Astonishingly, there aren't such issues when printing with CR-10 Plus. Printing with this machine is smoother and users can create almost flawless models. The printer offers consistent print quality.
3D Slicer Software
The printer is compatible with a few great software such as Cura, Simplify3D. These do not need any introduction, it seems. These applications are easy to use and provide a huge list of functionalities and modeling tools to get the best out of every design.
Customer Service
The manufacturers are highly dedicated to provide the highest level of support to the users. There are plenty of guides and tips available on the website. As well as, there are many videos on YouTube that showcase different settings and provide important information regarding print setup.
Parameters Influencing the Purchase Decision of Buyers
There are many factors that create an urgency for selecting this printer for 3D printing. However, the same factors may not fall in place for other users depending on their priorities. Here is an overview of all the features to conclude if the printer is for your specific need or not.
3D Printer cost: When talking about the cost, one must keep in mind what they are getting for $1000 and is it worth it. Looking at the benefits, one would definitely buy the point that the printer deserves such a price tag. However, for beginners who like to use a 3D printer for fun may not be interested in buying such an expensive printer. For those with serious work, on the other hand, would find this piece of machine very affordable.
3D Print quality: The print quality is no doubt amazing. In spite of large model print support, the printer manages to provide consistent print quality from start to end.
3D Print speed: The speed is also notable. With support for two different nozzles, one especially included for enhancing the speed, one can rely on the speed of the printer.
3D Printer capability: With support for different filament types, one can surely achieve varying results when using this 3D printer. Hence, the capabilities cannot be summoned in a few lines. It does qualify for many applications, just need to stir your creativity.
3D Printer Practicality: The 3D printer is designed for enthusiasts as well as for artists. Professionals can also make use of this machine for accomplishing complex designs with ease.
3D Printer User expectations: The expectations would have been better satisfied with more options for connectivity and a better interface. However, all in all, the machine is worth the price it comes for.
Verdict
If you talk about the build space that Creality CR-10 Plus exhibit, you would be more than happy to find it way ahead of its competition in terms of affordability and consistent results.
It also features easy operation and enhances its operation by introducing auto-leveling and other crucial features. This 3D printer is a great option for experienced as well as for those who have not worked with a 3D printer before.
However, it does have a few limitations. The limited connectivity option with few design flaws, one may think of CR-10 Plus struggling in a few areas.
A price tag for a thousand dollars does deserve better connectivity options. This being a minor problem, Creality CR-10 Plus still is a great machine among its competitors.