There are various techniques and technologies used in printing unique and complex structures with high precision. Binder Jetting 3D printing is one such way. Invented during an MIT project in 1993, the quality of the 3D prints led to the widespread adoption of the technology.
Binder Jetting 3D printing is up to 10x more economical than other metal 3D printing processes, like DMLS/SLM.
Binder Jetting allows the production of complex geometries and shapes with a large build size that requires no support structures during printing, which makes it the go-to printing technique for low to medium metal production.
For instance, its applications range from the fabrication of full-color prototypes (such as figurines), large sand casting cores, and molds as well as manufacturing low-cost 3D printed metal parts.
Unlike traditional manufacturing techniques and some other printing techniques, binder jetting 3D printing ensures good resolution, allowing parts and components to be produced with extremely fine detail.
For example, a clipper brush or a watch ring can be produced cost-effectively compared to traditional manufacturing techniques and with adequate speeds. Binder jetting allows manufacturers to switch to 3D printed parts while maintaining quality.
What Is Binder Jetting 3D Printing and How Does It Work
With a diverse range of applications, it is important for a designer to fully understand and grasp how binder jetting 3D printing works to utilize its full capabilities. Binder Jetting 3D printing creates parts additively with a binding agent.
It works by spreading a thin layer of powder over the build platform after which a carriage containing an inkjet nozzle passes along the x and y-axis of the machine, depositing droplets of a binding agent to bind the powder together. Color ink is also deposited during this step if required.
This process is done layer by layer. When one layer is complete, the build platform moves down and re-coats the surface, and repeats the same process until the whole part is complete.
Depending on the material and its characteristics, it's not always suitable for structural and load-bearing parts, especially metals and the additional post-processing step can add significant time to the overall build process. After the part is printed, it's left to cure and gain mechanical strength so it doesn't break down.
The post-processing step is crucial to add mechanical strength and performance to the print part, and in the case of colors, it also adds vibrancy to the part. After curing, the part is removed and unbound and excess powder is removed via pressurized air.
Now, depending on the material, a post-processing step is usually required. Metals, for instance, need to be sintered or infiltrated with a metal that has a low melting point, typically bronze. In infiltration, the part is placed inside a furnace and the binder is burnt out leaving voids.
The resulting part is approx. 60% porous at this point and as mentioned before, bronze is then used to infiltrate the left voids, which results in low porosity and good strength.
Sintering is where the part is placed inside the furnace after printing, where the binder is burnt out and the metal particles remaining are bonded together to ensure low porosity.
Colored parts, on the other hand, are coated with an infiltrant to improve strength and add vibrancy to the colors. Another layer of epoxy can be added after this to further improve strength.
It's important to ensure the CAD model fed to the printer contains the appropriate color information on a per face approach or as a texture map.
The former is easier to do but texture maps allow finer controls and details to be added. Perhaps the most common use case for binder jetting 3D printers is sand casting and molds.
It's low cost and fairly quick, which makes it an excellent solution for elaborate and complex designs. The cores and molds are usually printed with sand or silica and then are generally immediately ready for casting.
At this point, the casted metal component is removed by breaking the mold and even though the molds are used only once, the time and cost saved compared to traditional manufacturing methods is substantial.
Commonly used materials in binder jetting 3D printing are metals, sand, and ceramics in granular form. Material variety is still limited in binder jetting 3D printing compared to other techniques but it's gradually improving.
Once the printing job is complete, the part is carefully freed from the build box and the remaining powder is removed with brushes or air blowers. Parts also need to be cured to increase their resistance.
Depending on the material, an extra step is also necessary. For instance, in the case of ceramics, it is necessary to cover them with acrylics to increase the mechanical resistance of the pieces and to improve the colors.
Rules Of Thumb
When choosing to go with binder jetting 3D printing there are a couple of things to keep in mind. For instance, metal parts can be printed at a low cost but for applications that require structural parts and high performance, it's better to stick to DMLS/SLM.
Even though binder jetting offers design freedom, the porosity leads to metal parts that cannot be used as structural parts and thermal effects are not a big issue during the manufacturing process.
Similarly, colored parts produced with binder jetting are brittle and are most suitable as decorative items. The most appropriate use case for binder jetting is producing sand casting cores, molds, and prototyping at a large scale.
What Are the Benefits of Binder Jetting 3D Printers?
As we alluded to earlier, binder jetting 3D printing allows the production of complicated, detailed, and complex parts in a short time period.
It is highly customizable and requires no support structures as that job is fulfilled by the surrounding powder. This allows the creation of parts with few geometric restrictions.
Additionally, in binder jetting 3D printing, parts do not need to be attached to the build platform, which means the whole build volume can be fully used and it makes it ideal for low to medium batch production.
Crucially, binder jetting 3D printed parts bond at room temperature, which means that warping due to temperature is not a problem and is a key advantage binder jetting holds over other 3D printing processes.
It allows binder jetting machines to have a larger build volume compared to all 3D printing technologies and thus binder jetting can manufacture large and complex metal geometry parts as it's not limited by any thermal effects, such as warping. This also allows parallel manufacturing of multiple parts and components at a time are possible.
Part strength is an issue with binder jetting 3D printing, it's offset by the cost. With so many key advantages, binder jetting has become a mainstay in the industry and is used widely in a large number of applications. Typically, its capabilities are best utilized for low to medium batch production.
Comparison Chart
Name
Link
Nomination
Overall Rating
Digital Metal DM P2500
"Impressive features of this 3D printers are a many"
Pick3DPrinter
9
ExOne M-Flex
"The specialty of M-Flex is in making customized metal parts and functional prototypes utilized in industries"
Pick3DPrinter
8.5
Voxeljet VX1000
Industrial-grade, binder jetting 3D printer
8
3D Systems Projet CJP 860 Pro
Five print heads ensure vibrant and realistic color printing
8.5
ComeTrue T10
"Compared with other 3D printers, ComeTrue advantages in faster print speed, superior equipment, cost-effective and better after services."
ComeTrue
8
Desktop Metal Production System
Handles large build volume
9
HP Metal Jet
Most Consistent Performance
8.9
Tongtai AMS-1200
Highly Reliable
8.5
Desktop Metal Shop System
Incredibly Productive
9
Markforged Metal X
"The greater the layer resolution, the clearer the layers would be visible"
Pick3DPrinter
8.9
List of Binder Jetting 3D Printers
Digital Metal DM P2500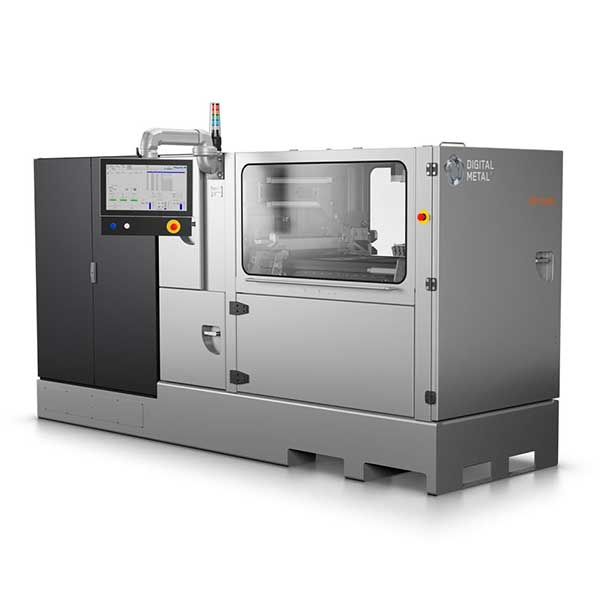 The DM P2500 is a highly rated binder jetting 3D printer that offers a fast, flexible and reasonable way to produce metal parts.
The most underrated feature of this printer is undoubtedly its print volume, allowing you to build larger parts. That, combined with eliminating the risk of support structures, resolves one of the main pain points of binder jetting 3D printed parts.
Uses:
This printer employs high-precision binder jetting technology.
The DM P2500 has a resolution of 0.035 mm. This enables medical-grade surface smoothness and quality (Ra6).
It uses Binder jetting technology that allows users to reuse loose powder material, which contributes to environmental sustainability. As a result, there is significantly less waste than with other additive manufacturing techniques.
The DM P2500 prints without the use of any support structures. And this actually lengthens your overall print time, especially if you are doing a lot of them.
PROS:
Hands-off concept.
Room temperature printing.
Stainless steel alloys and titanium prints.
CONS:
No way to see or check parts or functional prototypes through a gallery.
Parts need post-processing, which may lead to budget to time issues.
ExOne M-Flex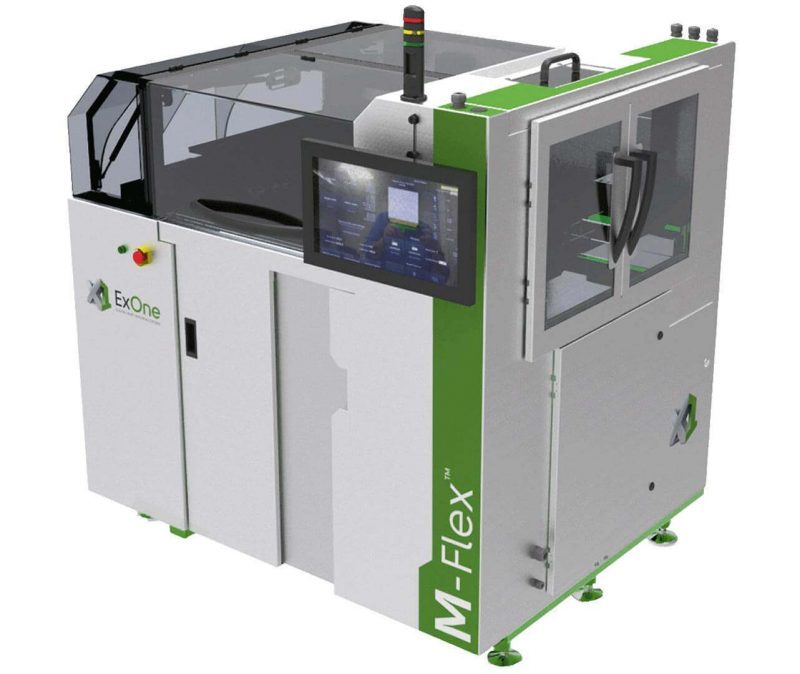 ExOne is a household name in the 3D printing industry, operating for more than 20 years. Their 3D printers are popular and amongst the most researched.
ExOne M-Flex is an industrial binder jetting 3D printer featuring a large build volume and material flexibility, allowing it to work with a variety of different materials, like bronze, tungsten, stainless steel, glass, and ceramic sand.
Uses:
Ideal for industrial use.
Printing highly accurate parts with a variety of different materials.
PROS:
No tooling required.
Easy unloading.
User-friendly.
Touchscreen Interface.
Material flexibility.
CONS:
Parts need to be cured to enhance their properties, which may take a lot of time.
Fairly expensive.
Voxeljet VX1000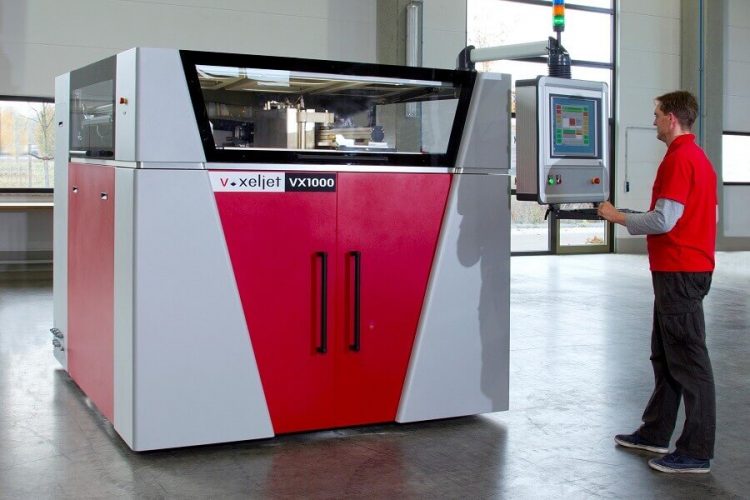 The Voxeljet VX1000 is a multi-material 3D printer using binder jetting technology. It offers one of the largest build volumes in a binder jetting 3D printer (1000 mm x 600 mm x 500 mm). In fact, it's larger than ExOne's M-Flex.
That combined with its print speed and high-resolution prints of 600 dpi, the VX1000 is one of the most popular 3D printers in its class.
Uses:
Ideal solution when it comes to sand cores, molds, and thermoplastics.
Cost-effectively produce molds and other components for small series production.
Better suited to prototyping and small series production.
PROS:
Environment friendly.
Compatibility with an inorganic binder.
High-performance print head with a resolution of up to 600 dpi.
Build volume.
CONS:
Unlike its competitors, it only offers silica sand and PPMA (recyclable transparent thermoplastic).
3D Systems Projet CJP 860Pro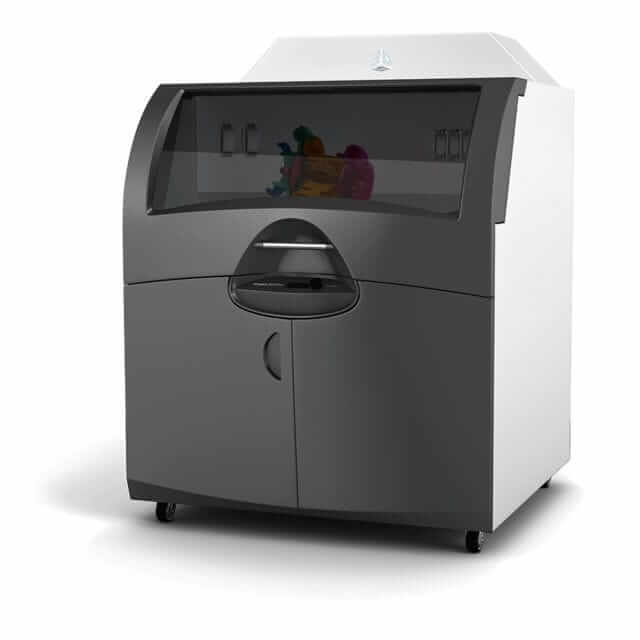 The Projet CJP 860pro by 3D Systems is a well-known name in the 3D printing industry with the Project CJP 860pro being the largest in the family of Colorjet printing systems.
Featuring a large build volume and allowing parts to be printed completely in color makes it an attractive option, especially for making prototypes, concepts, and figurines.
As a well-known name, 3D Systems has a made a name for itself as one of the best 3D printing companies with a well-thought-out ecosystem that makes it hard for its clients to choose something else.
Uses:
Allows the creation of concept models and prototypes in full color.
PROS:
Full CMYK color 3D printing.
Low operating costs.
Build volume.
East post-processing.
CONS:
Cannot be used to print functional prototypes.
High cost.
ComeTrue T10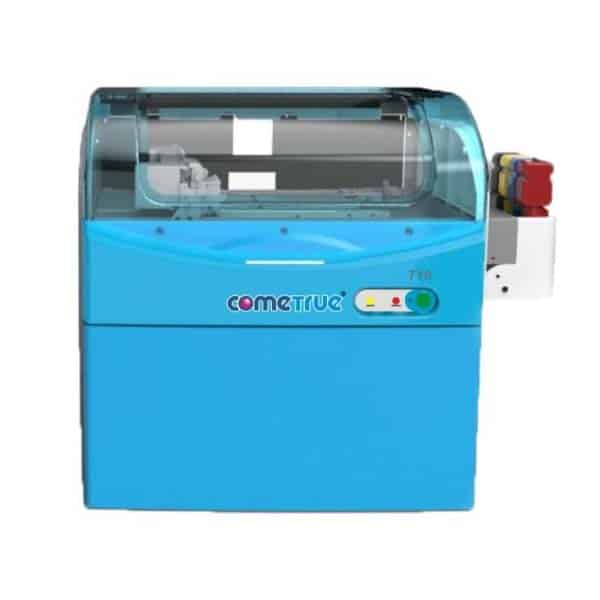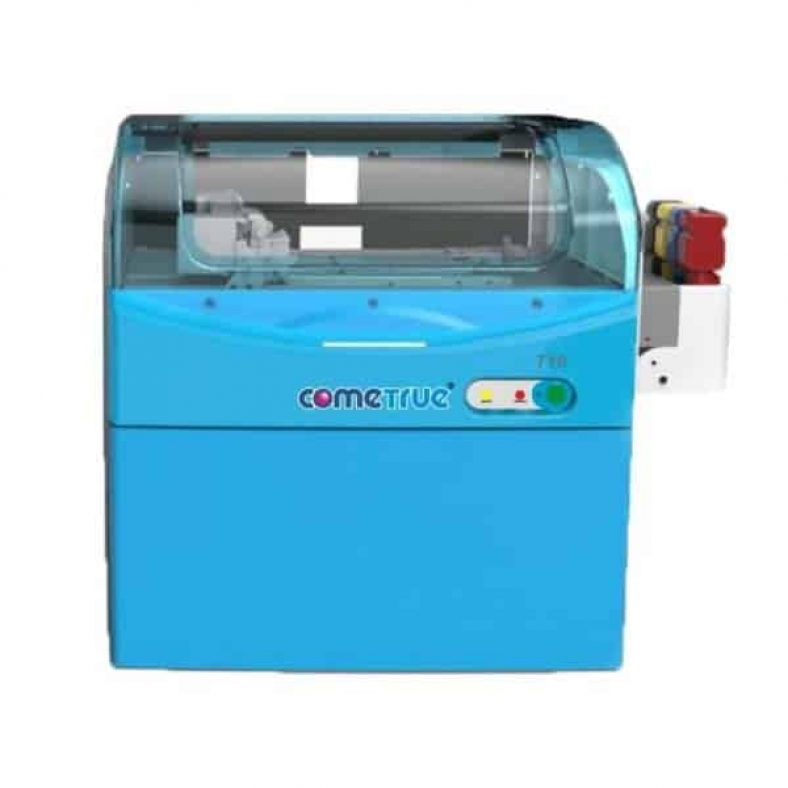 The ComeTrue 10 is a desktop-class binder jetting 3D printer capable of producing fully colored parts and prototypes and yields an impressive print speed and quality for its price, making it ideal for small-scale printing and quickly prototyping parts.
Uses:
Desktop 3D printing.
Wide range of applications, from architectural, bio-medical to arts.
PROS:
No support structure needed.
Fast printing speed.
Expensive.
CONS:
Lower build volume compared to others.
Parts printed are brittle and need to be infiltrated.
Desktop Metal Production System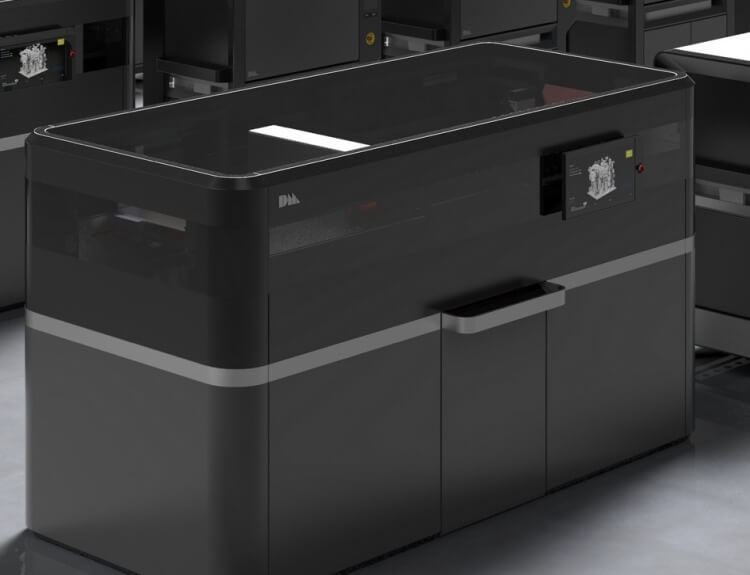 The Production System by Desktop Metal is a great industrial 3D printing solution utilizing binder jetting technology and building a great printer and ecosystem around to make 3D printing a breeze for businesses.
Combine that with extremely high-quality prints, post-processing simplifications, and easy to operate solution, it's no wonder it's one of the most popular binders jetting 3D printers.
Uses:
Works with multiple 3D printing materials.
Prints high-quality parts.
Can produce up to 1,000 parts per day, which is best in class.
PROS:
Sintering.
Post-processing of parts after printing.
Tool-free switching to different jobs.
Print quality.
Best in its class repeatability.
Material availability.
HP Metal Jet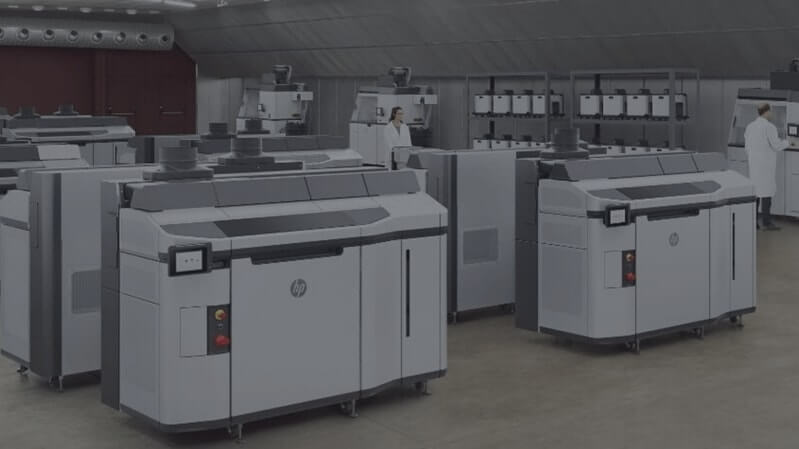 With Metal Jet, HP entered the binder jetting 3D printing business offering best-in-class features and print quality compared to its competition.
Uses:
High-quality metal prints.
Industrial printing (car parts, prototypes, etc).
PROS:
Material reusability.
No build plate required.
Multiple parts produced at the same time.
Tongtai AMS-1200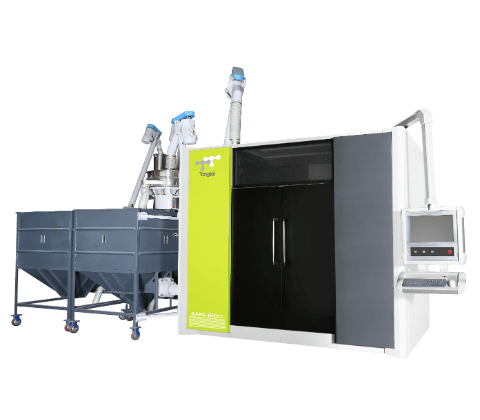 Tongtai AMS-1200 is a binder jetting 3D printer using sand. Its serves as an ideal solution for small to medium business offering sand cast molding and prototyping in a reasonable package.
Uses:
Ideal for molding and prototyping.
Small volume and customized product production.
PROS:
High build volume.
High print resolution.
Saves time by reducing mold design and machining processes.
Reusable material.
Desktop Metal Shop System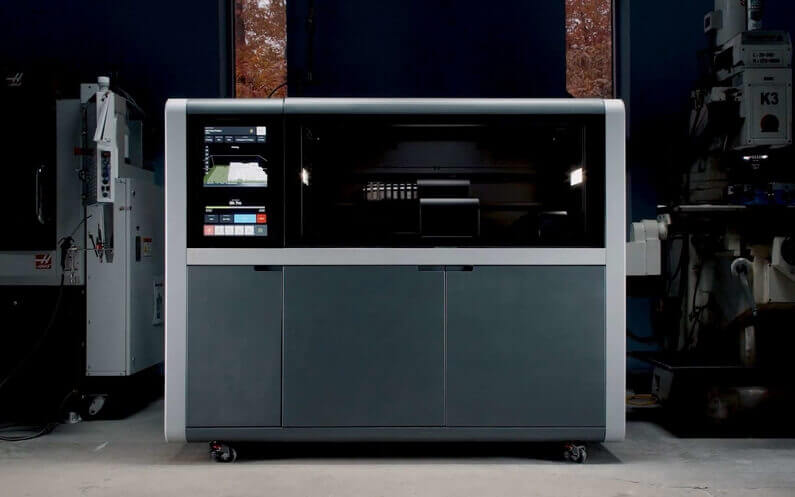 Positioned below the Desktop Metal Production System, the Shop System has the benefits and features that make the production system best in its class but aiming at small to medium businesses.
Uses:
Prints using multiple materials.
Prints extremely high-quality parts.
PROS:
Productivity (printing multiple parts per day).
Material flexibility.
Print quality.
Easy to use and operate.
Sintering.
Tool-free.
Markforged Metal X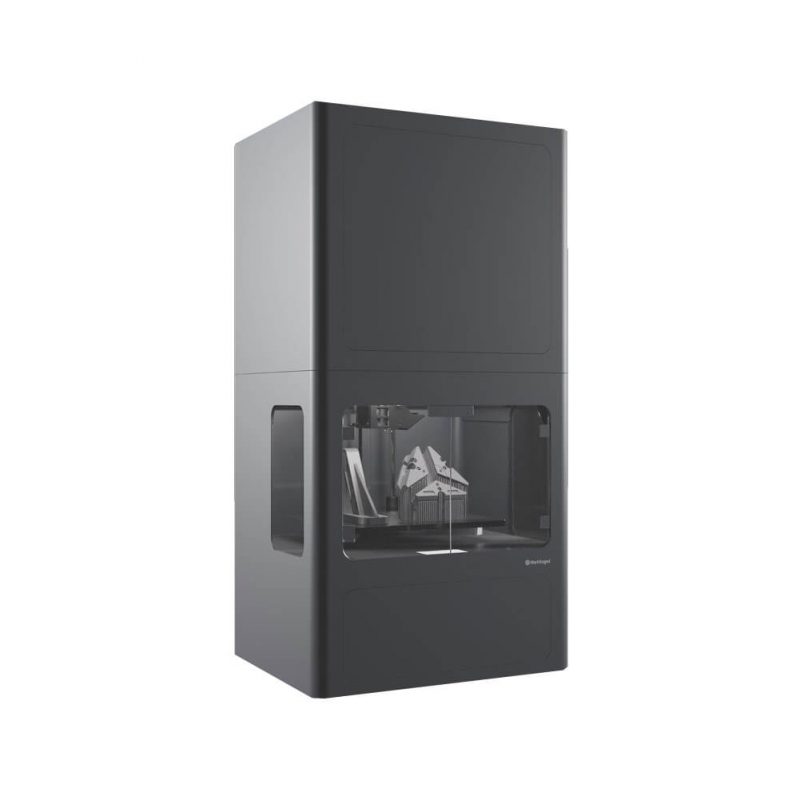 A new player in the metal 3D printing industry, the Metal X system by Markforged is available at a considerably lower price point than other more expensive industrial solutions.
Uses:
PROS:
Reliable.
Affordable.
Material flexibility.
Ecosystem.
Buyer's Guide
Binder jetting 3D printing is a great way to create parts or prototypes. There are different types of printers for different types of functions.
Binder jetting 3D printers range from desktop use to full industrial setting and you need to know how frequently you will use the printer.
If you plan to use the printer once in a while, you can employ a 3D printing service instead of purchasing a binder jetting 3D printer, which can prove expensive. In other words, you should consider purchasing one for mass production.
Out of the printers listed above, ComeTrue is the only true home 3D printing and desktop 3D printer with binder jetting technology.
Materials also come into play here. For instance, the VX1000 is restricted to silica sand and PPMA and is mostly suitable for manufacturing sand cores, molds, and plastic parts.
Ease of use is also a factor when it comes to buying a binder jetting 3D printer, especially for small to medium businesses that want to spend more time on their product design and want a seamless user experience.
This is where Desktop Metal's Production system comes into play offering best-in-class print quality, speed as well offering a mostly tooling-free experience.
Ease of use can also be attributed to a large and well-defined ecosystem around a product making it an additional plus when buying.
3D Systems Projet CJP 860pro offers not only a great color binder jetting 3D printer but also a well-thought-out ecosystem. Another consideration when it comes to buying binder jetting 3D printers is the kind of parts that you need to print.
Binder jetting is great for producing high-resolution parts at great speeds, metal parts will have an internal porosity.
Post-processing steps, such as sintering and infiltration, result in 97% and 90% dense parts respectively. This can affect the mechanical properties and can lead to cracks.
There are ways to circumvent this (Hot isostatic pressing) but it's recommended that DMLS or SLM be used for metal parts where strength is critical. So, if the use case rests on producing metal parts that will be put under stress, it's better to invest in other solutions.
On the other hand, binder jetting is great at producing parts quickly, especially for prototyping and cast molds. It's also great at mass-producing parts, molds, and components.
Frequently Asked Questions (FAQs)
Where Is Binder Jetting 3D Printing Used?
Binder Jetting 3D printing is an additive manufacturing process based on the same principle as traditional inkjet printers. With binder jetting, mass production, customization, and tooling free manufacturing can be easily achieved.
Combined with speed, a good binder jetting 3D printer like Desktop Metal Production System can create complex shapes and geometries at incredible accuracy.
Something like a clipper blade that has incredibly fine details can be manufactured at speed without relying on expensive traditional tooling. Not only that, binder jetting is cost-effective at scale and uses less material.
While still quite expensive, binder jetting is trickling down to home and desktop use as well, allowing you to quickly prototype parts and customize them as you see fit.
What Are Some Of The Printing Technologies Used Today?
3D printing picked up pace in the last decade. You can produce functional and complex molds, shapes, and prototypes while consuming less material and at a lower cost than a part produced via traditional manufacturing techniques.
New techniques are being developed each day and you have a lot of choices, depending on your use case. Some of the techniques used in binder jetting 3D printing today are:
Single Pass Jetting.
Binder Jetting.
Electron Beam Additive Manufacturing.
Are Binder Jetting 3D Printers Too Expensive?
Binder Jetting 3D Printers listed come in a range of prices, but they all hover on the expensive side. ComeTrue T10 a desktop-class 3D printer costs around $30,000 and it goes up from there.
Large-scale industrial-style printers like Digital Metal DM P2500 start at $250,000. Similarly, Desktop Metal's Production System is priced at $150,000.
Are 3D Printed Parts As Strong As Traditionally Manufactured Components?
3D printed parts are not as strong as traditionally manufactured parts. All parts also need to be post-processed or cured after print to make them rigid.
This is especially evident in metal binder jetting parts, as they have lower mechanical properties compared to DMSL/SML parts due to higher porosity If the requirement is for the part to be strong, 3D printing isn't the way to go for now.
Conclusion
3D printing is revolutionary and with binder jetting, the technology reached a new level. The recent developments allowed manufacturers and businesses to use 3D printed materials instead of relying on traditional manufacturing techniques that can be quite expensive and time-consuming.
3D printers can reduce lead time by more than half and allows the development of small to large-scale prototypes fairly quickly.
The customizations afforded by these printers are nothing short of amazing as there is no need to wait for days just to make small iterations.
With the technology also trickling down to home and desktop use, home users can now produce and work on parts they cannot find off the shelf. Making something decorative or producing a part to use has never been easier.
While the advantages are many, there are some cons to binder jetting. For instance, metal parts produced with binder jetting have lower mechanical properties compared to DMSL/SML parts due to high porosity.
Material selection is also limited in binder jetting 3D printers compared to other 3D printing processes.