Artillery Sidewinder X1 V4
Artillery Sidewinder X1 V4 3D Printer is a host to a lot of features that you would hardly imagine a small budget 3D printer can have. The overall experience with this printer is something you would love, it doesn't matter whether you are a beginner or an experienced user.
PROS
Has a neat design.
Is capable of heating extremely fast.
When in operation it does not make much noise.
CONS
The filament holder of this printer is very frustrating to deal with.
You will have to take care of the delicacy of this printer's wiring.
Sometimes there is even uneven heat dissipation which leads to print failure.
Product
Specification
Videos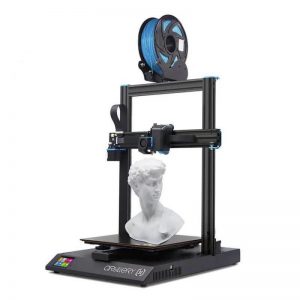 If you are looking for a large format 3D Printer boasting premium features, do not forget to check the Artillery Sidewinder X1 v4. Created by a ...
| | |
| --- | --- |
| Model | Sidewinder X1 V4 |
| Manufacturer | Artillery 3D |
| Price Range | $ 474,76 |
| Release date | 2020 |
| Country | China |
| Availability | Available |
| Classification | Desktop |
| Technology | Extrusion (FFF- FDM…) |
| Material | ABS, Flexible PLA, HIPS, PLA, PVA, TPU, Wood |
| Filament diameter | 1.75 mm 0.07 in |
| OS compatibility | Linux, Mac OS, Microsoft Windows |
| Generic material | Yes |
| XY accuracy | 0.005 mm 0 in |
| Max. build size | 300 × 300 × 400 mm 11.81 × 11.81 × 15.75 in |
| Max. build volume | 36.00 L |
| Max. print speed | 150 mm 5.91 in /s |
| Min. layer thickness | 0.1 |
| Dimensions | 550 × 405 × 640 mm 21.65 × 15.94 × 25.2 in |
| Weight | 14 kg 30.86 lb |
| Nozzle diameter(s) | 0.4 mm 0.02 in |
| Heated print bed | Yes |
| Heated build chamber | No |
| Automatic calibration | No |
| Closed frame | No |
| Dual extruder | No |
| Independent Dual Extruder | No |
| Full color | No |
| LCD screen | Yes |
| Touchscreen | Yes |
| On-board camera | Yes |
| Mobile app | No |
| 3D scanners | No |
| CNC mill | No |
| Electronics 3D printing | No |
| Laser engraving | No |
| Conveyor belt | No |
| Air filter | No |
| Pellet extruder | No |
| USB | Yes |
| Wifi | No |
| Bluetooth | No |
| SD card | Yes |
| Ethernet | No |

Table of Contents
Artillery is a Shenzen-based 3D printer manufacturer that has this amazing 3D Printer called Artillery Sidewinder X1. It is a large desktop 3D printer that boasts features such as sturdy chassis, direct drive extruder system, fast-heating print bed, and a lot more that we are going to expose in front of you in this in-depth review.
Features
Without much further ado, let's jump straight into the details of Artillery Sidewinder X1 V4.
Ribbon Cables
This is something that differentiates between Artillery Sidewinder X1 V4 and other 3D printers in a similar price range from a design perspective.
And if you are worried about the lifetime of these cables, there are multiple cable covers and strain relievers that you can use for covering ribbon cables, connectors, and tinkerers.
This is to ensure you do not face any trouble wearing out and breaking the connector pins because of rapid motion.
Giant and high-strength print bed
The print bed is another area wherein Artillery Sidewinder X1 V4 scores like no other. It comprises of 300 mm * 300 mm * 400 mm porous ceramic coated glass surface.
According to the dimensions of the print volume, Artillery Sidewinder X1 V4 is slightly above average than other 3D printers in the same price range.
By reaching 60 degrees Celsius in 45 seconds, the print bed of this printer also leaves other printers behind in the race.
If there is one component that is to be credited for such an extraordinary speed, it has to be the heater.
Interestingly enough, the location of the heater is above the underside of the glass sheet with no metal plate in the middle and the bed being AC heated instead of the DC one.
The print surface i.e. ceramic glass plate is much like Anycubic Ultrabase.
When you heat this material, it is able to provide the needed bed adhesion and shrinks off again when cooled down. The overall result of this scenario is popping off of the print.
Direct Drive Extruder
The extruder of this printer is direct Titan Aero-style and has a Volcano-style hot end. 40 mm * 60 mm extrusions allow for a stable traveling of the print head and reduce backlash.
The hot end of this printer is speedy and can easily go up to a temperature such as 270 degrees Celsius. But to ensure a proper cool end as well, it is recommended to go only to 250 degrees Celsius.
The Volcano-style hot end allows for some pretty high flow rates which allow you to use nozzles of diameter 0.8 mm or even 1mm.
Artillery Sidewinder X1 V4's extruder is equipped with two cooling fans to ensure uniform cooling within a short time after the part or functional prototype is printed.
3.5-inch color touch screen user interface
This is to oversee the complete process of 3D printing a part or functional prototype.
The interface is easy to use and has different colors for different submenus to help you not get confused.
Also, all the features of the printer are accessible from this interface which you will never be able to find on a 3D printer of the same price range.
Specifications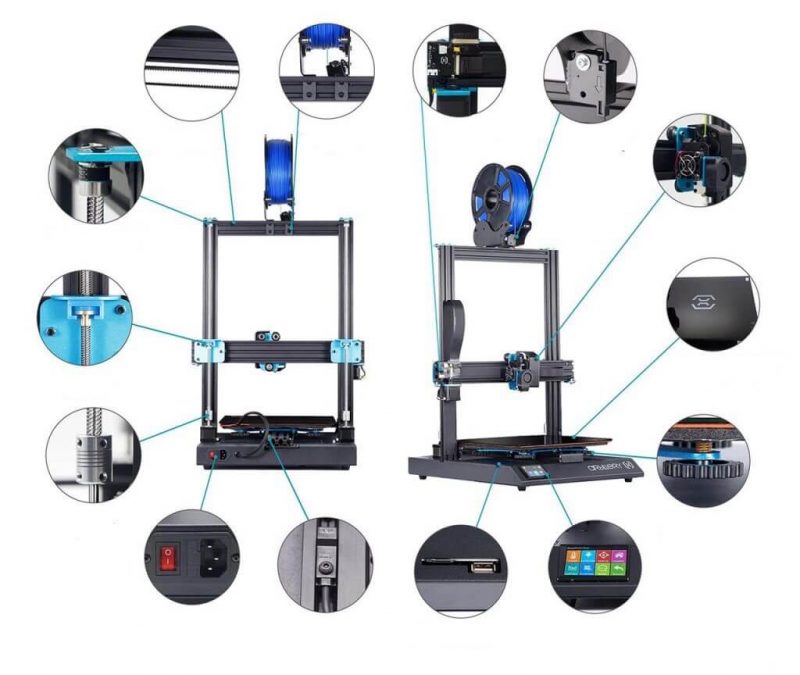 Based on FDM 3D printing technology, Artillery Sidewinder X1 V4 is a 3D printer that comes pre-assembled at your place.
It has a Cartesian XY-Head that allows you to print objects by the nozzle system which is supported on the print head that moves down to up with the building of every layer.
The maximum build volume offered by this 3D printer is 300 mm * 300 mm * 400 mm.
It offers a layer height of 0.4 mm in every part or functional prototype that it builds. The extruder type of this printer is direct, its nozzle type is Volcano, and the nozzle size is 0.4 mm.
The printer's extruder can reach a maximum temperature of 240 degrees Celsius.
Stating about Artillery Sidewinder X1 V4's heated bed, it can reach a maximum temperature of 80 degrees Celsius and is a rapid-heating AC.
The frame of this printer is made from Aluminum and the print chamber is open. You need to manually level the print bed every time after and before printing a part or functional prototype.
There is a touch screen display present on the left bottom of the body of this 3D printer which will display to you various aspects of the printer, control, and monitor it.
You can connect with this printer using an SD card or a USB cable. There is no built-in camera for monitoring the printing process. However, with an open print chamber, there is hardly a need for any such camera.
Artillery Sidewinder X1 V4 is equipped with print recovery and filament sensing systems.
You can print with 3D printing materials such as PLA, ABS, Flexible PLA, TPU, Wood, PVA, and HIPS each of which should have a filament diameter of 1.75 mm.
The printer also allows you to print with third-party filaments. Its outer dimensions are 550 mm * 405 mm * 640 mm and it weighs 16.5 kilograms.
First Impressions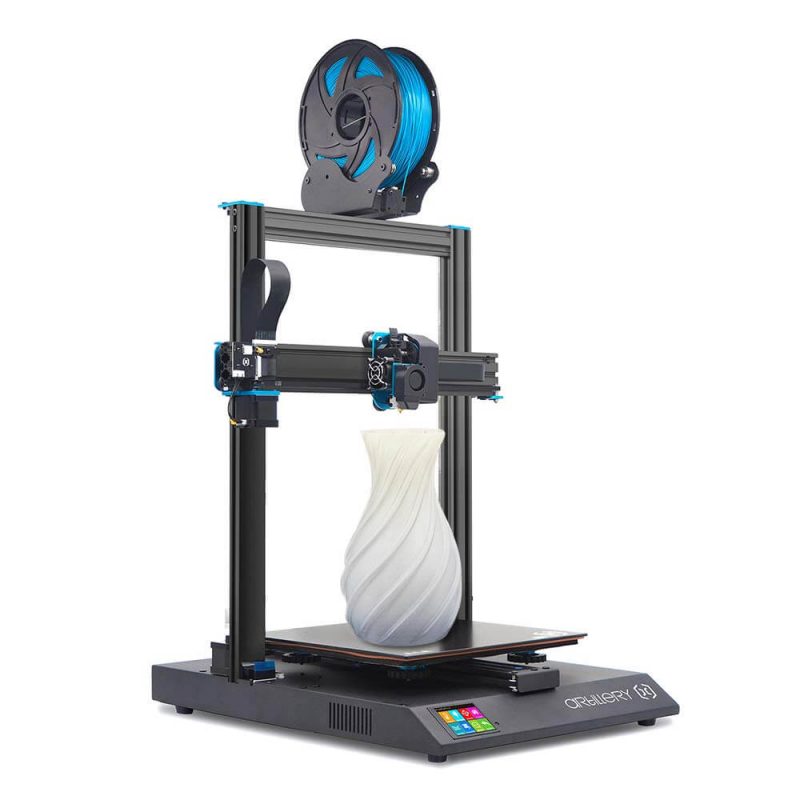 Artillery Sidewinder X1 V4 is one of the many Creality CR-10 style 3D printers that are surfaced after the immense success of that model.
But it is worth noticing how Artillery Sidewinder X1 V4 is not just a copy of it. Neither from the parts that are to be installed in it, nor from the overall technical perspective or appearance!
Unlike Creality CR-10, Artillery Sidewinder X1 V4 has the power supply, mainboard, and touchscreen very neatly stored inside the base unit.
And this is something that gives the 3D printer a sleek and professional appearance, something like the similarly priced printers that are much like DIYs.
The dimensions of the extrusions for the bed rail and X-axis on this 3D printer are 20 mm * 60 mm, which increases the overall weight of the X-axis of Artillery Sidewinder X1 V4.
The Z-axis of the printer is operated using a dual lead screw set up in connection with anti-backlash nuts on its back. Something that keeps them connected is a connector belt with a pulley.
The Z gantry is made of strong 20 mm * 40 mm extrusions that are in place atop the base unit by four screws. Overall, Artillery Sidewinder X1 V4 is sleek as well as sturdy in design.
Setup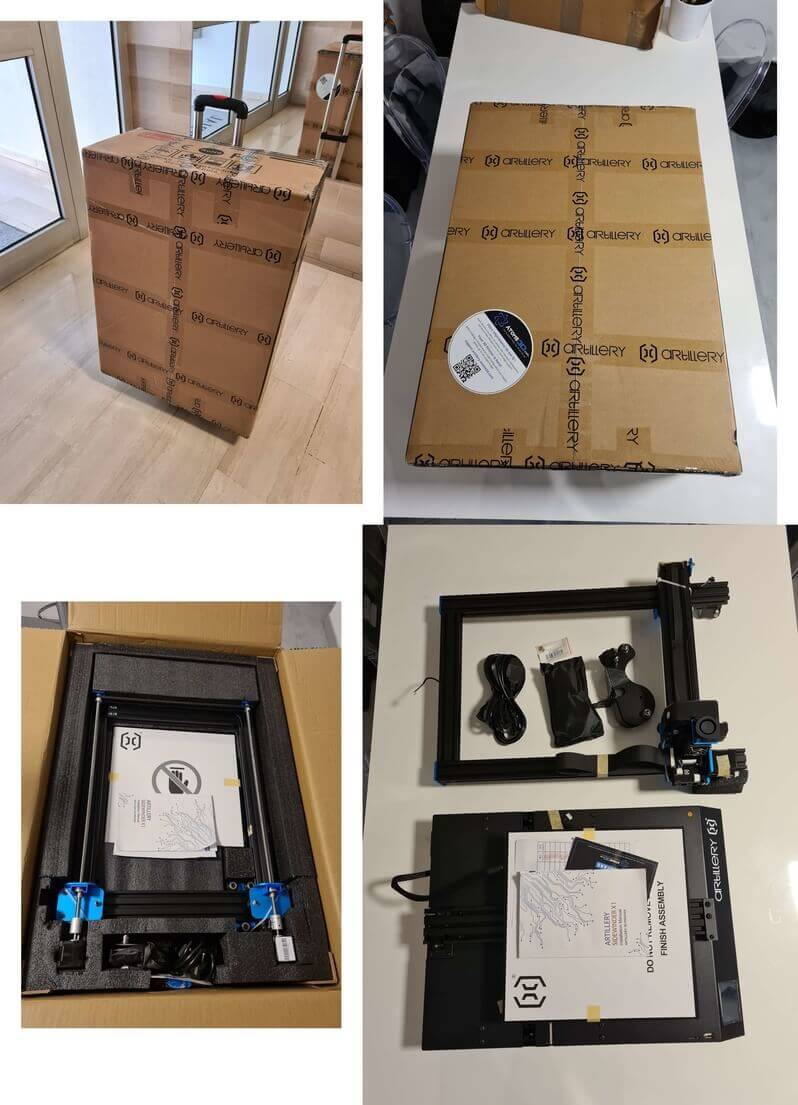 Artillery Sidewinder X1 V4 comes comfortably packed in a safe manner inside a well-organized box because of which it becomes easy to set up the printer. You need to start with mounting the gantry to the base.
For doing this, you need four screws that you can plug in a couple in neatly arranged ribbon cables!
You will have to bolt the filament holder to the top of this printer and then the printer is ready to go.
Before starting to print your first part or functional prototype on this printer you are advised to try and test with the method of sliding a sheet of paper in between the bed and the nozzle.
After which, you need to turn the knobs under the bed until the bed of this printer is completely even.
Seeing the choices of software offered by this printer manufacturer for Artillery Sidewinder X1 V4, it is recommended to use Cura with a printing speed range anywhere from 100 millimeters per second to 50 to 60 millimeters per second.
However, like other 3D printers, this one too would produce the best quality prints when printed with a slower print speed.
Printing Type/Cost
Artillery Sidewinder X1 V4 operates on FDM 3D printing technology wherein a filament spool heats up to melt through the nozzle and produce a part or functional prototype based on its geometry.
The overall printing cost of a part depends on various factors, however, it is lower compared to the cost of parts manufactured with other 3D printing technologies.
Print Quality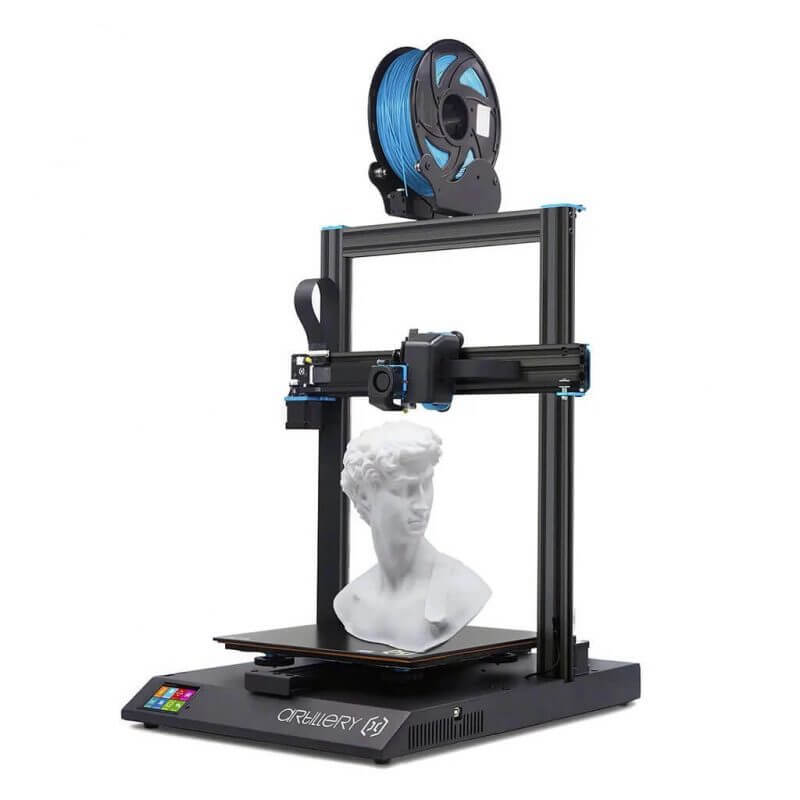 Credit: printer3d
The stock filament holder consists of two parts that are bolted to the top frame of Artillery Sidewinder X1 V4.
In case you have filament from one brand or one spool size, you will not find any loosening, adjusting, and tightening the screw scenario.
And so you are also recommended to not set up the printer on a shelf or up against the wall in general. Otherwise, you would have to constantly turn your printer around for reaching the screws.
All the general prints with Artillery Sidewinder X1 V4 work very well. But the point where it steals the show is when you starting printing parts and functional prototypes on it using PLA 3D printing material. All the prints with PLA turn out extremely well.
For the most part, you are recommended to keep the print speed between 50 and 60 millimeters per second.
But at times you can also go to 100 millimeters per second and the prints will still turn out to aesthetically pleasing.
Artillery Sidewinder X1 V4 also handles ABS in a pretty cool fashion. There is hardly any warping off the build plate. You can, if you wish to, use glue before printing with ABS, just to make sure about the bed adhesion.
Printing with ABS is always tricky with other 3D printers, but with Sidewinder X1 V4 it wasn't so. Apart from ABS and PLA, the prints with PETG are also very much aesthetically desired.
Whereas when it comes to flexible filaments, the direct drive extruder has no problem in feeding it and the print result is more than average. Just a little stringing here and there, which is manageable!
Overall, if you are able to manage the head bed temperature, which as per the specifications is able to go around 80 degrees Celsius, in practical use it can go to 120 degrees Celsius, so if you manage it around 100 degrees Celsius, there will no problem at all.
Software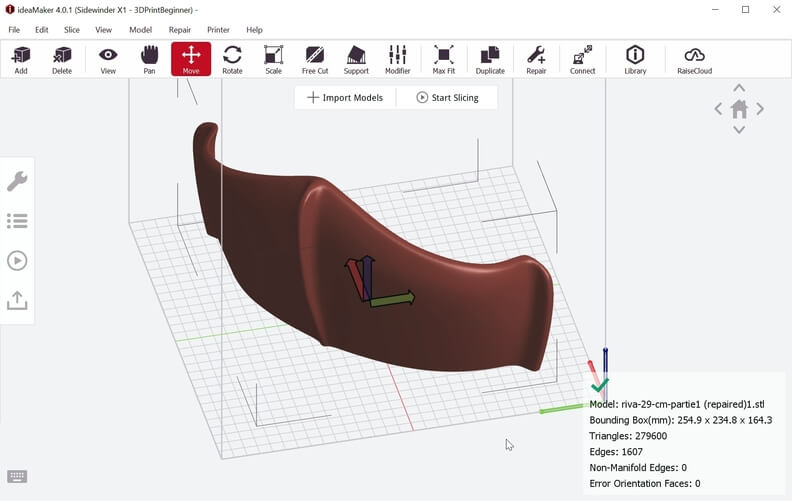 Credit: printer3d
Artillery Sidewinder X1 V4 is compatible with three slicing software, namely:
Cura
Simplify3D
Slic3r
All of them are compatible with Windows, Mac, and Linux operating systems.
Customer Support
The support team of Artillery can be contacted in multiple ways, via email, or phone. There is the complete knowledge base of this printer also available online for download.
Parameters Influencing Buying Decision
Below mentioned are a few of the very important factors that you must go-through in short before buying this 3D printer.
3D Printer Cost:  Affordable.
3D Printer Quality: Excellent.
3D Print Speed: Capable of maintaining high quality even at fast print speeds.
3D Printer Capability: Artillery Sidewinder X1 v4 is compatible with most third-party filaments and common filaments.
3D Printer Practicality: When in use the printer does not produce much noise, as typical other desktop 3D printers do.
3D Printer User Expectations: Beginners will be able to experiment with their ideas, while experts in this field will be able to fulfill their expectations of making fine quality parts in a shorter print time.
The Verdict
Overall, Artillery Sidewinder X1 V4 is a host to a lot of features that you would hardly imagine a small budget 3D printer can have.
Starting with the direct drive system, AC heated bed, to its super silent motherboard and fans that do not produce any large decibels while in operation.
Of course, its maximum build volume is something that will shock you and its sleek appearance will manage to catch your eyes at the very first instance.
Except for the ribbon cables management and the filament spool holder, there is nothing to critique in this 3D printer.
In a nutshell, the overall experience with this printer is something you would love. Doesn't matter whether you are a beginner or an experienced user.