Dragonfly 2020 3D printer
You can print using various materials including dielectric resins and electrically conductive nano inks, enabling the printing of finished PCBs. Overall, Dragonfly is a very eccentric 3D printer, in its design as well as in the specificity of producing parts and functional prototypes.
PROS
Compact and sturdy design
Precise printing
Deposits two different materials for top-notch results
Precise PPCB printing
CONS
Costly and not affordable for small business owners
Table of Contents
Product
Specification
Videos

Capable of producing PCB boards from scratch, Dragonfly 2020 is an electronics 3D printer that deposits conductive as well as dielectric materials. ...
| | |
| --- | --- |
| Model | Dragonfly 2020 |
| Manufacturer | Nano Dimension |
| Price Range | $ 50,000 – $ 100,000 |
| Availability | Available |
| Classification | Industrial |
| Technology | Extrusion (FFF- FDM…) |
| Material | Electronics/PCB, Thermoplastics > Engineering (PC, nylon…) |
| OS compatibility | Linux, Mac OS, Microsoft Windows |
| Max. build size | 200 × 200 × 3 mm 8 x 8 x .125 in |
| Max. build volume | 0.12 L |
| Dimensions | 1400 x 800 x 1800 mm 55 x 31.5 x 71in |
| Weight | 500 kg 1100 lbs |
| Heated print bed | No |
| Heated build chamber | No |
| Automatic calibration | No |
| Closed frame | Yes |
| Dual extruder | Yes |
| Independent Dual Extruder | No |
| Full color | No |
| LCD screen | Yes |
| Touchscreen | Yes |
| On-board camera | No |
| Mobile app | No |
| 3D scanners | No |
| CNC mill | No |
| Electronics 3D printing | Yes |
| Laser engraving | No |
| Conveyor belt | No |
| Air filter | No |
| Pellet extruder | No |
| USB | No |
| Wifi | No |
| Bluetooth | No |
| SD card | No |
| Ethernet | No |

The Nano Dimension Dragonfly 2020 is an industrial 3D printer manufactured by a company named Nano Dimension, based in Israel.
This 3D printer is capable of producing Printed Control Boards (PCBs) from scratch. PCB is an electronic control board that functions as the "nervous system" of basic robotic along with various other electronic devices on which all the electronic components such as processors, sensors, etc are welded. These are also called control cards.
If we talk about the traditional methods for manufacturing multi-layer printed circuit boards, we must have to go through a tedious process.
Using the time-consuming and not very economical subtractive methods, the conventional processes for manufacturing control cards are limited to a few available materials.
And, when it comes to rapid prototyping, getting a plastic printed component only to wait for days or weeks for manufacturing the working custom-made electronics won't make a lot of difference.
Therefore, Nano Dimension has gained such huge popularity being able to produce multilayer PCBs.
The design includes every required through holes along with layer interconnections using their inkjet 3D printing technology.
The printer also comes with its conductive nano-inks to make the task as perfect as possible. Isn't that something to be proud of? We certainly thought so.
However, before making any decision, we prefer you to go through the Dragonfly 2020 3D printer in-depth review. And, find out how tangible is the solution for your needs.
Features
Among the talks of so many users, there must be something that makes this 3D Printer so special. Well, we won't make assumptions. But will go straight to the point.
Dragonfly, as mentioned before, uses its unique cutting-edge technology to build PCBs that are faster to produce. As well as, the components are very precise and apt.
In order to achieve such results, the printer ensures that the entire care for the PCB printing is taken care of by the machine itself. And, unlocking the features, you will get to know how the company makes that possible.
Deposits Two Materials
For building the PCB, Dragonfly 2020 deposits two materials: Conductive and Dielectric. Each time a print head passes, it deposits a three-micron height of any of these materials at a location specified by the 3D design file.
Being able to produce multi-layer PCBs, the printer is highly capable and efficient. The conductive material used for making PCB is called AgCite.
This material is an advanced silver nanoparticle ink that is particularly designed for Dragonfly 2020 3D printer.
The dielectric ink is a copy of industrial FR4 that enables the printing of a complete PCB structure.
Great Build
Unlike those 3D printers that often forget to fail to offer a sturdy machine, Dragonfly 2020 comes packed with a great build.
This not only helps with precise printing but confirms that the company is not ready to compromise with mediocre results. For much 3D printing job, higher speed often results in shaky print and bad print quality.
However, this is not the case with this printer. Thanks to its solid build that supports faster jobs without compromising the quality of the components.
Closed Compartment
Another important feature for maintaining the consistent temperature within the working space comes in handy with an enclosed 3D printer design. And, Dragonfly 2020 has done it with ease.
The subtle yet attractive design with an enclosed body completes the look of the 3D Printer. It is safer to use as well, keeping all the heated components away from the users, within the perimeter of the printer's walls.
Desktop Printer Design
It is often difficult to find an industrial 3D printer that can snuggle perfectly on the work table. However, this design comes with the same feature.
The look and feel of the desktop printer for ease of handling coupled with industrial printing results.
Not every day one finds such a combination of qualities in one package. But Dragonfly 2020 has brought the best features together in one product.
Highly Precise
Nano Dimension has always excelled at offering unique products. And, unsurprisingly, it has done it again with its Dragonfly 2020 3D printer.
With the precise printing results the printer offers; it is no less than the forefront for many new technical innovations to come forward.
Users can expect the machine to create more complex parts and components with highly integrated geometries without much hassle.
With material as well as design optimization, it is possible to look into fresh opportunities in order to achieve high-performing products. And, not to miss, unique designs.
Plug and Play Design
How amazing can it get? Along with all the benefits, the 3D printer is easy to setup. Whenever listening to the plug-and-play feature, users do feel a little relieved. Isn't that the same case with you too?
In other words, it is extremely easy to manage provided that the printer ensures to run on its own with minimal support from the users.
Hence, whenever you are looking for an easy-to-operate machine for printing PCBs, do not forget to keep your options open for Dragonfly 2020 3D printer.
WIFI Connectivity
How can we miss mentioning this feature that often goes underrated among the other functionalities?
Those working with a machine that only operates with desktop connectivity would only relate to the benefits of the WIFI-enabled 3D printers.
Because modern 3D printers often come with this add-on, it still deserves mention. WIFI connection makes a lot of jobs easier and print operation easier.
You can upload designs online. This does make a difference and offers high ease to the users.
Specifications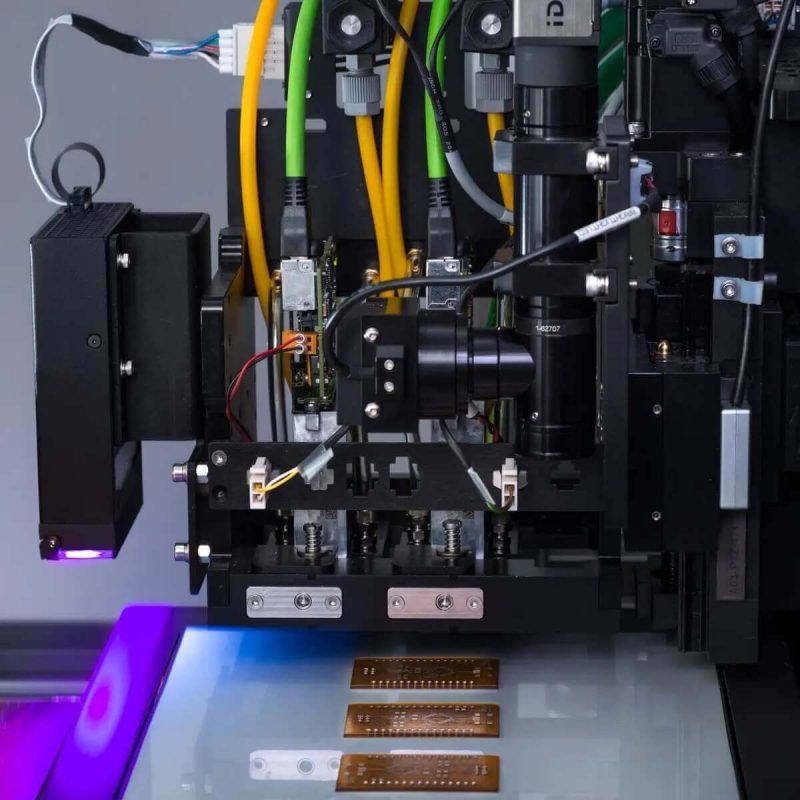 Credit: 3dprintingmedia
Manufactured by Nano Dimension, Dragonfly 2020 is based on Material Jetting 3D printing technology.
It uses resin 3D printing material to print parts and functional prototypes. The printer arrives at your place in plug and plays condition.
With enough space to let you experiment with different PCB designs and structures, the printer offers a build volume of 200 × 200 × 3 mm.
The weight is a little on the higher end, with 80 kilograms. However, manageable when you decide to dedicate a permanent space for the printer.
What's astonishing is the precise printing the machine is capable to achieve. With a layer thickness of 1 mm, you can imagine the rest.
Further, when talking about precision, Dragonfly 2020 is able to provide 2160 dpi on the XY axis and 8500 dpi on Z-axis.
File Types such as Gerber, Excellon, odb++ are used for reading 3D printing geometry of parts and functional prototypes you wish to 3D print.
The printer is compatible with 3D printing software named Switch. It can be connected using Wi-Fi, and Ethernet. And can be operated with systems operating on Windows, Mac, and Linux.
The power requirements of this printer are 110-240 Volts AC 50/60Hz, 12 Amperes. This 3D printer comes with dual extruders.
Price
The cost of Dragonfly 2020 3D printer falls between $50,000 – $100,000. The cost difference is due to the difference in the price of the machine based on location as well as resellers.
Hence, you must connect with the concerned party selling the machine for the exact price for your location.
First Impressions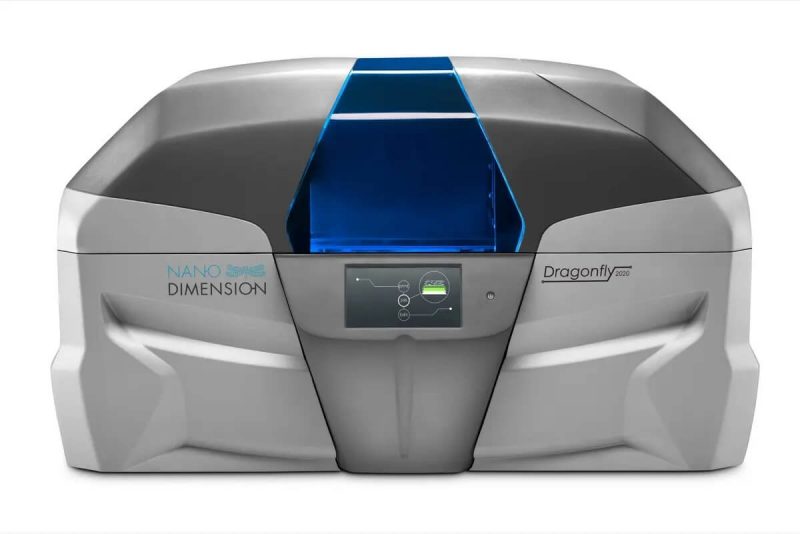 Not exactly close to the look of the industrial 3D printer that seems highly enormous and huge, Dragonfly on the contrary is more like a desktop version of the same. Although weighing around 80 kgs, the design is compact.
And, you would love the way the manufacturer has branded the machine which resembles a dragonfly. Really a fascinating job by the Nano Dimensions team.
Overall, the first impression would allow you to start trusting the machine right away. Thanks to the compact yet sturdy build. And, as you expect with the plug-and-play design, the printer comes as one machine.
Rest, you can decide after unboxing the package. All you must know is that the printer is very well packed to offer undisputable safer delivery of the machine.
Setup
When you buy this printer, you get all the help needed to start printing with the machine.
Starting with the plug-and-play design that lets you sit back and watch the machine doing most of the difficult job itself. For that matter, very conveniently.
You do not need to spend hours fixing and attaching the different components together. Just switch on the machine, go through a few basic steps and start printing. Although it may not sound as easy as it sounds now, it still is very handy to work with.
Moreover, the printer comes with a complete manual and proper instruction to ensure you do not feel any difficulty when using the machine for the first time.
Printing Type/Cost
Material Jetting 3D printing technology is the basis of how Dragonfly 2020 operates. It is one of the fastest and the most accurate 3D printing technologies.
It enables you to build parts and functional prototypes using liquid photopolymer droplets that are then solidified with UV light.
As the photopolymer resin is sprayed in droplets before it is solidified. Material Jetting is also compared to the 2D inkjet process.
However, the difference between both of them is that inkjet printers deposit only a single layer of ink droplets, whereas Material Jetting builds layer upon layer until the complete part building ends.
There are also a lot of similarities between Material Jetting and SLA as it uses a UV light source for curing the resin.
The difference is that material jetting 3D printers spray hundreds of tiny droplets at a time, whereas SLA 3D printers hold an entire vat of resin which is particularly solidified by a laser.
When it comes to printing costs, you must consider various parameters. From product design to complexity to material cost and a lot more. So, the cost will differ widely for different print jobs.
Print Quality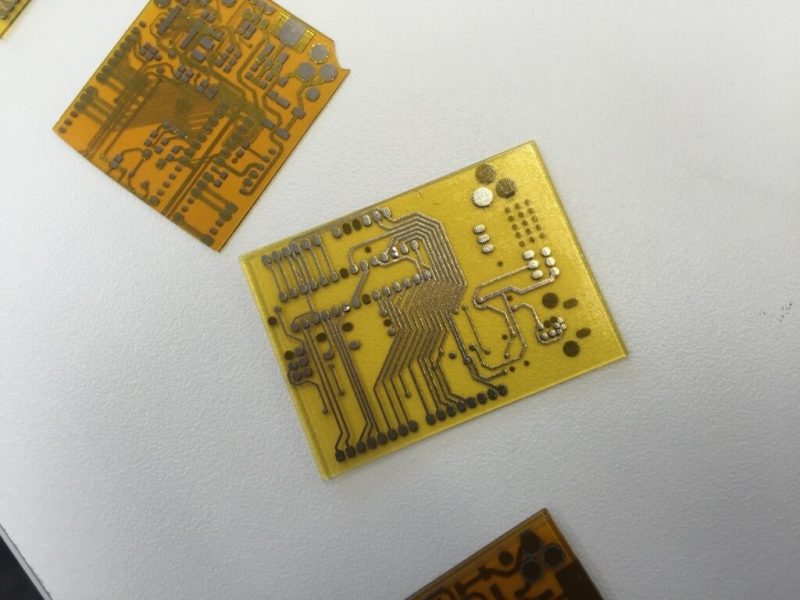 Credit: 3dprintingindustry
Without any reservation, it certainly is a very efficient machine being able to provide high print quality for PCBs.
Software
The printing process is taken care of by the proprietary software that comes along with the machine. It's called Switch.
The application is very intuitive and is specially designed to manage the printing of PCBs. So, you can rest assured of high quality and diverse results.
Customer Service
Once again, the company can impress you through its unmatched customer service. Known to offer quick response, you can easily find a way to a technical assistant in a matter of time.
Most of all, the company has a vast database of instructions and manuals to simplify your experience as a customer. You can also find a lot of videos with a huge community backing the 3D Printer at all costs.
Parameters Influencing the Buying Decision
Now that you have gained in-depth insight into what makes this printer so wonderful, let's have a quick recap of the features.
3D Printer cost: Falls between a range of $50,000 to $1,00,000 depending on your current location and the reseller you choose.
3D Print quality: Industry standard and highly precise.
3D Print speed: Faster and offers great results at higher speed as well.
3D Printer capability: Specially designed for PCBs. It can print multilayer designs for PCBs along with the through-holes to complete the product manufacturing with ease.
3D Printer Practicality: Made for industries involved in control card manufacturing. The printer is for industrial use.
3D Printer User expectations: Definitely a very popular 3D printer meeting almost every expectation of concerned users.
The Verdict
There is no other 3D printer of the kind that Dragonfly 2020 is! The technology on which it is based combines 3D printing with metal and polymers for producing PCBs.
The intention of the 3D printer manufacturer Nano Dimension is to give electrical engineers the freedom that 3D printing technology has been able to give to mechanical engineers.
You can print using various materials including dielectric resins and electrically conductive nano inks, enabling the printing of finished PCBs.
Overall, Dragonfly is a very eccentric 3D printer, in its design as well as in the specificity of producing parts and functional prototypes.