Digital Metal DM P2500
Impressive features of this 3D printer are many, but the most unnoticeable ones are its print volume that guarantees you a larger built part or functional prototype, the layer resolution range that assures you of minimum visibility of layers in the final print of parts.
PROS
No-hands on production concept.
Printing happens at room temperature.
CONS
There is no gallery wherein pictures of parts and functional prototypes are displayed which gives you a little more idea about the accuracy that the company is stating all along.
Product
Specification
Videos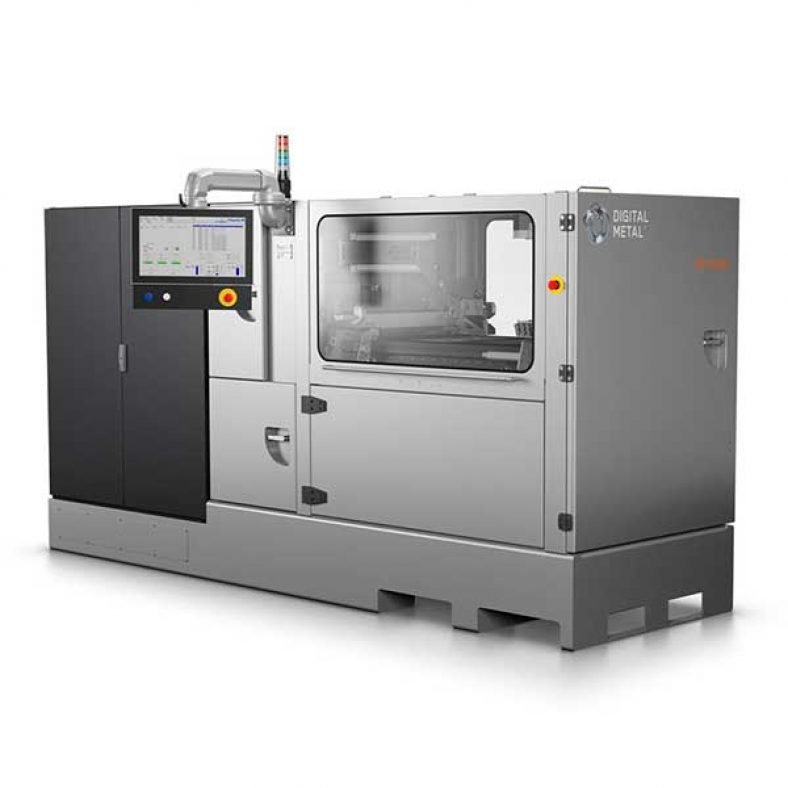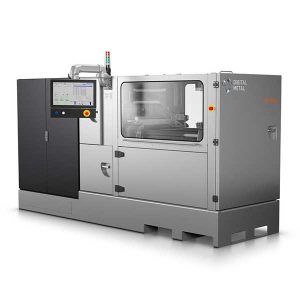 Made from serial production and prototyping, Digital Metal Dm P 2500 has a robust machine design. It lets you print without support structures and ...
| | |
| --- | --- |
| Model | DM P2500 |
| Manufacturer | Digital Metal |
| Price Range | > $ 250000 |
| Release date | 2017 |
| Country | Sweden |
| Availability | Available |
| Classification | Industrial |
| Technology | Material Jetting |
| Material | Metal |
| XY accuracy | 0.01 mm 0 in |
| Max. build size | 203 × 180 × 69 mm 7.99 × 7.09 × 2.72 in |
| Max. build volume | 2.52 L |
| Min. layer thickness | 0.04 mm 0.002 in |
| Dimensions | 3300 × 1000 × 1700 mm 129.92 × 39.37 × 66.93 in |
| Weight | 2250 kg 4960.4 lb |
| Power input | 3.5 kW |
| Heated print bed | No |
| Heated build chamber | No |
| Automatic calibration | Yes |
| Closed frame | Yes |
| Dual extruder | No |
| Independent Dual Extruder | No |
| Full color | No |
| LCD screen | Yes |
| Touchscreen | No |
| On-board camera | No |
| Mobile app | No |
| 3D scanners | No |
| CNC mill | No |
| Electronics 3D printing | No |
| Laser engraving | No |
| Conveyor belt | No |
| Air filter | No |
| Pellet extruder | No |
| USB | No |
| Wifi | No |
| Bluetooth | No |
| SD card | No |
| Ethernet | Yes |

Table of Contents
Digital Metal is a subsidiary of the metal powder producing group named Hoganas.
The company claims this machine to be the industry's first high-precision binder jetting system, which is capable of producing small and intricate metal components in a way that no other 3D printer has in the past.
Impressive features of this 3D printer are many, but the most unnoticeable ones are its print volume that guarantees you a larger built part or functional prototype, the layer resolution range that assures you of minimum visibility of layers in the final print of parts.
By eliminating the risk of support structures, the company has ensured relief to all the strugglers in the field of 3D printing, the mind of who baffles with the complexity of manufacturing a part or functional prototype using support structures.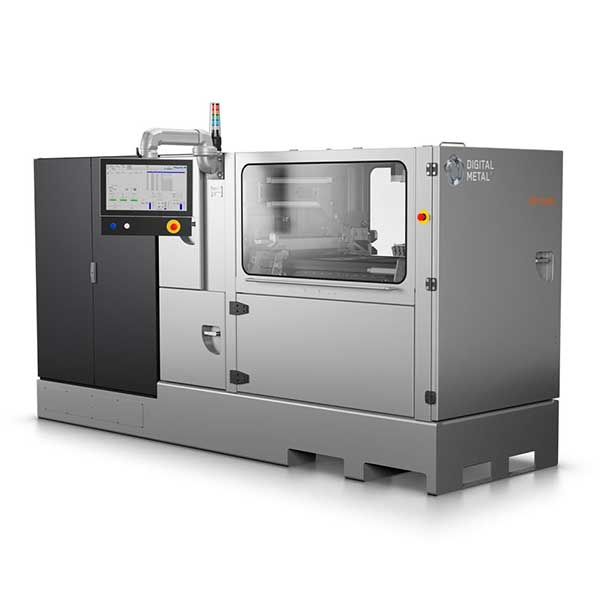 The Digital Metal is known to have manufactured around 200,000 metal 3D parts and functional prototypes by providing excellent printing service.
So, if you do not wish to buy this 3D printer, but only the parts and functional prototypes manufactured by it, you have that option as well.
The company has also partnered with companies that are into various industries ranging anywhere from Aerospace to medical, to jewelry, and much more.
Because of the company's precision binder jetting technology, it is able to satisfy all class of audiences that demand high-quality parts and functional prototypes.
Features
The DM P2500's webpage's text starts with a claim made by the company about this printer i.e. Fast and Effective. And the reason given for terming the printer fast is the company's 3D printing technology used for printing of parts and functional prototypes.
In the next paragraph, the company is all hands-on to try to convince you how no effort is spared for making this printer as accurate as possible.
In terms of mentioning the features of this printer the company starts with automatic calibration and having an accuracy of one micrometer and stability of the printing platform.
Just after this paragraph, you have an option to read about the benefits of this printer. And when you click on that option, nothing else but the next option under the Printer Line tab opens up i.e. Design and function.
In the long lists of benefits, along with important features, you can make out how the company is making claims about the printer's high productivity, high accuracy, and reliability.
An explanation of one of the benefits i.e. easy to clean and maintain the company writes," saves time," which is pretty obvious even for a novice of 3D printing technology.
In the Complete System option, you are told about the 3D printing technology that the printer deploys for printing 3D parts and functional prototype.
Also, about the printer equipment and training, as well as the no hand production concept, which is pretty interesting.
While the former claims how Digital Metal is part of Hoganas Group which is the world's largest producer of iron and non-ferrous metal powders, the latter speaks about a semi-automated depowdering unit, about which there is a video just beneath the text, three minutes twenty-eight seconds as an explanation.
Let's look at some of the specific features and their explanation to know the printer a little bit more.
Post-processing is semi-automated
The video about the semi-automated depowdering machine informs how when the printing is completed, the robot moves the build boxes for post-treatment in the CNC operated depowdering machine.
The remaining metal powder is removed over there and reused in the upcoming printing process.
The parts and the functional prototypes that are printed are placed on sintering plates.
The robot then moves the sintering plates to the furnace for combined debinding and sintering.
This is the scenario for batches as well as for continuous production.
This is all an outcome of the company's dream to have no-hands on the production concept.
And now we understand why the company claims so much about accuracy because one of the simplest logic to accuracy is to decrease the number of hands that are working on the product and you will get one of the finest accuracies possible.
Printing without support structures
Anyone who is into 3D printing surely knows about support structures and when they are useful and how much effort it takes for one to place it and to remove it before the start of the printing procedure and at the end of it, respectively.
DM P2500 prints without support structures. And this actually increases your overall print time, especially during mass production.
The complete production of a part or functional prototype happens at room temperature in a build box that does not require any protective atmosphere.
No support is needed because no melting takes place during printing.
But the only thing you need to make sure is that you have got the infrastructure correct.
back to menu ↑
Specifications

Credit: digitalmetal.tech
The machine is based on high precision binder jetting technology.
The footprint of the machine is 2900 mm * 1000 mm * 1700 mm and accordingly the recommended build space by the company is, 4600 mm * 4100 mm.
The scaled build volume offered by this printer is 170 mm * 150 mm * 55 mm, whereas the unscaled build volume is 203 mm * 180 mm * 69 mm. The weight of the machine is 2000 kilograms.
The typical scaled productivity of this machine is 60 cubic centimeters per hour, whereas the unscaled productivity of this machine is 100 cubic centimeters per hour.
The power consumption needed by the printer is 3.5 kilowatt on average.
Protective gas supply which is needed in other printers is not needed here because printing happens at room temperature.
The material deposition happens with recoating with powder application and the material recirculation happens with no degradation.
The change over time between prints is claimed as 15 to 25 minutes. The machine can be connected via Ethernet.
Compressed airflow inside the machine is 8-12 bars, the maximum flow consumption of the machine is 500 liters per minute whereas the average flow ranges around 70-80 liters per minute.
The maximum constant flow for the vacuum extraction connection is 200 cubic meters per hour-15kPa. You can print with materials such as:
Stainless steel 316L (1.4404), according to MIM standard ISO 22068
Stainless steel 17-4PH (1.4542), according to MIM standard ISO 22068
Ti6Al4V according to MIM standard ISO 22068
DM 625
DM 247
The design guidelines of the printer are also mentioned on the website, you can check it out if you need anything on the design side of the printer.
back to menu ↑
Price
You will have to ask the company for a quote for this industrial giant piece of machine.
The estimated price of this 3D printer is greater than $250,00 according to other websites.
But the best is not to speculate and confirm from the manufacturer. There is a separate option called," Ask for a quote."
The website asks for your personal details when you click on it so that the company can get back to you.
back to menu ↑
First Impressions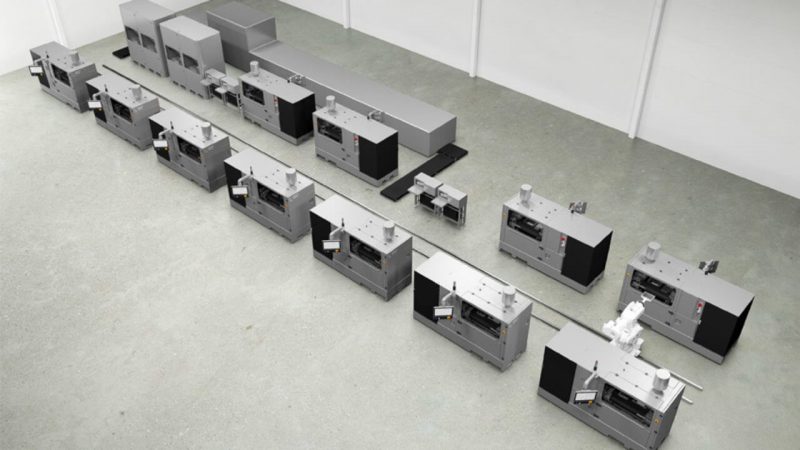 The printer looks like a typical CNC machine, but a little more modern than CNC machines.
There is a touch screen interface on which you can do all sorts of things, without getting your hands on 3D printing.
Not only can you monitor the entire printing process, but also interact with the printing material using this touch screen interface.
The rest of the structure of the printer, from the picture, looks in several compartments.
You have one on the left, two rectangular compartments at the bottom, there is of course one section which is transparent and lets you have a look at the print bed and the complete printing section of the printer.
These compartments have different roles and functions which you get to know when you click on the Ancillary equipment option on the website.
So, one of the compartments at the bottom is called the downdraft table which is used for preparing the powder, made of stainless steel.
This table has a backup filter and alarm connected to sensors that monitor functionality.
There is a manual de-powdering station which is for collecting all the loose powder in future print jobs.
There is a PPS 1000, powder preparation station which is a fully closed and automized powder handling system.
lastly, there is DPS 1000, a semi-automatic depowering station about which we have talked in the features section.
back to menu ↑
Setup
Of course, reading about the nature of complexities involved with this printer you might have guessed till now that the assembly of the printer is hardly something the manufacturer is going to rely on you on! You have to be trained before operating this printer, for which the company provides you with introductory, ongoing training as well as support for dealing with ancillary equipment.
back to menu ↑
Printing Type/Cost
The point that we have not let come up till now is that the printer uses binder jetting technology for 3D printing of parts and functional prototypes.
Arguably the cost of printing per piece of the printer would be high than the printers which come at the same price but are based on different printing technologies.
But then also, arguably they would not be able to produce parts and functional prototypes with the same accuracy as binder jetting technology would be able to.
In the video, you get to see accurate but intricate designs of semiconductors being produced by this printer, and it's pretty impressive.
back to menu ↑
Print Quality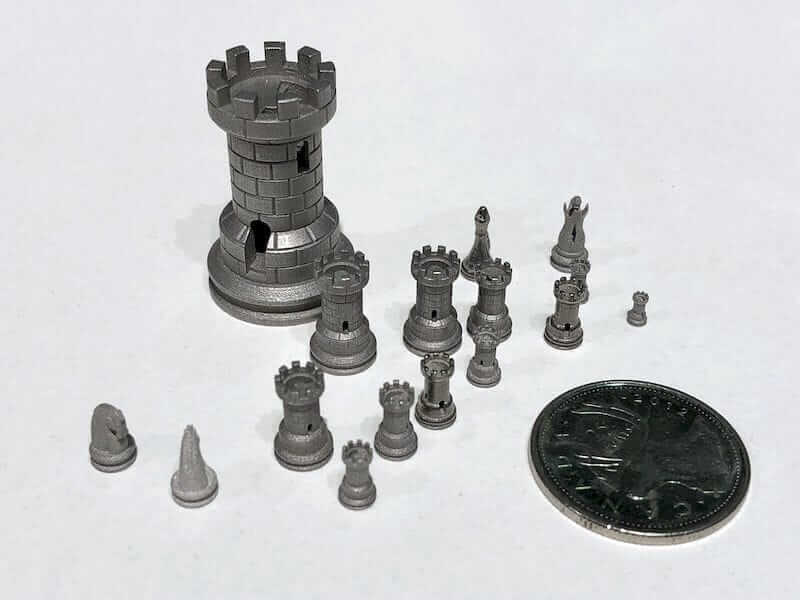 When you take your mouse onto the Solutions Tab you get to see options like "Dental/Medical," "Aerospace," "Luxury," " Serial production," this is just to let you know the scopes that this 3D printer has and how wide it is.
Apart from this, there is no access to a gallery where you can see the pictures of parts and functional prototypes that are printed using this 3D printer.
So, all you have to make out is from the glimpses that you get to see in the video.
back to menu ↑
Software
Magics is the name of the software that you will have to use for slicing objects and giving them to this 3D printer to print.
The format of this slicing file needs to be STL and the network that you can connect with this software is Ethernet.
back to menu ↑
Customer Service
There is a Contact tab on the website of this 3D printer manufacturer which opens you up to a webpage that has details of its head office and many other offices in seven nations.
Beneath this, you have a contact form that you can fill and wait for the company to get to you.
back to menu ↑
Parameters Influencing Buying Decision
A quick recap about factors that we've discussed in-depth, in the article above.
3D Printer Cost: Need to be asked by the manufacturer.
3D Print Quality: The manufacturer claims to have printed parts with intricacy with dimensional accuracy.
3D Print Speed: Extraordinary.
3D Printer Capability: Can print using various materials.
3D Printer Practicality: Parts and functional prototypes of many industries can be printed using this printer.
3D Printer User Expectations: High-quality parts and functional prototypes, batch production, and automation are what one can expect from the printer.
back to menu ↑
The Verdict
The company has real backing from the group of which it is a part.
Because of which, when the raw material is so purely and easily available to you, the outcome becomes a lot easier to produce.
So, high-quality printing is something you can very surely expect from the company.
As well as huge build volumes and intricacies in geometries and no hands-on printing are all like the cherry over the cake.