Markforged Metal X
Metal X offers a layer resolution range from 50 micrometers to 125 micrometers.The greater the layer resolution, the clearer the layers would be visible after a part or functional prototype is 3D printed.
PROS
The complete system of Wash-1, Sinter-1, and 2 is a very big plus point for the printer.
The printers work without getting a separate powder binding system in place and reduce the post-processing of parts and hence expedites the print speed.
CONS
There are no pictures of parts and functional prototypes that are manufactured using this 3D printer, so the only point from which you have to judge the printer's print quality is from the claimed layer resolution range.
Product
Specification
Videos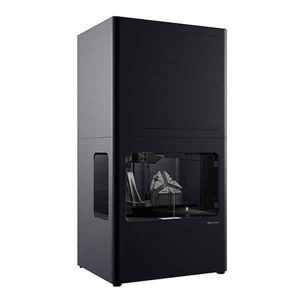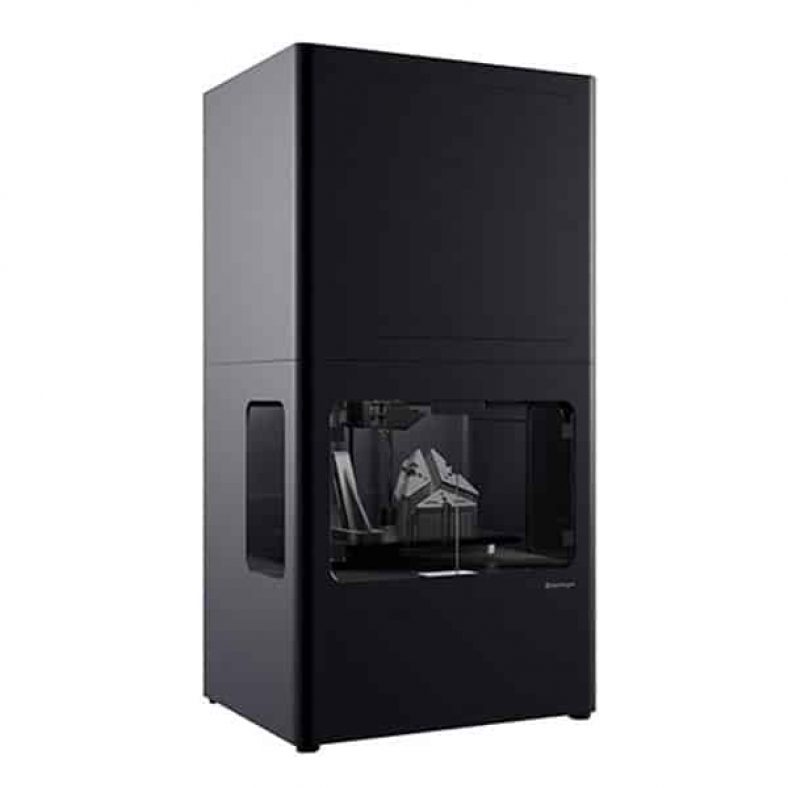 The printer is the most accessible way for fabricating complex metal parts with the widest available range of advanced metals. Starting from ...
| | |
| --- | --- |
| Model | Metal X |
| Manufacturer | MarkForged |
| Price Range | $ 99500 |
| Release date | 2017 |
| Country | United States |
| Availability | Available |
| Classification | Professional |
| Technology | Extrusion (FFF- FDM…) |
| Material | Metal |
| OS compatibility | Linux, Mac OS, Microsoft Windows |
| Max. build size | 300 × 220 × 180 mm 11.81 × 8.66 × 7.09 in |
| Max. build volume | 11.88 L |
| Min. layer thickness | 0.05 mm 0.002 in |
| Dimensions | 575 × 467 × 1120 mm 22.64 × 18.39 × 44.09 in |
| Weight | 75 kg 165.35 lb |
| Power input | 2400W @ 110-220 V 50-60 Hz AC |
| Heated print bed | No |
| Heated build chamber | No |
| Automatic calibration | No |
| Closed frame | Yes |
| Dual extruder | Yes |
| Independent Dual Extruder | No |
| Full color | No |
| LCD screen | No |
| Touchscreen | No |
| On-board camera | No |
| Mobile app | No |
| 3D scanners | Yes |
| CNC mill | No |
| Electronics 3D printing | No |
| Laser engraving | No |
| Conveyor belt | No |
| Air filter | No |
| Pellet extruder | No |
| USB | No |
| Wifi | No |
| Bluetooth | No |
| SD card | No |
| Ethernet | No |

Table of Contents
The manufacturing company of this printer has its base in Massachusetts.
Markforged begins production of 3D printers in the year 2014 by releasing their first 3D printer which was called Markforged Mark One.
After this printer was a success in the complete market of 3D printers, the company has since its inception year kept giving the market a new piece of innovation that has been able to do better than its predecessor.
It is because of this variability and nuances in creating 3D printers that the company is followed by experts in the field of 3D printing.
Metal X was brought in front of the market in the year January 2017 at the CES.
It is an industrial 3D printer that has since its availability in the market satisfied quality parts and functional prototypes manufacturing 3D printers.
Manufacturers based on DMLS 3D printing technology the machine is known to maintain dimensional accuracy even in the most intricate parts and functional prototypes.
The company has undergone a complete transformation as it used to design 3D printers for composites since 2018.
That year was quite a controversial year for the company when its competitor blamed Markforged for copying their patent.
But this lawsuit concluded after Markforged was found clear in the case and finally in November of 2018, the company was able to ship-process a hundred machines of this printer to its waiting-clients all across the globe.
Markforged has been able to garner a complete market of 3D printers with its excellent after-sales service that enables even the most non-technical person to operate the printer with equal ease as a technical person is able to operate Markforged Metal X.
In this article, we would be looking at various aspects of this printer starting from its Features.
Features
The first option that the website offers, when you land on the printer's webpage is to get a quote, indicating that the price of the printer is not out in the open, just like many other industrial 3D printers.
Then, you encounter a claim made by the company, which is, "Metal X, the most accessible way to fabricate complex metal parts in the widest variety of advanced metals."
Notice the complexities in the claim made by the company, for proving them wrong, you need to first make a list of all the advanced metals, the definition of which is not clear!
Then you need to differentiate between simple metal parts and complex metal parts and finally find a list of printers that are accessible in doing so, apart from the Markforged Metal X printer.
Scrolling further down, the theme is still dark and there are three kinds of claims or features or whatever you would like to term it about the printer.
The first claims, the printer to be simple yet powerful based on a wide range of materials it can 3D print with.
The second one claims it to be safe and affordable, the basis of which is a comparison of the unknown price of the printer with other DMLS metal printing printers, which allegedly costs five to ten times more than this printer.
The third claim is that the printer has best-in-class reliability, the basis of this claim is the software that the printer uses and the advanced motion system that it has and the materials research all thing combining to offer a seamless user experience!
Let's get to the specific features of the printer and see their explanations.
No powder management systems required
This is one of the claims that the company has made under the huge claim i.e. Markforged Metal X is safe and affordable.
But the fact that how this 3D printer does function without using powder management systems is not written.
The website even claims that the printer requires no operator. So, the MetalX is safe as well as affordable.
Also, there is minimal PPE required as per the claims.
The claims imply that the printer prints in very less time when compared with other printers on printing the same or similar part or a functional prototype.
Meaning that the overall print speed of this printer could be more than other printers in the same price range and category.
Advanced motion system
This is one of the claims that the company had made under," best in class reliability," claim.
The motion system in most of the industrial-grade 3D printers is operated on the rails which make sure that the inner travel of the material with which you wish to 3D print part or functional prototype is safe and intact.
But here again, the company's website has not openly mentioned how the printer carries out the motion inside the printer.
Wide range of materials available to be 3D printed
There is a separate tab titled," Materials." When you take the cursor of your mouse to this tab it opens up five medals, three composite based metals, and four continuous fiber metals.
In all, they make up for twelve materials. Stating about this printer in specific, the company claims it can print with:
17-4 PH Stainless Steel, Copper, H13 Tool Steel, Inconel 625, A2 and D2 Tool Steel.
back to menu ↑
Specifications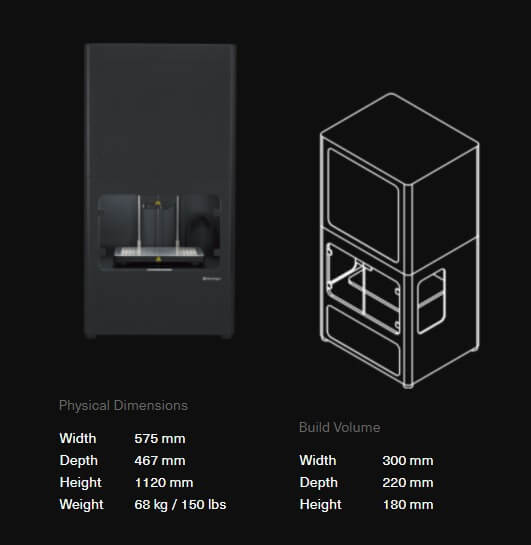 The printing process used by this printer is Metal FFF which stands for fused filament fabrication.
The printer is 575 mm wide, 467 mm deep, and 1120 mm high. The weight of the printer is 68 kilograms.
The build volume offered by this printer is 300 mm wide, 220 mm deep, and 180 mm high.
A correct method to compare two printers is to look at their prices and the build volume they offer.
The next thing to look out for is the layer resolution. Metal X offers a layer resolution range from 50 micrometers to 125 micrometers.
The greater the layer resolution, the clearer the layers would be visible after a part or functional prototype is 3D printed.
The printing media used in this printer is bound powder filament. Internal part geometry is a closed-cell infill or solid part.
The print bed comes heated and can be auto-leveled. The printer comes with a replaceable print sheet.
The Wash-1 has external dimensions of 609 mm * 685 mm * 1067 mm, and it weighs 136 kilograms, the typical washing time of it is 12-72 hours.
Whereas the solvent used by Wash-1 is Opteon SF-79. And the working volume is 356 mm * 254 mm * 203 mm.
The Sinter-2 has external dimensions of 1200 mm * 700 mm * 1500mm. It weighs 350 kilograms and has a run time of 17-31 hours and a sintering volume of 18,356 cubic centimeters.
Its peak internal temperature is 1300 degrees Celsius.
When we referred to the System Details section, that's when we got to relate the Wash-1, Sinter-1, and 2 with Metal X's powder management system and advanced motion system.
back to menu ↑
Price
As mentioned above, you would have to ask the company to get a quote for this printer.
The price is shown in Google search, by searching with keywords," metalx 3D printer price," is $99,500 for the entry point 3D printer whereas $500,000+ for DMLS/SLM machines.
back to menu ↑
First Impression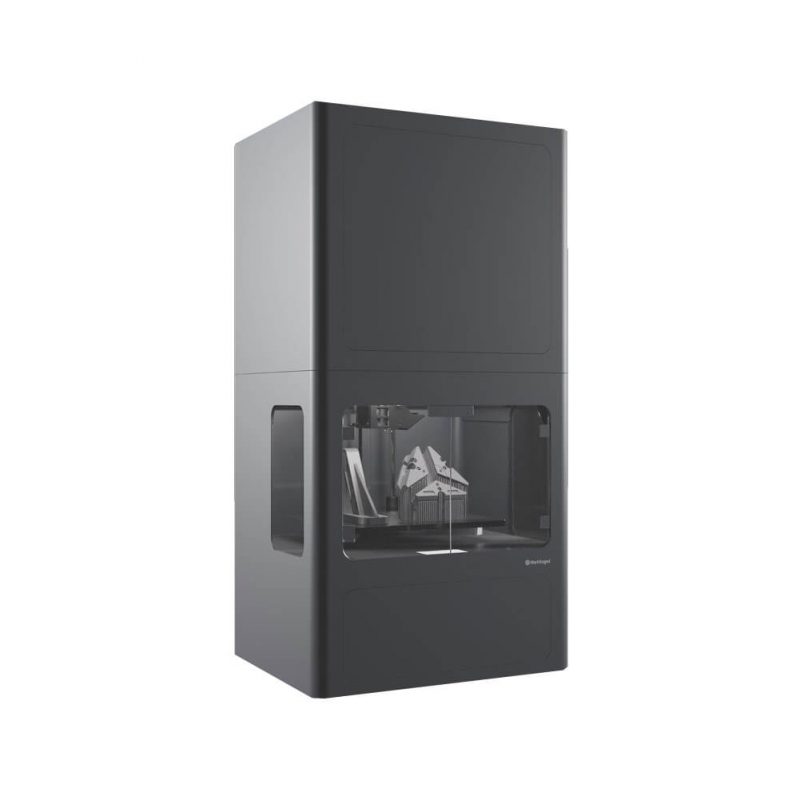 The machine does look like a refrigerator. Although, arguably, the refrigerator never has a transparent body, and Metal X does have a transparent part in its center to the bottom body.
There is also a design of this printer just drawn besides its actual picture which shows all the compartments present inside the 3D printer.
However, for learning more about the machine, you should read about the System details which mention the function of Wash-1, Sinter-1, and 2.
The former is a solvent-based debinding system that has superb cleaning power and is an environmentally sustainable way for the post-production of 3D parts and functional prototypes using simple ventilation.
While the latter ones are the highly optimized tube furnaces used for the sintering of metal parts, the Sinter 2 being bigger and advanced than Sinter 1.
back to menu ↑
Setup
Like all the industrial 3D printers, this one too should come completely assembled.
However, it is advisable before starting the printing, to learn about the complete system that Metal X follows, its Wash-1 and Sinter 1, 2, how do they function as well as when to use them, what settings they are based on, etc.
If you have doubts about the printer's operation or interaction you can contact the company and it is advised to do so, instead of deciding on your own.
back to menu ↑
Printing Type/Cost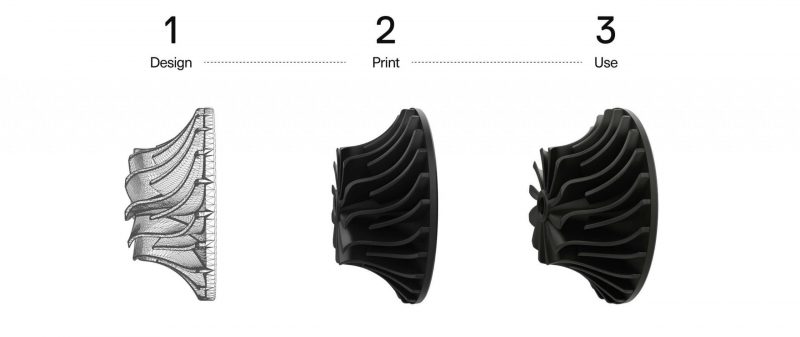 Credit: markforged.com
As mentioned above, the printer uses FFF 3D printing technology in which a continuous filament of material is going to be used for 3D printing of parts and functional prototypes.
This technique has lower printing costs than other 3D printing techniques, arguably because of the lower quality of parts printed by it than other techniques.
However, the exactness of this fact depends upon the infill that you want from a part printed by this technique versus the other technique.
back to menu ↑
Print Quality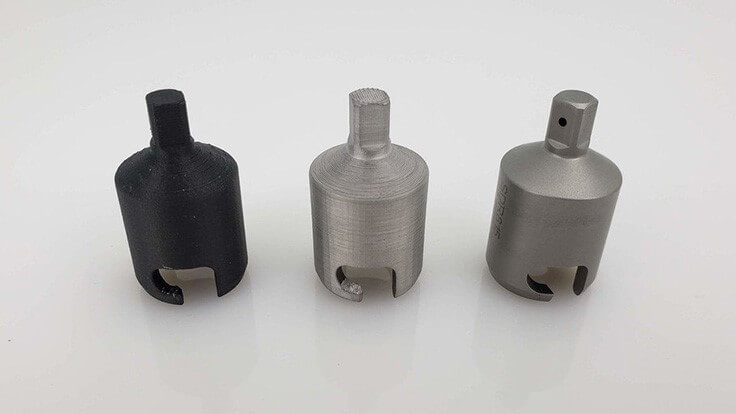 Credit: azureedge.net
There is a photo of gear that is kept when you scroll down the webpage of this printer and it looks pretty impressive how the intricacies and the surface finish are being taken care of.
Just above this gear's picture comes a claim i.e. Strong & affordable parts within forty-eight hours!
Apart from this, there are no pictures of parts and functional prototypes printed with this printer.
back to menu ↑
Software
Eiger is the name of the software which you'll have to use for slicing your product files if you purchase this printer.
The specialty of this software is that you can collaborate on it with teams and start printing from any part of the world.
The company also gives an option to "try it yourself."
On clicking this option, you are diverted to a contact form mentioning some of the features that Eiger has.
back to menu ↑
Customer Service
There is a Contact tab on the website, clicking on which opens up a form which you need to fill for making the company contact you.
Apart from this, there is no further information like on other websites about how the support system works.
And there is also the email ids of sales teams as well as the contact numbers. Especially for the support you have a support portal or contact them via their special support email address.
Clicking on the Support portal opens up a completely new webpage where you can start searching based on a particular knowledge base.
There are tabs like Home, Submit a Ticket, Hardware, Software, and More.
back to menu ↑
Parameters Influencing Buying Decision
A quick recap of the important factors that we have been talking about in this article about.
3D Printer Cost: Needed to be requested, from the company.
3D Print Quality: Industry standard.
3D Print Speed: Extraordinary.
3D Printer Capability: Different metals can be 3D printed using this printer.
3D Printer Practicality: Applications of 3D printers made by Markforged are found in multiple industries, but specifically speaking about Metal X, the company has named firms that use this printer currently on the webpage that is dedicated to this printer.
3D Printer User Expectations: You can go without expectations and request a demo of this machine. Yes! There is such a facility.
back to menu ↑
The Verdict
We wonder if the company could have done the same way even without claiming so much about the printer and mention some of the case studies.
But we should not even forget how the company has listed down its clients for every user who wishes to clear their doubts about the claims.