Builder Extreme 1000 Pro
Builder Extreme 1000 Pro has a standard design as well as all the standard features that you would expect a printer costing around $20,000 would have. It manages to print commendable quality of parts and functional prototypes with dimensional accuracy.
PROS
Dual feed extruder lets you play with color and materials like no other.
Good print speed.
Huge build volume.
Pre Heated build plate.
CONS
The price of this printer might be a concern for beginners.
Product
Specification
Videos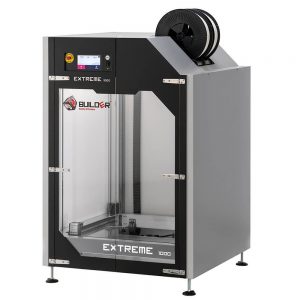 With dual feel extrusion, Builder Extreme 1000 Pro showcases a large format design. It comes with 700 × 700 × 820 mm of build volume enabling ...
| | |
| --- | --- |
| Model | Extreme 1000 Pro |
| Manufacturer | Builder |
| Price Range | $ 24230 |
| Availability | Available |
| Classification | Professional |
| Technology | Extrusion (FFF- FDM…) |
| Material | Bronzefill, Flexible filament, PET, PLA, PVA, Wood-filled |
| Filament diameter | 1.75 mm 0.07 in |
| OS compatibility | Linux, Mac OS, Microsoft Windows |
| Generic material | Yes |
| Nozzle diameter(s) | 0.4 mm 0.02 in, 0.8 mm 0.03 in, 1.2 mm 0.05 in |
| Max. build size | 700 × 700 × 820 mm 27.56 × 27.56 × 32.28 in |
| Max. build volume | 401.80 L |
| Max. print speed | 300 mm 11.81 in /s |
| Dimensions | 1010 × 1010 × 1500 mm 39.76 × 39.76 × 59.06 in |
| Weight | 225 kg 496.04 lb |
| Power input | 100 – 240 V / ~10A / 50 – 60 Hz / 2200 Watt |
| Heated print bed | Yes |
| Heated build chamber | No |
| Automatic calibration | Yes |
| Closed frame | Yes |
| Dual extruder | Yes |
| Independent Dual Extruder | No |
| Full color | No |
| LCD screen | No |
| Touchscreen | No |
| On-board camera | Yes |
| Mobile app | Yes |
| 3D scanners | No |
| CNC mill | No |
| Electronics 3D printing | No |
| Laser engraving | No |
| Conveyor belt | No |
| Air filter | No |
| Pellet extruder | No |
| USB | Yes |
| Wifi | Yes |
| Bluetooth | No |
| SD card | No |
| Ethernet | No |

Table of Contents
This printer is seen as an optimal solution between small desktop FDM 3D printers and larger, industrial machines.
It has a build volume of 700 mm * 700 mm * 820 mm and can be used for making full-sized prototypes, molds, tooling as well as props.
It is filled with some of the most efficient parts about which you will know in a due course of time.
Features
The Builder Extreme 1000 Pro has a dual-feed extruder that allows you to play with different 3D printing materials or colors.
This printer is known to reach a maximum 3D printing speed of 300 millimeters per second. Amazing isn't it?
Well, there are more such amazing features that will give you an exact picture of what this 3D printer is capable of doing. Let's catch them as well.
Allows printing with multiple nozzle diameters: 0.4, 0.8, and 1.2 mm nozzle diameters can fit into the Builder Extreme 1000 Pro which will allow you to manufacture the same geometries with different levels of accuracy as per the printing project demands. If you wish to print a part with small geometries and there are intricacies in it as well, you can go with 0.4 mm. Whereas if you are planning on manufacturing a part or functional prototype with a huge build volume wherein you can afford to have a little bit of leniency, you can go with 0.8 or 1.2 mm.
Heated Bed and IP Camera: Because the Builder Extreme 1000 Pro comes with a heated bed, it is possible to reach a temperature of 60 degrees Celsius. In turn, you get to print 3D printing materials that have a higher glass transition temperature than general ones. Overall, it increases the range of materials the printer is compatible with 3D printing.
The Builder Extreme 1000 Pro has an onboard camera that allows you to view the complete 3D printing process on your device. So say, you have turned the 3D printing process on this printer and cannot be around the printer or do not want to be around the printer for any reason, you can still get a complete view of what's going on the print bed of this printer at your disposal.
Durability and Filament Detection: The printer has a record of staying up for a continuous 300 hours of 3D printing. This means it is suitable for continuous mass production. It does not lose its consistency where some printers of the same price do.
Builder Extreme 1000 Pro notifies you when the filament spool runs out. So, say you are 3D printing and because of some reason, the print stops. The printer is equipped enough to tell you that the pausing of the print has happened due to the filament getting over. So, without further ado, you can change the filament and get back to 3D printing.
Wi-Fi and controller board subsystem located inside the enclosure: Wi-Fi lets you manage the printer from a distance, on your device. Not only can you view the 3D printing process that's happening on board, because you have an in-built camera, but also control the various aspects of the printer. Say you wish to pause the 3D printing process from your device, you can.
Because the controller board subsystem is located inside the enclosure the minute dust particles will not interfere with the 3D print quality of parts or functional prototypes that you manufacture using Builder Extreme 1000 Pro.
Unique dual-feed extruder: Because this 3D printer is equipped with a dual-feed extruder, you will be allowed to print with two different materials. Say you are printing the part or functional prototype with PLA, and want to print the support structures with PETG. Such a kind of arrangement is possible using Builder Extreme 1000 Pro. In fact, to add a little more detailing to the part or functional prototype that you are 3D printing, you can even use two different colors in a single print.
You can even load two spools of filament of the same material and extend your print time. For getting striking visuals, you might want to use two different colors mixed with each other. Such flexibility is rarely found in 3D printers of the same price range.
Specifications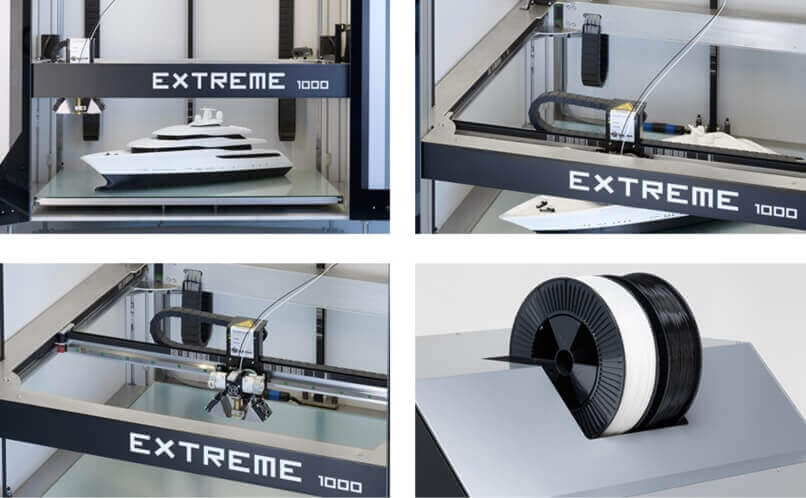 Credit: builder3dprinters
The maximum build volume offered by this printer is 700 mm * 700 mm * 820 mm. Builder Extreme 1000 Pro is based on FDM 3D printing technology.
It has a dual-feeder system developed in-house and allows you to print using nozzle diameters of 0.4 mm, 0.8 mm, and 1.2 mm.
The maximum print speed that can be achieved on this 3D printer is 300 millimeters per second. Builder Extreme 1000 Pro's print bed is made of Aluminum material that can be heated up to 60 degrees Celsius.
The maximum travel speed that this printer's print head can achieve is 500 millimeters per second.
The bed leveling process of the printer is automatic. Because of which it is able to achieve a layer height resolution range of 0.1 mm to 0.9 mm.
The printer is also equipped with an uninterruptible power supply that helps resume the printing after power outrage.
Builder Extreme 1000 Pro's printer dimensions and the dimensions in which it is shipped at your place are 1010 mm * 1010 mm * 1550 mm, 1080 mm * 1200 mm * 900 mm.
This printer's frame is made up of Aluminum. It weighs a good 225 kilograms.
There are two options which the printer manufacturer has given in the printer to let you connect with it, those are; through Wi-Fi and through USB.
This 3D printer is compatible with 3D printing materials such as PLA, PVA, Flexible Filament, Woodwill, Bronzefill, and PET.
All of these 3D printing materials should have a filament diameter of 1.75 mm to become suiting to Builder Extreme 100 Pro.
Price
The base price of this printer is $24230. You can request the printer manufacturer to quote you the price of this printer, for doing which you have to request a quotation by filling a form.
You can also lease Builder Extreme 1000 Pro, there are three variants availed to you by the printer manufacturer, they are:
Lease for 36 months which costs anywhere from $727 to $908.
Lease for 48 months which costs in the range of $545 to $799.
Lease for 60 months which will cost you anywhere from $424 to $690.
First Impressions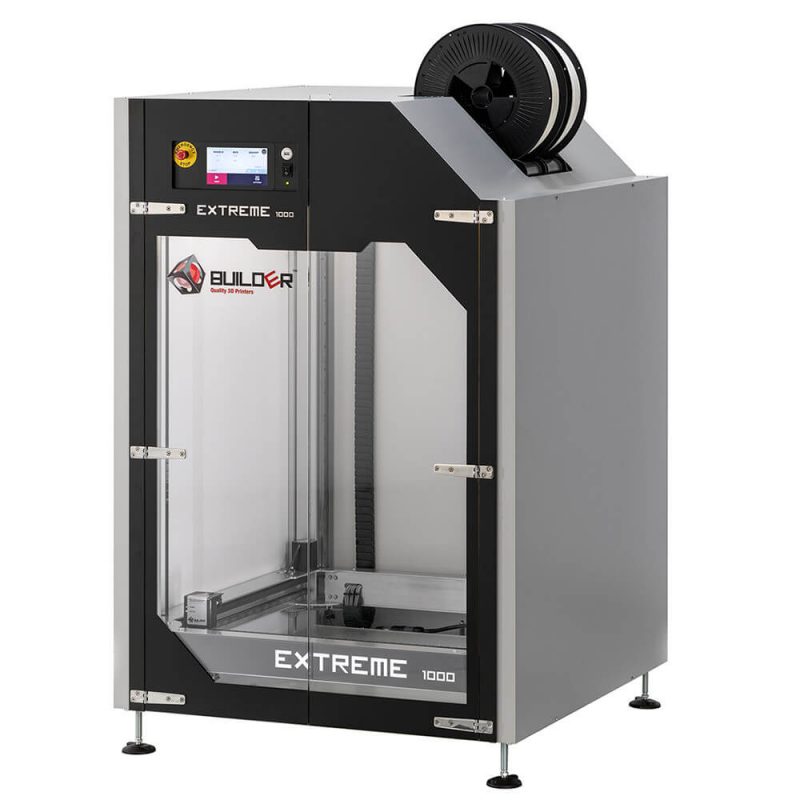 From its front, the printer manages to be pretty much a rectangle except for the top right vertice being pointed. You notice the printer standing on four of its legs at your first glance.
This is will mean that there'll be room for you to lift the printer when thinking of transporting it from a place to the other.
The filament spool holder would seem sprung out except for the half-semi-circle which has managed to stay some part in, some part out of the body.
The left vertice of the rectangular Builder Extreme 1000 Pro is home to its interactive user interface. The printer has a transparent body when looked at from its front.
So, anytime the camera isn't working and you wish to monitor the 3D printing process, you can do it from the front face as well.
Inner rails, dual feed system, an on-board camera, integrated heated bed, are all visible on the right and lefts of the base of this printer.
You can open the glass door of this printer to have access to the inner print chamber.
You'll have to do that while collecting the 3D printed part and taking it for post-processing. Overall, the printer has a standard and stable design. Unlike other 3D printers, there are hardly any chances that this one would vibrate.
Even if you plan to 3D print a part or functional prototype with the maximum build volume at maximum print speed the printer allows you to 3D print.
Setup
The printer comes completely assembled with a user manual which you can go through before starting to print your first part.
Not only will referring to the manual give you exposure to various parts of the printer and their functions but also tell you about their general ins and outs and help you set up.
Printing Type/Cost
FDM 3D printing technology, based on which the 3D printer prints is the most used technology of 3D printing that you will come across in the majority of 3D printers.
It has a simple process that starts with loading the filament on the filament spool holder. Heating the thermoplastic to a glass transition temperature and then letting it extrude via a nozzle over the print bed.
Once the layer is printed, the nozzle system moves according to the geometry of the part or functional prototypes you are manufacturing and prints another layer.
The complete print is allowed to cool down, sometimes naturally, sometimes with the help of a cooling fan to form a part or functional prototype.
The cost of printing a part using FDM 3D printing technology is lower than that with other technologies because there is no curing source used in this technology.
Print Quality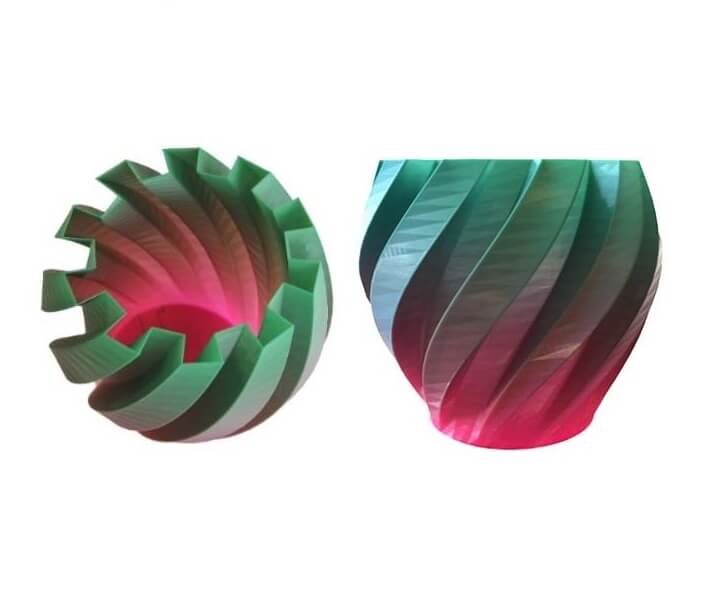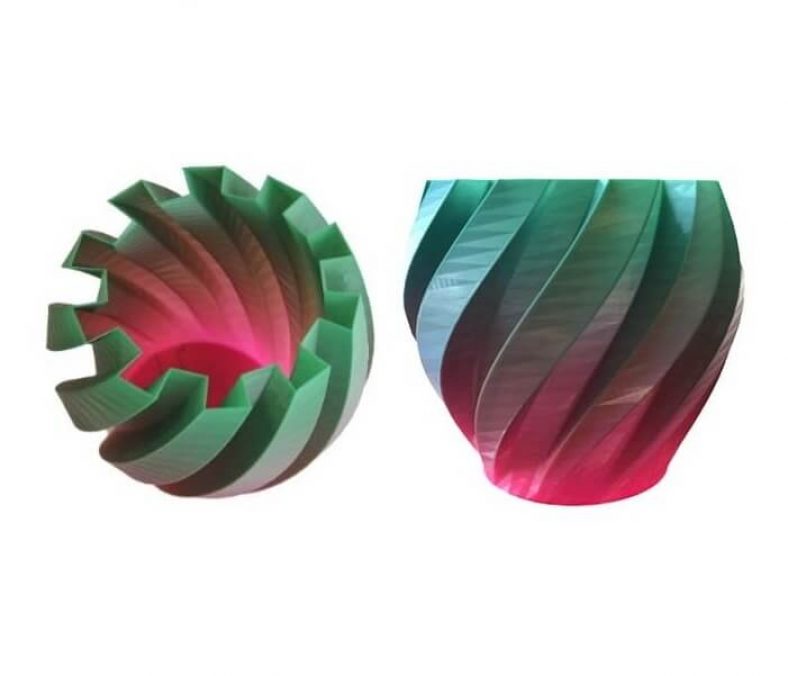 Credit: imakr
If there is something that differentiates this printer from other printers that might offer the same layer height, precision, and surface finish in the same price range, it's color.
The dual feed technology of Builder Extreme enables you to play with material as well as color like no other.
Therefore, if you know how to make the maximum use of it, the print quality of your parts and functional prototypes would be unmatched.
Software
Apart from other things that are contained in the 3D printer's kit, you get the slicing software Simplify 3D. It's an open-source, easy to use slicing software that delivers you 3D sliced file in STL format. You can give an input of any 3D design file to get the print-ready sliced file using Simplify 3D.
Customer Support
You can fill the Support request form that's available online to get the help in the best possible manner. You can upload pictures, videos, or G-codes that you feel will be necessary for the support team of the company. And if there is anything that the team needs specifically, they will get back to you via email.
Parameters Influencing Buying Decision
From the complete write-up, below mentioned, in brief, are the few factors that you must not miss out upon.
3D Printer Cost: Builder Extreme 1000 Pro is an industrial 3D printer available at a lot lower price than many industrial 3D printers. But at the same time, if you have only started in this industry, you might find the cost high.
3D Printer Quality: If you notice the layer height range offered by this printer in every part and functional prototype, it's similar to other printers in the same price range. But the major benefit you'll notice is the color variance that can be brought in parts and functional prototypes because of the dual feed extruder.
3D Print Speed: 300 millimeters per second is the maximum you can go with printing a part or functional prototype on the printer. But when need more print quality and intricacies you can stick with 120 millimeters per second.
3D Printer Capability: The printer is capable of printing with multi-materials and colors.
3D Printer Practicality:  300 hours of continuous printing and yet the printer does not move away from delivering consistent prints.
3D Printer User Expectations: It's primarily meant for professionals in the field but if you are a beginner who has decided to make a career out of 3D printing, it would completely stand up to your expectations.
The Verdict
Builder Extreme 1000 Pro has a standard design as well as all the standard features that you would expect a printer costing around $20,000 would have. It manages to print commendable quality of parts and functional prototypes with dimensional accuracy.
The color blending technology is its outstanding feature. Although you might find the cost on a little bit higher side, you will know it's totally worth it, when you buy and get to experience it at work.