Builder Extreme 2000 Pro 3D printer
Builder Extreme 2000 Pro is a little on a higher-end in terms of the price, but you cannot complain after knowing the kind of features it offers and its print quality. So, if you are keen to achieve the highest quality prints, and your applications deserve the attention this printer is for you.
PROS
Dual feed extruders.
Automatic bed leveling.
Closed heating system.
The door only opens when 3D printing is paused or stopped or not happening at all.
Huge build volume.
UPS system.
Touch screen interface.
Heated print bed.
Simple and standard design.
CONS
Although the design of this printer makes it comfortable to be used at spaces like offices and education, even at home, whether the users can afford it? Is the question that we do not have an answer to!
Product
Specification
Videos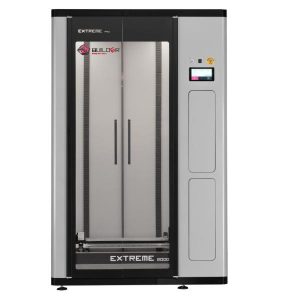 Helping users create detailed parts using FDM 3D printing technology for faster production speed, Builder Extreme 2000 Pro brings the most innovative ...
| | |
| --- | --- |
| Model | Extreme 2000 PRO |
| Manufacturer | Builder |
| Price Range | $ 28000 |
| Release date | 2018 |
| Country | Netherlands |
| Availability | Available |
| Classification | Professional |
| Technology | Extrusion (FFF- FDM…) |
| Material | ABS, Other plastics, PLA |
| Filament diameter | 1.75 mm0.07 in |
| OS compatibility | Linux, Mac OS, Microsoft Windows |
| Generic material | Yes |
| Max. build size | 700 × 700 × 1700 mm27.56 × 27.56 × 66.93 in |
| Max. build volume | 833.00 L |
| Max. print speed | 120 mm4.72 in/s |
| Min. layer thickness | 0.1 mm0.004 in |
| Dimensions | 1340 × 1050 × 2240 mm52.76 × 41.34 × 88.19 in |
| Nozzle diameter(s) | 0.4 mm0.02 in |
| Heated print bed | Yes |
| Heated build chamber | No |
| Automatic calibration | No |
| Closed frame | Yes |
| Dual extruder | Yes |
| Independent Dual Extruder | No |
| Full color | No |
| LCD screen | No |
| Touchscreen | Yes |
| On-board camera | Yes |
| Mobile app | Yes |
| 3D scanners | No |
| CNC mill | No |
| Electronics 3D printing | No |
| Laser engraving | No |
| Conveyor belt | No |
| Air filter | Yes |
| Pellet extruder | No |
| USB | Yes |
| Wifi | Yes |
| Bluetooth | No |
| SD card | No |
| Ethernet | Yes |

Table of Contents
This is the biggest offering in terms of build volume that Builder Extreme provides after 1000 Pro and 1500 Pro. But there is not the build volume that's supposed to be appreciated, there is a lot more.
Allow us to take you through an in-depth journey that will reveal some amazing facts about this printer.
Features
There are thirteen odd features that make Builder Extreme 2000 Pro stand out from other 3D printers in the same price range.
The list starts from Wi-Fi and USB compatibility, followed by the touchscreen interface, filament detection system, two 4.5 kilograms filament spool holder, the UPS system, and the BOFA air filter on the right of this printer.
Whereas the center and left of this printer contain parts whose features are; onboard camera, heated bed, dual-feed extruder, locking system, and huge build volume.
Touch screen user interface: With the development of 3D printers, other technologies have started to associate with it and this feature that you see not only in Builder Extreme 2000 Pro, but also in many other 3D printers is a result of the same. This interface permits you to have complete control over the 3D printer's functions. Some examples of which are; you can control the nozzle as well as the bed temperature, adjust its light, change the filament, and much more. You can play the maintenance instruction videos; the onboard camera lets you check the progress of the print directly from your device.
Dual-feed extruder: Unlike other 3D printer manufacturers, Builder Extreme designs their direct drive extruder in-house. And it is designing it in-house that gives them the confidence to claim how their extruder is ready for twenty-four hours of continuous printing. Apart from consistent, continuous printing the dual feed extruder also permits you to print dual-colored objects as well as dual-material containing objects, in the latter case you will have to use it as a mono extruder by inserting two of the same filament spools. The nozzles compatible with this printer are easily swappable and hence they can be replaced for one the other diameter for optimizing the quality of prints.
Fully closed housing: Not only does the fully closed housing influence the print quality but also it works in combination with the heated bed to reduce the printing sound of the printer by around 40 percent. There are transparent doors that you get to see while checking the printer out from its front view. They allow you to monitor the printing process, provided you are around the printer and do not wish to view the process from your device. The Builder Extreme 2000 Pro is prepared for the air filter integration as well as the BOFA air extractor can also be added to the machine.
Standard and stable design: This 3D printer is designed efficiently taking into consideration all the features that each of its parts has. The shape of the printer is a rectangle, it's larger in height than the length and the width that's why you see most of its parts that contribute to the wonderful features the printer hosts, are either on the left or right of the printer. Whereas if you compare the other two Builder Extreme Pros i.e., 1000 Pro and 1500 Pro, they were either at the top or bottom!
One thing to also note about the design is, though it has a huge build volume, you cannot term it as a printer that cannot be used at your home, an education institution as well as offices. The filament spool and the control box are integrated with each other in the closed housing and are openly accessible after pushing the panels slightly. There is also a seven inches touch screen interface placed at a comfortable height where it is easy for you to reach out.
Specifications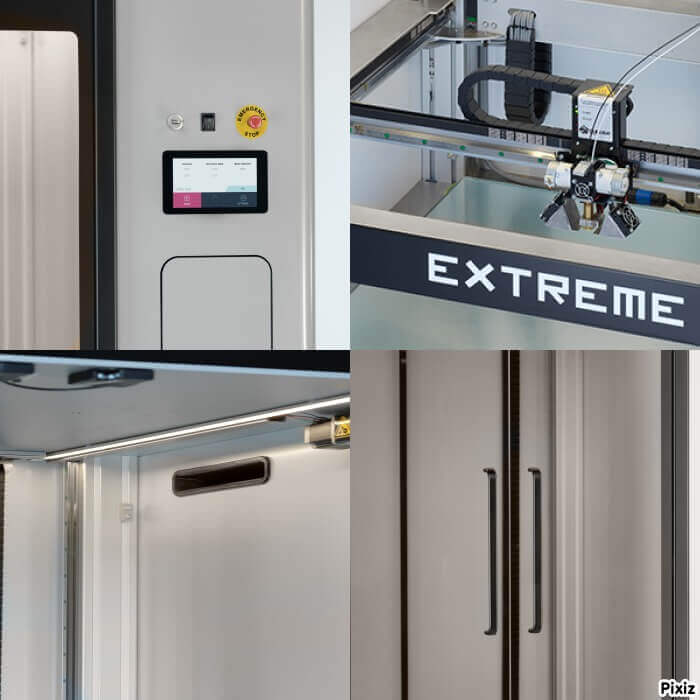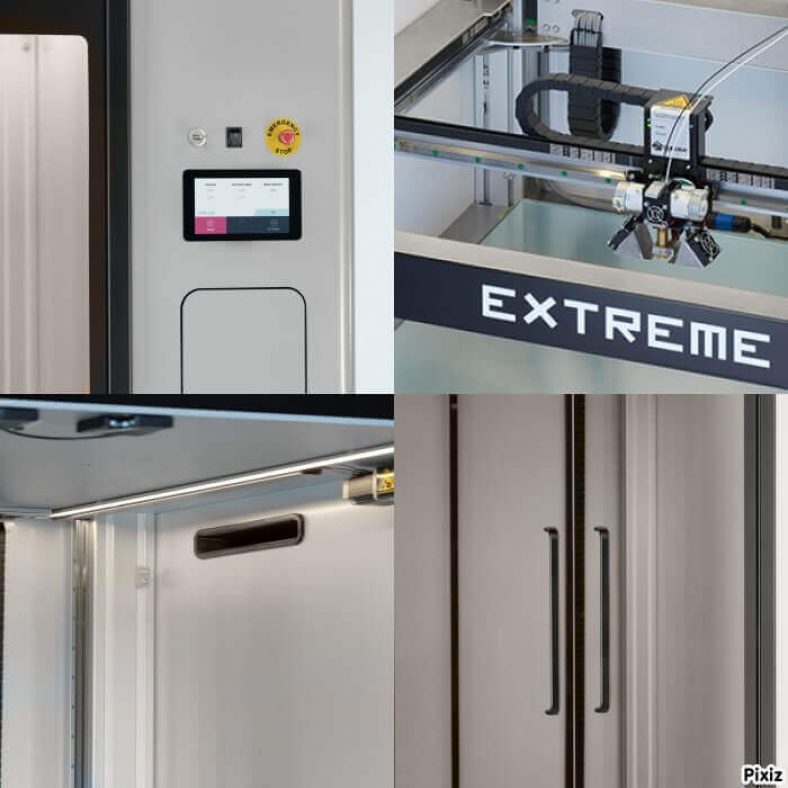 This giant machine's mechanism is based on FDM 3D printing technology. It has the direct drive feeder type. Builder Extreme 2000 Pro's print head can accommodate mono as well as dual extruder which are developed in-house by the printer manufacturer.
The nozzle diameters compatible with this 3D printer are 0.4 mm, 0.8 mm, and 1.2 mm. Swapping them is very easy. This printer offers a maximum build volume of 700 mm * 700 mm * 1700 mm.
Its power rating is 1400 Watts without heating and after heating, it comes down to 800 Watts. The filament diameter that you need to have to enable printing with this printer is 1.75 mm.
You can connect with this printer using three modes:
Wi-Fi.
USB.
Ethernet.
The layer height resolution range offered by this printer is 0.1 to 0.9 mm depending on the nozzle that you use for 3D printing. There is a seven-inch color touchscreen present on the board of the printer.
The maximum print speed that can be achieved while printing with this printer is up to 300 millimeters per second. The onboard camera lets you view the printing process from a desktop or mobile device.
The maximum speed at which this 3D printer's print head can travel up to is 500 millimeters per second. Builder Extreme 2000 Pro has a filament detection system.
The heated bed of this printer is able to withstand temperature up to 60 degrees Celsius and it is possible for the bed to reach this temperature in ten minutes.
Caring for your safety, the printer manufacturer lets the door open only when the printing is paused. The printer also has a UPS system that helps save the progress you have achieved during power outrage.
The bed leveling of this printer is automatic. You are allowed to printing with 3D printing filaments such as PLA, Pro1 (ABS replacement), PET, and Flexible Filaments. All of them need to be 1.75 mm in diameter.
Price
Builder Extreme 2000 Pro is available in the market at $30307. You are given the facility to request for getting a quote for this printer by submitting a form, as well as you can get to work with the printer by leasing it. The leasing charges of this printer as are follows.
Builder extreme can be leased for three kinds of time durations:
For the period of 36 months.
For the period of 48 months
For the period of 60 months.
The charges' range for them is $727.52 to $909.40 for a, $545.64 to $800.28 for b, and $424.39 to $691.15 for c.
For leasing the printer too, there is a form you will have to fill which is available online.
First Impression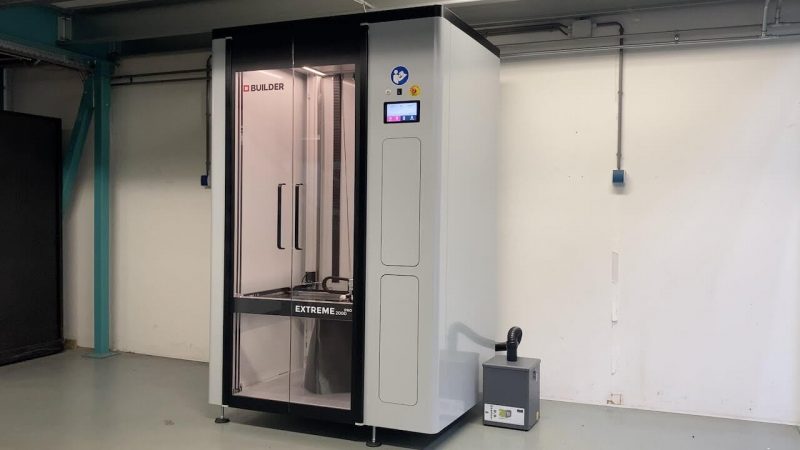 Credit: builder3dprinters
The difference in construction between the other two (1500 and 1000) Builder Extreme Pros and this one (2000 Pro) is clearly visible in terms of the filament spool holder.
1000 Pro and 1500 Pro did have a filament spool holder on their top rights whereas in 2000 Pro it is beneath the touchscreen interface.
Also, the touchscreen interface which is seen on the left top in the other two has come towards the right side of the printer's body.
A reason for such a change may be the tall height which this 3D printer has, which makes it more rectangle than the other two.
Overall, the Builder Extreme 2000 Pro has been designed efficiently for incorporating all of its key features without sacrificing the print volume.
And that's why you sense seeing the Extreme 2000 Pro that, although it offers huge build volume, it can be kept in a room in a home, in offices, educational institutions, etc.
The filament spools and control box are integrated with each other in a closed housing and open for ensuring they are easily accessible only by pushing the panels a little bit.
The seven-inch touch screen interface is also placed at a height where it convenient for you to reach out to.
The doors are kept transparent so that you can easily monitor the printing process as well as for absorbing 40 percent of the sound that is produced while printing process.
These doors will only open when the printing is not taking place or paused. For adding more safety, the printer manufacturer gives you the option of adding the BOFA air extractor.
Setup
The printer comes fully assembled with a user manual that you can go through. It will help you in knowing the parts of the printer and their functionalities.
The bed can be automatically leveled, so all you have to do is, unwrap the printer, plug it for electricity and start printing.
Printing Type/Cost
The printer prints parts and functional prototypes using FDM 3D printing technology. So you will have to get the filament spools of 3D printing materials that are compatible with this 3D printer.
Those would be heated in the print chamber and after their glass transition temperatures have been achieved, they would pass through the extruder, from the nozzle, over the print bed, according to the geometry of the part or functional prototype that is fed to the printer by your sliced file.
The printing cost would vary from one object to the other because of the geometry, the material used for making that object, the print speed, amount of infill, etc.
Print Quality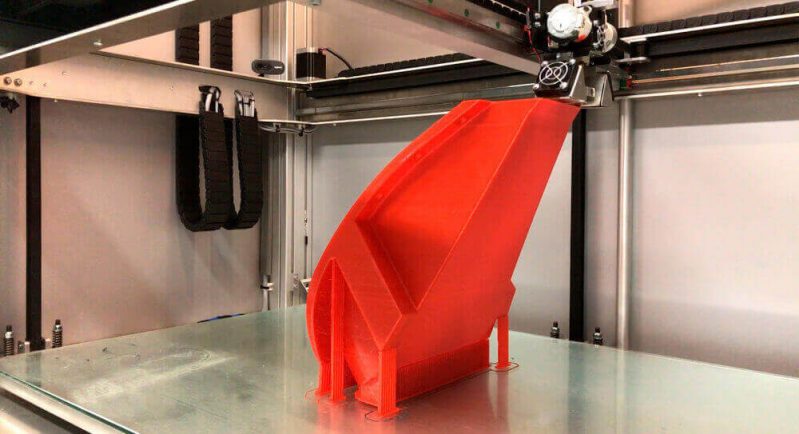 Credit: top3dshop
Overall, the layer height range on this printer varies anywhere from 0.1 to 0.9 mm.
It will depend on the speed at which you are 3D printing, the geometry that you have fed it, the build of the required part, etc.
One thing which is eccentric with this printer is that you can be more creative in terms of using multi-material as well as multi-color because of its dual feed drive.
Software
Simplify 3D is the software that comes along with many other things in the box that will be shipping the printer to your place. It is an easy to use slicing software that will deliver files in STL format.
You can easily make edits, realize your flaws in the 3D design file and ensure those do not travel to the final sliced file and translate into an abject failure or part/prototype failures.
Customer Support
You will have to fill the Support form that's available online to let the technical team of this printer know about the problem which you are facing.
With form, you can submit photographs, videos as well as G-codes of your sliced file to better explain your problem, rather than just depending on words.
The technical team would get back to you via email in case they specifically are in need of something and then your doubts would be cleared.
Parameters Influencing Buying Decision
Factors that are most influencing your buying decision are mentioned below.
3D Printer Cost: Easily affordable for professionals and manufacturers, difficultly affordable for domestic use.
3D Printer Quality: Industry standard.
3D Print Speed: Average.
3D Printer Capability: It will allow you to play with colors and materials like no other.
3D Printer Practicality: Can be used for making prototypes as well as objects.
3D Printer User Expectations: They will be fulfilled in terms of build volume, quality, printing in minimal time, and even consistently printing for a long span of time.
The Verdict
Builder Extreme 2000 Pro is a little on a higher-end in terms of the price, but you cannot complain after knowing the kind of features it offers and its print quality.
So, if you are keen to achieve the highest quality prints, and your applications deserve the attention, why not? The 3D printer would certainly help better your process for good.