Creaform Go!Scan 3D
Built to impress, Go!Scan 3D is really an impressive device, catering to a number of different applications and scanning small to large objects with the highest precision.
PROS
The device offers real time meshing
It works at a fast speed
Its scan quality is best and is very accurate
Easy calibration
Simple to mount using hand strap for simplifying longer scanning work sessions
CONS
Expensive
Not compatible with Linux or Mac operating systems
Table of Contents
Designed by Creamform, the Go!SCAN 3D is one of the fastest handheld 3D scanners which is simple in use and very accurate with results.
The device is highly efficient in capturing complex surfaces in the first attempt itself. Not just that, the easy setup allows users of every level to get familiar with the scanner in no time. You can easily improve the product management life cycle by integrating it into your 3D modeling software.
Known to capture flawless geometries and textures, Go!Scan 3D is recommended for various complex applications. The scanner easily acquires a high level of detail, offering users the best solution for creating 3D models.
When talking about the manufacturer, Creaform is an old company with huge experience with metrology solutions. However, in 2012, AMETEK Inc. acquired this brand which in itself is a very reputed manufacturer of 3D scanners for a number of niches.
And, Go!Scan is among the many top professional scanners created by the manufacturer. The detailed design and ease of use only make this device a really great option for those seeking the best outcomes. So, here is a brief review of Creaform Go!Scan 3D to help you find out what all this machine entails.
Features
Without any doubt, this 3D scanner hosts a lot of premium features to allow seamless operation. At the same time, it is easy to carry and very lightweight.
Equipped with advanced technology, Creaform Go!Scan 3D is among those rare scanners which deliver for all its promises.
Here are some of the crucial features associated with this machine that you won't like to miss.
Highly Portable
It is very important for a handheld 3D scanner to be lightweight and comfortable to handle. Understanding the need, the manufacturer ensures that this device is as portable as possible.
With just 1.25 kgs of weight, Go!Scan 3D is always ready for the run. In addition, you can move both objects as well as the scanner freely when working.
And, all it needs is a small space in your suitcase.
Plug and Play Design
If you are using a scanner for the first time, this device would perfectly fit your needs.
Easy to set up and offering a user-friendly experience, Go!Scan 3D is best for beginners. You do not need to engage yourself in tedious part preparation. Once you are ready, just point and shoot.
The scanner offers a quick preview right after you point it on the object, offering the areas left for scanning in real-time. In short, your device will be up and ready in just 2 minutes.
Multiple Usage
With faster technology, Creaform Go!Scan 3D offers ready-to-use files which can be then integrated into the chosen software for multiple applications.
Either use it for CAD design, reverse engineering or 3D printing or any other application, the results would never disappoint you.
Specifications
| | |
| --- | --- |
| | |
| Accuracy | Up to 0.050 mm |
| Volumetric Accuracy | 0.050 mm + 0.150 mm/m |
| Resolution | 0.100 mm |
| Measurement Rate | 1,500,000 measurements/s |
| Part size Range | 0.1–4 m (0.3–13 ft) |
| Scanning Area | 390 x 390 mm |
| Stand-off Distance | 400 mm |
With 89 x 114 x 346 mm of footprint, this 3D scanner happens to be very compact and easy to carry.
Being a device for professional use, Go!Scan 3D ensures high-quality results by offering an accuracy of 0.05 mm while the volumetric accuracy of 0.050 mm + 0.150 mm/m.
Not just that, the resolution is exemplary as well. It flaunts a mesh resolution of 0.200 mm as well as a measurement resolution of 0.100 mm.
The speed is also fast with 1,500,000 measurements/s of measurement rate. Using target, color as well as geometry positioning methods, the device ensures complete satisfaction to the users in terms of results acquired.
One must maintain a standoff distance of 400 mm to attain desired results of the scanned files. In short, the machine fulfills almost every criterion and expectation of the users. However, the scanner isn't compatible with Mac or Linux operating systems. And, only runs with Windows.
Price
To find the real-time price of the Go!Scan 3D, you must contact the manufacturer or the respective dealers available in your country. However, you must expect to invest a hefty amount in order to buy this device.
First Impressions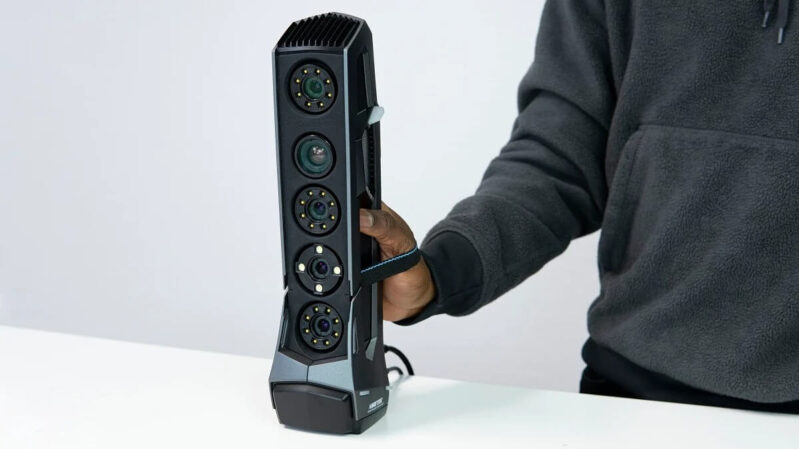 Creaform is very responsible for the product deliveries and ensures that the device reaches the customers without any damage. Using a reinforced case, the device is protected against any probable shocks that are common during long travel.
Unpacking the case, you will find power cables, positioning targets, a USB cable, and a calibration plate along with the 3D scanner. Also, there is a test piece for users to try their first scan.
Although portable, the device is a wired machine and needs a connection with a computer and a power outlet. This may seem troublesome for those who often need outdoor scanning.
Those finding it difficult to carry the device for the entire 3D scanning operation can also fasten the same using the hand strap. Hence, it is convenient to scan for a longer duration without feeling tired.
Regarding its aesthetics, the scanner carries a neat design and has also won the 2019 Red Dot Awards for Product Design.
The manufacturer's clever design with luminous indicators (green, blue, orange, or red) ensures that the users can verify in real-time if the object is digitized properly.
With buttons on the scanner's body, you do not need to use the computer for operating the device. On the contrary, just work with the scanner to complete the task.
In addition, it does have the Smart Control option offering users extra functions such as the capability of changing the on-screen display as well as calibration settings.
Setup
As mentioned, setup is as easy as a piece of cake, even for beginners. Just connect the power along with the0 USB 3.0 cables. And, carry on with the installation of the VXelements software on the PC.
Remember, the device is not compatible with MAC or Linux. So, you must use a Windows operating system to complete the setup.
For ensuring a secure connection of the USB cable, you may use the Ethernet socket on the computer. This way, the USB cable won't disconnect accidentally during the installation process.
After setup, you will need to calibrate the device before beginning with the first scan. Also, as per the manufacturer's guideline, you must repeat calibration in case of a change in ambient temperature or when the device experiences shock. For best results, it is preferred to carry the step each time you start a new work session.
Just using the software or utilizing the buttons on the sides of the device, you can complete this step. You get the calibration plate with the machine to help you with the process.
Just position it at different angles as well as heights, referring to 14 different points for executing calibration. It won't take more than a few seconds. Once done, you can start scanning right away.
Scanning Type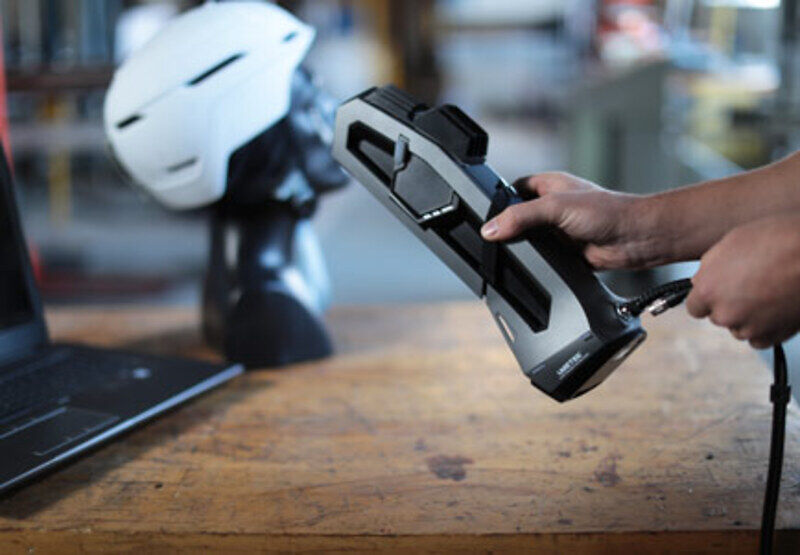 The Go!SCAN 3D works on structured light technology. By projecting 99 white lines over the desired object, and using 3 tracking cameras for acquiring data, the device constructs the surface of the digital file at a rate of 1.5 million measurements per second. For capturing the color data, the scanner has an additional camera as well.
Scan Quality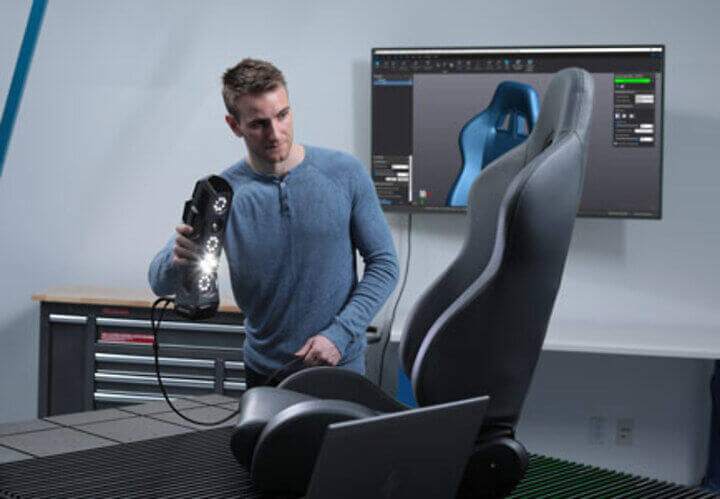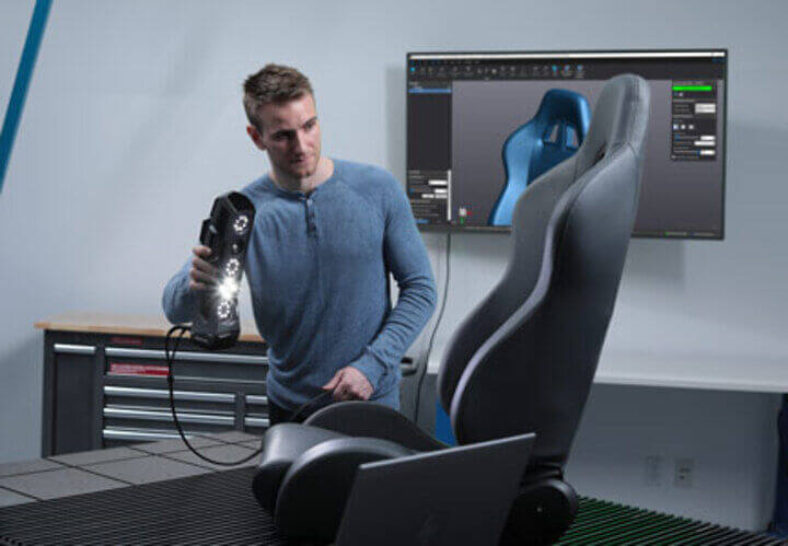 Enabling the highest resolution and accuracy, the scanner provides impeccable quality in terms of capturing the varied sizes of objects.
Software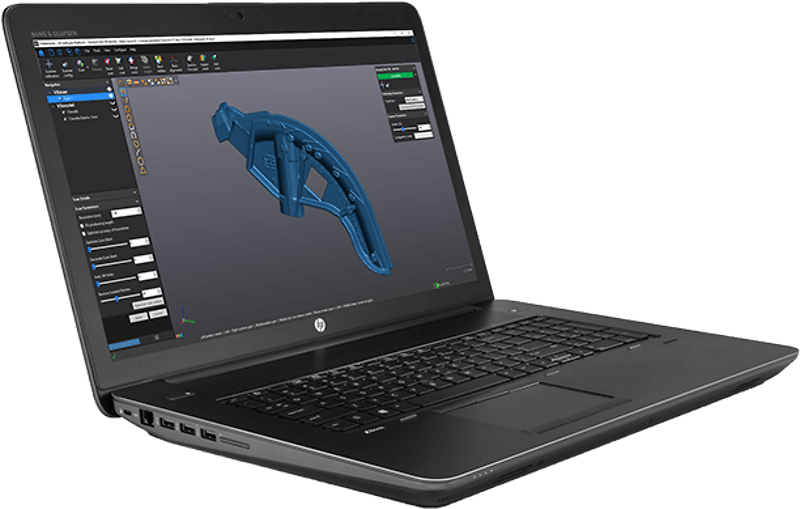 The manufacturer provides VXelements software for all its Creaform 3D scanners. The application comes with a module named VXscan especially for digitization.
This comes as an integral part of the scanning phase. Hence, when working with the module, your device will have a better understanding of the different parameters of the software, offering convenient scanning.
Along with the classic mode for experienced users that helps control all of the scanner's parameters, the software also has a guided mode for beginners.
Parameters Influencing Buying Decision
To find out if the Go!Scan 3D matches your application needs, do not forget to give a quick glance over the related parameters.
3D Scanner cost: It is expensive and affordable for professional use.
3D Scan quality: Without any doubt, the scanner is very accurate and offers an amazing resolution.
3D Scan speed: In terms of measuring rate, it is very impressive flaunting 1,500,000 measurements per second.
3D Scanner capability: One can scan small to large objects using this handheld 3D scanner. However, with a wired design, it may not be suitable for outdoor work sessions with no close power supply outlet.
3D Scanner Practicality: Go!Scan 3D finds its application in a variety of sectors and niches. From 3D scan to CAD, reverse engineering to packaging design, users can carry different tasks using this powerful scanner.
3D Scanner User expectations: Apart from the price tag, the 3D scanner excels at almost every front.
The Verdict
Those seeking a professional 3D scanner, mostly for indoor work sessions can certainly opt for this amazing machine. Built to impress, Go!Scan 3D is really an impressive device, catering to a number of different applications and scanning small to large objects with the highest precision.