Da Vinci Nano
Da Vinci Nano is compact and has an attractive design to lure most of the customers right at the eye contact. From helping small businesses to accomplish specific tasks to entertaining children at home with its creative offering, the 3D printer has been welcomed by the various user base.
PROS
It is very simple to use
Highly affordable
Intuitive Software and User-Friendly Interface
Decent Quality prints
CONS
Support for only proprietary filament limited to PLA and PETG
Slow printing speed
Product
Specification
Videos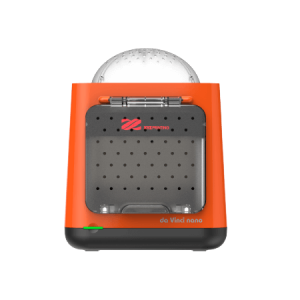 Compact in size and carrying an attractive design, Da Vinci Nano is sure to lure most of the customers right from the first eye contact. The printer ...
| | |
| --- | --- |
| Model | Da Vinci Nano |
| Manufacturer | XYZprinting |
| Price Range | $ 229 |
| Availability | Available |
| Classification | Desktop |
| Technology | Extrusion (FFF- FDM…) |
| Material | PLA |
| Filament diameter | 1.75 mm 0.07 in |
| OS compatibility | Mac OS, Microsoft Windows |
| Max. build size | 120 × 120 × 120 mm 4.72 × 4.72 × 4.72 in |
| Max. build volume | 1.73 L |
| Power input | 110-220 V 50-60 Hz AC |
| Heated print bed | No |
| Heated build chamber | No |
| Automatic calibration | No |
| Closed frame | No |
| Dual extruder | No |
| Independent Dual Extruder | No |
| Full color | No |
| LCD screen | No |
| Touchscreen | No |
| On-board camera | No |
| Mobile app | No |
| 3D scanners | No |
| CNC mill | No |
| Electronics 3D printing | No |
| Laser engraving | No |
| Conveyor belt | No |
| Air filter | No |
| Pellet extruder | No |
| USB | Yes |
| Wifi | No |
| Bluetooth | No |
| SD card | No |
| Ethernet | No |

Table of Contents
XYZPrinting is one of the most popular names in the 3D printing niche. It has provided a huge number of 3D printers targeting different user bases by now. However, it seems more inclined towards designing machines that are easily understandable to beginners and novices.
One such machine made for home users is Da Vinci Nano. The printer was released in 2018 and is an entry-level 3D printer made its space among home users sooner. With the most affordable and cheap price, it remains unbeatable among the list of best 3D printers.
But the small price does not mean it offers too little to the users. On the other hand, this small package is enriched with advanced features and useful automation settings to create decent quality prints without hassle.
The 3D printer is compact and has an attractive design to lure most of the customers right at the eye contact. From helping small businesses to accomplish specific tasks to entertaining children at home with its creative offering, the 3D printer has been welcomed by the various user base.
So, here is a review outlining the benefits and challenges of this small machine and what makes it such a great option for starters.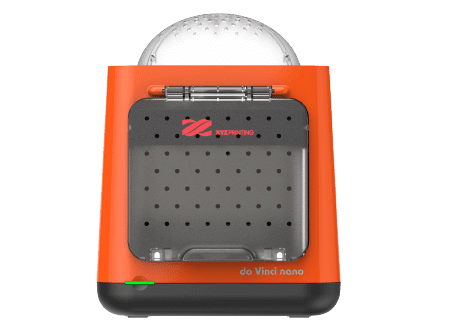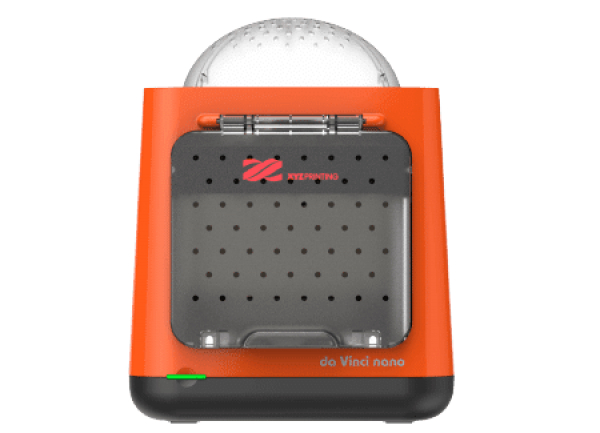 Features
When it comes to talking about the commercial 3D printers, beginners often just base their decision on the build space and price of the printer. However, there are a lot of other things that differentiate one 3D printer from another.
Being someone with no experience with a 3D printer qualifies one to make that mistake. But isn't it better to be vigilant than sorry later? Taking a step further and understanding the useful features closely that a printer offers can solve a lot of confusion, even for newcomers.
Enclosed and Safe: The 3D printer comes with an enclosed chamber which makes it perfect for home use and even around children and for those working with it for the first time. Its design is pretty attractive and looks like a small space ship. With a closed chamber, the prints can be completed without any fear of accidents.
Compact and Lightweight: Why is it advantageous? The reason that the printer is designed for home use, there must be a lot of shifting of the machine from one space to another.
Also, there would be limited space for the 3D printer in the house, mostly on a work desk. Hence, getting a compact and lightweight 3D printer could cater to those constraints.
When talking about weight, the printer is only 4.7 kgs. And, it is not at all bigger than a bread maker. Think of such a small and beautiful 3D printer sitting next to your laptop on your work desk. It is alluring.
Auto-Filament Feeder: Mostly the feature like this isn't found in budget printers. But this option gives you the benefit of forgetting about the material settings when working with this 3D printer.
The smart technology used helps in recognizing the material fed to the printer, thus customizing the settings itself with no need to put your head inside extra workload. The NFC chip used for optimized material profiles also helps in detecting the amount of material left.
Auto Calibration: It is true that the calibration of 3D Printers can make one bite nails. This is because the process is not only hectic but tough too. This is counted among the toughest settings of a 3D printer.
With Da Vinci Nano, one does not need to go through that tedious task only to fall prey to failed prints and unlimited attempts to calibrate the printer. With auto-calibration, most of the task is taken care of by the printer itself. For beginners, this does make a lot of sense.
Removable Print Bed: This 3D printer has a removable print bed. This means that one can easily take out the print after it's completed. The reason that the printer is not compatible with ABS filament, it does not need a heated bed.
And, the company has completely followed the rule to ensure further safety to users by keeping the bed non-heated. So, one must not worry about accidentally touching the heated bed while removing the print bed.
Automated Design: The company has focused on attracting first-time users and has kept the operation as simple as possible. The automated and fully-assembled design lets users print models right after taking out the printer from the box.
You do not have to play around with small screws and parts, just a few initial setups and you are done to start your first print.
Quiet Operation: One more feature that makes it even more favorable for use at home is the noise-free operation. Users can work next to the printer without any disturbance as it does not produce a lot of noise. You may hear a bit of buzzing or whirring is stationed right next to it, but it is completely tolerable.
Specifications


The 3D printer occupies very little space and can fit into anywhere with 14.9 x 14 x 11 inches body size. The printer has a build volume of 120 x 120 x 120 mm which is less than many 3D printers but you can create a lot of useful models within that limited space.
Moreover, connecting prints can be created to design a bigger model. Hence, build space isn't such a big red flag, mostly when the printer is designed for home users.
One can achieve a layer resolution of 100 to 400 microns. The XY and Z Positioning precisions are 12.5 microns and 0.001 mm respectively. The printer provides a speed of 70mm/second. It allows 1.75 mm of filament diameter and comes with one nozzle with 0.4 nozzles.
It utilized a glass bed which is light and easily manageable. And, it can be placed anywhere inside the house because of its compact size and safety features.
Price
How can one be more impressed if not after looking at the price of XYZPrinting's Da Vinci Nano? This is a budget printer and very well justifies the price tag, keeping the cost as low as possible.
Priced around $180, the 3D printer offers more than expected. One can enjoy seamless printing when working with this small printer which exhibits a lot of amazing features not available in expensive counterparts as well.
First Impressions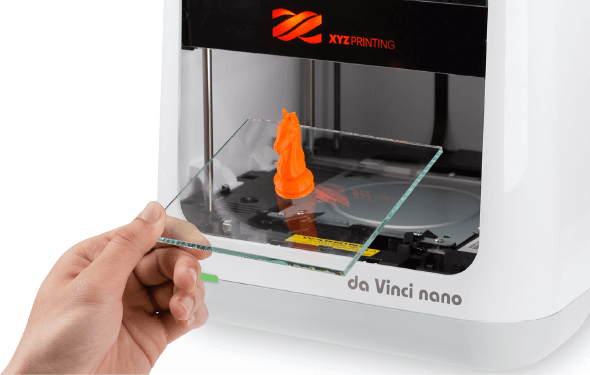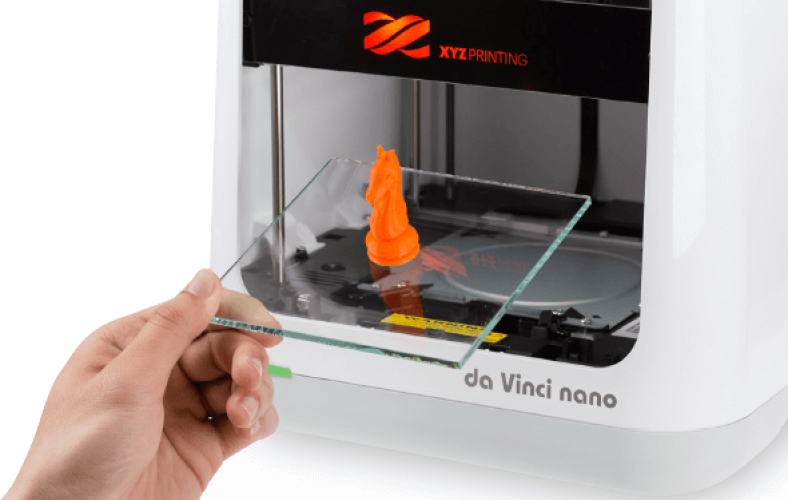 Is this possible? This must be the first impression of a lot of users who never knew that so many features could be packed inside such a small device. The compact machine looks nothing like a hi-fi technological advancement but something closer to an appliance in the kitchen.
It seems like the company has tried its best not to scare away beginners and newcomers with its too fancy looks. It has made the machine simple to connect with those users who have not experienced 3D printers before.
The tiny little machine comes wrapped inside a box that has all the excess of packing materials to keep it safe inside. The sturdy design does protect the frame while in transit. But it does look sophisticated, hence cute. You and your children would love to have this 3D printer at home.
Setup
Setting up the Da Vinci Nano for the first time won't be tricky at all. It is not rocket science, though it looks like a science prop from 90s movies.
After you take away the foams and tapes keeping it safe inside the box, all you need to do is feed the filament and install the print bed inside the printer which is very simple. It will not take more than half an hour or even less start your first print after unboxing the printer.
Printing Type/Cost
Da Vinci Nano is based on FDM technology. The printer cost is very much affordable, however, the reason that the company allows only proprietary material can leave one with limited choice. Also, the printer only supports the company's created PLA and PETG materials.
The cost of printing would still be low considering the cost of PLA filaments isn't very expensive. And, a small device that uses a power source of 100V ~ 240V, 12V/60W, won't be too much of a pain for home users.
Print Quality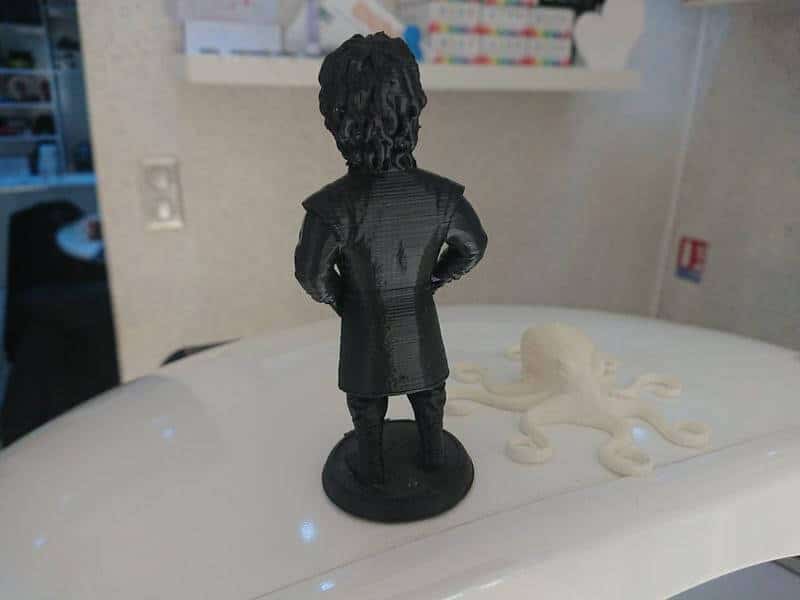 Credit: top3dshop.com
Printing with Da Vinci Nano would be satisfying acknowledging the cost that you paid for the printer. It offers user decent print quality but considering the other budget printers, you can count it within the excellent results.
The print results are comparably better than many budget printers. The normal mode would end up showing layer visibility, however, the consistency of the print would overshadow that challenge.
The high-resolution print would have lesser visibility of layers and are more precise as well. So, you can choose the proper resolution as per your needs.
Software
The software here plays a major role in the printing process. The printer does not have many controls on it and all the task is carried out with the help of the software. The printer only consists if a power button in the back and status light on the top. This is a free software called XYZmaker.
The software is user-friendly and easy to use. One can make use of functions like import, move, scale, and combine to edit the designs. With the help of this app, one can design models such as logos, text, spheres, pyramids and other primitive shapes.
After the print design is ready, it is transferred to the XYZ Printer plugin. This helps in slicing the models and preparing them for 3D printing. This is also easy to use and offers huge functions.
Apart from the basic features, it provides the functionalities for previewing the 3D models, adding supports tweaking the infill settings and few others.
Customer Service
The company provides basic training videos along with the related help materials on their website. To reach support, one can simply raise a ticket or can contact the team directly on Skype or call. The company provides great support and is always ready to cater to the problems within the shortest time frame.
Parameters Influencing the Buying Decision of Users
One must go through the details of the printer before making the purchase decision mostly based on the following parameters.
3D Printer cost: This is a very affordable printer. One can use it for different purposes. Apart from creating toys and a few other useful models for home, one can create prototypes as per the company claims. Hence, a useful printer at such an affordable price.
3D Print quality: The print quality is decent. If your print needs expectations for quality is too high, you may have to reconsider your decision. Although it is decent, one cannot use this printer for creating very complex geometries with high precision.
3D Print speed: The speed of the printer is slow. And, the print space is limited too. Hence, if you require to print in batches, this won't be the right option.
3D Printer capability: The 3D printer is capable of accomplishing some great work. From toys to visual prototypes, there is a lot of things possible, if used appropriately.
3D Printer Practicality: Although not much for professional use, the printer can very well serve those wanting to experience 3D printing and learn to create 3D models using it.
3D Printer User expectations: It does sit right at the expectation. Being a budget printer, it is highly desirable with so many wonderful features.
Verdict
The 3D printer is very impressive. Because of the loaded features inside a compact machine, it has convinced many things that many never imagined can be accomplished at such an affordable rate. Automated design and great style, Da Vinci Nano stays among the top models of budget 3D printers since 2018.