CubePro Trio 3D Printer
CubePro Trio 3D Printer can be termed as a semi-professional FDM printer which very well serves the needs of professionals as well as enthusiasts. The machine boasts ready-to-print technology and is very convenient to handle.
PROS
It offers a pretty large platform
It has three different extruders
By ensuring smart settings and design, the printer enhances the ease of use to the next level
Support for a wide range of filament materials
Wired as well as wireless connectivity available.
High printing speed
CONS
The 3D printer is costly and isn't affordable to all
Few challenges with precision if the settings parameters are not adjusted properly
Support for only proprietary filaments
Product
Specification
Videos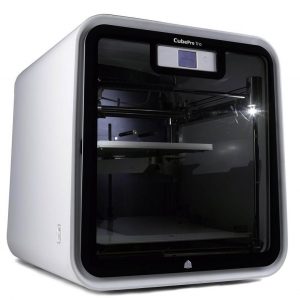 CubePro Trio has a controlled process environment. This 3D printer eccentrically comes with a controlled climate chamber that makes sure that the ...
| | |
| --- | --- |
| Model | CubePro Trio |
| Manufacturer | 3D Systems |
| Price Range | $3000 |
| Availability | Available |
| Classification | Desktop, Professional |
| Technology | Extrusion (FFF- FDM…) |
| Material | ABS, PLA |
| Filament diameter | 1.75 mm 0.07 in |
| OS compatibility | Mac OS, Microsoft Windows |
| Generic material | Yes |
| XY accuracy | 0.2 mm 0.008 in |
| Max. build size | 20.04 × 23 × 27.04 cm 7.89 × 9.06 × 10.6 in |
| Max. build volume | 15.10 |
| Max. print speed | 15 mm 0.56 in/s |
| Min. layer thickness | 70 microns, 200 microns and 300 microns for fast mode. |
| Dimensions | 57.8 × 59.1 × 57.8 cm 22.75 × 23.25 × 22.75 in |
| Weight | 44 Kg 98 Ib |
| Nozzle diameter(s) | 0.4 mm 0.02 in |
| Power input | 100 – 240 V AC, 12V | 30A | 360W |
| Heated print bed | No |
| Heated build chamber | Yes |
| Automatic calibration | No |
| Closed frame | Yes |
| Dual extruder | Triple Extruder |
| Independent Dual Extruder | No |
| Full color | Yes |
| LCD screen | Yes |
| Touchscreen | Yes |
| On-board camera | No |
| Mobile app | No |
| 3D scanners | No |
| CNC mill | No |
| Electronics 3D printing | No |
| Laser engraving | No |
| Conveyor belt | No |
| Air filter | No |
| Pellet extruder | No |
| USB | Yes |
| Wifi | Yes |
| Bluetooth | No |
| SD card | No |
| Ethernet | No |

Table of Contents
3D Systems have come up with the third version from the series of CubePro after introducing CubePro and CubePro Duo. The latest 3D printer, a lot hyped about in the market is named CubePro Trio.
The 3D printer has most of the qualities from its predecessor and mostly differentiating itself in terms of build space. There are few more changes to the overall package, however, the reliability stays put.
The company, 3D Systems was founded in 1986 which was one of the names beyond the invention of 3D printing and exactly knows what the technology entails. Hence, there are a lot of expectations from this series of printers.
Specifically taking a look at the CubePro Trio, one can easily make out that the slim design and compact structure make it a good choice for small offices and homes.
CubePro Trio 3D Printer can be termed as a semi-professional FDM printer which very well serves the needs of professionals as well as enthusiasts. The machine boasts ready-to-print technology and is very convenient to handle.
As per the feedback from the users, there are few outlined constraints that still need some work. However, it does offer a lot of great features to its customers.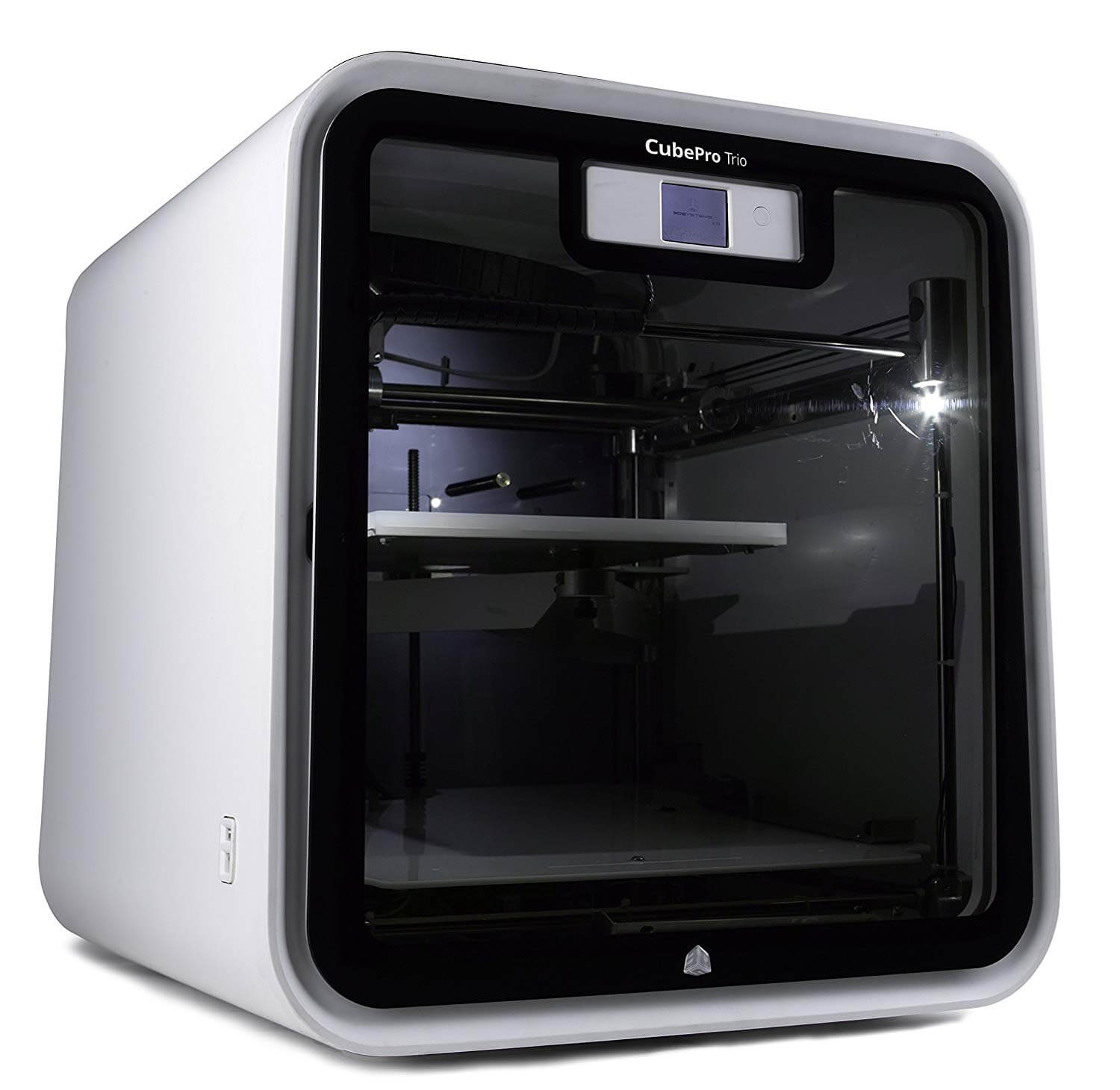 Features
To make this 3D printer a success, 3D Systems have included a lot of exciting features. These cool features make this machine very popular among certain specific niches.
Controlled Climate Chamber: CubePro Trio exhibits a controlled process environment. A controlled climate chamber makes sure that the models are printed with utmost accuracy and precision and it very much justifies the cause. Moreover, the feature helps users with effortless operation and in creating professional-quality prints anytime.
Automated Settings: Apart from playing a great role inside small industries, the printer also has a huge demand for home users. This is mostly because of the ease of operation that it offers. This is due to the automated settings that vouch for home-safe printing. In addition, CubePro Trio boasts a stabilized print mechanism.
Easy Cartridges Feed: This means that it is easy to reload cartridges and these cartridges last for long offering undisturbed print operation. Hence, making it even much more efficient and reliable for users.
Triple Colour as well as Triple Material: We are done listening about dual extruders. What's next? The CubePro Trio offers three extruders to make it even more irresistible. This further enhances the functionality of the 3D printer. One can print using three different colors as well as materials. Think of printing PLA and ABS together with water-soluble support. Isn't that fascinating? The three different extruders can be used for depositing three different materials, either of the same color or different ones. One cannot only achieve better results through this kind of setup but would also have the freedom to mix and match different materials for varying results.
Large Enough Build Platform: Although there are many 3D printers with even larger print space, this one here features decent space to accommodate most of the designs. Moreover, the large print space is coupled with ultra-high resolution. Hence, one can realize great precision even when printing large size models.
Support for Multiple Printing Material: While many 3D printers support one or two filaments type, this 3D printer can print with multiple combinations of materials. Hence, giving users more freedom to explore the possibilities of technology.
Proprietary Filaments: Although many would see this as a limitation and to a certain extent it is, however, to accomplish the job with results, using proprietary filaments is preferred. These filaments are designed to enhance the print results. These are expensive as compared to most other standard filaments in the market and is definitely pointless for the machine. However, if you are using the printer for professional purposes, this won't be a challenge, as at the end of the day, quality matters. The printer has a chip installed which only reads the filaments provided by the company.
Smart Cartridge: This machine is backed with a wonderful smart cartridge technology. By including this technology, the 3D printer ensures that the cartridges are safe for up to 12 months. Hence, it is a great choice for those whose printing needs aren't very often.
Two CubePro Print Pads: The manufacturer offers an extra CubePro Print Pad. This is to make sure that the users do not have to wait for buying another one in case the existing one is damaged. One can place the order for the spare one while working on the second pad.
CubePro Glue Stick: The company also includes a Glue Stick with the 3D printer. This is to enhance the adhesion of the print bed, if necessary. By applying it directly to the print pad, one can increase the adhesion of the print bed.
Heated Build Chamber: The number of features just keep on impressing users. The 3D printer has a heated build chamber. This is to ensure that printing with ABS should not end up with warping and curling. The enclosed design further helps in maintaining a consistent temperature throughout the print process.
WIFI Connectivity: Apart from the wired connectivity options, the 3D printer also offers wireless connectivity. The printer is also compatible with an iSense 3D scanner. This could help the user capture the 3D designs of the models and edit and print them without any hassle or getting into extreme design technicalities.
In short, the 3D printer is equipped with modern design and ample of amazing features to impress its users and provide a reliable solution. Features such as large print beds, smart cartridges, and many others let users enjoy the technology and its possibilities with the best experience.
Specifications
CubePro Trio occupies a total volume of 566.7 mm X 581.0 mm X 606.4 mm and weighs 44 kg. It uses the print pad Gen3. Supporting the filament with 1.75mm diameter, the printer showcases print jets extruders.
The print volume is 20.04 cm X 23 cm X 27.04 cm and it offers a print resolution of 70 to 200 microns. Although it offers a maximum speed of 15mm per sec, the print speed would mostly depend on the choice of material, the design, and various other constraints. The starter material includes White ABS, Red ABS, and Blue ABS.
Price
The price is beyond $4000. Pricing may differ slightly depending on the choice of distributor. There are three different variants of CubePro and all these fall between the price range of USD $2,799 to USD $4,399. The CubePro Trio being the most expensive of all.
First Impressions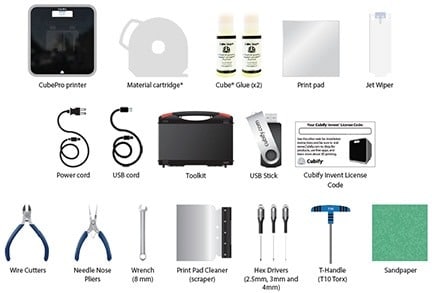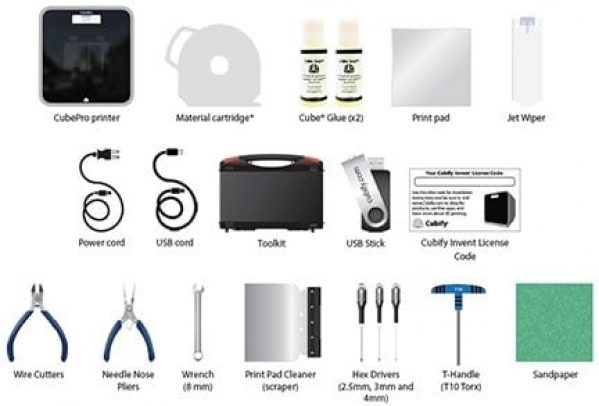 A distinguished design is what you would be welcomed with when unboxing the package including CubePro Trio. It comes as an assembled device with not much setup requirements and is quite sturdy. The enclosed design feels professional and trendy at the same time.
Setup
As mentioned before, the printer does not have much setup needs. However, there are few. Most of the tasks are automated and the ones that you need to hone a bit can be done easily through the touch screen interface exhibited in the front of the machine.
The easy to use interface is well streamlined with the necessary functionality to make it easy for the starters as well as experienced to go through the setup process. And, there is enough material shared on the website for users to take inputs from.
Printing Type/Cost
The printer is based on FDM technology. This does not mean that the printer is cheap to use. This is because of the limitation of using proprietary materials. The cartridges aren't too cheap and are quoted at $99.00 each.
Print Quality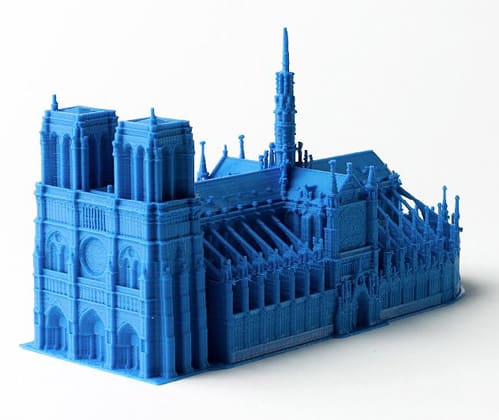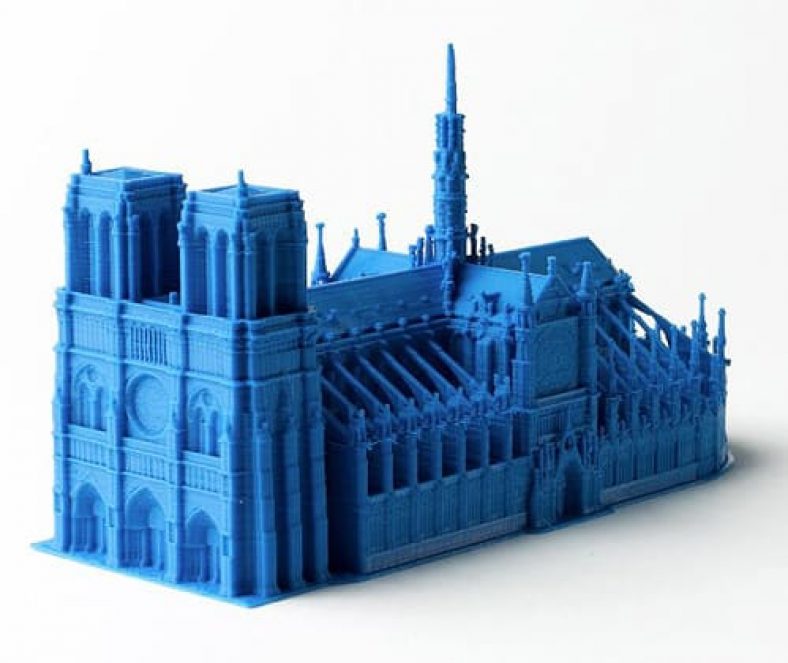 You can expect to print high-quality prints using this smart 3D printer that looks for itself in most of the ways. The precise details can be carved easily and the small curves can be accurately drawn using this wonderful 3D printer.
Even the complex structures can be printed with great results, however, a bit of struggle can be expected for those who are not very well-tuned with the settings of this printer.
Software
The CubePro Trio has its own well-built software. The software is named as Cube Software. You can use this software for editing the designs as well. Enhancing and optimizing the designs for best print results.
One can also create their own designs when working with Cube software. The user-friendly interface and accommodation of amazing tools let users make wonderful designs without much problem.
Customer Service
Users can email 3D Systems on their dedicated email address 'cubifysupport@cubify.com'. The company processes the request within 24 hours and is very vigilant while assisting its customers. The company addresses various problems of users including but not limited to basic settings changes, software training, or machine calibration tips.
Apart from this, the troubleshooting related to parts replacement and similar problems is also taken care of with utmost priority. Users can utilize various online guides and videos for help.
Parameters Influencing the Buying Decision of Users
Before you decide to buy this 3D printer, it is important to go through all the crucial factors once. A glance at the major features and purchase defining constraints would help you decide for better.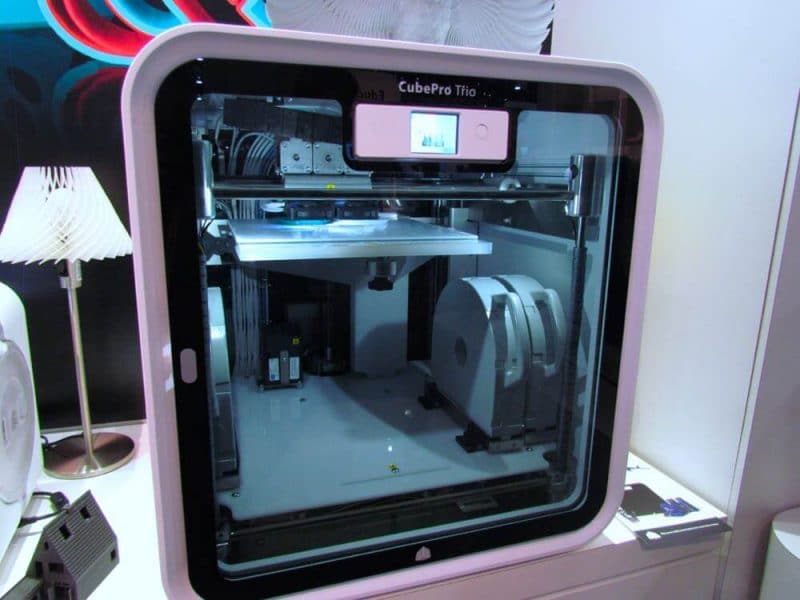 3D Printer cost: The 3D printer is expensive and is not suited for those planning to buy a 3D printer for fun. This has more to it and must be purchased by those who are looking for some serious engagement and application. Enthusiasts and hobbyists can also buy this printer if falls within their budget.
3D Print quality: The print quality is decent, especially the surface finish which is smoother because of the support for water dissolvable material.
3D Print speed: The print speed is also nice. Some reviews do claim that the print speed isn't competitive enough. However, with the right settings and depending on a lot of material and other constraints, the speed would vary largely with different prints.
3D Printer capability: The printer is capable of printing with different materials including ABS, PLA, Nylon, and others. Hence, one can utilize it for different applications.
3D Printer Practicality: The 3D printer is designed for office use majorly. Hence, the price tag defines the further goals of the company. This proves that the printer is manufactured for practical applications.
3D Printer User expectations: With such a huge price tag, one may expect a few more corrections from the manufacturer. The major one is the support for third party materials. Looking at the overall feature set, this machine excels at most of the parameters.
Verdict
Only by looking at the CubePro Trio, one can make out that the printer is created for some special job. With such a modern style design with an attractive structure, one is definitely going to fall in love with this 3D printer. Inclusion of a triple extruder isn't very usual. This is the mark for next-generation printing goals.
Apart from the looks and sturdy design, overall printing speed is well handled. Moreover, the printing quality isn't bad. It is very much acceptable.
Users may be discouraged after looking at the expensive price tag and the limitation it throws at the users such as support for only proprietary filaments.
However, the overall offering is powerful enough to keep buyers interested. If you can afford this 3D printer easily, there is not much reason for not buying this feature enriched CubePro Trio.