EOS M300-4 3D printer
EOS M300-4 is eccentric in terms of its construction of hardware and sophistication of the software. It is one of those rare metal 3D printing systems that are able to produce parts and functional prototypes that find application in many industries.
PROS
Huge build volume.
Four different laser sources for melting and fusing, leading to consistency in the overall surface of the part or functional prototype.
Multi-material printing.
Good quality part and functional prototypes.
CONS
Requires huge one time investment.
Product
Specification
Videos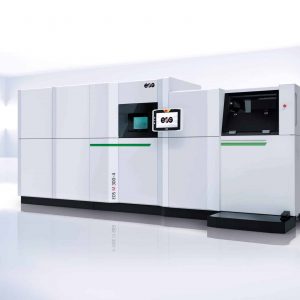 Offering a build volume of 300 mm * 300 mm * 400 mm, EOS 300-4 is an industrial 3D printer delivering consistent part quality over the entire build ...
| | |
| --- | --- |
| Model | EOS M 300-4 |
| Manufacturer | EOS |
| Price Range | > $ 250000 |
| Release date | 2019 |
| Country | Germany |
| Availability | Available |
| Classification | Industrial |
| Technology | Powder (SLS- SLM…) |
| Material | Metal |
| Generic material | Yes |
| Max. build size | 300 × 300 × 400 mm 11.81 × 11.81 × 15.75 in |
| Max. build volume | 36.00 L |
| Heated print bed | No |
| Heated build chamber | No |
| Automatic calibration | No |
| Closed frame | No |
| Dual extruder | No |
| Independent Dual Extruder | No |
| Full color | No |
| LCD screen | No |
| Touchscreen | No |
| On-board camera | No |
| Mobile app | No |
| 3D scanners | No |
| CNC mill | No |
| Electronics 3D printing | No |
| Laser engraving | No |
| Conveyor belt | No |
| Air filter | No |
| Pellet extruder | No |
| USB | No |
| Wifi | No |
| Bluetooth | No |
| SD card | No |
| Ethernet | No |

Table of Contents
It uses four high-powered lasers for fusing and melting the metal powder to convert them into parts and functional prototypes.
EOS M300-4 is made by a German manufacturer who has also patented DMLS 3D printing technology, the advanced version of powder metallurgy to its name. Let's look at various aspects of EOS M300-4 profoundly.
Features
Below mentioned are some of the features that set EOS M300-4 apart from other industrial 3D printing systems available in the market.
Printing with various materials
EOS M300-4 allows you to print with materials that are specially developed by EOS for DMLS, the ones that undergo strict quality assurance.
EOS NickelAlloy IN718: Parts made from this material show excellent tensile, fatigue, creep, and rupture strength at temperatures up to 700 degrees Celsius. This property makes them ideal for many high-temperature applications.
EOS Maraging Steel MS1: Objects created out of this material have excellent mechanical properties and are heat-treatable using a simple thermal age-hardening process for obtaining superior hardness and strength.
EOS Aluminum AlSi10Mg: Parts and functional prototypes printed using EOS Aluminum AlSi10Mg provide strength, hardness, and dynamic properties as well as excellent thermal properties and low weight which make them useful in various industries.
Up to 10 times higher productivity and a completely integrated system
EOS M300-4 has a massive build volume and it utilizes four different laser sources for fusing and melting of metal powder. This decreases the overall print time for building a part or functional prototype.
Compared to other industrial 3D printers that use just one laser source, this printing system uses more than one laser source which expedites the complete 3D printing process.
When in mass production, this printer manages to produce more parts or functional prototypes in the same time frame compared to other industrial 3D printers.
Four laser sources work over a 300 mm * 300 mm area with each laser covering the entire space.
EOS M300-4 enables flexible adaptation to all individual requirements through various degrees of automation that helps in ensuring optimized workflow.
This 3D printing system has the most sophisticated system of software you would ever come across any industrial 3D printer.
This software solution assists you in every part of the printing process that is present before and after the printing of a part or functional prototype.
EOS M300-4 is compatible with the company's existing EOSPRINT 2 process management software and real-time monitoring EOSTATE.
So, the complete industrial manufacturing is connected digitally and the system offers the highest-grade connectivity.
The focus of EOS is on reliability, repeatability, part quality, and building apart at the lowest cost at the same time to include flexibility.
Specifications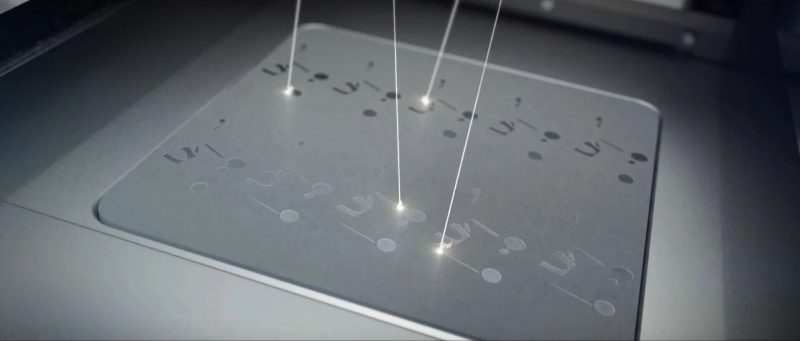 Credit: eos
EOS M300-4 offers a maximum build volume of 300 mm * 300 mm * 400 mm. It prints parts and functional prototypes using four Yb-fiber laser sources, each of 400 Watts.
Has four F-theta lenses and four high-speed scanners that can scan objects at a speed of 7 meters per second.
The focus diameter of these lasers is approximately 100 micrometers. You will need three power supplies, each of 80 Amperes.
The maximum power consumed by this printing system is 36 kilowatts and typical consumption ranges around 26 kilowatts.
The inert gas supply inside the print chamber of this 3D printing system has a pressure of 7000 hexapascal and a volume of 15 cubic meters per hour.
Price
For knowing the exact price of this printing system you'd have to request a quote from the company.
First Impressions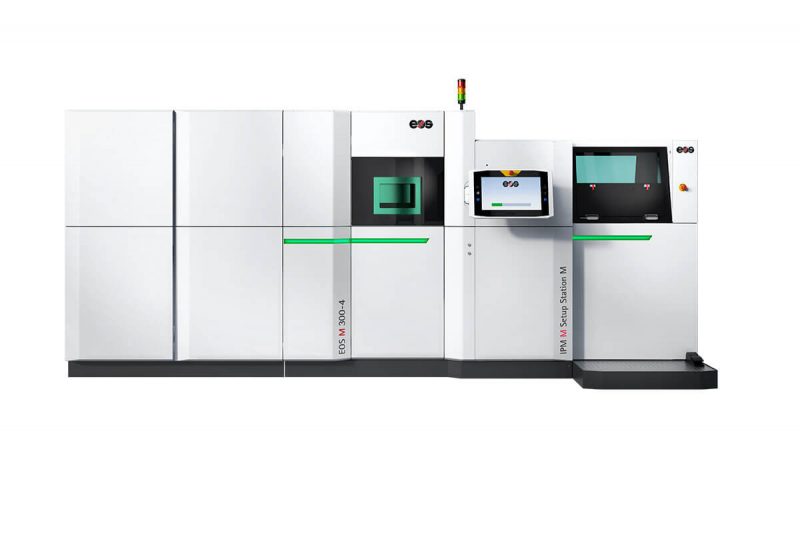 Looking at the complete 3D printing system from its front view, EOS M300-4 can be compartmentalized into five different compartments.
Starting from the left which seems like the storage place for a metal powder that will be used in the printing of parts and functional prototypes.
Coming to the third compartment you would notice that the print chamber is a little bit visible because of the transparent body in the top-middle of the compartment.
The print chamber can be accessed via a door, next to which is the touch screen user interface. This user interface will enable you to monitor as well as operate various features of the complete printing system.
Coming to the right which seems more like the compartment in which cooling and post-processing of the printed parts and functional prototypes will be taking place.
The last compartment is also a little bit transparent, the internal of which can be accessed by opening it up via a door.
Setup
To offer assistance, the company has a provision of onsite assistance. Hence, users do not feel problems when setting up the printer for the first time.
The printing system starts from learning and operating the most sophisticated management software system that you have in place, with which your designing will start.
Followed by, uploading the sliced file on the printer and then starting the printing process.
Before which you will also have to ensure you've loaded the powdered metal correctly. And the parameters that you need to ensure before starting the printing process.
After the printing process is completed, you need to cool down the parts and functional prototypes, remove support and give the parts for post-processing if needed.
Printing Type/Cost
EOS has its own proprietary 3D printing process on the basis of which all of its 3D printing systems function. This 3D printing process is called DMLS i.e. Direct Metal Laser Sintering.
It is one of those few 3D printing technologies that directly creates a metal part from its 3D computer metal. This method is also said to be the advanced version of Powder Metallurgy.
As you might know by now, the working material for this process is Metal powder, typically in the range of 20 to 40 micrometers. Because of such a fine treatment of metal powder, it leads to excellent quality production of parts and functional prototypes.
The complete model is divided into many fine layers and is then printed one by one for building the final part which has layer heights equivalent to the maximum size of metal powder used.
The 3D printing process of DMLS is just like other 3D printing technologies, starting from modeling, slicing, and then printing layer by layer.
It begins by filling the DMLS hopper with the raw metal powder and the printer heaters bringing the powder to a temperature that nears its sintering range.
Eccentrically, inert gas is used in this printing process for ensuring the protection of the heated powder and part as it is built. The building of part or functional prototype begins with the dispensation of a thin layer of metal powder onto the build platform of the printing system.
Then the work of laser begins i.e. selective sintering of powder into solid. Simultaneously, dispensing a layer and its sintering continues until the part or functional prototypes are completely built.
Then the part or functional prototype is allowed to cool and the surrounding loose metal powder is removed from the printing system.
The step of the 3D printing process is to send the built part or functional prototype into post-processing whereas, before that, there is support removal.
Normally the cost per part depends on its geometry, the metal powder used in making it, and the laser source employed, the type of machine, etc.
Print Quality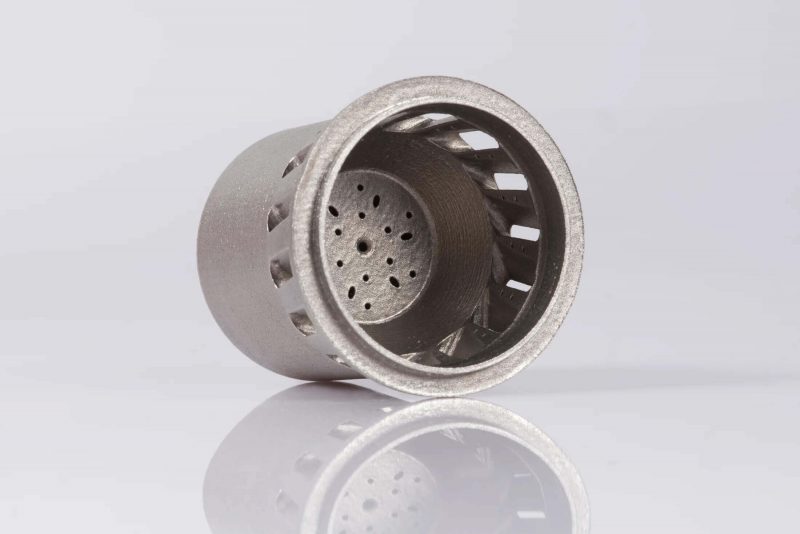 Credit: eos
EOS M300-4 made parts and functional prototypes have excellent quality because of exceptional laser fusion and performance stability that ensures consistency over the entire build space.
Even after including the full coverage of overlaps. Because of the different degrees of automation for individual requirements, there is less human intervention and hence an increased level of efficiency in the overall 3D printing process.
You get a consistent part quality over the entire build space of 300 mm * 300 mm area, because of four precise laser cover.
Parts and functional prototypes manufactured from this 3D printing system have a quality that makes them capable of applications in industries like production, people and health, mobile and logistics, Aerospace, and all 3D printing applications.
Not only quality but also strength is a major part of the characteristics that parts and functional prototypes manufactured by this 3D printing system possess.
Many sectors, including aerospace, automotive and medical industries get the required testing and consistent part quality with EOS systems.
With the highly advanced monitoring and control system, EOS M300-4 allows you to control the quality of every part or functional prototype at every step of the 3D printing process.
And there are validations and certifications available that prove the same. The main aim of the quality policy of EOS is to identify the customer need at that very moment, of that very project so that they can suggest the best possible solution from their systems with appropriate technicality.
EOS's team's thirty years of experience in system, material, and process lets you print parts and functional prototypes uniformly, repeatedly, and reliably.
Software
EOS M300-4 comes with tried and tested software solutions for all the processes of 3D printing starting from the very basic preparation of CAD design data and job preparation to the very end quality control.
There are four different solutions offered by EOS, which are as follows.
EOSPRINT 2:  It is an intuitive, open, and productive CAM tool for company-made systems that enables the assignment and optimization of build parameters for your CAD data. In collaboration with data preparation software such as SIEMENS NX or Magics, EOSPRINT 2 offers an extensive additive manufacturing CAM environment for smooth 3D printing procedure.
EOSTATE Monitoring: As the name hints, it is a modular solution for seamless monitoring of all production and quality-relevant data in industrial 3D printing. It comprises four modules that can be used individually or in combination with one another to monitor various aspects of the machine.
EOSCONNECT Core: It is the connectivity solution for the above-mentioned monitoring production. All the EOS systems are IoT capable and can be integrated into existing IT infrastructures via EOSCONNECT Core. The company provides an open interface for the same.
EOSCONNECT MachinePark: This solution will let you expand the capabilities of your EOS system. It will increase your productivity with EOS Web Applications and monitor your entire EOS machine park setup at your manufacturing plant. You can monitor it from a very intuitive dashboard. Also receive instant notifications on machine status and print jobs.
Customer Support
There is a special digital customer center that EOS runs with the sole motto of attending to your questions.
Its goal is to provide you comprehensive support for establishing and expanding your 3D printing production systems.
All the information over there is tailored to your wishes and needs. Everything in this customer center is provided by experts in the industry who are ready to advise you 24*7.
You can register with EOS to start your customer support services with the technical team of the company. The other way to reach out to this company is via email or call.
You can also look for the nearest EOS service center or reseller near you for help regarding your EOS 3D printing system. Overall, the company is ready to help solve your doubts on various matters at any hour.
Parameters Influencing Buying Decision
A summary of the most important aspects of this 3D printing system is mentioned below.
3D Printer Cost:  As mentioned above, you will need a good amount of one-time investment to bring this 3D printing system to your workplace.
3D Printer Quality: Excellent quality parts and functional prototypes can be 3D printed using EOS M300-4. Because of which they find application in industries such as Aerospace, automotive, and healthcare.
3D Print Speed: EOS M300-4 has 10 ten times the production capacity of another industrial 3D printing system because of the use of four laser sources with high power.
3D Printer Capability: You can print with three different metal powders using EOS M300-4.
3D Printer Practicality: The overall operation of this 3D printing system is very smooth.
3D Printer User Expectations: The printing system will fulfill all your expectations of getting the most beautiful prints you can ever imagine!
The Verdict
EOS M300-4 is eccentric in terms of its construction of hardware and sophistication of the software.
It is one of those rare metal 3D printing systems that are able to produce parts and functional prototypes that find application in many industries. But you will need a huge investment for buying or leasing this 3D printing system.