ExOne X1 160Pro
This printer is capable of printing with more than 20 metals, ceramics, and composites. What this printer also incorporates is two decades of knowledge for delivering reliable production of parts accompanied by some design freedoms that weren't possible before.
PROS
Patented quality for 3D printing of parts and functional prototypes.
Highest build volume offered.
Adjustable print speed.
CONS
The price of the printer would be judged as on the higher end by the users of technology like FDM and SLA.
Product
Specification
Videos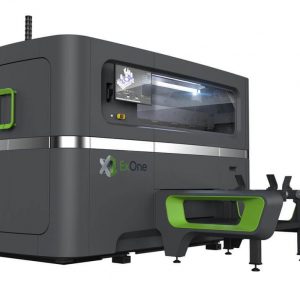 Released in 2019, by a German company the printer is based on the binder jetting technology of 3D printing. The ExOne X1 160 Pro has a huge build ...
| | |
| --- | --- |
| Model | X1 160PRO |
| Manufacturer | ExOne |
| Price Range | > $ 250000 |
| Release date | 2019 |
| Country | Germany |
| Availability | Available |
| Classification | Industrial |
| Technology | Binder Jetting |
| Material | Metal |
| Generic material | Yes |
| Max. build size | 800 × 500 × 400 mm 31.5 × 19.69 × 15.75 in |
| Max. build volume | 160.00 L |
| Heated print bed | Yes |
| Heated build chamber | Yes |
| Automatic calibration | Yes |
| Closed frame | Yes |
| Dual extruder | No |
| Independent Dual Extruder | No |
| Full color | No |
| LCD screen | No |
| Touchscreen | Yes |
| On-board camera | No |
| Mobile app | No |
| 3D scanners | No |
| CNC mill | No |
| Electronics 3D printing | No |
| Laser engraving | No |
| Conveyor belt | No |
| Air filter | Yes |
| Pellet extruder | No |
| USB | No |
| Wifi | No |
| Bluetooth | No |
| SD card | No |
| Ethernet | No |

Table of Contents
This company is the one that's making binder jetting based 3D printers for many years now. Exone has made different processes for making sand cores and using the technique of binder jetting for making metal parts.
Whereas firms like Desktop Metal concentrates on making smaller 3D printing machines, GE and HP make the middle ranged machine for users. ExOne is a company that has always concentrated on making industrial-grade 3D printers.
In combination with a company called Voxeljet, ExOne has worked in the oil and gas, as well as automotive and shipbuilding and other industries for making a metal cast or infiltrated parts. This was a little brief about the company that has manufactured the X1 160 Pro 3D printer.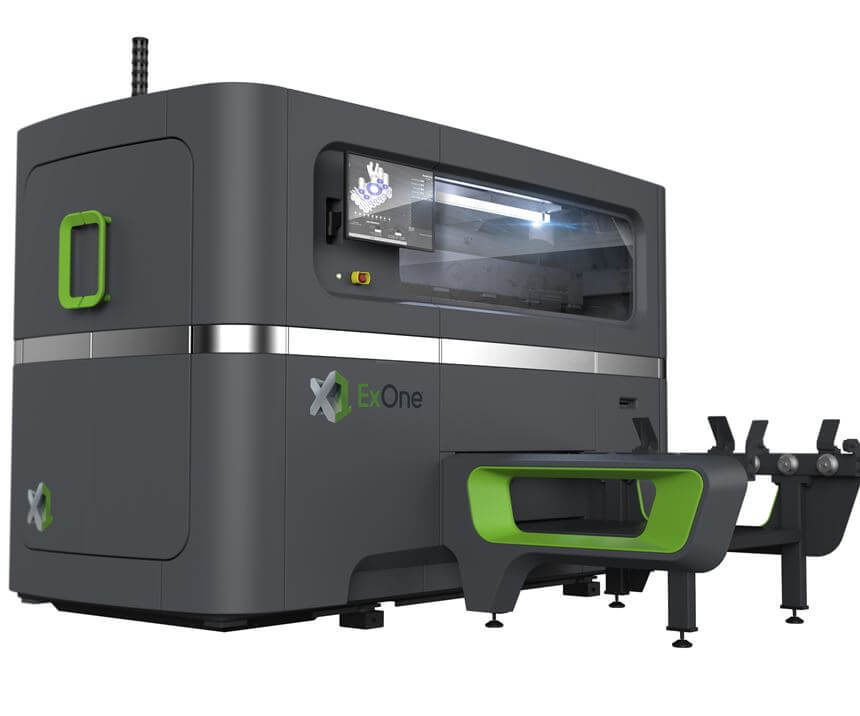 When released in the market, this printer was claimed as the world's largest in the field of binder jetting 3D printers. Binder jetting being a technique that has the ability for developing inexpensive parts because the procedure includes printing, sintering, and debinding.
In this article we are going to talk about the printer's features and specifications along with its print quality, how can you set it up, what are its first impression.
Just to give you a little in-depth review about how is it exactly once you have purchased the printer so that you know whether you want to purchase a printer which will give you such a feeling. So, here we start with the features of this printer.
Features
This printer is capable of printing with more than 20 metals, ceramics, and composites. What this printer also incorporates is two decades of knowledge for delivering reliable production of parts accompanied by some design freedoms that weren't possible before.
X1 160 Pro also features the company's newly patented Triple ACT system that delivers parts and functional prototypes which are industry-leading in terms of density and repeatability.
ExOne boasts about this technology by claiming how this technology tackles the main challenge which is present in 3D printing technology. Below mentioned are some of the features that you would not easily find in other printers using the same technology within the same price range.
Designed for throughput
As mentioned above, X1 160 Pro is designed to give out a large volume of parts and functional prototypes. In binder jetting technology, there wasn't a printer available in the 3D market that could guarantee such a built volume, before X1 160 Pro.
So, when X1 160 Pro made it to the market, it became the industrialists' favorite. Binder jetting technology has its applications in various fields ranging from aerospace to dentistry to jewelry.
While the technology has the precision that it takes for any technology to design the parts and functional prototypes that have the dimensional accuracy that is needed to operate in these industries, people weren't yet sure about the largeness of the parts and functional prototypes.
It was after the invention of this printer that claimed to be the largest metal binder jetting system was made in front of people. The X1 160 Pro offers more than 2.5 times the build volume of competing systems in binder jetting technology that is available today.
Material Flexibility
One of the main drawbacks of printers that are printing using binder jetting technology is that they do not offer printing with many materials. Variability is something that a customer will need, if not today then tomorrow.
Companies that are involved with the manufacturing of printers should understand this need and design printers accordingly. Not only that but also it's the variability offering printer that is more favored than printers that offer printing with a single material.
ExOne X1 160 Pro offers printing with more than 20 materials. And the list includes composites as well as ceramics.
There are third party qualified materials, customer qualified materials and there are research and development materials that the company offers. The list of these materials is given on the manufacturer's website.
The perfect balance of speed and quality
This is another section where most of the printers do not pass. If they would have speed, they wouldn't offer the perfect quality. If they would give out the perfect quality in the parts and functional prototypes they produce, they wouldn't offer the perfect speed.
But thankfully, X1 160 Pro offers a balance between both. The print speed of this printer is 10,000 cubic centimeters per hour, but this the company claims, depends on the type of material that you are using.
So, users with X1 160 Pro are given the option to optimize speed according to the material they are choosing. In a way, it's your decision on the basis of circumstances as well as the part, to make sure what is more essential in the part, the quality, or the speed?
If you want to drift on side of either, you would have to adjust the print speed accordingly.
Patented quality
Although this system has been used in prior 3D printers that were manufactured by ExOne, it is used in X1 160 Pro also because it is their patented system. This system is a procedure that consists of three steps i.e. dispensing, spreading, and compacting.
You dispense, spread, and compact the powdered materials with which you are looking to print within the build chamber.
These three steps are described as the biggest challenge in the binder jetting technology that is made easier by the machine. So this technology is called the Triple ACT.
Using this technology you can dispense, spread, and compact the powder which has an average particle size of 9 micrometers.
From the three, the first part of this procedure is to specially design a hopper. This is a structure that vibrates for releasing a highly controlled dose of powder on the print bed.
This instrument makes sure that the powder is evenly distributed where it is needed. Then comes the second part of this process wherein you need to split the existing step into two parts.
So, instead of spreading and compacting which is something that you do with the same roller, the company has designed one roller that has knurls.
This is the roller that you can use for spreading the powder. And there is another roller which does not have knurls. So you can use that for compacting.
And as per the statement of Mr.Hartner, it is the ability of these rollers that do this function consistently and at a rapid speed that gets us both quality and throughput.
It is by implementing this three-step system, that the company ensures a part density variability of 0.3% across the entire build area of the 3D printer.
Specifications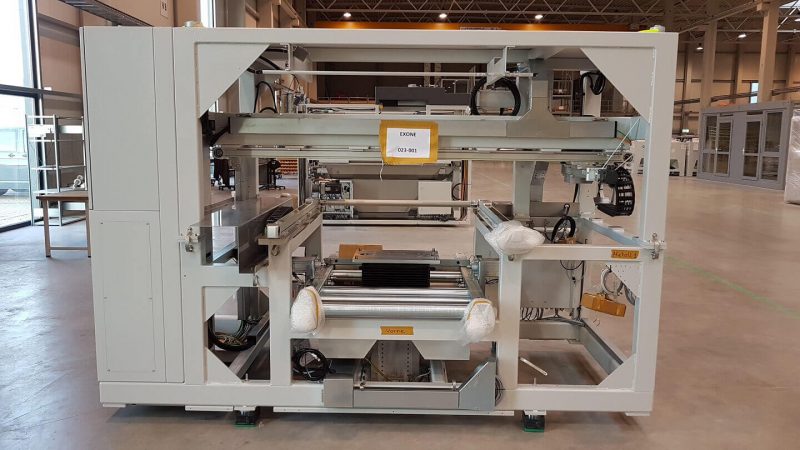 Credit: exone.com
The printer is metal and ceramic 3D printer that has a built envelope that measures 800 mm * 500 mm * 400 mm. The X1 160 Pro is an open material system that operators freely use for manufacturing any powdered alloy in the machine.
160 Pro is compatible with printing with more than one material that is certified by ExOne, this includes stainless steel 316L, 304L, and 17-4PH.
And as mentioned, the print speed of this printer is adjustable by the user, depending on the material used and production part geometry.
Overall, the machine is capable of attaining a print speed of up to 10,000 cm³/hour. The build area offered by this printer is 2.5 times more than the build volume offered by the systems of today.
Price
You need to contact the manufacturer for getting a quote of the price.
First Impressions
The front view of ExOne 160 Pro is similar to a little caravan. You get to see everything that is happening inside from a transparent glass provided by the company.
There is a little trolly that strikes your eye. On the left of the machine, you have a door and the handle of which sticks out to you.
Meaning that you can enter the inside of the machine if you wish to from there. There is a touch screen user interface that is present on the left of the transparent glass.
You can operate the complete machine from the user interface. It has various functions and there are tutorials on how to operate them.
There is a tube light placed on the inner part of the machine that turns on while the printing process of the machine starts.
This tube light lets you see the complete printing process and there is a control to stop, adjust something while the printing process starts with the user interface.
So, just in the case where you notice something not going as per your wish, you can stop it from happening completely.
Setup
The machine comes fully assembled, you need to plug the printer. Read the instructions manual carefully before starting any operation and if there are doubts about the printer you can contact the manufacturer in many ways.
Setting up this printer wouldn't take more than a few minutes. You need to ready the workstation where you are looking to place the printer and it does require a lot of space.
Printing Type/Cost
Binder jetting is the technique wherein the industrial print head particularly deposits the liquid binding agent above a thin layer of powder particles that are already spread on the printer.
These powdered particles are either of metal, sand, ceramics, or composites. This is done for building high-value and building specific kinds of parts and tooling them.
The complete process of manufacturing is done and repeated layer after the other layer's formation. For doing this, a map is used from the digital design file until the object's making is completed.
So, as you can guess the printing cost of this technique is higher than those techniques which do not produce a similar kind of accurate parts and functional prototypes.
Print Quality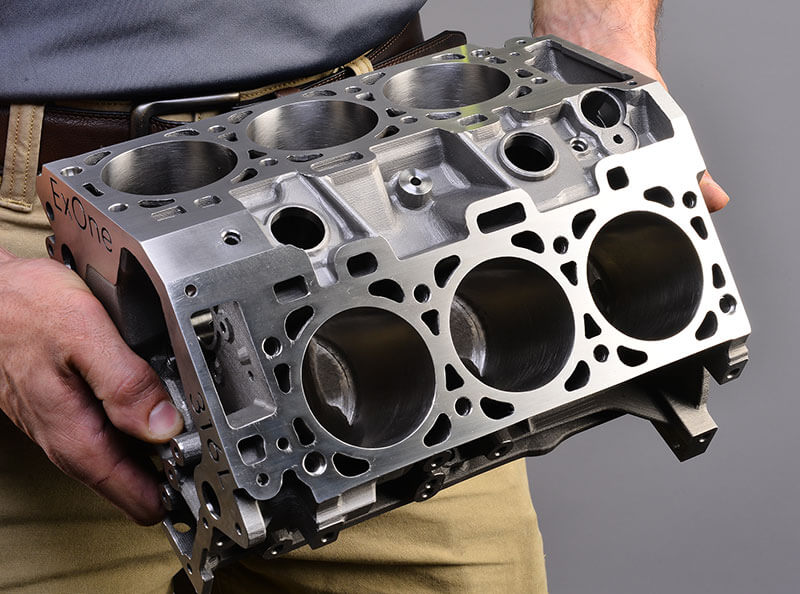 Credit: exone.com
As we use powder material as the raw material for manufacturing parts or functional prototypes, every single powder of the material participates in conversion into the complete layer which builds up one part of the whole product, the final print quality is way higher than that of an FDM or SLA printer.
The layer thickness of parts and functional prototypes produced by this printer is minimum.
Software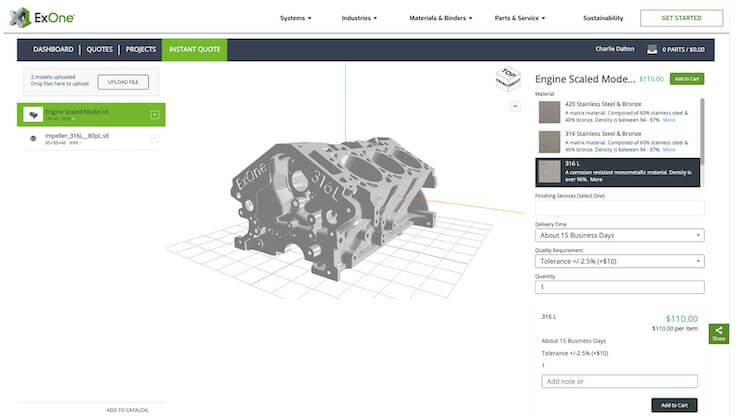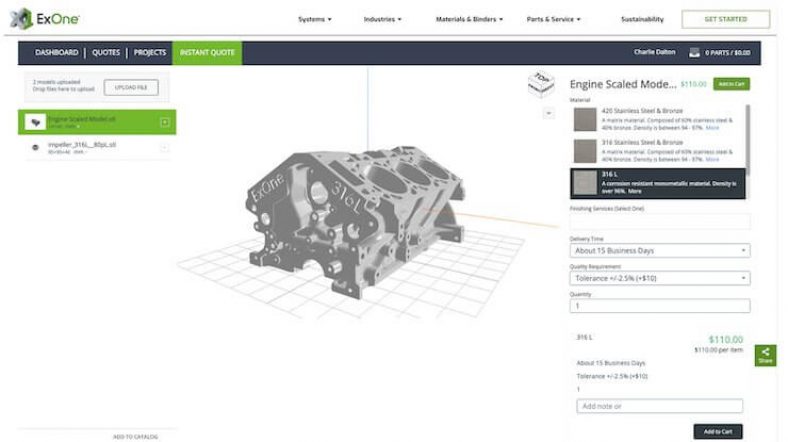 Credit tctmagazine.com
The printer uses company made slicing software wherein you can edit, design, and set things according to your design and the same would be reflected on the part or functional prototype that you manufacture.
Customer Service
There is a contact form available on the website of the manufacturer which you can fill. You can also reach out to the company by various social media accounts that the company has.
One thing is assured that if you are a user of ExOne 160 Pro and you need the company's input on any of the repairs that your printer needs to undergo they will always be by your side and help you out in any way they can.
Parameters Influencing Buying Decision
The complete article's brief would be in the factors mentioned below.
3D Printer Cost: In the range of industrial printers.
3D Print Quality: More than average with the patented technology used by the manufacturer.
3D Print Speed: Adjustable. Customers can customize according to the part he or she is manufacturing, also according to the material that goes into its making.
3D Printer Capability: Users can use more than one type of material.
3D Printer Practicality: There are many industries in which parts made by this printer find the application.
3D Printer User Expectations: Users doing business based on binder jetting technology would find this printer stand upon their expectations.
The Verdict
Binder jetting is a technology that does produce one of the finest quality parts and functional prototypes are known in the industry. And ExOne 160 Pro aims to produce them on a larger scale never seen before. So, buying this printer would directly give you a monopoly in business.