This printer is capable of withstanding a temperature of 60 degrees centigrade at its heating platform. It comes with two extruders that help itself to achieve the layer resolution and print with materials such as PLA, PET, and other materials that come in a similar temperature range.;
PROS
Huge build volume.
Dual feed extruder.
CONS
Enclosed design.
Post-processing takes time.
Product
Specification
Videos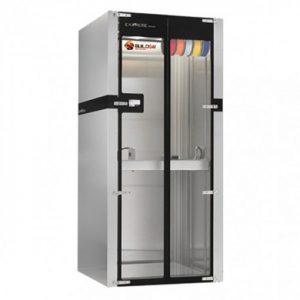 Equipped with elements that make large-scale 3D printing worry-free, Extreme 2000 is one of the biggest large-format 3D printers available in the ...
| | |
| --- | --- |
| Model | Extreme 2000 |
| Manufacturer | Builder |
| Price Range | $ 21995 |
| Release date | 2015 |
| Country | Netherlands |
| Availability | Available |
| Classification | Professional |
| Technology | Extrusion (FFF- FDM…) |
| Material | ABS, Other plastics, PLA |
| Filament diameter | 1.75 mm0.07 in |
| OS compatibility | Linux, Mac OS, Microsoft Windows |
| Generic material | Yes |
| Max. build size | 700 × 700 × 1820 mm27.56 × 27.56 × 71.65 in |
| Max. build volume | 891.80 L |
| Max. print speed | 120 mm4.72 in/s |
| Min. layer thickness | 0.05 mm0.002 in |
| Dimensions | 1010 × 1180 × 2300 mm39.76 × 46.46 × 90.55 in |
| Weight | 250 kg551.16 lb |
| Nozzle diameter(s) | 0.4 mm0.02 in |
| Heated print bed | Yes |
| Heated build chamber | No |
| Automatic calibration | Yes |
| Closed frame | Yes |
| Dual extruder | Yes |
| Independent Dual Extruder | No |
| Full color | No |
| LCD screen | No |
| Touchscreen | Yes |
| On-board camera | Yes |
| Mobile app | Yes |
| 3D scanners | No |
| CNC mill | No |
| Electronics 3D printing | No |
| Laser engraving | No |
| Conveyor belt | No |
| Air filter | No |
| Pellet extruder | No |
| USB | Yes |
| Wifi | Yes |
| Bluetooth | No |
| SD card | Yes |
| Ethernet | No |

Table of Contents
The Dutch machine manufacturer named Builder 3D Printers launched this 3D printer by name Extreme 2000.
To date, this 3D printer is the company's "most advanced large-scale 3D printer yet." It has a giant build volume around its X, Y, and Z-axis.
The company believes that this printer is one of the biggest FDM 3D printers available, which makes Extreme 2000 ideal for professional and industrial use.
This printer has more than one use that ranges all the way from 3D printing prototypes, molds, tooling, and a lot more.
Despite being multi-functional, the printer is easy to use and promises to print high-quality industrial-grade parts time after time.
Features
The printer is in talks all over the 3D printing market for the massive build volume that it has! Industrialists have favored this printer and professionals are in an awe of it.
Apart from hosting many such features that make you a fan of this 3D printer, when it comes to being flexible, this printer is very user-friendly. It allows users to interact and play with it without doing much effort.
So, while you will be thinking of doing mass production on this printer, you would not have to think much. The 3D printer is also not complex.
It looks like a refrigerator but is surely more productive than a refrigerator and can make you earn a lot more than that.
Below mentioned are some of the key features of this printer, let's see them one by one and read out the explanation.
By doing so, we will get to know what separates this printer from others.
Dual Feed Extruder
Builder 3D Printers have developed its own dual-Feed extruder for its Extreme range of 3D printers.
This extruder is what the company claims is the most adaptable component available today.
And the reasoning that the company gives for this claim is its compatibility with multiple materials using a single nozzle.
The support structures that are utilized while 3D printing parts and functional prototypes, as well as the actual part, can be printed with one extruder.
What this basically does is, helps change flaws into precisions.
So, the flaws that occur because of switching the nozzles during the print are completely gone.
There is also a facility to switch to a Mono extruder in this 3D printer. This can be done on the Extreme 2000 by setting the ratio of motors to 50:50.
This would enable you to print the same material twice as long, from the two spools instead of one.
So, as you can calculate, it reduces the risk of running out of filament.
Also, Color-mixing within one print is different than the case of the two-nozzle machines.
Colorful models can be printed with a gradual color change, and not like the two colors printed side-by-side.
Heated bed
One of the issues with most of the 3D printers is about the heated bed gaining the temperature at which it can melt materials with ease.
The builder 3D printer is a company that has tried to solve this temperature issue with its design as well as the print bed material.
So, the overall design of this printer is kept closed which, compared to open systems has more temperature generally.
The other thing is the material that they have used for building their print bed is such that has a maximum temperature of 60 degrees Celsius.
What this will mean essentially is that the materials that you cannot print in printers that cannot withstand such temperature can be printed on Extreme 2000.
Onboard Camera
This has something to do with the overall monitoring of the printing process.
So, say you have turned on the printing process and something goes wrong!
In the case of the printer wherein you do not have an onboard camera, you wouldn't be able to tell, if you are not inspecting manually if something goes wrong.
But here in Extreme 2000, you have an onboard camera that will let you keep an eye on the complete printing process remotely.
You don't need to have sight of the complete print bed or the printing process.
You can sit at a place and remotely see how things are actually going.
Remote Control Capability
As seen above there is an onboard camera to keep an eye on the printing process, the Extreme 2000 also has a remote control capability.
Using these features users of this printer would be able to control this giant refrigerator-looking printing with the help of their smartphone.
So, say you have mass production of parts or functional prototypes; you do not necessarily have to stay close to the printer or even in the range of the printer.
You can be somewhere in the other room and you would be still able to print or start your printing process or stop it, however, you like it.
Multiple Nozzle Diameters
Builder 3D printer understands users' needs and that's why it understands how one part is different than the other or how one prototype is different than the other.
For building one part you might need one kind of nozzle and similarly, for building the other you might need others. The same goes for the function prototypes that you are building.
That's why it has equipped you, as a user of this printer with multiple nozzles that have a diameter ranging anywhere from 0.4, 0.8, or 1.2 mm.
These are the nozzle diameters that you can easily print your parts and functional prototypes from.
They will allow you to get some of the most unimaginable work finishes that you can imagine a 3D printer to give to you.
Efficient design
The Extreme 2000 has been designed efficiently to be able to offer space to all its key features without sacrificing print volume.
Despite its huge print volume, the Extreme 2000 is optimal for all workspaces.
The filament spools and control box are integrated into the closed housing and will open for easy access when slightly pushing the panels.
The innovative and versatile direct drive extruder has been created for non-stop printing during mass production of parts and functional prototypes.
The Dual-Feed extruder, as mentioned above is able to print two-color objects, and can also be used as a mono extruder when inserting 2 of the same filament spools.
Specifications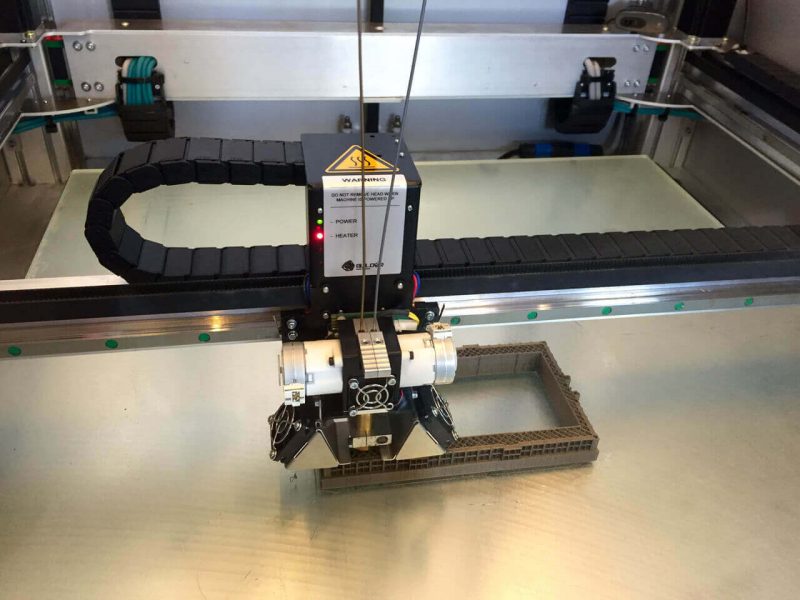 This printer is based on the FFF technology of 3D printing and features a mono or dual feed extruder that users can use according to the use.
The printer's build volume is 700 mm * 700 mm * 1820 mm. It is a large format 3D printer that mainly targets industrialists in the field of 3D printing who have their own workplaces where they use printers to deliver huge mass orders of specific parts and functional prototypes.
In this FFM 3D printing technology, the layer deposition happens layer by layer which is then cured or solidified.
Layer resolution that this printer delivers is hardly visible on the parts and functional prototypes that are manufactured using this 3D printer.
The printer weighs 250 kilograms. Extreme 2000 is able to print with PLA and PET style plastics.
Layer height in the parts and functional prototypes that are printed using this printer is as small as 0.05mm making the overall surface finishes look smooth.
Price
The manufacturer of this printer i.e. Builder 3D printer has priced this printer at $25895.
First Impression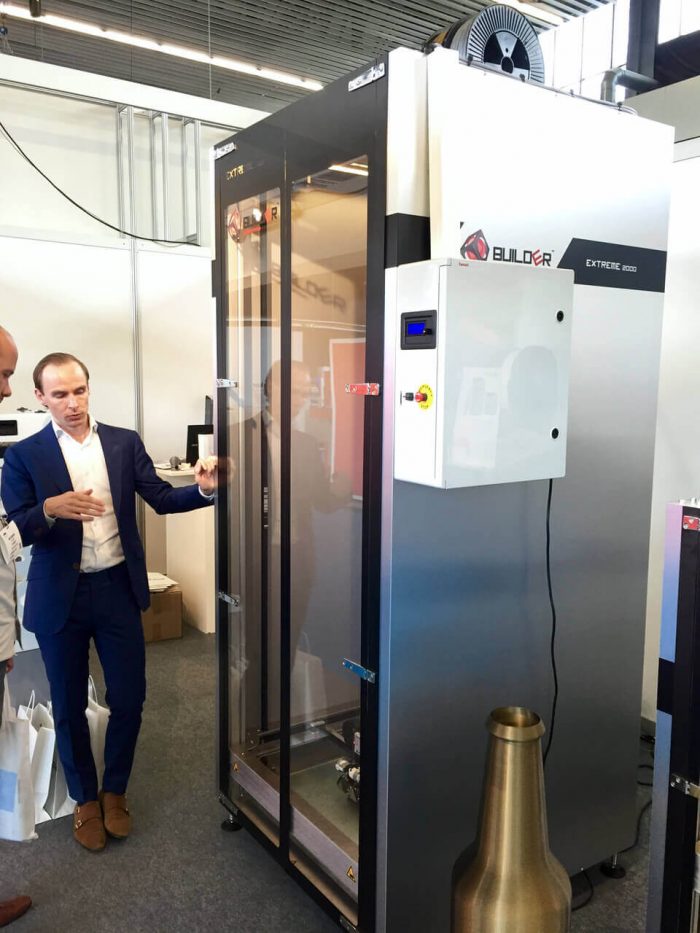 Credit: fabbaloo.com
For those who are not familiar with additive manufacturing and the devices that are utilized in 3D printing, this machine will definitely look like a refrigerator.
There are two compartments that are visible from the front view of the printer because it is transparent. However, it is up to the user to use it or not.
In other words, it depends on the build size of your part or functional prototype to be accommodated in those compartments or not.
These are not like those regular double extruders that have two separate nozzles which have a few disadvantages, such as oozing of one nozzle while printing with another or overheating the print.
The engineers at Builder have designed their own Dual-Feed extruder ensuring that they have eliminated the second nozzle.
So, you are going to enjoy printing two different materials through one nozzle without facing a problem.
As long as the materials melt at the same temperature, you are all good to go. With the help of retraction, the material is something that you will be able to switch rapidly.
Setup
Like all other industrial-grade 3D printers, this one too comes completely assembled.
All you have to do is go through the user manual once before starting to operate this printer.
You can get the contact details of the company from its website and contact the person if there is any doubt that you have.
After all, it is always good to be at the safer end rather than assuming something and then spoiling your print.
Printing Type/Cost
As mentioned in the Specifications section, this printer works on FFM 3D printing technology which is mostly similar to FDM 3D printing technology.
Here, you have a filament of material that is heated in the extruder, and finally when the melting temperature of this material is reached it is exposed on the print bed in such a way that the design that has been given as an input to the printer using the software is followed.
So, the first layer is printed in this way and after that, the nozzle moves according to the thickness printing the second layer, and so on.
In the end during the post-processing, the support structures are to be removed as well as the parts are to be cooled down to be used.
The printing cost per part or functional prototype is generally high in printers using this printer, however, it depends on the infill that you wish to see in the parts and functional prototypes that you are printing.
Print Quality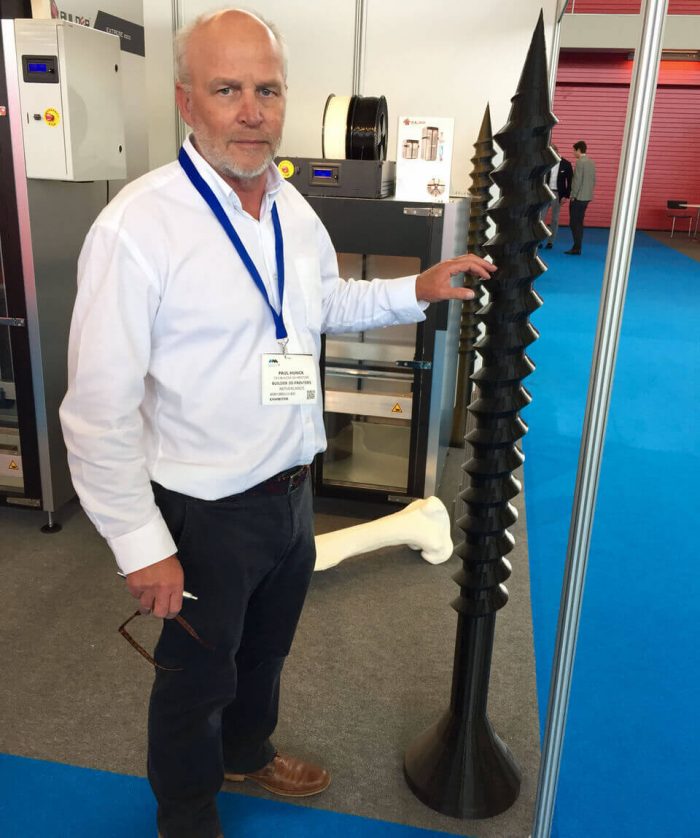 Credit: fabbaloo.com
The overall quality of the objects printed with this printer has to be nice because the layer visibility is too low.
So, when you pick up a part that is printed by this printer, you would hardly be able to notice the layers of which it is actually made up of.
Software
There are three software names that are visible to you when you click on the Software option, in the Support tab, on the website of this printer's manufacturer i.e. Builder Original, Builder Premium, and Builder Extreme.
Obviously, for the Extreme series, they have Builder Extreme.
There is also an option to view this software on the website. When you view it, you will see the name Simplify 3D which is a very popular slicing software.
Customer Support
There is a separate tab dedicated to its users on its website. By clicking on it you can get all sorts of information related to its parts, for sending a support request, to see the FAQ's, installation procedure as well as a lot more.
Parameters Influencing Buying Decision
Below mentioned are some of the factors that you will love to see in short while purchasing the printer.
3D Printer Cost: The printer is expensive for those who are not industrialists in this sector.
3D Print Quality: Industry-standard.
3D Print Speed: Extraordinary.
3D Printer Capability: Printing with multiple materials is possible.
3D Printer Practicality: This printer can actually let you do mass prints continuously with ease.
3D Printer User Expectations: Industrialists would love to do mass production using this printer.
The Verdict
If you are not used to 3D printing, you might find the cost an issue for a one-time investment.
But the return on investment this printer promise is something that you will only get to know once you purchase it.
So, you can either take a risk of buying this one or taking the advice from someone who is really into this business for a long.