HP Jet Fusion 3200 3D printer
HP Jet Fusion 3200 is much more than a normal industrial 3D printer; it is a 3D printing system. Meaning that you would be much more invested in it than other printers! Its cost is much higher, but at the same time, it is able to deliver parts and functional prototypes with higher quality.
PROS
Delivers quality output.
Up to 10 times faster at half the cost.
Delivers fine detail and dimensional accuracy.
Lets you have accurate thermal control of every layer and enables predictive corrections voxel by voxel for optimal mechanical properties.
Low cost per part and minimal powder wastage.
Reduces cooling time which results in faster time to part and more parts ready within the same day.
Enclosed unpacking and material collection system.
Automated material mixing and loading systems.
CONS
This printing system demands a huge one-time investment which not everyone will be able to pay. And so the accessibility of this wonderful printing technology and the machine is still a huge question.
Product
Specification
Videos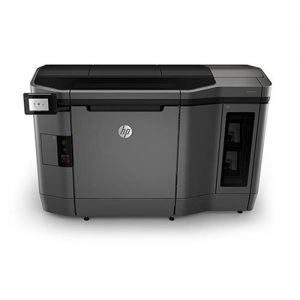 Based on HP's unique Multi-Agent printing process, HP Jet Fusion 3200 assists you in producing functional parts with optimal mechanical properties. ...
| | |
| --- | --- |
| Model | HP Jet Fusion 3200 |
| Manufacturer | HP |
| Price Range | $ 130,000 |
| Country | United States |
| Release date | 2016 |
| Availability | Available |
| Classification | Professional |
| Technology | HP Multi Jet Fusion technology |
| Material | PA 11, PA 12, Thermoplastics |
| Generic material | Yes |
| Max. build size | 380 × 284 × 380 mm 14.96 × 11.18 × 14.96 in |
| Max. print speed | 777 mm3/s |
| Max. build volume | 41.01 L |
| Dimensions | 2210 x 1200 x 1448 mm 87 x 47 x 57 in |
| Weight | 750 kg 1653.47 lb |
| Heated print bed | Yes |
| Heated build chamber | No |
| Automatic calibration | Yes |
| Closed frame | Yes |
| Full color | No |
| LCD screen | Yes |
| Touchscreen | Yes |
| On-board camera | No |
| Mobile app | No |
| 3D scanners | No |
| CNC mill | No |
| Electronics 3D printing | No |
| Laser engraving | No |
| Conveyor belt | No |
| Air filter | No |
| Pellet extruder | No |
| USB | No |
| Wifi | No |
| Bluetooth | No |
| SD card | No |
| Ethernet | Yes |

Table of Contents
This 3D printing system is able to produce quality parts while optimizing your complete productivity cost. It is able to create parts at much lower costs than other printers.
HP Jet Fusion 3200 3D printing system is equipped with lots of parts with complex mechanisms and this review is meant to provide an insight into them. So, let's get started.
Features
Used majorly for industrial prototyping and final part production, HP Jet Fusion 3200 comes with a set of machines that aid you during the complete Multi Jet Fusion 3D printing technology on which it is based on.
Produces superior, consistent part quality: With HP Jet Fusion 3200, you can get extreme dimensional accuracy and fine detailing in the parts or functional prototypes that you manufacture. This is all thanks to the multi-agent printing process on which the printer is based upon. You can produce fully functional parts that have optimal mechanical properties in a faster manner. The final printed parts will be predictable and reliable. Also, the HP Multi Jet Fusion Open Platform gives you access to new future materials and uncovers new applications.
Breakthrough productivity: HP Jet Fusion 3200 produces more parts per day with continuous printing and fast cooling. It streamlines your workflow with HP's automated materials preparation and post-processing station. The printer allows you to have a cleaner experience with an enclosed processing station and materials that are not classified as hazardous. You can rely on HP's world-class technical services and support for maximizing uptime and productivity. Also, you can choose your ideal end-to-end solution from a range of printing and processing options.
Lowest cost per part: You will be able to achieve the lowest cost per part and reduce your manufacturing operational costs, open doors to short-run manufacturing. You can benefit from a competitively priced 3D printing solution. With HP Jet Fusion 3200 you can optimize cost and part quality, with cost-efficient materials offering industry-leading reusability. You'll be able to plan production times more accurately and predictably for increasing your overall operational efficiency.
Specifications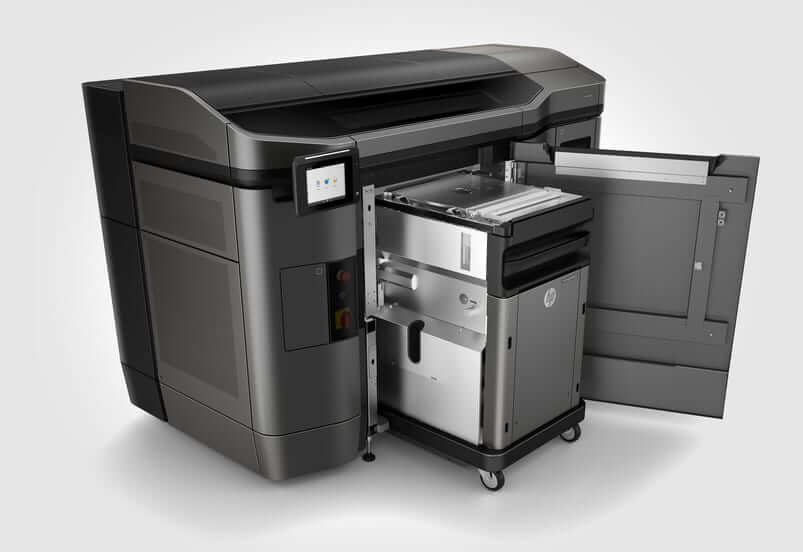 HP Jet Fusion 3200 is based on Multi Jet Fusion 3D printing technology. It offers an effective building volume of 406 mm * 305 mm * 406 mm and a maximum print speed of 3500 cubic centimeters per hour.
The layer thickness range offered by this 3D printing system in parts and functional prototypes it manufactures is 0.08 to 0.10 mm. It has a print resolution of 1200 dpi along its X and Y-axis.
The printer's dimensions are 2178 mm * 1238 mm * 1448 mm. Its shipping and operating dimensions are 2300 mm * 1325 mm * 1983 mm, and 3700 mm * 3700 mm respectively.
HP Jet Fusion 3200 weighs 730 kilograms. Its network is made with Gigabit Ethernet supporting TCP/IP, DHCP IPv4 only, TLS/SSL.
The printer consumes anywhere from 9 to 11 kilowatts of power. You would require Input voltage three-phase 380 to 415 V (line-to-line), 30 A max, 50/60 Hz / 200 to 240 V (line-to-line), 48 A max, 50/60Hz for operating this printer.
As far as safety is concerned, the printer complies with IEC 60950-1+A1+A2 compliant; the United States and Canada (UL listed); EU (LVD and MD compliant, EN60950-1, EN12100-1, EN60204-1, and EN1010).
Specifications of processing station with fast cooling
The processing station and fast cooling station have some features which assist you a lot when you are into 3D printing.
The former can automatically mix, sieve, load; the unpacking, however, needs to happen manually.
The latter can automatically mix, sieve, load, which has the option of semi-manual unpacking.
It is capable of fast cooling, has an external storage tank for materials. It is also compatible with high-capacity material cartridges.
Price
For knowing the price of HP Jet Fusion 3200, you'd have to contact the nearest reseller around your location.
The company's distribution system is way more eccentric than other companies that you'd encounter.
First Impression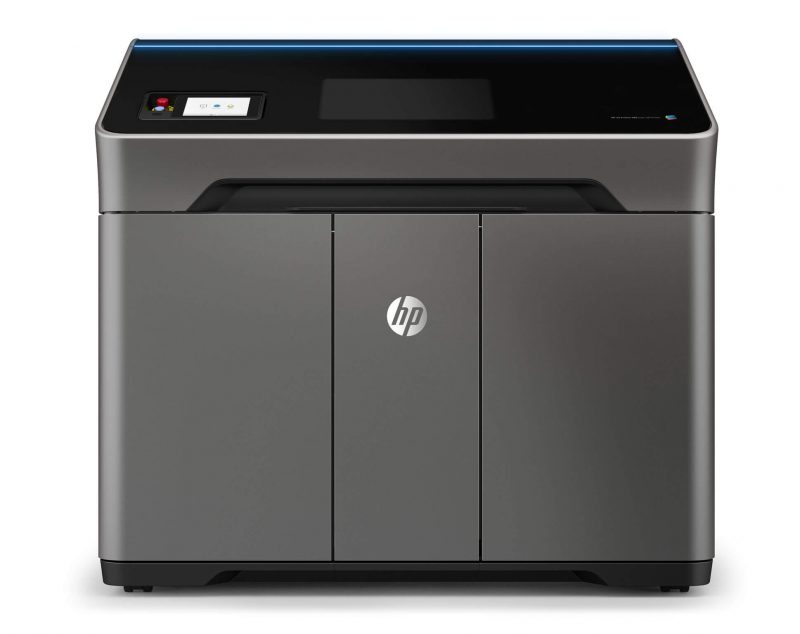 When you have the first glance over this 3D printing system, you differentiate it into four different machines.
HP Jet Fusion 3200 3D printer.
HP Jet Fusion 3D processing and fast cooling station.
HP Jet Fusion Build Unit.
HP's open platform.
The printer has a touch screen interface that lets you perform the inside quality checks and minimize errors to enable easy and accurate job progress tracking.
There is a transparent body section in the post-processing station which lets you monitor how the material is being treated from outside.
The build unit can be pushed into the lower compartment of the processing and fast cooling station. There is a touch screen interface attached to the body of the processing and fast cooling station as well.
At the top of this processing and fast cooling station, you have an automated material mixing and loading system that helps you streamline your workflow and reduce labor time.
The fast cooling module reduces the cooling time which in turn results in faster time-to-part and more parts ready within the same day.
Setup
HP's support department consists of preparing, protecting, and growing with this 3D printing system. As a part of this, you are provided an on-site setup and installation guide.
There are this HP Installation and Introduction to the Basic operation which will help you know facts about the parts that make up this system and how do they function?
The guide will also assist you with your first 3D printing of a part or a functional prototype. So, that you get accustomed to the mechanical process of printing that's essential for this 3D printing system.
Printing Type/Cost
Multi Jet Fusion 3D printing technology is a lot more labor than other 3D printing technologies. There are a lot of chances that you will mistake it for SLS or Metal 3D printing. But it's important for you to differentiate between MJF and SLS.
Remember that MJF uses inkjet-dispensed agents and a heating element, whereas SLS fuses the layers together with a directed laser beam.
MJF 3D printing starts by laying down the powdered material over the printer's print bed. Once this is done, the inkjet head runs across the laid down powder depositing the fusing as well as detailing agent on it.
There is an infrared heating unit that moves across the print and melts the fusing agent to mix together with the laid down the powder. During this procedure, the detailing agent remains in the powdered form, as it is.
The shedding of powdery parts leads to the production of desired geometry which eliminates the need for support structures. Also because the lower layers support the ones that are printed above them!
For finishing the printing process, the entire powder bed and the printed parts in it are moved to a separate processing station wherein the majority of loose unfused powder is vacuumed up, allowed to be reused instead of producing excess waste.
Stating about the printing cost, in terms of investment, it's very high. But once you have the equipment in place and start printing continuously the overall printing cost per part is lower compared to printers based on other 3D printing technologies.
Print Quality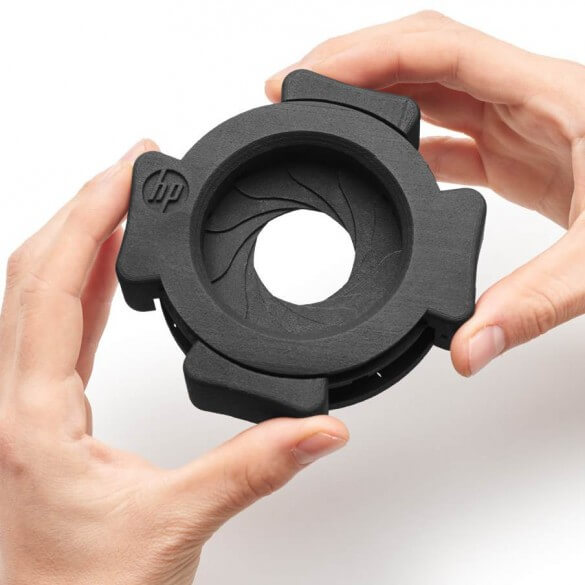 Credit: 3dnatives
HP Jet Fusion 3200 allows you to print with five different company made 3D printing materials.
HP 3D high reusability PA 11: Produces ductile and quality parts.
HP 3D high reusability PA 12: Able to create strong, low cost but quality parts.
HP 3D high reusability PA 12 GB: Can 3D print stiff, dimensionally stable quality parts.
Estane 3D TPU M95A: This material can make a high rebound and good abrasion resisting parts.
HP 3D high reusability TPA enabled by Evonik: Capable of making easy-to-process, flexible, and lightweight parts.
Software


The company offers three software solutions for managing the design and slicing part of the 3D printing process.
HP 3D API: Ensures streamlining of data access and automation across industrial management systems.
HP 3D Center: Enabling you to have a dashboard view into production data and remote monitoring for greater efficiency and agility.
HP Smart Stream 3D Build Manager: Quickly and easily preparing your jobs for printing with all the elements that you need.
Apart from these three, there are five third party software solutions that are also compatible with HP jet Fusion 3200.
AMFG: Helping companies achieve streamlined, automated additive manufacturing with the industry's leading MES and workflow software.
Autodesk Netfabb with HP Workspace: Aids by providing advanced software for the additive manufacturing of production-quality parts.
Link 3D: Able to provide a suite of mission-critical applications. All of which are instrumental in scaling additive manufacturing capabilities. They enable organizations to plan, manage and optimize their operations.
HP Build Processor: This one is the industry-standard software for professional 3D printing for unlocking the full potential for managing every step in your production process.
Siemens NX AM: Lets you combine design, optimize, stimulate, preparation of print jobs, and inspection processes all in a single managed environment with minimal steps.
Customer Support
All the parts of this 3D printing system come with one year warranty. And there are three support services that are offered by HP for their customers.
HP 3D printing prepare services: Deals with preparing your site to install the equipment in this system and printing your first parts. It also helps you explore the full potential of HP 3D printing.
HP 3D printing care services: Acknowledging your uptime as HP's top priority, these services deal anywhere from preventive maintenance to proactive, big-data-driven analytics. Every opportunity for improving your return on investment is taken care of.
HP 3D printing growing services: This service allows you to transform with designing and helping you grow, move into materials, applications, and used cases. It also further optimizes your manufacturing processes.
Parameters Influencing Buying Decision
From the complete article, we have listed some of the most important factors that we think, will matter to you while buying this 3D printing system.
3D Printer Cost: As mentioned in the section above, the one-time investment is going to be very high. Even higher than most industrial 3D printers!
3D Printer Quality: HP Jet Fusion 3200 will be able to produce high-quality parts and functional prototypes that which you will be able to use in the application where you are currently using parts made by traditional manufacturing technology.
3D Print Speed: This printing system is able to manufacture parts and functional prototypes with extraordinarily fast speed.
3D Printer Capability: Although offers a lesser amount of 3D printing materials, the printing system is capable of printing even small parts with intricate designs.
3D Printer Practicality: When in working condition, all the parts of this system are in amazing coordination with each other.
3D Printer User Expectations: All your manufacturing expectations are things that this 3D printer will easily be able to fulfill.
The Verdict
HP Jet Fusion 3200 is much more than a normal industrial 3D printer; it is a 3D printing system. Meaning that you would be much more invested in it than other printers! Its cost is much higher, but at the same time, it is able to deliver parts and functional prototypes with higher quality.