HP Jet Fusion 4200 3D Printer
HP Jet Fusion 4200 demands one-time investment that is higher than other industrial 3D printers, when you see the quality of parts and functional prototypes it manages to produce, you are more likely to say, "it's worth it."
PROS
The 3D printing speed is fast.
You get accurate 3D printing with fine detailing.
For 3D printing a part you need no support structures.
The quality of the part produced is high.
CONS
Initial printing investment is higher compared to others.
You are not able to produce some curved, hollow geometries.
Product
Specification
Videos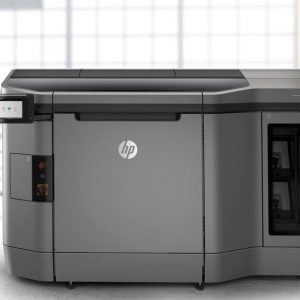 Designed for small batch production ranging between 130 to 600 parts per week, HP Jet Fusion 4200 is a very precise 3D printer. Based on multi-jet ...
| | |
| --- | --- |
| Model | Jet Fusion 4200 |
| Manufacturer | HP |
| Price Range | > $ 250000 |
| Country | United States |
| Availability | Available |
| Classification | Professional |
| Technology | HP Multi Jet Fusion technology |
| Generic material | Yes |
| Max. build size | 380 × 284 × 380 mm 14.96 × 11.18 × 14.96 in |
| Max. build volume | 41.01 L |
| Dimensions | 2210 x 1200 x 1448 mm 87 x 47 x 57 in |
| Weight | 750 kg 1653.47 lb |
| Heated print bed | No |
| Heated build chamber | No |
| Automatic calibration | No |
| Closed frame | No |
| Dual extruder | No |
| Independent Dual Extruder | No |
| Full color | No |
| LCD screen | Yes |
| Touchscreen | Yes |
| On-board camera | No |
| Mobile app | No |
| 3D scanners | No |
| CNC mill | No |
| Electronics 3D printing | No |
| Laser engraving | No |
| Conveyor belt | No |
| Air filter | No |
| Pellet extruder | No |
| USB | No |
| Wifi | No |
| Bluetooth | No |
| SD card | No |
| Ethernet | Yes |

Table of Contents
You know what? It will be unfair to term it a 3D printer, HP Jet Fusion 4200 is actually an industrial 3D printing solution that helps you produce quality parts by optimizing productivity and cost.
Features
The printing system helps you in the production of industrial prototypes and final part production. The most important aspects of this 3D printing system that assist you in doing so are mentioned below.
Quality functional parts: HP Jet Fusion 4200 is an ideal 3D printing system for industrial prototyping and final part production. It lets you achieve a print time that's predictable with best-in-class isotropy. You can choose between different print modes that offer you different mechanical, functional aesthetic properties, accuracy, and speed.
Optimized productivity: You will be able to produce more parts per day with continuous printing. With HP Jet Fusion 4200 it's possible to get a streamlined, clean experience with enclosed and automated mixing. HP is world-famous for offering solution services for maximizing uptime and productivity.
Optimized costs: Using HP Jet Fusion 4200, you can reduce your operational costs and open doors to short-run production. You can invest in a more competitively priced 3D printing solution and produce at a low cost per part. With cost, you also get optimized part quality because of cost-efficient materials offering industry-leading reusability.
Specifications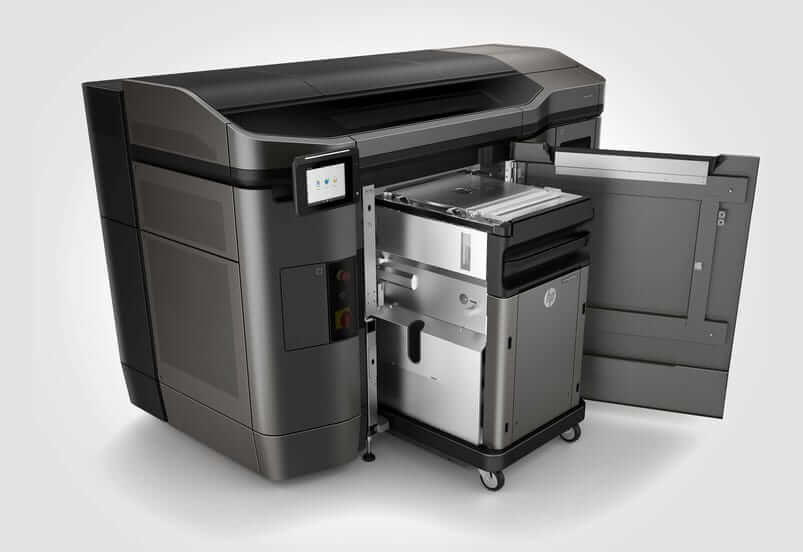 HP Jet Fusion 4200 is based on Multi Jet Fusion 3D printing technology. It offers an effective build volume of 380 mm * 284 mm * 380 mm and a build speed up to 4115 cubic centimeters per hour.
The parts and functional prototypes manufactured on this 3D printer possess a layer thickness of 0.08 mm.
The job processing and print, X, Y resolution of this printer are 600 and 1200 dpi.
The printer's dimensions are 2210 mm * 1200 mm * 1448 mm. And its shipping and operating dimensions are 2300 mm * 1325 mm * 2068 mm and 3700 mm * 3700 mm * 2500 mm respectively.
The weight of HP Jet Fusion 4200 is 750 kilograms. Its network is constructed using Gigabit Ethernet supporting standards like TCP/IP, DHCP IPv4 only, TLS/SSL.
The power consumed by this 3D printer is in the range of 9 to 11 kilowatts. Its input voltage is three phase 380-415 Volts when done line to line, 30 Amperes maximum, 50/60 Hertz and 200-240 Volts line to neutral, 48 Amperes maximum, 50/60 Hertz.
The printer is in agreement with Safety concerns put up by IEC 60950-1+A1+A2 compliant; the United States and Canada (UL listed); EU (LVD and MD compliant, EN 60950-1, EN 12100-1, EN 60204-1, and EN 1010). There is a year's warranty on the hardware parts of this printer.
Specifications of processing station with fast cooling
The dimensions of this processing station with fast cooling are 2990 mm * 934 mm * 2400 mm.
Its Shipping and Operating area's dimensions are 3499 mm * 1176 mm * 2180 mm, and 3190 mm * 2434 mm * 2500 mm respectively.
The processing station with fast cooling weighs 480 kilograms and consumes 2.6 kilowatts.
It requires Input voltage single phase 200-240 V (line-to-line), 19 A max, 50/60 Hz or 220-240 V (line-to-neutral), 14 A max, 50 Hz and complies with the security concerns put forward by UL 2011, UL508A, NFPA, C22.2 NO. 13-14 compliant; the United States and Canada (UL listed); EU (MD compliant, EN 60204-1, EN 12100- 1 and EN 1010).
There is a one-year hardware warranty included in the service coverage of this processing station with fast cooling.
Price
HP Jet Fusion 4200 can be bought from the nearest reseller of HP 3D printers near you. For knowing the price of this 3D printing system you've got to find out who's the nearest reseller of the same. You can get the information online or by calling at HP help center.
First Impression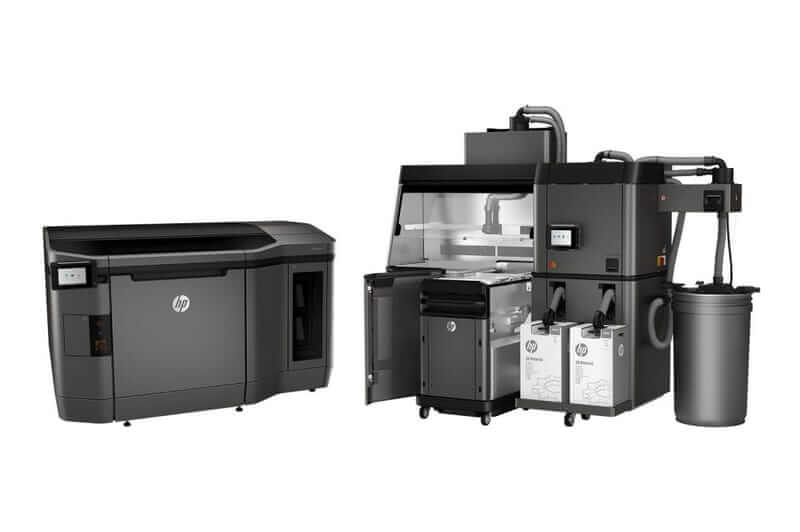 The complete printing system comes in four parts connected with each other. These four parts make up for:
HP Jet Fusion 4200 3D printer.
HP Jet Fusion Post Processing Station.
HP Jet Fusion Fast Cooling Station.
The post-processing station and Fast Cooling station are connected with each other. It is to be noted how this 3D printing system demands no additional room for parts removal with enclosed packing and material collection system, including a laminar food.
You are very likely to need a workstation or huge space in your manufacturing environment to place the complete station.
There are touch screen interfaces that will allow you to completely monitor and control all the aspects of this printing system.
One is present on the printer itself and the other on the body of the post-processing station.
Setup
You will be provided with on-site assistance after buying this 3D printing solution. That will help you understand the complexities that it carries along.
Although not completely complex, the printing system is also not easy to operate like other industrial manufacturing systems.
The touch screen interfaces will also guide you through the settings that this printer, post-processing, and the fast cooling station has.
You are recommended to go through those settings as well as read the brochure available for this 3D printing system online to know it better.
HP provides something called HP 3D Printing Prepare Services which will help you preparing on your site and installing as well as calibrating your equipment and printing your first parts or functional prototypes on it.
This will help you explore the complete potential of this very efficient machinery that you have brought to your place.
Printing Type/Cost
Multi Jet Fusion 3D printing technology is HP's proprietary manufacturing technology. It was introduced by HP in the year 2016. It is pretty much based on the company's 2D printing inkjet technology.
In it, the 3D file that has to be 3D printed is rendered as voxels or volume elements. Voxels are essentially three-dimensional equivalents of pixels that 2D printing relies on.
This technology can easily be confused with the Metal Jet printing process, but there is an important difference i.e. the 3D printing material in Multi Jet Fusion are plastics.
The 3D printing material, fusing agent, detailing agent, and energy source play a main part in creating an object out of Multi Jet Fusion 3D printing technology.
This process starts with the printer laying down a layer of material powder on the printing bed. After which, the inkjet head starts moving across the powder, depositing fusing as well as detailing agent on it.
There is some infrared heating source that moves across the complete bed and wherever the fusing agent was added, it attempts to melt all of that.
The areas that have the detailing agent remain as powders. The powdered part sheds off and what remains is the desired geometry of the part of a functional prototype.
Because of this reason, the technology requires no support structures. The lower layers of your part act as support structures for the ones above it.
If HP is to be believed, its technology differs from others in terms of the placement of new materials and agent layer even when the previous layer is still molten.
This allows for the fusion of both the layer completely to deliver improved print durability and fine detailing.
For finishing the printing, the entire powder bed with the printed parts move to a separated processing system where the majority of unfused powder is vacuumed up and can be reused.
Printing a part or functional prototype with this 3D printing process will cost you more than other technologies because of the use of more raw materials, high powered heating source, and more mobile mechanisms. But at this cost, you can get parts and functional prototypes with never before seen qualities.
Print Quality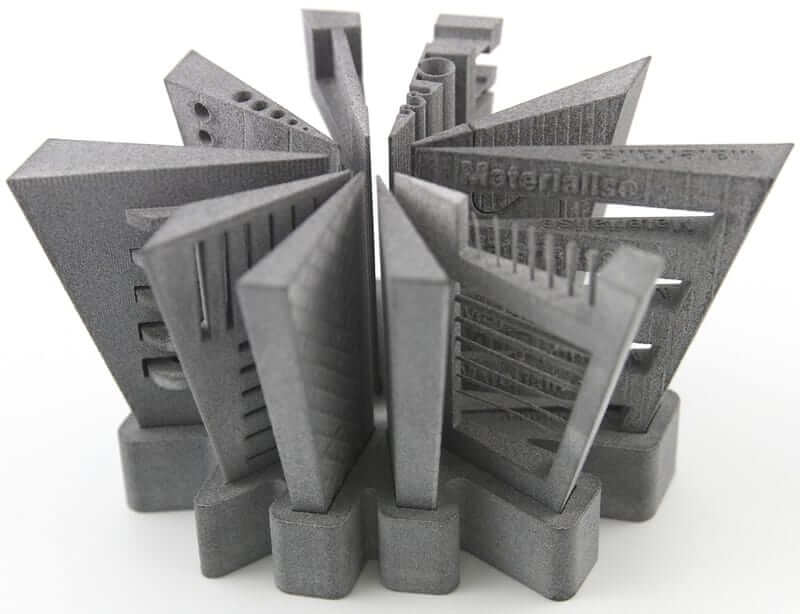 Credit: materialise
Using 3D printing materials compatible with this 3D printing system, you are able to produce stiffer functional prototypes and also achieve 70 percent surplus powder reusability.
They are light in weight and flexible. These 3D printing materials help to reduce the total cost of ownership as well as producing strong, functional, detailed complex parts.
Objects that are created using this technology also tend to have more impact resistance as well as ductility.
One of the four 3D printing materials, HP 3D High Reusability PA 11 is made from renewable sources and is known to provide optimal mechanical properties with consistent performance at industry-leading surplus powder reusability.
Parts and functional prototypes made from this 3D printing system find applications in many industries.
There are inherent benefits in the technology as well as the printing system which made them applicable for such use.
In the automotive industry, they are used to cut down on time while making pneumatic grippers.
Fantastic when it comes to producing brackets as well as interior trim for production vehicles as well as a fleet of prototype parts, tools, fixtures, and end-use parts.
In medicare, the printing system is used for producing customized dental molds as well as medical prosthetics. They are also used in making consumer goods.
Software


There are three software solutions that are recommended for this HP 3D printing system.
HP 3D API: Used for streamlining data access as well as automation across industrial management systems.
HP 3D Center: To give you a dashboard view of your production data as well as remote monitoring for greater efficiency and agility.
HP Smart Stream 3D build manager: To quickly but easily prepare jobs for printing with elements you need.
With this HP Jet Fusion, 4200 is also compatible with third-party software such as:
AMFG will help you to streamline your automated additive manufacturing with the industry's leading MES and workflow software.
Autodesk Netfabb aims to provide you advanced software for additive manufacturing of production-quality parts.
Link 3D provides you a suite of mission-critical applications instrumental in scaling additive manufacturing capabilities for organizing, managing, and optimizing your operations.
Materialize to unlock the complete managing potential.
Siemens NX AM lets you combine design, optimization, simulation, and preparation of print jobs in a single managed environment with minimal steps.
Customer Support
The company offers you one year guarantee with the hardware that you get along with the printer as well as the post-processing and fast cooling stations.
Apart from this, there are HP 3D Printing Care Services guaranteeing your uptime. It does everything, from preventive maintenance to proactive, big-data-driven analytics, to improve the return on investment.
There are also HP 3D Printing Grow Services that lets you accelerate your transformation, help you grow, move also into materials, applications, and use cases to optimize your current manufacturing processes.
Parameters Influencing Buying Decision
The printing systems, cost, quality, speed, capability, practicality, and user expectations are mentioned in brief, below.
3D Printer Cost: Higher than industrial printers based on other 3D printing technologies.
3D Printer Quality: Extraordinary surface finishes are possible in parts and functional prototypes that you manufacture using HP Jet Fusion 4200.
3D Print Speed: Commendable.
3D Printer Capability: You are able to produce parts with high mechanical properties using four different 3D printing materials compatible with this printing system.
3D Printer Practicality: When in use, this 3D printing system is more neat and clean, and manageable than other industrial 3D printers.
3D Printer User Expectations: Your manufacturing wants will be fulfilled by this 3D printing system.
The Verdict
All in all, HP Jet Fusion 4200 demands a one-time investment that is higher than other industrial 3D printers, when you see the quality of parts and functional prototypes it manages to produce, you are more likely to say, "it's worth it."