Kiri Innovation Phiz
Phiz 3D scanner can be employed in various fields because of its compact nature, decent scan quality, adjustable scan times, and commendable scan volumes.
PROS
Delivers highly accurate parts.
Scans at amazing speed.
Affordable even for beginners.
Offers ease of operation.
Hosts smart AI.
Compatible with multiple 3D printers.
CONS
Scan quality is not completely dependent on the printer, but also on the smartphone.
Not appropriate for scanning objects with small geometry and much detailing.
Table of Contents
Phiz 3D scanner is based on new patented technology by the scanner manufacturer Kiri Innovation. Its powerful AI makes it possible for the user to split Phiz into a laser, turntable, and smartphone. And a result of that all is a highly affordable yet superbly functioning hobbyist scanner.
The machine is famous in the industry for offering an extremely high price: performance ratio. When compared to other 3D scanners in the same price range, Phiz saves a lot of operating costs. This is because it uses a camera and CPU of the smartphone that gets integrated with the scanner.
Because of such an innovative vision and design of Kiri Innovation, Phiz manages to outdo its competitors. But, how does it exactly do that? What are the other components that make the operation of the scanner smoother for its user? Let's get to know by going in-depth.
Features
Phiz 3D scanner is for that category of users who wish to 3D scan objects at low cost without compromising on accuracy. The machine stands out in the list of normal desktop 3D scanners as it is smartphone-assisted. Not only that, although being an entry-level device, Phiz manages to deliver accuracy of up to 0.2 mm.
The scanner is capable of processing parts and functional prototypes of volume ranging from 50 mm * 50 mm * 50 mm to 400 mm * 400 mm * 400 mm in approximately 4 to 30 minutes depending on the settings. Overall, the scanner is packed with many intriguing features. So, let's go through them one by one.
Strong AI
This is a unique feature of the Phiz 3D scanner. As it is equipped with a powerful AI, the machine can process millions of data points to scan the entire part with its details.
Also, it calculates the perfect position of not only the object, and laser, but also the camera ensuring that there is ideal coordination between all three of them. A good combination of these three main components leads to high spatial accuracy.
Compatible with multiple smartphones
The scanner supports all newer smartphones ranging from iOS 12 to Android 7.0. Note that older smartphones are not compatible with the machine because their camera and CPU performances are not enough for 3D scanning.
And a major part of Phiz's scan quality is dependent on the quality of the camera as well as the performance of the processor of the smartphone that's integrated with the scanner.
Absolute user experience
Kiri Innovation claims to have developed a professional algorithm and put it in a smartphone application. This assists every type of user, whether professional or newbie in achieving high-quality scan results.
Colored scans
After scanning the object for the first time, the scanner goes through the object again to detect its color. The result of this process is a scanned colored object that has the capability of creating real-life models.
Editable files
Even after scanning an object two times, Phiz allows users to manipulate the end result for betterment. This gives professional users the freedom to edit a particular geometry according to their needs. All the artifacts can be removed and details can be improved using this feature.
Specifications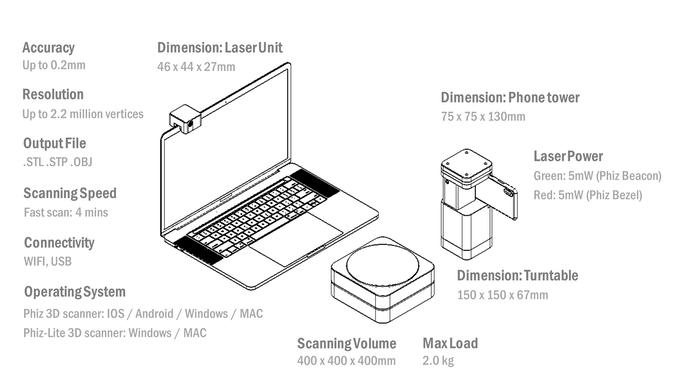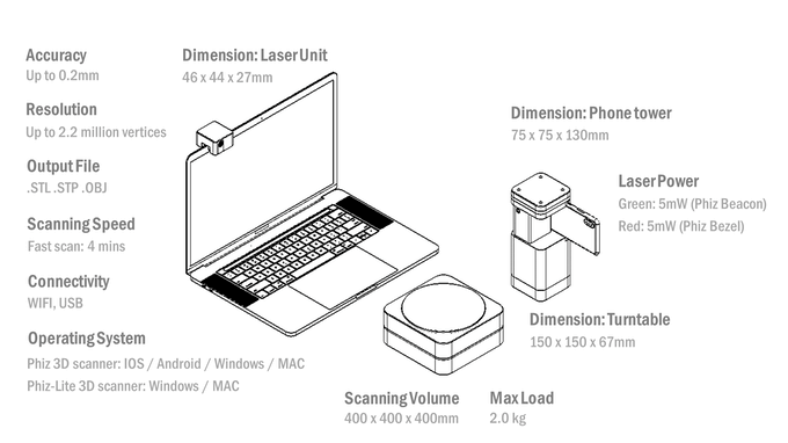 Credit: kickstarter
Users can choose from three resolutions that are possible with the scanner:
The low resolution can approximately take anywhere between 4 to 10 minutes.
The medium resolution can take around 8 to 15 minutes.
The high resolution can be delivered after 16 to 30 minutes of processing.
A scan accuracy of 0.2 mm can be achieved on objects ranging anywhere between scan resolutions 50 mm * 50 mm * 50 mm to 400 mm * 400 mm * 400 mm.
The turntable can withstand a maximum load of two kilograms. The Phiz Beacon and turntable can produce eight and six hours of operation per charge.
Phiz's effective wireless range is around 1.3 feet. It's able to scan an object with up to one million measurement points and delivers outcomes in STL, OBJ, and PLY file formats. A laser source of 5 megawatts and 520 nanometers scans the object that you place on the turntable.
Price
Kiri Innovation's Phiz is available for $379.
First Impression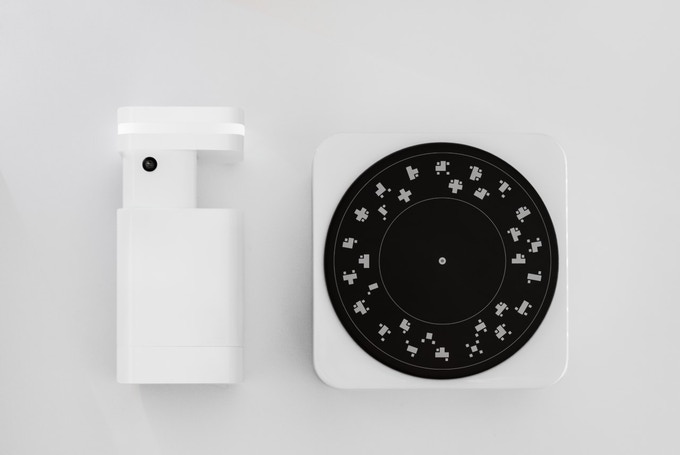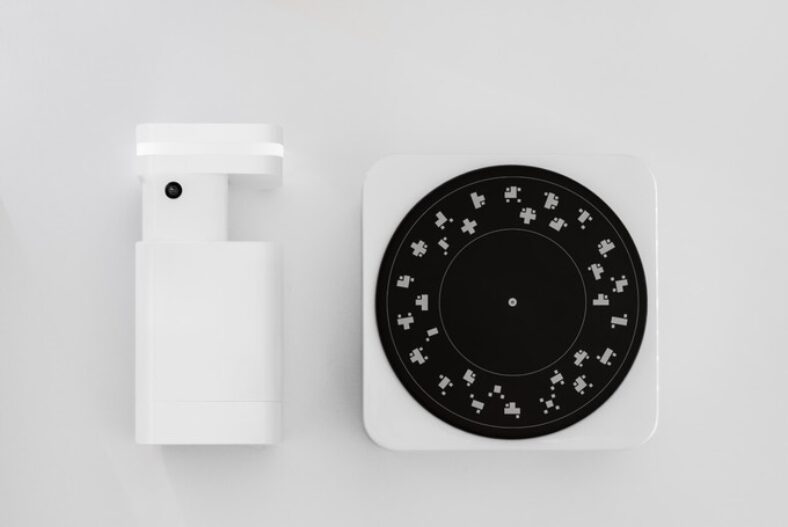 Phiz 3D scanner comes in a nice box which has the size of a shoebox with the following things:
Phiz Beacon to mount the smartphone and emit laser beams
Phiz Turntable to place the object over it
USB Type C cable for charging
Instruction manual
The hardware of the Phiz 3D scanner consists of three buttons and a rotary wheel. The Phiz Beacon has an on/off switch, a button to clamp and release the smartphone, and a rotary wheel to adjust the focus of the laser. Whereas the Phiz turntable comprises just one on/off switch!
The mechanism for clamping the smartphone is also very simple. It is operated via a single button, which, when held down, the head moves up and when released and pressed again it moves down again. It automatically detects when a smartphone is clamped.
Setup
Users need to wait for not more than minutes between unpacking and starting the first scan. Also, it's extremely easy to get started. All that you need to do is place the device in its dedicated space and give it a power supply.
Scan Type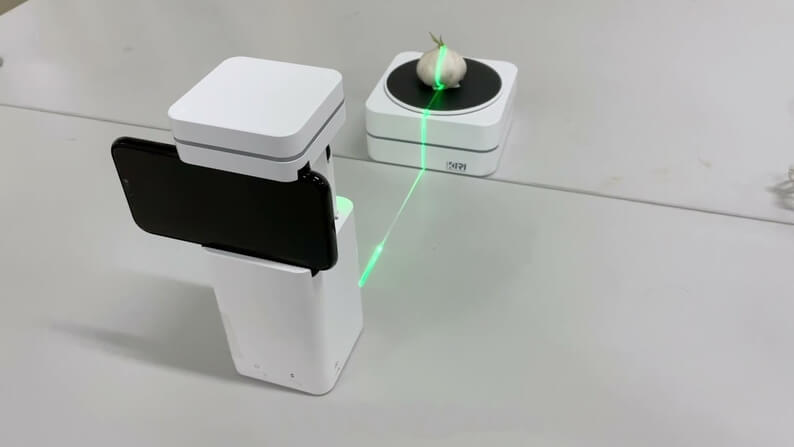 Credit: 3dprinterly
Phiz 3D scanner is not based on laser triangulation technology because unlike other desktop 3D scanners, this one does not have an in-built camera. In fact, it takes the help of the smartphone integrated with it.
However, the objects are placed on the turntable. And the rotation of that component leads to rotation of the object placed over it and capturing of image, as well as posing of laser beams. Coordination of these elements leads to the formation of a scan which is then used for creating 3D models.
Scan Quality
 Phiz 3D printer provides remarkable scan quality. It's a gem to use for scanning small objects. Kiri Innovation has specifically designed the machine to deliver detailed scanning with parts and functional prototypes of intricate geometries. A scan resolution of 0.2 mm is possible to achieve using the scanner.
Software
The associated application is very intuitive. It's available for Android as well iOS operating systems. Once the user registers with it, the scanner can be started.
The program notifies you with a video tutorial for each step to assist you in getting a good hold of the scanner quickly. The tutorials are extremely easy to understand and can be repeated.
Customer Support
The technical team of Kiri can be reached out via email. Apart from that users can get information about various resellers of Phiz 3D scanners online from the scanner manufacturer's website.
Parameter Influencing Buying Decision
A summary of the chief parameters concerning the scanner is mentioned below in brief.
3D Scanner Cost: Available under $400, the Phiz 3D scanner is an ideal example of affordable desktop 3D scanners. It has features, a simplistic design and above all, the scanner is compatible with most 3D printers.
3D Scanner Speed: Considering the price range at which the scanner is available, it has a decent scan speed wherein around 1 million measurement points are scanning the exposed part of the object in one go. In fact, for making it more flexible to a user, the scanner manufacturer has allowed for an option to select from three resolution modes to adjust the scan speed accordingly.
3D Scan Quality: As mentioned above, the scanner is capable of scanning in three modes i.e. low, medium, and high resolution. Impressive scans are possible on Phiz, but they do come at the cost of time.
3D Scanner Capability: Users can scan objects of varying geometries with scan volumes ranging anywhere between 50 mm * 50 mm * 50 mm to 400 mm * 400 mm * 400 mm.
3D Scanner Practicality: Phiz is used in engineering, education, and 3D printing.
3D Scanner User Expectations: The scanner manages to fulfill the expectations of beginner-level users who are looking to experiment with 3D scanning.
The Verdict
Phiz 3D scanner can be employed in various fields because of its compact nature, decent scan quality, adjustable scan times, and commendable scan volumes.
It's an eccentric desktop 3D scanner that can be integrated with a smartphone using the company-made application and hence operated from the same.
The machine has flexible construction as well as operation with an intelligent AI to customize scans according to the user's need. All of that at a very affordable price!