Leapfrog Xeed 2.0
This 3D printer completes its job with perfection. Coupled with advanced features and amazing functionalities, Xeed 2.0 could add more room for creativity and precision for businesses.
PROS
Large-volume
High precision
Dual extruder
Professional grade printing
Heated bed
CONS
Expensive for professionals and home users
Product
Specification
Videos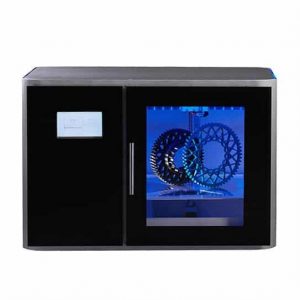 Armed with automatic filament loading and detection, Xeed 2.0 is a precise 3D printer available at an affordable price. It permits users to speedily ...
| | |
| --- | --- |
| Model | Xeed 2.0 |
| Manufacturer | Leapfrog |
| Price Range | $ 10000 |
| Country | Netherlands |
| Availability | Available |
| Classification | Professional |
| Technology | Extrusion (FFF- FDM…) |
| Material | ABS, HIPS, Nylon, Other plastics, PETG |
| Filament diameter | 1.75 mm 0.07 in |
| OS compatibility | Linux, Mac OS, Microsoft Windows |
| XY accuracy | 0.012 mm 0 in |
| Max. build size | 280 × 220 × 230 mm 11.02 × 8.66 × 9.06 in |
| Max. build volume | 14.17 L |
| Max. print speed | 180 mm 7.09 in /s |
| Min. layer thickness | 0.01 mm 0 in |
| Dimensions | 580 × 900 × 640 mm 22.83 × 35.43 × 25.2 in |
| Weight | 70 kg 154.32 lb |
| Nozzle diameter(s) | 0.35 mm 0.01 in |
| Heated print bed | Yes |
| Heated build chamber | Yes |
| Automatic calibration | Yes |
| Closed frame | Yes |
| Dual extruder | Yes |
| Independent Dual Extruder | Yes |
| Full color | No |
| LCD screen | Yes |
| Touchscreen | Yes |
| On-board camera | No |
| Mobile app | No |
| 3D scanners | No |
| CNC mill | No |
| Electronics 3D printing | No |
| Laser engraving | No |
| Conveyor belt | No |
| Air filter | No |
| Pellet extruder | No |
| USB | No |
| Wifi | Yes |
| Bluetooth | No |
| SD card | No |
| Ethernet | No |

Table of Contents
Manufactured by a Netherlands-based company, Leapfrog, the Xeed 2.0 3D printer has been able to receive a lot of applaud from around the world.
Regarded as the dream come true project, the machine offers a variety of features packed inside a compact body.
Moreover, the savvy design and high-quality prints make the printer the right fit for professional use.
The application extends to an array of niches including automotive, healthcare, aerospace, and more.

Apart from providing users with ease of use, the 3D Printer allows huge benefits in terms of versatility.
From material support to different precision results, users can depend on this printer for different types of jobs.
It Falls in the mid-range when considered the price of the other alternative with similar performance.
Xeed showcases promising results and happens to be a product from one of the renowned names in the world of 3D printing. Therefore, it is reliable and has plenty of customer base to support its stance.
Isn't that enough to make you all excited to explore other perks of the machine? Or, find out what limitation does it entail. So, let's find out what else this machine can accomplish from our Xeed 2.0 3D printer review.
Features
As mentioned above, the machine is very reliable in helping businesses realize accurate 3D models. From prototypes to end products, Xeed 2.0 can justify every design with ease. That is why it's important to find out the various features associated with the machine.
Learning about what makes it so convenient for multiple applications would allow you to have a depth understanding of its capabilities.
Hence, it would be easier to make up your mind about its importance within your personal manufacturing goals.
Compact and Stylish Design: Xeed 2.0 3D printer is a very beautiful machine that looks awesome sitting on the work desk. Moreover, its compact design ensures that the printer does not occupy too much space inside your office. Either it's a small prototyping unit or a large-scale manufacturing hub, the machine could be a great addition to a variety of applications.
Enclosed Frame: Compact design coupled with an enclosed frame is definitely a killer combination. Do not know why? It's simple actually. The compact design makes it easy to make a part of your smaller workspace. In addition, an enclosed frame keeps the users safe from heated components inside the machine. Moreover, the enclosed frame ensures that the temperature is consistent around the 3D model while it's printed. Hence, offering better precision and accuracy along with surface finish.
Heated Bed: With an exceptional design comes a heated bed that allows for the printing of high-quality 3D models. Either you like to print functional prints or want to connect parts printed at different intervals, the ultra-flat build plate helps you get amazing surface quality with great first layer adhesion. A building space of 14.2L further enables users to create larger models in one go.
Sturdy Body Frame: Not ready to compromise even with an inch in terms of design and performance, Xeed 2.0 comes in a complete aluminum frame. Therefore, the printing results are definitely over the hook. Users do not experience any vibrations even at the fastest speed. Hence, creating precise prints in no time.
Auto Calibration: In order to offer a simple and user-friendly experience, the 3D printer comes with an autocalibration feature. Hence, those working with the machine can enjoy an optimal streamlined workflow. Therefore, saving a lot of time and effort while being able to prepare the printer and print faster.
Leapfrog uses its PerfectLevel system to ensure consistency and quality instilled in every print. Before each print process starts, the printer calibrates the bed to offer perfect models without fail.
QuickLoad Functionality: To further make the task easier for users, the company has included QuickLoad functionality that makes the process of changing as well as loading new filament, a piece of cake.
Heated Chamber: With a continuously heated chamber comes to the benefit of working with a variety of different materials. In other words, the consistent temperature of the chamber allows for higher adhesion between layers.
Independent Dual Extruder: Using this extraordinary technology, termed as an independent dual extruder, users can make use of two different types of material as well as different colors for printing 3D models. In addition, its compatibility with soluble material makes the printer a very suitable choice for those needing a smoother surface finish. Easy to operate and very reasonably priced.
Multiple Material Support: Do not forget that the most powerful and versatile printers possess the quality to work with multiple filaments. And, this one does that too. Hence, users can attain varying properties for models depending on their specific application. Allowing for great use and high-end designs without a need for messing with traditional manufacturing methods.
WiFi Enabled: Connect your printer using WIFI to control the printing process without hassle. Just upload the 3D files using the dashboard and the task will start on its own. No need to connect the machine with an external device in order to import 3D model files. Instead, just share the design over the internet and relax while the task is done.
Touchscreen Display: Do not worry if you like to want your machine to work as a completely standalone device. With a bigger 7.1 inches touchscreen display, your job becomes simpler than ever. You can make various setting changes using the screen on the front of the 3D printer.
Specifications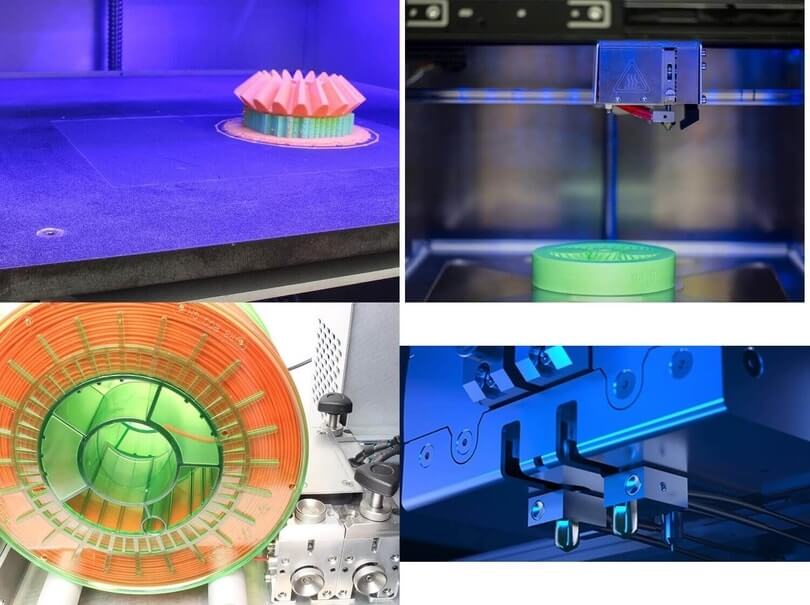 Not entirely bulky but a relatively compact machine, Xeed 2.0 comes in a dimension of 580 x 900 x 640. With that, you can surely imagine the horizontal design that offers users a well-planned structure for simple management.
Weighing around 70 kgs, the printer isn't the lightest one available in the market. However, capable of managing prints with dimensions 280 x 220 x 230 mm, this surely is a very productive design.
It makes use of 0.35 mm extruders for ensuring cleaner results and to enable printing of minute and detailed geometry without any hassle.
The printer offers a layer height between 10 microns to 350 microns. Hence, making it easier to change the settings as required with huge options to choose from.
The speed of the printer is also better than most of the professional 3D printers available. Yes, it can print with a speed of 180 mm/second.
The travel speed is also exemplary with an utmost speed of 350 mm/second. Talking about the flow rate, you can expect it to offer a speed of 5 mm³/s.
Overall, the Xeed 2.0 3D printer is one of the most astonishing alternatives for the most expensive ones.
So, if you are a small business, looking to invest some amount for shifting to a more revolutionary technology than the traditional ones, this could be your best deal.
Price
Leapfrog Xeed 2.0 costs $10,000. However, the price may differ from one distributor to another. Or, you must also connect with the company to find the current price for the printer and in order to apply discounts.
First Impressions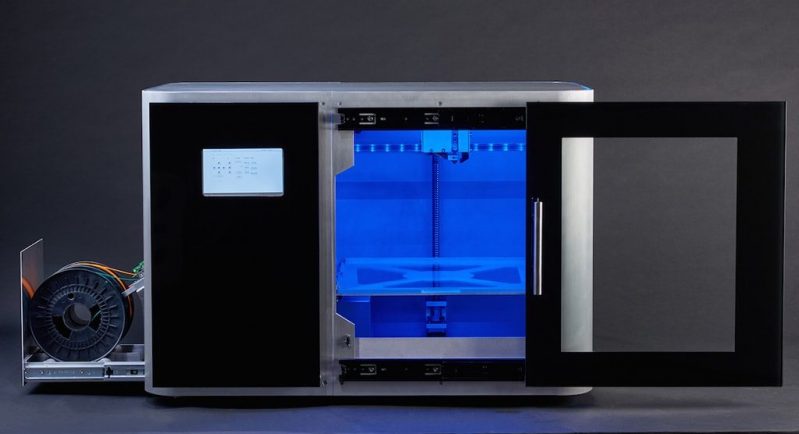 Comes completely assembled, the 3D printer is perfectly snuggled inside the package to ensure safe delivery.
What's best is the way the company has taken care to include all the necessary components with the sample material to help you start your printing right away.
It also has a manual for helping customers make no errors when starting their high-performing 3D printer.
The parts are properly packaged inside the box and wrapped carefully. It's actually fun to unveil what resides inside.
Taking out the printer from the box seems so delightful. With such a beautiful design and a bigger horizontal base, it seems far from looking out of place.
Setup
Can it get any easier than this? An assembled machine with plug and play feature, all you need to do is load the filament and start working right away.
It won't take a lot of time to calibrate the bed with its automatic calibration functionality. Just let the printer work on the settings and you prepare to find your models ready in a matter of time.
The automatic filament detection and loader again get you every help you need to manage your models.
Overall, it's very easy to setup. And, you can also access various tips and guides along with online videos to complete the setup.
The best companion for beginners and those interacting first time with a 3D printer.
Printing Type/Cost
The printer is based on the FDM 3D printing process. With this technology, the filament is heated beyond the melting temperature and is extruded onto the build plate, one layer at a time.
After the layer solidifies, the bed moves a layer below. Hence, providing excess space for the next layer extrusion. The entire process keeps repeating until the model comes to life.
Well, the printing cost is highly relative depending on a number of parameters. For instance, the model design, layer height, infill percentage, and few others.
In addition, external factors come into play too. You cannot miss including the electricity cost, labor cost, and more.
In short, a small change in any one parameter could end up in differing printing costs.
However, what's best with FDM machines is the cost of filaments. Most of these materials cost less than the materials used with other 3D Printing technologies. So, you can keep exploring your choices before making the final settings for printing your 3D models.
Print Quality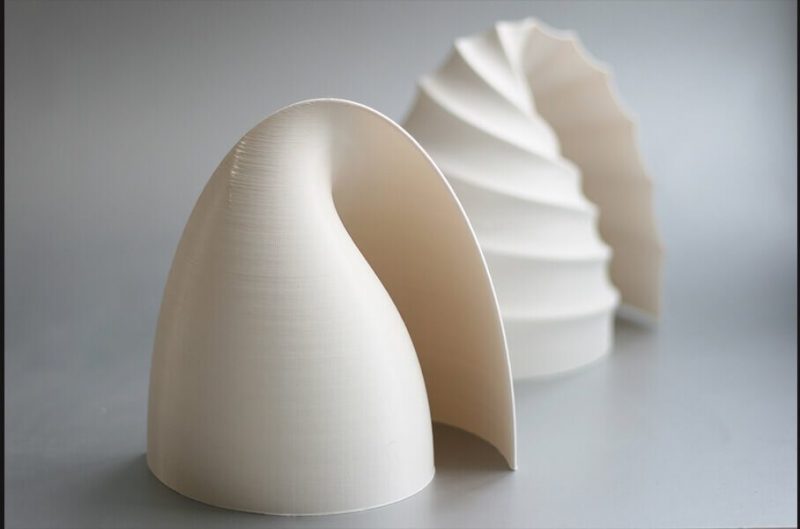 As mentioned before, the 3D printer offers amazing print quality. And, with its professional-grade prints, Xeed 2.0 can create objects ranging between 10 to 350 microns resolution.
Taking the guesswork out of the equation, you can very well imagine the perfection the printer is supposed to offer looking at the resolution it can provide.
Software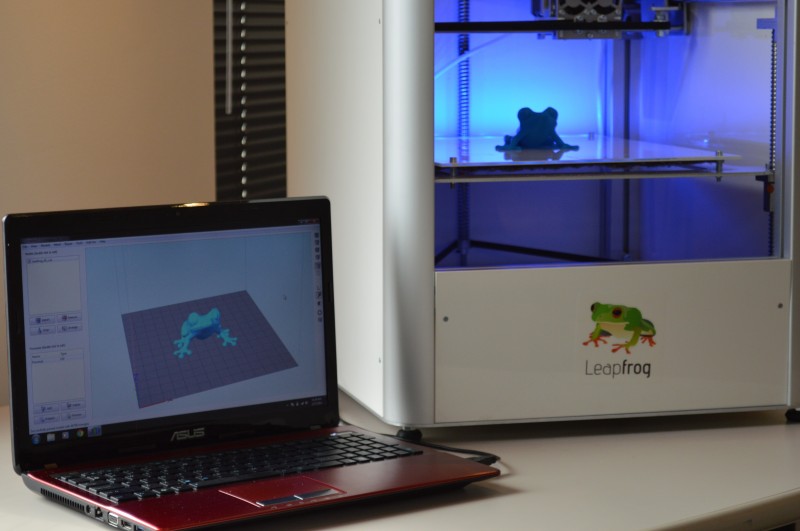 Unlike printers that are only compatible with their patented application, this one comes with the Simplify3D software.
The app is compatible with a variety of other commercial 3D printers. And, is highly capable too.
So, if you are already using the application with your other printers, you do not need to learn another software altogether. And, is beneficial because Simplify3D is a very progressive and advanced app.
Then, why would you need any other app when this one can work effortlessly with great results?
Customer Service
You get to enjoy a year's warranty with this machine. In addition, you can increase the warranty period to one more year by adding $1,400 to the final cost of the printer.
Also, Leapfrog leaves no stone unturned by ensuring that customers are well trained to use the machine by running live webinars. The response to emails is also fast.
Parameters Influencing Buying Decision
Do not forget to check the recap of the Xeed 2.0 3D Printer review before you plan to get one for your particular application.
3D Printer cost: Justified for businesses. However, a bit on the higher side for enthusiasts and professionals wanting to access professional-grade printing.
3D Print quality: With a maximum of 10 microns resolution, the printer can create intricate designs with perfection. Hence, the print quality is great.
3D Print speed: It's faster than many professional 3D printers falling within the same range.
3D Printer capability: The printer can build functional prototypes, end products as well as complete the task at less cost and time.
3D Printer Practicality: Best for applications within different niches including healthcare, aerospace, and more.
3D Printer User expectations: Does exactly as expected.
The Verdict
A product of the Netherlands-based company; the printer could complete its job with perfection. Coupled with advanced features and amazing functionalities, Xeed 2.0 could add more room for creativity and precision for businesses.
If you have checked the Xeed 2.0 3D printer review, you must have understood its capabilities by now. Hence, do not forget to include the machine in your list of choices when focusing on buying a professional-grade printer falling within reasonable cost.