What's the purpose of any manufacturing technology? Some would say it is to produce the best quality of products. The ability to produce more parts within a given amount of time, others would answer.
But the real purpose of any manufacturing technology centers around the point of flexibility for its users.
Take some time to think about it, the products that are being manufactured by any manufacturing technology, what are they for? They are meant to reduce human effort and offer convenience.
So, with the passage of time, we see many complex manufacturing processes getting obsolete and the convenience as well as a flexible manufacturing process being more preferred.
Due to its ability to offer consumers, cloud 3D printing services, 3D printing technology is also seeing a huge rise in its demand and preference over other manufacturing technologies.
For the same reason, we are going to look at some of the most convenient cloud 3D printing services that are well-known in the 3D printing market for their eccentricities and anomalies.
The list also means to point out the revolution which is unprecedented in the field of manufacturing because of the flexibility offered by the service providers of 3D printing services online.
The downloading of a file from a repository for free, and then it's uploading to a 3D printing service provider, almost lets you print a part or functional prototype without any machine at your place, from scratch.
These reasons make 3D printing technology's demand sky-rocket especially in the time of Covid-19 wherein social distancing was a must to be followed. And at the same time, products were to be manufactured and delivered.
It would not have been possible without the flexibility provided by 3D printing technology to have made significant progress in these difficult times.
List of best cloud 3D printing services
When you are out there in the market, thinking of buying 3D printing services, what factors do you try to inculcate?
Assuming that you have a 3D design file, you wish that the service provider provides you with more and more options for 3D printing material.
With that, you wish the 3D printer that is being employed for your task to have the best amount of layer resolution and the most important thing of all, all of these should be made available to you in your preferred budget.
Below mentioned are some of the best cloud 3D printing services providers that have been ensuring that not only the above-mentioned factors but also much more are ready at disposal for its customers.
Protolabs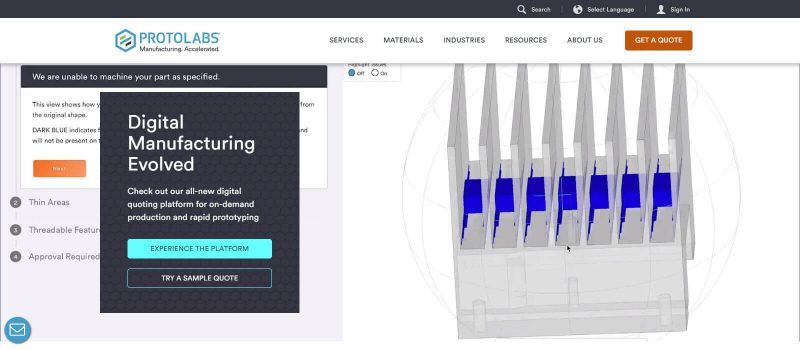 By connecting mills and presses since the year 1999, this UK-based company which started as a software-based platform has been able to automate the workflow for creating injection molded parts and functional prototypes like no other.
After having accomplished this gigantic task, Protolabs started expanding into a robust manufacturing unit that offers 3D printing services alongside CNC machining as well as injection molding.
The point is that the company is not only able to serve customers newly arousing demand for manufacturing parts and functional prototypes using modern methods of manufacturing, but also the traditional demands are taken care of.
Two of the most important pillars of the company work all around the globe offering rapid prototyping that is facilitated by design analysis tools and quick turnarounds, as well as on-demand prototyping by full-filling low volume runs and use cases such as aluminum bridge tooling.
Materialise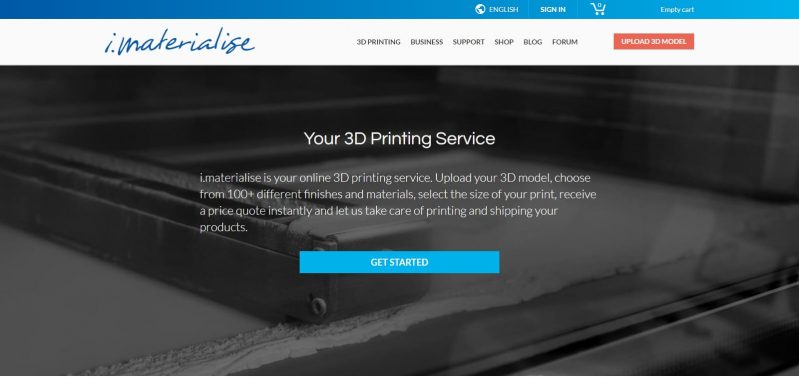 Taking shipping requests from anywhere in the world, Materialise offers instant quotes to its customers.
The materials offered by this company for printing of parts and functional prototypes include ABS, Polycarbonate PC, PC-ABS, Ultem, Nylon (SLS/MJF), Polypropylene (PP), TPU (SLS), PA 12-GF, PA 12-FR, Alumide, Aluminum, Stainless Steel, Titanium, and Inconel.
The formats in which one can upload a 3D design file on this website are STL, 3DS, 3DM, OBJ, WRL, MATPART, STP, SKP, SLDPRT, STEP, CATPART, IGES, MODEL, MXP, and MGX.
Materialise boast about being the most prominent cloud 3D printing services provider in the area of industrial 3D printing. One of the company's largest fleet of 3D printers is in Europe.
The company's venture Onsite is a highly recommended choice for creating rapid prototypes within a short amount of timeframe.
Rush services are available on the website which lets its customers print with a handful of materials, within lead times of one working day as well.
Xometry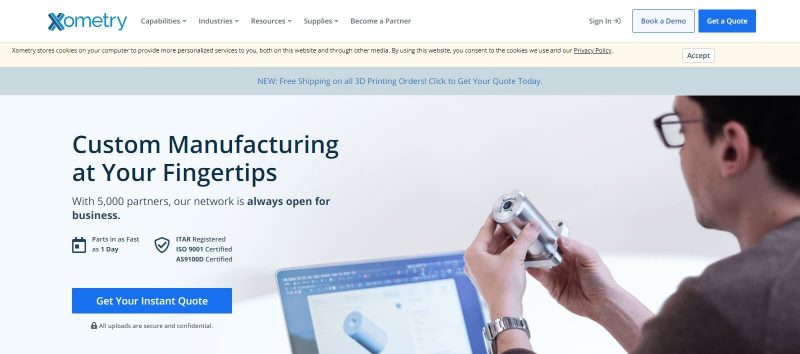 Entertaining shipping requests of North America, Xometry too like Materialise offers Instant quotes to anyone who requests to get a quote from the website.
The materials that you can print using Xometry are ABS, Nylon (SLS/MJF), PA 12-GF (SLS/MJF), Resin, Polycarbonate PC, Ultem, Stainless Steel, and Aluminum.
Whereas the formats in which you can upload the print files are: STL, STEP, STP, SLDPRT, X_T, X_B, IPT, 3DXML, CATPART, PRT, and SAT.
Originally a software solution provider, Xometry has a wide range of networks with US-based manufacturers, with the help of which it is able to provide Instant quotes to each and every one of its customers.
In addition to providing cloud 3D printing services to its customers, the company is also able to provide the services of CNC machining as well as wrought from sheet metal and injection molding.
Jawstec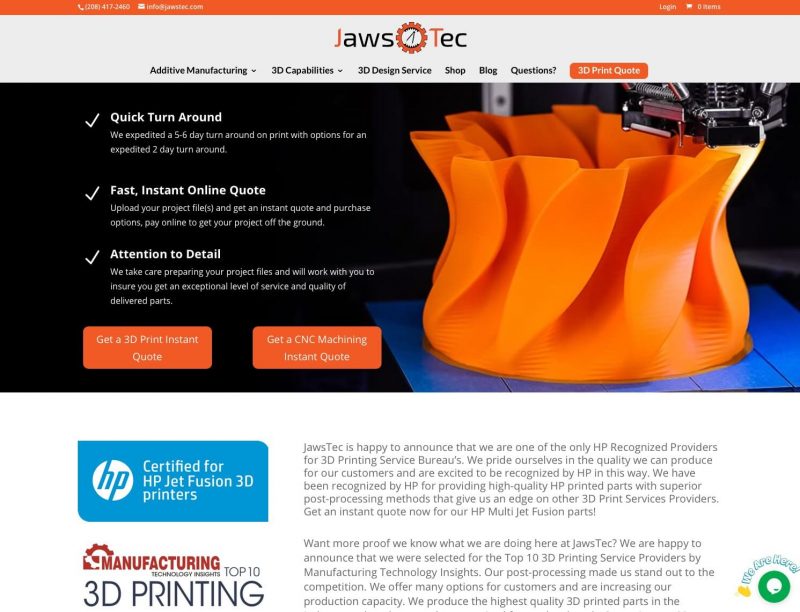 Shipping to geographies USA, Canada, and Mexico, Jawstec is able to provide instant quotes to anyone asking for a quote from its website.
The materials that Jawstec allows you to print parts and functional prototypes with are Nylon (SLS, MJF), and PA 12-GF (SLS) and you can only upload files in STL formats for making sure your parts and functional prototypes are printed from the website.
As you can derive from the above-mentioned information this website specializes in printing parts and functional prototypes from Nylon, however, the fact you cannot derive is that the website also lets you print CNC – machining of steel and aluminum.
Jawstec claims to offer post-processing of parts and functional prototypes using a multi-jet fusion process of 3D printing.
Treatstock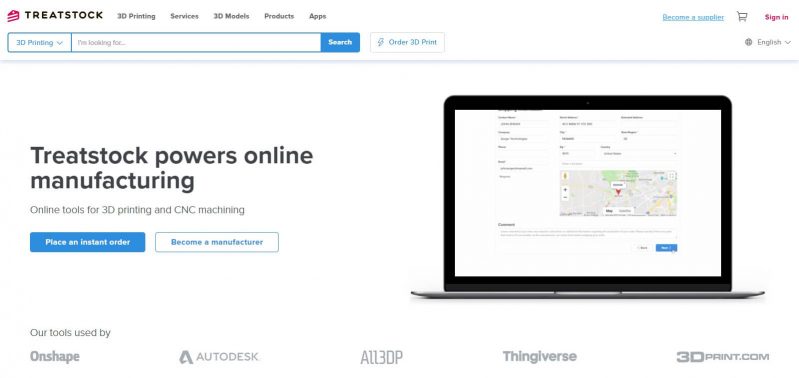 Shipping parts and functional prototypes manufactured from this website worldwide, Treatstock offers instant quotes to everyone who requests it.
Stating about the materials with which one can print using Treatstock: PLA, ABS, Nylon (SLS/FDM), Stainless Steel, TPU, Titanium, Aluminum, Brass, Polycarbonate, Castable Wax, PETG, Resin, and Cobalt-Chrome are some.
If you wish to upload your 3D design file, make sure it is present in one of the following formats: STL, PLY, and 3MF.
Known in the world of cloud 3D printing services for its instant quoting services and a user-friendly design, Treatstock filters out not useful criteria using its keyword search process.
It is also a 3D model selling platform that invites 3D designers all across the world to keep their product details on the website and help them find buyers.
Shapeways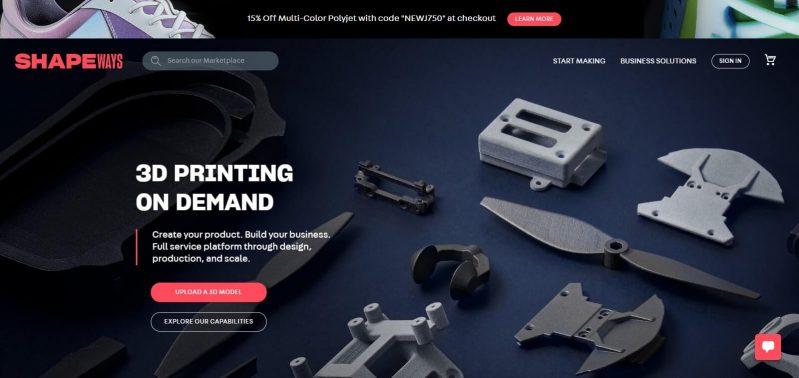 Shapeways is one more company on the list that offers Shipping all over the world and entertains every request with its instant quoting system.
It offers users to select from the list of materials such as Nylon (SLS/MJF), PA 11, PA 12-GB (SLS/MJF), Resin, TPU (SLS), Aluminum, Steel, Plated Metal, Brass, Silver, Gold, Bronze, and Sandstone.
Shapeways enables users to upload 3D design files in formats such as STL, Collada, OBJ, X3D(B), and VRML2.
It is termed as the most popular cloud 3D printing service. Shapeways is known to offer two services: Allows you to choose from the customer size, any wide range of professionally designed items and then customize them and get parts and functional prototypes printed to your specifications.
Shapeways also enables 3D rapid prototyping to its customers which will profit from industrial-grade 3D printers that the company hosts such as EOS, 3DSystems, etc.
Star Rapid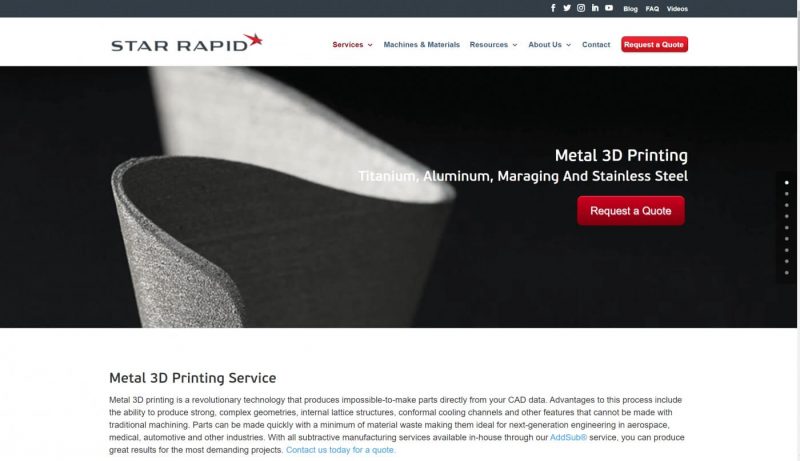 The materials that one can print using this cloud 3D printing services are
Titanium, Steel, Aluminum, and Maraging Steel. Star Rapid is known to offer a wide range of professional prototyping services and ship its parts and functional prototypes anywhere in the world.
The website is famous in the particular segment of ambitious hobbyists apart from the established professionals. One can upload their 3D design files in STL, STEP, and IGES formats.
The Quotes offered by this company are not instantly available to the customers, but they are available in request forms.
So, one needs to spend more time filling the request form that will then be analyzed by the company to tell you what will be the price of the number of parts and functional prototypes you are asking from the company.
Apart from 3D printing parts and functional prototypes, the company also offers services of plastic mold injection, CNC machining, as well as pressure, die casting, and vacuum casting.
Stratasys Direct
Offering probably the ability to print in the most amount of 3D printing materials, it is amazing to know that Stratasys Direct offers 3D printing using ABS, ASA, Nylon (MJF/SLS), PA 12-GF (MJF/SLS), PC, PEKK, PPSF/PPSU, TPE, ULTEM, Resin, Aluminum, Cobalt Chrome, Copper, Inconel, Monel, Steel, and Titanium, as a designer who likes to play with various kinds of 3D printing materials.
The company ships anywhere in the world and is known to provide instant quotes to the requestors of cloud 3D printing services.
Stratasys gains this immense amount of strength by being a leading manufacturer of industrial 3D printers. Its online 3D printing service is aimed at professionals working in the field of engineering, medicine, as well as industrial design fields.
The way in which this website's online quoting page is able to create and edit styles that can then be applied to your successive projects is eccentric.
Fast Radius
Founded in 2015, based in Chicago, Fast Radius is a digital manufacturing company that offers many kinds of services in additive manufacturing as well as traditional manufacturing.
It ships anywhere in the world and provides instant quotes for your projects. As far as additive manufacturing is concerned one is can print using materials such as ABS, PC, PC-ABS, ULTEM, ASA, PC-ISO, PPSF, Nylon (FDM), Resin (SLA, DLS), Nylon 12-PA (SLS), PP, Nylon 12-GF (SLS), Stainless Steel (L-PBF), Aluminum (L-PBF), Inconel (L-PBF), Titanium (L-PBF), and Cobalt Chrome (L-PBF).
The company's Usp lies not only in offering so many materials to 3D print with, but also in the variants it offers its users to upload file in formats such as: STL, 3DXML, 3MF, SAT, SAB, ASAT, EXP, CATPart, PRT, OBJ, XMT, BIN, 3DM, PSM, 3DS, XMP, and many more.
For More About The Best Stratasys 3D Printers, click here.
FacFox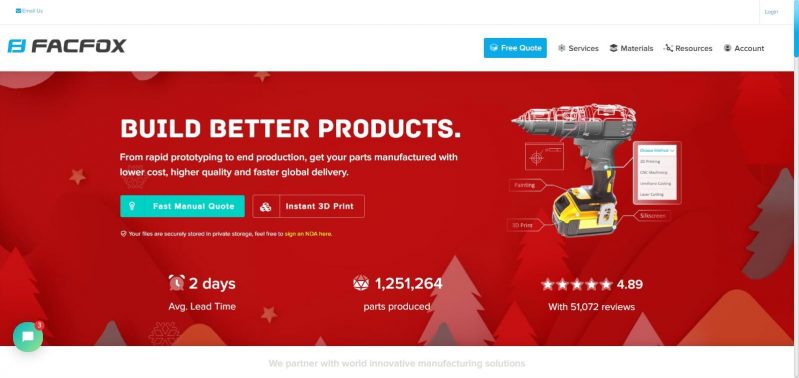 Offering a wide variety of manufacturing services apart from cloud 3D printing services, FacFox delivers quotes instantly allowing the user for on-demand 3D printing services.
It ships to customers worldwide and offers printing with materials such as PLA, ABS, TPU (SLS), ASA, Ultem, Nylon (FDM/SLS/MJF), PA 12-GF (SLS), Resin, Photopolymer PP, Stainless Steel, Bronze, Aluminum, Titanium, Maraging Steel, Cobalt Chrome, and Sandstone.
And file formats in which one can upload the 3D design file are STL, STP, OBJ, DWG, IGES, 3DM, and PLY. To date, the company has tailored its services to industries such as architecture, medical, retail, and design.
FacFox's simple online interface is known to offer its customers ease in navigation and simple check-out options, alongside long-term customer service and international delivery options.
The Conclusion
Cloud 3D printing service providers have acted as a boon to innumerable small business owners in the field of the 3D printing industry and manufacturers.
Not only does this option help them deliver anywhere in the world, but also connects with the manufacturers in their localities and collaborate with work.
Alongside cloud 3D printing services, the platform will allow users to exchange information and display their work online, which is bliss for all the designers who were not getting exposure in their field.
Such designers can use this platform to get a global perspective and response on their design and product.
For the most part of the work, this enhances the 3D printing world and professionals associated in the field to connect with each other for work.