As the word about 3D printing is spreading like fire in the forest, many individuals and companies have already started their own 3D printing businesses around the world.
The good news is: The competition is still surfacing and you can dig in right away to avoid much of a chaos.
It would have felt impossible just a few years back, but now you can build an entire business based on 3D printing.
We have already witnessed examples in variety of niches including healthcare and education where 3D printing has been revolutionary.
And, there are many unopened doors that can be unlocked with the help of 3D printing.
With 3D printing, you can create your own unique ideas and offer the world something new to try.
Or, else, you can start customizing the ones that already tried and tested with adding a difference through your creativity.
Let's have a closer look at how this technology is changing the way to do business continuously and where you can fit your jigsaw piece for reaping the most benefit.
But before you go ahead thinking about a business plan, isn't it best to consider the profitability of this business.
1. Is Starting a 3D Printing Business Profitable ?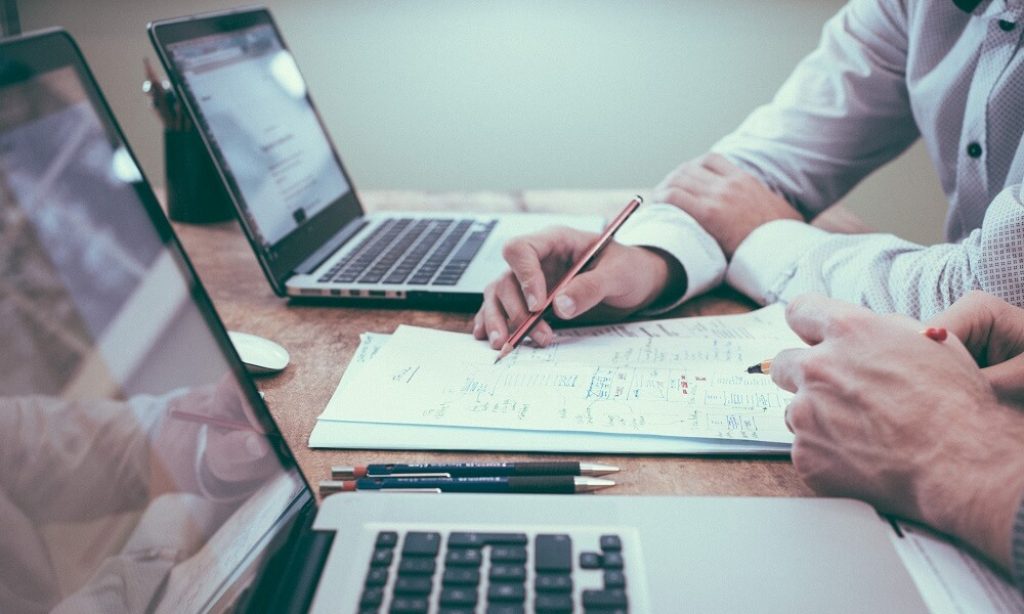 When you start a business, there is always these kind of questions: How to make money with 3D printing ? Would it be profitable?
And, so is all the concern about starting a 3D printing business, especially when people are not sure how to utilize it.
There are many ways one can use 3D printing, but given the diversity of printer and material cost with immense difference in the mechanical properties of parts printed, it becomes daunting to choose which option would fit your goals.
Like every other business, you would need time and patience with an intent to learn for setting up a 3D printing business.
If you have an impression that it would be as simple as clicking the print button as it is with inkjet printers, you are mistaken.
Considering 3D printing as a profitable business won't be untrue.
If you are ready to explore and pursue few small as well as big avenues necessary to start the business, you can certainly turn your imaginations and ideas into profits. You must seek to learn about the technology and its various norms.
To start 3D printing, you can use any of the two approach: Established Business or Freelancer Services.
#1 – Established Business:
If you have some funds that you can use to build your own brand, you can start a full fledged company which accepts order from consumers (B2B or B2C) and ships the finished product. You can look for clients who want prototyping services or customized items.
You can supply to local stores items printed from your 3D printer and can accept requests for customization.
#2 – 3D printing freelance Services:
It is advisable to start as a freelancer if you do not have much experience with 3D printing and you are starting fresh. You can still start freelancing services.
You can find online portals and register as freelancers. Looking for work is easy on these websites and the number of items per order would also be small to be completed from a single 3D printer.
This way, you can learn about 3D printing without a fear to lose more. You always have the flexibility to start a company with website and branding once you are confident enough to work for bigger orders.
back to menu ↑
How to Keep Cost Low and Profit High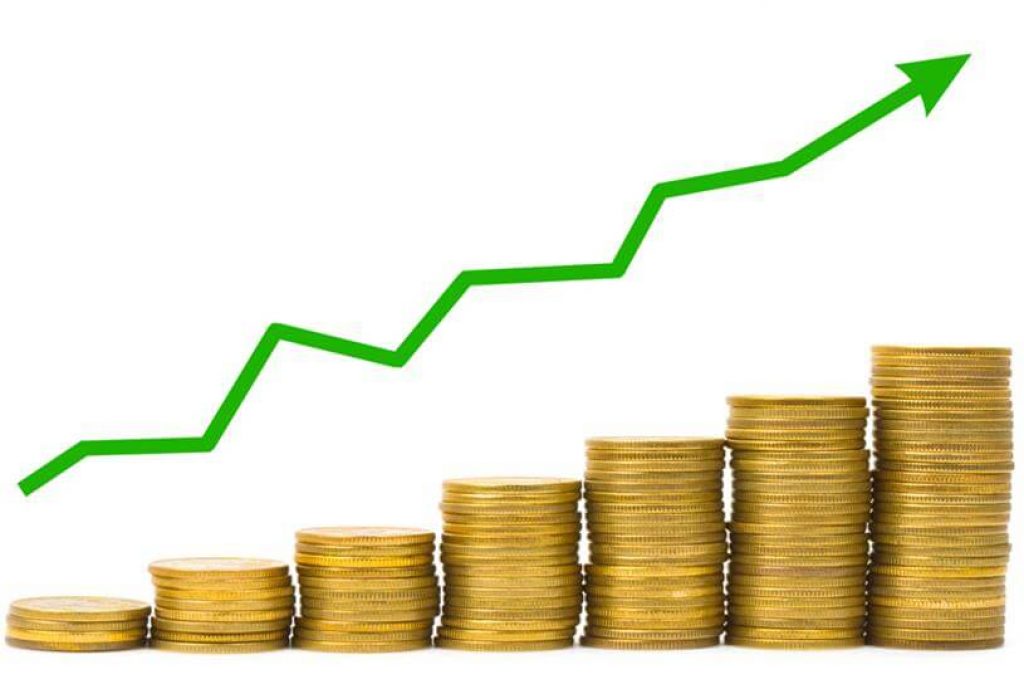 To start a profitable 3D business, it goes without saying that you have to keep cost low by find the right funding.
Because the hype has reached every ear around the globe, there are many companies offering funding for 3D printing start-ups.
One such project is FABulous that brings together entrepreneurs and investors.
You can also reach out crowdfunding websites. They provide you with funds to build your dream project.
Compare the ones with better benefits and ensure to check all the terms before signing any document.
Once you have the fund, you must think about cutting your production cost as much as possible. If you are a beginner, it would be wise to outsource your requirement to 3D printing companies.
This will save you from a lot of aftermaths of production and printing cost. However, I will suggest to have one 3D printer set up at your office to keep learning the way these 3D printers work.
In short, outsource the bigger orders and try to complete the smaller ones in house.
Experimenting with colors and material may tire you a bit, it is usual for the start-ups. However, learn from your mistakes and try to hone the skills fast for better results.
back to menu ↑
2. What are 3D Printers Used for Now and in The Future?
Experts believe that 3D printing is going to change the face of business.
3D printing which is also known as additive printing has the charisma of democratizing the manufacturing of items from food products to medical supplies.
3D printers have already made their way to businesses and would be making their presence felt in areas like disaster sites, outer space, and farther.
It won't be an overstatement when saying that 3D printing is set to change the developing country's economies and revolutionize our well being.
It does carry huge potential to back humankind and our planet from downfall, if used in the direction of social cause.
Its impact would soon be felt as it gets closer to the future goals many of development practitioner and social reformers are planning to realize.
back to menu ↑
3D Printing Fighting Hunger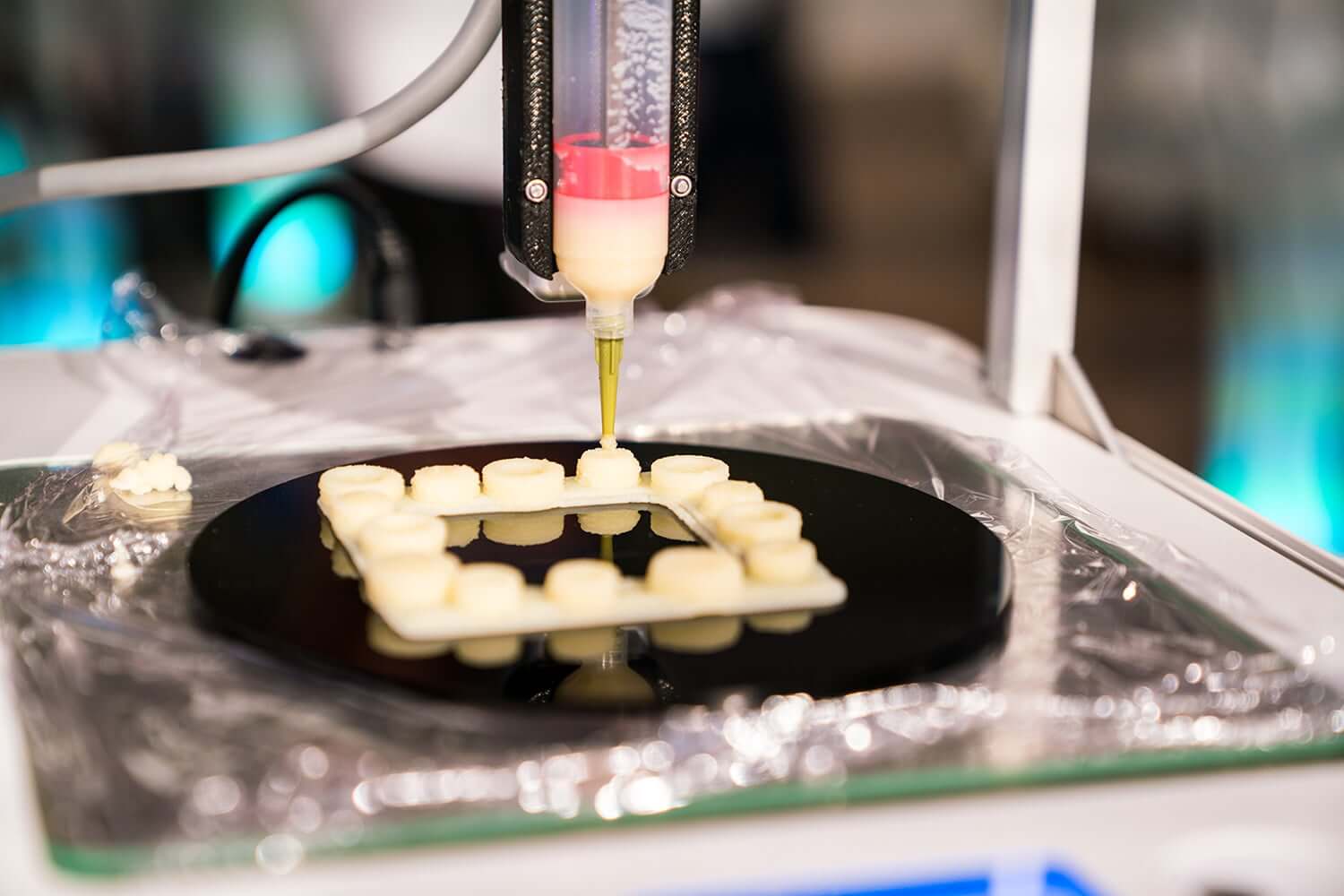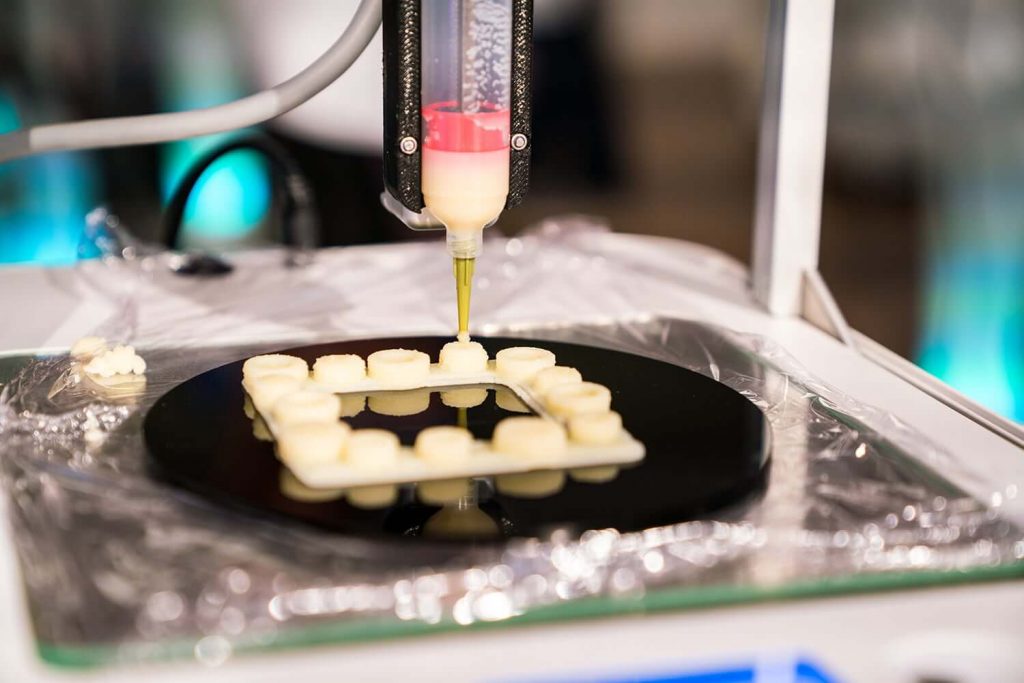 Credits: digitaltrends.com
Major players in the industry, for example Anjan Contractors believes that the 3D printer utilizing the edible material could empower people against hunger by allowing them to process synthesized food printed one layer at a time.
It could be possible through the oils and powder in the form of cartridges available at grocery stores.
There are many ideas already popping up. It is believed to create edible printing materials which would not only be long lasting but could be made from materials like insect protein which is highly sustainable. Thus, obtaining much cheaper solution.
back to menu ↑
3D Printer Saving Humankind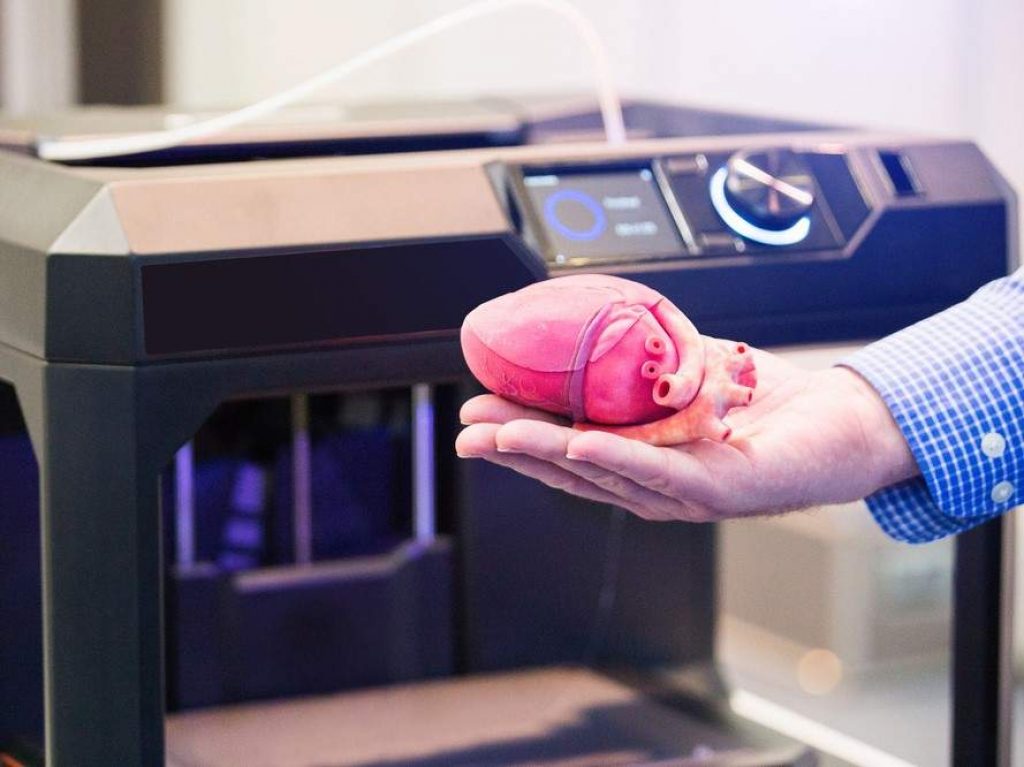 Credits: medicaldevice-network.com
Recent researches around 3D printing has opened many areas for further examination. One study showed how to convert carbon dioxide into concrete with the help of 3D printers.
Experts are enabling ways to convert old and useless materials into usable resources to save us from the depletion of renewable resources.
Isn't using waste to create consumable products will let us open doors for better planet which could be sustainable and efficient? The answer is 'YES'.
We all know how much coral reefs are important to save oceans and it is also true that their number is slowly decreasing which can create huge damage to the ocean ecosystem and in turn to everyone on this planet.
3D printing is been used by scientists to create coral reefs to help save oceans.
back to menu ↑
United Nations Initiative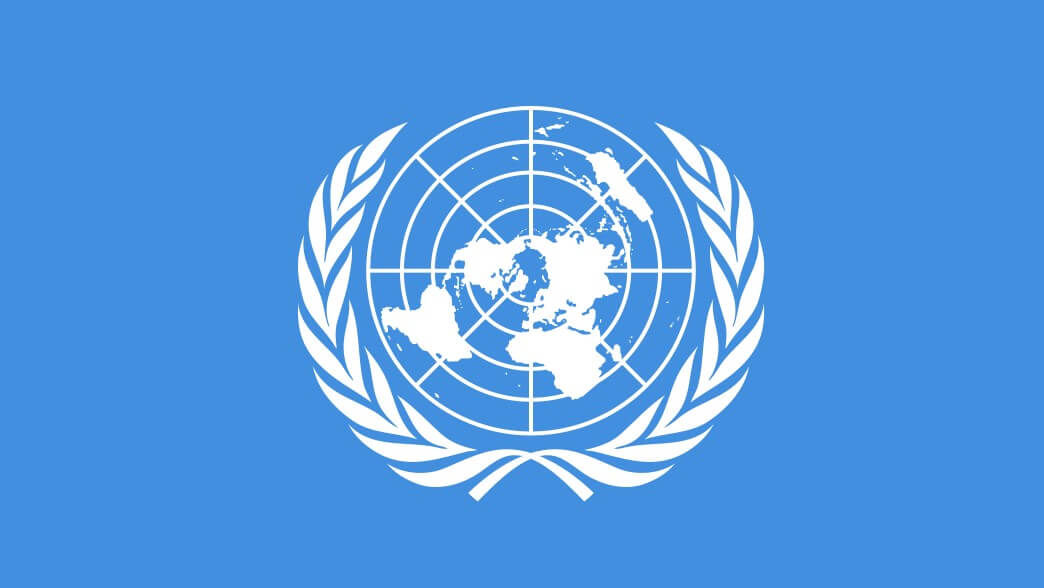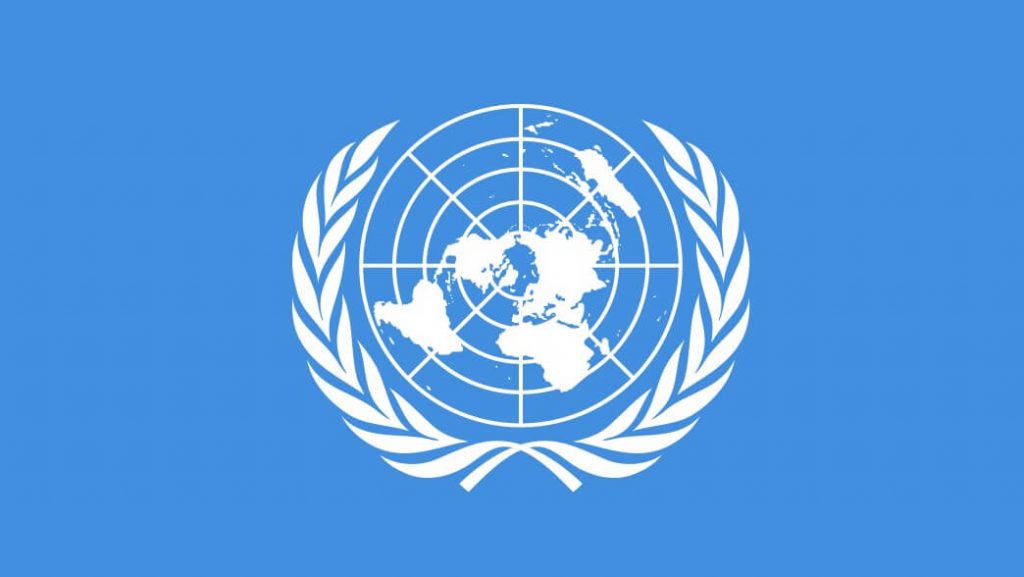 United Nations is trying hard to make this innovative and sustainable solution reach into hands of those who can help us realize its true value.
As of now, the innovation is usually found around technical labs and universities.
However, United Nations is very determined to make it reach change-makers and stakeholders who can change the way things are done for good.
There was a workshop hosted by UNDP Egypt executing how to 3D print for creating awareness and making technology more accessible locally.
back to menu ↑
3D Printing for Disaster Affected Areas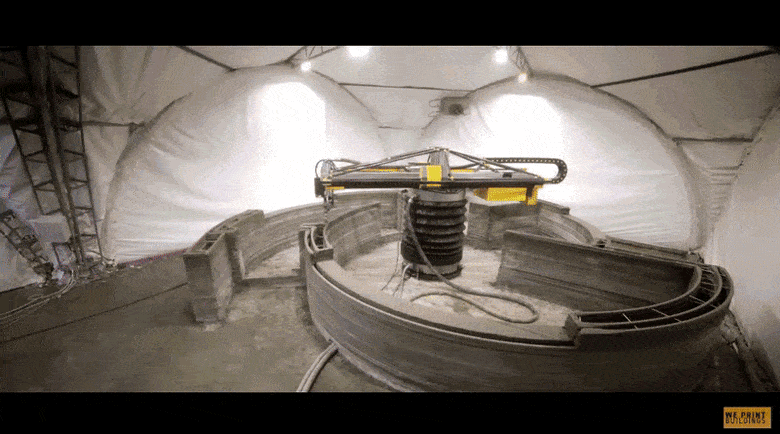 The work has already started. United Nations has taken a step towards making world better place to live in.
It has executed the project for installing 3D printers at earthquake prone areas to make tools available to people for recovering from the damage caused by natural disaster.
It is helping refugee camps and various sites that are under natural calamity dangers. Also, these 3D printers are helpful in making medical tools available to such areas.
The artificial heart and prosthetic limbs are few examples to understand what future entails for 3D printers in medical field.
back to menu ↑
3D Printing Revolutionizing Fashion Industry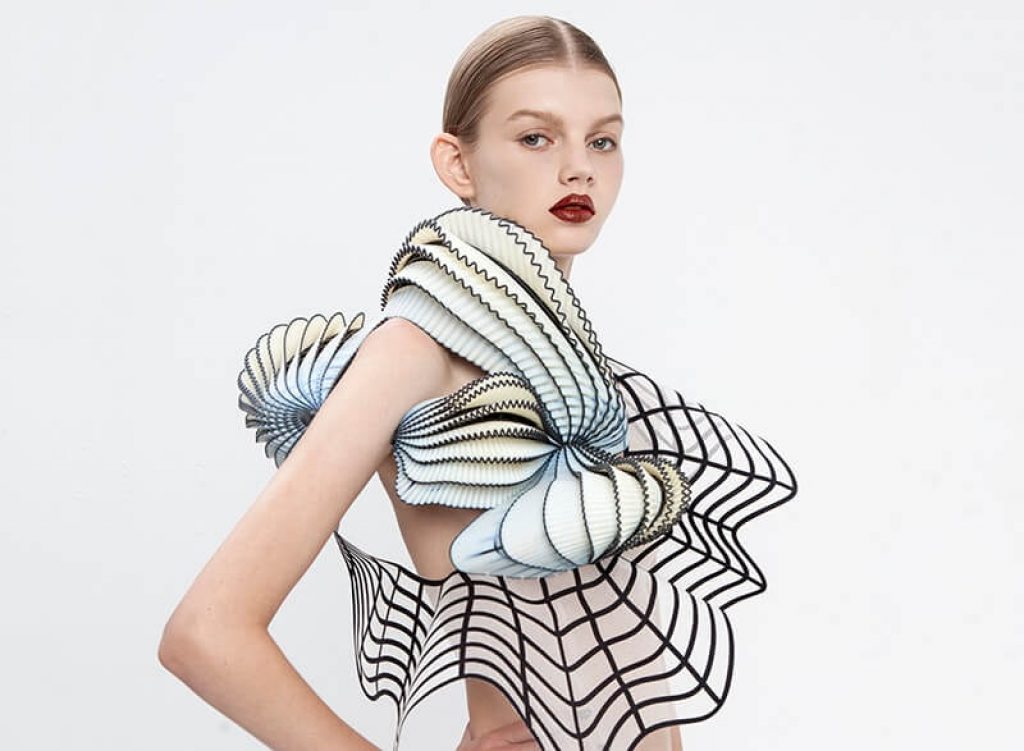 Credits: whichplm.com
3D printing has already knocked the doors of fashion industry. However, the possibilities are huge. The shoe designing and fabric printing has already begun.
But this is not the end. The extent of customization possible with 3D printing is surely to bring more advanced solution for the industry experts.
Usage of old materials for making new would also be something that we can look forward to inside fashion industry as well.
back to menu ↑
3. Top 10 of The Best 3D Printing Business Ideas
3D printing is yet to set its foot among other technologies and has already been recognized as one of the most crucial innovations for man kind and this planet.
The studies around 3D printing has geared up and every now and then, change-makers and scientists are coming up with new and fresh ideas where 3D printing can be utilized.
3D printing is an ocean for creativity. With your skill, you can make huge profits. Either start something that is already in demand with an edge or think of something new or fresh that can help industries cut their cost or help ecosystem.
Here are some business ideas that you can implement to start a 3D printing business of your own: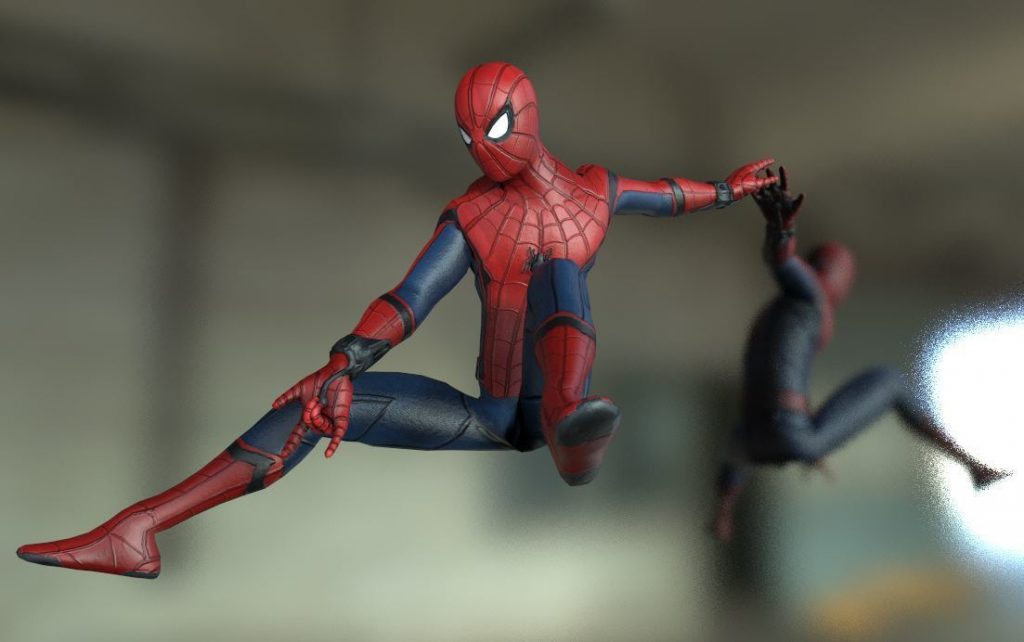 Spider-man or Minions? All these characters will never lose their charm. Movies super heroes or villains, every character has its own fan following.
The market is huge enough to accommodate one more company, even with others in competition.
Specially, when you would be offering the customized version of super heroes or cartoon characters in demand.
Find the right audience and look for the most hyped characters. Bring you own creativity into play.
Gather ideas from around and create something from your own imagination to lure kids and teenagers.
You can also find market and distribution channel if trying to scale your business. You can mass produce or sell 3D printed items online through one at a time production.
There is always room for growth and exploration with this kind of business. Start slow and grow overtime or collect fund and pick the top gear from the beginning.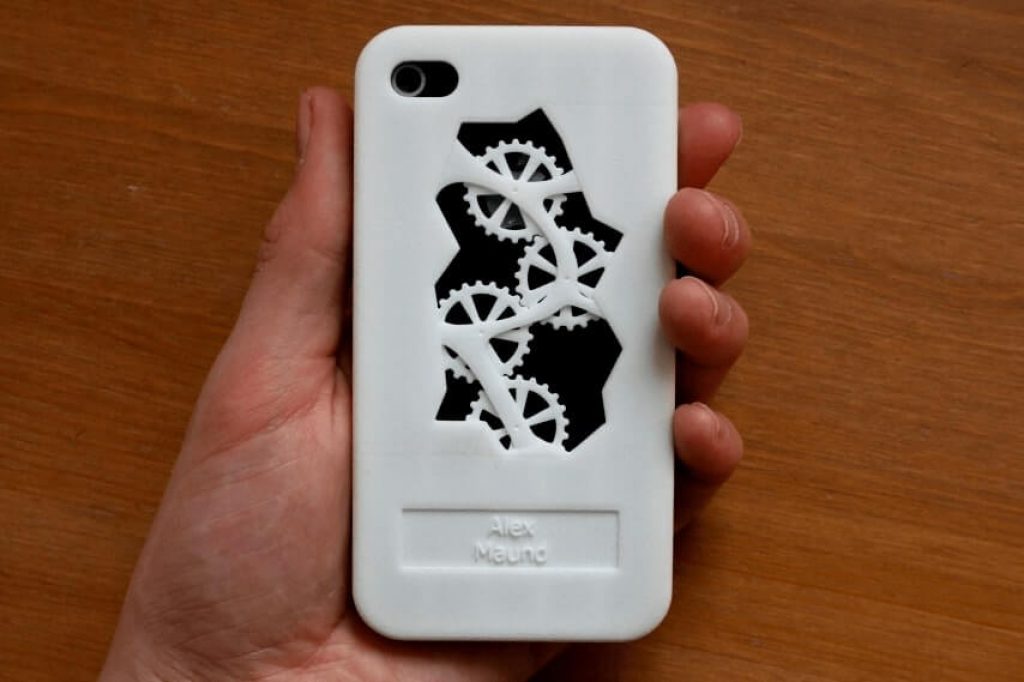 If you believe that creativity is not your thing, let other do the job. How about offering customization based on your customer's demand?
Let your customer decide how they want certain items and you print accordingly. For example, mobile case covers or computer related accessories.
Either accept the blueprint for the items or just get a picture from your customer and design the blueprint yourself asking for higher rates.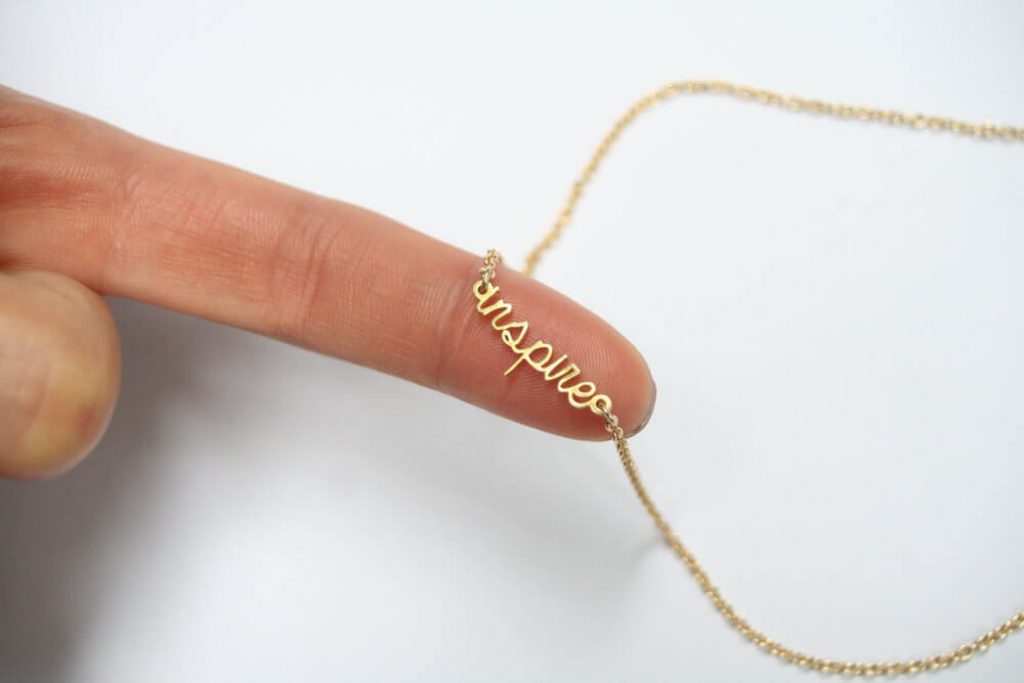 3D printing is trying to set its name within every niche. And, jewelry designing is no different. There is a lot of possibilities you can uncover within this industry.
The craze for unique and new designs is always going to make your business thrive. You can not only cut your cost by using 3D printing for customizing jewelry, you can also market your creativity to international markets.
There are many online portals that allow to sell items to customers around the globe.
You can also set up your own website and attract customers right to your doorstep avoiding lot of competition of shared websites.
Plan your step and think in that direction. 3D printing can help you make impossible designs in matter of time. You can also hire jewelry designers for contributing to your work.
Partnering with Jewelry outlets would also get you high returns. Profit sharing would help you establish your brand in the local market before you go ahead and sell online.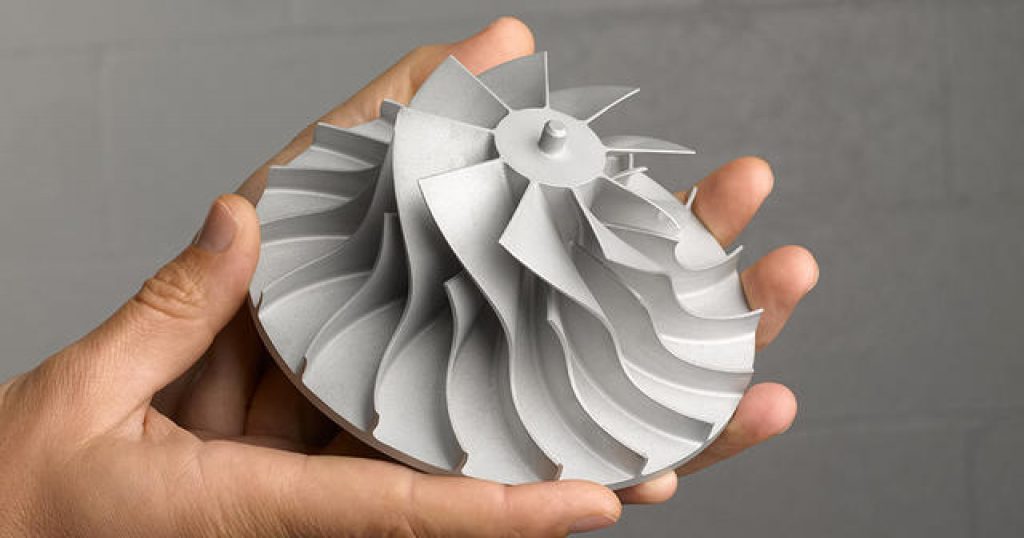 This form of business also known as Rapid Prototyping would suit those who are looking to work for B2B collaboration. Instead of selling to the end customers, why not sell to businesses.
The time is changing and patience to wait for manufacturing and testing prototypes have gotten out of equation.
Either it's about testing a new accessory for cars or parts for aircrafts. Companies are progressing towards a lesser turn around time suppliers. And, 3D printing can put you to the front line.
3D printing can print parts in a day which takes more than weeks or months for manufacturing using traditional methods.
Even the complex geometric designs become just a few hours of work when done with the help of 3D printing. And, it pays huge.
You will also find less competition when starting this business. It however, requires skills and expertise which you must seek before planning to go for this option.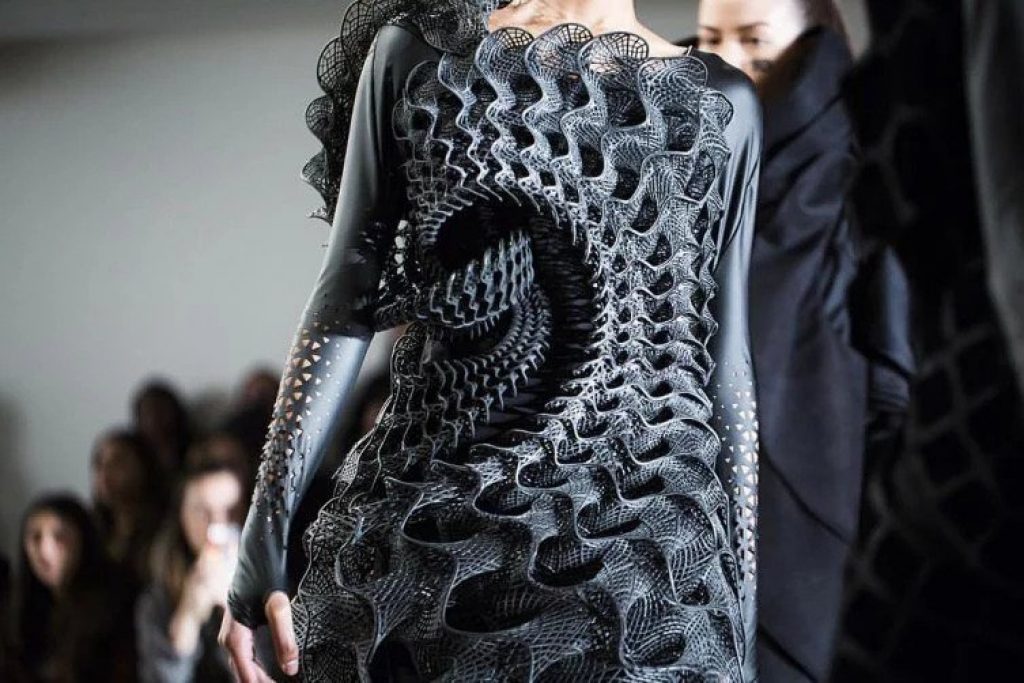 Talk about fashion industry and you will find numerous reasons to choose the same. This niche is never going to get old as long as people wish to look better than how they looked in their previous dress.
You can count in men, women, kids and even pet's owners looking for cute and funny dresses for their pets.
Although you would find huge competition, you can stay creative and brand your businesses for quick and customizable deliveries.
There are a number of things you can do when starting an apparel company using 3D printing.
Either you can design the dresses all yourself and customize it for different sizes without worrying about mass production of standard sizes.
Or, you can let your customers come up with designs and ship them the final dress to their door step. You can also offer both services.
Moreover, you can plan to expand your business by collaborating with outlets and shops selling clothes.
Not just their sell will surge, your brand advertisement will happen side by side. Sharing profit would help you and your partners to have a long and healthy business relationship.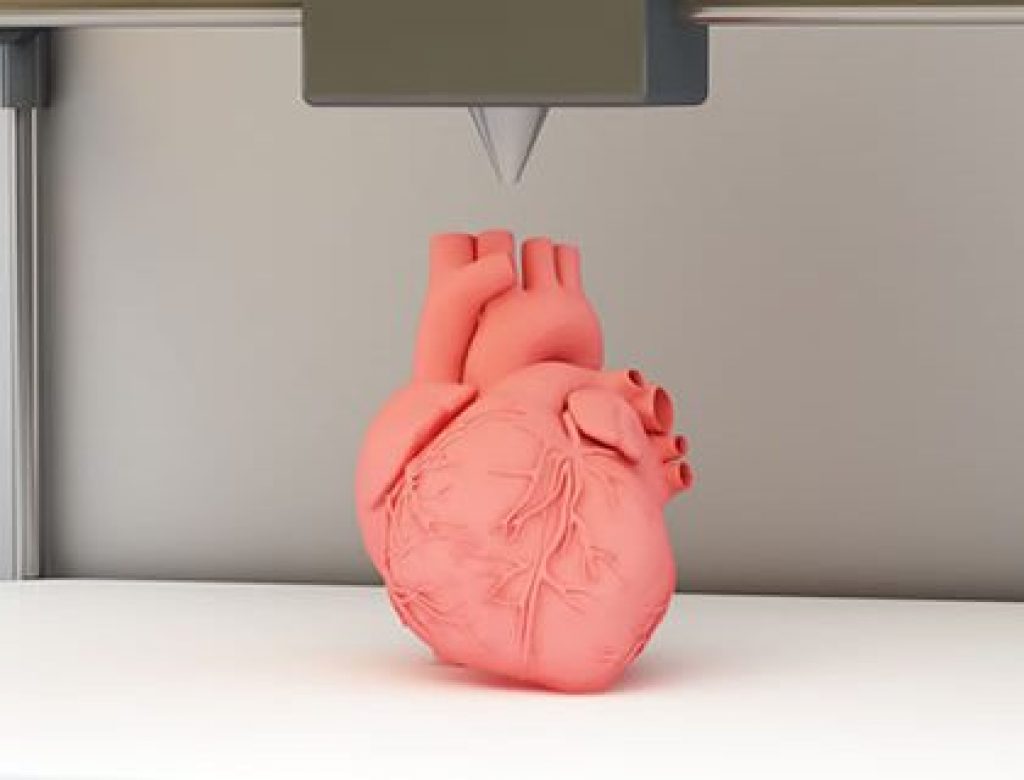 As the medical science is growing, the need for research is surging as well.
The prosthetic limbs and artificial heart aren't the answer to all our problems. Hence, experts keep working for resolving many more ailments that occur due to body part failure.
Even universities always demand for practical examinations for their students trying to learn about body parts.
With that, the need for body organs increases. And, so is the demand for 3D printing these organs too.
This won't be an easy option. Rather, it would be the most difficult of all. You may have to use high technologies and tools apart from 3D printers to make this business up and running. But, the returns would be huge.
Once you master the art of 3D printing organs, you will have a huge client list of academic institutions and medical research centres.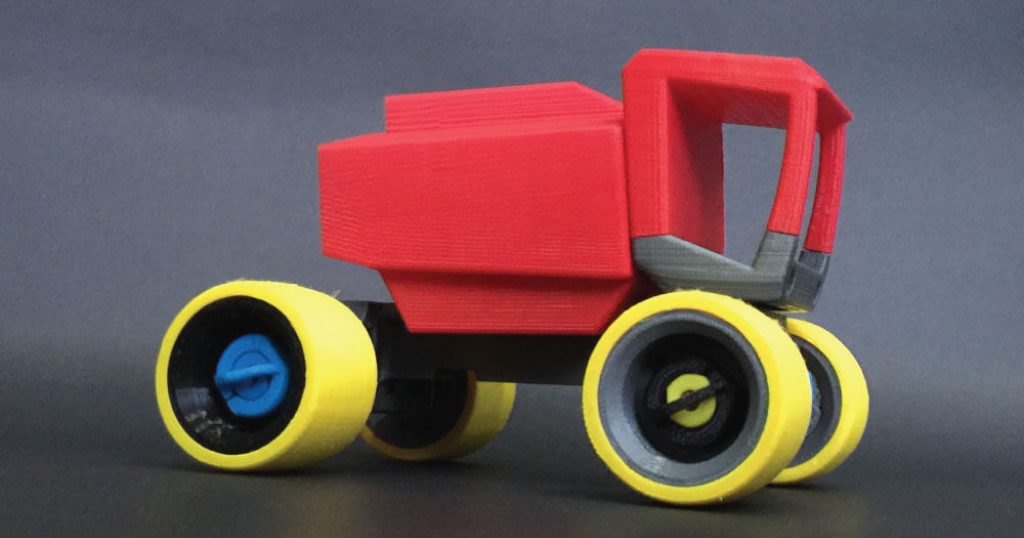 Toys could be anything. You can even use the simplest FDM printer and plastic filament to create and print as many toys as you want.
The cost will also be cheap for printing such toys and you can make big margins by selling these toys to children.
As always, you can reach out to the local markets or you can decide to sell online. Or, you can use both the marketing strategies to make things fall in place.
Toys are one among such things that never go out of demand. Keeping children busy and involved is the reason why toys are so popular among parents as well.
There are great profits when selling toys. You can go to any length and breadth when designing a 3D printable toy.
The more you imagine and create unique toys, the faster your business will grow.
Do not forget to keep your toys looks adorable. Children love adorable stuffs.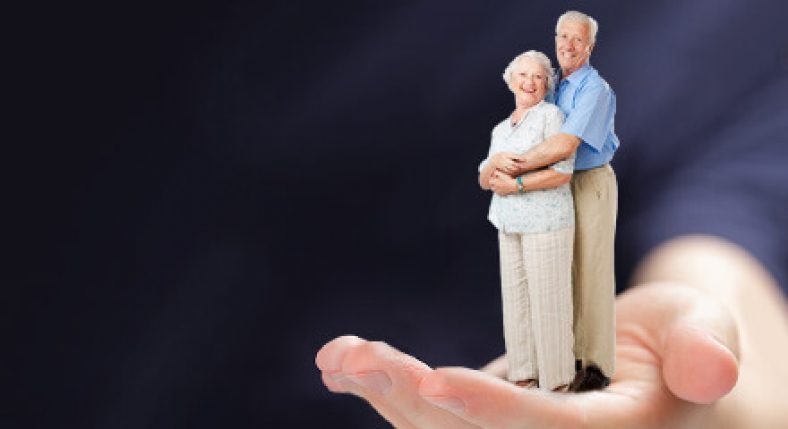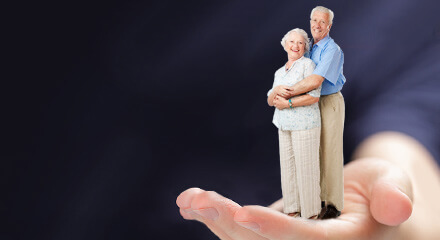 There are already companies who are 3D printing selfies. As odd as it sounds, the more fun it is to look at. You can start a studio offering 3D printed selfies.
Let your customers upload their images and turn those images into 3D selfies. You can offer to ship the item to your customer's place increasing the feasibility and reach for your customers.
The good news is that you can also offer 2D printing in the same studio. So, it will have more options to earn.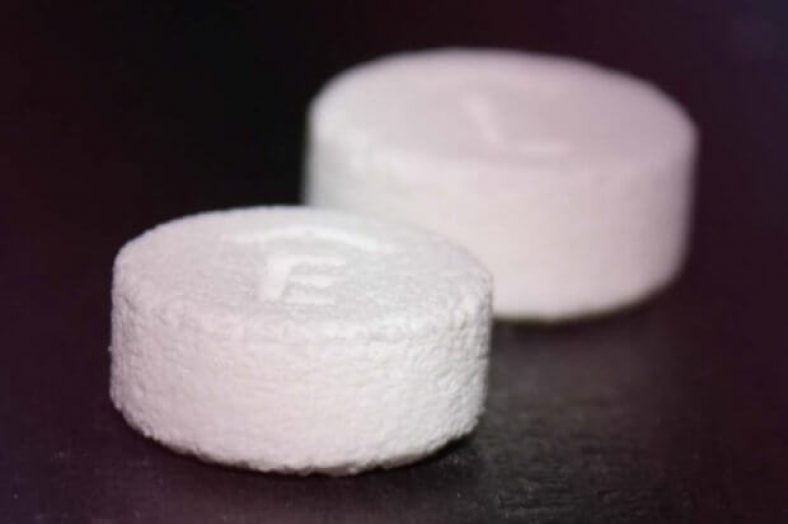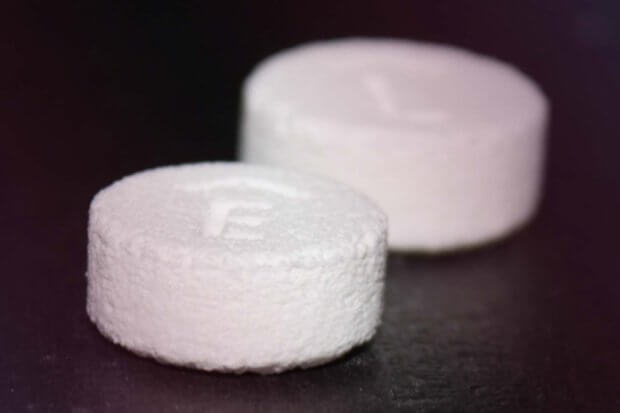 There is always a need for personnalisation when the standards forms cannot be replaced. A medicine comes in different shapes, size and taste. Some are in capsule form and others are called tablets.
Even the size and dissolving power differs. There are many patients who are put on regular medication, specially the old age people.
Gulping drugs isn't a wonderful experience and it becomes even worse when the tablets do not dissolve easily or are too big to swallow.
To cater to that problem, need for customized medicine is surfacing. The pharmaceutical companies have already started 3D printing medicine and you can get in.
Because there are not many providers of medicine 3D printing, you can easily make huge impact by choosing this business option.
Surely, you will have to research a lot and contact many medical experts to know the need and application before putting all your money in the business model.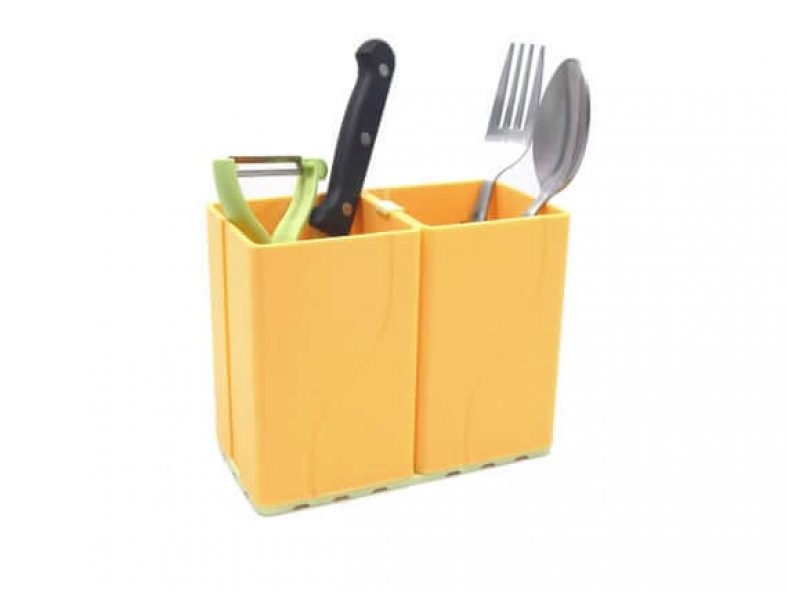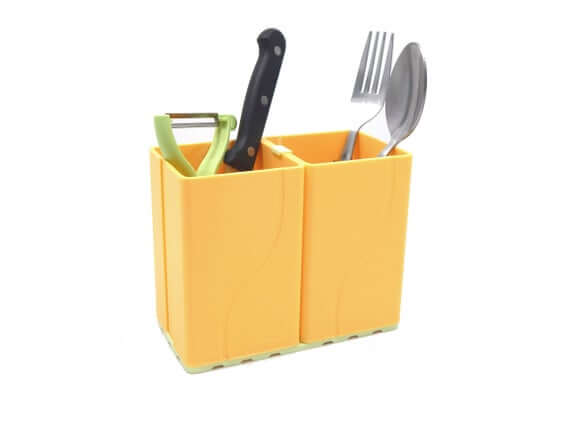 The smallest things cost hugest. This stays true for the culinary items.
These sophisticated and delicate looking culinary item sets can cost even more than your mobile phone. Depending on what material is used to build them and lot other parameters.
The best part is that you can 3D print the similar quality items or even better with reduced manufacturing cost with the help of 3D printing.
You can also design the culinary items and print amazing options for your customers. Sell it online or to stores near you. You can also ship these to international markets.
3D printing can help you produce complex designs in easy steps. You can also seek advice from designers.
back to menu ↑
4. What Skills Are Needed For 3D Printing?
Like every other job, a successful 3D printing requires few sets of skills.
As the industry is growing and have attracted around every possible niche to think of its application, it is not unsafe to try a career in the same.
Giving right direction to your skills would fetch you some unbelievable profits.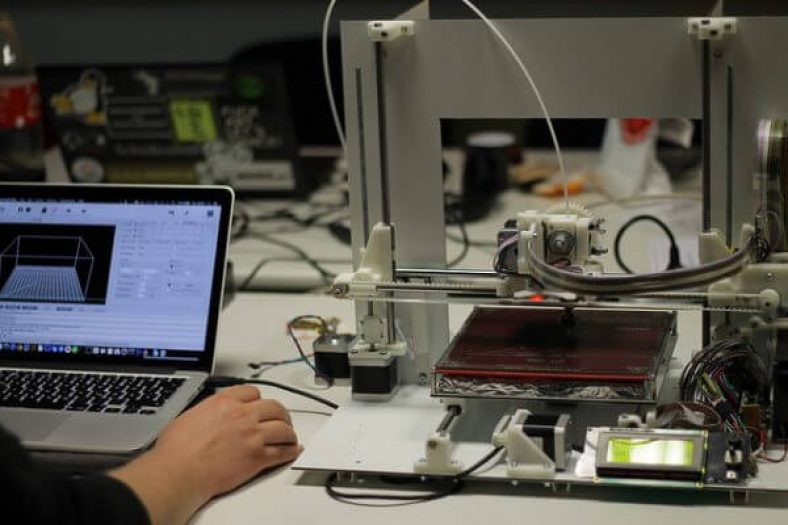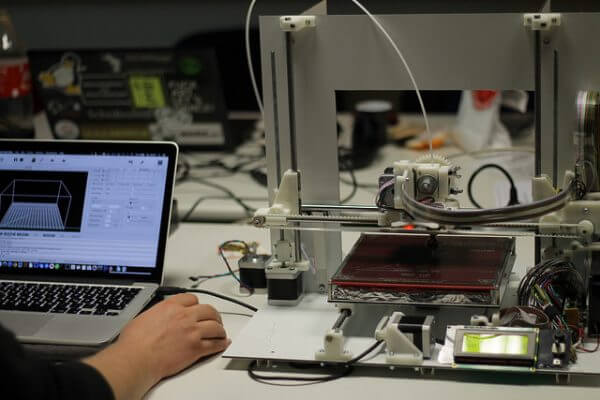 There are companies that are using 3D printing for multiple stages within their operation.
You can either join them or start your own 3D printing company if lashed with proper skill set. What are those skills then?
back to menu ↑
Product Knowledge
3D printing is not anywhere close to the inkjet printing. It is not just about clicking the print button to get the document right out of the printer's mouth. 3D printing requires a lot of technical knowledge for operation.
You won't want to pay for damaged 3D printer and increase your production cost and delivery time.
If not sure how to operate the printer correctly and which filament to use with specific 3D printers, you can cause small or even bigger and irreversible damage to your 3D printer.
Remember, 3D printer comes at a cost and replacing them would put you into huge investment, again.
So, try to learn as much as you can about your 3D printer. Usual check ups and material filling must be versed to you. You must know how to work around certain glitches for a consistent operation.
It is best if you know how to fix certain small technical problems on your own.
back to menu ↑
Software Expertise
Although some jobs can be done even if you have basic knowledge of CAD and slicing software.
But prototyping and various other niches require expertise knowledge of these two software.
There are many online courses you can take up to learn both the software and their working.
Though these are not quite tough, you may have to spend some time to understand them better.
After all, any mistake getting the blueprint right may cost you high. You will never want 3D prints exactly opposite of what you imagined.
Take time and learn about the software. Know what choices are present and which would be the best fit for your business model.
Start with the free versions to try your expertise and learn creating CAD designs as well as about the slicing software before going ahead with the business plan.
back to menu ↑
Analytical and Problem-Solving Skills
Even 3D printing business entrepreneurs need these skills. And, even more when it comes to creating unique and fresh items that attracts customers.
Printing replicas won't get you enough attention and copying other's design may put you as felony against patent laws.
Being creative with your items and understanding how your products would be able to solve real world problems will make you stand out among your competitors.
Learn the right ways to help businesses and ecosystem while applying 3D printing skills.
Analyse the problem and prepare a solution using your 3D printing expertise. In addition, possess marketing skills to explain the worth of your product to your clients.
back to menu ↑
5. Which Software is Best For 3D Modelling?
3D models are the backbone of 3D printing. It requires high precision and expert skills to create remarkable 3D prints. And, 3D modelling software makes it easy for individuals to refine their imagination into 3D models before preparing the printer to print.
Here are few suggestions of 3D modelling software that you would need based on your goals:
back to menu ↑
3D Slash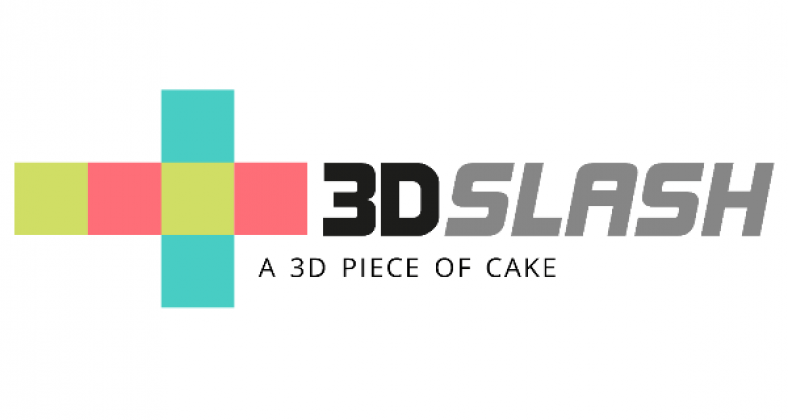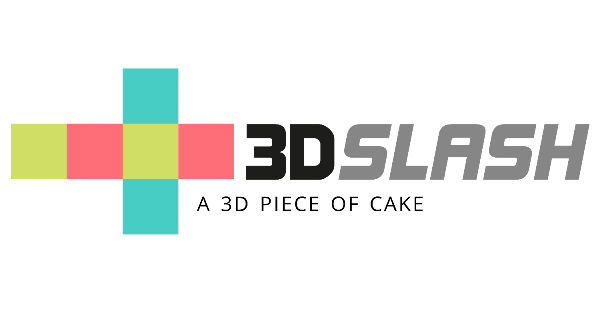 This is a free software for beginners and also comes with a paid plan for premium members.
The software uses simple building blocks technique to create 3D models and comparatively easy to use from many other advanced software.
Unlike conventional software designed for 3D modelling, 3D Slash does not use features such as revolution, extrusion, or sweeps.
On the contrary, one can design models with the help of the cantered cuboid which further can be subdivided to achieve identical and smaller blocks.
There are many tools available for the users to turn the cuboid into their own design.
Tools like hammer, pulpwood, drill and many others help users to create the thought design. The software is designed for beginners and with few basic trainings one can design awesome 3D models.
back to menu ↑
SculptGL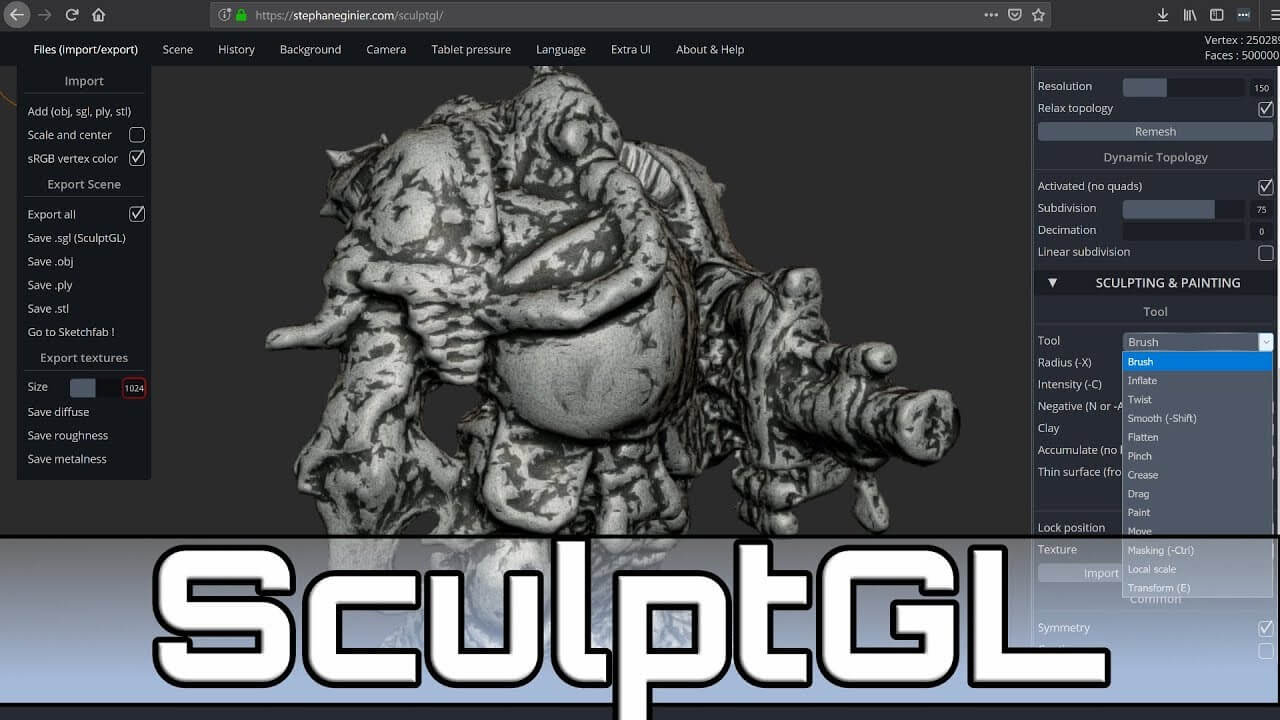 This again is a free modelling software which provide similar features to sculpting for creating 3D models for 3D printing.
This software is also for beginners and have great features to help beginners learn with an easy learning curve.
However, being a free sculpting 3D software, you will have challenges with limited tools for introducing high complexities to your design.
back to menu ↑
MoI (Moment of Inspiration)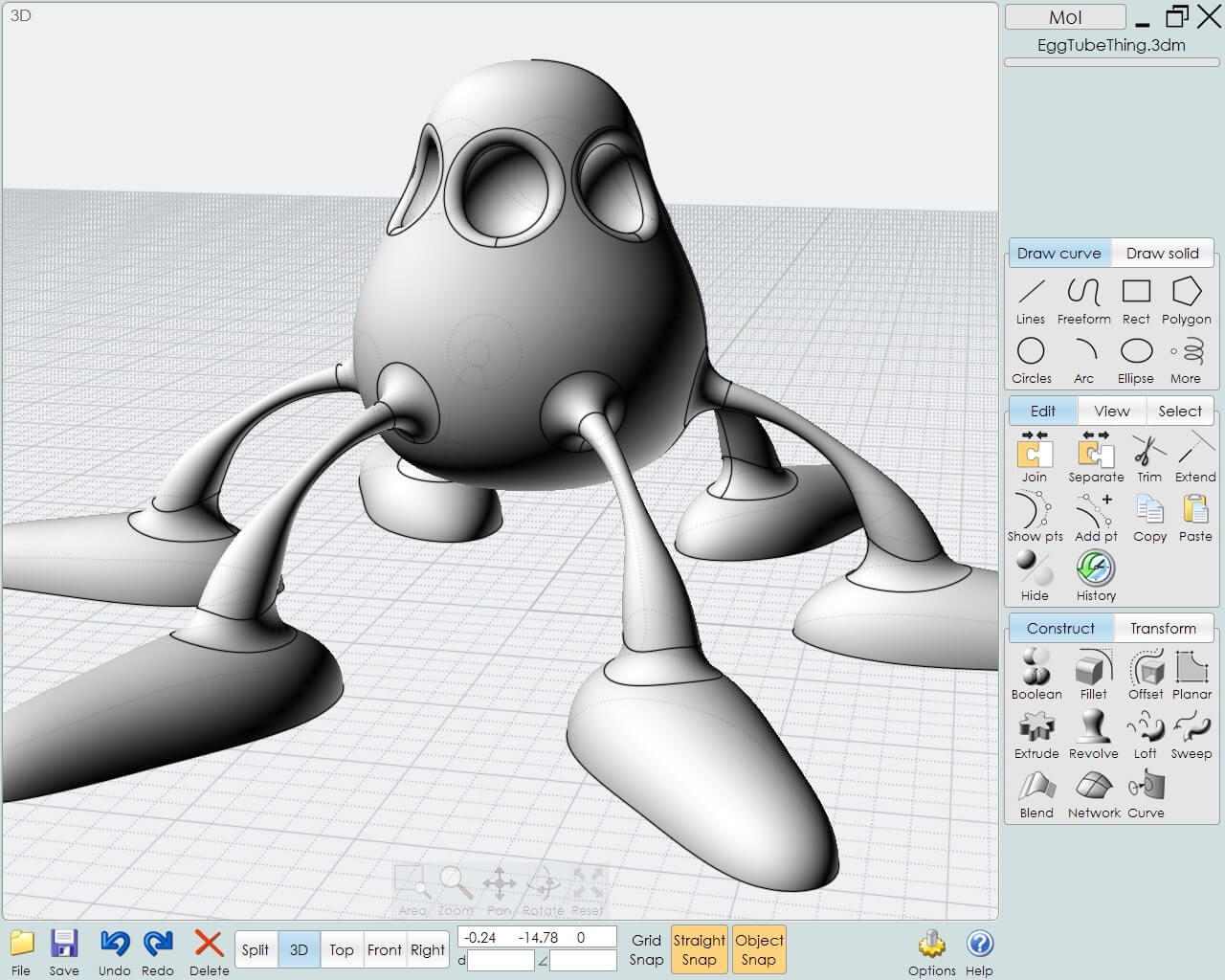 This software unlike the one listed on the top has been specifically designed for those who are expert at 3D modelling.
The software is popular among expert designers and developers.
The goal with which the software was designed was to provide professional with the comparative features available with 3D CAD tools, however, removing the handling and working complexity of the software.
MoI uses a simple and easy to understand user interface. The cherry on the cake top comes knowing that the software is compatible with the pen tablets. A lot of work becomes easier when you have a tool operational with tablet pens.
back to menu ↑
nanoCAD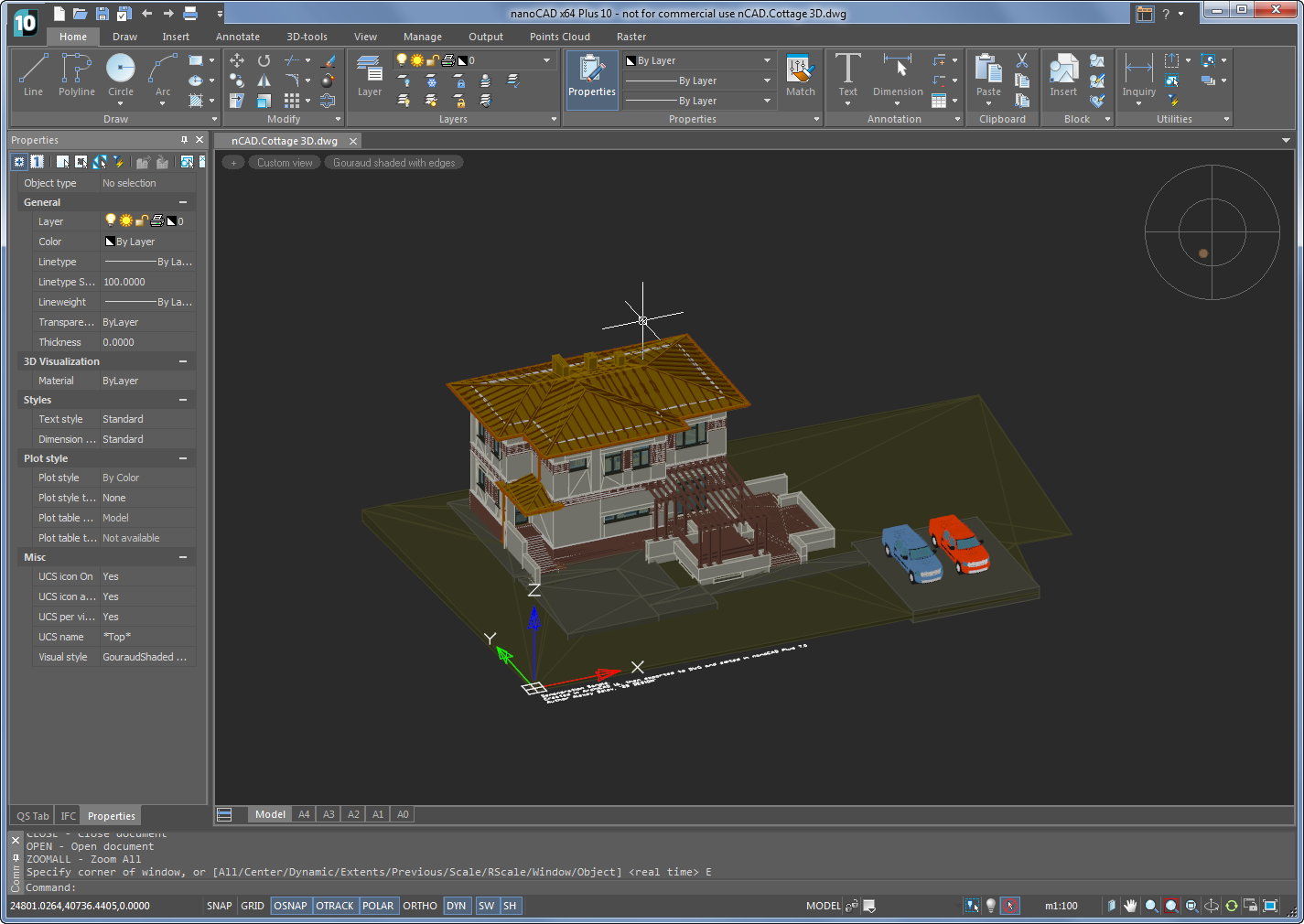 This tool has both free and premium membership. Free membership is best for beginners and experts can also utilize the tool by accessing the premium version.
With nanoCAD, it is easy to turn to the old designs and change them as per the new goals without any mess. By modifying a few things, you can create an altogether new design.
This tool is also helpful in automating many tasks that happen on a routine basis. Moreover, you have the leverage of adding plugins to the free software for increasing its 3D modelling depth.
For those working on difficult projects and complex design can use the same software by turning to the pro version. Pro version comes loaded with many tools and features that a high end 3D AutoCAD software can provide.
There are many other choices in the 3D modelling software and many comes for free. If you are a beginner, it is better to start with the free version and later shift to the paid versions.
back to menu ↑
6. How to Choose 3D Printer Filament?
Filament are the building blocks of your items after 3D printing. A robust and sustainable filament will increase the age of your item while a fragile and bad filament will destroy your brand and ultimately your business.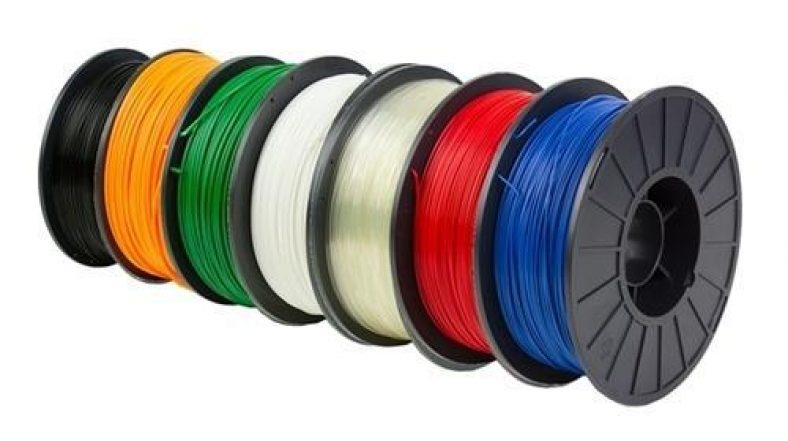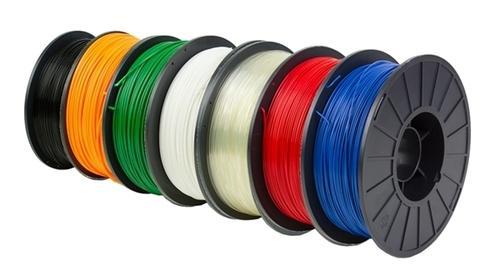 So, here are few key points you should take into consideration before ordering from a vendor:
back to menu ↑
Ask for Details
When you look for a company selling filament, not just be overwhelmed by its website and promises. Look further to know what all information the company is ready to share.
A trustworthy company would be transparent and will share all the positive and negative sides of the filament. They won't try to hide behind fake promises.
You must look for filament that are tighter than the usual tolerance. 0.03mm with few here and there is good to start with.
However, there are many other details that a company should notify about when you are purchasing from them such as strength and hardness, smoothness etc.
back to menu ↑
Do They Provide Samples?
This is the question that would help you refine your search result to bare minimum. Not every company provides sample and those who does would be the right choice to go with.
Usually companies that trust their product, help users with samples. Some charge for samples and some even ships for free with just the shipping charges.
With the sample, check for the details you receive. With filament, companies send printing setting to help users avoid errors and failed 3D printing.
A good company would help you with detailed guide not just the nozzle temperature. From fan speed to bed surface, all important details must be introduced in the guide.
back to menu ↑
Look for Packaging Care
Filaments must be packed in a sealed bag to avoid it from degrading and protecting it from UV rays.
Packaging makes a mot of difference to the color and other mechanical properties of the filament. A responsible company will take care of that with priority.
back to menu ↑
Testing the Filament
Now that the filament is in your hand. Try to bend it and check if it snaps. The results will differ for different filaments. However, one should not break in the first attempt when bend to 180 degree c.
There should not be steam emission from the nozzle. If that happens, it means the filament is dry and not good for printing.
back to menu ↑
Check for the Tolerance
Do you have calipers? If yes, use them to measure the diameter of the filament and check if it is as promised by the supplier.
Although this does not matter much, however, could affect the finishing of your item. If your supplier is genuine, there won't be any problem getting a replacement for your filament.
These are the basic scrutiny steps. Once you get familiar with the quality of filament that suits your production best, you may be able to think of more detailed analysis for getting to the bottom of finding the best supplier.
Do not settle for less. Otherwise, you will end up compromising your quality.
back to menu ↑
7. What is The Best 3D Printer to start 3D Printing Business?
Choosing a printer depends on many parameters. Here is what you must analyse before buying a 3D printer.
back to menu ↑
What Items You Want to Print?
Usually this question is the first to think before you purchase the 3D printer. Because of diverse variants depending on functionality and processes, one should choose the printer with utmost care.
Knowing what you would like to print would take you closer to the answer. There are number of reasons.
Educator install 3D printer in classrooms, DIYers like to be creative with experimenting new technologies, designer or architect uses to create prototype etc.
Once you have understood your goals for buying a 3D printer, which one would suit you best will come along with it.
While education niches would like to set up just a model to help students learn, artists and DIYers will seek 3D printers with multiple color printing. Usage will define the purpose and motive of your printing.
If you are looking for serving consumers with relatively less turn around time and more flexibility of use, choosing an FDM would be fine. However, those seeking to create prototypes and complex items, can go for SLM.
back to menu ↑
What Material you are Targeting?
As mentioned above, depending on the material you are thinking of using, the 3D printer variation would change.
For example, if you are thinking of using metal, a 3D printer supporting metal as material would be the right choice and the same goes with other material that you choose. Compatibility is the first thing to seek.
back to menu ↑
What is the Size of your Item?
Once you have figured out the maximum size of items that you would be printing, look for 3D printer with enough surface area to accommodate your item.
Usually, a 3D printer comes with a size of 6 to 9 inches square of printing space. However, some can range more than 2 feet as well.
back to menu ↑
Does Resolution and Multiple Color Feasibility Matters?
Many items need higher resolution printers and some can be printed with the help of usual resolution offered by most of the 3D printers in the market. The resolution of 3D printer is calculated with the height of each layer.
Micron is the unit for resolutions in 3D printer. The lower is the number of micron, the higher is the resolution of the 3D printer.
A typical printer comes with 200 micron which generates decent quality print. Companies do offer 100 micron and some even below.
Likewise, if you are printing artistic items with colorful variations, you must prefer a 3D printer that can be operated for different colours. 3D printers with multiple extruder would be a solution to such requirement.
back to menu ↑
Working in an Office or Home?
This makes a lot of difference. If you are working from home, you might worry about heated surface that may harm kids and pets. Or, the sound of printer that may disturb old people.
So, a closed frame 3D printer would help you eliminate all those challenges. However, if you are working from office, you may not have to worry about these specifications.
back to menu ↑
8. Tips to Reduce the Cost of 3D Printing
Cost of 3D printing depends mostly on four factors:
Item Volume: The bigger the item is, the more material will be used. Hence, increasing the cost of production as well as the production time.
Production Time: Manufacturing time is also a parameter for calculation of cost in 3D printing. From electric and other usages, a 3D printer will increase the turn around time when taking longer intervals for manufacturing an item.
Cost of Material: The cost of material used for 3D printer varies largely. This depends on the processes we use for our 3D printers. If material for FDM printer would cost you around $25 per kg, for similar weight, a SLS powder or SLM resin would cost $55 kgs.
Post Processing Methods: Cleaning and smoothening processes with many others that comes into picture after the production is complete, increases the cost of manufacturing.
If your design consideration ends at price, there is no better choice than an FDM printer.
However, this is not always a case. Hence, there are certain manufacturing guidelines that you must keep in mind when printing a 3D item.
back to menu ↑
Does the 3D Printer Size Matter?
There are certain items whose size does not matter. For example, visual prototypes. In such cases, scaling down the item size would bring a huge difference to the cost of production.
Not only it will take less time, but the material used will be also considerably reduced. Helping you save few bucks on the 3D printing of your visual prototypes.
Free softwares are also available to scale down your size of blueprint without much hassle. By choosing to scale down, you can change the size of the item and the final item printed will have smaller size.
back to menu ↑
Does Solid Items Worth?
Usually for making toys and various other gadgets, we do not require a completely solid structure. In such scenarios, one can keep the inside of the item hollow for saving substantial cost in 3D printing.
FDM allows for a hollow print by using an internal fill structure by default. For SLS and other 3D printing processes, you will have to make changes to your item's blueprint with the help of software. You can set wall thickness and add escape holes for excess material to drain away.
These steps can considerably reduce the item's volume to even 75%. Again, helping you cut on your production cost.
back to menu ↑
Are Support Structure Needed?
FDM printers is the most economical printer and still use support structure. By reducing the necessity of support structure, you can considerably reduce the production cost even further.
Not just the additional material is exhausted, tiring post processing methods are required to separate the support structure from the item.
You can either design the item with overhand angles which must be greater than 45 degrees or can accomplish the task by splitting the model into more than one part which can be printed without support.

back to menu ↑
9. Best 3D Printing Courses, Certification & Training
To better understand the know how of 3D printing, one must take up courses as per their expertise levels. These are the courses that suit all levels of learners: beginners, intermediate and experts.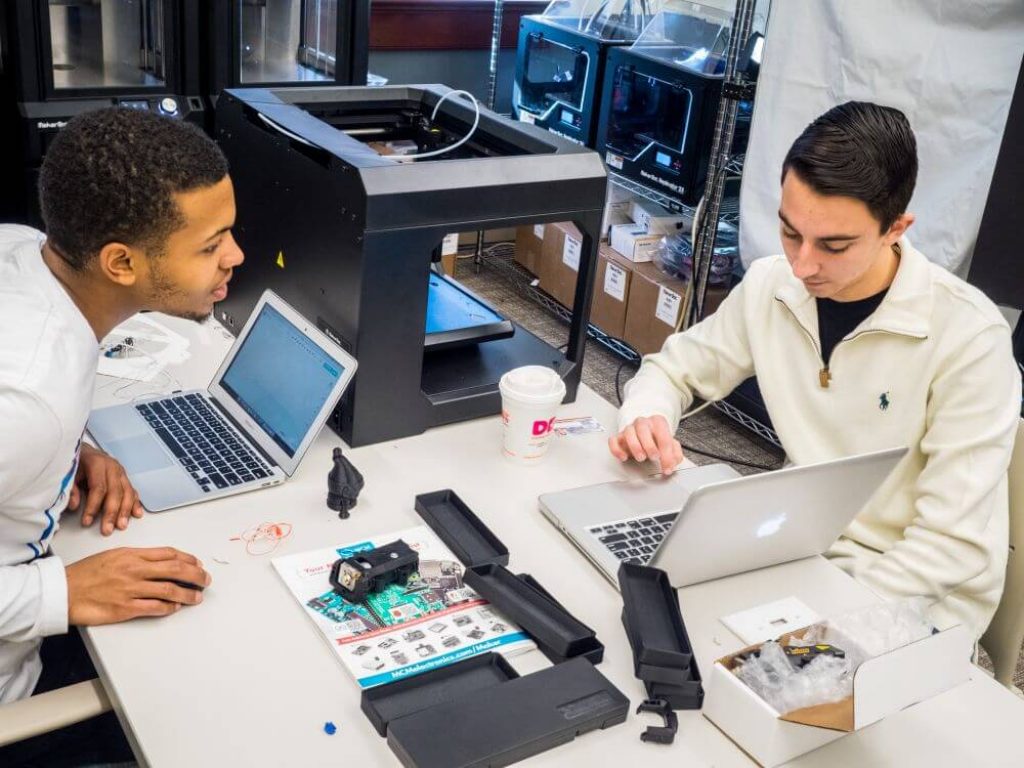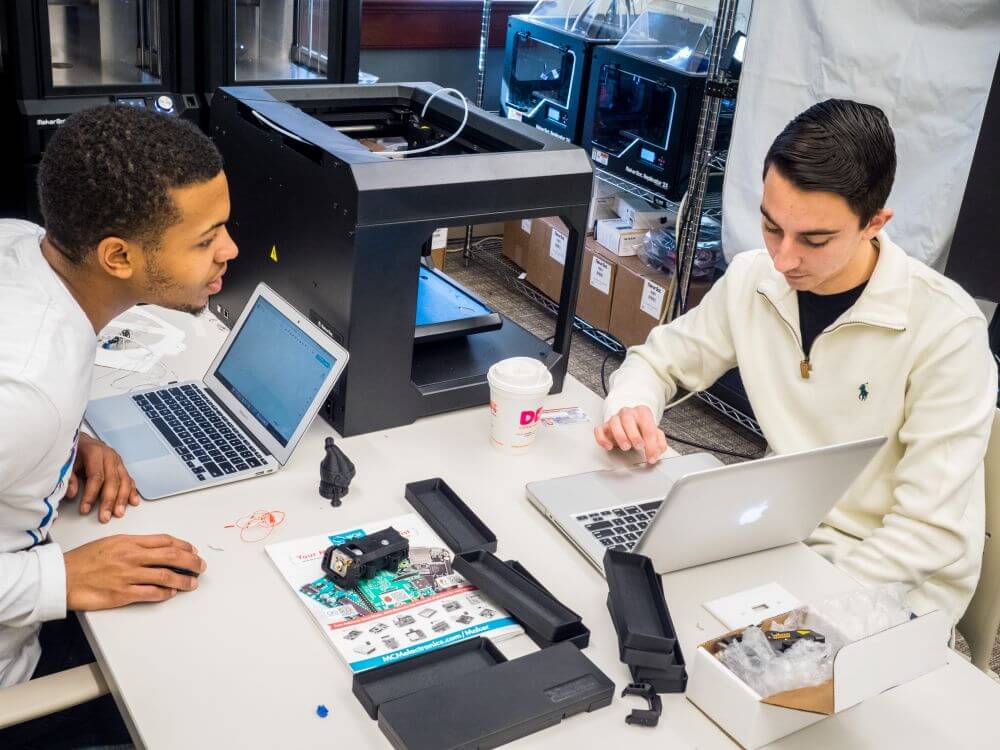 Credits: montclair.edu
back to menu ↑
Udemy's 3D Printing Courses and Tutorials
Udemy is known for its useful courses that are easy to understand with the help of video tutorials. Getting some best knowledge about 3D printing from such a renowned website won't be just a gamble.
The courses are easy to understand and are designed for every level of learner. The best part is that the one for beginner does not require any pre-requisite skills. You can utilize the course for making a career in the niche or for appearing for exams and certifications.
You get access to lectures, articles, downloadable resources with a full lifetime membership. The cost for the course is very manageable and bare minimum.
back to menu ↑
Lynda's Free 3D Printing Course
As you can see, the course comes without a cost. The website provides great training and covers almost every area that you must know before starting a 3D printing business. You can just check the basics or learn the best manufacturing strategies.
Everything is covered with minute details to help beginners as well as experts take complete advantage of the tutorial.
Check the foundation ideas if you are beginner. Later, you can move on with the innovations and practical experiments using 3D printer of your choice.
The course allows you to access classes without the internet connection as well.
They offer 'view offline' option to make sure you can access the videos without any interruption.
The course is easy to understand and the division of topics are made simple with lots of exercises to fill your hunger to learn.
back to menu ↑
Instructables' 3D Printing Classes for Beginners
In this program, you will be working with Fusion 360 which is a modelling program for 3D printing aspirants.
Here you will learn to design parts and items as per your ideas. It teaches you everything about 3D printing.
Either its skills or pre-requisite, you get to learn all that you will need to start 3D printing.
The course very well demonstrates the modelling of complex designs.
Every topic has its quiz and tests to ensure that you are good to proceed with the next topic. From beginner to a pro 3D printing specialist, you learn from bottom to top.
back to menu ↑
Coursera's 3D Printing Certifications and Degrees
You get around 20 options to choose from when thinking of honing your 3D printing skills. This is also designed for all levels of proficiency.
You can search for program levels that are divided based on their level of difficulty.
You get to complete many exercises enough to understand the subject. The deadlines are flexible and you can complete as per your ease.
The courses are followed by tests which certifies you against the course undertaken.