Makergear ULTRA ONE
Makergear Ultra One is a professional FFF desktop 3D printer by a manufacturer based in Ohio, United States. Previously the manufacturer has produced M3 and M3Dual which were also desktop 3D printers for professionals.
PROS
Closed build up.
Intelligent dual extruders.
Camera monitoring.
Touch probe automatic leveling.
Touch screen interface.
Solid build plate that can withstand high temperatures.
CONS
The price of the printer is very much compared to printers in the same range offering similar features.
Product
Specification
Videos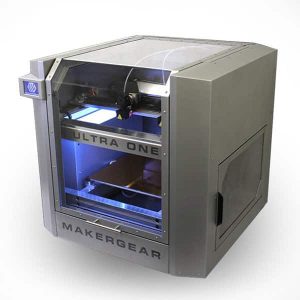 Hobbyists would find the printer less affordable only if they are very budget-oriented. If they will be looking at the larger picture, they can focus ...
| | |
| --- | --- |
| Model | Ultra One |
| Manufacturer | MakerGear |
| Price Range | $ 12500 |
| Release date | 2018 |
| Country | United States |
| Availability | Available |
| Classification | Professional |
| Technology | Extrusion (FFF- FDM…) |
| Material | ABS, Other plastics, PLA |
| Filament diameter | 1.75 mm 0.07 in |
| OS compatibility | Linux, Mac OS, Microsoft Windows |
| Generic material | Yes |
| XY accuracy | 0.001 mm 0 in |
| Max. build size | 406 × 356 × 330 mm 15.98 × 14.02 × 12.99 in |
| Max. build volume | 47.70 L |
| Max. print speed | 500 mm 19.69 in /s |
| Min. layer thickness | 0.1 mm 0.004 in |
| Dimensions | 760 × 760 × 760 mm 29.92 × 29.92 × 29.92 in |
| Weight | 75 kg 165.35 lb |
| Nozzle diameter(s) | 0.5 mm 0.02 in |
| Power input | 100 – 240 V / ~3A / 47 – 63 Hz |
| Heated print bed | Yes |
| Heated build chamber | No |
| Automatic calibration | Yes |
| Closed frame | Yes |
| Dual extruder | Yes |
| Independent Dual Extruder | Yes |
| Full color | No |
| LCD screen | No |
| Touchscreen | Yes |
| On-board camera | Yes |
| Mobile app | Yes |
| 3D scanners | No |
| CNC mill | No |
| Electronics 3D printing | No |
| Laser engraving | No |
| Conveyor belt | No |
| Air filter | No |
| Pellet extruder | No |
| USB | Yes |
| Wifi | Yes |
| Bluetooth | No |
| SD card | No |
| Ethernet | Yes |

Table of Contents
In this Makergear Ultra One review, we would explore the details of the printer and how worthy is it in terms of performance and reliability.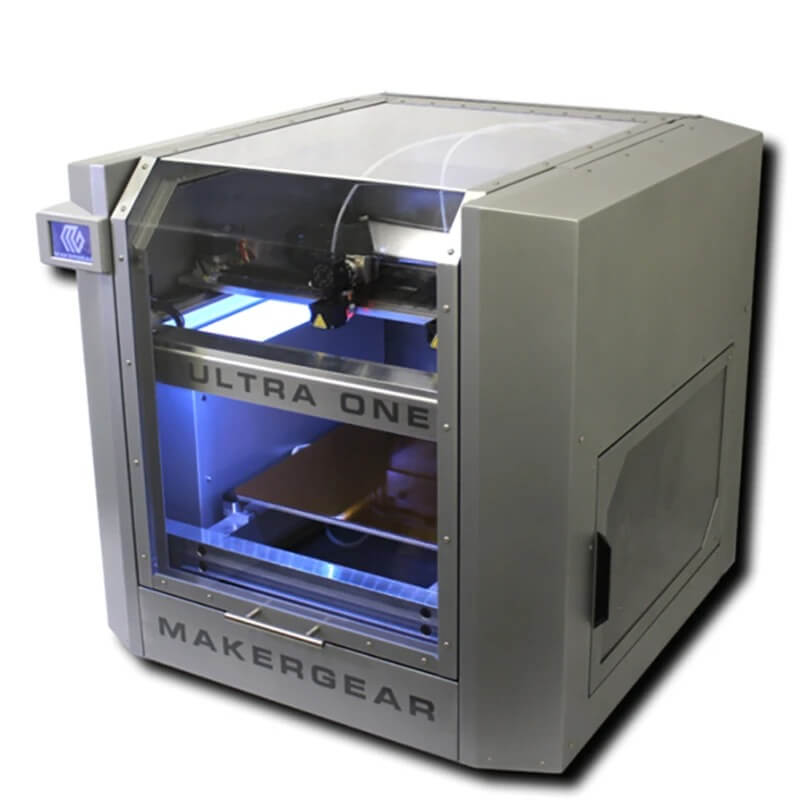 Makergear Ultra One is a professional FFF desktop 3D printer by a manufacturer based in Ohio, United States. Previously the manufacturer has produced M3 and M3Dual which were also desktop 3D printers for professionals.
This one, however, Makergear Ultra One is an industrial-grade 3D printer which can print at high temperature and built some parts and functional prototypes of larger volume.
Flexible of printing with many materials and delivering high-quality FFF prints for industrial, business, and educational needs, Makergear Ultra One has many features that can amaze you. Let's take a look at the list of those features one after the other.
Features
Ultra One offers printing of parts and functional prototypes of higher build volume in an extraordinary time. Unlike other industrial Ultra One offers you the freedom of choosing your filament, filament grade, and supplier.
This is for enabling a broader range of projects and greatly reducing production costs. Without further wait, let's take a look at the listing of its features:
Independent Dual Extruders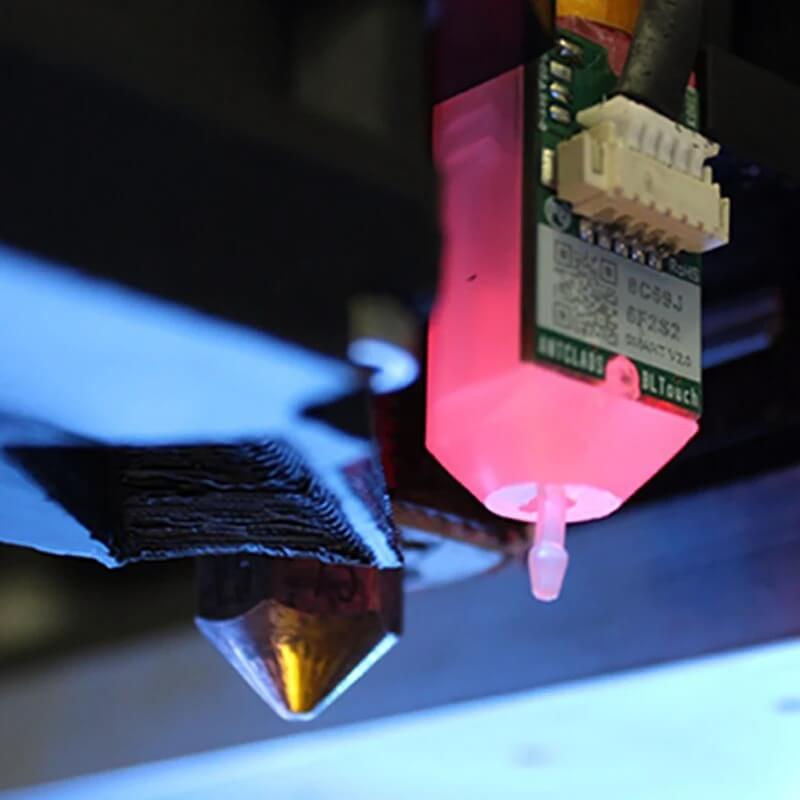 This feature of Ultra One lets you print faster. Whenever you want to 3D print constantly, all you need to do is get the settings in place for the first print of part or functional prototype, and then it's done.
Multi-material printing with the use of soluble supports is possible because of independent dual extruders.
One extruder can work independently of the other so, while the printing process if you not necessarily need to run both the extruders. This also decreases the overall operating cost of printing using this printer.
This exactly means that if there were a printer with a single extruder, the same as Ultra One, this printer would be able to print two objects at the same time as this printer can produce two parts.
M3-ID too had this feature, but here each print head carries its direct-drive extrusion system.
Touch Probe Leveling
For the leveling of the bed, this feature is very useful. While printing complex geometries, there is a need for dimensional accuracy.
To fulfill this need, Ultra One has got this feature in its printer. Industrial-grade printers of the same price range very rarely have such a feature.
This feature also lets you print, parts inside apart. A new technique to print void structures and complex geometries require you to have a level of precision that isn't possible with manual leveling.
This is where automatic leveling and touch probe leveling comes into play. A touch probe leveling determines the level of the bed.
The distance of the bed from the print head needs to exact in terms of the mm. The more accurate it is, the more accurate is the actual print.
With these measurements, the bed is automatically leveled by adjusting the Z motors at each corner. Additionally, the printer can generate a mesh of print surface before each print for compensating small and unavoidable variations from perfect flatness.
Printing With Unlimited Complexities
Generally, printers do not have the dimensional accuracy that is needed for printing complex parts and prototypes.
The industrial application of parts in aerospace, dentistry, medical and automotive demands these kinds of dimensional accuracy. Very few printers are able of producing prints with this minute detail.
Ultra One lets you print using soluble materials like BVOH and HIPS for support. You can use these materials with ABS. The inside part that is generally printed with solid support structures, can be printed with these materials.
The fact that these materials are soluble and the melting point of these materials is lower making it easier to print complex geometries.
You can choose the final design in a way that the complete design has the use of two parts. One which is for the support structure and you can choose any of the above-mentioned material.
And the other design has the part or functional prototype in the material in which it is to be printed. At the end of the printing process, instead of removing the support structure with a threat of damaging the original material, you can melt it down.
This also reduces the risk of damaging the original part and prototype.
Enclosed Build-up
The 3D printer has got itself covered from all sides. Because of its enclosed build-up, you will be able to print with materials in which there is a need for an assurance of constant temperature with Makergear Ultra One.
Another benefit of this feature is the protection that it gives to the surrounding by not spreading the potentially harmful fumes outside the printer. Also, the risk of accidental interfering is reduced due to the closed build-up on all sides.
The printer is based on FFF technology so the printing is going to take place layer by layer. If the build-up is not enclosed, then the print quality is not as good as it is currently.
Because open build-up always increases the risk of layer contraction and expansion during the printing process. Therefore, the print quality of this printer is better than those with an open body.
Intuitive Touchscreen Interface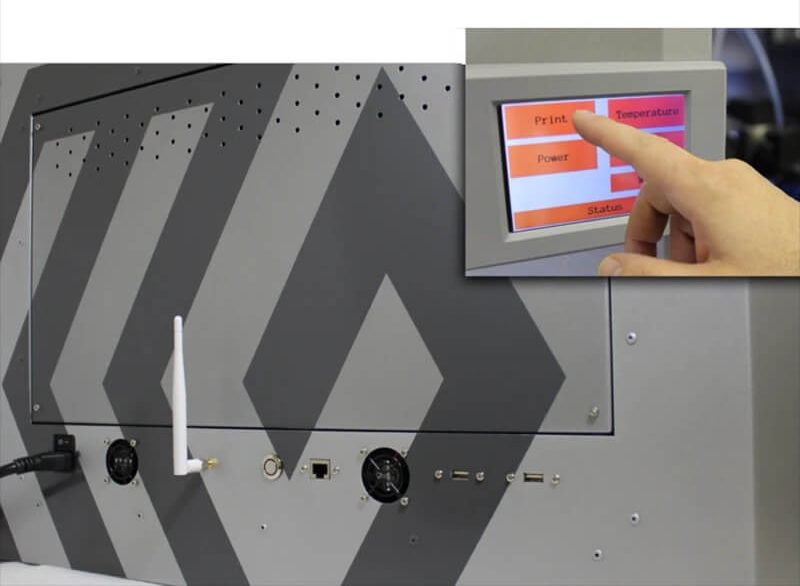 Unlike other industrial-grade printers, Ultra One comes with a touchscreen display. What this feature lets you do is, play with the printer as you play with your television or any other device that is remotely operated.
So it increases the level of operation with which the printer can be operated instead of limiting it to only turning on and off.
Print progress and bed temperature can be managed using this touchscreen. The other interesting thing which Ultra One allows its user to do is to save your work and pause it and return to it later.
This pause-resume feature is extremely helpful while loading a new filament or stopping the print process temporarily for some reason and starting it again from where you had stopped. This saves time because otherwise, you'd have to start from scratch.
Specifications
Based on the FFF technology of 3D printing, Ultra One by Makergear amazes you by the options you can print with.
ABS, ASA, HIPS, Nylon, PET-G, PET-T, PLA, polycarbonate, polypropylene, BVOH, TPE, TPU, metal composites, wood composites, carbon fiber composites, and more. These are the list of materials that you can print using Ultra One.
The build volume of this 3D printer is 406 mm * 356 mm * 330 mm and the filament diameter is 1.75 mm. Ultra One has a layer resolution of 0.10 mm to 0.035 mm and a travel head speed of 10-500 mm per second.
The build plate of this 3D printer is made of a borosilicate glass plate coated with a polyimide film. The temperature that the build plate can withstand is 20 to 140 degrees Celsius and can be heated with 10 minutes.
The maximum temperature that the build chamber can withstand is 50 degrees Celsius. Assisted leveling is done with the help of touch probe auto-leveling with minor variations from flat.
The nozzle type and diameter vary from parts to parts, seeing that, Ultra one comes with nozzle diameters of 0.5 mm, 035 mm, and 0.75 mm in Brass and Stainless Steel. The nozzle can withstand temperature anywhere from 180 to 300 degrees Celsius.
Price
Ultra One by Makergear is priced at $12,500. At this price, you get a 12-month limited warranty and optional warranty extension options in the Makergear Protection Plan.
In this plan, the manufacturer claims all the defective parts in Ultra Ones as stipulated in the warranty plan. Replacement parts are to be shifted to you using Fed Ex or USPS Priority. And you can connect with this printer using Ethernet, Wi-fi, LAN, and USB Drive.
First impressions
The printer comes fully-assembled with a manual that has complete information about how to operate parts of this printer.
There is a touch-screen LCD from which you have to operate. The printer can be operated using computers that can have any operating systems MAC, Windows, Linux, Ios, or Android.
The printer comes with linear rails that offer industrial grade to offer complete reliability that is offered by CNC machines. This is to give its users a taste of the traditional extruders. The recommended software for this printer is to Simplify 3D and Octoprint.
Setup
The printer is easy to set up as it comes almost self-assembled. Unlike other industrial printers, Ultra One offers the freedom for choosing your filament grade and filament supplier and to enable a broader range of projects and greatly reducing production costs.
You need to refer to the manual to understand the operation of the touch screen interface completely.
Print Type/Cost
As mentioned above the printer is based on FFF technology, which is the most preferred 3D printing technology for parts and functional prototypes.
And the fact that Ultra One has is not only limited to some of the most trending materials like ABS and PVA only, denotes its versatility.
The heating bed that it operates on can withstand enough temperature to allow printing with various materials. And the printing cost varies from material to material.
Because of independent dual extruders, it allows the user to opt whether he/she wishes to consume more electricity for printing more parts at the same time or otherwise.
This too reduces the overall cost of the printer when compared to a similarly priced printer operating on dual extruders.
Print Quality
The print quality of Ultra One is mainly credited to independent dual extruders and touch probe leveling. Manual interference is used in a very less amount, which increases the overall quality of print produced by the printer.
The touch probe leveler lets you automatically level the print bed with the print head. Not only this increases the overall quality of the print, but also saves time that it took to manually level these setting.
This is especially helpful when you have resumed printing from where you started because you don't need to remember anything, the machine does effort which was required manually otherwise.
Software
Simplify 3D is the industry's leading independent slicing software. Seeing its popularity, manufacturers of industrial-grade 3D printers come compatible with this software. Ultra One is also compatible with Simplify 3D.
Apart from Simplify 3D, Octoprint is the name of the software that Ultra One is compatible with, you can slice your files in the required format using this.
Ultra One is compatible with a wide range of operating systems such as Windows, Mac, Linux, Ios, Android, Firefox, and even Safari.
Most of the 3D printers are only compatible with Windows, Mac, and Linux, by offering multiple operating systems, Ultra One has become an eccentric 3D printer.
Customer Service
The latest version of these printers comes with a 12-month limited warranty and also offers warranty extension options under their plan which is named MakerGear Protection Plan.
Makergear Ultra One's parts can be replaced if they are detective, under this plan. Replaced parts are sent to users by Fed Ex Ground or USPS Priority.
The MakerGear hot-end is also covered under warranty when MakerGear filament and maker gear components are used. Agents of the company are ready to help you 24*7 via email, phone, or Skype.
Parameters Influencing Buying Decisions
The buying decision is influenced by the cost of the printer, its speed, the quality it offers, and its capability, practicality, and user expectations.
3D Printer Cost: The cost of the printer is rated high if compared to the printers in the same range that offer similar features and specifications.
3D Print Quality: Due to the touch probe leveling, the overall print of the parts and functional prototypes of complex geometries is dimensionally accurate.
3D Print Speed: The printer speed is not too fast, not to low compared to similar printers in the same range.
3D Printer Capability: Due to the smart extruders, the overall capability of this printer is increased depending on whether the user wishes to print with a single one or a double.
3D Printer Practicality: Seeing that the printer is based on FFF technology, the quality of prints offered by the printer is great.
3D Printer User Expectations: Overall if the user is already familiar with other printers in the same range, he/she might not be completely satisfied with it.
The Verdict
Ultra One primarily targets manufacturers that constantly wishes to print using FFF 3D printing technology.
Overall, the printer comes equipped with all the amazing upgrades that have been recently made in the field of additive manufacturing. And, the Makergear Ultra One review supports that too.