Matter and Form V2
Matter and Form V2 is an accessible 3D scanner that follows a straightforward approach. It has amazing features such as +Quickscan, simple software, and exceptional customer support.
PROS
Easy to grasp the software
World-class customer service
Scans quickly with + Quickscan
Affordable
Compact and flexible design
CONS
Reports state how the scanner finds it difficult to identify empty spaces.
Difficult to scan in low light conditions
Table of Contents
V2 is the next-generation scanner designed to transform beginners into professionals. It is an affordable desktop 3D scanner manufactured by Matter and Form – a company based in the United States.
Based on laser triangulation technology, V2 is known for its speed, easy-to-grasp software, foldable design, and watertight meshes.
The scanner houses a similar design to the scanner's predecessor, but an improved type of usability. Many users have appreciated the +Quickscan that holds the capability of scanning an object in 65 seconds! How quick, yeah?
So, let's explore more of such intriguing features that the scanner hosts. But, for that, we need to dive in-depth. Excited? Let's get started.
Features
V2 is multifunctional. Not only can it scan the geometry of an object using its lasers, but also pick up the texture of objects using the in-built camera. The scanner is equipped with a calibration card as well as a blue rubber duck because of which the entire scanning process becomes very simple.
Also, the scanning is fairly straightforward. It allows users to move the object around. In the meantime, the machine scans every single angle to align the scans for creating a complete model. Below mentioned are some of the most striking features that separate the scanner from others in a similar price range.
Easy to assemble
V2's setup is a piece of cake. All it requires is a couple of tweaks here and there and you are almost there! Ready to start scanning. The points that users need to ensure are a) keeping the scanner at a reliable place. b) That place should be near to the computer where it works best under specific lighting conditions.
Uncomplicated software
The scanner manufacturer has paid special attention to keep the software completely uncomplicated. It offers cleaning tools that are easy to grasp and become used to. Also, the color texturing is very simple.
Not only that, but also each and every selection made by you has a different set of explanations of what is it specifically used for, and how it works?
The best part about the software is that it shows operators the exact points that the scanner is picking up in real-time. So, it becomes easy for you to predict how much time is remaining thereafter.
Unparalleled support
The technical team of Matter and Form is extremely assistive and friendly. Their reply to query-full email is very practical. They are always apt and asking you to contact them for any sort of trouble during the setup or anytime during the scanning process.
In fact, for easing out your work of explaining how to do stuff with the scanner they have put in place video tutorials in which you can video chat with the team.
An expert faces you onscreen and he/she explains to you different ways in which you can work with the scanner to ensure it performs the best.
+Quickscan
This service was designed by Matter and Form especially to provide immediate assistance for scanning. It is primarily meant for educators as well as curiously impatient perfectionists. Quickscan is a part of the many updates that are available in V2.
It's specifically associated with 3D scanning software. When coupled with the scanner, the feature enables users to obtain the complete geometry of the scan in 65 seconds.
In case you get an entire package, it offers enhanced product workflow with camera exposure previews as well as adaptive regular scanning.
Flexible design
V2's design is completely foldable. So, if you are buying it for home or office use, you'd not have to assign a particular place for the scanner. Because it can be folded and easily stored anywhere! Moreover, the outer shell of V2 also doubles as a protective case for the turntable as well as the camera.
It is one of those eye-safe red lasers that operate on its patented technology. Such a characteristic makes it a scanner that's compatible with a wide range of materials the number of which is more than other scanners available in the same price range.
Specifications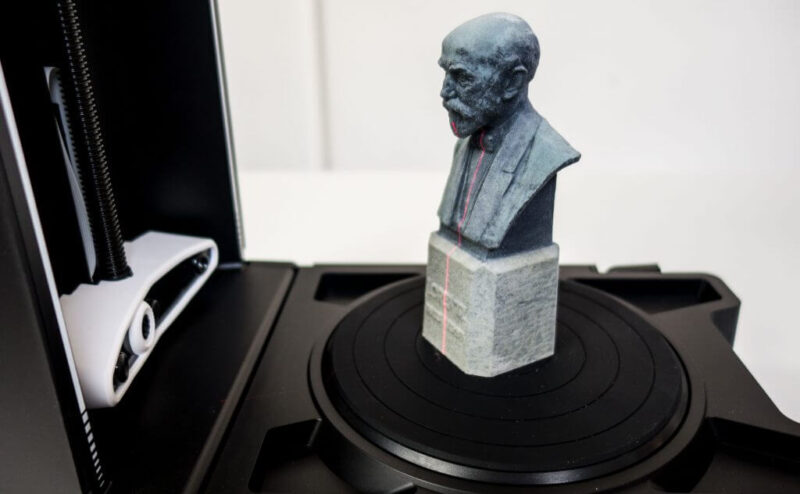 Credit: 3dscanexpert
V2 offers an approximate scan accuracy of 0.1 mm. The maximum object size and weight that's scannable on the scanner is 25 cm * 18 cm and 3 kilograms respectively.
Its optics department is taken care of by a standard HD CMOS sensor and two class 1 eye-safe lasers. The scanner can be connected using a USB 2.0 high-speed interface for file transfer.
Price
Matter and Form V2 is available for $749.
First Impression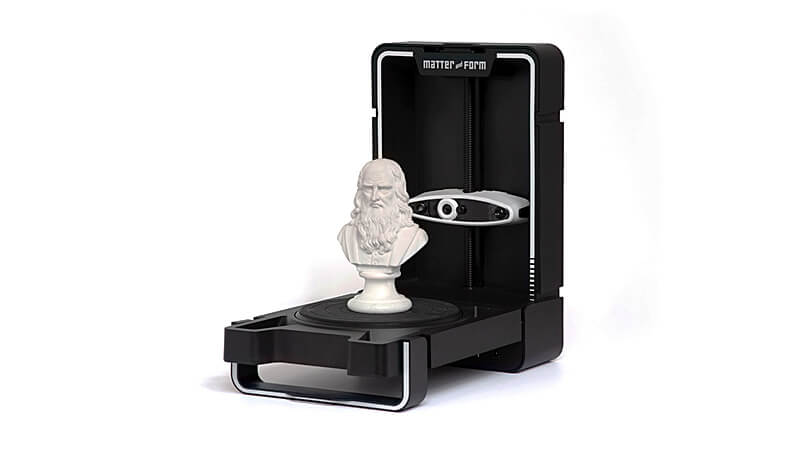 The scanner comes safely packed with other things that you'll need while scanning. Such as:
A USB cable
An AC power adaptor
Four interchangeable worldwide power plugs for power supply
A calibration card
A user manual
A product information booklet
A small plastic toy
An MFStudio software with +Quickscan
Setup
As mentioned above, it is extremely easy to set up V2. All that the users need to do is find a suitable place where it can be unfolded near the power supply and the computer.
The time taken for setting the scanner up from unwrapping it from the box is not more than a few minutes. So, you'd be doing your first scan within no time at all.
Scan Type/Cost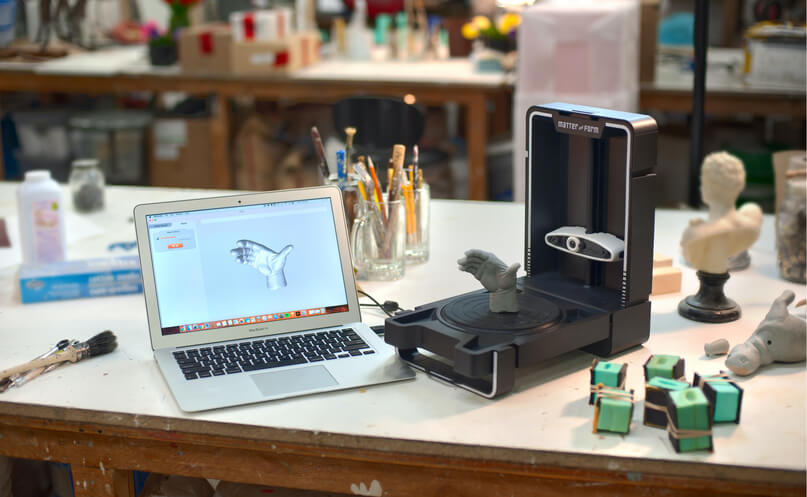 Credit: prnewswire
The laser triangulation technique is based on trigonometric calculation. The scanners based on this method typically make use of three main elements:
Laser transmitter
A camera
The object that's to be scanned.
Generally, they use semiconductor lasers because of their low cost and small size. The digitization commences with the emission of a rectilinear laser beam that deforms after making contact with the object.
In the meantime, the camera analyzes the deformation of the line that's emitted by the laser for determining its position in space via trigonometric calculations.
When compared to other scanning technologies, the cost of scanning a part or functional prototype using laser triangulation is on the lower end.
Scan Quality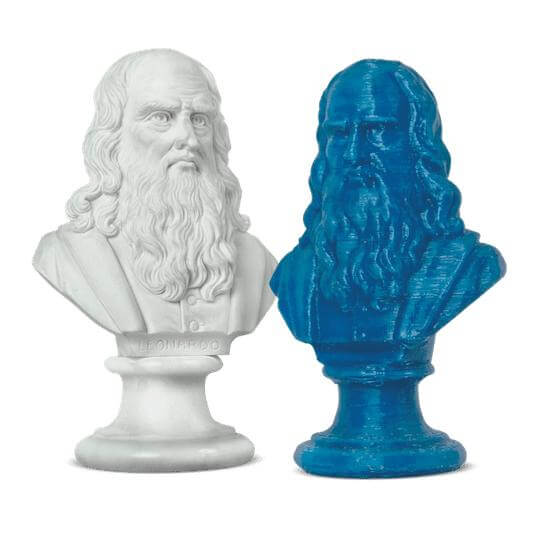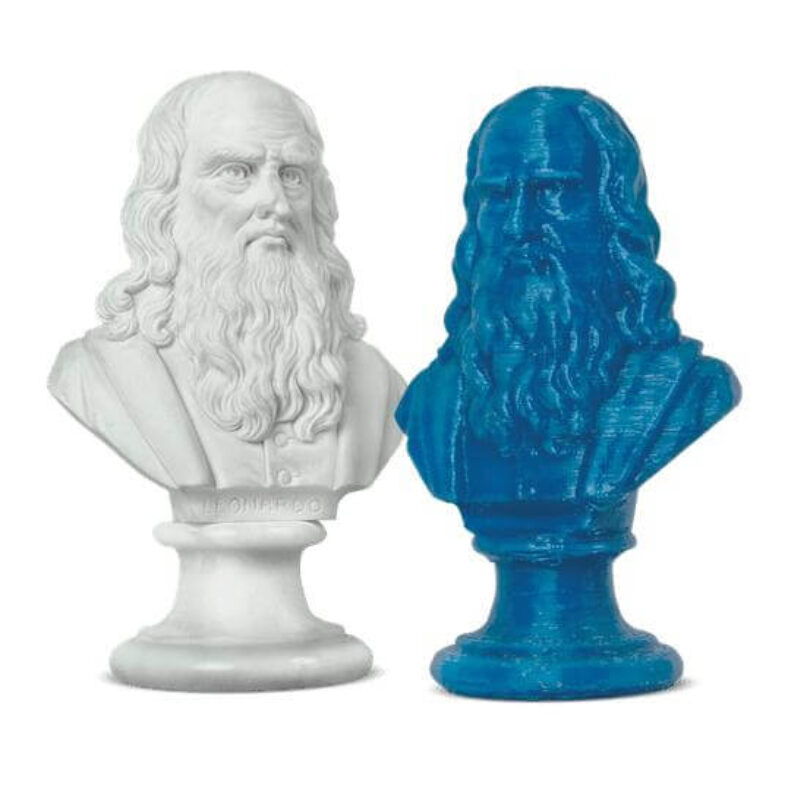 V2's scan quality is so precise that it's able to pick up even the tiniest writing that is typically seen on the bottle. Moreover, the scanner can capture fine details of small objects with intricate geometries.
Having said that, V2 does have its own set of requirements when it comes to scanning in low-light areas. But after making a few changes here and there users can get impressive results. The fact that V2 is able to achieve a scan accuracy of around 0.1 mm is in itself proof of excellent scanning by the machine.
Software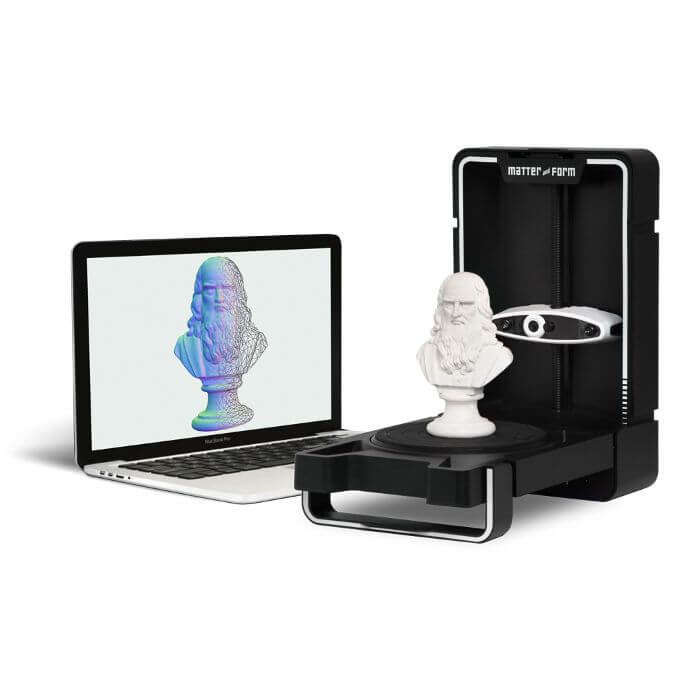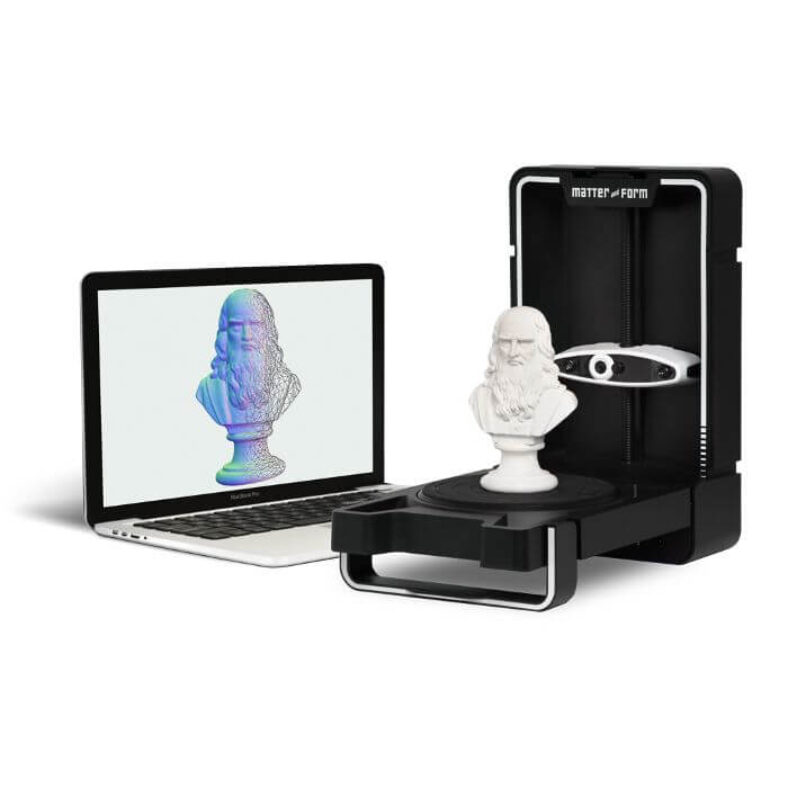 Credit: dynamism
V2 is compatible with MFStudio + Quickscan that can be safely run on Windows versions above 7 and MacOs above 10.11. It supports file formats such as PLY, and XYZ on point cloud and STL, OBJ, DAE, PLY, and gITF2 on Mesh.
The best part about this application is its multilingual support. Users can operate it in English, French, Spanish, Italian, Portuguese, German, Chinese (Traditional/Simplified), and Arabic.
Customer Support
All sorts of support are given by the scanner manufacturer in terms of providing an installation help guide, to video tutorials online. Moreover, operators can always contact the technical team via email or call.
Parameters Influencing Buying Decision
Below mentioned are chief factors that are to be kept in mind while making the buying decision.
3D Scanner Cost: Although there are scanners available at a cheaper price than V2, they aren't that functional. So, considering the amazing features that the scanner brings on board, V2 is affordable.
3D Scanner Speed: V2 has a decent scan speed that gets a sudden boost when paired with +Quickscan. After that users can scan an object in mere 65 seconds.
3D Scanner Quality: Average.
3D Scanner Capability: The scanner is capable of performing varied types of scans on a wide range of objects starting from a simple plastic bottle to a fruit.
3D Scanner Practicality: V2 can be put into application for researching, educating people with the wonderful 3D scanning techniques as well as art and designing.
3D Scanner User Expectations: The manufacturer claims how their scanner is for transforming beginner-level users into professional ones. So, it bridges the difference in knowledge and makes up an expert with fine tunings of the scanning world.
The Verdict
V2 is an accessible 3D scanner that follows a straightforward approach. It has its own quirks like every other scanner, but overall those eccentricities are balanced by amazing features such as +Quickscan, simple software, and exceptional customer support. So, under a price of $750, V2 is worth taking into consideration by all the users looking to upgrade their scanning skills.