Monoprice Select Mini V2
Using the Monoprice Select Mini V2 3D printer get you more than you pay for. When considering the print quality, you will find your money worth the expense.
PROS
It is easy to setup
Reliable
Heated build plate
All metal hot end
Padding material for the build plate
Great print quality
Affordable
CONS
Difficult to work with ABS
Smaller build volume
Product
Specification
Videos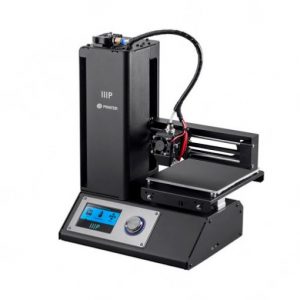 Amongst the four 3D printers that Monoprice offers, Select Mini V2 is the most affordable one. Even though it is the most affordable one, the printer ...
| | |
| --- | --- |
| Model | MP Select Mini V2 |
| Manufacturer | Monoprice |
| Price Range | $ 220 |
| Release date | 2017 |
| Country | China |
| Availability | Available |
| Classification | Desktop |
| Technology | Extrusion (FFF- FDM…) |
| Material | ABS, Other plastics, PLA |
| Filament diameter | 1.75 mm 0.07 in |
| OS compatibility | Mac OS, Microsoft Windows |
| Generic material | Yes |
| Max. build size | 120 × 120 × 120 mm 4.72 × 4.72 × 4.72 in |
| Max. build volume | 1.73 L |
| Max. print speed | 55 mm 2.17 in /s |
| Min. layer thickness | 0.1 mm 0.004 in |
| Dimensions | 343 × 287 × 190 mm 13.5 × 11.3 × 7.48 in |
| Weight | 4.5 kg 9.92 lb |
| Nozzle diameter(s) | 0.4 mm 0.02 in |
| Power input | 100-240 VAC | 50-60 Hz |
| Heated print bed | Yes |
| Heated build chamber | No |
| Automatic calibration | Yes |
| Closed frame | No |
| Dual extruder | No |
| Independent Dual Extruder | No |
| Full color | No |
| LCD screen | Yes |
| Touchscreen | No |
| On-board camera | No |
| Mobile app | No |
| 3D scanners | No |
| CNC mill | No |
| Electronics 3D printing | No |
| Laser engraving | No |
| Conveyor belt | No |
| Air filter | No |
| Pellet extruder | No |
| USB | Yes |
| Wifi | Yes |
| Bluetooth | No |
| SD card | Yes |
| Ethernet | No |

Table of Contents
Do you also believe those budget 3D Printers are no good as performers? Try again checking out the real ones that do.
Monoprice Select Mini V2 is one of the best 3D printers at its price range offering considerably decent results. You would love the sturdy body, yet highly compact.
It does come with few trade-offs, but the excitement to see things coming out of this small machine is way beyond imagination.
Monoprice Select Mini V2 review details all the crucial features and adds on from the predecessor. The article also concentrates on bringing the compromises that the manufacturer has included balancing the price.
But as you may not expect, the printer is surely a genius work. Making itself worth every penny, the credit goes to its sleek body and apparent print quality. There is not much to hate about this printer.
Those who know what it's like to work with a cheap machine would actually love playing around with this one. So far so good. The 3D Printer just has the right ingredient to keep you locked up for years.
If you are an enthusiast or a home user, this 3D printer would certainly rose your interest in 3D printing. Devised to impress the beginners with its smaller footprint and Bringing the best at this price range, Monoprice Select Mini V2 does excite everyone wanting to explore more about the printer.
Let's check out the complete Monoprice Select Mini V2 review to find out what the printer is good for.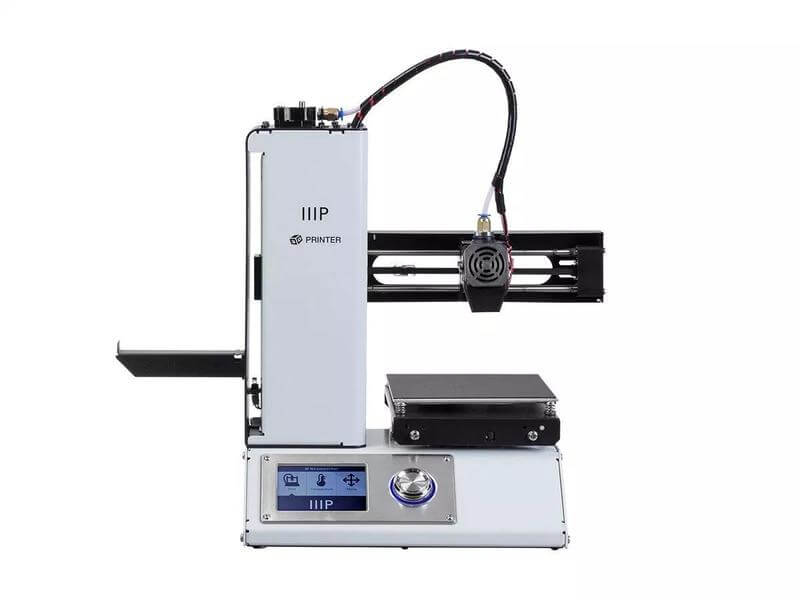 Features
When Monoprice came up with its first version, the Monoprice Select Mini, users did welcome the machine with open hands.
It had the right feature set that capable of involving those who wish to own a 3D printer but are skeptical to spend thousands of dollars right away. And, after the release of version 2, things got even more interesting.
While there are many features that carry forward from the earlier release, there are many latest features added as well. So, buckle up to find out what the 3D printer entails.
Completely Assembled: If you think wasting too much time setting your printer isn't something your cup of tea, why not find the one that's already done. The completely assembled 3D printer, the Monoprice Select Mini V2, is all in one part. Hence, when you unbox the package, you do not need to browse through different components and feel confused.
All Metal Hot End: Select Mini V2 is packed with an all-metal hot end. Had you imagined such inclusion in the budget-friendly printer? No for sure. But this one surprises everyone with this amazing upgrade from the previous version. The metal hot end helps in improved heating. Also, it keeps the clogging at bay. So, you are up for some pretty amazing designs.
Heated Print Bed: You have got covered with the heated print bed. Although the 3D printer isn't featuring a closed frame, the heated bed does come in handy when figuring out settings for the ABS printing. It may not be that easy, but possible. On the contrary, the printer does very well when working with PLA though. The heated bed not only boasts first layer adhesion but also minimizes the chances for warping. Isn't that good news?
Extra Pad Material for Build Plate: Very similar to BuildTak, the Select Mini V2 also boasts a pad material on the top of the build plate. This is included for enhancing the adhesion of the first layer and it does do the trick. Apart from better adhesion, it also makes it easier to get the prints out of the bed after printing completes.
Internal Cooling Fan: The company has worked its way through the competitors by allowing various new and improved features in this second version. And, this one is yet another great addition. The internal fan enhances cooling and keeps the parts precise and accurate. It avoids the layers from distorting and ensures that they settle on time. It does prevent the electronic parts from overheating.
LCD Control: It has an onboard control to manage the settings of the prints. Hence, you can work with the printer without a need for a permanent connection to the laptop or desktop. You get the rotatory dial along with the screen to toggle through various settings. And, it is easy to manage.
Quick Release Steel Gear Filament Feeder: Yes, the printer is easy to work with, ensuring all smaller tasks are made even easier. And, filament feeder is not to ignore. With this unique system, it is really easy to feed filament for printing.
WIFI Connectivity: The printer lets you connect over WIFI, making it easier to share the digital file for processing. Apart from that, you can also connect using a MicroSD card and USB.
Factory Calibrated: When you receive your 3D printer, you must be assured of the settings that it comes with. It is usually factory calibrated. However, for your satisfaction, you can always test a small design and check for yourself. And, as it is usually with these machines, you must experiment a bit to find the sweet spot.
Compact and Sturdy: The 3D printer is compact and that brings with itself a small build volume too. However, for those, who do not worry about printing larger objects can find this machine highly focused and satisfactory. It can set aside your laptop on the work table. You can shift its space whenever you need it without asking for a hand. Plus, this machine is very decent looking with cool aesthetics. And, it's available in two colors: White and Black.
We won't say that the 3D printer has brought a completely new machine for the users. But the smart upgrades do have made a lot of difference. And, all that for just a $20 hike. Who won't be up for the deal?
Specifications
With a very compact footprint, the 3D printer offers a build volume of 120 x 120 x 120 mm. It uses a Bowden extruder and is simply easy to work with.
The printer offers a layer resolution of 100 to 300 microns which is pretty impressive at this price point. With a 0.4mm nozzle diameter, you get what most of the other 3D printer offers.
However, when it comes to speed, you may have to compromise a little. You can print with a maximum speed of 55mm/sec.
That may sound a lot less, its standard. And, you can bet for the print quality it trades off with. This means that you get better print quality when printing at this speed.
And, won't you like accurate prints rather than printing with haste. So, in case, your requirements match this consideration, you are good to go with Mini V2.
The extruder can reach a maximum temperature of 250 degrees Celsius while the build plate can provide a temperature of 60 degrees Celsius.
When it comes to bed leveling, you have got to work with the manual calibration. However, that is also easy and well-executed. You get to enjoy the color touchscreen which makes the selection easier when picking the setting parameters.
Price
Can you guess? After checking all the features and specifications, you must have made an opinion about the price of the 3D printer. And, if not, here is what it sells for $219.99. Does that sound much cheaper than what you thought?
As good as it sounds, the deal surely is amazing and must not be missed. At this price range, finding anything closer to this is like looking for a needle in the haystack.
First Impressions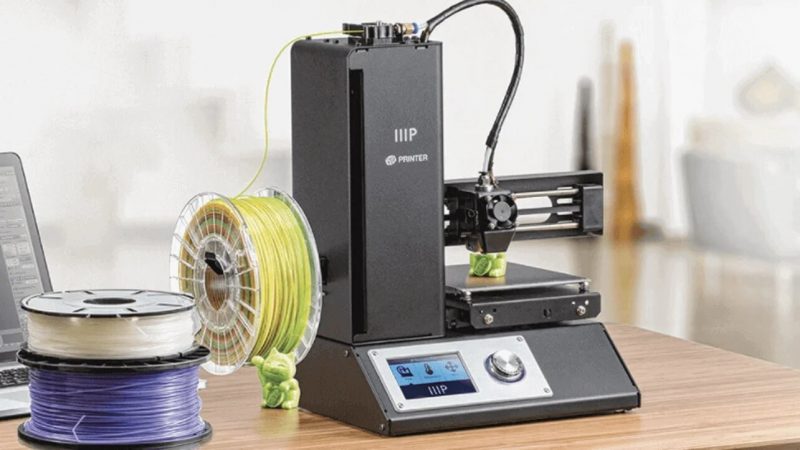 Unboxing is exciting. And, this 3D printer makes it even more fun. With everything safely saved inside a secure box and packaged with foam to avoid any accidental mishaps, the printer is sure to come in one piece.
There is various other stuff along with Mini V2. As you would expect, the printer comes fully assembled. This means that you do not have to spend time-solving a jigsaw puzzle.
And, you have got covered with other accessories too. Along with the Select Mini V2 3D printer, you receive a filament rack, AC power adapter, AC power cord, Plastic bed scraper, Micro USB cable, MicroSD card, a hex wrench, and sample PLA filament.
All these things complete the package and you can straight away turn the printer on to start with your sample test print.
Setup
As mentioned before, the printer is factory leveled. But won't you like to check the same all by yourself? After all, it must have suffered all those bumps when traveling this far. It is a good practice to verify the settings before you start with your projects.
Setting this printer is easy. You have got the manual and instructions that help you begin with your exploration. Turn on the printer, and you do not have to look for the on/off switch because it does not have one. After you connect the printer with power, it will turn on.
The control panel would lead you through most of the settings. Manual bed leveling is also a breeze. With enough information at your fingertips, you can start working with the printer in an hour itself.
Printing Type/Cost
This is an FDM 3D Printer. Hence, the printer works with filaments. The extruder deposits the filament, one layer at a time after melting it.
The layers are then cooled and the build plate moves downwards. This helps in creating space for the next layers. The process goes on and we finally get the desired part.
The cost of printing depends on various factors and there is no one to choose from. From the type of filament to the complexity of the design, a lot of things matter in between. And, you cannot forget the other costs of operation such as electricity bills and others.
Print Quality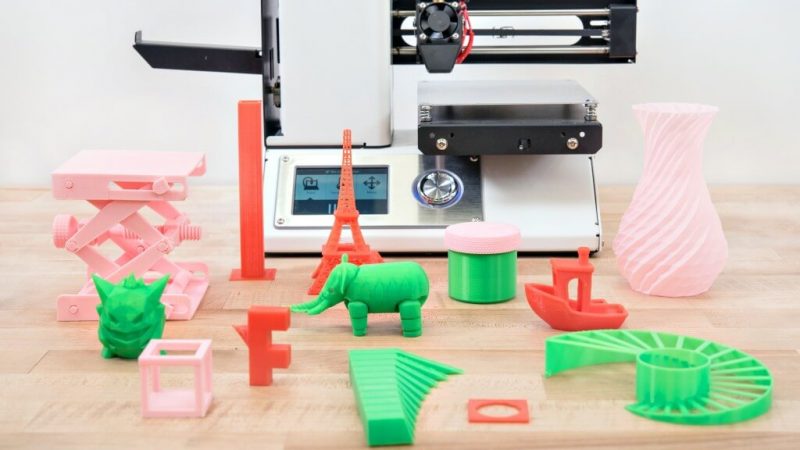 To sum this up in one sentence, you get more than you pay for. When considering the print quality, you will find your money worth the expense.
This is a valuable 3D printer that works amazingly with PLA. However, you cannot feel the same for ABS and other tricky filaments.
Because it's an open frame and maintaining a consistent temperature is just another dream, you may have to make huge efforts to find the right settings to get you through the ABS printing. It is possible though.
Software
It works with Cura and Repetier-Host. And, both of these slicing applications are well equipped with the latest tools and functionalities. Plus, these are very common and you can easily find a lot of tutorials for working with these apps.
Customer Service
The manufacturer stands behind its product and provides 30 days of money-back guarantee to the users. This definitely increases the trust among the customers. Also, you receive a one-year repair warranty. Plus, the entire team is really helpful.
Parameters Influencing Buying Decision
Before you make plans to buy the printer, you must check the quick bites from the Monoprice Select Mini V2 review.
3D Printer cost: The printer is very much affordable. You can buy it without saving for months or years.
3D Print quality: Not exceptional, but amazing at this price tag. You would love to print with PLA. Though printing with ABS and other tricky filaments is difficult, you will find your way out.
3D Print speed: This is where the printer may disappoint you if this feature means a lot. It just runs with a maximum speed of 55 mm/sec.
3D Printer capability: Very capable 3D printer. You can create amazing parts with difficult designs.
3D Printer Practicality: Best for home use and those wanting to learn about 3D printing. Also, a nice choice for schools and colleges.
3D Printer User expectations: It does follow through with the expectations of the user.
The Verdict
You must have got enough idea reading the Monoprice Select Mini V2. So, decide what suits your requirements best. However, this little printer does deserve a try.