Ortur Laser Master 2 Pro
Ortur Laser Master 2 Pro laser engraver is a very competitive machine bringing advanced capabilities for an affordable price tag.
PROS
This is a powerful machine which does not struggle while cutting through a variety of materials. It's easy to engrave through even the toughest wood comfortably. Just use multiple passes when the material is thicker while maintaining slower speeds.
The engraver offers precise cuts along with crisp engravings offering wonderful results
It offers sufficient working space and is suitable for a number of different materials offering versatility.
CONS
The guide may seem a little less descriptive at times. However, you can always refer to the online materials.
There are some loose wires requiring tying up to prevent any accidents during engraving.
Table of Contents
An upgrade over the original Laser Master 2, the Laser Master 2 Pro is even more powerful and reliable, offering improved overall performance. With a build space of 400 x 400 mm, this engraver offers various advanced features.
Promising various new updates from its existing design, the Ortur Laser Master 2 Pro brings a lot of great perks for its users. Filling the difference between the entry-level engravers and complete workshop Co2 lasers solutions, this machine offers an affordable solution to fit into various needs.
Adding more safety features to its design, the Laser Master Pro 2 is also secure to use at home. Its compact size, cheap price, and advanced upgrades make this engraver a great choice.
To understand the complete spec of the machine and know if it is suitable for your specific needs, do not forget to go through our detailed Ortur Laser Master 2 Pro review.
Features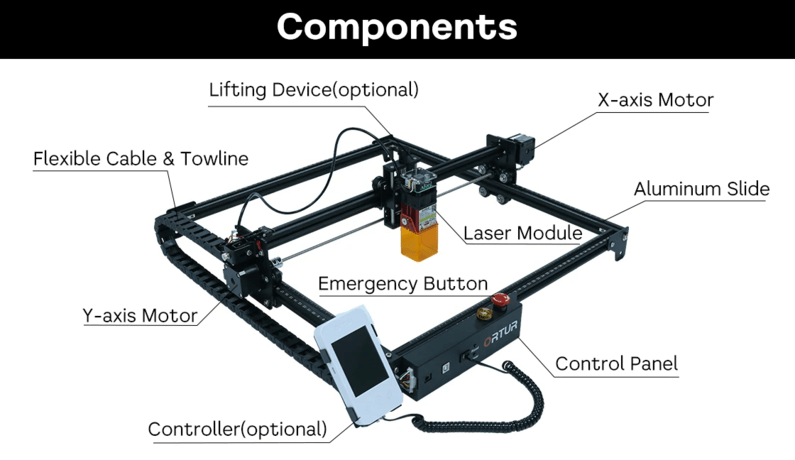 Credit: ortur
With a considerate price difference when compared to its predecessor, this one comes along with better and more advanced features. Let's look at some of those addons that make this machine really worth its cost.
Fire Alarm and Emergency Stop
Laser Master 2 Pro has various safety features to make the overall experience safe and fun. For instance, the front of this engraver hosts a fire alarm along with an emergency stop button. It is easier to shut down the machine immediately in case of any mishap with a push button.
Not just that, you can resume the engraving process, given that nothing has been moved. And, with a fire alarm, the machine will shut down right away in case it detects a fire.
Do not forget to place your machine in a well-ventilated space. This is because you won't be able to move the engraver while it's in use. Otherwise, it will stop in between. The proper ventilation will allow you to be safe with the lowest risk of fire.
Robust Design
With metal parts, the engraver is very sturdy and stable. It helps in offering precise cuts and engravings.
Lightweight and Portable
Unlike industrial engravers that are difficult to move, this one is relatively lightweight. Made for those working with limited space, the machine is also compact and easy to manage.
DIY Machine
The parts come unassembled. This means that you need to fix the components in place to start working with this engraver.
Specifications
| | |
| --- | --- |
| | |
| Price | 449 $ |
| Motherboard | 32 bits motherboard with STM32 MCU |
| Firmware | Ortur Laser Master Firmware |
| Power of Laser Engraver | 36W, 12V 3A |
| Electrical Power of Laser Module | 7W, 15W, 20W |
| Wave Length | 445nm |
| Variable Focus | Yes |
The Laser Master 2 pro is a very robust machine fulfilling the criteria to fit the basic and advanced needs of the customers. With an impressive 400 x 400 mm working area, the device comes in a compact design.
Hence, it is suitable for those working from their homes or small offices. In addition, the 20W laser power further enhances the strength of the engraver.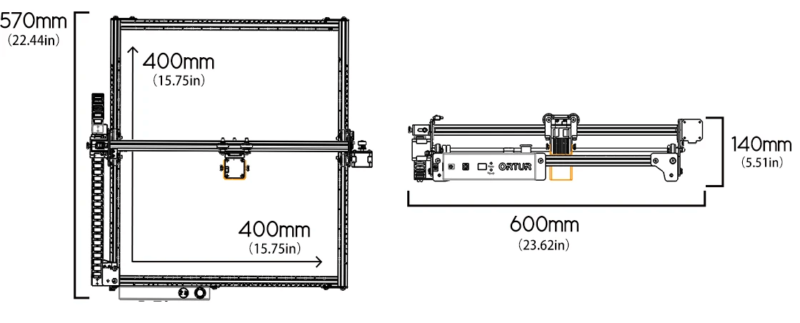 Credit: Ortur
When it comes to material compatibility, the machine offers versatile results with different options. It can work with an array of different materials including woods, paper, acrylic, leather, cardboard, glass, stainless steel, powder-coated metal, and more.
Also, the laser engraver is faster with the laser speed capable of reaching up to 10,000 mm per minute. It comes with optional add-ons as well such as a manual z-height adjuster, offline controller, and YRR 2.0 rotary attachment.
You can work with different image formats when engraving. It's compatible with jpeg, JPG, SVG, PNG, and more. And, not to forget, the different safety features further add to its astonishing performance.
Price
The Ortur Laser Master 2 Pro is available for $449. When compared to the price of Laser Master 2 priced at $199, some users find the difference too steep. However, the added features and upgrades of the latest version make it worth its cost. And, it still is a very affordable choice, going a few steps further from the entry-level machines to offer users an astonishing overall performance.
First Impressions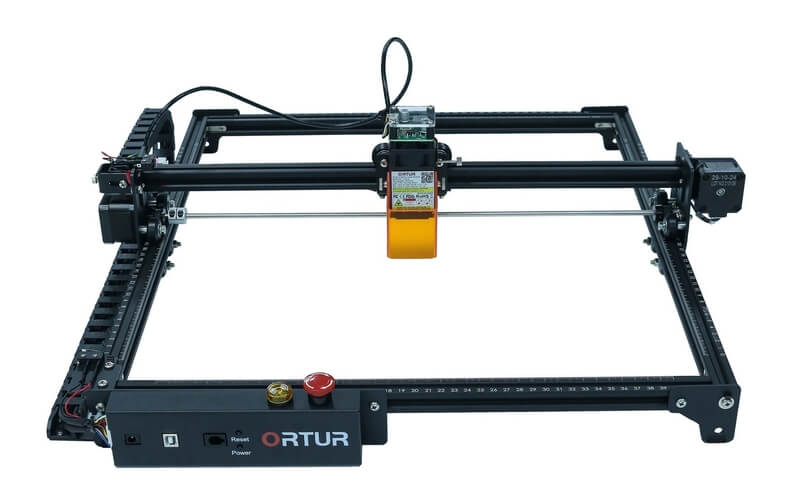 Being a DIY machine, the Laser Master 2 pro comes unassembled. The package contains different components that you must connect together to complete the setup. In addition, you get a precise document providing all the details about the installation of the machine.
Overall, the box is neatly covered and securely packed with each component labeled properly. It takes around an hour or two if you are assembling the machine all by yourself.
For beginners, it may take a little longer depending on how good you are at following the instructions. You will get everything in the box to complete the setup including the screws. Plus, there is a protective glass included in the kit to ensure the highest level of safety when you work with lasers.
Setup
As discussed, the machine is a DIY kit. Hence, you will require to put the components together before you begin engraving. The guide that comes along with the package guides through each step of the installation process.
In addition, the box includes a plain metal rod with a height exactly equal to the distance between the laser head and the surface of the material you wish to cut or engrave. Hence, to set up the machine after installation, all you need to do is lower the laser head until it touches the metal rod. Later, just tighten everything in place.
Precisely, you won't find it too difficult to calibrate the machine or set it up after unboxing. The manufacturer has tried to make every step as simple as possible. And, the efforts have really paid off.
Engraving Quality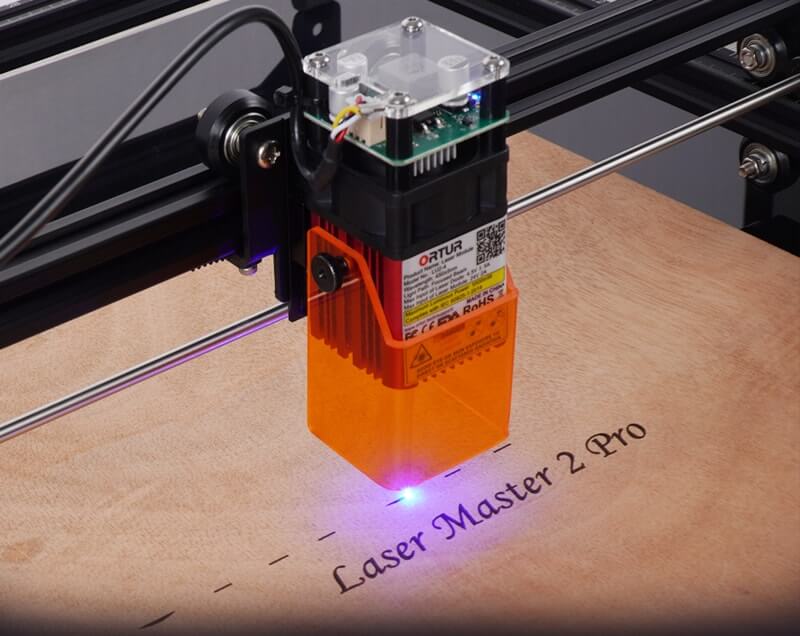 Credit: ortur
With proper settings, you can achieve amazing accuracy and precision with Laser Master 2 Pro.
It can easily capture multiple shades in one go, without needing a second pass. However, depending on the material thickness and strength, you may need to opt for the second pass to further enhance the detailing and crispiness of the images.
Just remember, the machine comes with a powerful laser. Hence, you must work around the laser speed to achieve the desired quality results.
Software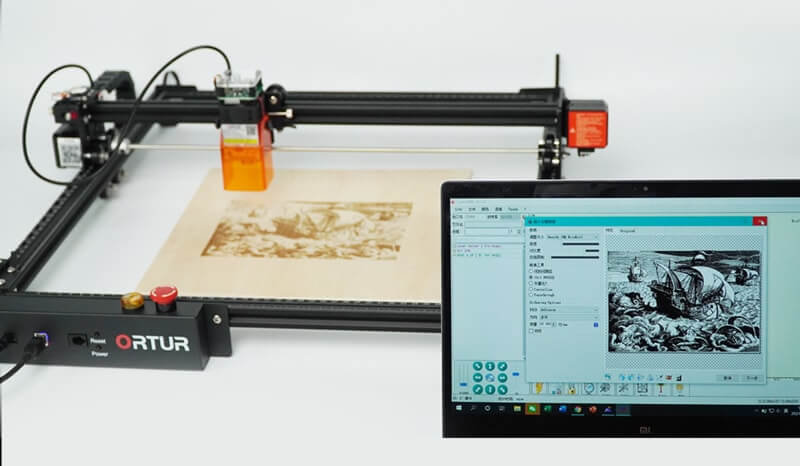 Credit: ortur
There are two applications compatible with the Laser Master 2 Pro: The LightBurn and the LaserGRBL.
Being a relatively premium software, LightBurn costs around $40 with a 30 day free trial for those wanting to test the application before paying in full. And, if you are looking for a cheaper alternative, you can go with LaserGRBL.
This is open-source software that can do whatever you need, however, with a little less accuracy and fineness than Lightburn.
Customer Service
The technical team is really helpful. In addition, there are various online resources helping users to find solutions to their problems. The online videos for setting the machine are also available.
Parameters Influencing the Buying Decision
Before you plan to buy the Laser Master 2 Pro, have a look at the various important parameters offering a deeper understanding of the machine's performance.
Laser Engraver cost: It comes to $449. The price may change, depending on the dealers you choose to buy this machine from.
Laser Engraver quality: Being able to create varying contrasts and shades with ease, the machine is very accurate and precise.
Laser Engraver speed: With a laser speed of up 10,000 mm per minute, the device offers high speed when cutting and engraving.
Laser Engraver capability: This machine can work with different materials including wood, acrylic, stainless steel, and more. Plus, it can cut and engrave, offering high-quality results.
Laser Engraver Practicality: It's best suited for professionals with small shops. Enthusiasts can also take their work to the next level with Laser Master 2 Pro.
Laser Engraver User expectations: With all the amazing features and a competitive price to bring professional quality machines to the consumer market, Laser Master 2 Pro does fulfill all the expectations of the customers without any hassle.
The Verdict
Overall, the Laser Master 2 Pro is a very competitive machine bringing advanced capabilities for an affordable price tag. The machine includes various safety features such as a fire alarm and even got the emergency stop button.
And, not to forget, the laser offering a powerful 20 W strength makes the entire design highly efficient and compatible with a variety of different materials. So, if you are up for some serious work and want to take your hobby to the next level, do not forget to check this option out.