One of the many manufacturing processes that have observed widespread use over the past few years is Laser Cutting. All thanks to the various benefits, the technology adds to the bucket.
The first advantage that Laser Cutting has over other techniques is that the complete method of manufacturing is contactless.
Leading to minimal damage caused on the material and to the parts that are associated. That is why the need for online laser cutting companies has surged in the past few years.
Laser Cutting has low maintenance costs and only needs replacement in those parts that are inexpensive. The complete process assists in reducing material wastage cost drastically.
You can work with different materials using laser cutting that can be used for forming various parts or functional prototypes that find application in numerous industries.
As the laser beam is exposed within a box in a controlled fashion, the overall process is safe.
The most important aspects such as the laser beams' intensity, heat output, and duration are controlled via a computer, according to the geometry of the part or functional prototype needed.
Because of its benefits and demand in the industry, there are many manufacturers that offer the services for online laser cutting.
But what choices are the most reliable ones and which ones offer high-quality online laser cutting? If that's the exact question you have been looking for, you have come to the right place. So, let's get started.
List of Online Laser Cutting Service Providers
As you must have expected, here is the list of a few of the most popular names among online laser cutting companies, offering a wide array of services to clients and customers.
Utilizing various kinds of materials, in various ways, these companies provide you with instant quotes. Hence, you can easily decide which one to choose, working through your budget and needs.
3D Experience Marketplace Make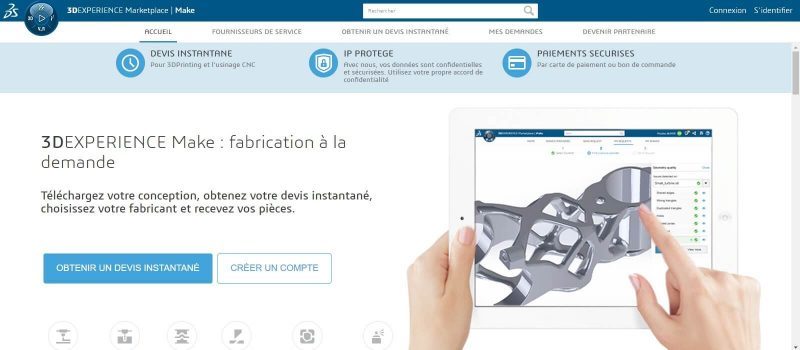 Being an online on-demand manufacturing platform operated by Dassault Systems, 3D Experience Marketplace Make connects the industrial ecosystem of Designers, Engineers, Buyers, and Production planners with huge industrial manufacturing service providers to ensure that you find the best partner based on your product requirement.
Apart from Online Laser Cutting, 3D Experience Marketplace|Make is into service providing 3D Printing, CNC Machining, Injection Molding, and Sheet Metal.
At the time of writing this article, there are 119 providers associated with 3D Experience Marketplace Make. All of them ready to provide you with instant quoting options worldwide.
All you need to do is create your account on their website and upload the 3D model of the part or functional prototype you require.
Specifically, 3D Experience Marketplace|Make provides three kinds of services:
Laser Cutting
Blade Cutting
Water Cutting
For cutting materials via laser, the company employs either CO2 gas, Fiber or Nd: YAG/Nd: YVO crystal lasers.
The first ones are suitable for non-metallic materials and mostly plastic materials. Whereas, the second ones are suitable for metal marking by annealing, metal engraving, and plastic markings. The third ones are suited for metals, coated metals, plastics, and ceramics.
Materials to Laser Cut: Acrylic, plywood, MDF (Medium-Density Fiberboard), cardboard, POM (PolyOxyMethylene), aluminum, steel, and stainless steel.
Sculpteo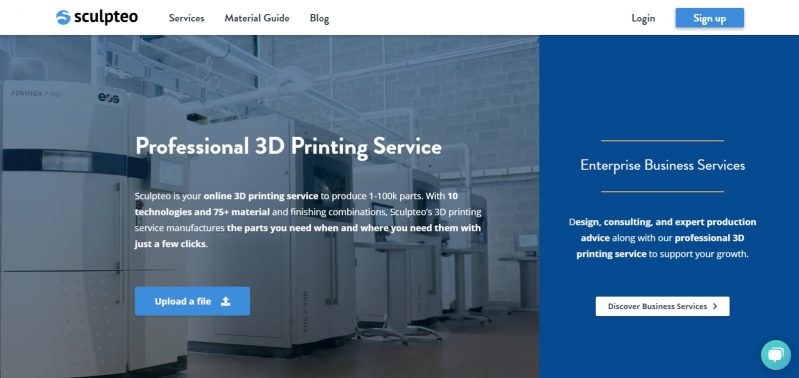 Based in Paris and San Francisco, Sculpteo is a global leader in digital manufacturing. Apart from Online Laser Cutting, the company provides services of online 3D printing, rapid prototyping, and additive manufacturing.
Sculpteo hosts its own design studio, consulting, and training, especially in additive manufacturing. The company has its own web portal' team that designs and operates online services.
Coming to the company's Laser Cutting/Engraving services, it is easily accessible from any corner of the world.
You can land on Sculpteo's website, upload your file, select the material with which you wish to produce the part or functional prototype, and receive your laser cut part within days at your doorstep.
All the services of this company are taken care of from the factories located in Europe and the United States.
You can order individual products as well as short-run manufacturing using Sculpteo's Online Laser Cutting facility.
Materials to Laser Cut: Acrylic, Plywood, POM, Cardboard, MDF, and Mirrored Acrylic materials.
3D Hubs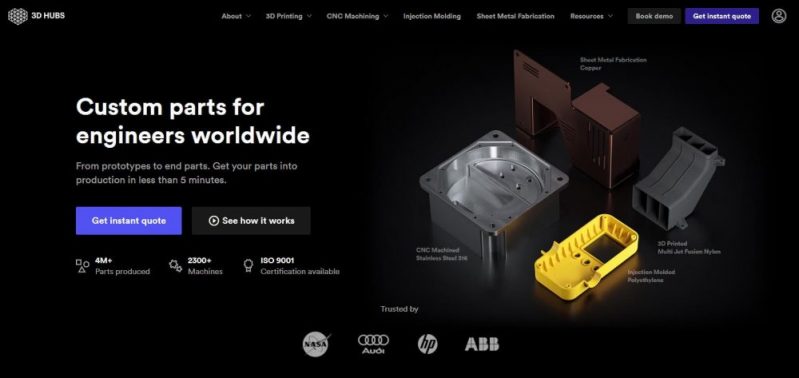 "Quotes in seconds, parts in days," is the slogan cum tagline of 3D Hubs that was founded in 2013. Since then, to date, the company has managed to produce more than 6,000,000 parts.
And it is because of such a great amount of part production that the company claims itself to be the global leader in distributed manufacturing. The company is headquartered in Amsterdam, Netherlands.
3D Hubs offers services of CNC Machining that includes CNC Milling as well as Turning, online 3D printing services using Fused Deposition Modeling, Stereolithography, Selective Laser Sintering, Multi-Jet Fusion, and Direct Metal Laser Sintering.
The company also offers Injection Molding services, apart from Sheet Metal Fabrication service under which it offers Online Laser Cutting. In the year 2019, 3D Hubs opened its offices in the UK, Germany, France, and Chicago.
For Online Laser Cutting, 3D Hubs lets you choose from a thickness range of 1 mm to 6 mm. The manufacturing process is accomplished using a high-power laser beam for cutting a material sheet.
Hubs' manufacturing partners certify the parts produced by this process has a cutting tolerance of 0.2 mm.
You can upload your file on the company's website to get instant quotes of the same and then compare on the basis of the same.
The manufacturing network of 3D Hubs is spread across 250 local and overseas partners that can instantly access and reply to your requirements.
For your concerns, 3D Hubs offers phone, email as well as chat support. As per the claim made by the company, the parts are generally shipped to you in five days.
Materials to Laser Cut: Aluminum 5052, Aluminum 5754, Stainless Steel 304, Stainless Steel 316 L, Mild Steel 1018, Copper C110.
Xometry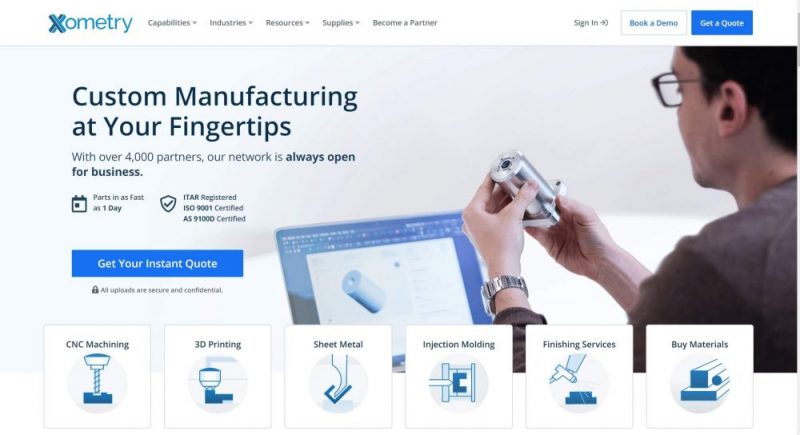 The company's instant quoting platform combined with its massive network of machine shops is aimed at transforming the world of custom manufacturing.
Whether you are a startup or one of the five hundred fortune companies, Xometry makes it easy for you to access manufacturing on demand.
Xometry does this with the help of offering the most efficient way of sourcing premium-quality parts and functional prototypes.
The platform is built to solve two problems:
From the engineers, designers, and procurement officers.
From the machine shops that were spending a lot of time and energy in response to their custom orders.
With its services of CNC Machining, Sheet Metal Manufacturing, 3D Printing, Injection Molding, and Others, Xometry manages to cater to various industries starting from Aerospace and Defence, Automotive, Consumer Products, Education, Electronics and Semiconductors, Energy, Hardware Startups, Industrial, Medical and Dental, Robotics and Supply Chain and Purchasing.
Coming specifically to the company's Online Laser Cutting services, Xometry offers endless options of materials, finishes, tolerances, markings, and certifications.
The parts that you order get easily delivered to your place without any hassle. Also, Xometry has a way of filtering out many companies that want to partner with the platform to ensure what you order is made perfectly in the same manner.
Materials to Laser Cut: Aluminum 5052, Copper 101, Copper C110, Copper 260 (Brass), Stainless Steel 301, Stainless Steel 304, Stainless Steel 316/316L, Steel, and Low Carbon.
Available Finishes: Standard, Bead Blast, Anodized (Type II or Type III), Powder Coat, Chem Film (Chromate Conversion Coating), and Custom.
Treatstock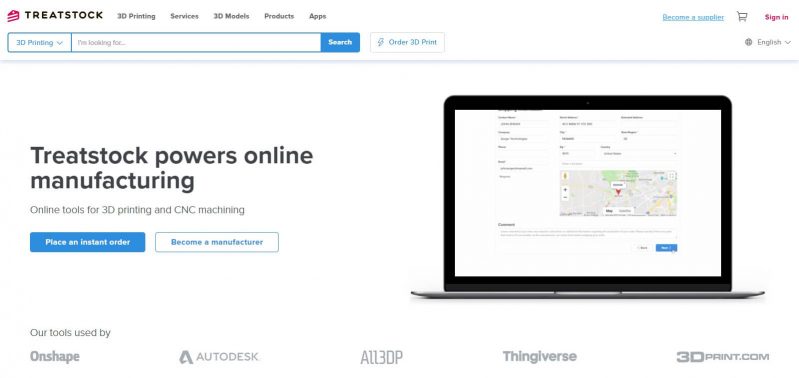 Specifically designed smart e-commerce platform concentrated in providing solutions for small and medium-sized businesses, Treatstock was created in 2016.
The mission of this platform is to make ordering products and manufacturing services as quickly, easily, transparently, and affordably as possible. The company is based in Newark, Denmark.
Treatstock deals in manufacturing parts or functional prototypes using three different manufacturing processes:
3D Printing
CNC Machining
Cutting
To receive instant quotes from registered manufacturers on Treatstock and compare it with other local laser cutting services, you need to upload a file on its website or contact them directly in case of a bulk discount.
You will be able to read a complete description of the servicing capabilities of manufacturers all around different geographies, their rates, and production times, in fact, there are pictures of the parts or functional prototypes manufactured by them available too.
Materials to Laser Cut: Aluminum and its alloys, woods, MDF, steel, aluminum, paper, plastics, acrylics, leather, fabrics, acrylics, protective films, glass, and PVC.
Fac Fox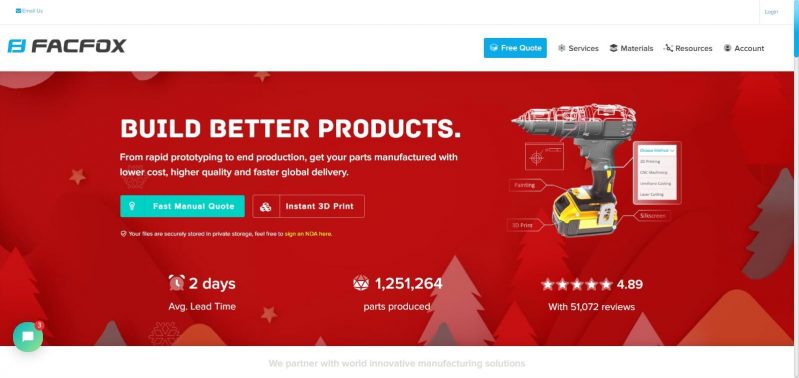 Based in Hangzhou, China, Fac Fox has its manufacturing factories in various locations such as Shenzhen, Dongguanm, Suzhou, Changzhou, and Wuhan.
With its manufacturing capabilities using various kinds of techniques such as 3D Printing, CNC Machining, Mold Injection, Sheet Metal Fabrication, and Others, Fac Fox is able to fulfill the needs of application of various parts and functional prototypes in the industries such as Advertisements, Aerospace, Art, Architecture, Automotive, Consumer Products, Dental, Drones, Education, Electronics, Energy, Furniture, Fitness and Healing, Foundries, Jewelry, Medical, Mechanical, Defense, Fashion and Toys and Entertainment.
Specifically, for Sheet Metal Fabrication, Fac Fox offers metal fabrication and welding from the prototype phase to product-ready parts that are shipped in as fast as two days.
Your project will be cut, formed, and welded in the house without any hassle of working with several shops and transportation.
Metals to Laser Cut: Aluminum   5052, Copper T1, T2, C1 10, Brass H59, 65, Stainless Steel 303, 304, 316, Zinc plated steel, Cold rolled steel, and Hot rolled steel.
Available Finishes:
Standard: Parts chosen to be made with this finish will typically have a mark and sharp edges and burrs that can be removed on request.
Sand Blast: Parts will be manufactured by forcibly propelling a stream of abrasive material against a surface under high pressure to a smooth surface. That's why it is also known as Abrasive blasting.
Anodized: This is an electrochemical process that the parts need to undergo for achieving the finish. Doing so would convert the metal surface into a decorative, durable, and corrosion-resistant.
Powder Coat: Parts would be subjected to a type of coating i.e. dry powder that can be thermoset or thermoplastic polymer. It is mainly popular with metals.
Ponoko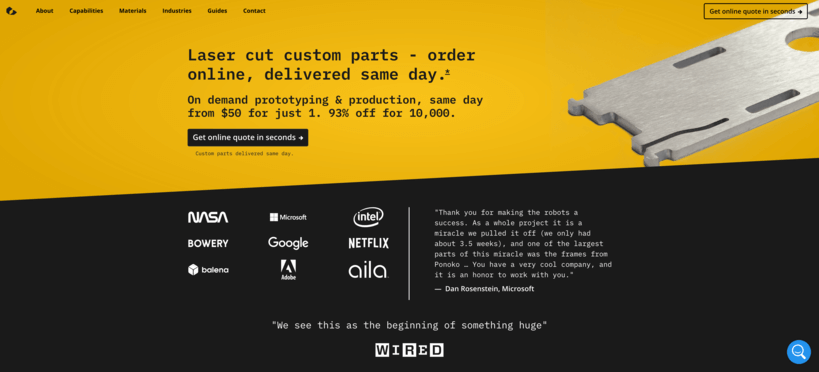 Founded in 2007, Ponoko believes in digital manufacturing as the future of creating parts and functional prototypes. They are on a unique mission of building what they claim to be as the "factory of the future."
Unlike other companies on the list, Ponoko is not into any other kind of manufacturing service offering but Online Laser Cutting.
Ponoko's laser cutting and engraving capabilities let it offer a dimensional accuracy of 0.13 mm, a laser kerf range of 0 to 0.2 mm.
You can laser cut with material having a thickness range of 0.1 mm to 19.1 mm and build parts having areas as large as 790 mm * 384 mm and as tiny as 6 mm * 6 mm.
The company's machines also allow you to build parts with complexities in the range of 1 mm * 1 mm.
The company claims to deliver some custom parts the same day starting from $50 per part. You can upload your file to get instant quotes online.
Materials to Laser Cut: Half Hard Base, 5052 Aluminum, Stainless Steel, Red Acrylic, Polyurethane Foam, Clear Acrylic, Black Silicone, Amber Bamboo Plywood, White Delrin, Black Acrylic, Neon Orange Acrylic, and Grey Polarizing Film.
The Conclusion
These are the top Online Laser Cutting service providers that are already servicing various kinds of clients and fulfilling their requirements by making custom parts with various kinds of intricacies.
Their manufacturing capabilities make them leaders in the highly competitive race of Online Laser Cutting service providers.
They serve you with instant quotations and give them enough clarity by comparison so that you are never left with any sort of dilemma in your head, in terms of budget, quality, material or any other.
With such platforms and huge manufacturing networks, the future of Online Laser Cutting seems to be just picture-perfect!