Realizer SLM 300
Realizer SLM 300 is an industrial 3D printer that delivers unparalleled part quality with a large build volume.
PROS
Compatibility with multiple materials.
High power laser source guarantees high-quality parts.
Huge build volume.
High build rate.
CONS
The printer demands a huge one-time investment and is very complex to understand.
Table of Contents
SLM 300 is an industrial 3D printer manufactured by Realizer – a company based in Germany. The machine uses SLM technology to melt and fuse metallic powders with a powerful laser beam. It is used primarily to create parts and functional prototypes of medium size components with high precision and surface quality.
The main highlight of this printer is its volumetric working chamber that allows the creation of large products. Realizer has put into place a laser beam that is able to focus on sintering and creating objects flaunting a minimum wall thickness of 20 microns.
Not only is the machine used for manufacturing purposes, but also in research as well as development laboratories and dental centers.
So, what makes Realizer SLM 300 this multi-functional? What components in the machine permit creation of parts with minute detailing? Let's explore by reviewing in detail this amazing 3D printer.
Features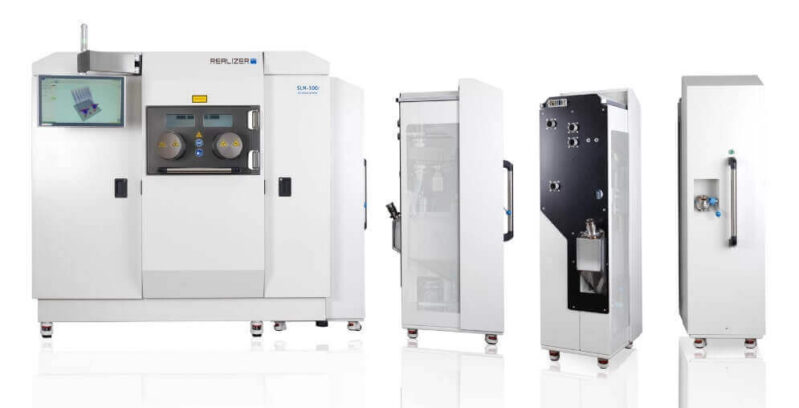 SLM 300 uses a high-power laser source ranging anywhere between 200 to 1000 Watts. The machine hosts a sieving system for treating unused powder that reduces the time required for preparing the reuse by two hours. This characteristic of the printer makes it an ideal one for mass customization of parts.
Such a characteristic makes SLM 300 one of the rarest 3D printers available in the market that is able to provide users with consistent results. Below mentioned and explained are many other striking features of the industrial 3D printer that makes it outdo other competitors in the same price range.
Large build area
By offering 300 mm * 300 mm * 300 mm, SLM 300 becomes one of the rare industrial 3D printers that allows users to create large-sized objects in one go.
Thanks to Realizer, now the operators would not have to create objects in various parts and then assemble them together. At the same time, if the parts are smaller in geometry, it is also possible to create more than one object in a single working cycle. Cool, isn't it?
A large build volume is extremely important especially when parts are designed for application which involves bearing a considerable amount of load. Note that: given a specific load, the object manufactured in parts and then assembled will not be able to withstand it as much as an object created in one go.
Higher built rate
SLM 300 is a three-dimensional machine that's capable of producing parts as well as functional prototypes of vivid geometries with a built rate of 15 cubic centimeters per hour. Provided that the part quality is such that the minimum wall thickness is maintained as high as 20 microns!
Essentially meaning that despite offering speed, the printer doesn't stay back on providing quality. A higher build rate means developing more parts in less time.
Say, if you have a project of mass customization of some particular product and you choose Realizer SLM 300 over other industrial SLM 300, the machine will give you a faster outcome than others.
Compatibility with a wide range of materials
SLM 300, due to its volumetric print chambers allows users to process seven different metal powders:
Tool Steels
Aluminum
Titanium
Titanium v4
Stainless Steel
Inconel
Cobalt-Chromium
So, this gives variability in the creation of objects that are meant to be put into different applications. These are also the most reliable, proven, and versatile materials that are known to create high-strength parts and functional prototypes that can withstand higher impacts.
The high power laser source
Particularly in SLM 3D printers, the complete fusion of metal powder and its conversion into detailed parts depend on the power of the laser source that you are using for operation. To ensure its printer manages to deliver highly accurate print quality, Realizer has made use of high-power lasers ranging from 200 Watts to 1000 Watts.
Such a wide range of high-power laser sources ensures that there'd be smooth surface finishes even while manufacturing a relatively smaller part with more intricacies in it.
All the objects created using SLM 300 are known to have minute layer lines that are hardly visible and impressive edges and curves that are very pleasing aesthetically.
Unique sieving system
Realizer has put in place a particular sieving system in place to deal with unused powder that does not take much of your time. The claimed time for cleaning the unused powder is not more than two hours.
So, soon after completing your first print job, you'll be able to do the next print job within less than two hours. This typically helps while working on a small batch production while creating back-to-back objects in one go.
Specifications
| | |
| --- | --- |
| | |
| Technology | SLM |
| Price | > $ 250,000 |
| Build volume | 300 × 300 × 300 mm |
| Min. layer thickness | 0.02 mm |
| Dimensions | 1800 × 1000 × 2200 mm |
| Weight | 800 kg |
| Power input | 16 A, 400 V |
SLM 300 prints parts and functional prototypes of vivid geometries and intricacies using Selective Laser Melting 3D printing technology.
It offers users a maximum build volume of 300 mm * 300 mm * 300 mm. So, operators do not have to create various parts of objects in different print jobs. Instead, a single part can be manufactured in one go.
The printer allows operators to choose from a wide range of metal powders starting with Stainless Steel, Tool Steel, Aluminum alloys, Nickel alloys, Titanium alloys, and Cobalt-chromium. These metal powders are fused in a volumetric print chamber via laser sources with the power of 200 Watts, 400 Watts, 600 Watts, or 1000 Watts.
Users can connect with the machine via Ethernet to feed design files on it. Being an industrial 3D printer, SLM 300 has dimensions in the order of 1800 mm * 1000 mm * 2200 mm and weighs 800 kilograms. It needs a power supply of 400 Volts, 3 phases, 32 Amperes 50/60 Hz, 4 kilowatts.
Price
To know the exact price of Realizer SLM 300, you'd have to request a quote from the printer's manufacturer.
First Impression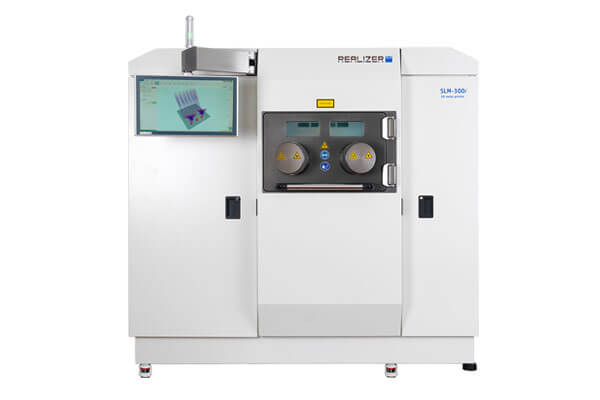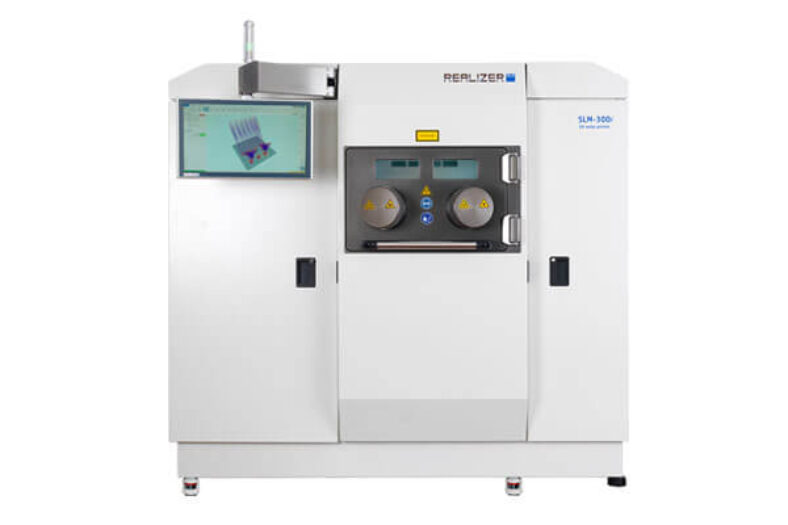 SLM 300 appears in three different units starting from its left which has a huge touch screen interface.
While the middle unit hosts the volumetric print chamber that can be accessed via the door handle to remove already 3D printed parts as well as for some typical settings related to the print bed.
All three units work in tandem to offer users a complete 3D printing workflow without any hassle. The material handling unit lets operators load the metal powder over the print bed and thereby allows the laser source to take over.
The print chamber withstands the huge temperature that's generated within it while fusion. Also, it permits the inert gas to maintain a controlled environment.
Whereas, the post-processing unit carries out the necessary method to make sure the parts and functional prototypes are ready to use.
Setup
Like all other industrial 3D printers in general, Realizer SLM 300 provides onsite assistance that takes you through every component and its functioning.
As complex as it appears from its look, so complex it is from its inner mechanism! But, it's easy to grasp once went through it in detail. So, it is advisable to do quite a few test prints before starting with actual 3D printing with the machine.
Print Type/Cost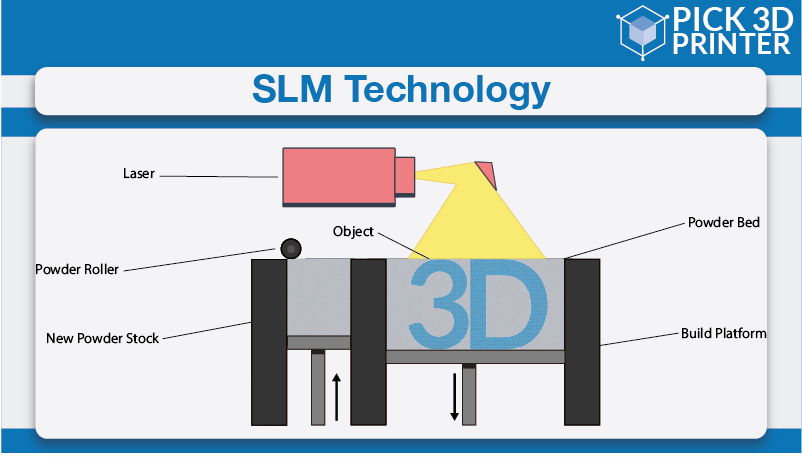 SLM 3D printing is one of those rare 3D printing technologies capable of processing metal powders and creating highly functional parts using the same. Typically, an SLM 3D printer has a chamber filled with metal powder which is then spread across the substrate or build plate in thin layers using a coater blade.
Then, a high-power laser source fuses a 2D slice of the part by selectively melting the powdered material. After which, the build plate drops down by the height of one layer while the coater spreads another layer of fresh powder finely across the surface. And this process is repeated until the final part is made.
Generally, the cost of printing a part via SLM 3D printing technology is more when compared to FDM or SLA method. And this is major because of the use of a high-power lasers source as well as the cost of metal powder.
However, usually, the cost of printing a part depends on various factors such as the part geometry, the type of metal powder used, the power of the laser source deployed, the inert gas, etc.
Print Quality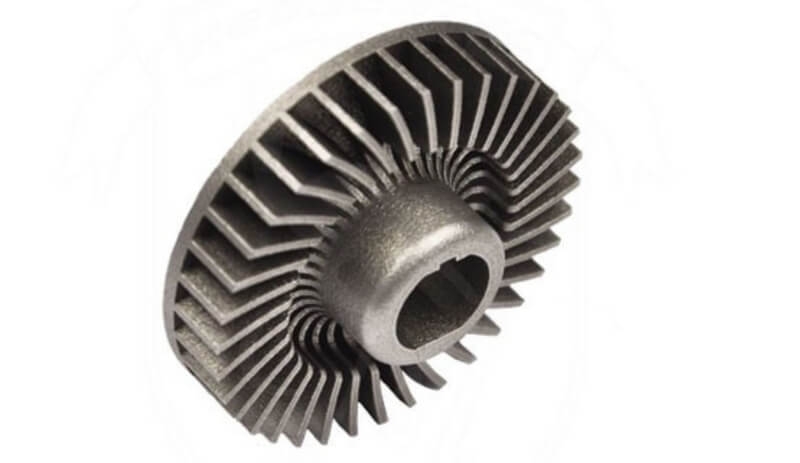 Realizer SLM 300 manages to print some of the most excellent prints using metal powder. The machine is able to deliver a layer thickness ranging from 20 to 100 microns. That's the primary reason why objects created using the printer are used in a variety of industries and not just in production workshops.
The printer creates objects with complex geometries, often with thin walls and cavities which are put into application in industries such as research and development, defense, and aerospace industries.
In manufacturing they are typically used in the development of special tools, apart from this they are used in the medical field for making implants for reconstructive surgery.
Software
Realizer Control Software helps users while creating design files which are later fed to SLM 300. It supports the most common file format i.e. STL. The application assists users in many ways, especially while creating support for the part geometry.
Apart from creating support, the software also highlights some design flaws which are hard to find otherwise. Because of this, operators can make last-minute changes to avoid print failures.
Customer Support
Realizer offers top-quality assistance with troubleshooting typical problems that come in the way of users while 3D printing parts and functional prototypes. Users can reach out to the company's technical team using phone or email.
Parameters Influencing Buying Decision
Below mentioned are the key factors of the machine.
3D Printer Cost: Like most other industrial SLM 3D printers, SLM 300 falls on the higher end of the bar.
3D Print Speed: Unlike other printers at the same price, SLM 300 exhibits a high build rate decreasing the overall production time.
3D Print Quality: Parts and functional prototypes of top-notch quality can be built using the machine. Irrespective of whether they are small, or large in geometries, SLM 300 lets you achieve dimensional-level accuracy while creating.
3D Printer Capability: The printer allows users to process rare metal powders and their alloys in its volumetric print chamber that's capable of withstanding ultra-high temperatures. A high-power laser source treats them under gas-controlled temperature thereby guaranteeing extraordinary prints.
3D Printer Practicality: SLM 300 is used for creating parts that find their application in vivid fields such as manufacturing, aerospace and defense, medical, etc. Apart from that, the printer is also used for conducting research in various industries.
3D Printer User Expectations: The printer is mainly for manufacturers that are willing to pay a higher price for achieving world-class quality products in minimal time that are capable of replacing metal parts used in the above-mentioned industries.
The Verdict
Realizer SLM 300 is an industrial 3D printer that delivers unparalleled part quality with a large build volume. So, professional users do not have to compromise on quantity at the cost of quality.
The machine employs a high-power laser source that treats seven different types of metal powders to manufacture some of the most complex geometries with ease. To increase the production rate, the printer manufacturer has put in place a unique sieving machine that treats unused powder faster than any other.
Overall, the printer is mainly for manufacturers of parts and functional prototypes that can be put into application in fields of aerospace and defense, tooling and manufacturing, medical, etc.
Although available on a huge one-time investment and demanding high-end maintenance, the machine is still worth it. SLM 300 delivers impact-withstanding metal parts and functional prototypes that are capable of replacing the original.