Peel 3d Peel 1
If you wish to stay budget-friendly while not compromising with scan quality, Peel 1 3D Scanner is the device you must go with.
PROS
Affordable
Captures small to large objects
Safe to use
Very portable
Scans shiny and flatter surfaces with ease
Comes along with a robust software
CONS
Falls short when capturing highly detailed or intricate objects such as hair
Some surfaces need preparation before scanning
Table of Contents
With time, 3D scanners are becoming more affordable and easier to operate. Gone are the days when one could only buy such machines by paying over $10,000.
Recently, we have witnessed many manufacturers coming up with cheaper options. And, one such professional handheld device is the Peel 1 3D scanner by Peel.
Peel is a Canadian scanning company that has brought its device powered by experts in the field of 3D scanning such as the team of Creaform, along with AMETEK.
This scanner focuses on bringing the best and professional results and does costing not more than any other entry-level-priced device.
Apart from its unmatched capability to capture high-quality scans of 3D models, its compact design makes the scanner very comfortable to operate. Overall, it is reasonably priced and offers great scanning precision as well as ease of operation.
So, if you are planning to buy a 3D scanner that isn't too expensive but still manages to perform extraordinarily, do not forget to check our detailed review of Peel 3D Peel 1 3D Scanner.
Features
Peel 3D is a very powerful scanner and easily captures small as well as large objects while ensuring the budget stays within limits.
Moreover, the device is designed in a way that it can directly scan items without needing prior preparation. This is because of its capability to recognize shapes on its own.
In addition, this scanner, with the help of stick-on markers can acquire the flattest of surfaces with ease. Thanks to the various amazing features that allow Peel 1 to work in such an amazing fashion.
Let's explore some of those wonderful features that make this device desirable.
Safer to Use
There are not many companies that design 3D scanners with safety as the first parameter in mind. However, Peel 3D company ensures that this device is undoubtedly safe to use for human scans as well. Instead of lasers, the company uses an LED system for generating structured light.
High Accuracy
Taking benefits of the stick-on guides, the 3D scanner offers scanning accuracy of 0.25 mm along with the volumetric accuracy of 0.50 mm.
Even after having a base resolution of only 0.50 mm, there is no compromise made on the effectiveness of the machine. You will love to scan objects, irrespective of size to create accurate and precise digitized files.
Object Size Does Not Matter
As you would know, Peel 1 comes with a scanning volume of close to 3 m cubes. Hence, it allows capturing of a huge array of objects, either small or large.
However, every 3D scanner has its limits and so does Peel 1. The good news is that even in case the objects exceed the size limit; one can still complete the scan.
To do so, you need to carry multiple scans. Once done, just paste those different scans together to capture the objects with sizes exceeding the limits.
Trusted Technology Behind the Scene
As mentioned before, Peel 3D Peel 1 is powered by Creaform's trusted scanning technology. And, this Quebec-based manufacturer is one of the most popular companies designing 3D scanners. So, you can rest assured of the reliability of the Peel 1 device. It will definitely impress you on the first go itself.
Easy to Capture Shiny Surfaces
The Peel 1 by Peel 3D team can easily scan a reflective surface which many of the professional devices struggle to capture.
The same is demonstrated by the manufacturer in a video where the team acquired the scan of the racing seat. That too, without any trouble.
Scans Flat Surfaces with Ease
In spite of having such a reasonable price tag, the 3D scanner comes with some of the most fascinating features, not available in high-budget devices as well. For instance, its ability to capture flat surfaces is something that makes Peel 1 a rare choice for users at this price range.
With the help of the stick-on targets, the device seamlessly scans flat surfaces. All you need is a point and shoot without needing any preparation beforehand.
Not Very Suitable for Intricate Parts
With the price difference, you must expect a little trade-off with some of the features. And, one such limitation is the incapability of the Peel 1 3D scanner to capture highly intricate models. It also falls short when scanning hair or fur.
In addition, translucent as well as objects that are deep black in color need prior preparation to make these scans compatible. Just use a little spray powder to prepare the surface and make it compatible for scanning with Peel 1.
Specifications
| | |
| --- | --- |
| | |
| Light source | White light (LED) |
| Price | $ 5,990 |
| Part size range | 0.3 – 3.0 m (1 – 10 ft) |
| Accuracy | Up to 0.250 mm (0.01 in) |
| Volumetric Accuracy | 0.500 mm/m (0.006 in/ft) |
| Scanning area | 380 x 380 mm (15.0 x 15.0 in) |
| Connection standard | 1 x USB 2.0 |
Weighing less than 1 kg (850 gm to be exact), Peel 1 measures only 96 x 140 x 258 mm in dimension. Hence, it is a really portable device that is easy to carry during travel.
It uses geometry as well as the target positioning method to scan objects with high precision. Offering a scanning area of around 380 x 380 mm, the device is suitable for capturing small as well as large objects.
The recommended part size range falls between 1 to 10 feet. And, the scan-off distance is 400 mm. Peel 1 3D scanner uses a white light source to offer a safe scanning experience to its users.
When talking about the scan results, one can achieve a resolution of 0.50 mm. Well, the capture speed is also noteworthy. It has a measurement rate of 550,000 measurements per second.
Price
Costing under $6000, the Peel 1 3D scanner is available for $5,990. This may seem like a high price to pay. However, when comparing the same with other professional handheld scanners priced beyond $10,000, it certainly seems like a cheap bargain.
First Impressions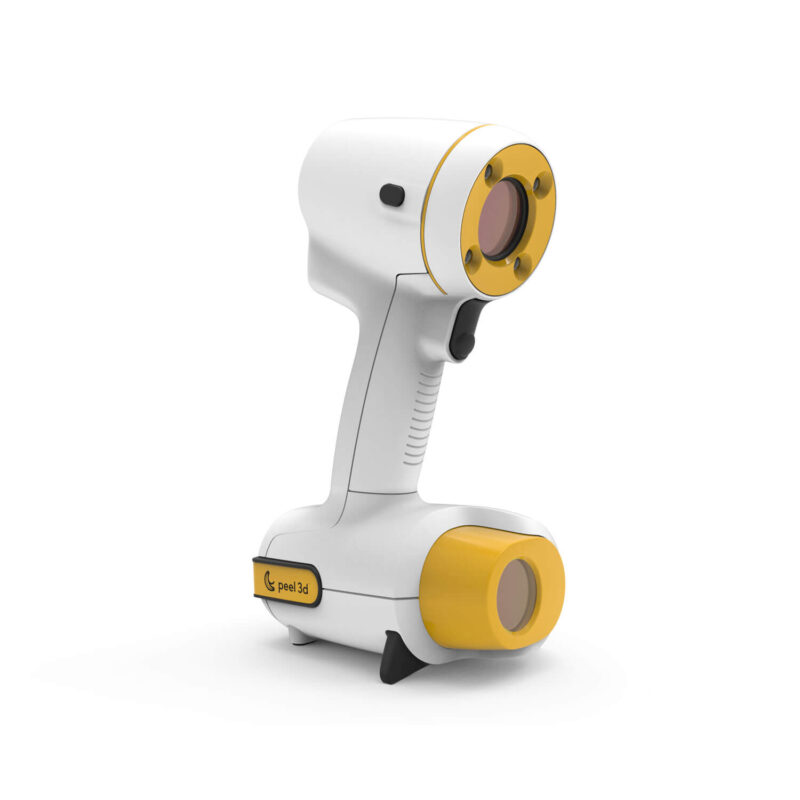 The Peel 3D Peel 1 scanner comes in a box with the necessary and additional components for operating the device.
Apart from the power cable, adapter, and scanner itself, you also receive a guide to ensure a hassle-free setup. Overall, the package comes completely secured. And, you can also opt for a rugged case by paying the extra cost.
Setup
With an easy installation and setup process, it is a cakewalk to become familiar with the Peel 1 3D scanner's operation. And, you can also refer to the guide that comes along with the device package. If that also isn't enough, you can check the various online videos for setting the device on your own in no time.
Scanning Type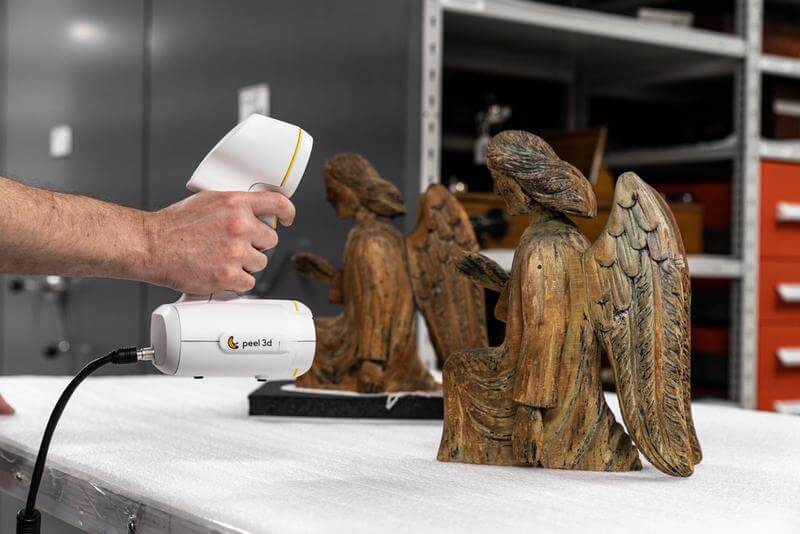 Credit: peel-3d
Peel 1 is based on the revolutionary technique powered by Creaform, the structured light technology. It uses a LED system and safely transforms it in the structured light for precise scanning.
Scan Quality

Credit: peel-3d
Instead of falling for less than $6,000, the Peel 1 sits closer to the various renowned handheld 3D scanners, offering scanning accuracy of up to 0.25 mm, volumetric accuracy of around 0.50 mm/m, and a resolution of 0.50 mm.
This simply explains the various complex tasks this device is designed to accomplish.
Software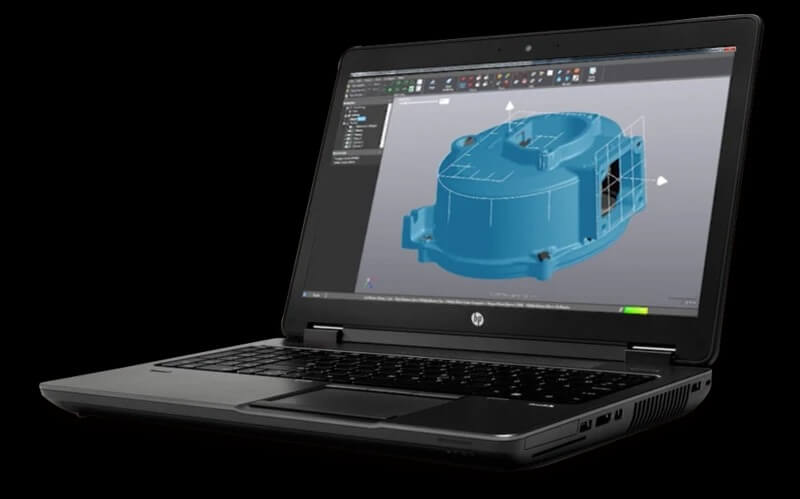 Credit: peel-3d
Compatible with the company's Peel 3D software, the scanner performs in complete tandem with this application. The software has various useful tools for further simplifying the overall 3D scanning workflow. And, at the same time, enhancing the scan results for the highest accuracy.
To make the application suitable for beginners, the company includes a start as well as stop system. This way, users can easily pause the scanning process while being able to tweak the settings as needed. In the case of large objects, this feature also allows users to take breaks in between.
Users also have the privilege to delete as well as correct the distorted frames, fill holes, if there are any, clean 3D meshes automatically, and do many other wonderful edits with ease. In short, one can come up with a watertight digital file without putting in too much effort.
Not just that, you can also export the 3D models instantly in various file formats. Such as STL, PLY, OBJ, WRL, X3D, MA, and more.
Customer Service
You will be amazed by the way this company serves its customers in time of need. You can call their direct phone line or write an email.
The team responds at the earliest. In addition, you can find many guides and tutorials available online to set up the device and start scanning.
Parameters Influencing Buying Decision
Here is a quick bit of the detailed review.
3D Scanner cost: Highly affordable for professionals.
3D Scan quality: Offers industry-grade results.
3D Scan speed: Operates at 550,000 measurements per second, offering amazing speed.
3D Scanner capability: It can capture flat and shiny surfaces and can scan small to large objects with high-quality results.
3D Scanner Practicality: Best for a number of applications such as reverse engineering, design, art, human body scanning, and more.
3D Scanner User expectations: Sits right above the expectation by offering such amazing results at this price range.
The Verdict
Among the few professional 3D scanners that fall below $6,000, Peel 1 is the most popular choice. Hence, if you wish to stay budget-friendly while not compromising with scan quality, this is the device you must go with.