Polyga Compact S1
Polyga Compact S1 is capable of delivering scans that are rare even for professional 3D scanners. And the fact that it processes an object in very little time is a bonus.
PROS
Simple design.
Delivers high-quality scans.
Has tremendous scan speed.
Affordable.
User-friendly software.
Table of Contents
Compact S1 is an entry-level 3D scanning system by Polyga. The machine delivers professional-quality 3D scanning results. Not only is it convenient, but also easy to use.
The scanner is factory calibrated for accuracy and works very efficiently for manufacturers, academicians, visual effect studios as well as research labs.
S1 is best suited for parts that are anywhere in between 2 to 12 inches in size and require high part detailing.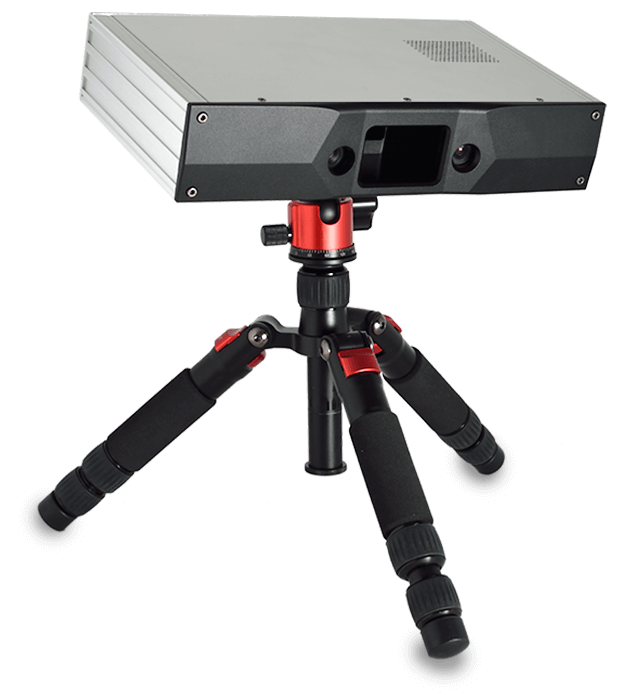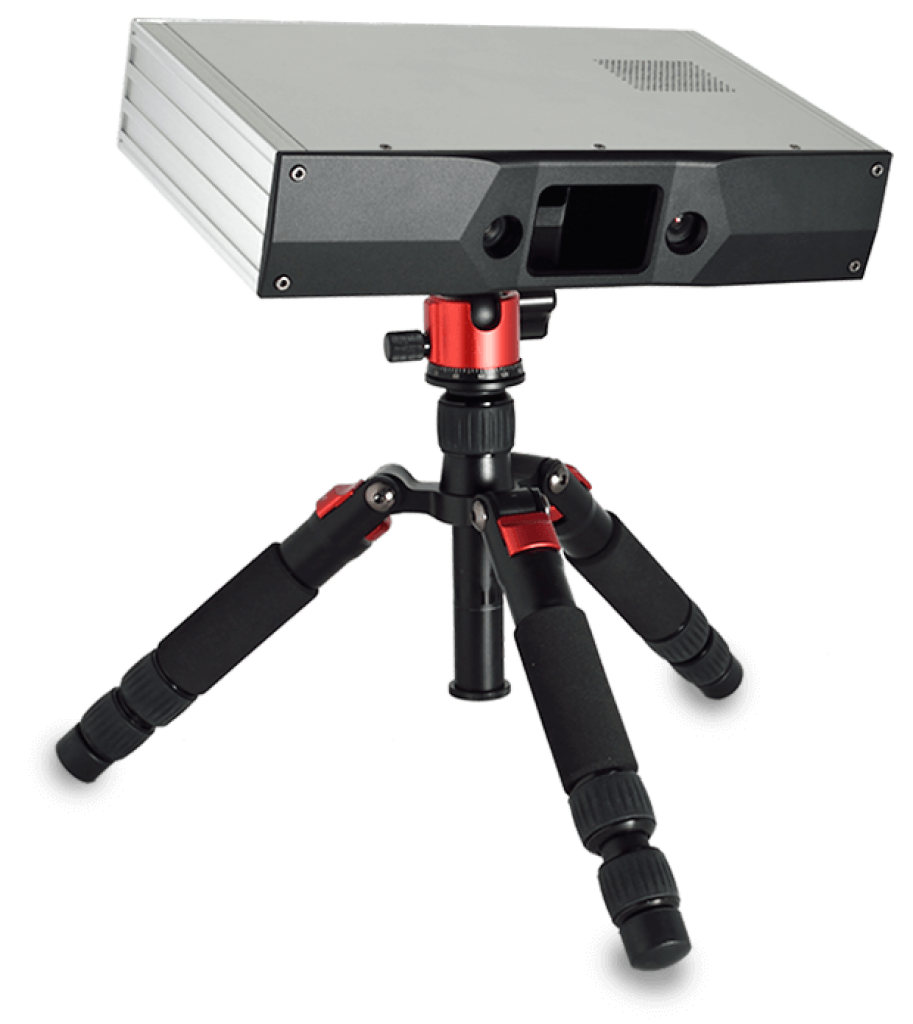 It delivers excellent scanning performance when compared to other scanners in the same price range, known for delivering professional scans. So, let's have an in-depth look at this outstanding 3D scanner to know whether the machine is worth the money it charges.
Features
Compact S1 uses structured light technology for capturing high-resolution 3D scans from real-world objects. The scanner is known for its simplicity in operation. It lets users get right to scanning in minimal time. All its components, as well as software, are designed keeping in mind the user-friendly attribute.
The machine's scan data quality is up to the mark. It is also equipped with a live scan feature for situations in which users may want to manually scan a part or functional prototype.
Above all, the average scan time of S1 is just over a second allowing the operator to capture multiple scans of the object quickly and consistently. Below mentioned are some of the most exciting features of the scanner which separates it from a bunch of other scanners falling under the same price range.
Straightforward setup
Once delivered to your place, all you got to do is:
Place it in a dedicated space.
Connect Polya S1 3D scanner with power supply.
Install the included FlexScan 3D scanner software on your computer.
That's it. Your system is now ready to scan objects of varying geometries. The makers of the scanner have paid special attention to keep the pre-scanning phase very fewer efforts demanding. So that users can dedicatedly scan their parts and come up with a clean one that can easily lead to the manufacturing of accurate models.
Fast scanning
Polyga has equipped compact S1 with a system that is capable of scanning with millions of 3D measurement points under one second. Due to such a characteristic, operators can easily scan more than one part in a minute. This feature makes the scanner eligible for the on-demand manufacturing industry.
Also to mention, how the scanner maintains its level of accuracy even while delivering speedy scans. S1 has a scan accuracy of 35 microns even while processing parts with intricate geometries and small sizes. So, with S1 in your project, you are assured to have quantity with quality on time.
Intuitive in use
Compact S1 is one among those 3D scanners that produce top-quality 3D scans from real-world within a click of a button. Users do not need to calibrate or recalibrate the system for perfection. Also, it comes with very easy-to-use software that understands your needs based on the tools that you've selected.
Operators can have complete control over the scanner from their devices. Most of the functions are automatic. So, they save time and energy for users, thereby boosting productivity. FlexScan3D captures and post-processes scans in various file formats so that users can use the scanner with almost every 3D printer.
Varied areas of application
The manufacturer claims how S1 can be used in five different industries: Arts, manufacturing, archaeology, research, and designing.
The scanner can process parts and functional prototypes for 3D modeling, archiving, computer and vision, basic quality inspection, landmark studies, 3D printing, measurement, comparison analysis, reverse engineering, as well as product development. This gives users the flexibility of choosing objects from a varied range of industries.
Simplistic design
S1 has a sleek and slim build. It's not only easy to change the position of this scanner from one place to the other, but also to take it along with you during travel. The machine can be put in your suitcase or travel case.
Easy to use software
FlexScan 3D scanning software includes all the basic needs of the user. It is based on modern algorithms that easily convert acquired scanned data into a digital 3D model. Moreover, the application includes fundamental quality inspection measurement tools for deviation analysis which is very rare.
The software allows the creation of digital models ready for use in applications such as 3D visualization, metrology, reverse engineering, and a lot more. It saves time by processing 3D scanner data at the capturing stage with:
Built-in data editing
Alignment
Merging capabilities
The final output can be exported in file formats such as PLY, OBJ, STL, ASC, and FBX depending on your needs.
Specifications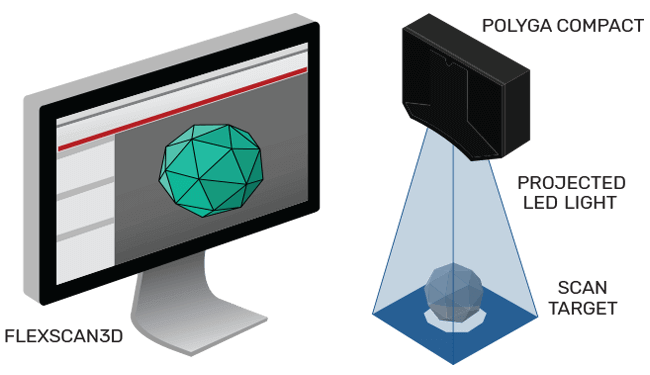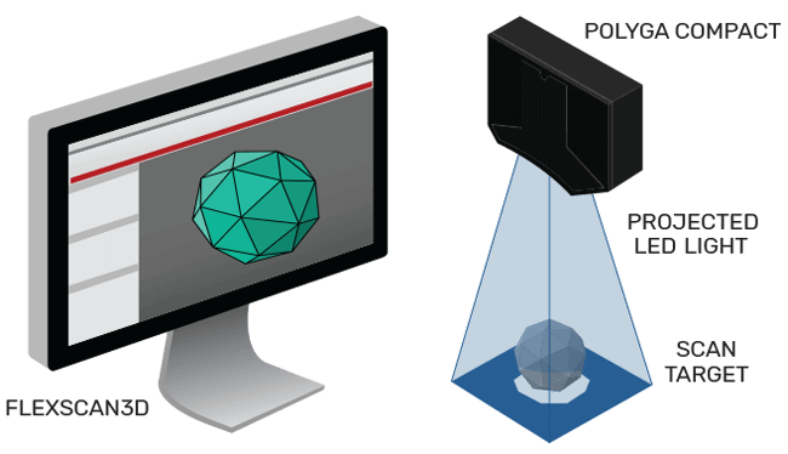 Credit: aniwaa
Compact S1 hosts a unique camera of 2* 2-megapixel mono or color, as per your requirement embedded on its body. The camera does fantastic work of capturing images in high definition. Such an apprehension leads to scans of parts or functional prototypes with an accuracy of 35 microns.
All of that at a scan speed of 150 milliseconds with 2 million average points on a 27 cm * 16 cm * 6 cm device. The point-to-point distance on S1 is 0.07 mm, whereas its standoff is 170 mm. S1 exports a scan file in the following formats: PLY, STL, OBJ, and ASC using FlexScan 3D software.
Price
To know the exact price of S1 one must request a quote from Polyga.
Setup
Compact S1 is a plug-and-play 3D scanner that allows users to get to the scanning phase of an object within no time at all. Thanks to the scanner manufacturer, there is no need of calibrating the scanner. All that one needs to do is keep it in a dedicated space, give it the required power supply, and install the software.
Scan Type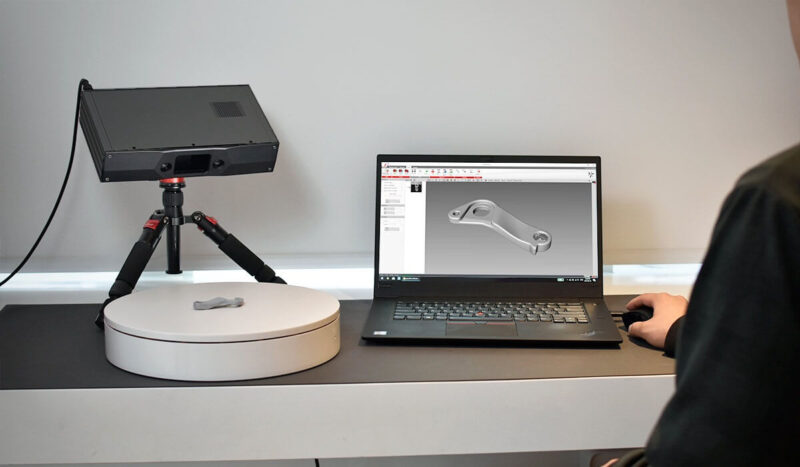 Credit: polyga
The machine is based on laser triangulation technology wherein a combination of camera and laser beams scans the objects by projecting millions of points on them.
S1 does not feature a turntable; otherwise, other desktop 3D printers of entry grade do feature a turntable where an object can be kept and rotated to capture each and every perspective of it.
Scan Quality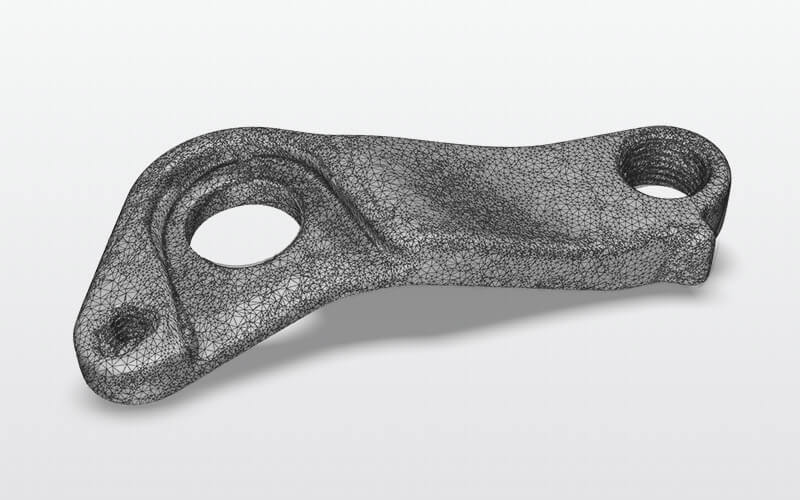 Credit: polyga
Collecting up to two million points per second, S1 is among those rare desktop scanners that deliver high quality by scanning the most intricate objects with ease. It is capable of capturing details that aren't easy to capture by professional-level scanners in the same price range.
The company displays three case studies of scanning Rubber gaskets, bottles, and others. All of which are published on their website and are accessible for all.
Software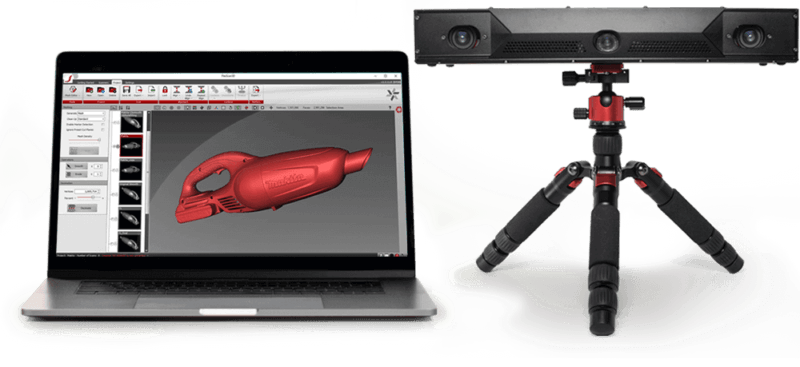 Credit: polyga
As mentioned above, FlexScan 3D is a user-friendly software that eases users' efforts by calculating many aspects based on the previously given inputs. It has an extremely easy-to-use interface that gives complete control even to a user from a non-technical background.
Customer Support
The scanner's firmware, guides, FlexScan 3D's software manuals, technical notes as well as other resources can be downloaded from Polyga's website. One can also reach out to Polyga's technical team via phone or call.
Parameters Influencing Buying Decision
Below mentioned are few parameters that are good to consider before buying.
3D Scanner Cost: Although being a professional scanner, Compact S1 falls under an affordable category which is rare and amazing.
3D Scanner Speed: Two million measurement points in a second is a great scan speed even for a professional-grade 3D scanner.
3D Scan Quality:  The scanner manages to deliver a scan accuracy of up to 50 microns in each and every part or functional prototype it processes.
3D Scanner Capability: Polyga leaves it up to users to opt for a monochrome or color option for a high-definition camera. The machine is made compatible with both types.
3D Scanner Practicality: The scanner has been used in the field of arts, manufacturing, archaeology, research as well as design.
3D Scanner User Expectations: Highly skilled professionals in the field of 3D scanning would love to juggle with Compact S1 because of its ability to deliver accurate scans in minimal time.
The Verdict
Compact S1 is capable of delivering scans that are rare even for professional 3D scanners. And the fact that it processes an object in very little time is a bonus.
The price is also one of the major benefits for intermediate users looking to upgrade their skill sets in scanning. Once a user gains a complete hold over the scanner, and that does not take much time given its user-friendliness, it's a joy to work with S1. Above all, being a professional 3D scanner, S1 is super-flexible.