Makerbot Replicator 2
Packed with tons of features and based on the simplest 3D printing technology available in the market, Replicator 2 has it all to make up for an ideal desktop 3D printer. It has a commendable print speed, increased build volume than its predecessor, and prints with fine detailing.
PROS
Professional interface.
Good PLA filament.
Excellent software.
Active user community.
Plug and Play.
CONS
Clogged print heads.
Acrylic build plate.
Table of Contents
Product
Specification
Videos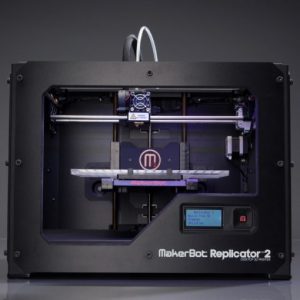 Those wanting to create fine geometries and do not mind tinkering with the settings can go for this amazing 3D printer, Makerbot Replicator 2. ...
| | |
| --- | --- |
| Model | Replicator 2 |
| Manufacturer | MakerBot |
| Price Range | $ 2049 |
| Availability | Available |
| Classification | Desktop |
| Technology | Extrusion (FFF- FDM…) |
| Material | PLA |
| Filament diameter | 1.75 mm 0.07 in |
| OS compatibility | Linux, Mac OS, Microsoft Windows |
| XY accuracy | 0.011 mm 0 in |
| Max. build size | 285 × 153 × 155 mm 11.22 × 6.02 × 6.1 in |
| Max. build volume | 6.76 L |
| Min. layer thickness | 0.1 mm 0.004 in |
| Dimensions | 490 × 420 × 380 mm 19.29 × 16.54 × 14.96 in |
| Weight | 11.5 kg 25.35 lb |
| Nozzle diameter(s) | 0.4 mm 0.02 in |
| Power input | 24 V DC @ 9.2 AMPS |
| Heated print bed | No |
| Heated build chamber | No |
| Automatic calibration | No |
| Closed frame | No |
| Dual extruder | Yes |
| Independent Dual Extruder | No |
| Full color | No |
| LCD screen | Yes |
| Touchscreen | No |
| On-board camera | No |
| Mobile app | No |
| 3D scanners | No |
| CNC mill | No |
| Electronics 3D printing | No |
| Laser engraving | No |
| Conveyor belt | No |
| Air filter | No |
| Pellet extruder | No |
| USB | Yes |
| Wifi | No |
| Bluetooth | No |
| SD card | Yes |
| Ethernet | No |

Producing professional-quality prototypes and highly complex models, Replicator 2 is an upgrade of the original Replicator with 37 percent more build volume. This means that users can print even bigger volumes with finer layer resolution using Replicator 2.
Added to this is the sheer freedom of not requiring any assembly to start prints, a three-point leveling system that adjusts more precisely than its previous models. Also, an updated extruder requires less maintenance! All of these elements make Replicator 2 an ideal 3D printer for beginners.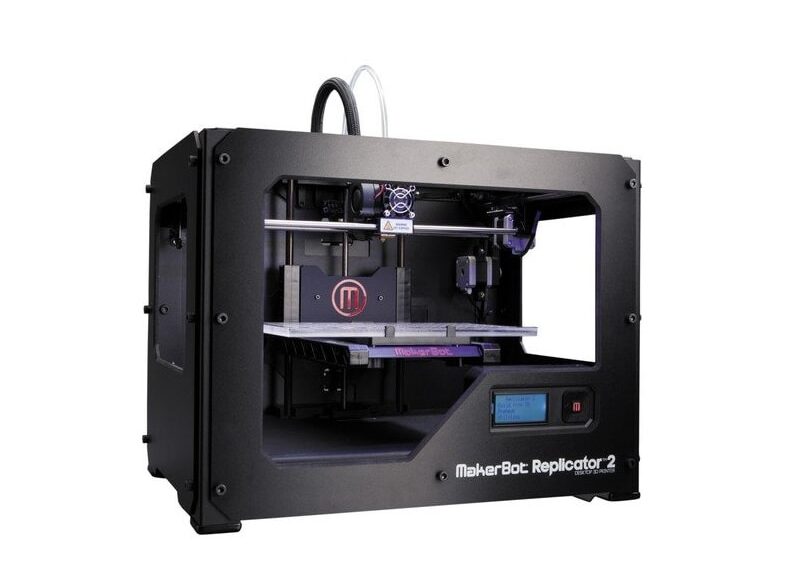 Replicator 2 will never be out of talks for its aesthetics. It is designed to look perfectly suiting on your desks or tables. Its black powder-coated steel frame gives it impressive looks combined with incredible strength and durability.
Above all, it's quiet when in operation. So, let's jump right away into the printer's details to understand this amazing tool that allows you to convert ideas for real.
Features
With advancements in Replicator, Makerbot guarantees that Replicator 2 achieves better prototypes and product designs with more iteration in less time. The machine has an improved acceleration control firmware engineered with exacting tolerance for pleasing any caliper-toting engineer.
It is capable of producing parts with 100 microns layer resolution and a massive 410 cubic inches build volume. There are many more striking features that the printer houses, let's look at them one by one.
Efficient Design
Makerbot Replicator 2 has a compact built-up that easily fits on your desk. It consists of a black metal frame with a transparent door at the front, side windows, and a plastic cover that sits at the top. The printer's dimensions are 14.7 inches * 19.1 inches * 12.8 inches and weigh 27.8 pounds.
The print platform present inside the box moves vertically and the top of the printer consists of two extruders moving horizontally from back and side to side. The machine has three different settings for resolution on parts i.e. high, medium, and low.
Replicator 2 has a sturdy build-up because of its much-appreciated powder-coated steel frame and wear-resistant bearings. Above all, a tiny LCD screen enables users to adjust the print settings, with limited functionality.
High-Quality Prints
Replicator 2 does an excellent job while printing complex internal structures. The highest resolution mode produces impressive parts; the printer does a good job of printing even sharper edges and curves that are needed on parts to be used in various applications.
Helps you Queue your Prints
The printer allows users to add several different models at the same time therefore you can effectively queue prints when not present around it. The printer manufacturer claims how Replicator 2 can prepare models for printing up to twenty times faster than its rivals, because of its Makerware program.
It is compatible with Windows, Mac, and Linux systems and comes with handy options such as multi-part models into a single file.
Three-Point Leveling System
Assisting users in calibrating the printer before starting printing is Replicator 2's three-point leveling system. Owners will no longer have to hassle to level their nozzle height according to the print bed.
Not only does this decrease the overall time taken for preparing for the print, but also the effort. Replicator 2 uses a user-friendly three-point leveling system.
Stable Frame
Makerbot has done a fantastic job with the frame of Replicator 2. The printer manufacturer has switched to a steel frame with black panels. This is a nice redesign, not only in terms of the aesthetics but also in terms of increasing the overall functionality.
Most of the 3D printers that you encounter in the same price range rely on plywood construction, which falls apart from the vibration caused during 3D printing.
On the other hand, Replicator 2 can run at the same speed and will have no trouble. The weight and solid construction of the steel frame hinder a fair amount of vibration as well as noise.
XY Gantry
Although the majority of the construction of Rep1 and 2 are the same, among the few changes in the way in which Y-axis smooth rods and idlers are held in place. At each of its corners, users can find injection-molded blocks that the Y-axis rods can snap into.
Not only have that, but also these blocks can hold the timing belt idlers with snap-in bearings. This component brings more stability to the overall construction of the printer and ensures there is lesser maintenance time.
Dual Extruders
Hosting two extruders is very appealing especially in desktop 3D printers of the price range in which Replicator 2 is available at. They allow printing with two different colors at the same time.
Such freedom enhances the overall quality of your 3D printing project. It permits you to bring colorful innovations on the parts and functional prototypes one plans to manufacture.
Plug and Play
Replicator 2's setup does not take much time than unwrapping it, putting it at the desired desk, giving it power consumption, and plugging the power cables in. That's it! It literally starts once you load the spool of PLA and push the print button.
Compatible with Open-Source Software
Although Makerbot recommends the company's standard MakerWare software, Replicator 2 is compatible with free applications and CAD systems. This allows users to choose the application that they are comfortable with 3D printing with. So, no more limits to designing.
Optimized Platform
Replicator 2's platform is different from Replicator 1's. Instead of the heated platform, Replicator 2 features an acrylic platform that is larger than its predecessor by 37 percent. This allows for printing with ABS as well and is a heated one.
Additionally, the platform on Replicator 2 has a spring-loaded quick-release mechanism making it extremely easier for users to remove their prints. Moreover, the three-point leveling screws make it quicker and easier to calibrate the printer's Z-axis height. A nifty automatic script built into the control panel helps with this process.
Specifications
Makerbot Replicator 2 is based on Fused Filament Fabrication 3D printing technology. The printer offers its users a maximum build volume of 11.2 inches * 6 inches * 6.1 inches. There are three-layer settings that you can choose from:
High: Offering 100 microns layer height.
Medium: Offering 270 microns layer height.
Low: Offering 340 microns layer height.
The printer offers a positioning precision of 11 microns on its XY axis and 2.5 microns on its Z-axis. It features a nozzle and filament diameter of 1.75, 0.4 mm.
The machine's chassis is made of powder-coated steel, whereas its body is made from PVC panels. Replicator 2 is equipped with XYZ wear-resistant and oil-infused bearings. It has a 1.8 degrees step angle with 1/16 micro-stepping.
Price
At the time of writing the article, Makerbot Replicator 2 is available for $799.
First Impression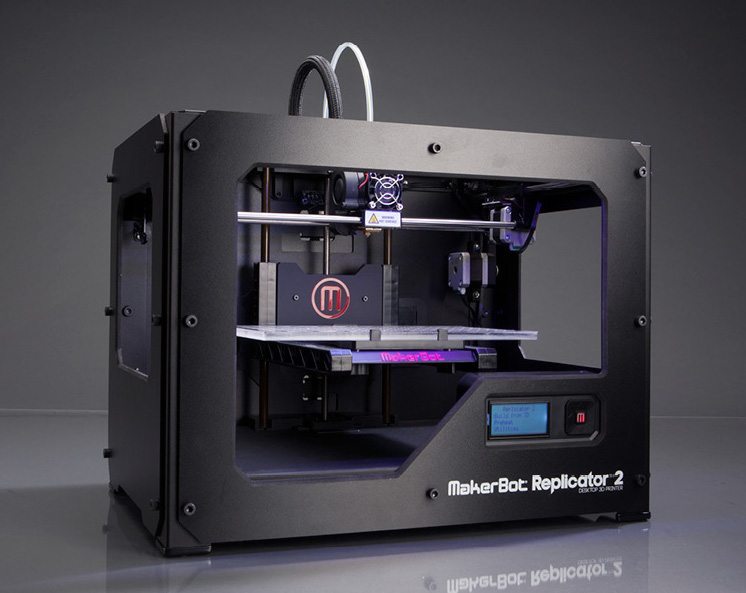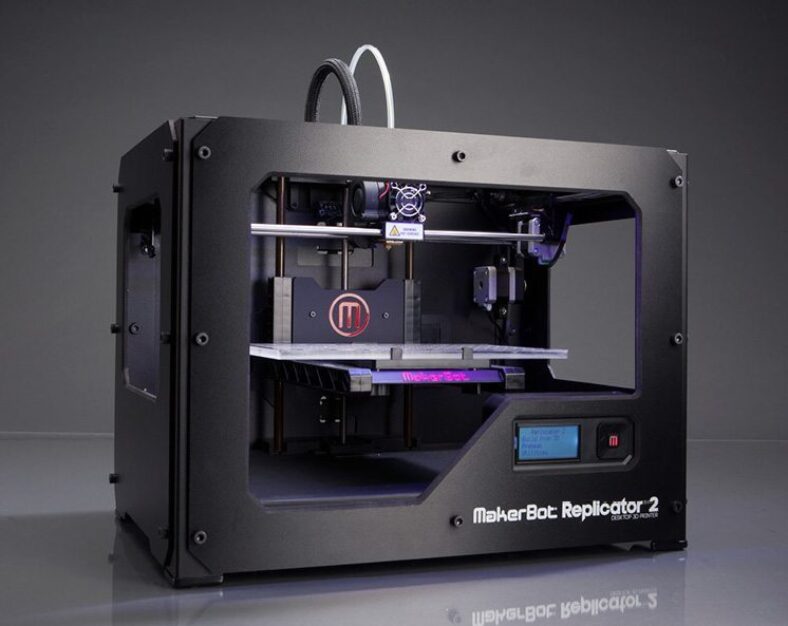 Replicator 2 is a compact 3D printer that easily fits on the top of your desk. It hosts a fairly large enclosed build area with a simplistic user interface. The printer comes pre-assembled in a box.
So, once it arrives at your place you can start 3D printing soon after configuring the machine. Overall, it's a sturdy device, with a powder-coated steel frame and wear-resistant bearings.
Setup
As the printer comes pre-assembled, all the users need to do is put it on a table, load the filament and connect it to the power supply to start 3D printing with it. All of which should not take more than a few minutes.
Also, the manual shipped with the printer is very detailed offering users great help in completing the setup without delays.
Print Type/Cost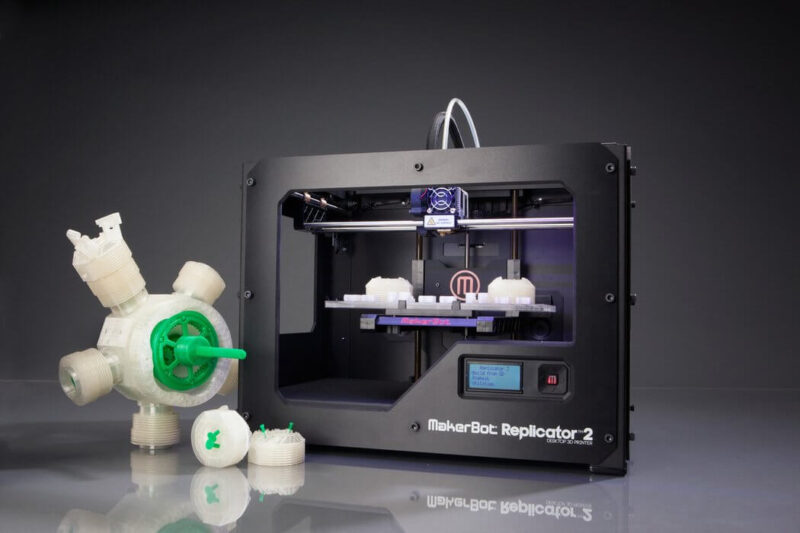 FFF 3D printing technology is the simplest among the 3D printing technologies available in the market. It starts from a solid filament spool, taking it to glass transition and a little above in the extruder.
Thereby allowing the melted 3D printer filament to flow via a nozzle to the print bed laying down layers according to the part geometry! The process is repeated until the part completion, after which, it's allowed to cool down.
The general cost of producing a part via FFF 3D printing technology is on the lower end when compared to SLA or other powder bed fusion technologies. However, it depends on various factors such as the part geometry, material used for making the part, support structures, etc.
Print Quality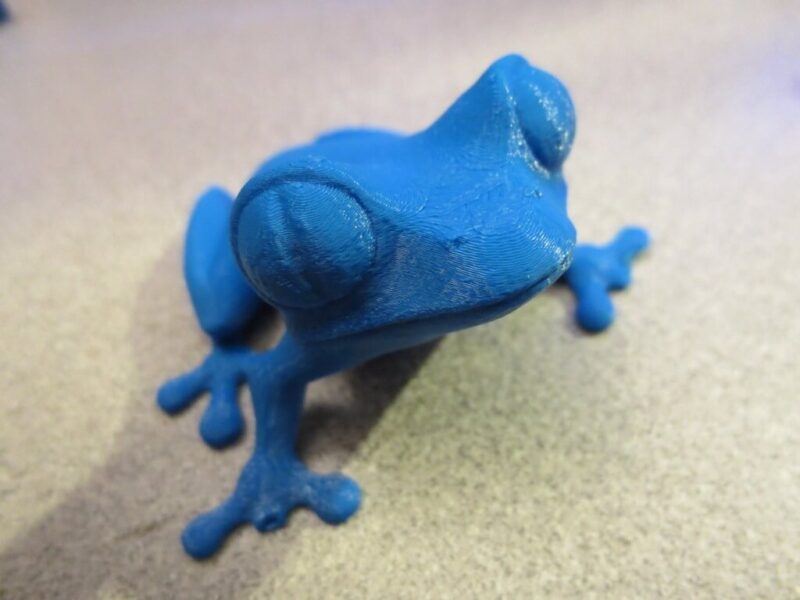 Credit: gahooa.com
By providing users a choice to select from three different options – low, medium, and high, Makerbot offers great print flexibility with varying resolution options to the users. It is possible to produce impressive models with sharper edges wherein the prints are generally clean enough to be used on various applications. There is a very little bit of stepping even when dealing with sharp curves.
Software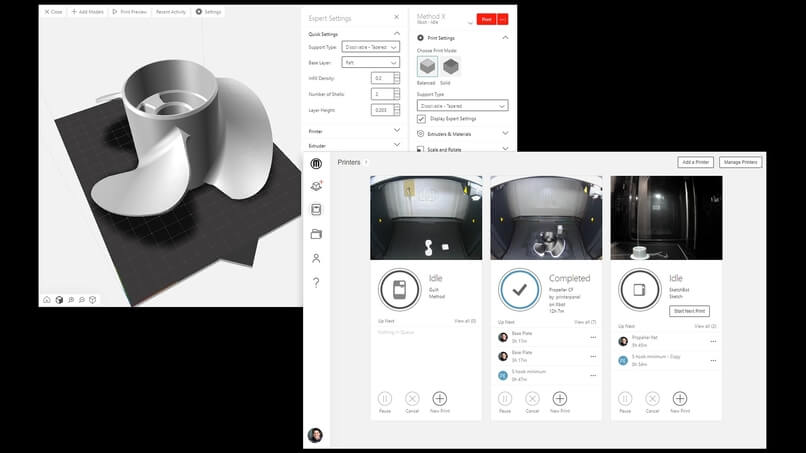 Credit: makerbot.com
Although the printer doesn't come with software, users can download it from Makerbot's website. Makerwear is a print-only software. So, in case you wish to create your prints, you are allowed to choose from the available open-source 3D printing software.
Customer Support
Makerbot offers online support 6 days a week via email. It claims how each of its support team members has thousands of hours of experience with the printer. The entire support team of Makerbot cares about its user's printing projects. Additionally, there are videos, tutorials, and documentation available online.
Parameters Influencing Buying Decisions
The key facts about Replicator 2 that are good to keep in mind while buying the printer are mentioned below in brief.
3D Printer Cost: Previously the printer was available at a price of $2000. Currently, it's available for under $800 which is very affordable considering the features it offers.
3D Print Speed: Replicator 2 is faster than its predecessor and provides an above-average print speed compared to other printers in the same price range.
3D Print Quality: The printer leaves it up to its users to decide the layer resolution. It offers printing in three modes: high, medium, and low. In the high mode, users can get resolutions as low as 100 microns.
3D Printer Capability: Replicator 2 provides 37% more space to put its users' ideas into application. Moreover, it's compatible with PLA filament using 32 percent less energy than building with ABS filament.
3D Printer Practicality: Users can prepare models for printing up to 20 times faster with the new Makerbot slicing engine. They can easily drag and drop multiple models right onto the virtual build space and then make them all at once. It's also compatible with .thing file format apart from standard STL and OBJ formats. And, suitable for creators and enthusiasts.
3D Printer User Expectations: Replicator 2 is designed specially to look great when put on the work desk. It is not only designed, but also functions efficiently enough to fulfill all the expectations of beginners and intermediates in the field of 3D printing.
The Verdict
Packed with tons of features and based on the simplest 3D printing technology available in the market, Replicator 2 has it all to make up for an ideal desktop 3D printer. It has a commendable print speed, increased build volume than its predecessor, and prints with fine detailing. Three different modes allowing users to choose the layer resolution they need offers a lot in the name of freedom.
Added to it are factors such as no assembling required, wear-resistant, and equipped with advancements over Replicator, sturdy body, and appealing looks. Making the printer a convenient option for beginners to rely on. Moreover, the three-point leveling system, updated extruder requiring less maintenance and friendly interface with intuitive icons and controls means ease of use for all kinds of users.
Overall, Makerbot Replicator 2 has great aesthetics bundled with amazing functionality making prosumer 3D printing possible. Additionally, the upgraded speed with advanced build volume and compatibility with PLA, yet offered at a very affordable price makes it a front-runner when listed with other printers in the same price range.