Qidi Tech X-Pro 3D Printer
Qidi Tech X-Pro weighs not more than 28 kgs and is still compact. With decent build space and not too much, it lets beginners extend their imagination a bit, instead of restricting their creativity to the smallest volume.
PROS
Easy to assemble and setup
Dual extruder
Removable print bed
Above-average print
Responsive technical support team
Reliable ecosystem
Supports PLA, ABS, and PETG
Affordable
CONS
Manual Bed Leveling
The proprietary slicer isn't very advanced
Product
Specification
Videos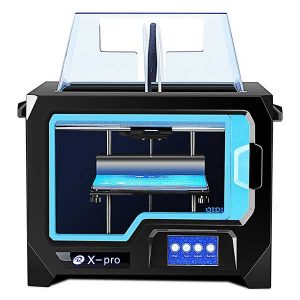 The thing that sets apart this 3D printer from its competitors is its solid aluminum body and quality of all the parts that make it. Something that ...
| | |
| --- | --- |
| Model | X-Pro |
| Manufacturer | Qidi Tech |
| Price Range | $ 499 |
| Release date | 2018 |
| Country | China |
| Availability | Available |
| Classification | Desktop |
| Technology | Extrusion (FFF- FDM…) |
| Material | ABS, Other plastics, PLA |
| Filament diameter | 1.75 mm 0.07 in |
| OS compatibility | Linux, Mac OS, Microsoft Windows |
| Generic material | Yes |
| XY accuracy | 0.011 mm 0 in |
| Max. build size | 230 × 150 × 150 mm 9.06 × 5.91 × 5.91 in |
| Max. build volume | 5.18 L |
| Min. layer thickness | 0.05 mm 0.002 in |
| Weight | 18 kg 39.68 lb |
| Nozzle diameter(s) | 0.4 mm 0.02 in |
| Power input | 115V ~ 230 V |
| Heated print bed | Yes |
| Heated build chamber | No |
| Automatic calibration | No |
| Closed frame | Yes |
| Dual extruder | Yes |
| Independent Dual Extruder | No |
| Full color | No |
| LCD screen | No |
| Touchscreen | Yes |
| On-board camera | No |
| Mobile app | No |
| 3D scanners | No |
| CNC mill | No |
| Electronics 3D printing | No |
| Laser engraving | No |
| Conveyor belt | No |
| Air filter | No |
| Pellet extruder | No |
| USB | Yes |
| Wifi | Yes |
| Bluetooth | No |
| SD card | No |
| Ethernet | Yes |

Table of Contents
Qidi Tech is a very popular manufacturer based out of China. The company has been engaged since its inception in manufacturing 3D printers that are affordable yet useful in various senses.
To better define the possibilities through its budget machines, Qidi Tech never fails to astonish us with the surprising elements wrapped along with its 3D printers. And, Qidi Tech X-Pro review aims at underlying the same reasons why this machine is so desirable.
However, you must understand that the printer is a budget machine and aimed at helping beginners and educators to bring the best out of the unknown.
Hence, despite using "PRO" in the name, the machine is not one of the most advanced options out there. However, it does have a lot of amazing features that give it the limelight it deserves.
With its proprietary slicing software, the 3D printer seeks to make the work easier for starters and learners.
It also carries with itself the family league of being one of the simplest machines in terms of setup.
Being said all that, you must be looking forward to finding out the various functionalities of the printer that makes it such a Pro. Yes, among the 3D printers within its range, it does seem like one.
You could never ask for anymore. With limited material support, it does serve best for those making their way through the steep learning curve of additive manufacturing technology. Read the complete review to find out how.
Features
Serious about learning how to create a 3D object out of a digital file. Many individuals like to explore the nuances of benefits that this revolutionary technology adds to the menu.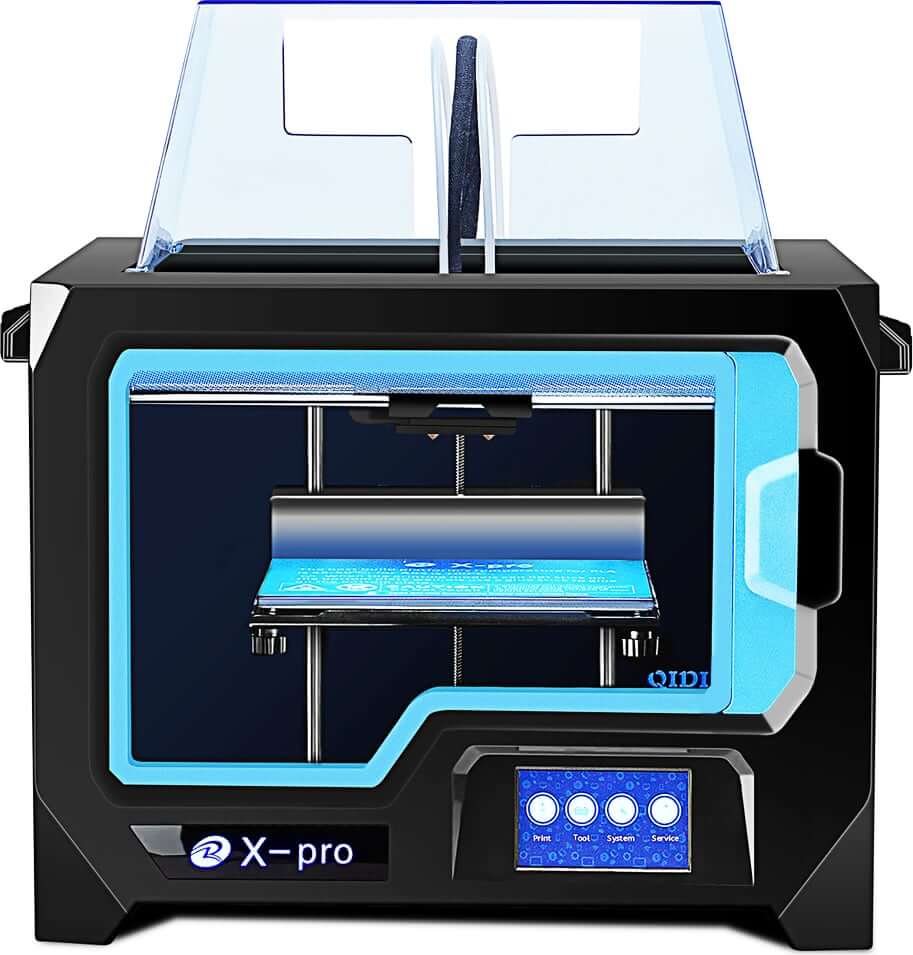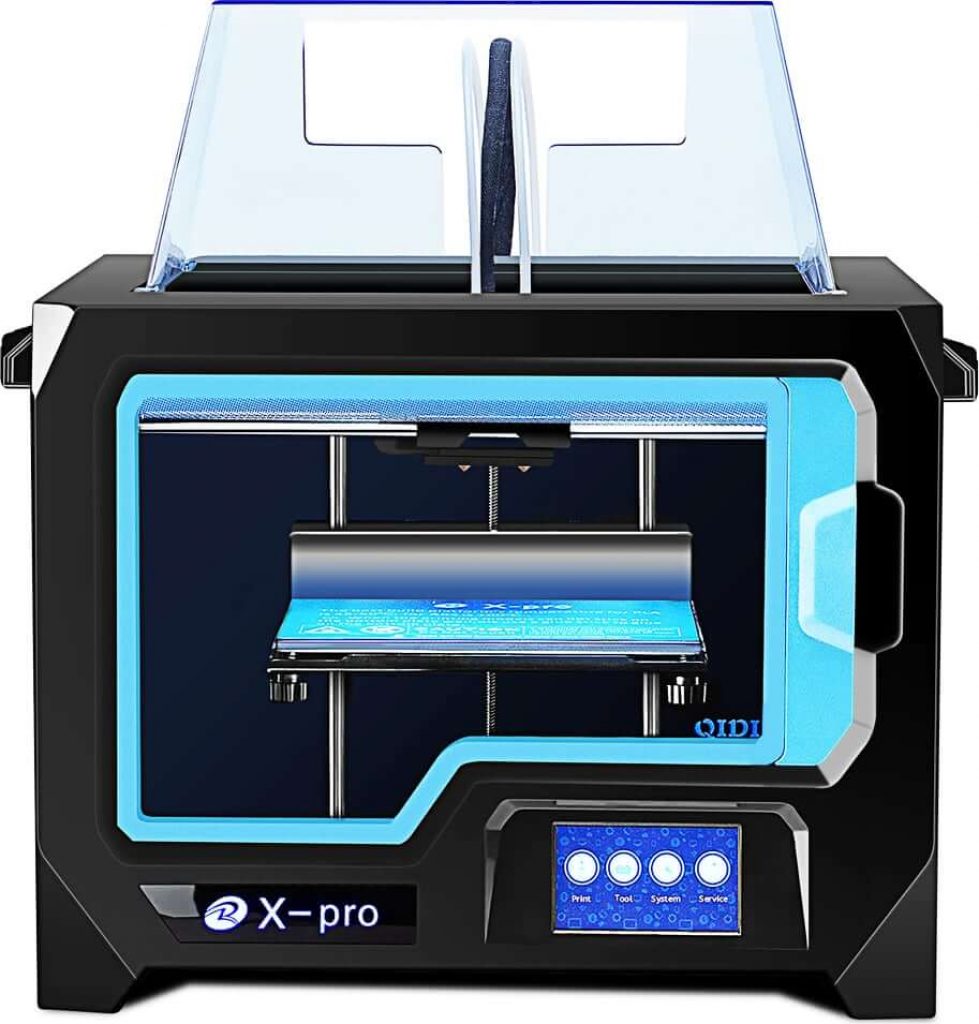 However, not everyone can find out the courage to peep into a completely new world of 3D printing.
That is why Qidi Tech has tried its best to simplify the way the technology works through its Qidi Tech X-Pro. The features do make sense when made available at such an affordable rate.
Enclosed Print Space: This may sound like 'what's special in that'. But those who have been working with 3D printers would know the difference this little addition could bring with itself. Yes, an enclosed printing chamber is a very reasonable feature for those working at home or going beyond PLA to create their unique models. In other words, an enclosed print space helps maintain a consistent temperature for cooling at the same rate. Hence, increasing the print quality of the objects. Also, it helps save users from burns and bruises. You never know, if you are not used to working with hot electrical equipment, you can hurt yourself. And, the worst is when you have kids around. So, better to be safe, isn't it?
Dual Extruder: At such an affordable rate, it is difficult to find dual extruders. However, this one breaks the myth. the X-Pro offers a dual extruder using its dual nozzle system. If you go with what the manufacturer has to say, you can print with PLA, ABS, and PETG. Well, that enough for beginners and those using the machine to educate students and others. It employs the direct drive extrusion system to feed the filament to the print head.
Consistent Cooling: In this 3D printer, you would find the "air blow turbofan" to ensure proper and consistent cooling. This encircles the nozzles. Hence, it makes sure that the cooling is done from all four sides. The fan isn't attached to the 3D printer when shipped. After unboxing, you must mount the fan when setting up the printer. The tutorials sent with the machine will guide you through the entire process of doing so.
Manual Bed Leveling: The Qidi Tech X-Pro offers manual bed leveling. Hence, users must follow the steps carefully to level the bed before starting 3D printing.
Removable Print Plate: Those working with 3D printers are often found struggling with taking the completed models out of the machine. However, with Qidi Tech X-Pro, this isn't a problem. The machine features a 6 mm "aviation-grade" aluminum bed.  It also has a removable magnetic build plate. The best part is that it is not like any other unworthy magnetic bed available with most of the most budget machines and is great at adhesion. Plus, the magnets have a high strength to hold the print bed in one place throughout the printing. You must apply some force to take that build plate out though which isn't questionable at all. And, you can just bend the plate in and out to pop the printed object without any inconvenience. That is a relief.
Limited but Multiple Filament Support: Many would find it disappointing that the 3D printer is not capable of working with specialized filaments such as Nylon, TPU, and others requiring high temperature. However, it does support PLA, ABS, and PETG which is sufficient for beginners and educators. Isn't that what the manufacturer all concerned about? The machine does serve its purpose of helping learners find mixed experiences when working with different filaments. And, these three do the part well.
Compact Look: If you are finding it difficult to bring a machine inside your house that would occupy a large space, look at what Qidi Tech X-Pro review has to unveil. The 3D printer is compact and would happily stay on your work desk or any corner of the house you choose for it. Hence, offering home users a great relief.
Specifications
The machine weighs not more than 28 kgs and is still compact. With decent build space and not too much, it lets beginners extend their imagination a bit, instead of restricting their creativity to the smallest volume.
It has a build size of 230 x 150 x 150 mm. With a fully enclosed chamber, it also offers to see through walls to help users peep through it when the printing is in progress.
The maximum extruder temperature reachable is 250 degrees Celsius. That is why the printer does not support materials that have high melting points such as Nylon and others. It has a dual extruder which is capable of printing in two colors at the same time.
It has an aluminum frame that offers sturdiness to the entire machine, keeping vibrations at bay. Hence, helping the printer to produce quality models. It has assisted manual bed leveling which is easy to carry without any expertise.
To help users get the controls overboard, it features a wide LCD colorful touchscreen. Of all the great things, the Qidi Tech X-Pro also offers print recovery.
Hence, if you are printing and the power goes off, you still can continue from where you stopped printing. This means that you can save your prints from failing in between. And, you can also 3D print with third party filament.
The print speed is up to 100mm/sec which is considerably fast. And, you can achieve the layer resolution between 100 to 500 micron which is again applaudable for this budget machine.
Above all, you get to connect through WIFI as well along with SD Card, USB, and ethernet. A lot of options for connectivity, isn't it?
Price
What did you think? If there are any guesses, let's be straight forward about it. Many users will believe that the 3D Printer must be out of their pocket.
But, let's hear the price first. Without making you wait, here is what you must expect. The 3D printer is available for $499. Yes, that is what you need to pay. If you start saving now, you can easily afford it in the coming months, without any pressure.
First Impressions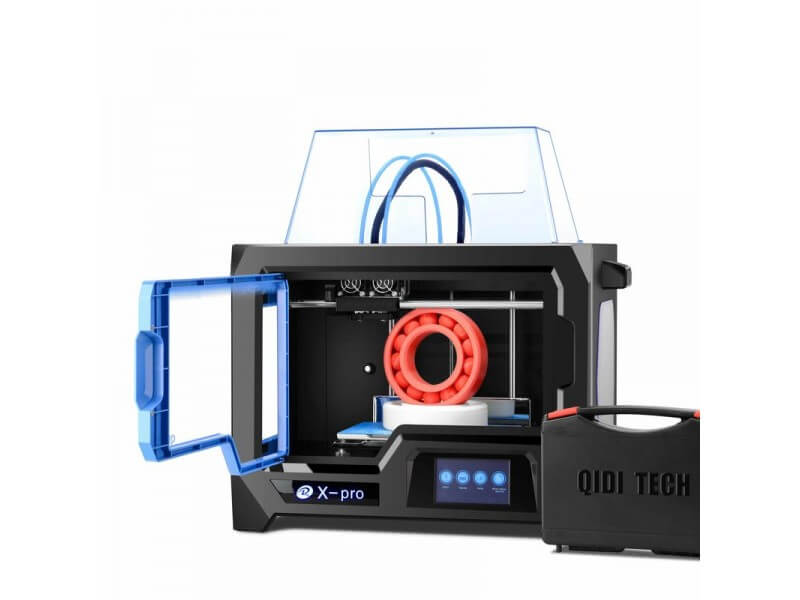 It is a budget 3D printer. However, the packaging is nothing less than the luxury experience. The company has thoughtfully included almost everything that you would need to print the first model.
From sample filaments to 3D files to kits for assembling the parts together. Do not be confused, the 3D printer is fully assembled. However, you would need to pop a few parts in place such as extruders, filament spool, etc.
The packaging is highly secure. Along with the 3D printer, you receive 2 extruders, 2 filament spool, 2 filament spool holders, 2 guide tubes, screws and kits in the tool bag, a power cord, a USB drive containing the test models, software and manual for operating the 3D Printer. You also get 2 PC glues.
Hence, you have everything you would ever need to start your 3D printing journey inside one box.
Setup
Qidi Tech prefers manufacturing 3D printers that are easy to setup. Even after including manual bed leveling, you may not find it at all stressful.
On the contrary, it is easy and you get to learn a lot from it. The assisted bed leveling, what the company calls it, is simple and straightforward. You need to follow the steps carefully and done.
Before doing that, you must include the parts inside such as extruders, filament spool, print bed, etc.
The entire process won't take anywhere more than an hour, even for beginners. Also, you have all the tools to get you started.
You do not need to borrow it from anywhere else. The packaging contains everything to put the printer parts together.
Printing Type/Cost
The 3D printer is based on FDM technology. As we have talked about it before in a lot of other articles, let's keep the introduction short.
In FDM 3D printers, the filament is heated to melt and deposit on the print bed, one layer at a time. Once the layer solidifies, another layer is deposited over it. The process continues until the entire model is created.
This is one of the cheapest 3D Printing technologies available. So, the printing cost would be minimal.
The cost would also depend on the choice of filament, model complexity, and the amount of filament needed. PLA will be a cheaper option than ABS. Hence, you can decide how to keep your costs low.
Print Quality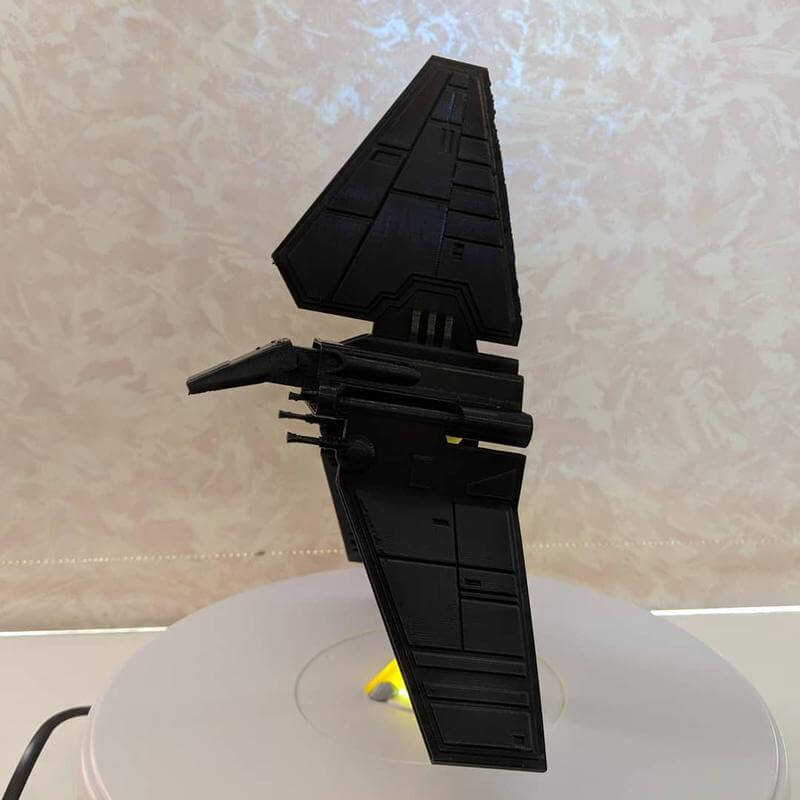 Credit: top3dshop.com
The print quality is above average. Some Qidi Tech X-Pro reviews from customers do reveal that the proprietary slicer isn't that great and induces flaws in the 3D objects.
Hence, if you wish to pass through that, you can make use of other applications. The 3D printer is compatible with Simplify3D as well as Cura.
Software
As mentioned above, the 3D printer flaunts its own slicer software. However, if you are used to other options, you can choose between Cura and Simplify3D which are better counterparts.
Any of the two software would help realize the best results from this exceptional 3D printer at this price range.
Customer Service
Qidi Tech is a very genuine manufacturer ensuring that it reaches the customers in time. It has a dedicated team of professionals handling queries from individuals across the world. One can expect to receive answers within 12 hours.
Parameters Influencing the Buying Decision
Here is a quick bite from the above Qidi Tech X-Pro review.
3D Printer cost: The 3D printer is affordable. It isn't the cheapest one though. However, complete value for money.
3D Print quality: The print quality is above average. You can expect it to print with details and accuracy.
3D Print speed: Print speed is also decent. With up to 100 mm/sec of speed, you can accomplish tasks with less time as with most of the budget printer.
3D Printer capability: You can create end products for homes and learning use.
3D Printer Practicality: The 3D printer is very reliable. This means that you can use it for serious tasks as well.
3D Printer User expectations: It does prove itself worthy of all recognition. At this price range, offering a dual extruder with WIFI connectivity isn't too usual.
Verdict
Qidi Tech X-Pro review clarifies the strong side of the machine as well as unveils the limitations. Hence, helping users find out what they are looking for.