Stratasys J55 3D Printer
Marketed as the printer that can make the most colorful parts and functional prototypes, Stratasys J55 has a very attractive body. It is an amazing 3D printer with a lot of detailed features to experience. It does have a large build. However, it still looks sleek and easy to manage.
PROS
Huge build volume.
High quality parts and functional prototypes.
Printing with multi material.
Colored printing is a completely new concept that this printer brings into the field of 3D printing.
High accuracy for printed models
Users can print highly detailed geometrical models with ease
Product
Specification
Videos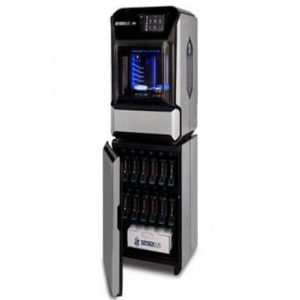 Providing you the perfect kind of flexibility, Stratasys J55 comes with a rotating platform that is easy to reach for printed part removal. You can ...
| | |
| --- | --- |
| Model | STRATASYS J55™ |
| Manufacturer | Stratasys |
| Price Range | $ 99000 |
| Country | United States |
| Availability | Available |
| Classification | Industrial |
| Technology | Polyjet Technology |
| Material | DraftGrey, VeroUltraClearS, VeroVivid |
| OS compatibility | Microsoft Windows |
| Generic material | Yes |
| Max. build size | 1174 cm² |
| Dimensions | 651 x 661 x 1551 mm 25.63 x 26.02 x 61.06 in |
| Weight | 228 kg 503 lb |
| Min. layer thickness | 0.01778 mm 0.0007 in |
| Power input | 100–120 VAC I 50–60 Hz I 6A, 220–240 VAC I 50–60 I 3A |
| Heated print bed | No |
| Heated build chamber | No |
| Automatic calibration | No |
| Closed frame | Yes |
| Dual extruder | No |
| Independent Dual Extruder | No |
| Full color | Yes |
| LCD screen | Yes |
| Touchscreen | Yes |
| On-board camera | No |
| Mobile app | No |
| 3D scanners | No |
| CNC mill | No |
| Electronics 3D printing | No |
| Laser engraving | No |
| Conveyor belt | No |
| Air filter | No |
| Pellet extruder | No |
| USB | No |
| Wifi | No |
| Bluetooth | No |
| SD card | No |
| Ethernet | Yes |

Table of Contents
If you are one of those 3D designers who is looking to print products with a variety of colors, congratulations, here is what you were searching for!
Fulfilling the demand of users to rapidly manufacture fully colored parts at an affordable price was Stratasys' primary aim behind manufacturing J55 3D printers.
Let us tell you an important observation made by Tony Guard who is the Director of Innovation and Industrial Design at a Cincinnati based company named Kinetic Vision.
The company manufactures products for companies that are into consumer electronics, packaged goods, aerospace as well as the medical industry.
According to Mr. Guard, he was completely stunned to find out how Stratasys J55 could produce products in more forms, colors, finishes, graphics, and a lot more.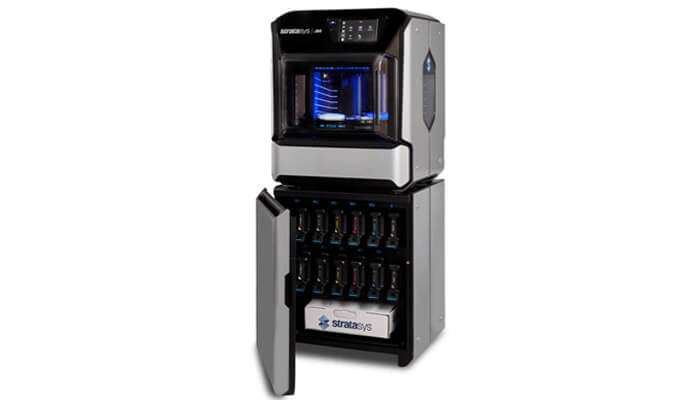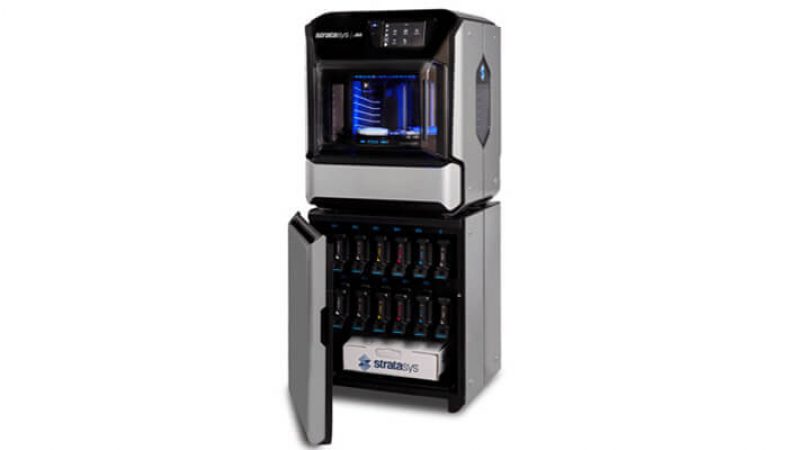 It is this versatility of the 3D printer which enables companies like Kinetic Vision to offer their clients a final retail product, faster than ever.
So, what exactly makes J55 such an amazing 3D printer? Wouldn't you want to know the inner aspects of the printer that makes it so capable? We sense you'd want to.
And that's exactly what this article means to provide you. Let's start our digging by starting to review the Features of this amazing printer.
Features
There are many mind-blowing features of this printer that contribute towards its ability to provide the kind of parts and functional prototypes it does.
Starting with providing its users a massive build volume, it also manages to offer them the convenience of printing with five materials, excluding the support material.
So, you'd be able to print with multiple materials, parts, and functional prototypes that are huge in volume.
It is the combination of variability and enormity that finds the objects built by the J55 application in various industries.
Moving on, the printer is easy to set up and allows you to monitor your print jobs remotely. You need not be around the printer to know what's happening inside the print chamber.
The J55 3D printer supports a complete design process including same-day send to print with minimal post-processing option. It is quieter in operation as much as your place's refrigerator.
Thanks to the printer manufacturer for including Pro Aero Filtration Technology in the machine that enables one to operate in an odor-free environment.
Unlike other printers, designers all over the world can easily be around the printer anytime they wish to, without worrying about their nose.
A major plus that you'd come across while using this printer is its software.
GrabCad Print enables smoother importing of CAD files from any of the famous software such as Solidworks, Creo, CATIA, Siemens NX, or Inventor. Without much further ado, we present to you the features of J55 that make it stand out in the market as a unique 3D printer.
Rotating Print Platform
Most of the printers that fall in the same price range as J55 does, do not offer this feature.
As you might know by reading the term, the print platform the CAD files take shape for real. And, a rotating build plate would certainly offer flexibility for designs. And, easy reach for the users during the removal of the parts after completion of the 3D printing process.
Print in Pantone
It is this feature of the printer that sets it apart from any other in the industry.
With the J55 3D printer, you can play with colors and get many options for printing a part or functional prototype. This is possible because of Pantone's association with Stratasys.
The association is a part of the aim that both companies wish to achieve. This aim is about bringing realism to additive manufacturing.
Pantone is a standardized color matching system employed by J55 to let you choose the color of your choice in the part you dream to create.
All of these signs that this printer is essential for those who like to play with various colors. Because that's how our life is! It's colorful!
So why would you want parts and functional prototypes around you that are colorless?
Compact. Odor Free. Ultra-Quite
J55 features the best-in-class footprint to printing tray ratio in the market. Which means less bulk in your office and a better yield.
Studios, offices, and classrooms are not production facilities – and shouldn't need to be.
The smell free system uses a ProAero Air Extractor to effectively capture and filter out fumes, for safe and odor-free operation.
As mentioned earlier, the J55 is ultra-quiet, operating under 53 decibels – that's about the same as a household refrigerator.
After having gone through the features, it's now time to have a glance over the Specifications of it.
Specifications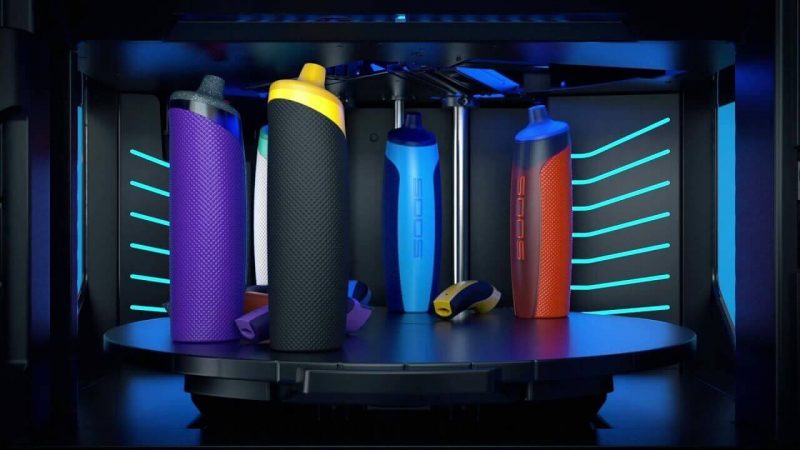 The print Area of J55 is 1,174-centimeter square. Its layer thickness is horizontal build layers down to 18 microns. J55 can be connected using LAN-TCP/IP.
The complete system size of J55 is 651 mm x 661 mm x 1551 mm. Whereas the weight of the printer is 228 kilograms.
The operating conditions recommended by Stratasys are 18 to 25 degrees Celsius and relative humidity of 30 to 70 percent non-condensing.
Alongside, the power requirements of the printer are 100–120 VAC, 50–60 Hz, 6A, 1 phase 220–240 VAC, 50–60 Hz, 3A, 1 phase.
Together with all that, the printer comes with an amazing high-quality speed of 18.75 micrometers.
The model materials that you can print with, are, VeroCyanV, VeroMagnetaV, VeroYellowV, VeroPureWhite, VeroBlackPlus, VeroClear, and DraftGrey.
SUP710 is used as support materials for 3D printing parts and functional prototypes.
You can download the eBook for more details on the 3D printer. Also, you can visit the website to understand what exactly this machine offers.
Including the capability of this amazing Stratasys J55 3D printer.
Price
The J55 3D printer is available for $99,000. Isn't that pretty expensive? It definitely is.
However, you can very well estimate the same by looking at its different features and application areas.
In short, the 3D printer is designed for large-scale businesses and won't come cheap.
First Impression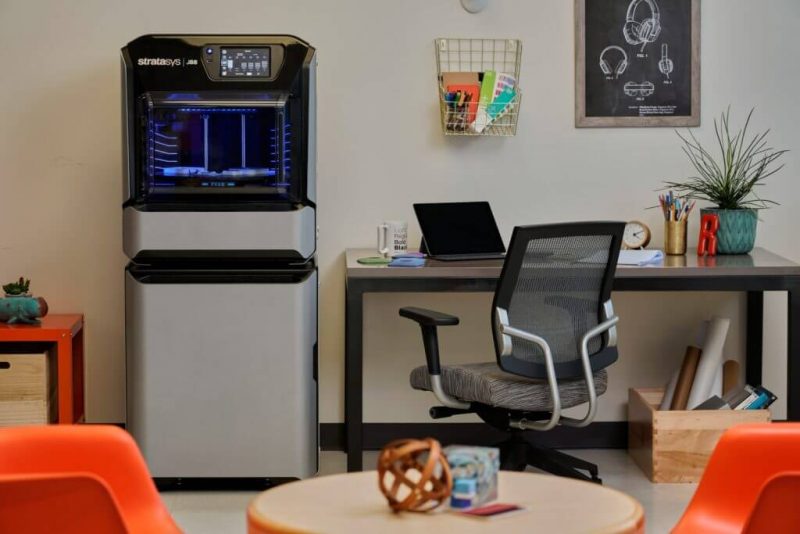 Marketed as the printer that can make the most colorful parts and functional prototypes, Stratasys J55 has a very attractive body.
It is an amazing 3D printer with a lot of detailed features to experience. It does have a large build. However, it still looks sleek and easy to manage.
With all the parts clear and precise, you cannot miss the beauty of the print chamber. Beneath the print chamber, you have a compartment for storing the 3D printing material.
The print chamber is kept accessible by offering a glass door on the top. One can also monitor the print process by peeking in from the front of the printer.
The touch screen interface is very handy as well. It guides users through the crucial steps of setting up the printer.
Once that is done and the printing process is started, you'd get a chance to control the functions using the same.
It serves as an option to decrease the overall human intervention in the complete printing process.
Hence, increasing the accuracy of the complete process by making it automated to an extent.
In a nutshell, Stratasys J55 does not only serve the purpose of printing a part or functional prototype but also manages to catch all the eyes in the room where it is kept!
Setup
As mentioned as one of the printer's features, the printer is office-friendly. It looks like a refrigerator and consumes a similar space. Being an industrial 3D printer, it comes completely assembled.
The condition in which the J55 3D printer reaches you makes you realize how giant machines can be transported from one place to the other, keeping the machine free from damages.
There is also something called Stratasys Academy. Here users learn about different 3D printers. As well as, in general about the additive manufacturing processes too.
And that's not all. Obviously, you have the complete team of Stratasys to guide you during any stage of installation and setting up the printer.
It is also commendable how safely J55 is shipped to you. Great care has been taken by the printer manufacturer to make sure that their printer reaches you without any damages.
Printing Type/Cost
J55 is based on the Polyjet 3D printing technology. In this technology, the layering is done through jetting of the liquid phase of material that you wish to 3D print with.
Photopolymer droplets are jetted onto a build platform which solidifies with the help of the UV light.
It's one of the fastest and most accurate 3D printing technologies currently available.
The printing cost of this printer will be greater than those of the printers utilizing a technology that produces lower quality parts and functional prototypes.
Overall, the exact printing cost isn't easy to calculate. This is because it depends on a lot of factors like the material cost, 3D design, and whatnot.
Plus, you must count the electricity and office cost for operating this machine. So, it will vary for different parts.
Print Quality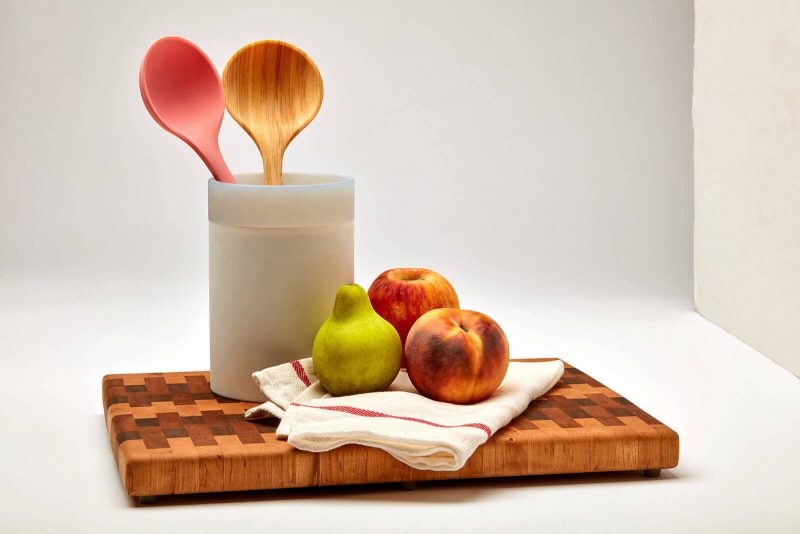 Credit: kinetic-vision.com
Accuracy of 150 microns must mean something. The 3D Printer is highly precise and offers extremely defined and finer accuracy.
High-fidelity models and also rough prototypes are something that the printer is equipped to produce.
After having known about the print quality of the printer, let's see a little bit about the software on which you are going to 3D design.
Software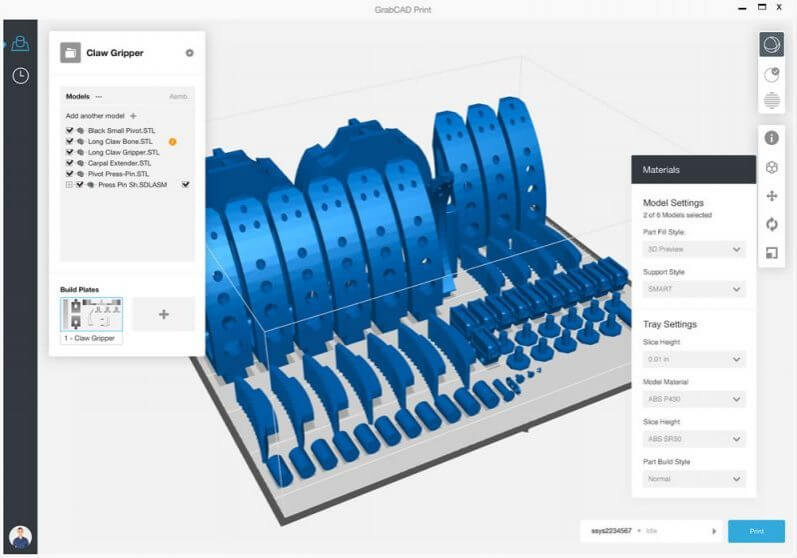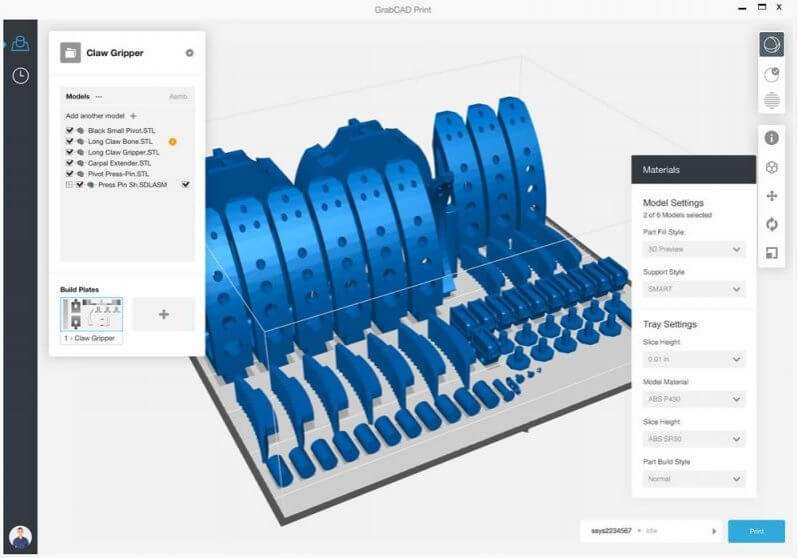 GrabCad is the name of the slicing software that the printer is compatible with. You can learn about this software from The Stratasys Academy as well if at all you need a hand.
The software is an easy-to-use tool for slicing and conveying the design of a part or functional prototype correctly to the printer.
In short, you do not have to be an expert to roll through the different settings of the software.
Even the most naive person will be able to use the software easily without any hassle.
The software is very intuitive offering advanced settings for experts. Overall, a well-designed application.
Customer Support
Stratasys has been in the business of 3D printing for many years.
The company is known for providing its clients with top-class service when it comes to solving their doubts related to 3D printers. And the same applies to Customer Support for the J55 3D printer.
You can reach out to the technical team of people, who will hear your queries and offer solutions to them in the most patient manner.
All the users of this printer can call them, email, or Skype them to connect.
Parameters Influencing Buying Decision
A quick recap of the important factors that we have been talking about in this article is given below.
3D Printer Cost: This 3D printer costs $99,000. So, you can imagine how expensive it is for homemakers. And, even for some of the large-scale industries. However, it is worth a lot, looking at the benefits it offers to the users.
3D Print Quality: It's a very accurate 3D printer designed for large scale industries.
3D Print Speed: Industry-average.
3D Printer Capability: From multiple colors to high precision, you can enjoy almost everything you expect from your models when printing with this machine.
3D Printer Practicality: From high-end functional prototypes to finished goods, one can utilize the machine for an array of applications. And, within numerous niches.
3D Printer User Expectations: Industrialists and designers who were waiting to play with colors when 3D printing would be very satisfied with this printer.
The Verdict
Stratasys has been known for its great work with its 3D printers.
And, this time, it has gone even a few steps further to offer users a well planned and highly accurate 3D printer design.
J55 is the perfect match for industries that are looking for parts with quality and looks.
Do not forget to read the complete J55 3D printer review to make the final call.