Table of Contents
When talking about 3D printing, who can forget the name of Scott Crump who invented the most accessible process of all, the FDM 3D printing process.
Scott, right after patenting the technology in 1989, came up with the idea of starting a company to further strengthen the innovation and provide a desirable solution to the different industries.
And, he founded Stratasys. Well, a short brief does clarify how high the company standards must be. This also explains the reliability that the Stratasys 3D printers hold.
There are various 3D printers for different purposes. And, with varying capabilities and strength. However, two things that stay common among all the products from Stratasys is the print quality and ease of use.
Without fail, the company maintains an unrivaled and unparalleled print quality as well as simple user interaction with machines.
Stratasys also boasts its high-speed 3D printing. So, you can expect these machines to carry your tasks faster than many other counterparts.
Why wait? Let's check out a few of the most popular selections from Stratasys. And, find out what makes these printers apart from the rest of the crew.
List of Best Stratasys 3D Printers
While there are many ways to segregate the 3D printers in terms of the application, design, or technology, let's categorize the list as per the purpose of these machines.
The company excels at inventing better machines based on three major 3D printing processes: FDM, Polyjet, and Stereolithography. This list features the 3D printers working on these three technologies.
Design Series
The design series consists of those 3D printers that are best for creating fine details with multiple textures and colors. The versatile machines listed under the design series are very capable and highly intuitive.
back to menu ↑
Connex3 Objet260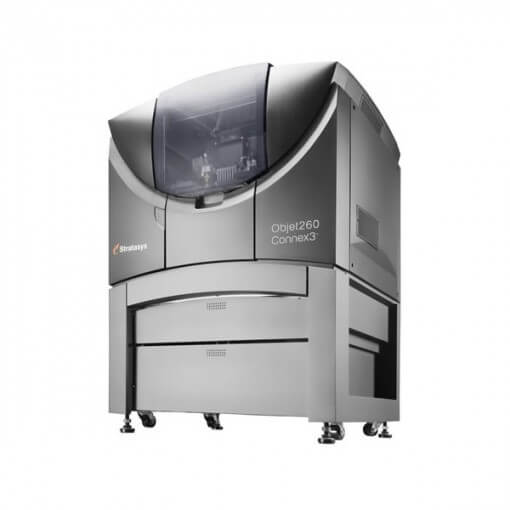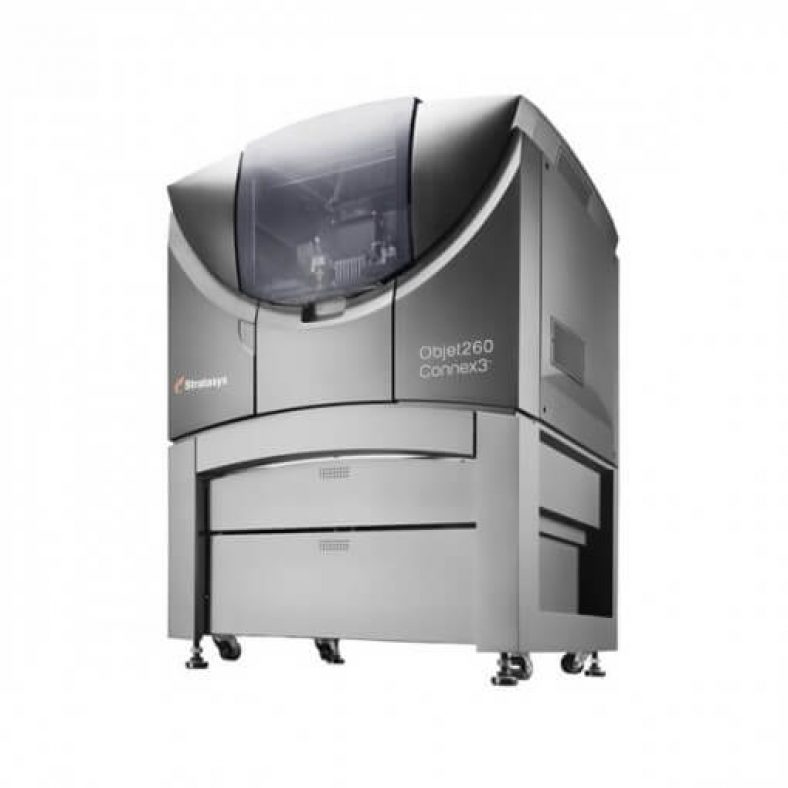 This 3D printer can help you achieve the most precise prints in multiple-material and color. A professional 3D printer designed for providing the best solution to those looking to create intricate designs.
Best for creating colorful prototypes for meeting your 3D printing needs. The Connex3 Object260 is capable of designing translucent, thermal-resistant as well as rigid designs.
With great build volume and a huge accuracy for minute details, the machine could help you accomplish complex tasks without hassle.
You get to print with a wide variety of materials (over 1000) when working with this machine. Either flexible, vibrant, bio-compatible, or durable, the 3D printer could justify many other materials.
Also, the company offers water-soluble support to considerably minimize the production process. Hence, providing users with the highest reliability.
Technical Specification
Connecx3 Object260 has covers a total space of 87 x 120 x 73.5 cm and weighs around 264 kg. While the material cabinet covers 33 x 117 x 64 cm of space. Among all this, the build volume stays at 255 x 252 x 200 mm. Users can achieve a minimum layer thickness of 16 microns. Isn't that amazing? You can create prototypes with high details.
back to menu ↑
F120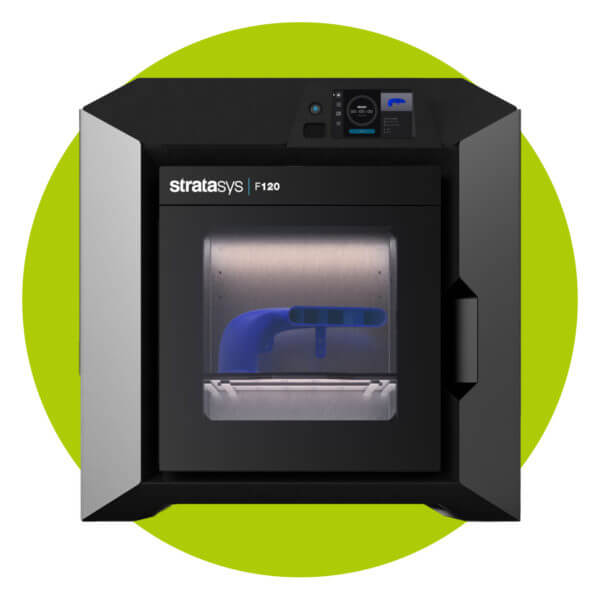 Based on the FDM 3D printing technology, the printer is very easy to use and operate. It is more likely a plug and plays professional machine that is designed to keep beginners in mind. Anyone with no prior experience with 3D printing can depend on F120.
What makes F120 unique from the other competitors is its great layer bonding. This is highly strong and offers durable parts. Moreover, it also boasts higher tensile strength coupled with flexural strength. You can create prototypes and use 3D printing for functional applications.
The printer can create parts 2 or 3 times faster than the other machines falling under a similar price range. Plus, it is a workhorse and can continue printing for 250 hours.
With a completely simple workflow, the printer takes care of all the jobs all by itself. Hence, you won't be needing any special technician to carry on the 3D printing task for you. This large FDM printer is one of the best Stratasys 3D printers that you can pick from the list.
Technical Specification
With a footprint of 889 x 870 x 721 mm, the 3D printer weighs around 124 kgs. It offers a build volume of 254 x 254 x 254 mm. Users can print with layer thickness ranging between 0.007 in. (0.178 mm) – 0.013 in.
back to menu ↑
J55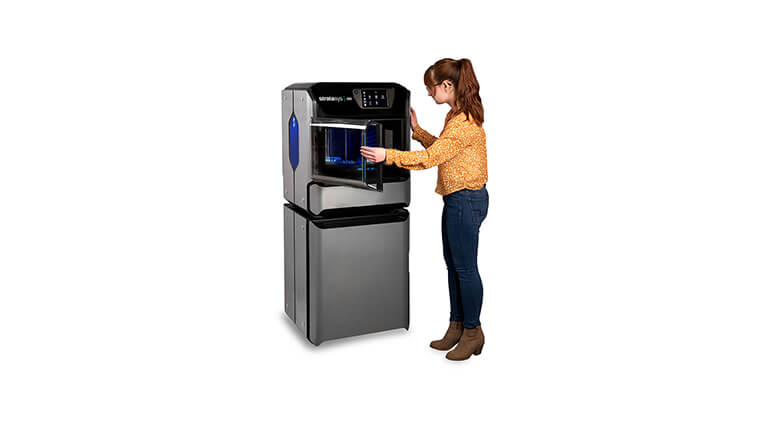 A polyjet 3D printer providing promising results to the users. There are many features that set the printer apart from the herd. Apart from the high print quality that is obvious with the Stratasys 3D printers, the machine lets you print with a full-color range. A compact printer that is best for limited spaces.
To better the precision and accuracy, the printer allows a restrictive head movement offering constant speed. This highly affects the overall results and make sure the parts are very detailed.
The company has taken care of making the printer feasible for colleges, offices, classrooms where odors could ruin the entire experience.
Hence, eliminating the problem of smelly fumes that is very common among polyjet 3D printers, J55 makes itself space friendly, irrespective of wherever you install it. It comes with the ProAero filter that takes away all the fumes and filters out the smell for making it safe around users.
Plus, it also is very quiet while operating. The noise is less than 53 decibels which is similar to that of the refrigerators that you use in the kitchen. And, the best part is that the 3D printer is a much affordable solution considering all the benefits it holds.
Technical Specifications
This won't take much space as the bottom area is very compact. The printer is just larger in size. J55 occupies a space of 651 x 661 x 1551mm while weighing 228 kgs.
It has a rotatory print tray which exponentially increases the speed of the print jobs. And, in terms of precision, you can expect to be able to achieve a minimum layer thickness of 18 microns.
And, the speed is even more surprising. It has the highest speed of 18.75µm.
back to menu ↑
V650 Flex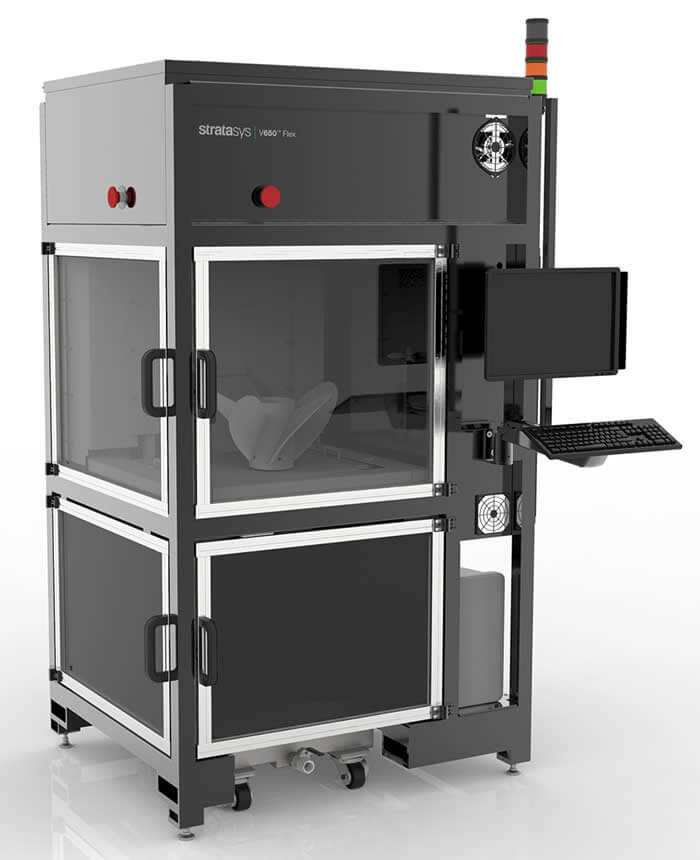 This one is the resin-based SLA 3D printer. V650 Flex, with its unique and advanced design, has brought more room for improvements within the set standard of the SLA technology.
It has better speed, accuracy along with a highly reliable workflow. Hence, revisiting the capabilities of the SLA 3D printing process.
This industrial 3D printer brings you the best quality results without occupying a large space of your production house. Its focus on creating a better solution has made it one of the best Stratasys 3D printers.
You can accomplish various printing tasks with high and finer details without any hassle. Embodied with advanced features such as power outage resumes, increased scanning systems, intuitive interface, etc, the printer definitely proves to be the next generation solution for industries.
From smoother finish to complex designs, you can concentrate on a variety of outputs. You can even create investment casting patterns using this amazing machine.
The machine is equipped with larger VAT to maximize the results and output for easing the production process by reducing the completion time.
Technical Specifications
The 3D printer is equipped with a Q-switched harmonic diode-pumped solid-state UV laser which is highly powerful. With a beam diameter of 0.005 – 0.030 in, one is sure to produce really finer details including high precision.
You can achieve a resolution of 0.0005 inches whiles the minimum layer thickness possible is 0.004 inches. The Full Vat capacity is 508 x 508 x 584 mm.
It offers a temperature range of 20 to 26 degrees Celsius. Plus, the laser chamber has a maximum temperature of 28.3 degrees Celsius.
With a total footprint of 211 x 140 x 244 cm, the printer weighs 998 kgs. Hence, offering customers a wider room for innovation. The machine focuses on plenty of major needs such as accuracy, precision, surface finish, and a lot more.
back to menu ↑
Production Series
Coming down to the 3D printers that offer higher capacity coupled with the availability of numerous materials to work with. The production series again caters to a huge range of offerings.
The company has created different 3D printers depending on the needs of its customers, especially focusing to meet the requirements of large-scale industries.
back to menu ↑
J8 Series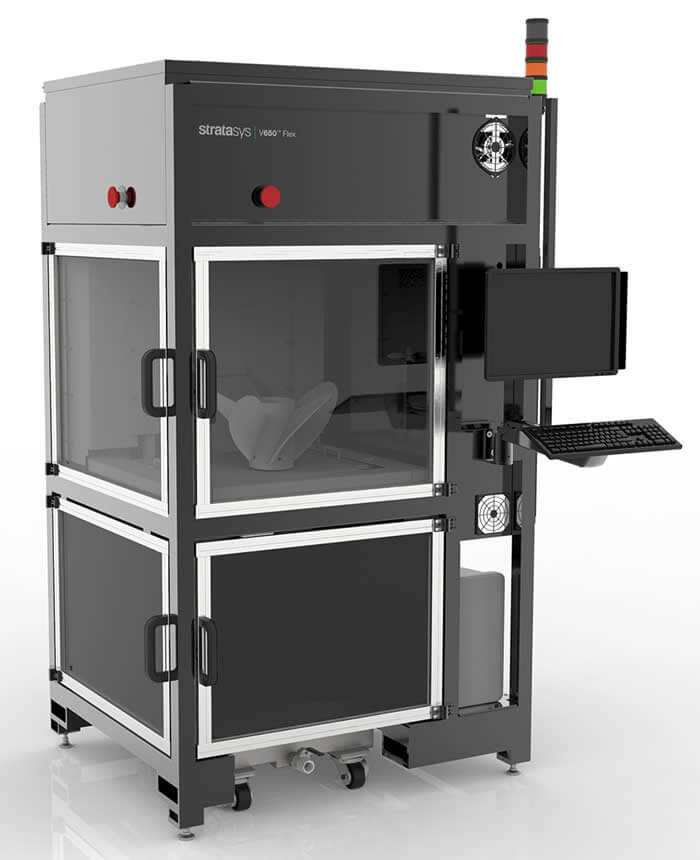 Stratasys released its J8 series for those focusing on high-end design. While offering thousands of colors to work with, these Polyjet 3D printers from the J8 series are really astonishing. Offering its users with detailed designs and smoother finish, one is sure to fall in love with these machines.
The J8 series has three different variations of 3D printers. The J826, J835, and J850. All these 3D printers are capable of working with seven different materials at once. Hence, minimizing the downtime related to the material changeovers.
While the J835 and J850 can accomplish jobs at super-fast speed with their Super High-Speed draft mode, the J826 uses the high-speed print mode which is again better than a lot of competitors.
When talking about the print results, you can expect these to offer high versatility. For instance, you can create woodgrain, simulated leather, and even soft-touch textures. Plus, you can design multiple prototypes using varying materials at one time.
Technical Specifications
All three variants of the J8 series offer high-resolution printing and accurate designs. You can print a minimum layer thickness of 0.00055 in. With over 500,000 colors, you can imagine the flexibility you have to stretch your creativity.
The operating temperature lies between 18 to 25 degrees Celsius. In terms of footprint, the printers differ. And, J850 offers the largest print volume of 490 x 390 x 200 mm while occupying a total space of 1400 x 1260 x 1100 mm. The 3D printer embodies a material cabinet with a capacity of 1119 x 656 x 637 mm. J850 weighs 430 kgs.
back to menu ↑
F900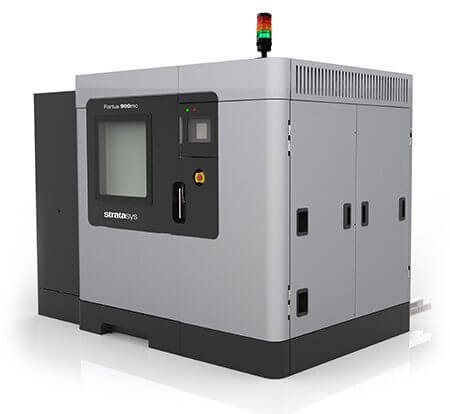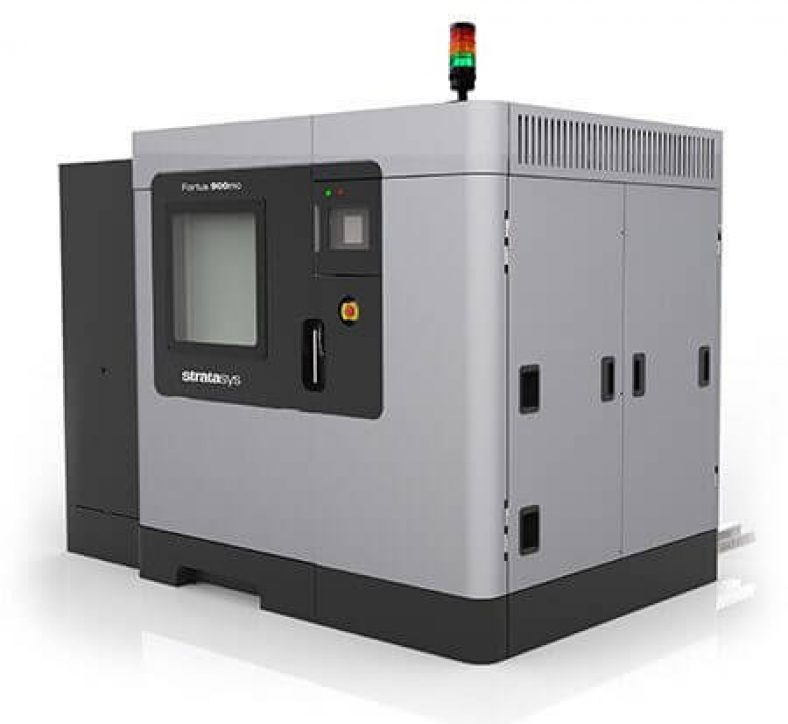 With the Stratasys F900, the company proved that the FDM printers aren't just for recreational use. But can contribute to serious jobs as well. This is designed for heavy industries such as manufacturing plants. It captures the need for faster and bigger work by offering a huge build platform.
To further scale the overall production, the printer exhibits the Acceleration Kit with your printing system. This speeds up the printing process, providing parts at a faster speed. Like all other Stratasys 3D printers, this one also works directly with the CAD files. It works with importing the CAD files directly to the GrabCAD Print.
The printer also enables production phase optimization. This means that you can make changes in between prints, for instance, revising of materials. And, these can be accomplished without any delays to the overall production time.
F900 is fully equipped to create fixtures, functional prototypes, jigs, tools, and much more. You can also create end parts using this FDM 3D Printer.
Technical Specifications
The 3D printer occupies a space of 2772 x 1683 x 2027 mm while weighing 2869 kgs. It offers a build volume of 914.4 x 609.6 x 914.4 mm. Providing an envelope build volume, the 3D printer does meet the need for high production capacity.
Users can work between the layer thickness of 0.005 inches to 0.020 inches. Also, the printer comes along with two build material canisters covering 1508 cc of space. And, two support material canisters with a volume of 1508 cc.
back to menu ↑
Object1000 Plus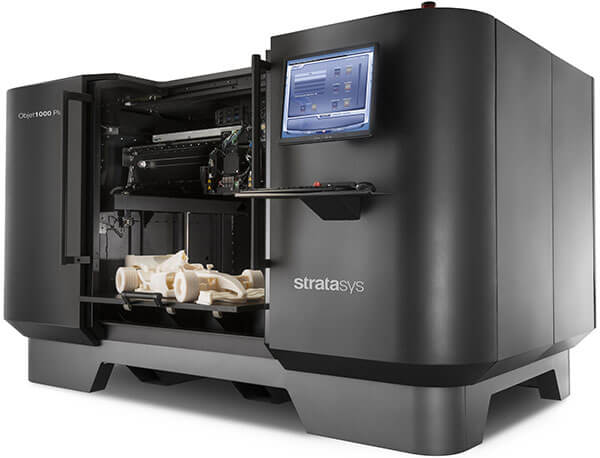 If you are looking for a solution that could get you completed parts out of the 3D printer without requiring additional curing, this is the one you should choose.
The Polyjet 3D printer lets you work with 14 different materials or colors at once. Also, providing users with a larger build space, it aims at solving the problem of bigger production requirements.
With a little or no post-processing, you can achieve smoother prints. With water-soluble supports, you can create parts that are highly smooth. Hence, you do not need to process the parts further by polishing or painting.
The printer is huge. It is the largest 3D printer available in the world. Hence, you can print without separating the CAD files into different parts and then combining those later after printing. On the contrary, you can print the entire CAD file in one go.
This also helps in strengthening the bonds of the layers further. Either run one CAD file for large objects or create various smaller parts in one single print.
This 3D printer is capable of working along with the rigors needs of specialized industries such as defense, automotive, aerospace, industrial machinery, and even household appliances.
You can make use of over 120 material options and bring the best out of the machine with minimum efforts. It can run for hours without needing any supervision. When put all the benefits together, it does seem like an unrivaled option. Isn't it?
Technical Specifications
As mentioned above, this is the world's largest 3D printer and comes with a footprint of 1960 x 2868 x 2102 mm. Isn't that huge? It weighs 2200 kgs and is very heavy. When it comes to the build space, users can enjoy the 1000 x 800 x 500 mm volume for 3D parts.
It is also a very accurate 3D printer and offers the minimum layer thickness of 0.0006 inches alongside the accuracy of 600 microns. Being able to work with GrabCAD Print, you can use the CAD files directly for printing.
back to menu ↑
Dental Series
Here comes the dental series. The 3D printers are specially designed for serving the complex needs of the dental industry. Being able to print with high accuracy and utilizing the bio-compatible material, the 3D printers are well equipped with the capacity and high precision.
back to menu ↑
J700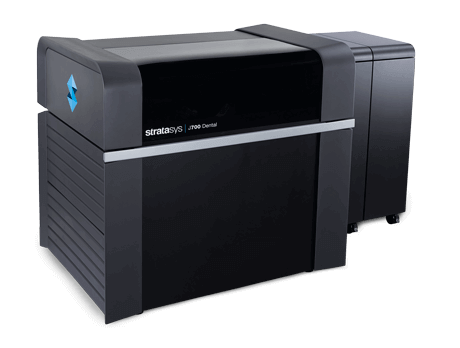 This 3D printer from Stratasys is designed for offering amazing solutions for the production of clear aligners in high volume.
J700 Dental 3D printer is a completely scalable solution which is capable of offering highly accurate and repeatable designs. Every print can create around 50 to 60 different arches. In a day, the printer can design almost 400 clear aligners.
The 3D printer is easy to set up and the calibration process is like a breeze. Hence, you do not have to wait for weeks to start your production process. On the contrary, in just a few hours, you can start your full-fledged production.
Moreover, the 3D printer can get you the completed parts without a need for further curing. Hence, minimizing the damage possible through rough handling or coming in contact with contaminations.
Technical Specifications
The material jetting J700 offers full-color 3D printing to the users with utmost precision. It offers a maximum build size of 490 × 390 × 200 mm with a minimum layer thickness of 0.01 mm. It has a footprint of 1400 x 1260 x 1100 mm and weighs 430 kgs. The material cabinet has a space of 670 x 1,170 x 640 mm and weighs 152 kgs.
The printer processes one material at a time. Stratasys provides two different materials compatible with this version: MED670 or MED690
back to menu ↑
J720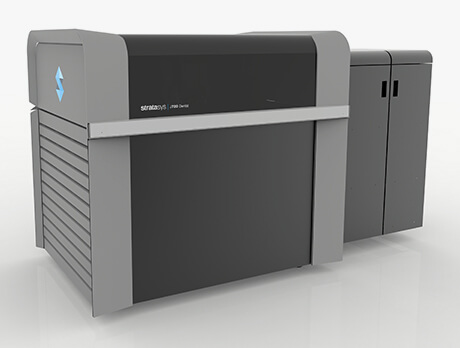 Unlike J700, J720 can help users print with six materials at a time. Expand your lab's capabilities with full-color, multi-material 3D printing. It gets you better speed, capacity, and flexibility of designing in different textures and outputs.
With higher resolution prints, one can also access a variety of colors. Apart from the different types of materials, the printer can work with water-soluble support. Hence, resulting in smoother finishes. This is a great aid for the dental industry.
Technical Specification
The 3D printer has a total volume of 1400 x 1260 x 1100 mm while weighing almost 430 kg. The material cabinet footprint is 670 x 1,170 x 640 mm. And, it weighs around 152 kg. This is similar to the J700 3D printer.
The build volume is large enough to process multiple prints in one tray. It provides a build space of 490 x 390 x 200 mm. Also, the layer thickness is highly impressive. Users can print with a minimum layer thickness setting of 0.00055 inches.
back to menu ↑
Object30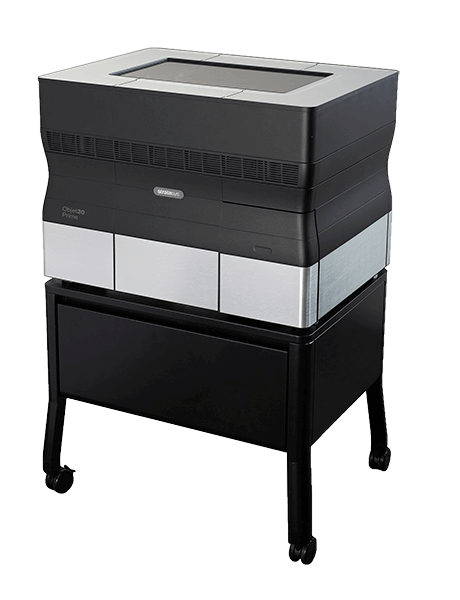 Based on Polyjet 3D printing technology, the Objet30 Dental Prime could change the overall workflow of your dental lab for good. Users can create molds in-house without needing to spend on outsourcing the requirements. Plus, it lets one accomplish the jobs faster.
Because the 3D printer provides great precision, users can easily create high detailed diagnostic wax-ups or removable partial-denture casting patterns without any hassle. Also, it can help one meet the specific needs of the individuals without putting in any extra effort.
The company has invented three special dental materials engineered specifically for those working within dental labs. These are designed to further the accuracy of crown and bridge models.
Technical Specifications
This is a comparatively compact machine when compared to the other two from the dental series. It has a footprint of 82.5 x 62 x 59 cm and weighs around 106 kgs. It offers a satisfactory build volume of 300 x 200 x 100 mm.
The precision and accuracy are impeccable. You can achieve a minimum layer thickness of .0006 inches and an accuracy of 0.1mm.
back to menu ↑
The Conclusion
Stratasys is popular for its unmatched quality 3D printers and has been working for progressing further to offer even better deals to the users.
That is why the company has been able to discover solutions that aren't available with other manufacturers. It showcases 3D printers with varying capabilities and price ranges, to suit the needs of different customers.
With so much under its roof, Stratasys is leading the industry with leaps and bounds. There are many other 3D printers apart from the ones listed here that are available with the manufacturer.
And, all are similar in terms of the quality they offer. You can achieve the highest precision with these machines at all times.
Plus, the company also focuses on meeting large scale industry requirements with each of its offerings. Hence, you would find these machines to be larger in size and heavier than the usual 3D printers. And, why not. The Stratasys 3D printers are made for excellence and covering those 3D printing needs that aren't targeted yet.