Tethon 3D Bison 1000
Tethon 3D Bison 1000 is a DLP 3D printer with a powerful LED source for curing various types of resins. The printer is capable of producing dimensionally accurate parts with excellent surface finishes.
PROS
Considerable build volume.
Extraordinary surface finishes.
Remote monitoring and control.
Huge memory space.
Heated vat.
Compatible with multiple resins.
LCD touch screen user interface.
CONS
Bison 1000 does not offer simple operation. Uses must possess some technical expertise for smooth operation.
The printer is on the higher end of the budget than normal DLP 3D printers. Hence, users must invest a large sum in the beginning for purchasing this machine.
Product
Specification
Videos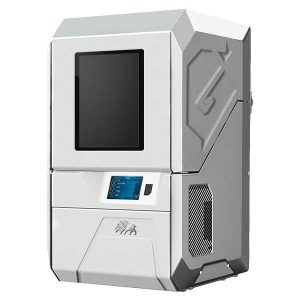 Compatible with a variety of Tethon 3D resins, Tethon 3D Bison 1000 is a ceramic and metal DLP 3D printer. The machine features a camera and an ...
| | |
| --- | --- |
| Model | Bison 1000 |
| Manufacturer | Tethon 3D |
| Price Range | $ 5000 – $ 10000 |
| Release date | 2019 |
| Country | United States |
| Availability | Available |
| Classification | Professional |
| Technology | Resin (SLA- DLP…) |
| Material | Ceramic, Liquid resin |
| Generic material | Yes |
| XY accuracy | 0.057 mm 0.002 in |
| Max. build size | 110 × 60 × 130 mm 4.33 × 2.36 × 5.12 in |
| Max. build volume | 0.86 L |
| Min. layer thickness | 0.03 mm 0.001 in |
| Heated print bed | No |
| Heated build chamber | No |
| Automatic calibration | No |
| Closed frame | Yes |
| Dual extruder | No |
| Independent Dual Extruder | No |
| Full color | No |
| LCD screen | No |
| Touchscreen | Yes |
| On-board camera | Yes |
| Mobile app | Yes |
| 3D scanners | No |
| CNC mill | No |
| Electronics 3D printing | No |
| Laser engraving | No |
| Conveyor belt | No |
| Air filter | No |
| Pellet extruder | No |
| USB | Yes |
| Wifi | No |
| Bluetooth | No |
| SD card | No |
| Ethernet | Yes |

Table of Contents
After manufacturing and supplying photopolymer resins used for ceramic 3D printing, Tethon – the Omaha-based 3D printer manufacturing company has ventured out into the world of DLP 3D printing via Bison 1000.
With this printer, users can solidify an entire layer at once, and speed up their print operations without affecting the quality.
It offers a standard build volume for resin-based 3D printers i.e., 110 mm * 60 mm * 130 mm. And can print layers at 0.1 mm, 0.05 mm, or 0.025 mm heights.
The printer's XY resolution or the pixel size while it illuminates the liquid photopolymer resin surface is 0.057 mm. Such a fine resolution would mean very crisp prints.
The Bison 1000 can accommodate one liter of resin in one go. Moreover, it can control the heat of the resin throughout the print. Also, the printer hosts a durable resin vat because of which it'd be easy for users to peel off the prints easily.
According to the company's claim, the film coating on Bison 1000's resin tank is replaceable and affordable. Well, let's check out the printer's in-depth review and try to get an insight into where exactly the printer offers to the users.
Features
The Bison 1000 can be connected via Ethernet. After establishing the connection, it can be operated remotely, Thanks to the onboard webcam that assists you to view prints live from a smartphone application.
Also, Tethonware – the software that's compatible with Bison 1000 has an intriguing feature. It can accept extremely large 3D design files.
In fact, the device itself has a large 22GB hard disk internal storage for holding gigantic GCODE files. Below mentioned are some of the key features of the printer due to which it manages to outshine others falling in the same price range.
Industrial-Grade Engine
The heart of any 3D printer is its engine. Bison 1000's engine comprises a 405 nanometer UV LED source which aids in curing already laid resins.
Also, the printer creates parts and functional prototypes with pixel size along the X and Y axis of 57 micrometers each. Moreover, the machine can manifest a full HD layer resolution of 1920 * 1080.
The complete engine mechanism of Bison 1000 is optimized even for printing with high-load ceramic materials. Its light source intensity can be adjusted for curing a wide range of materials.
Overall, the engine is ready to serve users during their long working days. And this makes Tethon Bison 1000 – a desktop 3D printer, a machine that can fulfill the professional needs of various industries.
On-board Camera for Remote Monitoring
Another noteworthy feature of Bison 1000 is remote monitoring. Equipped with an onboard camera that is integrated with an application, users can monitor the entire printing process as the recording takes place in real-time.
Not only that, but also it allows operators to control and take appropriate immediate actions from their phones.
So, one does not need to be physically present around Bison 1000 for making changes, as well as keeping an eye on it.
A smartphone and a stable internet connection enable it to control and monitor the machine from anywhere. Flexible cool, yeah?
Heated Vat and Highly Productive Build Plate
The build plate of Bison 1000 allows for a maximum build size of 110 mm * 60 mm * 138 mm. Moreover, users can get three types of layer thicknesses i.e., 25, 50, and 100 micrometers for parts created using the printer. Bison 1000's build plate has an improved surface which guarantees excellent part adherence.
To ensure that the resin chosen for 3D printing has a reduced viscosity, Tethon has equipped Bison 1000 with a heated vat.
This component helps in lessening the user's overall print time. So, say prints that take 10 hours to build a certain part with normal vat, will now take less than that to build the same design with the heated one.
Large-Sized LCD and Vast Memory Storage
Bison 1000 features an easy-to-read LCD touch screen interface of size 85 mm * 155 mm. It allows users to fully adjust print settings according to the geometry of the part.
Moreover, operators can make amends in the attachments supporting the part, its lift height, speed, etc. In addition to it, users can also make last-minute changes in their 3D design files.
The printer has an extremely vast digital capacity. Tethonware – the printer's slicing software can accept gigantic files.
Additionally, the device itself offers a large internal storage capacity of 22 GB hard disk. So, it's easy for customers to accommodate more than one file on the printer.
Modern Construction
Bison 1000 is designed to accept high load materials essential for creating improved part quality and strength. The heating temperature of the resin is easily controllable allowing for last-minute changes in one go. Moreover, the printer has a liter capacity for full-scale productivity without adding resins.
It operates with a reduced separation force that helps facilitate part separation. Also, the machine allows for monitoring print status in dark hours setting with interior lights.
Specifications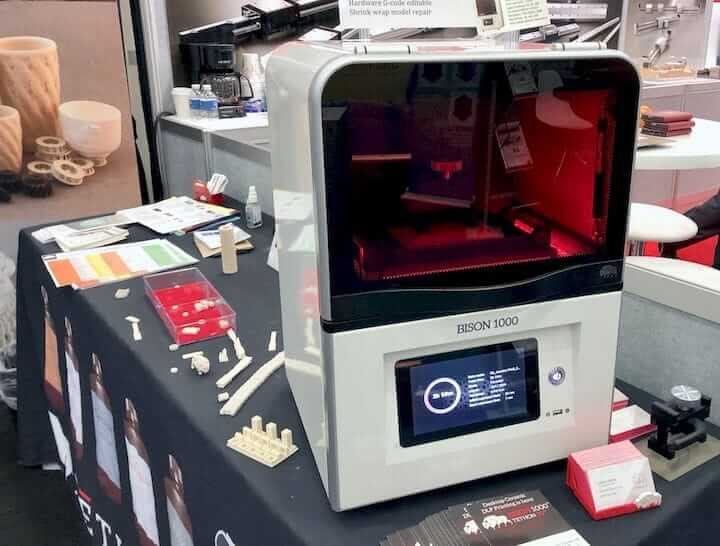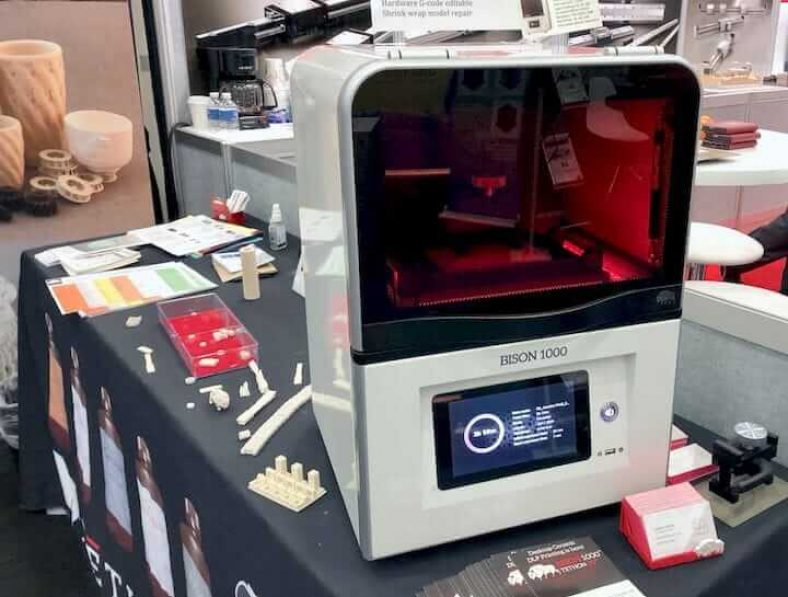 Credit: fabbaloo.com
Bison 1000 offers a maximum build volume of 100 mm * 60 mm * 138 mm. It utilizes a UV LED light source of 405 nanometers for solidifying the resin. The machine offers a pixel size of 57 micrometers on its X and the Y-axis.
Objects printed via Bison 1000 can possess three-layer thicknesses. Hence, users can create parts switch settings between 25 micrometers, 50 micrometers, and 100 micrometers for varying surface finishes.
A 22 GB HD internal storage helps users store multiple 3D files inside it. An LCD touch screen interface of size 85 mm * 155 mm on Bison 1000's body simplifies user interaction by letting them modify numerous parameters such as the print settings, attachments, lift height, and print speed.
In addition to it, an inbuilt camera permits the users to monitor the print progress in real-time. Bison 1000's engine is capable of handling high loads of ceramic materials. Operators can use two modes to connect with the printer for uploading 3D models on it: the USB mode and via the Internet.
Price
Tethon Bison 1000 is available at a market price of $16,900.
First Impression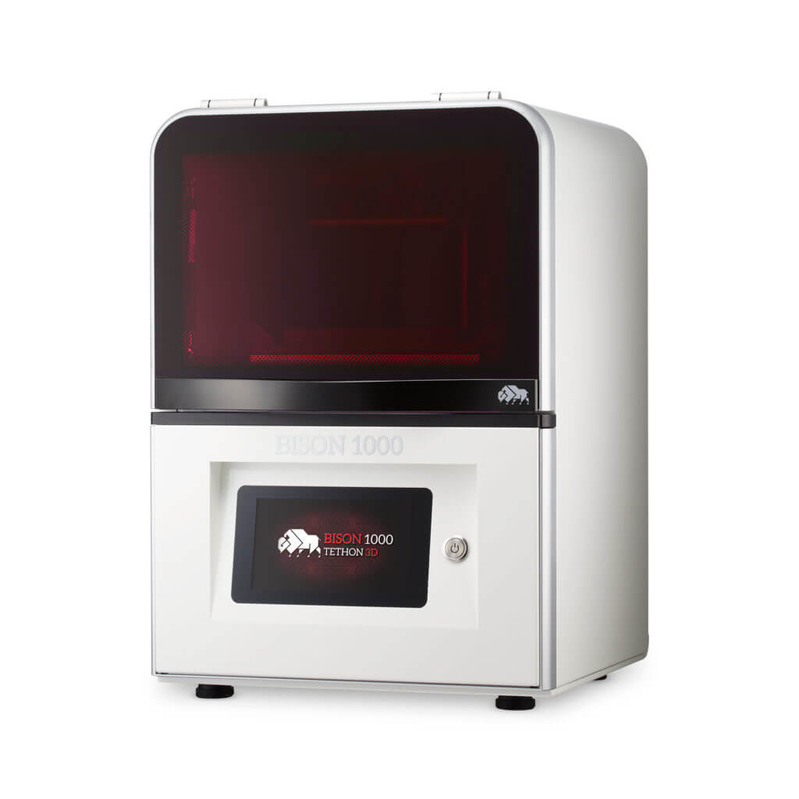 Bison 1000 has a modular design and robust construction. Its translucent print chamber can be accessed by opening the door from the door handle.
An LCD touch screen interface is present on the bottom body of the printer. And just beside it is the power button. The machine has an attractive look and finish. It's available in white color.
Bison 1000 printer comes along with various other components mentioned below:
Adapter
Power Cable
USB Drive
Resin Tray
Build plate
Wide Scraper
Nitrile Gloves
Silicon Scraper
Rubber Scraper and
Black Door Key
Setup
Users can start setup by removing the protective plastic covering and Styrofoam from the inner portion of the printer. After which, you can plug in the provided power cable to the printer and connect to a power outlet! Finally, turn on the power switch and press the power button present on the machine.
Before starting to print, ensure that the resin tray is in place and secured down by two latches on the sides. Then, insert the build plate into place with its handle facing forward and tighten the knob present on its top.
Make sure that the resin tray is in place before installing the build plate. And after printing, remove the build plate before removing the resin tray to prevent spilling.
Install Tethonware from USB Drive provided with Bison 1000 onto your computer, after which, you are all set for 3D printing.
Print Type/Cost
Tethon 3D Bison 1000 is a DLP 3D printer. DLP 3D printing technology is mostly like SLA 3D printing technology. The only difference being the light source used for curing the resin.
With a DLP 3D printer, the light source is specially manufactured with a digital light projector screen, which makes it faster than SLA.
Moreover, at the heart of any DLP 3D printer, hundreds of thousands of small micrometers are present. They hold the responsibility of directing the light and creating the pattern of a layer onto the bottom of the resin tank.
3D printing a part with DLP 3D printing technology is costly. It's higher than the cost of 3D printing with FDM 3D printing technology. But at the same time, the technique creates some of the most intricate geometries with dimensional accuracy.
Also, the price of 3D printing a single part depends on various factors such as its geometry, the material used for making it, support structures, etc.
Print Quality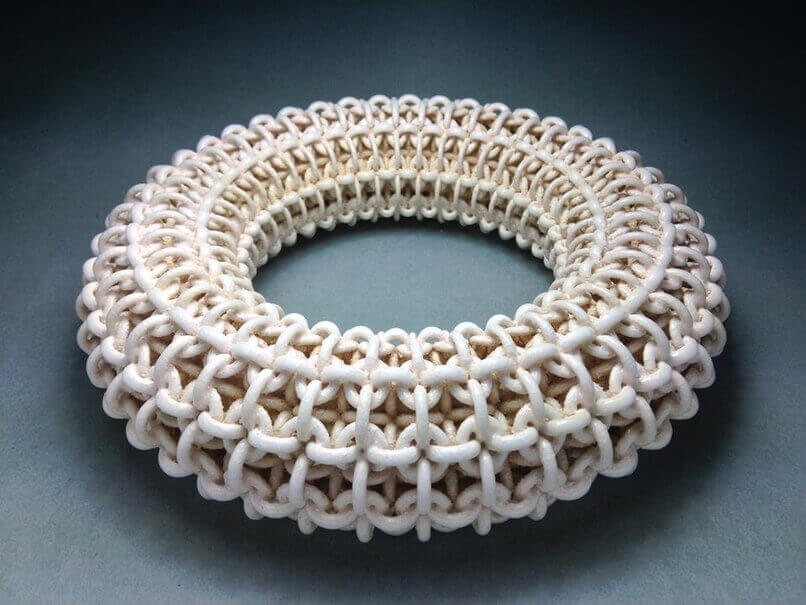 Credit: 3dprintingindustry.com
Tethon Bison 3D creates the most stunning prints with an excellent surface finish. The creation of parts in three different layer thicknesses is possible using the printer.
Even sharp or curvy edges in parts can be created with complete precision. The finished objects are denser, they shrink less during the sintering part than the parts printed on other machines.
Software
Tethonware is a user-friendly software that supports STL, OBJ, and AMF file formats. Supports designed on the application can be edited and structured again.
Also, the software allows viewing the design from multiple locations to decide optimal placement. It's easy to manage file exchanges, as well as do print settings using Tethonware.
Customer Support
Tethon has a separate technical team to look after user's doubts regarding the printers they sell. The team can be contacted via email or phone to avail of technical assistance with any issues you may have.
Also, there is also a lot of materials available online which can be referred from time to time for helping yourself when you have doubts
Parameters Influencing Buying Decision
The chief factors regarding Bison 1000 are as follows.
3D Printer Cost: Although Bison 1000 is a professional grade DLP 3D printer, its price is slightly over the average.
3D Print Speed: Compared to SLA 3D printers, DLP 3D printers are known to have good print speeds. So, there is no doubt that Bison 1000 will take less time for 3D printing than SLA 3D printers. However, it is not as fast as FDM 3D Printers.
3D Print Quality: Bison 1000 stands true to the reputation built by DLP 3D printers. It produces striking surface finishes and dimensionally accurate parts.
3D Printer Capability: The printer is compatible with various resins. It lets users remotely monitor and control their jobs. Moreover, the LCD screen does everything possible to make working with the printer easier than otherwise.
3D Printer Practicality: Manufacturers in the field of dentistry, jewelry, and other various domains can make use of the Bison 1000 for attaining high-quality parts.
3D Printer User Expectations: The printer has it all to facilitate a seamless experience for professional users. A light engine with a powerful UV LED source, a build plate with an improved surface, a heated vat with controllable temperature, remote monitoring, and a lot more!
The Verdict
Tethon 3D Bison 1000 is a DLP 3D printer with a powerful LED source for curing various types of resins. The printer is capable of producing dimensionally accurate parts with excellent surface finishes. Also, it is speedier than similarly priced SLA 3D printers.
To facilitate its use, Tethon has put in place a camera and integrated it with their application. Hence allowing remote monitoring.
Moreover, a large LCD screen with fully adjustable print settings, attachments, lift height, and print speed makes the workflow of the printer very simple and straightforward.