Tronxy X5SA Pro
Tronxy X5SA Pro allows users to create complex parts with intense geometry too. You can even go for precise details without thinking twice.
PROS
Affordable
Auto leveling sensor
Removable print bed
Support for multiple filaments
Power Resume feature
Filament run-out sensor
CONS
DIY Kit. Hence, needs assembling
Product
Specification
Videos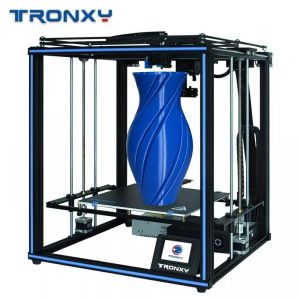 Being a DIY assembly machine, Tronxy X5SA Pro is more suitable for enthusiasts with a 3D printing experience. The printer utilizes a two-axis guide ...
| | |
| --- | --- |
| Model | X5SA Pro |
| Manufacturer | Tronxy |
| Country | China |
| Price Range | $ 479 |
| Availability | Available |
| Classification | Hobbyist |
| Technology | Extrusion (FFF- FDM…) |
| Material | ABS, Other plastics, PC, PETG, PLA, TPU |
| OS compatibility | Linux, Mac OS, Microsoft Windows |
| Generic material | Yes |
| Max. build size | 330 x 330 x 400 mm 12.99 x 12.99 x 15.75 in |
| Max. build volume | 43.56 L |
| XY accuracy | 0.0125 mm 0 in |
| Max. print speed | 150 mm 5.91 in /s |
| Min. layer thickness | 0.1 mm 0.004 in |
| Dimensions | 580 x 645 x 660 mm 22.83 x 25.40 x 25.98 in |
| Weight | 14.5 kg 31.97 lb |
| Nozzle diameter(s) | 0.4 mm 0.02 in |
| Power input | 110/220V AC 50/60Hz |
| Heated print bed | Yes |
| Heated build chamber | No |
| Automatic calibration | No |
| Closed frame | No |
| Dual extruder | No |
| Independent Dual Extruder | No |
| Full color | No |
| LCD screen | Yes |
| Touchscreen | Yes |
| On-board camera | No |
| Mobile app | No |
| 3D scanners | No |
| CNC mill | No |
| Electronics 3D printing | No |
| Laser engraving | No |
| Conveyor belt | No |
| Air filter | No |
| Pellet extruder | No |
| USB | Yes |
| Wifi | Yes |
| Bluetooth | No |
| SD card | Yes |
| Ethernet | No |

Table of Contents
Well! The Chinese manufacturers are very serious about getting things right with their 3D printer brand.
That is why the update of the prior versions took a sharp turn when it came to observing the changes brought to the Tronxy X5SA Pro.
In this Tronxy X5SA Pro review, we will assess if the new features are worth giving attention to. We would find out how the 'Pro' title adds weight to this fresh release.
Before this particular machine, the company did release a few more 3D printers.
Starting with Tronxy X5S that featured a large build volume with an affordable price tag, the company made users believe that it was ready for the competition.
The X5S made remarkable success. However, it had its share of problems.
After gaining reviews and feedbacks from the customers that mostly targeted issues related to the broken parts, heated bed, old Marlin firmware, and a few others, the company came up with revisions.
The manufacturer introduced its X5SA 3D printer that was better in quality and addressed most of the concerns of the users. And, it was a success too.
Recently, the company released its latest version from the same series, X5SA Pro.
Hence, makers do wish to find out what all benefits they may receive when opting for this machine with a 'Pro' suffix. So, why not find that out together?
Let us review the Tronxy X5SA Pro and outline its features and specifications that make it different and better from its predecessors.
Features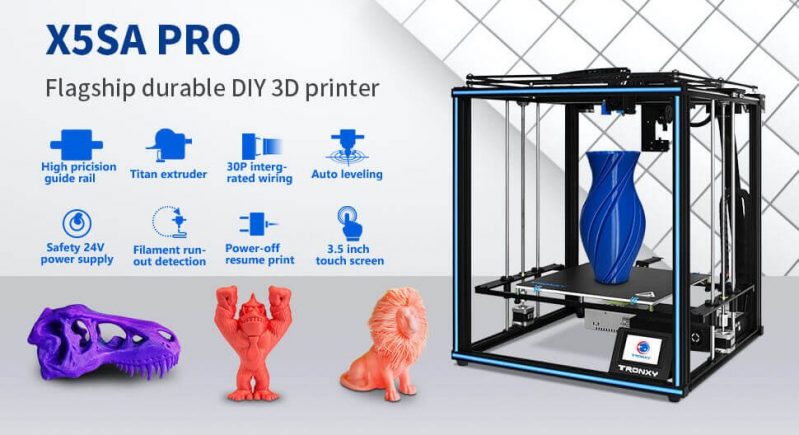 Credit: amazon.com
Looking right away, you may not find these printers differing from each other. Most of all because of the similar build volume and CoreXY frame.
However, that does not mean that these printers are the same. With X5SA Pro, the manufacturer has brought a few high upgrades that make it unique and attention-worthy.
DIY Kit
Nothing changes here. You still get a DIY Kit that would take hours for assembling. And, if you are a complete novice, you may even take longer than expected to complete the setup.
The good news is that there are various online forums explaining the assembling of the machine in a fair way, convenient to understand.
The manufacturer also includes the instruction manual making it simpler for even first-time users.
In short, you can do it too, irrespective of your expertise level.
Sturdy Design
The problems started from here, a weak frame with unreliable acrylic mounts. Hence, the X5SA Pro happened to answer that criticism.
In this upgrade, the company has included metal parts replacing most of the thermoplastic components.
What we have explored confirms that the entire part, with just four exceptions that are made of acrylic material, is created with metal. This consists of mostly aluminum or sheet metal.
Removable Print Bed
It becomes a lot easier to manage your prints, especially when you can just remove the build plate to finally take off the completed prints out of the machine.
In other words, you can just snap out the print bed and remove your 3D prints out of the plate to finally move to the next process, whatever you choose to do with the model.
Filament Detection
You must bear with us to understand what all you can do with this amazing machine. One of the most amazing features of X5SA Pro is its filament run-out detection capabilities.
Hence, when you are out of filament in between of your prints, you won't end up destroying your work.
On the contrary, the printer will pause the printing process and let you print the parts from where you stopped, instead of starting from scratch.
You just need to refill the filament and the printer will resume the function to let you complete your design in one go.
Print Resume
Another vital feature of the 3D printer is its print resume function.
In this case, if you experience a power outage in between your prints, your 3D printer will pause the print process and resume after the power comes back.
This will again be helpful in saving your prints due to unexpected situations.
Auto-Leveling Sensor
At this price range, finding so many useful and attractive features isn't a piece of cake.
But the manufacturer has made promising changes to this machine for ensuring that it fits into users' budgets without making too many compromises.
With auto leveling sensors, users can finally get rid of the tedious manual bed leveling process.
Hence, the Tronxy X5SA Pro is best for every level of users, starting from experts to complete beginners.
Touchscreen Display
Can you ask for anything more after paying so little for what is expected to be really expensive? But the 3D printer does not stop here.
It has a 3.5 inches touchscreen in the front to let users take care of the 3D printing setting easily.
With an SD card and USB connection, users can use the printer as a standalone machine, with its control available right in the front of the 3D printer.
Heated Print Bed
Yes, the 3D Printer lets you print with a heated build plate. This means that users can create parts using a variety of materials.
It supports multiple filaments. So, one can print using PLA, ABS as well as flexible materials such as TPU without any issues.
Titanium Extruder
This addition makes X5SA Pro completely different from X5SA.
Yes, with a titanium extruder, the printer tends to take a huge leap, leaving all its predecessors behind.
It allows for a tighter path, making the extruder reliable and feasible to handle flexible materials with ease.
Upgradable WIFI Connect
Although X5SA Pro does not come with a WIFI connection, it can be upgraded with this feature by paying some extra bucks.
So, if you are someone who manages most of the work through a wireless connection, you must like to consider this upgrade for better performance and flexibility of work.
Specifications
Credit: tronxyonline.com
Tronxy X5SA Pro is a very impressive 3D Printer with a lot of amazing features.
When it comes to technical specifications, it is even better. Trust us, this machine is worth every penny.
The printer comes semi-assembled. Even though being a DIY Kit, the 3D printer isn't a lot difficult to manage pertaining to its setup.
Built using Aluminium and sheet metal, the printer is very sturdy offering a complete dimension of 580 x 645 x 660 mm. It weighs almost 14.5 kgs.
With an open frame, the printer offers a footprint of 330 x 330 x 400 mm.
The printer also has an astonishing speed ranging between 20-150 mm/s.
The nozzle reaches a maximum temperature of 260 degrees Celsius.
Overall, the printer is very sturdy and stable for printing bigger models at higher speeds.
Plus, it is compatible with Windows, Linux as well as MAC operating systems.
Another important aspect that makes this 3D printer so competitive.
Price
Falling at a medium budget range, the 3D printer costs somewhere around $479.
Hence, offering makers huge benefits and affordable costs to experience great details.
When comparing to its predecessor, X5SA Pro is just a few dollars expensive.
However, offering a plethora of profound features and benefits to the users.
First Impressions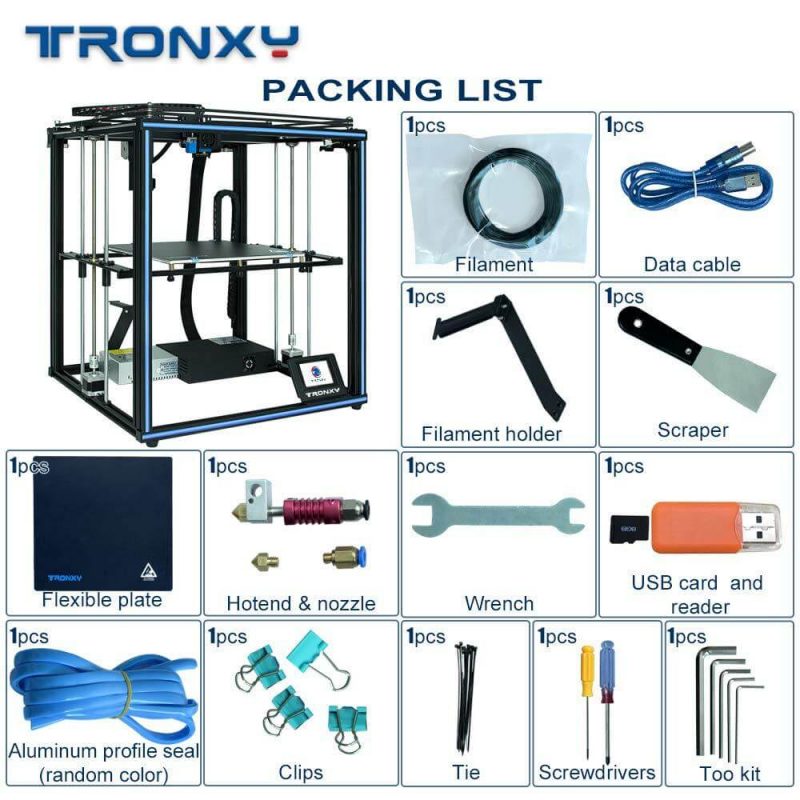 Credit: tronxyonline.com
The 3D printer comes packed inside a safe package. The package size is almost equal to the size of the printer.
This is so because the machine is semi-assembled. Also, the weight of the package is not more than 16.5 kgs. Hence, it is easier to manage.
Also, the packaging is very impressive. Making sure that the components are tightly packed to allow for safe delivery, the manufacturer seems to be vigilant about every need of the customer.
The different components are packed separately with huge care to avoid damage or breakage during transportation.
You would definitely like the way the printer reaches you, safe and sound.
Setup
As mentioned before, the 3D printer comes semi-assembled. Although the printer isn't difficult to set up, it does require a little bit of patience.
The manufacturer includes an instruction manual for guiding users to complete the setup effortlessly.
You will also find a lot of videos explaining the overall setup of the machine.
After you have connected the components together, the bed leveling process wouldn't seem too difficult.
Thanks to the auto-leveling sensors, that turn the manual bed leveling process into a completely hassle-free procedure.
Later, you can just load the filament and start printing your first 3D model.
To set up the printer, it usually takes around four to five hours. And, if it is taking more than that, do not be disappointed.
Sometimes, a lack of experience may get you into some extra efforts. But with patience, you can finish the setup with ease.
Printing Type/Cost
The 3D printer is based on the most affordable and manageable 3D printing process, the FDM technology.
Hence, it is easier to work with this machine compared to the ones based on other processes.
After you load the filament and set up the machine, you will require the 3D model file (the supported formats) to start printing.
Tronxy X5SA pro will start heating the nozzle to start melting the filament for deposition on the print bed.
The model is prepared one layer at a time. After completion of each layer, the build plate will move down, making room for the next layer.
The entire process will continue until the 3D model is prepared.
Now, considering the cost of printing, you can manage the range depending on the choice of the material.
PLA is the cheapest one. Do not forget to read about its properties to make sure you end up with the desired results.
There are other factors affecting the cost of printing too. For instance, print design, complexity, layer height, and whatnot.
Hence, the printing cost will vary for every new design. And, sometimes for the same design with changes in variables such as resolution.
Print Quality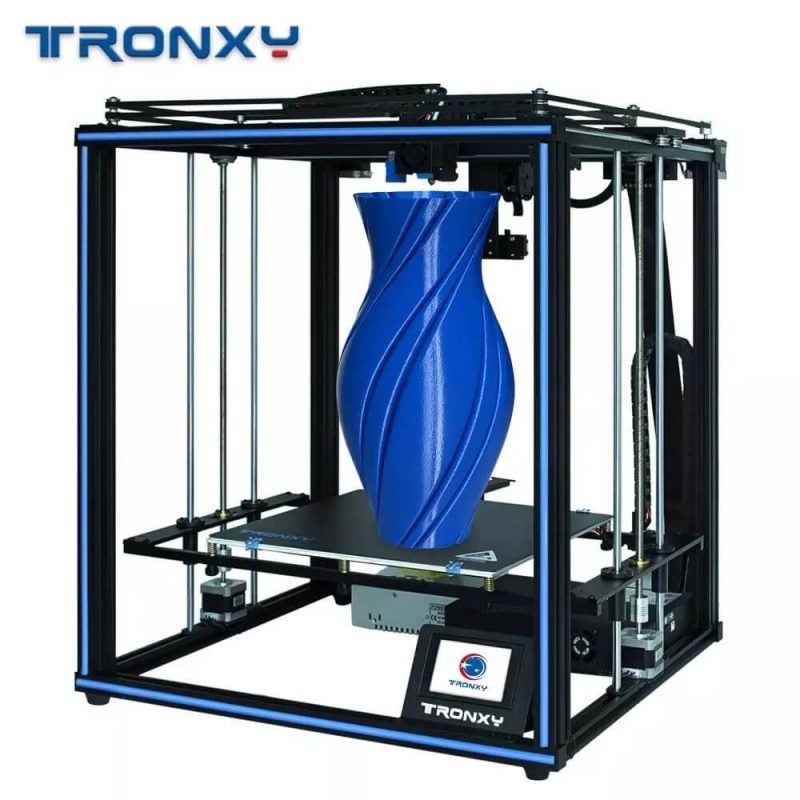 Credit: tronxyonline.com
Allowing the print thickness of 0.1 to 0.4 mm, the printer offers satisfying print quality.
It allows users to create complex parts with intense geometry too. You can even go for precise details without thinking twice. Just ensure that the settings are correct.
Software
The manufacturer recommends using its own slicing software, called Tronxy Slicer.
However, one can even choose to work with other applications.
The printer is compatible with Cura and Repetier-Host as well.
You must already know about the popular apps, Cura and Repetier-Host. So, let's find out about Tronxy Slicer.
It is good to find out that the software is not just a basic tool. However, it is intuitive and very progressive.
On top of that, it offers a user-friendly interface.
Customer Service
Unlike many 3D printer manufacturers out there, Tronxy isn't lazy when it comes to responding to its users.
You can connect with the technical support via email, phone as well as online chat.
Parameters Influencing Buying Decisions
Before wrapping the Tronxy X5SA Pro review, let's revise the entire discussion in short.
Find out what are the things you must consider when buying this 3D printer.
3D Printer cost: Affordable. A great choice for serious makers.
3D Print quality: Gives you the option to print with resolution ranging between 0.1 to 0.4 mm. So, it is certainly impressive.
3D Print speed: Considering the maximum speed allowed with the printer, it is fast. However, you must choose a middle way to complete your models for better resolution and surface finish.
3D Printer capability: The printer can create precise details and complex geometries.
3D Printer Practicality: Mostly targeted for serious designers, including enthusiasts, makers, and even small businesses.
3D Printer User expectations: Beyond par.
The Verdict
If you are someone who wants to achieve great results when sticking to the medium budget range, you cannot ignore to check out this option.
Read the complete Tronxy X5SA Pro review and decide for yourself.