DELTA WASP 3MT
If you are looking for a full-time career in 3D printing, this might look to you like a huge investment. This 3D printer is a large-scale concrete that is aimed at construction professionals, educational institutes, and architects.
PROS
Huge build volume.
Ability to print with multiple materials.
Touch screen interface.
Build-in camera.
CONS
The closed system of 3D printing.
Post-processing of parts and functional prototypes is an issue.
Product
Specification
Videos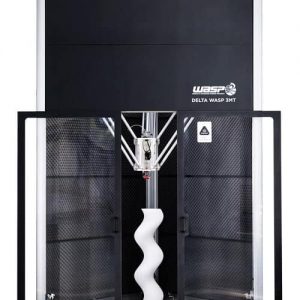 Making 3D printing more reliable than ever is the auto feeder pellet tank and end pellet sensor present as parts inside Delta WASP 3MT. Among other ...
| | |
| --- | --- |
| Model | DeltaWASP 3MT Industrial 4.0 |
| Manufacturer | WASP |
| Release date | 2019 |
| Country | Italy |
| Availability | Available |
| Classification | Industrial |
| Technology | Extrusion (FFF- FDM…) |
| Material | ABS, Other plastics, PLA |
| Filament diameter | 1.75 mm 0.07 in |
| OS compatibility | Linux, Mac OS, Microsoft Windows |
| Generic material | Yes |
| Max. build size | 1000 × 1000 × 1200 mm 39.37 × 39.37 × 47.24 in |
| Max. build volume | 1200.00 L |
| Max. print speed | 200 mm 7.87 in /s |
| Min. layer thickness | 0.1 |
| Dimensions | 2150 × 2350 × 3050 mm 84.65 × 92.52 × 120.08 in |
| Weight | 250 kg 551.16 lb |
| Nozzle diameter(s) | 1.2 mm 0.05 in |
| Heated print bed | Yes |
| Heated build chamber | No |
| Automatic calibration | No |
| Closed frame | Yes |
| Dual extruder | No |
| Independent Dual Extruder | No |
| Full color | No |
| LCD screen | Yes |
| Touchscreen | Yes |
| On-board camera | Yes |
| Mobile app | No |
| 3D scanners | No |
| CNC mill | No |
| Electronics 3D printing | No |
| Laser engraving | No |
| Conveyor belt | No |
| Air filter | No |
| Pellet extruder | Yes |
| USB | Yes |
| Wifi | Yes |
| Bluetooth | No |
| SD card | No |
| Ethernet | No |

Table of Contents
The company's complete name is World Advanced Saving Project. It was founded in 2012 for developing effective construction methods based on the principles of a zero-waste economy using multiple production results.
The company sees the construction of the zero-miles houses i.e. houses printed via 3D printers using materials found in the surrounding area as one of the many keys for solving the global demographic crisis.
Therefore, the company's research focused on creating a 3D machine is also based on the same i.e. a machine that is capable of printing clay houses in the shortest time and as sustainable as possible.
And if you have read several reviews in the past you might want to think of this as a joke, but it is not.
This is a large-scale concrete 3D printer that is aimed at construction professionals, educational institutes, and architects.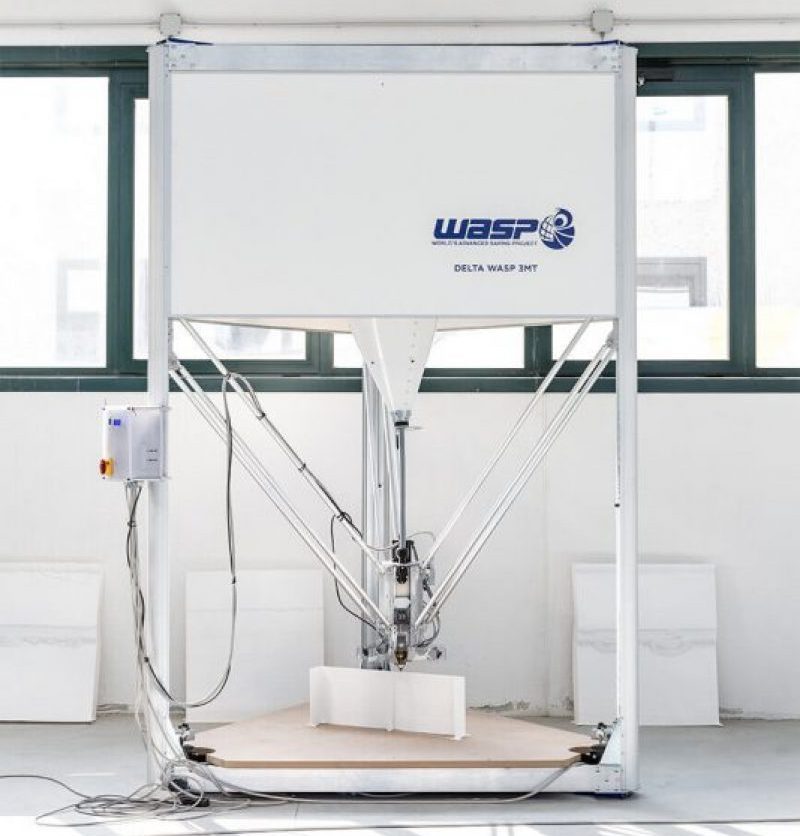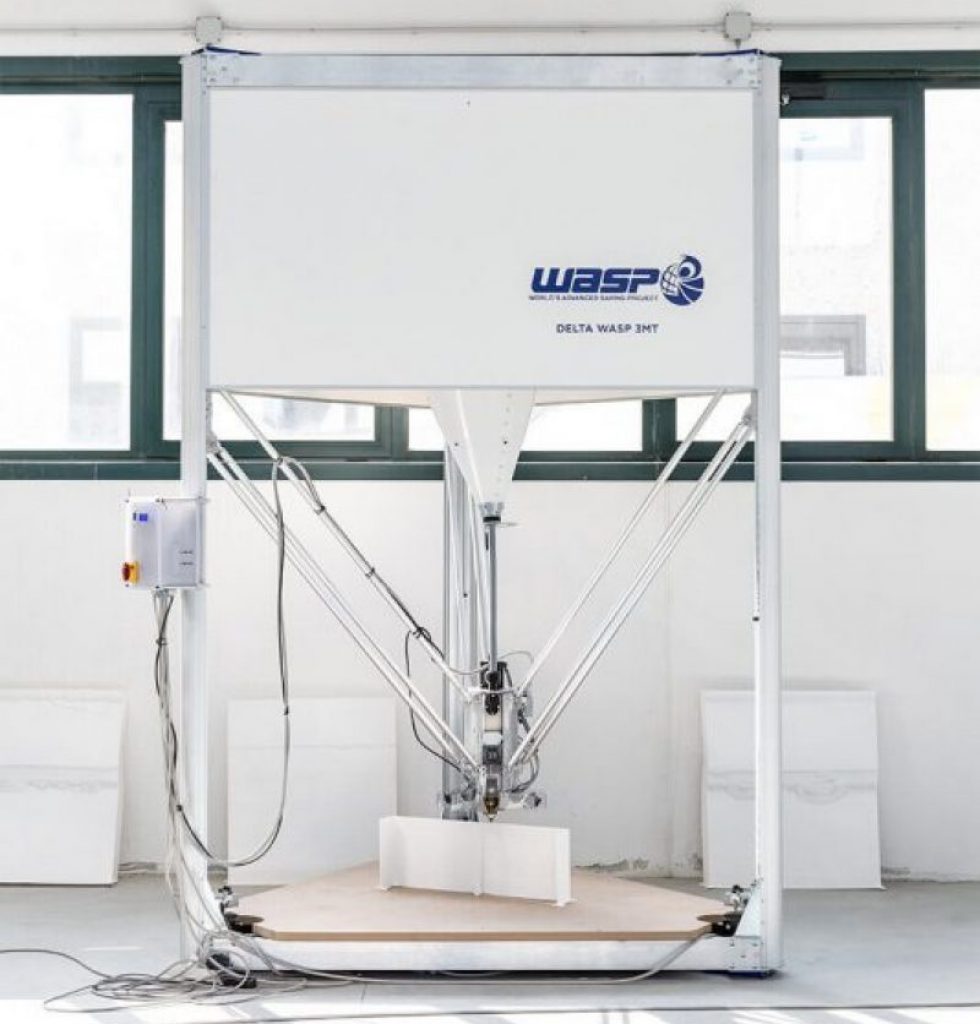 On its website, the printer boasts about a new standard in the additive manufacturing of concrete mortars.
If the manufacturing company is to be believed, the printer is productive, versatile, safe, and characterized by the expertise of its manufacturer.
In this article, we are going to be reviewing its features, specifications, product quality, and a lot more in-depth. So let's start our journey.
Features
Undoubtedly, like every other industrial 3D printer, this one too has a large print volume and all kinds of the facility to mass-produce parts and functional prototypes.
But that's not just it, it has lots of other parts to it too. Let's have a look at it one by and understand in detail what makes this printer stand out from others like it in the same price range.
Large-format FDM with WASP
This is not the first 3D printer that is to this Italian manufacturer's name. It already has an impressive portfolio of extrusion-based delta 3D printers, with a focus on large build areas.
So, one thing is clear that the manufacturer is targetting masses and people who are interested in the mass production of parts and functional prototypes.
The base i.e. 'Delta Family' of 3D printers features the delta coordinate setup that is characterized by the triangular formation of the stepper motors which let the nozzle travel back, against the gravity after printing one layer of the part or functional prototypes.
These "Delta Family" printers start at 2,370 EURO and are capable of printing with various materials such as PLA, ABS, PETG, PA carbon, thanks to the huge temperature range it can withstand.
There is another series that this manufacturer sells under the name of 'Clay' series of 3D printers.
This series features the same delta coordinate system but the focus is on printing with ceramic materials instead.
They start at 3,000 EURO and are capable of printing up to about a meter in height.
Similarly, there is this 'Industrial' series of 3D printers, with their delta system.
These printers specialize in printing technical materials. Starting at 3,490 EURO.
The complete printing system that these printers are a part of can print several obscure filaments such as ASA, high-impact PS, PPS, and PMMA which is an anomaly.
Huge Print Volume and Sturdy Design
This latest machine in WASP's arsenal is focused on architectural 3D printing with concrete, clay, and Earth-based materials.
The circular medium density fiberboard build plate that it has is a meter in diameter and coupled with a building height of one meter.
Because of the dimensionally rich build plate, the printer enables its users to almost gain a printing volume of 800L.
There is the painted 350kg steel frame that features several metal carters to counter the vibrations produced during printing, ensuring precise nozzle placement.
The complete machine is also bounded by expanded polymer panels which provide this printer acoustic insulation that would ensure your workplace isn't noisy.
Easy to Use Slicing Software
The printer lets you use Simplify 3D which is the easiest to use slicing software wherein not much technicality is used and the complete user-friendliness is taken care of.
So, you do not need to have any background in the field of modeling or 3D printing.
All you need to know is the name of this software by which you can search for this software and the website as well as the contact tab is going to let you learn all the basics of this software with the help of which you will be easily able to develop the 3D file which will be taken as an input for the 3D printer.
This file would then determine how and what is your 3D part or functional prototype going to look like.
Touch Screen Interface and Built-in Camera
This feature is mandatory to have in 3D printers today to have. And why not?
It decreases the overall manual labor that is involved within the 3D printer gives you the freedom to manage and operate your printer from a 7 inch or a 5-inch touch screen interface.
And it's all not that difficult because something that companies like WASP have focused on for some years now, is in making this touch screen as simple in language as they can.
So, you won't have to learn some of the most difficult terminologies to operate a simple touch screen.
There are videos with which you can learn how to operate this touchscreen and they are available on the internet.
So, managing this giant is not different than managing your smartphone.
The built-in camera is going to let you monitor all the aspects of your printing process starting from the place where you keep your filament or when does it get empty, is your print bed working normally, how are all the parts interacting with each other, everything.
You can see that from your screen and decide to pause, stop, or play the print process accordingly.
This would let you avoid the flaws in your final part of a functional prototype.
Multiple Connectivity options
You can connect to this printer using your USB port as well as your Wi-fi, so if you are out somewhere and you want to give your printer an order to print some part or functional prototype, if your printer is turned on and you are in its wi-fi range you can exchange the sliced file and that's it, your printer will start all the printing.
Specifications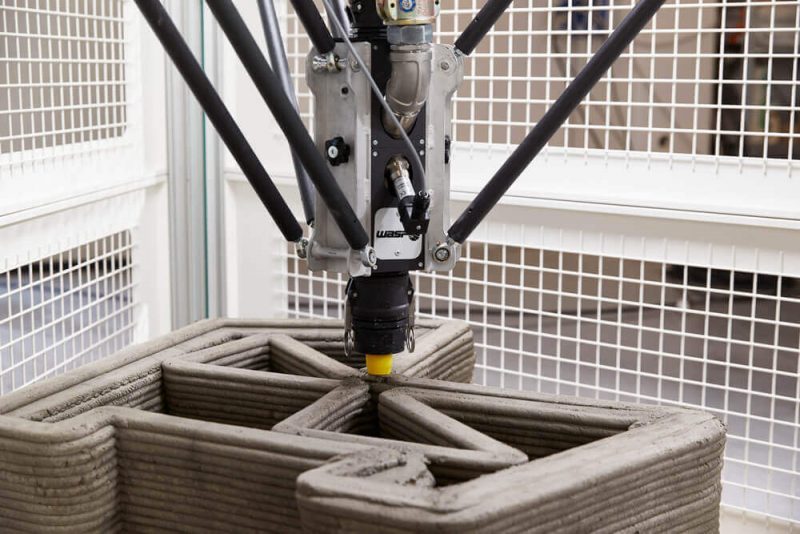 Credit: 3dwasp.com
The maximum print speed of this printer is 200mm/s and the maximum acceleration of 150mm/s².
This concrete 3D printer can be equipped with one of two industrial tool heads.
There is a 4-8mm XL extruder in this printer that is used for dense fluid materials such as porcelain whereas the larger 8-30mm XXL screw extruder is for cement mortars and clay.
The XXL extruder also something that the printer features, but it has a continuous feeding system for maximum throughput. The build volume of this printer is 1000 mm * 1000 mm.
The machine weighs 350 kilograms and its nozzle diameter ranges from 4mm to 30 mm which presumably is the highest amongst the printers in a similar price range.
As mentioned above, you can connect to this printer using USB as well as Wi-fi. The body size of this printer is 2150 mm * 2350 mm * 3050 mm.
Price
The approximate price of this printer as mentioned on one of the trusted 3D printing websites is $24500.
However, the manufacturer's website is the best website to confirm the price of this 3D printer.
First Impression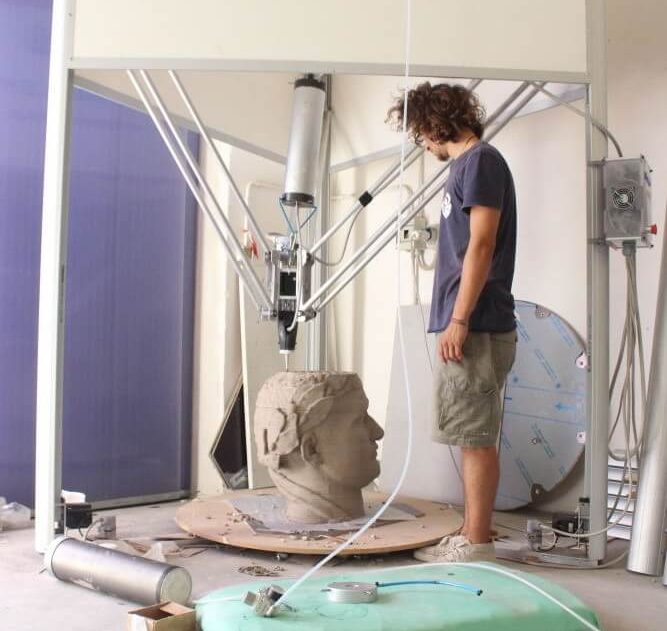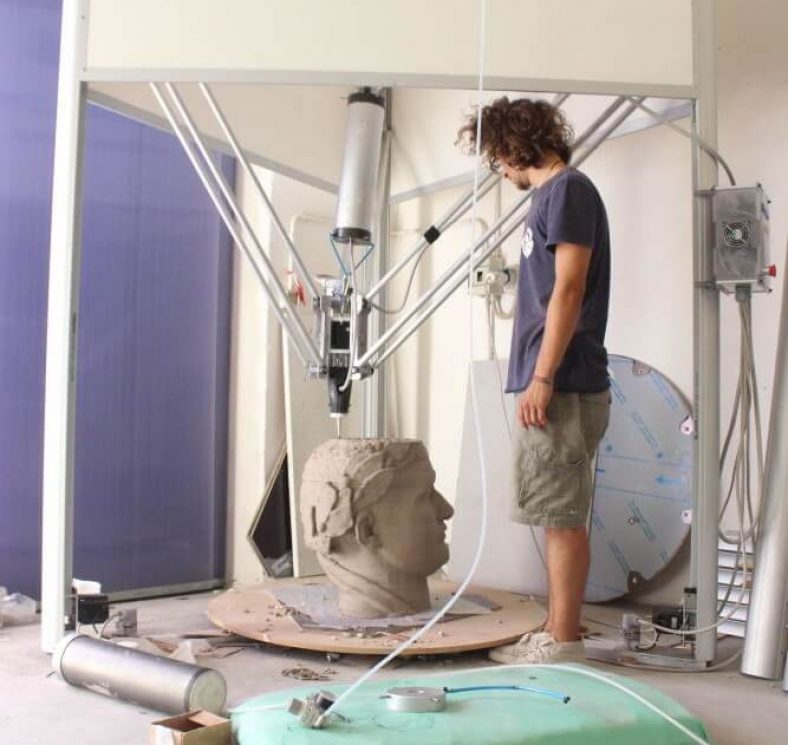 Credit: 3dwasp.com
The printer has a closed design which can be opened by the two gates that are from the printer's bottom to halfway till the height in length.
The complete printer is black and you would be able to notice the nozzle and what is originally called a Delta built-up i.e. standard three pillars that have stepper motors based on which the nozzle of this 3D printer is going to get the necessary help to travel against the gravity when traveling back after printing a layer when the gates of this printer are opened.
The ground can be used as the print bed which is but obvious. And there is complete wiring of the nozzle that is visible just above it, like a fan's capacitor that has fallen out from the fan.
Setup
Like every industrial 3D printer, this one too comes completely assembled.
All you have to do is go through the manual that the printer is accompanied with, for knowing all its parts and its functions. After that, you are done.
All you have to do is create your first 3D design file and input into the printer and start printing waiting for the object and the print quality results to come in.
Printing Type/Cost
The printer prints with FDM 3D printing technology wherein you have a filament of material that is stored in a place called an extruder.
And as soon as the printing procedure starts this filament is going to get heated up because the temperature of the extruders is going to be higher than the room temperature until it finally reaches the melting point of that material.
After which this material is going to be used up for forming the first layer of the part or functional prototype that you are trying to 3D print.
There in the layer is going to be cured and another layer is going to be printed and so on.
Overall, the printing cost of this printer is higher than the ones that are built on more recent technologies because the parts' infill that is 3D printed are really low.
Print Quality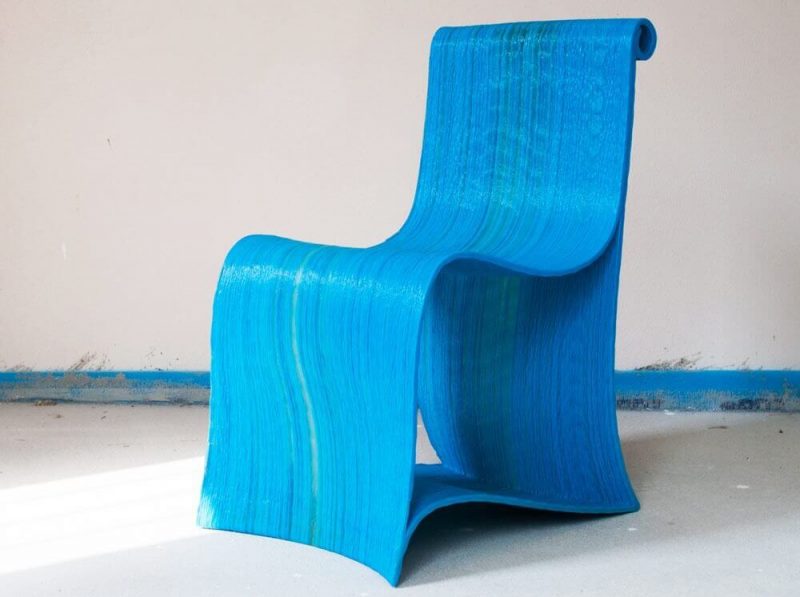 Credit: pinterest.com
There is a complete video of 3D printed parts by this printer which is shown on their website, which you must see to get an idea about what the company is claiming and what it can achieve.
Anything from huge art structures to furniture to many other essential things with good layer finish can be printed using this printer.
Software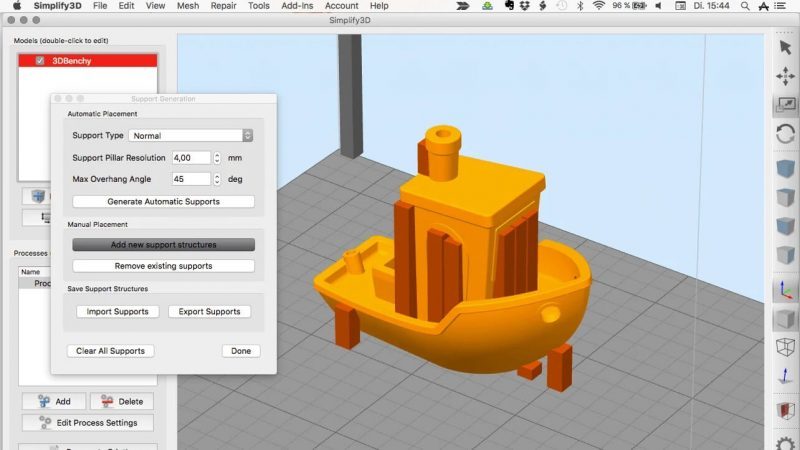 Simplify 3D is the name of the software that the company recommends.
The software is very user-friendly and does not get as techy as others.
So you will get simple language when you open this software.
There are many ways of learning this software, you can do that from its website as well as the videos that are available online.
Customer Support
When you click on the Support tab that is present on the website you have options to get technical assistance, view the FAQ's, material guide as well as downloads.
In addition to this, there is a huge amount of content just beneath all these, which will help you get a solution to your problem specifically.
Parameters Influencing Buying Decision
There are some factors that you will love to see in short while purchasing the printer and they are mentioned below.
3D Printer Cost: The printer is expensive for those who do not have exposure to the industrial segment of 3D printing.
3D Print Quality: This will surprise you with its build volume.
3D Print Speed: Commendable.
3D Printer Capability: Printer can print with multiple materials that are trending in the segment.
3D Printer Practicality: Mass production of parts and functional prototypes can be done with ease.
3D Printer User Expectations: Professionals and industrials are the two groups of personnel that will be extremely satisfied with this printer.
The Verdict
If you are looking for a full-time career in 3D printing, this might look to you like a huge investment.
But we advise you to take some time out and meet people who are in this field for since long and ask if this printer can give you the return on investment compared to other printers and how fast and then decide.
Otherwise, if you are a professional, you already know it is a gem.