Desktop Metal Studio System 2
Applications of Studio System 2 span across a wide range of industries starting from manufacturing, tooling, automotive, consumer, electronics, and oil and gas. It's an industrial beast that enables users to print metal parts in a two-step Bound metal deposition technique.
PROS
Easy two-step processing.
High-quality parts.
Designed for office.
Software controlled smooth workflow.
Straightforward hardware.
CONS
Dekstop Metal Studio System 2 is meant for those who can afford a huge one-time investment. So, only for industrial manufactures interested in building high quality metal parts on demand.
Product
Specification
Videos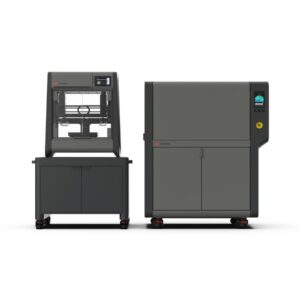 Undoubtedly, it has never been this easy to create high-performance as well as complex metal parts before the release of Desktop Metal Studio System ...
| | |
| --- | --- |
| Model | Studio System 2 |
| Manufacturer | Desktop Metal |
| Price Range | $ 110000 |
| Release date | 2021 |
| Country | United States |
| Availability | Available |
| Classification | Professional |
| Technology | Extrusion (FFF- FDM…) |
| Material | Metal |
| Max. build size | 300 × 200 × 200 mm 11.81 × 7.87 × 7.87 in |
| Max. build volume | 12.00 L |
| Min. layer thickness | 0.05 mm 0.002 in |
| Dimensions | 830 × 530 × 95 mm 32.68 × 20.87 × 3.74 in |
| Weight | 97 kg 213.85 lb |
| Nozzle diameter(s) | 0.4 mm 0.02 in |
| Heated print bed | Yes |
| Heated build chamber | No |
| Automatic calibration | No |
| Closed frame | Yes |
| Dual extruder | No |
| Independent Dual Extruder | No |
| Full color | No |
| LCD screen | Yes |
| Touchscreen | Yes |
| On-board camera | Yes |
| Mobile app | No |
| 3D scanners | No |
| CNC mill | No |
| Electronics 3D printing | No |
| Laser engraving | No |
| Conveyor belt | No |
| Air filter | No |
| Pellet extruder | No |
| USB | No |
| Wifi | Yes |
| Bluetooth | No |
| SD card | No |
| Ethernet | Yes |

Table of Contents
Studio System 2 is an amazing choice for designers and engineers to 3D print metal parts. It is an office-friendly option for metal 3D printing in just two steps – Printing and Sintering. The printer is intended for doing low-volume prototyping and custom end-use production.
System 2 is an upgrade of System +. The printer takes the best features of its predecessor and improves upon them significantly.
Utilizing Bound Metal Deposition 3D printing technology for printing metal parts, System 2 has a complete printing system eliminating loose powders and lasers and favoring metal rod extrusion.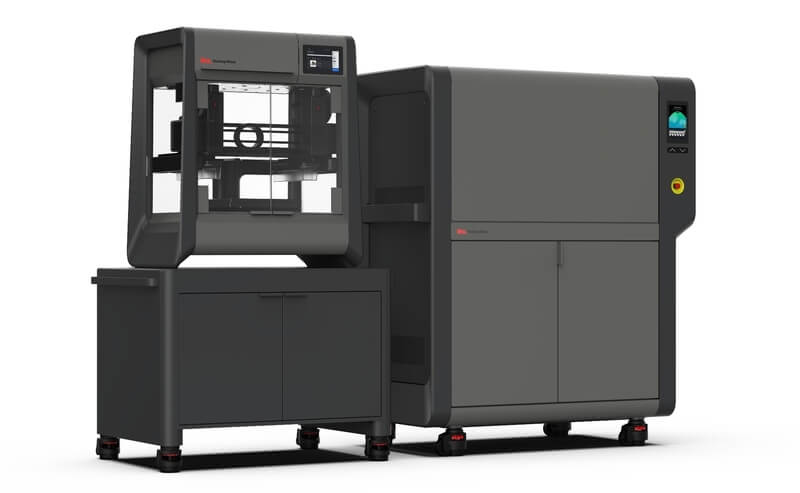 The printer delivers higher quality end-use metal parts via a streamlined and obtainable process. It packs two quick-release print heads which move to print maximum geometries of 300 mm * 200 mm * 200 mm. System 2 functions on a new streamlined two-step method with a core printer unit and a furnace.
So, let's look at System 2's printing system in-depth to know about the upgrades it has brought to the metal 3D printing world.
Features
Although Studio System 2 uses extrusion 3D printing technology as System+, there is one improvement.
Instead of processing parts through three processes i.e. printing, debinding, and sintering, Studio 2 allows them to complete in two steps, printing and sintering. Therefore, reducing the overall print time.
Below mentioned are such subtle nuances in the features of the machine.
Software Controlled Workflow
Printing with Studio System 2's Fabricate software is very easy. Users do not necessarily need to have knowledge about fields such as metallurgy or the mechanics of 3D printing. The software enables operators in all steps of part creation – from printing to sintering. Each of these steps is automated.
Fabricate scales your part according to the need, it orients them for the printing and sintering process. Moreover, the application generates separable supports and for optimizing fabrication, applies expert metallurgy.
For making sure all of these happens, all you need to do is simply upload your design and follow the onboard UI for step-wise guidance.
Smart Separable Supports
The printer hosts a Desktop Metal's second-generation separable supports technology. Hence users can automatically generate seams all over the support structures.
In addition to it, operators can print a reformulated ceramic interface material in the middle of the support structure and the part. Doing so permits part removal by hand.
User-Friendly Hardware
With Studio System 2 users would not have to spend much time managing equipment. In fact, it allows you to spare more time for important tasks like designing and fabricating parts.
A simple press of a button enables changing of print heads with a refillable cartridge system. Users can easily load material during printing jobs and storing excess material safely.
Studio System 2 is a fully accessible 3D printer with sintering volume and a configurable furnace retort permitting maximum flexibility.
High-Quality Parts
Studio System 2 easily produces difficult to machine parts with complex geometries such as undercuts and internal channels.
The printing system's heart is a software named Fabricate. It automatically does complicate metallurgical processes for producing high-quality parts with densities and features accuracy equivalent to that of casting.
Reliable Processing
The printer grasps data and feedback from thousands of prints and hundreds of customers. It's designed for delivering extraordinary part success and a marvelous surface finish.
The printing system permits users to gain first-time part success across different geometries. All of this is brought into action via a fully-re-engineered material platform and an updated interface technology with new print profiles.
Excellent Part Properties
Thanks to the heated build chamber and Dekstop Metal-fabricated print profiles that enable printing excellent surface finishes straight out of the furnace.
Added to it are the materials that either meet the MPIF standards or exceed them. Also, the use of metal volume fraction media and high-pressure extrusion contributes to making perfect parts a reality.
Moreover, the vacuum sintering at temperatures of up to 1400 degrees Celsius lets the system produce parts with densities resulting in 98 percent similarity with cast parts.
Customizable Print Settings
Studio System 2 lets you forge parts to your requirements. So, printing parts with walls up to 4 mm thick or completely dense parts with absolutely no infill up to 5.25 mm thick is possible. Operators can even adjust shell thickness for creating solid parts or create at a faster pace.
Additionally, users can optimize prints for build speed utilizing the standard 400 micrometers print head. As an option, they can print fine features with a high resolution of around 250 micrometers.
Office-Friendly Design
The printer manufacture has design Studio System 2 for fitting your team's requirements. It's one of those rare printing systems that enable users to print with no solvents, loose metal powders, or lasers with little operator intervention. It is easy to start metal 3D printing without any 3D party equipment or special amenities.
The printer's two-step process eliminates the need for solvents instead you can use materials that can be easily stored and handled. Because of its minimal requirement list, Studio System 2 is ideal for offices.
Operators need no respiratory PPE or special arrangements. Only internet connections, ventilation, and power will quickly start metal part printing.
Easy-To-Manage Processing
To regain control of your prototyping on Studio System 2 allows users to design and engineering teams for making the best probably products.
Its simplified process permits operators to rapidly iterate on designs and print parts. Moreover, you can monitor build progress from desk stations. Doing so significantly reduces the burden on the user.
Additionally, one goes directly to the furnace via the printer where a large retort has 10 times the capacity of an equivalent-sized tube furnace. Such an arrangement is extremely suitable for batch sintering.
Specifications
Unlike laser-based 3D printing systems, Desktop Metal Studio System 2 extrudes bound metal rods with the help of Bound Metal Deposition technology.
Parts printed using the system have layer heights ranging from 50 to 150 micrometers with the high-resolution print heads and 150 to 300 micrometers using the standard resolution print head.
The Studio System 2 offers a maximum build envelope of 300 mm * 200 mm * 200 mm. It features a heated build plate that can withstand 70 degrees Celsius.
Users can print with two nozzle diameters – 0.40 mm for standard resolution and 0.25 mm for high resolution. The printer's extruder assembly has dual quick-release print heads which will save the operator's time.
Moreover, a seven-inch touch screen display eases user interaction by giving controls over different functions of the printer. The in-chamber view of Studio System 2 is made possible with the build plate camera.
Additionally, hot-swappable, push-to-release, refillable cartridges make media loading possible. There two types of print sheets that come with the machine, they are, polypropylene and peel-away.
Price
Desktop Metal Studio System 2 is available for $110,000.
First Impression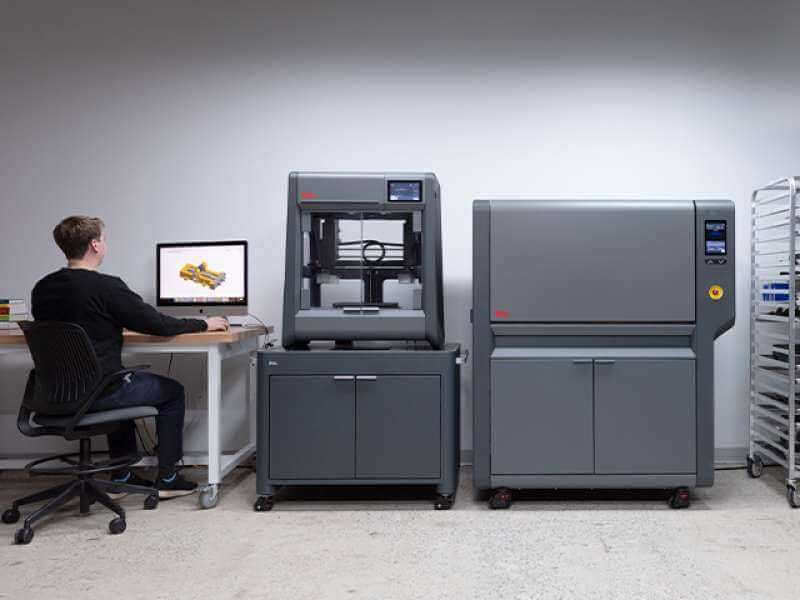 Credit: desktopmetal.com
There are two parts of the Studio 2 printing system, the Printer, and the Furnace. The former is unlike general laser-based systems that particularly melt the metal powder.
It extrudes bound metal rods exactly like FDM 3D printers. Moreover, the fully closed-cell infill for lightweight strength. While the latter is designed to be an easy-to-use sintering machine.
Heating parts to remove all binders from parts, the furnace ramps up the temperature to nearly melt for delivering industrial strength.
Its built-in temperature profiles are tuned to every build and material to ensure uniform heating and cooling without residual stresses.
Setup
Although users need to deal with many complicated parts of Studio System 2, Fabricate – the printer's software will let you do that smoothly. Desktop Metal provides on-site assistance to all its users as a guiding source.
Fabricate is a secured, web-based software that constructs build plans from STL to CAD automatically thereby helping users expedite the entire 3D printing process.
Print Type/Cost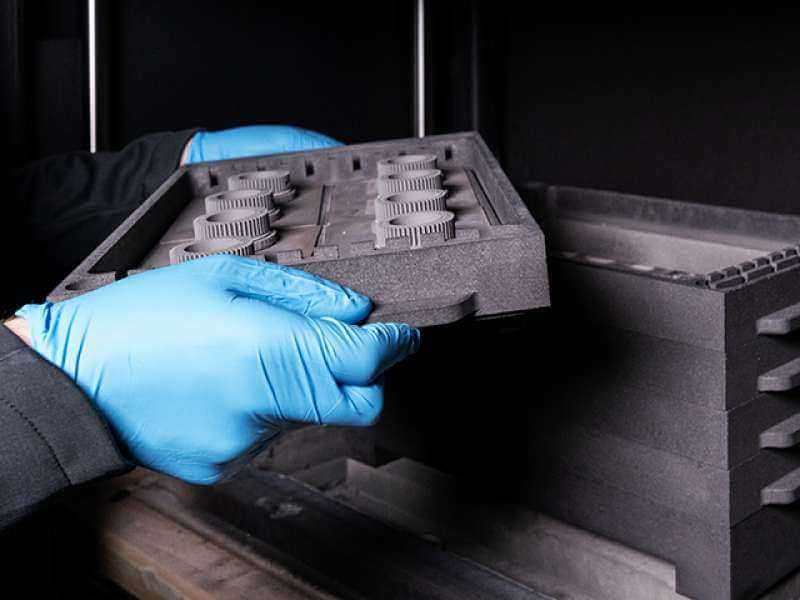 Credit: desktopmetal.com
Studio System 2 prints and sinters parts and functional prototypes with a two-step bound metal deposition technique. After operators of the system have prepared files on the software, they can start with the printing procedure.
Layer by layer a green part is shaped by extruding bound metal rods i.e., metal powder held with polymer binders. After the parts are printed, they are placed in a furnace where they are heated to temperatures near melting.
The binder is removed and metal particles are fused to form a geometry that has a density of up to 98 percent.
Generally, the cost of 3D printing a part depends on many factors starting with part geometry. A higher part geometry would mean more material utilization and thereby higher cost.
The material used for building a part also affects its cost. In this case, it's metal so, the cost would be more than other technologies that build by consuming thermoplastics. Overall, it varies depending on different factors.
Print Quality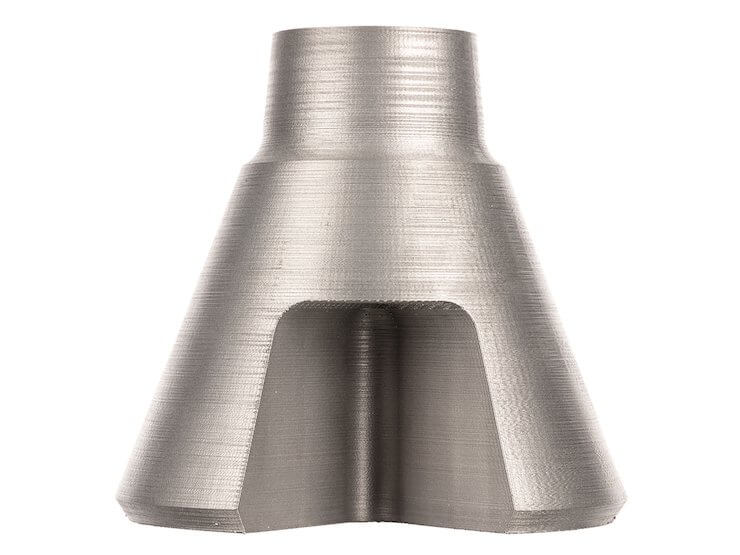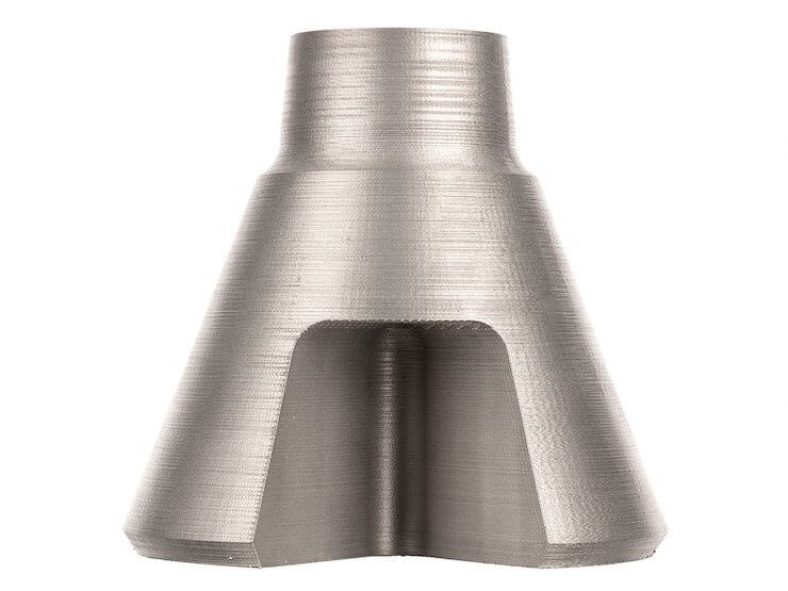 Credit: tctmagazine.com
High-pressure extrusion and vacuum sintering make it possible for the production of parts with densities up to 98 percent.
The layer height of parts ranges from 50 to 150 micrometers when printing at a high-resolution print head, whereas it is 150 to 300 micrometers while printing with standard resolution print heads.
So, users of Desktop Metal Studio System 2 can print parts flexibly using two print heads according to the requirement of the job.
Software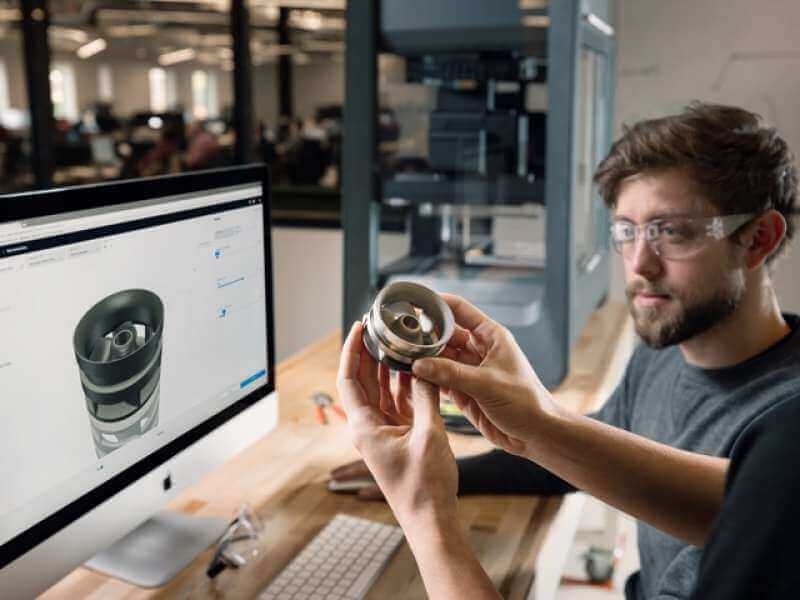 Credit: desktopmetal.com
Fabricate Cloud supports many file formats like STL, IGES, JT, STEP, VDA-FS, etc. It helps users in all parts of 3D printing. Starting from printing to sintering, everything is automated.
The software automatically scales the part, orients it for printing and sintering success. It also generates separable supports and applies expert metallurgy for optimizing fabrication.
Customer Support
There are options available online to educate yourself with the printer. Apart from that users can reach out to the printer manufacturer's technical team which optimally solves their problems.
Parameters Influencing Buying Decision
Below mentioned is the summary of the chief points about the printer in brief.
3D Printer Cost: The printer is one of those rare machines which allows industrial 3D printing of metals on a considerable scale. Therefore, it is expensive and costs around $110,000.
3D Print Speed: The printer manufacturer has shortened three process printing of the System+ into two processes 3D printing. Therefore, users will be able to print faster than its predecessor.
3D Print Quality: Excellent surface finish can be achieved with metals. Even intricate geometries with fine detailing are possible on Studio System 2. Allowing users to create beautiful parts carrying strong properties.
3D Printer Capability: A fully re-engineered material platform with updated interface technology and new print profiles enables Studio 2 to achieve excellent surface finishes in considerable time.
3D Printer Practicality: Studio System 2 is compatible with office environments. Users do not need to have any special arrangements or respiratory PPE for making it work efficiently. Hence, large-scale industries would certainly like to give the 3D printer a try.
3D Printer User Expectations: The printer is a two-part solution provider that eases metal 3D printing. By simply loading your CAD file into Fabricate, printing your part, and placing it on the furnace for sintering, users can get extraordinary prints.
The Verdict
Applications of Studio System 2 span across a wide range of industries starting from manufacturing, tooling, automotive, consumer, electronics, and oil and gas. It's an industrial beast that enables users to print metal parts in a two-step Bound metal deposition technique.
Also, the printer is compatible with multifunctional software that lets operators maintain a speedy workflow to meet manufacturing deadlines.
It's an upgrade of the previous Studio System +, therefore the printing system contains many new features with proven old ones. A blend of the two makes it possible to get excellent surface finishes in the objects.