Zortrax M 300 3D Printer
In case you know that you have a long term future in the field of 3D printing technology, you must opt for buying the Zortrax M 300 3D Printer for its reliability, greater build volume, high quality of parts, and functional prototypes.
PROS
The printer definitely offers one of the highest build volumes in terms of the price that it charges its users. So, professionals in the field of 3D printing and even intermediates can opt for this printer.
Parts and functional prototypes manufactured using M300 offer a layer resolution range of 90 to 290 microns which is very high compared to other 3D printers based on the same 3D printing technology.
The brand is reliable for manufacturing desktop 3D printers of high end and is known to give extraordinary customer support.
CONS
Although Zortrax M 300 offers good print quality, its price is rated much higher, and in case you are fine without having the reliability and are willing to let go of a little bit of quality, you will get many options cheaper than this 3D printer because its price is expensive.
There is only one way to connect to this printer that is using an SD card which is a little bit slower process than the Wi-fi connectivity and is offered by competitors in the same price range.
Product
Specification
Videos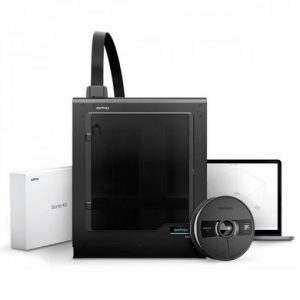 If you wish to create print repeatedly with a clean finish and great precision, you must check out what Zortrax M300 has to offer. A professional 3D ...
| | |
| --- | --- |
| Model | M300 |
| Manufacturer | Zortrax |
| Price Range | $ 4389 |
| Release date | 2016 |
| Country | Poland |
| Availability | Available |
| Classification | Professional |
| Technology | Extrusion (FFF- FDM…) |
| Material | ABS, Other plastics, PLA |
| Filament diameter | 1.75 mm 0.07 in |
| OS compatibility | Mac OS, Microsoft Windows |
| Generic material | Yes |
| XY accuracy | 0.002 mm 0 in |
| Max. build size | 300 × 300 × 300 mm 11.81 × 11.81 × 11.81 in |
| Max. build volume | 27.00 L |
| Min. layer thickness | 0.09 mm 0.004 in |
| Dimensions | 490 × 490 × 590 mm 19.29 × 19.29 × 23.23 in |
| Nozzle diameter(s) | 0.4 mm 0.02 in |
| Power input | 290 W @ 110V-240V 50-60 Hz |
| Heated print bed | Yes |
| Heated build chamber | No |
| Automatic calibration | Yes |
| Closed frame | Yes |
| Dual extruder | No |
| Independent Dual Extruder | No |
| Full color | No |
| LCD screen | Yes |
| Touchscreen | No |
| On-board camera | No |
| Mobile app | No |
| 3D scanners | No |
| CNC mill | No |
| Electronics 3D printing | No |
| Laser engraving | No |
| Conveyor belt | No |
| Air filter | No |
| Pellet extruder | No |
| USB | Yes |
| Wifi | No |
| Bluetooth | No |
| SD card | Yes |
| Ethernet | No |

Table of Contents
The Poland-based manufacturer of this printer has an amazing reputation for creating desktop 3D printers that are accessible as well as capable of producing high-quality 3D prints.
Not only does the company produce 3D printers, but also the complete ecosystem necessary for manufacturing materials as well as slicing software.
M300 offers a significantly larger build volume than its predecessor M 200. It also uses a Z-axis design that improves accuracy and builds upon all that M200 did not manage to do well.
Features
The printer has some amazing features that let it stand out from other 3D printers in the same price range. And they are as follows.
Material Jam Detection: There might not be any other printer in the same price range offering this feature. The manufacturer of Zortrax M 300 has taken special care regarding the jamming of 3D printer filament and hence are able to come up with an innovation that lets you spot the specific flaws and saving you time. This kind of feature is very unique and eccentric when one puts it into use. Both the extruders of the printer are equipped with sensors that detect any kind of material jamming.
So, in case your nozzle gets clogged or the material runs out the sensors will indicate you and automatically pause the print. Instead of leading you to a print failure that is bound to occur otherwise.
And you would also have to find the reason for that failure. Which will consume a lot of your efforts and also waste a lot of your time by asking you to check the probabilities.
Automated heated bed leveling: The print bed of this printer is preheated which, first of all, decreases the overall print time of the project. Apart from this, the printer manufacturer has also led sincere efforts for decreasing the human efforts that go into play before starting the printing procedure. And also lead to achieving an increased level of precision even in complicated geometries. This feature has to do with printing the first layer of any part of a functional prototype. It's called automated bed leveling. Using this feature any user can adjust the height between a nozzle and print bed of Zortrax M 300. All the user needs to do for this task is just clicking a button.
Large selection of filaments: While printing with this printer one gets a choice of selecting from a variety of 3D printing filaments. This gives a choice of variability with which you manufacture a part or functional prototype. It also increases the scope of parts and functional prototypes manufactured by the printer in various fields. Zortrax M 300 also supports external materials.
These materials have high quality and are biodegradable. They are based on PLA material for 3D printing and are recommended for architectural mock-ups and high-end showcase models.
Another 3D printing material possesses the quality of being electrostatic discharge protection, the parts made from these materials have sturdy look and have a flawless surface.
Some filaments are also known to give light-transmitting properties. Not to forget the printer is also compatible with 3rd party filaments.
High dimensional accuracy and rock-solid repeatability: The layer over layer builds up in a part or functional prototype manufactured using this 3D printer is very solid and cannot be broken. Also, the parts and functional prototypes manufactured using this 3D printer possess a high dimensional accuracy even if they have complex geometries and intricate designs. The device is also known to print parts with larger build volume also with an equal amount of accuracy as it does small parts. Thanks to the LPD 3D printing technology that the printer uses as well as the easy to use, good result producing software.
Huge Print Volume and automatic filament loading: M300 has the biggest print volume available in 3D printers of the same price range. This gives you a huge competition compared to its competitors. With the benefit of printing parts and functional prototypes of high quality even with quick print speed.
While doing a batch production on a printer it is frustrating to load the filament one after the other print.
Understanding the frustration of the user, the manufacturer has intelligently equipped the printer with an automatic filament mechanism that means all you will need to do is put the filament spools into the printer, the rest of the work would be done automatically.
Specifications
M 300 is based on LPD i.e. Layer Plastic Deposition 3D printing technology.
It has a build volume of 300 mm * 300 mm * 300 mm and a layer resolution range in parts and functional prototypes manufactured by the printer of 90 to 290 microns.
The maximum extruder temperature that this printer can withstand is 290 degrees Celsius.
The platform of M 300 consists of a heated bed that allows for faster 3D printing of parts and functional prototypes than the printers that do not have a heated bed.
M300 can withstand a maximum bed temperature of 105 degrees Celsius.
It has an automatic bed leveling system that lets you calibrate the print bed with a nozzle system, letting to lay down a precise first layer.
The nozzle diameter of this printer is 0.4 mm, whereas its filament diameter is 1.75 mm.
You can print using 3D printer materials such as Z-HIPS, Z-GLASS, Z-PETG, Z-ESD, Z-ASA Pro, and Z-PLA Pro
One can connect with this printer using Wi-fi, Ethernet, as well as USB.
The minimal optimal wall thickness produced by the printer is 800 microns, whereas the minimal wall thickness is 450 microns.
The XY positioning accuracy of this printer is 1.5 microns whereas the Z-axis positioning accuracy is 1.25 microns.
M 300 should be made to operate at an ambient temperature range of 20 to 30 degrees Celsius.
Whereas the storage temperature range as recommended by the company is 0 to 35 degrees Celsius. The printer weighs 27 kilograms.
Price
Zortrax M 300 is available for $2990.
First Impressions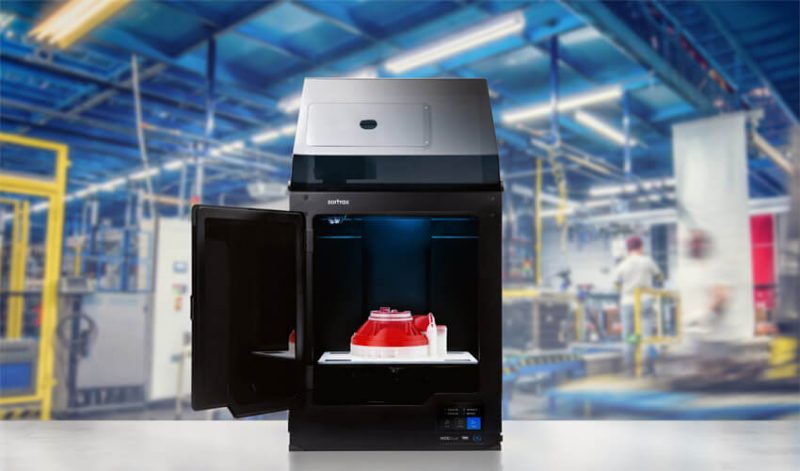 Credit: 3dnatives.com
M300 has a very strong foundation and is clearly well made. It has one of the sturdiest frames you would ever come across.
The printer possesses a cleaner and attractive look that is able to attract the eyes of seekers from a far distance.
It comes with side panels that allow one to hide its mechanical guts.
Setup
M300 comes with many external components namely:
The M300 printer
The power lead
An SD card
2x 2KG reel of filament
A spool holder
Filament guide tube
A build plate
3M nitrile gloves
Safety glasses
Allen keys
Scalpel
Knife
Scraper
Key for nozzle
Needles
Filament cutters
Tweezers and
Side covers
These parts are densely packed for preventing any damage at all.
And after you open the box of the printer you would also find some of these on the top in a separate box, whereas some in the side covers.
While lifting the machine the situation gets a little bit awkward and it does weigh quite some kilograms.
But the manual provided with the printer helps and following the manual would ensure that your journey from unboxing this printer to printing your first print would be smoothly done.
Just the basic assembling skills are required, like clipping the side panels into place because filament loading and bed leveling is automatic.
Print Type/Cost
LDP is almost like another name to FDM 3D printing technology because both of these 3D printing technologies print layer by layer, using 3D printing filament materials.
The FDM, as well as LDP, involves the procedure of heating a material in the extruder till reaching its glass transition temperature and then when it starts melting, laying it down layer after the other on the print bed.
The cost of printing a part or functional prototypes using this technology is generally lower than the others.
Print Quality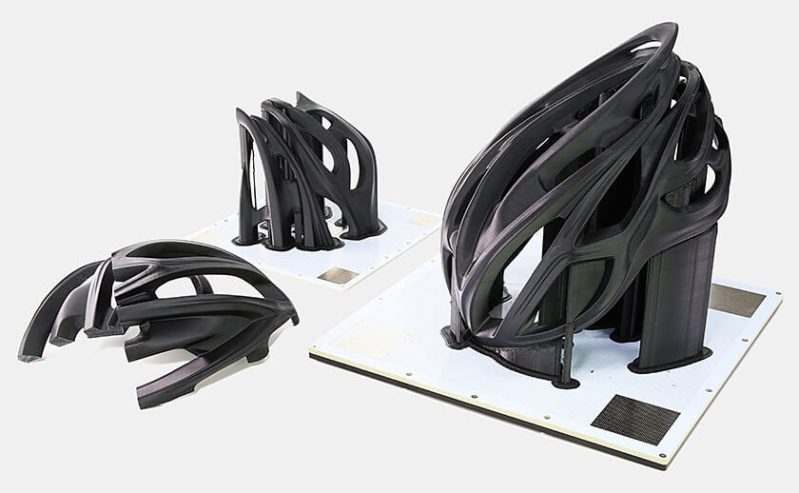 credit: zortrax.com
The tests from independent reviewers turn out to be on a lot more positive side.
The printer is in fact able to give 90 microns resolution even while printing the most complexly designed part or a functional prototype.
M300 is also capable of handling the gaps and the overhangs, which is not even possible with the best FDM 3D printers in the world.
The prints that come out of the printer are very clean, detailed, and almost completely error-free.
Software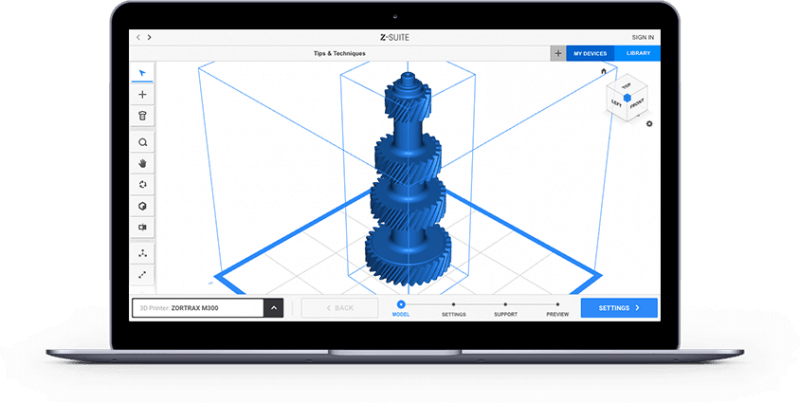 Credit: zortrax.com
Z Suite 2 is the name of the software compatible with this printer. It supports file formats such as .stl, .obj, .dxf, and .3mf.
The printer software is compatible with Mac OS X, and Windows 7, and newer versions.
Customer Support
Zortrax is a reliable brand in the market of 3D printing. And if any brand can be reliable, it has to have fantastic customer support that is able to respond to the doubts of their customers via email, phone, or Skype at least. So, does Zortrax.
Parameters influencing the buying decision
A brief summary of all the main points mentioned in this article is stated below.
3D Printer Cost: The printer is termed to be on the expensive side, considering its features and its competitors'.
3D Print Quality: Extraordinary surface finish of parts and functional prototypes that shocks one and also lets him or her mistake that part or functional prototype to be manufactured by some other technology and not LDP.
3D Print Speed: Average.
3D Printer Capability: Not only does the printer print using proprietary filaments, but also does it allows printing using open-sourced 3D filaments.
3D Printer Practicality: It is said that the parts and functional prototypes manufactured by this printer are used by Nasa. So, aerospace is definitely one of the main industries in which M300 finds an application. Apart from aerospace too, the printer can find applications in many industries.
3D Printer User Expectations: For educationists who were waiting for a printer to make their students explore industrial level print volume, this printer can be really helpful. Apart from educationists, professional 3D designers is a class of people for whom this 3D printer can do wonders. However, the printer would ask too much out of hobbyists and enthusiasts who are yet not sure about their future in 3D printing technology.
The Verdict
The complete system looks great at first glance and even the parts and functional prototypes made from the printer have a great appearance. But where the printer fails is in terms of price.
The build size offered by the printer is another plus point of the printer.
In case you know that you have a long term future in the field of 3D printing technology, you must opt for buying the printer for its reliability, greater build volume, high quality of parts, and functional prototypes.