Zortrax Endureal 3D Printer
This 3D Printer could work similarly to the industrial 3D printers in terms of offering high-quality print with difficult materials. Professionals and industries can make use of this machine in printing parts that cater to high-end applications.
PROS
High quality print
Plug and play design
Automatic calibration
Dual extruder
Compatible with soluble support material
Print with different usual and flexible materials including PEEK
Allows the use of third party materials
CONS
Expensive and solely for industrial use
Product
Specification
Videos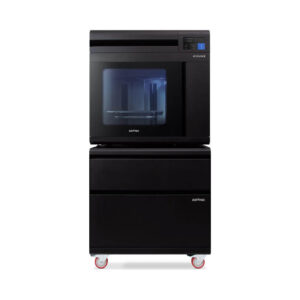 A fully assembled 3D printer that comes all geared up for instant operation, Zortrax Endureal is a very powerful machine. Offering a build volume of ...
| | |
| --- | --- |
| Model | Endureal |
| Manufacturer | Zortrax |
| Price Range | $ 10000 – $ 50000 |
| Release date | 2020 |
| Country | Poland |
| Availability | Coming soon |
| Classification | Industrial |
| Technology | Extrusion (FFF- FDM…) |
| Material | ABS, Carbon fiber and composites, High performance (PEEK – ULTEM…), Other plastics, PLA |
| Filament diameter | 1.75 mm0.07 in |
| OS compatibility | Mac OS, Microsoft Windows |
| Generic material | Yes |
| Max. build size | 300 × 400 × 300 mm11.81 × 15.75 × 11.81 in |
| Max. build volume | 36.00 L |
| Min. layer thickness | 0.01 |
| Nozzle diameter(s) | 0.4 mm0.02 in |
| Heated print bed | Yes |
| Heated build chamber | Yes |
| Automatic calibration | Yes |
| Closed frame | Yes |
| Dual extruder | Yes |
| Independent Dual Extruder | No |
| Full color | No |
| LCD screen | No |
| Touchscreen | Yes |
| On-board camera | Yes |
| Mobile app | No |
| 3D scanners | No |
| CNC mill | No |
| Electronics 3D printing | No |
| Laser engraving | No |
| Conveyor belt | No |
| Air filter | No |
| Pellet extruder | No |
| USB | Yes |
| Wifi | Yes |
| Bluetooth | No |
| SD card | No |
| Ethernet | Yes |

Table of Contents
After making quite an impression with its previous 3D printers, Zortrax has come up with this quite interesting machine that can print in two colors.
This is just the start of what wonderful things Zortrax Endureal 3D can accomplish.
There is a lot that you can do with this amazing machine. The 3D Printer was showcased on 24th September 2019 at the TCT Show. Since then, it is only growing in popularity.
The manufacturer has done a great job in creating this 3D printer and making it capable enough to be able to print with PEEK.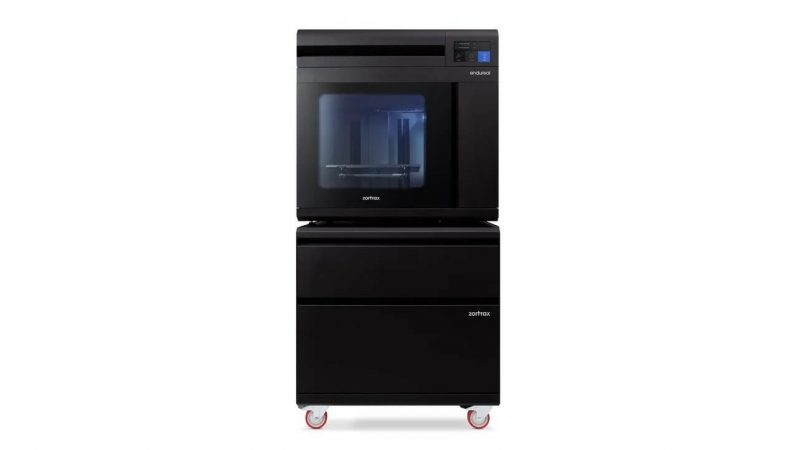 This means that the machine could work similarly to the industrial 3D printers in terms of offering high-quality print with difficult materials.
Professionals and industries can make use of this machine in printing parts that cater to high-end applications.
What makes the entire arrangement so wonderful is its plug and play feature. Apart from being highly attractive, the 3D printer offers many other perks to the users.
Hence, it would be fun to explore the various pros and cons of this machine. Read the complete Zortrax Endureal 3D Printer review to find out more about this 3D Printer and how it could help with your production needs.
Features
An office sale solution, as the manufacturer advertises this 3D Printer, Zortrax Endureal is really a highly capable machine.
With the plethora of features enabling high quality and hassle-free prints, this 3D printer can be used for an array of professional applications.
Here are some of the most talked-about features of this 3D Printer you must not miss.
Enclosed Printing
As you would expect, working with flexible materials require consistent temperature and above-average performance.
This 3D Printer gets you the exact printing environment that you need to create 3D models with difficult filaments. Starting with ABS, PLA, you can even print with PEEK.
The temperature inside the chamber can reach up to 200 degrees Celsius.
However, to rectify the issues with the predecessor, the manufacturer has ensured that the vital components remain cool even if the machine is working at the highest temperature possible.
This is done by thermally shielding the extruder components along with the filament cables. And, the results are pretty obvious.
Heated Build Plate
Once again, this is an important feature to ensure high-end printing with stubborn materials.
A heated build plate helps in better adhesion of the first layer required for a clean printing result.
Starting from warping to falling of the complete model in between of the print operation, a strong first layer adhesion could stop a number of problems before these start bothering the users.
Taking all that considerations into account, the manufacturer has come up with this aluminum build plate that could sustain the temperature to print with high performing polymers.
The company also offers a switchable build plate made of stainless steel. This is covered with a PEI film for nice adhesion to the first layer.
Moreover, both these build plates are flexible for making it easy to remove built models from the surface without breaking. In short, you would definitely enjoy working with this machine.
Dual Extruders
When talking about dual extrusion, one can expect a lot of things from the 3D printer. And, the same is the case with this one.
Users can print with two colors, two different materials as well as include the soluble filament for the printing support structure.
Most of all, dual extrusion can enable many applications not possible with single extrusion.
Closed Filament Cabinet
Not many 3D printers think a lot about offering a cost-effective solution. But Zortrax has again made it clear that understanding the need of users is the top priority for the company.
This time, the filament chamber is covered. This enables the surrounding temperature to stay consistent around the filaments. This further helps in controlling the humidity as well.
To make the entire arrangement stronger, the compartment encloses a built-in moisture absorber.
Hence, the materials that are highly hydrophilic can enjoy a favorable environment free of humidity.
A lot of Sensors
You may have heard of one or two sensors that the company usually includes in the 3D printers.
However, in this case, the number is higher for even better performance. Including great security, Zortrax brings the best offering for its users.
There is this temperature sensor that keeps measuring the temperature for the crucial components of the machine and keeps those away from overheating.
The 3D printer also has capacitive sensors to measure the relative position of nozzles along with the build plate.
Hence, offering clean calibration ensuring that the position of nozzles and build plate is intact.
The machine also has optical sensors offering precise extruder positioning along the different axes.
Similarly, to ensure consistent cooling, the company has got fan stop sensors. These sensors help in detecting the cases when fans disconnect or stop working.
You would be surprised to know that the Zortrax Endureal 3D printer has a total of 17 built-in sensors.
These sensors offer seamless printing while operating in real-time to raise flags immediately. Making this machine favorable for high-end projects.
Remote Monitoring
If the sensors weren't enough, you can even keep an eye on the print progress remotely.
To enable this, there is a camera inside the printing area for clear and consistent access to the print progress of the 3D models.
You can remotely check the printing views and make decisions required immediately in real-time.
Print Resume Function
When working for high-volume production, 3D printers must be smart enough to handle interruptions due to power failure.
Understanding the need, Zortrax Endureal comes with the power resume function.
During power failure in between the print operation, the printer will save the position of the printing head.
By using the power stored in the capacitors built inside the printers, the resume function will save the exact position of the nozzle.
Hence, when the power resumes, the printing would also resume from the same point where it stopped during the power loss.
This won't only save material and effort but time. Isn't that the most crucial need for the industries?
Apart from all these features, there are many other additions that you can uncover after working with this machine. And, without a pinch of doubt, it would never cease to impress you.
Specifications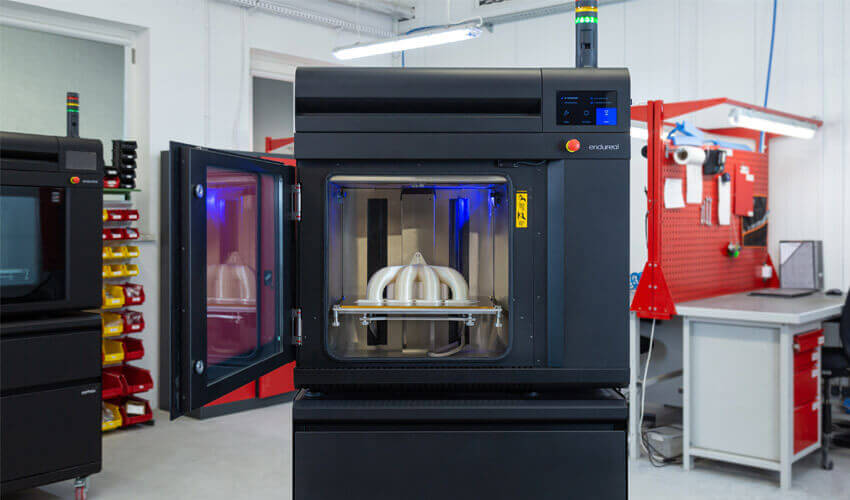 Credit: 3dnatives.com
Zortrax Endureal 3D printer offers a build space of 300 x 300 x 400 mm. Hence, letting users create bigger 3D models in one go.
Apart from that, it enables to build models with a minimum layer height of 100 microns.
With dual extrusion, one can print with two different materials and colors as well. It has a nozzle size of 0.4mm.
Talking about the extruder temperature, one can print at a maximum of 420 degrees Celsius. This means that creating models with highly flexible materials won't be a problem.
Hence, the use of the printer for industrial setup is easy and favorable. The heated bed could reach a temperature of 140 degrees Celsius.
Alongside, it does have the automatic calibration feature. So, if you are not very experienced with bed leveling, you can still use the 3D Printer without any hassle.
When it comes to connectivity, the printer does offer a variety of choices. You can connect using USB, Ethernet as well as WIFI connection.
Plus, monitoring of models in progress is an add on with the help of the built-in camera.
And, to control most of the settings, Endureal also has a 7 inches touchscreen. So, you can have a completely standalone printing experience.
Price
The 3D printer costs around $50,000. And, looking at all the specs it offers, the price tag does seem a lot justified.
First Impressions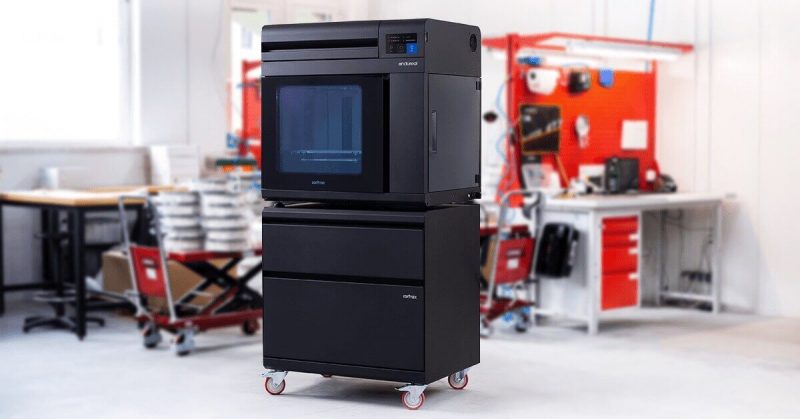 Credit: zortrax.com
Like any other industrial 3D printer, the machine is big and heavy. However, the footprint is still manageable when compared with many other 3D printers at a similar price range or even below.
What makes this printer stand out is its sturdy look and very promising built.
A sleek appearance could rather be the precise definition of how its looks.
It has got height though to ensure the production volume isn't compromised.
Overall, the 3D printer comes packed in carefully to ensure safe shipping.
Here is the list of things you receive along with the 3D Printer:
Z-SUITE software
Starter Kit
Maintenance Kit
Spool of Material
Spool of Support Material
Spool of high-temperature model material
spool of high-temperature support material
USB memory stick
Setup
What can we say? There is not much that you need to do to start your first gig with this 3D printer.
Yes, the setup is mostly plugged and play. Unlike do-it-yourself 3D printers, this one comes intact together. So, no different components marked separately.
Moreover, it has an automatic calibration feature. So, you do not have to invest a lot of time leveling the bed or managing the settings of the printer initially.
Just a few minutes and you can start working with your first 3D model.
In addition, the printer comes with predefined settings for different filaments. That means that you do not have to learn about a lot of things even on the first day of the operation.
On the contrary, you can start implementing the printer to its full capacity starting from day one.
It comes along with a business continuity kit that contains the important component for maintenance of the machine.
So, in-house maintenance and care of the 3D printer are also handy.
Printing Type/Cost
The 3D printer runs on LPD technology. It stands for Layer Plastic Deposition Plus.
The technology is similar to the FFF 3D printing with the spin of the name and a few attributes.
But the process remains similar. It works by depositing the melted thermoplastic, one layer at a time.
Well, the cost of 3D Printing would mostly depend on a few major things.
Do not forget to count the cost of the filament chosen to build the model, the infill structure, layer thickness, model design, etc.
Along with this, you must also count the basic investments required to run this industrial 3D printer. Such as the electricity and maintenance cost.
In short, the cost of printing would vary from model to model.
Print Quality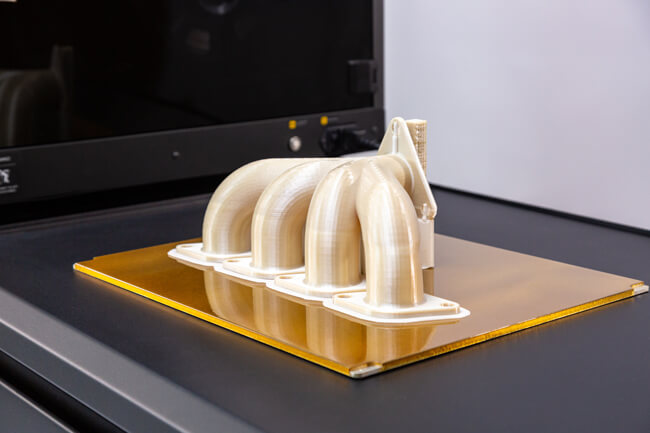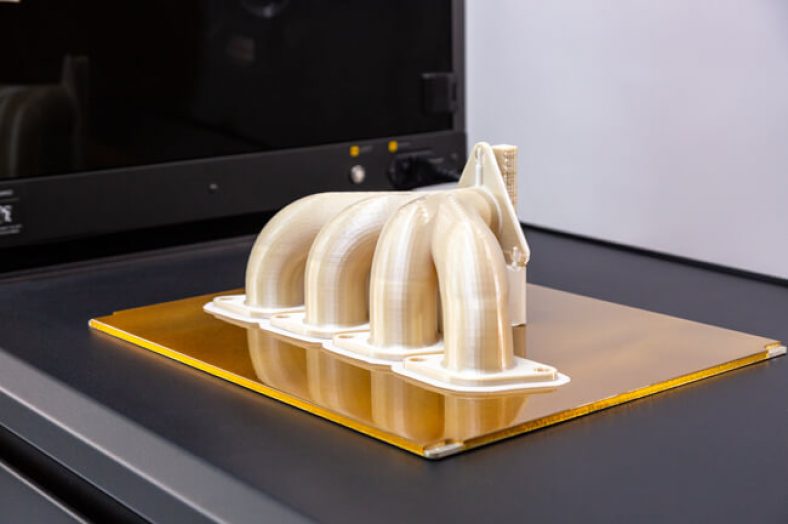 Credit: zortrax.com
You get to experience a high-quality print result. With a cleaner surface and easy creation of difficult geometries, the printer could solve a lot of production needs.
Software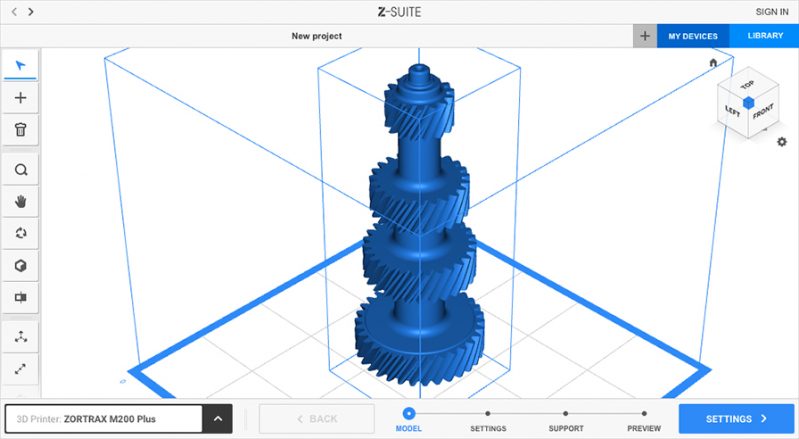 Credit: zortrax.com
Zortrax's Z-SUITE is the software to use when working with this 3D printer.
Endureal can help you with the best results when used along with this intuitive slicing software.
You get to enjoy the predefined settings for different filaments along with the many other controls for printing. Easy and simple, yet highly advanced.
Customer Service
Users can access online help as well as contact the support team instantly for any problem they may face. The response is quick and resolution is faster.
Parameters Influencing the Buying Decision
Do not forget to keep into account the important aspects of this 3D printer before you make the final decision. Here is what you must look at.
3D Printer cost: Expensive and suitable for industries with high-end production.
3D Print quality: Very impressive.
3D Print speed: You can print materials at a high speed without compromising the quality of the 3D models.
3D Printer capability: Designed for practical applications including industrial and serious projects.
3D Printer Practicality: As mentioned above, the machine could create high-end 3D models for practical applications assisting industries such as advanced engineering and medical niche.
3D Printer User expectations: It does serve what it promises.
The Verdict
Zortrax Endureal 3D printer review outlines the various ways this printer could make a difference in your day to the day production operation.
Aimed to help industries with advanced printing projects, the machine is a great choice for businesses.