The Internet has changed the course of buying and selling things. Take a second or two for thinking about the things that you go to buy online, versus offline. Although arguably online buying needs a little more planning than offline buying, it is worth it for many reasons.
E-marketplaces that started with buying and selling of basic products have grown over the course of years and developed into huge marketplaces very not necessarily you get only the essentials that you need for living, but also equipment of manufacturing.
3D printers have for many years now, revolutionized the field of manufacturing. In this article, we will tell you about the top 3D printer websites from which you can buy them.
Apart from providing the equipment at your place, these websites also provide some additional services like letting you print using their 3D printers. Almost like hiring their equipment.
All you need then is to upload the design file of the part or functional prototype that you are willing to 3D print to them and you are done. The part or functional prototype would then be printed using their printers and be delivered to you.
Shocked by the 3D printing services offered by these companies? Well, let's look at the list.
3D Bazaar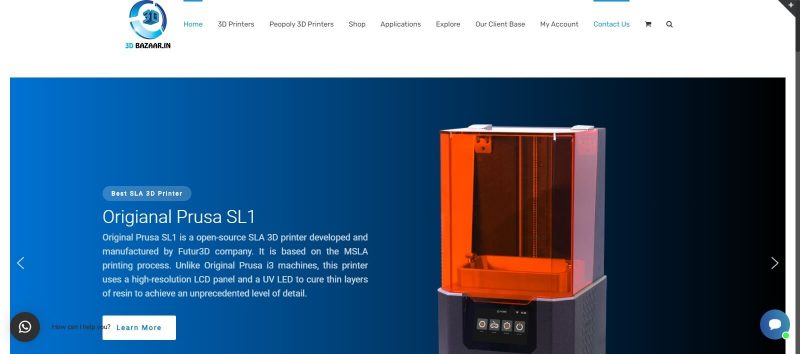 Home, 3D Printers, Shop, Accessories, explore our client base, my account, and contact us are the tabs that the website has. The other striking thing on your eyes would be the changing slides which are just below these tabs.
These are slides of the famous 3D printers which are very well-known in the market of 3D printing and are available on this website. There is the name of this 3D printer, with its photograph and a little description of the printer.
Scrolling a little down would help you see the name of another printer, its features, and some of the awards. And there is not just one printer, there are two.
You would not be able to know about the website's offering i.e. to build 3D designs on it. It is only after scrolling a little down that you would enlighten yourself with this eccentricity.
3D Printers, 3D Filament or Resins, 3D printing service, spares and services, CAD service, and 3D Scanning are some of the services that this website offers.
When you will come to the end of the page, you would come across the Idea driving research leading to concept cycled by design fueled by prototype which makes development happen thing.
There is also a picture in which the left-hand side, there is a human-looking hand and on the right, there is the machine hand. And for some reason, both are trying to meet each other.
Which the company has kept here to indicate about the Digital Age wherein humans are trying to feel the machines or understand them or something like that.
Shopping tab of this 3D printer website
A funny thing about the tabs that we have talked about before is that there are 3D printers and under the Shop tab you have it again. And shockingly both of them open up the same webpage! The website features 3D printers of the company: Peopoly, Creality, Prusa, Elegoo, and Flashforge.
For 3D filaments, you have options like ABS i.e. both, black and white, and PLA of black, sky blue, grey, red, silver, gold, orange, yellow, green, white, and black colors.
In spare parts, you have a high-temperature nozzle, heat bed thermistor, cartridge, probe, vat glass, print bed, resin tank, X/Y Axis motor, TPFE Tube, Touchscreen, axis sensor, FEP Film, turbofan, LCD Control Panel, thermocouple, heating plate, lines, and cables of the printers that are mentioned before.
Jewelry, Toy industry, dental, architecture, and automotive are the industries in which the parts made from the website have found application.
3D Bazaar has taken the pains to differentiate 3D printers that are claimed by their manufacturing company to been made for specific industries a little more than for other industries.
Meaning that, when you click on the Jewellery option under the Application tab on the website, you get to see Poepoly Noir and Peopoly L. Similarly for the toy industry you have other printers, the same goes for every other industry that is listed on their website.
On the left you have a WhatsApp icon asking you "how can I help?" and on the right, you have an option to chat. And this is applicable to every webpage that the company has, wherever you go, it would follow. Although it would make you wonder, were two options needed here?
Think3D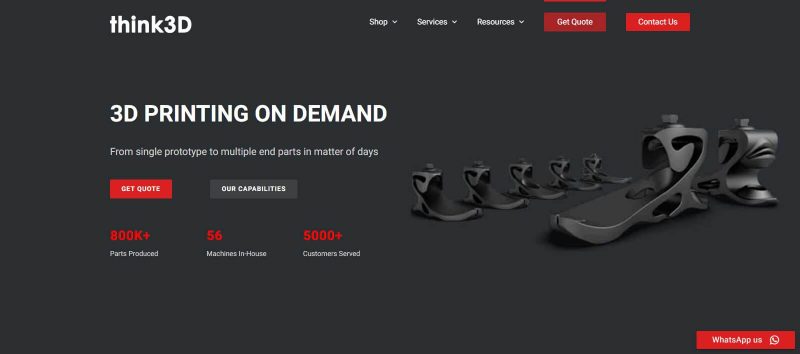 There is an interesting story mentioned on the founders of this company met via YouTube which is fascinating to read after having watched Gully Boy.
This story can be read by clicking on the Who We Are? A Tab which you can lead to after having scrolled down any webpage of the company's website, under the About Us column i.e. one amongst the three that are mentioned.
Products that this 3D printer website offers
Coming to the tabs, here you have Shop, Services, and Resources, you also have Get Quote, for some reason in square and Contact us in a colored square.
The reason for this discrimination is known to the website owner, which you can contact by clicking on the contact us page. Under Shop, you have four categories that are neatly arranged.
Starting with, FDM 3D printers, SLA and SLS 3D printers, 3D Scanners, and 3D Filaments. Viewing all the FDM 3D printers got us to Ultimaker, Flashforge, Divide by Zero, Aha, Raise3D, and ZMorph VX.
Whilst viewing all the SLA and SLS 3D printers got us to Formlabs, 3D Ware, Sintratec, and Sinterit. So if you are looking to purchase any of the following brands' 3D printer, you can get on this 3D printer website. For 3D Scanners, Think3D has Einscan and Solutionix.
Services that this 3D printer website offers
3D Printing
Remember the number of a column which were three when we clicked on Shop? That changes to four when you get your mouse to the services tab.
The first one is 3D Printing Service, the second one is 3D Design Service, then you have 3D Scanning Service and then there is Batch production. If you were wise enough you should have guessed the presence of the first and the third one.
Under the 3D printing service title, you have materials written down with which you can 3D print. But the page which opens up when you click on View All, gives you an option, first to view a YouTube video about rapid prototyping with think3D and then views in front of you the technologies that think3D offers 3D printing with.
Herein you have Fused Deposition Modeling, Stereolithography, Selective Laser Sintering, Direct Metal Laser Sintering, Color Jet Printing, Polyjet printing, multijet printing, and multijet fusion.
Something that you would be skeptical about is, whether the company has all these printers in-house or do they outsource when you place an order for 3D printing.
Because the company has no mention of the 3D printers that they will 3D print your part or functional prototype, the design of which you will upload to get 3D printed.
3D Scanning
Here you do not have any techniques that the website has mentioned to offer at the start, there is a small description just after the image which has REVERSE ENGINEERING written, before a type looking part.
In this description, there is an email id of the company mentioned wherein you can drop in your queries reading which the company would get back to you.
However, the company is kind enough to mention three segments wherein this technology can be used. Those segments are Manufacturers, Architects, and Interior Designers.
It is only after reading all this that the company finally has mentioned the methodologies that they use. They are, CMIM, White Light Scanning, Blue light scanning, and laser line scanning.
Batch Production
The company claims to be equipped with CNC machining, CNC routing, laser cutting, injection molding, vacuum casting, and a passionate team to serve you.
It is because of the last part of the claim that the company mentions, which lets you get subjective and ask how did the company check to what extent was their team passionate to serve us?
Under the description, the company gives you an option to upload an STL file. And then each of the methodologies that the company is equipped to provide you with, has a little bit of description just beside a photo of the part, indicating that part or functional prototype can be made by the company.
3D Printers Online Store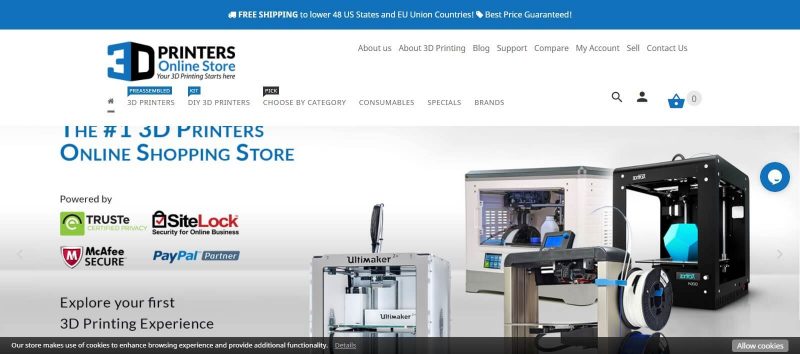 There is a complete About Us page on the company's website which will introduce you to Steve Nilson and Peter Smith, who in June 2013 found this marketplace.
The main objective of this marketplace is mentioned in the same paragraph. Just beneath it, you have a paragraph claiming this marketplace to be the World's largest multi-branded e-store.
For tabs you have options of clicking on About Us, About 3D printing (just in case you have landed upon this website without knowing about 3D printing.), blog, support, compare, My Account, Sell and Contact Us.
Just beneath these options, you have another tab line with 3D printers, DIY 3D printers, Choose by category, consumables, specials, and brands.
All the 3D printers mentioned on this website come preassembled, thanks to the mentioning of this term in a way when we write, we forget something to mention and then we do not want to erase or cut the part and right it newly, so we mention it just above the term that we have already written.
3D Printers that this 3D printer website offers
It is slightly uncomfortable to count all the brands that this website offers for 3D printers. The first printer that you have currently on this list costs $129 USD.
When you go scrolling down you find printers below the $500 USD range. Below $1000 USD range. And finally, the last one is a printer called Foodbot S2 Multi Ingredient Food 3D printer that costs $2100 USD.
And telling something which is a very good cliché is, they have all got sales ranging from 10 to 20 percentage. And some of them are kept on the webpage with Out of Stock marked over them.
The third tab which is choosing by category seems a little interesting because it has classifications like i3, SLA, Core XY, Delta, Professional, Food, 3D Scanners, laser engravers, and accessories.
So, if you know your need a little more specifically, you can just search the products that way on this website. Then there are consumables in which you have resins and filaments.
Filaments that this 3D printer website offers
ABS, PLA, HIPS, PETG, POM, PC, Polymer Composites, Wood, metal material, PVA, and filament PEEK are the types of filaments that you have listed on the filament option in the consumables tab of this website.
Resins that this 3D printer website offers
You have resins listed on this website for printers like Sparkmaker, Anycubic, Phrozen, Wanhao, and these are all not only standard resins but also the variables.
Also, we apologize for telling you that we cannot count the number of brands because we realized later that we could do that. Thanks to the Brands tag which is the last one, after specials. Where in there are 46 brands listed. Quite a count ha?
The Conclusion
These are some of those websites which are not Amazon, Flipkart, or Alibaba, arguably these are the versions of them in the 3D printer market domain.
So, when you are looking for websites that specifically are the marketplaces for 3D printing products and materials that are when you land upon them.
Otherwise, you can have your Amazon's, Flipkart's, and Alibaba's to buy other stuff, and you will also get a 3D printer on them.
Hope this description helps you in deciding which one of these three 3D printer websites you will want to go the most on by reading it.