3D Systems Fab Pro 1000
Fab Pro 1000 does a fantastic job of printing and delivering the final parts or functional prototype to you. Good looking, high-quality prints can be produced by Fab Pro 1000, which is an excellent entry-level 3D printer.
PROS
Fab Pro 1000 can produce parts in hours, which other printers take days to produce.
The materials that you can print using Fab Pro 1000 is a very wide range.
From start to finish the print process is very simple.
3D Sprint, the slicing software of this printer is very helpful and user-friendly when in use.
According to the claims made by its company, Fab Pro 1000 produces parts at a 22% lower cost.
The post-processing of this printer is very easy.
CONS
Overall operating the printer could be a little bit difficult if the setup hasn't been done properly.
There are reviews available online in which users complain about how complex is Fab Pro 1000 until the first successful printing.
Product
Specification
Videos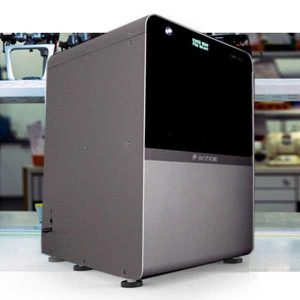 Fab Pro by 3D Systems is a robust 3D printer that can be classified as a desktop 3D printer. The printer's wide range of variety offered in terms of ...
| | |
| --- | --- |
| Model | FabPro 1000 |
| Manufacturer | 3D Systems |
| Price Range | $ 500 – $ 5000 |
| Availability | Available |
| Classification | Professional |
| Technology | Resin (SLA- DLP…) |
| Material | Liquid resin |
| Heated print bed | No |
| Heated build chamber | No |
| Automatic calibration | No |
| Closed frame | Yes |
| Dual extruder | No |
| Independent Dual Extruder | No |
| Full color | No |
| LCD screen | Yes |
| Touchscreen | No |
| On-board camera | No |
| Mobile app | No |
| 3D scanners | No |
| CNC mill | No |
| Electronics 3D printing | No |
| Laser engraving | No |
| Conveyor belt | No |
| Air filter | No |
| Pellet extruder | No |
| USB | No |
| Wifi | No |
| Bluetooth | No |
| SD card | No |
| Ethernet | No |

Table of Contents
Unlike other manufacturers in the field of additive manufacturing that provide just the machine and customer support, 3D Systems is a provider of services and solutions related to 3D printing.
You can get solutions related to 3D Scanning, Design and engineering, Manufacturing as well as a medical specialty on 3D Systems website.
Healthcare models are available on their websites, from which users can choose and decide upon one.
Fab Pro 1000 is an industrial-grade 3D printer that is designed not only for engineers that are entering the 3D printing market but also for anyone who needs a standard prototype or part for his or her design.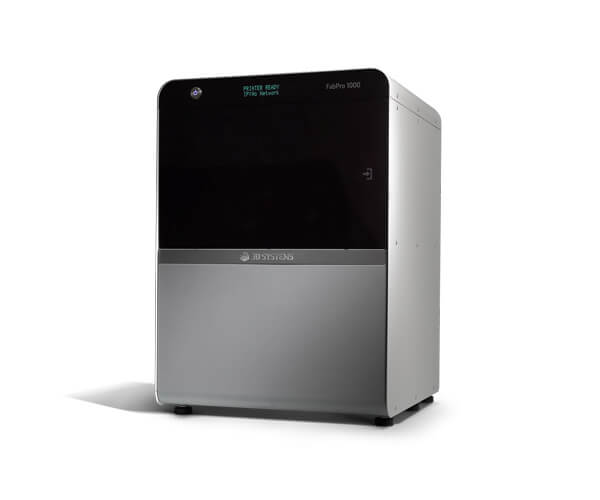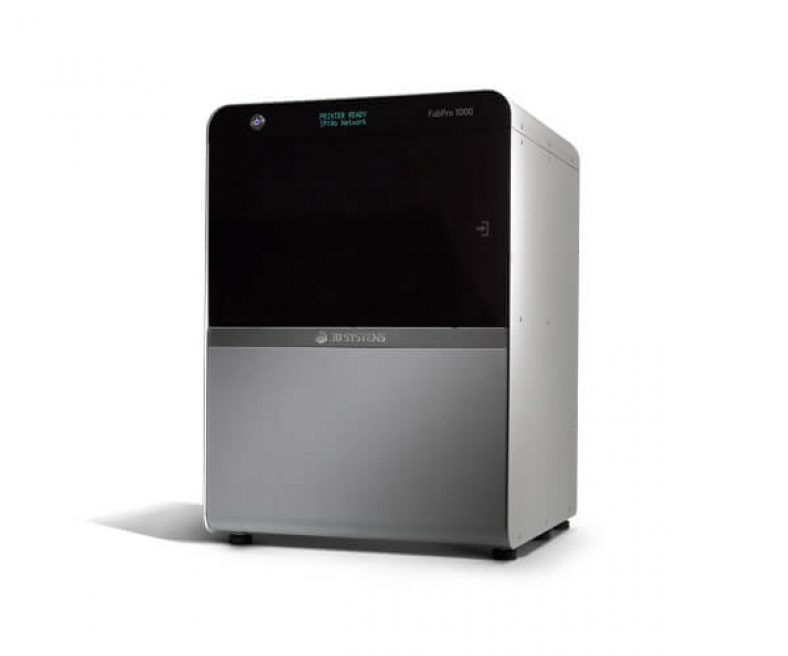 Founding its application in sectors like manufacturing services, engineering, jewelry, and dental professionals, Fab Pro 1000 claims to offer quality in return for a considerable cost.
Specializing in producing small parts with high quality, Fab Pro 1000 also expertizes in the production of prototypes in low volume.
Its Printing speed is the most remarkable feature because the parts and functional prototypes that this printer produces in a specific time, on the other machine takes three times more time than comparison.
Features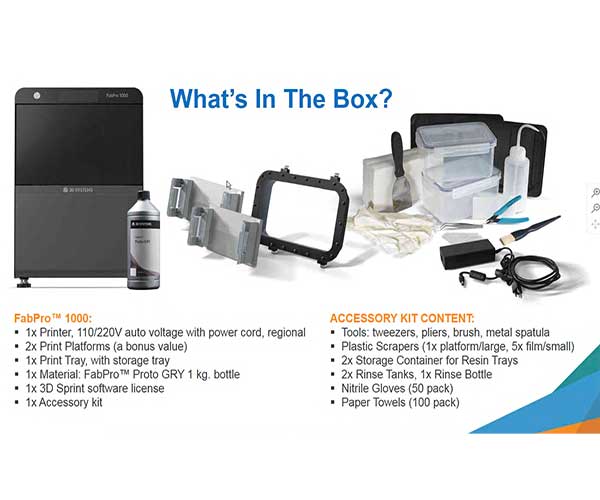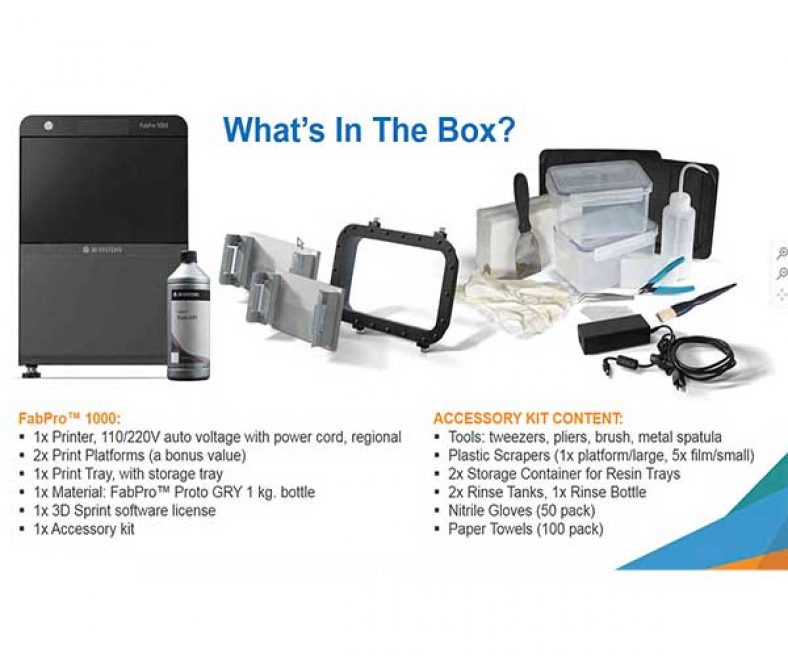 Credit: 3de-shop.com
Fab Pro 1000 comes with a wide range of accessories that includes: two print platforms, a print tray where you would have to pour the material, a kit with a resin tank, and almost everything that you need for printing a finished part.
Here are some of the most intriguing features as per the claims made by the manufacturer's website.
Printing Speed That Produces Those Parts in Hours, For Which Other Printers Take Days
The closest competitor of this printer is Formlabs Form 2. If you take a part that is made using a tough material, it might just take five hours to print that using Fab Pro 1000.
Whereas, if you print that on its closest competitor, it would take 12 hours to build the same part. Fab Pro 1000 can create higher-quality parts that have precision and smooth surface finish at speeds three times faster than its competitors.
The technology used in this printer enables users to produce multiple parts at the same time.
Post Processing Is Simple
Fab Pro 1000 has a two-step post-processing process. The first step of which is to clean and the second one is to cure. After the part is printed, you can simply remove it from the print bed of the 3D printer.
With the part, you can also remove the support structures that were used in its making and clean them using a solvent using an ultrasonic cleaner or manually.
There is a finishing kit that makes its place with the box in which the machine comes. That kit helps in cleaning and support removal and then the part is UV-cured.
Lower Printing Cost and Printing With Numerous Materials
Fab Pro 1000 is manufactured for bringing in material efficiency consistently. It is engineered to make 3D prototyping and production more available and affordable to people than before.
The plus point of this printer is its software named 3D Sprint. The software helps, not only in waste management but also in producing optimized prints and support structures.
Overall the combination of fast print speeds and effective printing leads to lower printing costs compared to its competitors.
From the toughest engineering thermoplastics to the regular resins which are cast and most parts are made out of it, Fab Pro 1000 gives you the ability to print with them all.
Additionally one can easily load in this printer, just by scanning the resin bottle's QR code which gives a user mess-free printing.
Specifications
The printer has a build volume of 125 mm * 75 mm * 120 mm. You can print multiple parts at the same time using this printer. The layer thickness offered by this printer is 30 to 50 microns.
Fab Pro 1000 is based on the DLP Stereo Lithography process that uses UV light to solidify parts and prototypes. The print speed of this printer is 21 mm per hour and the printer weighs 37.5 kg.
The power input needed for this printer is 24 Volt DC, 3.75 A, 100-240 Volt AC, 2 A, 50-60 Hz. The pixel pitch of this printer is 65 microns. The ambient temperature of the printer is 18 to 28 degrees Celsius.
Price
The machine i.e. Fab Pro 1000 with two print platforms and a single tray, costs $4126. If you wish to add the material like a material mixer and lightbox, the price increases up to $5998.
First impressions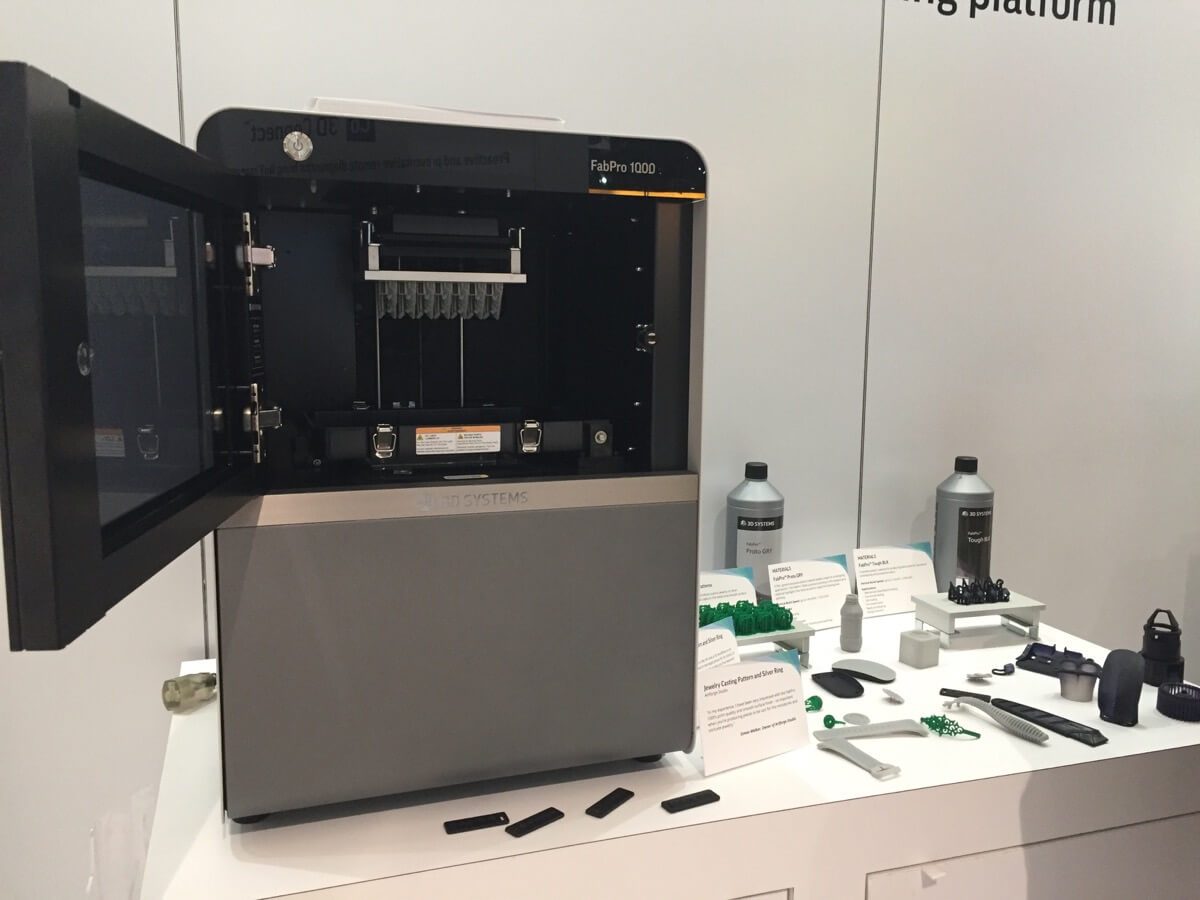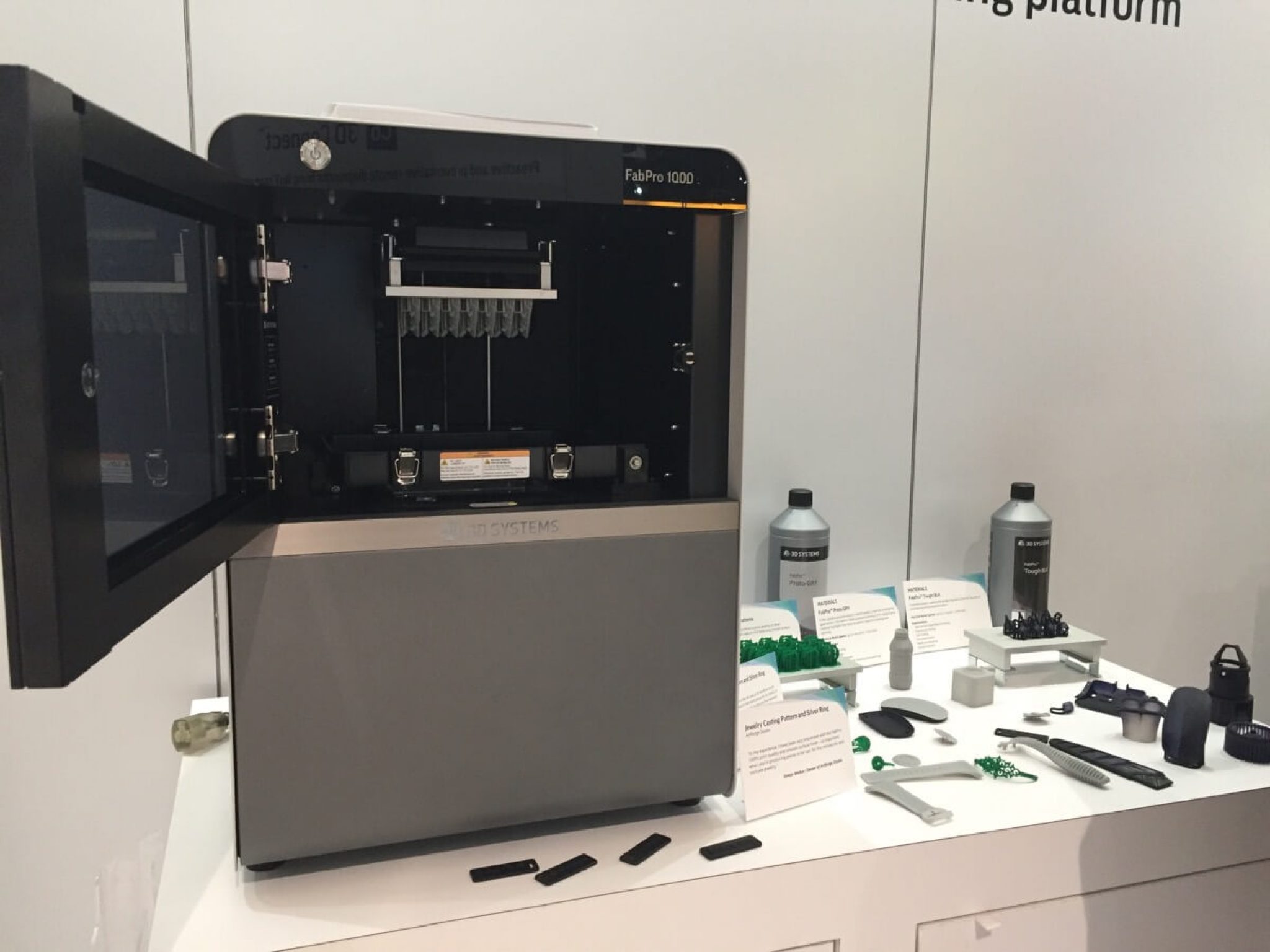 Credit: 3dprintingmedia.network
Fab Pro 1000's first impression will vary according to the order placed by you. Meaning that if you have placed an order for the general kit without any add-on, your first impression would be different than otherwise.
You'll have to unwrap the machine. You'd be astonished to see the detailed work of the manufacturer as soon as you search for something called a setup manual, you'd be gifted with detailed information related to the machine, material, its function, and uses.
There is also customer experience with this which will help you work with resin-based 3D printers.
Setup
Setting up Fab Pro 1000 is pretty easy. All you need to do is install the print tray, print platform, and attach the wire. The printer cannot be connected with Wi-Fi so you would have to set up an Ethernet port, nearby.
Unlike other printers, you cannot even transfer the file via USB port. Hence, there is no option of any sort of cyber breach possible with Fab Pro 1000.
The setup of the build platform is where it gets a little edgy. You'd have to pay close attention to the set of instructions given by the manufacturer.
As per the information reads, you'd have to first add the glass plate which will provide an interface between the resin the tray, and the light source.
A point to note here is how Fab pro-1000 uses a chip for projecting UV light to solidify objects. After doing so, you need to add a print platform. After getting done with this, all you need to do is to install the software and connect it to the machine.
Printing Type/Cost
There are a few things, in terms of consumables, such as building components and resin. The cost of resins can be as low as $149 per liter for the standard PhotoGry resin and as high as $275 per liter for JewelCast.
The build trays of Fab Pro 1000 last 40 hours of build time cost $57 each and the print platform costs $99. Summing this up constitutes the overall running cost of the printer.
Dividing it with the number of prints that you get with the parts and the sale that you make with it, gives you the exact printing cost per print. Costs like electricity, the infill percentage of parts that you produce also matter, but not as much as the costs mentioned above do.
Print Quality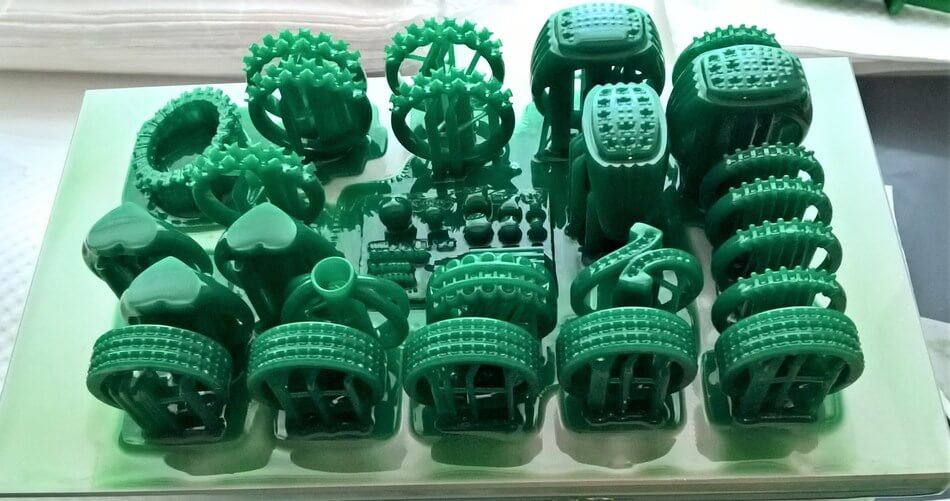 Credit: 3dprintingindustry.com
Provided that DLP stereolithography offers quality like no other, it also demands extra care. So before starting the print, it's better if you get answers to questions such as do the orientation of part gives you the whole that you are looking for? Are the important surfaces free from support?
Is the number of supports that you've kept enough? In terms of dealing with these questions which are essential for the print quality, 3D Sprint, the software that Fab Pro 1000 comes with, does an excellent job.
Apart from the software, the on-board control on this printer is done using a simple LCD and a switch. How this function is; as soon as you send one job, it asks you to press and hold the button.
Once the job is accepted, the system asks you to scan the QR code found on the resin bottle. Fab Pro 1000 uses the industry-standard UV light which has a wavelength of 450 nanometers.
Software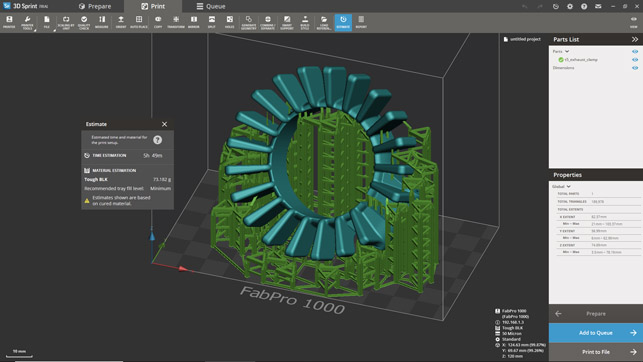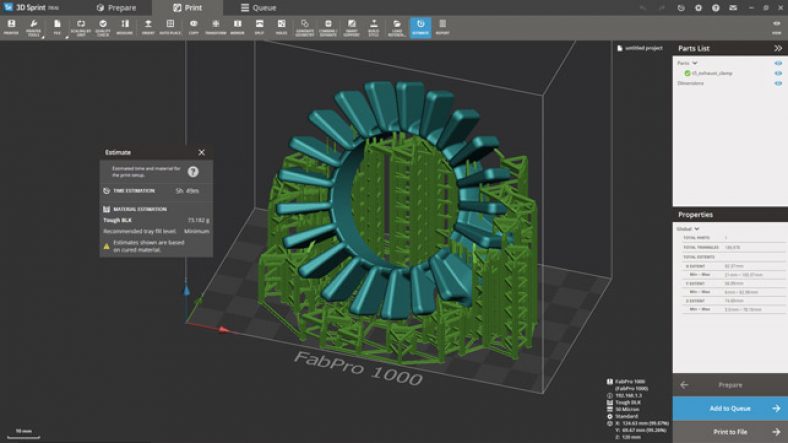 Credit: develop3d.com
For starting the print process, you would have to download slicing software named 3D Sprint. You can import a model with extensions.STL, .OBJ and many more using 3D Sprint.
Scaling, positioning, and adding of supports can be done using this software. 3D Sprint, when needed, can automatically place your model and generate supports so it's simple to prepare for those who find support generation and placement difficult.
Once the file is received, Fab Pro 1000 prompts you to add the material by scanning the QR code that's present in the material bottle, thanks to the scanner present inside the printer.
Fab Pro 1000 supports the use of materials which are specified with it. After scanning and filling the print tray, the printing finally starts.
Customer Service
A year warranty comes with the purchase of this printer, which can be extended to one more year, and then a two-year warranty can be extended for increasing the service life of this printer.
You can connect with the support team of Fab Pro 1000 from its website, via the Internet, over the phone, email, and Skype.
Parameters Influencing Buying Decision
Fab Pro 1000, as you have read till now does a fantastic job of printing and delivering the final parts or functional prototype to you. Here are some of the quick factors which will help you recall the judgment of this printer as per the complete article.
3D Printer Cost: The price of this printer is affordable compared to the higher range of industrial-grade printers and the lower ones, Fab Pro 1000 is something which is just the average.
3D Print Quality: Since Fab Pro 1000 uses DLP technology, there will be hardly any complaints that you will have about the layer visibility or achieving the layer resolution that it promised.
3D Print Speed: This is the triumph card of the printer. Its speed is unmatched in the industry.
3D Printer Capability: The printer claims to print with various range of materials that are completely different. From tough to smooth, regular to eccentric, the printer offers printing with all.
3D Printer Practicality: Overall, the printer is easy to use after its first print, about which it's written on the instruction pages that come with the printer.
3D Printer User Expectations: Small businesses will have the quantity and speedy printing that this printer offers. While big businesses and expert designers will take the already achieved quality to the next level.
The Verdict
Good looking, high-quality prints can be produced by Fab Pro 1000, which is an excellent entry-level 3D printer.
Due to the DLP process, which is responsible for the mechanism of this printer, it gives you a better result than any entry-level FDM printers in terms of quality. Here are Some of The Best FDM 3D Printers.
Speaking about the printing cost or the cost of this machine, it is higher than the comparison. Also, you would have to do little effort in the post-processing and complete cooling of parts and functional prototypes.
But overall, this printer produces a print that is astonishingly-good to see and has negligible or no layer visibility. It's ventilated and has a good look. For all those who are looking to do business related to additive manufacturing, Fab Pro would be a joy to work with.