Table of Contents
Amongst the methods that are currently available for manufacturing, 3D Printing is one such method that is extremely popular for the kind of flexibility it offers.
Be it for mass production or for small volume production, more and more manufacturers are preferring this technique over other technologies.
The technology is not yet fully developed, it is yet in its initial phase of development.
If you try to list down the flexibilities that this technology offers, one of them is the ability to fastly print prototypes. The other one is the ability to print on the basis of a soft copy i.e. the 3D design file. A point of flexibility is also the way in which you can get this service completely online.
That's right. Search for 3D printing service prices and you will notice that near your locality or, if you wish to buy it online, the services are also available globally. Isn't this amazing?
The way in which you can sit back at your home, think of a part, or the idea of a part. See if the 3D design file of that part or functional prototype is available online or not. On the basis of whether it is available online or not, you can decide whether or not to hire a designer online or not.
And then finally get the 3D design file of that part or functional prototype and then all you need to do is to upload the file online in a particular extension and voila! You can get that part 3D printed and delivered to your place.
In this article, we are going to be talking about 3D Printing Service Prices.
We have gone on the Internet and done this painstaking task of curating some of the best 3D Printing Service Prices to bring to our viewers. So, whenever you wish to opt for it, it is easy for you to decide.
List of Companies that Provide 3D Design File Prices
Before seeing the list of companies that provide 3D Printing Service Prices, it is important for you to see companies that provide 3D Design file prices and download of the same.
If you would have read the explanation carefully, you would be able to know how important it is to get a 3D design file before 3D Printing.
And you will know, when we will write about the options that are offered on 3D Printing Service provider's website, how, for getting a part printed, the first task is knowing the price or "getting a quote."
For getting a quote, all you need is the design file. So, again getting this 3D Design file of your part or functional prototypes is very important.
Vectary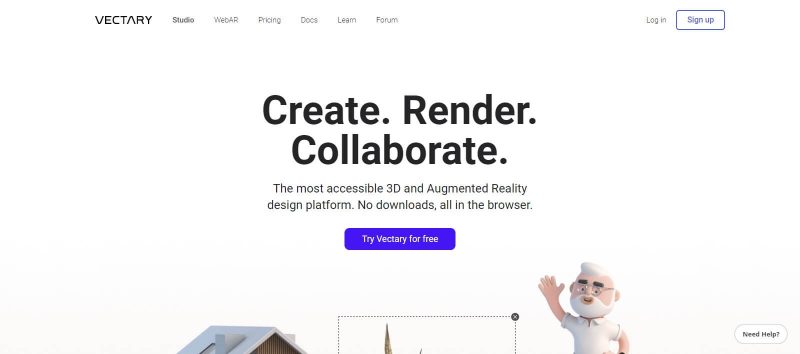 The website of this 3D Design file provider claims itself to be the most accessible 3D and Augmented reality design platform.
You do not even have to download a file, like on most of the other websites that will come down the line.
On Vectary everything is available in the browser. There are six tabs that will be available on the top left.
There is a picture of a house, an interior, just beside it and there is a guy waving to you, all in 3D animated form.
Probably trying to imply that the company is into 3D designing for all three different domains.
The first option that you get on the website of this 3D Design provider is for trying out the service for free.
That is also the option that you will get when you scroll down a little bit.
You can start with a high-quality rendered and lit scene for product shots, abstract graphic backdrops, and a lot more.
There are also drag and drop options for thousands of free customizable 3D models from the library.
Also, there is an option to connect external accounts and add some of your own.
Pricing
The third tab on the website is what you are going to click on if you are willing to purchase this service or compare prices.
As mentioned above, there is also an option to try Vectary for free. Apart from that, there are three plans available in which Vectary can be purchased.
These plans are named lite, premium, and Company. They are priced at $7.50, $17.5, and $499 per month.
And the features that they offer are really written beneath their offerings so you do not have to work more on comparing them.
Vectary also provides Upgrades and custom solutions, there are Extra WebAR Views for $5 per month and Enterprise available at a custom price.
TinkerCAD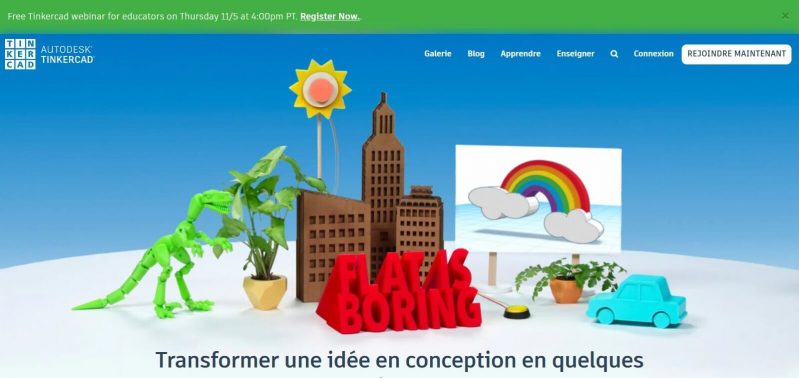 As you all might know, there is a general belief in the design world that nobody does it better than AutoCAD. TinkerCAD is a design service that is made available to you by the AutoCAD company.
The picture that catches your eye on the homepage is something that is trying to imply by showcasing all sorts of 3D objects circled around the text that "FLAT IS BORING."
And if you are wondering why that is written, just remember that everything that is Flat, is two dimensional. The next claim made by the website is pretty audacious. It claims to get you from your idea to a practical 3D design in minutes.
Beneath the texts, you get the first two options to click on this website. Reading which you get to know that this website allows you to Start Tinkering or Join Your Class i.e. educate yourself with 3D designing, in general, using TinkerCAD.
Apart from learning or starting as a teacher on TinkerCAD, you can also create using these software services.
Sculpteo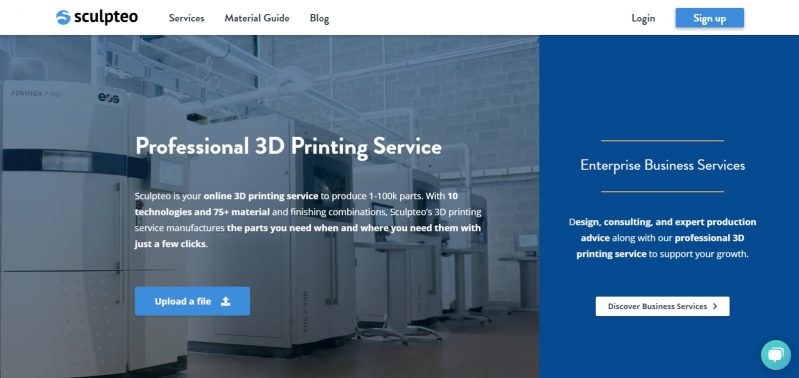 This is the name of the website that you'll get to know even as a 3D printing service provider.
So, you can not only get your services printed but also get 3D Design from Sculpteo. Under the Services tab of the website, there is this option of Design Studio.
For accessing this design feature of Sculpteo, you'd have to fill a contact form that will ask you basic information about you and your project.
It will also ask you if you have some kind of file with yourself or have an inspiration which will help Sculpteo understand your project rather than communicating just on the basis of ideas.
Sculpteo has its own team of designers wherein they help to assist you with your 2D as well as 3D files. On the other hand, if you do not have any file, Sculpteo also helps you create one.
After talking about these three companies which are based on the design side of the 3D printing world, let's talk about the printing side of the 3D printing world.
List of 3D Printing Service Prices Providers
Once you get the 3D design of the part or functional prototype all you got to do is upload that design file on these 3D printing services that are listed down.
What they will do is, either provides you instant quotation or price for 3D printing.
Or they would get back to you regarding the same. In one way or the other what you would get is the 3D printing service price for your part or a functional prototype.
Xometry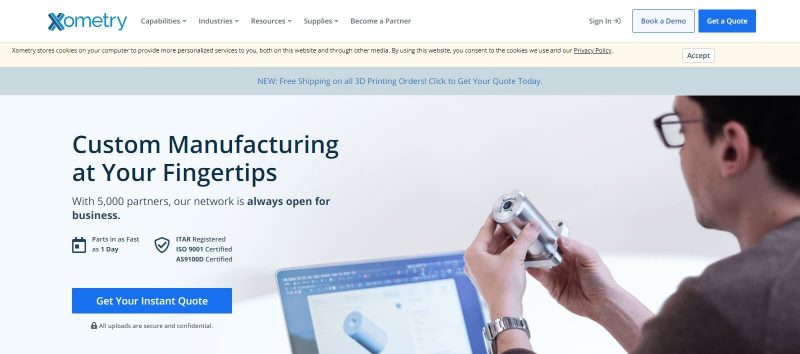 "Custom Manufacturing at Fingertips." Is the first title that is going to strike you when you enter the homepage of this 3D printing service provider's website.
Just beneath the title is your "get instant quote," option. Clicking on this option a new webpage is going to open up in front of you wherein you would be given the option of uploading your 3D design file in many formats i.e. STEP, STP, SLDPRT, STL, X_T, X_B, IPT, 3DXML, CATPART, PRT, SAT and DXF.
And you will also have to select from the processes that are available with the website makers.
By processes here the maker is trying to imply the 3D printing techniques that are available in the market, like FDM 3D printing, SLA 3D Printing, SLS 3D Printing, etc.
You can also select the material from which you want your object to be made.
Xometry is effectively a 3D software company that leverages a US-wide network of manufacturing partners to offer instant quotes or Pricing.
These quotes or pricing are then filterable by production method, material, and lead time.
This 3D printing service price has customers including Fortune 500 companies.
The complete system of Xometry brings together those in need of custom parts quickly, and workshops frustrated at unorganized inquiries that lead nowhere.
Additionally, users of Xometry can have parts CNC machined, wrought from sheet metal, and injection molded.
Jawstec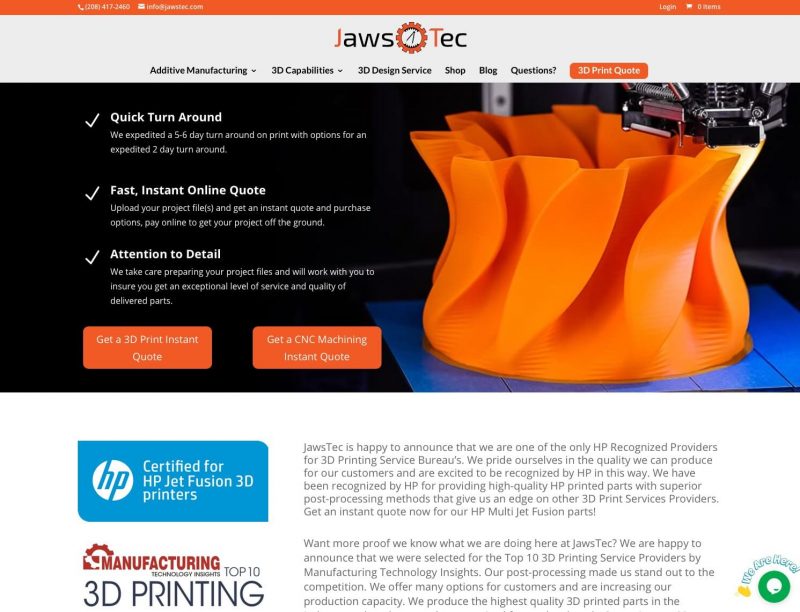 Get a 3D Print Instant Quote and Get a CNC Machining Instant Quote those are two options colored in red, asking your attention to click on at least one of them.
JawsTec is a 3D printing service price providing company that has five major tabs when you land on the homepage of the website to open.
The first one is the one informing you about the company's 3D printing capabilities.
The other one is 3D Design Service, then you have CNC Manufacturing, Shop, and Blog.
After taking the cursor of your mouse onto the first tab, you get to see the viewing of five names of 3D printing technologies that this company works with.
There is for some reason the first technique named Additive manufacturing which is up to the maker of the website to claim, what made him or her put it with the other names which are actually the names of different methods of 3D printing technologies.
Whereas Additive manufacturing is something that is more referred to as a synonym of 3D printing itself.
Moving on, you have SLA, Thermoplastic polyurethane, propylene multi-jet fusion, and then you also have a material name which is HP Nylon PA 11.
3D Printing AU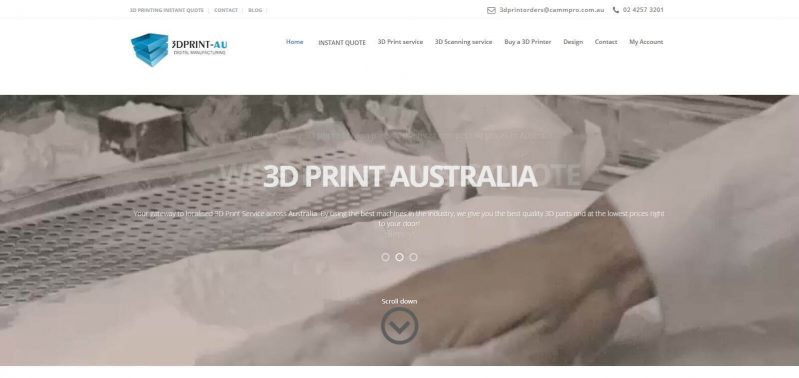 This one is amongst those rare websites about which there is not much being written as much as about the 3D printing service price providers based in the USA or maybe some other geography.
As the name suggests, this website is based in Australia. There is a video getting played in the background without your permission.
Hands are checking the already manufactured 3D printed part or a functional prototype. And there are claims with the text that are visible to you despite the video being played in the background like," We'll beat any SLS quote," etc.
There are eight tabs on the company's website. Apart from providing 3D printing service prices, the website also has the option of 3D Scanning service and buying a 3D printer. You can even design the company.
3DPrint-AU.com claims to have a state of the art additive manufacturing center, with expert staff on-site to print your 3D parts for you.
Using what they call "Toll Priority courier", you can rest assured that long waiting times will become a thing of the past and you'll receive your 3D printed part promptly, whether you live in Australia or New Zealand.
Yes. The website is not strictly limited to Australia also has its hands on New Zealand.
The Conclusion
If you are unsure about which 3D printing service prices provider is the best for you. Decide the criteria for yourself.
It could be your budget, it could be the quality, it could be that the service provider should also provide designing and not only printing, basically, but it could also be anything related to the 3D printing of your part or a functional prototype.
What this would help is to prioritize the many options available out there.
Because if you are thinking that there are only three of these which we have mentioned, it's not so!
3D printing service price providers is a domain that almost every company that provides one or the other service of 3D printing is trying to master because it is currently in trend.
So, the best for you is to figure out a method, device it according to your need, and look for more and more customization offering companies if your need is such.