Anycubic Mega Zero
Made to impress, the 3D printer ticks the right boxes and promotes a high-quality experience at a cheaper cost. You can now think of becoming a 3D printing professional when getting the first break at just $179. Sounds justified? If you think this deal gets what you are looking for, Anycubic Mega Zero is worth the attention.
PROS
Highly affordable
Easy to work with and setup
The reliable 3D printer at a cheaper cost
High-quality prints
Easy to level the 3D printer
Compatible with third-party filament
CONS
The firmware is a little confusing
Non-heated bed
Product
Specification
Videos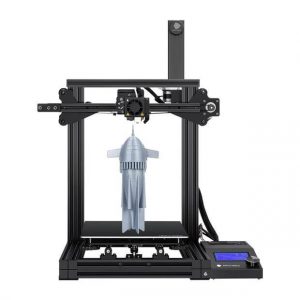 Providing a modular assembly that not only saves your time but also helps you get started quickly, Anycubic Mega Zero is a very affordable FDM 3D ...
| | |
| --- | --- |
| Model | Mega Zero |
| Manufacturer | ANYCUBIC |
| Price Range | $ 179 |
| Release date | 2020 |
| Country | China |
| Availability | Available |
| Classification | Hobbyist |
| Technology | Extrusion (FFF- FDM…) |
| Material | Standard (PLA, ABS…), Thermoplastics |
| Generic material | Yes |
| Filament diameter | 1.75 mm 0.07 in |
| Nozzle diameter(s) | 0.4 mm 0.02 in |
| Max. build size | 220 × 220 × 250 mm 8.66 × 8.66 × 9.84 in |
| Max. build volume | 12.11 L |
| Dimensions | 504 x 396 x 607 mm 19.84 x 15.59 x 23.9 in |
| OS compatibility | Mac OS, Microsoft Windows |
| Heated print bed | No |
| Heated build chamber | No |
| Automatic calibration | No |
| Closed frame | No |
| Dual extruder | No |
| Independent Dual Extruder | No |
| Full color | No |
| LCD screen | No |
| Touchscreen | No |
| On-board camera | No |
| Mobile app | No |
| 3D scanners | No |
| CNC mill | No |
| Electronics 3D printing | No |
| Laser engraving | No |
| Conveyor belt | No |
| Air filter | No |
| Pellet extruder | No |
| USB | No |
| Wifi | No |
| Bluetooth | No |
| SD card | Yes |
| Ethernet | No |

Table of Contents
Any guesses what is in store with the Mega Zero 3D printer by Anycubic? Well, many of us may already make an opinion based on its cheap price tag.
But hey, there is more to this affordable yet cleverly crafted design that compensates for its compromises by boasting much better components and clever design.
Although won't fit those wanting to build parts using ABS or other difficult materials, it does clearly set its own fan club.
The company, Anycubic is known for creating affordable 3D printers. However, this time, it has come up with a really cheap machine that will get you all excited.
Those who never planned to experiment with 3D designs may even want to try their luck with this revolutionary technology. Thanks to the huge price drop with this cheap yet great 3D printer, that comes for just a few hundred dollars.
Users could very much resonate with the saying 'less is more' when able to print with a variety of material pools available with PLA and TPU put together.
If you wish to know more, do not forget to read our complete Anycubic Mega Zero 3D Printer review to learn about the various features that the printer offers. And, find out how close it is to your preferences.
Features
Willing to experience fuss-free 3D printing, you must look at the different features that make Mega Zero so easy to work with.
Backed with a minimalistic design and a very sturdy compact body, the printer could be a great way to getting into the 3D printing regime.
Costing no more than a few hundred bucks, this machine surely could ignite passion among those feeling irrelevant with additive manufacturing technology.
So, without further ado, how about exploring the great features that make this machine worth the fame it already enjoys.
Sturdy Body: Did you imagine finding a low-cost machine designed with an aluminum frame? We thought so. But Anycubic has always been a supporter of savvy design components. So, like every other machine from the company, this one also is very sturdy and comprises a metal frame. Hence, allowing users to create amazing designs with ease at a faster speed without losing the quality.
Metal Print Plate: Along with the frame, the company makes sure that the users enjoy a sturdy build plate as well. Not heated though, the design ensures that the adhesion issues aren't too irritating. Hence, if you are printing with PLA, using rafts may help get better results. While when working with TPU, you can choose to print directly on the build plate. In either scenario, the experience won't be a jumpy road.
Lighter Design: To achieve this goal, the company has come up with a 12V power brick, found with laptops instead of going for the obvious bulky LED power supply. Hence, this has enormously worked on the weight reduction of the printer which isn't so easy to find with budget printers. Surely, you would enjoy printing with a machine that is easy to shift, here and there.
Double Gear Extrusion: The Anycubic Mega Zero isn't just a regular budget printer that just lets the user experience what the machine looks like in person. However, it actually works and very efficiently. And, the company has instilled that belief in users with its dual-gear extrusion mechanism. The gear comes mounted on the printer's X-axis cantilever. Hence, enabling the filament feeding through a PTFE tube reaching to the extruder. In turn, it is able to generate higher torque for reliable performance.
Resume Print Function: Surprised? Being a budget printer, you wouldn't have expected Mega Zero to boast print resume function. However, this one is really intriguing. With this feature, you do not have to worry about consistent power outage problems. If the power goes off, the printer will save progress. And, will resume printing as soon as the power comes back, right from where it left printing. Hence, users can save effort and money. Failed prints do cost a lot of energy and filament.
Manual Leveling: Not sure if picking a printer with manual leveling will do any good. While the benefits of automated leveling cannot be ignored, this 3D Printer makes it to set up the printer, even with manual leveling. Users can easily locate the print platform corners and complete the set in a matter of time. Hence, it won't bother working a little bit extra when able to save so much.
Huge Volume to Print: The design is carefully thought to ensure users get most of the space for printing. Therefore, using a compact body, the company has been able to accumulate huge space for printing. This makes it easier for printing bigger designs.
Semi-Assembled Design: A budget printer often makes you work for hours before being able to start the first print. However, this one is a little different. Instead of coming in smaller components, needing assembly, it is semi-assembled. This means that the modular design is easy to connect and made ready for the first 3D print.
Third-Party Filament: This 3D printer can work with a third-party filament. Hence, users can try different brand materials of their choice and stick to the one they like. Allowing for a cheaper selection of materials.
Affordable: Although stated a number of times, let us stress a little more on the feature. This is to make sure you understand how worthy the printer is, set aside the compromises it made. One thing is for sure, the price reduction is not just for increasing its reach. But allowing non-users to experiment with 3D printing for meaningful results.
Specifications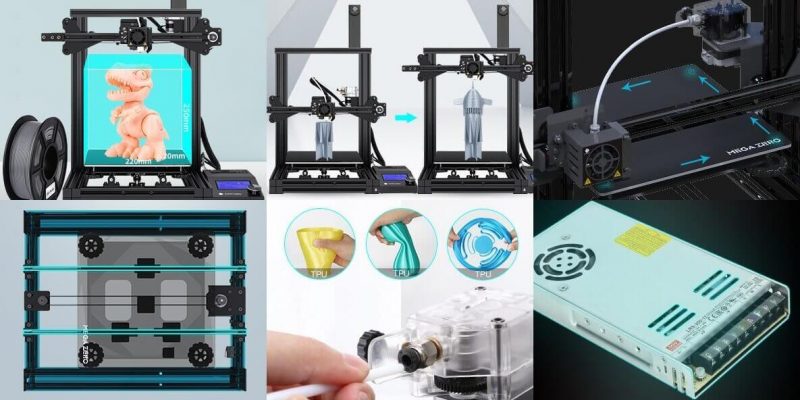 The 3D printer occupies 504 x 396 x 607 mm of space and is pretty compact. In addition, the build volume is 220 x 220 x 250 mm, managing to offer a decent space for prints.
With the Bowden feeder system, the printer comes with a single nozzle of 0.4 mm diameter. The best part is the weight of the printer which happens to be just 6.4 kgs.
Crafted with a metal frame and metal platform, the printer offers manual leveling, however, comparatively easier to work with.
When talking about the extruder temperature, it can reach a maximum temperature of 255 degrees Celsius.
For connectivity, the company has chosen to bring the basic option for the users. The trade-off for a budget price. However, completely worth it. So, in case you wish to upload the design, you must make use of a microSD card.
It is partially assembled. Hence, you do not have to spend hours fixing the machine before starting to print. In short, the specifications do raise our expectations.
Price
Here is where everything starts making sense. Unveiling the suspense, the price of the print is just $179. Yes, even cheaper than the $200 machines.
So, it is interesting to find such great features stacked in the right order to make the worth of the machine way more than it actually is priced for.
First Impressions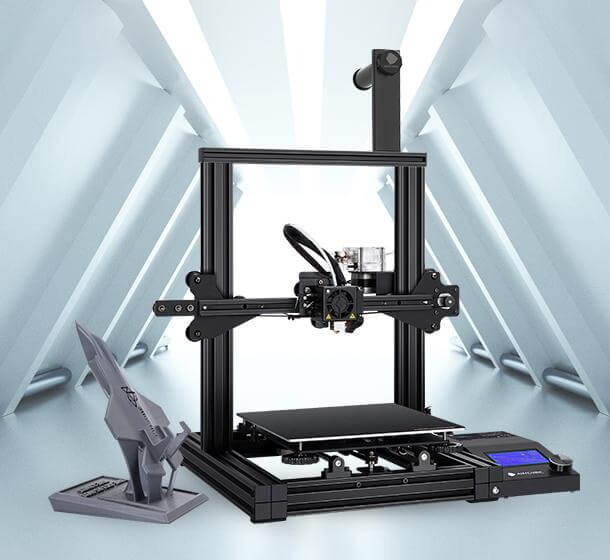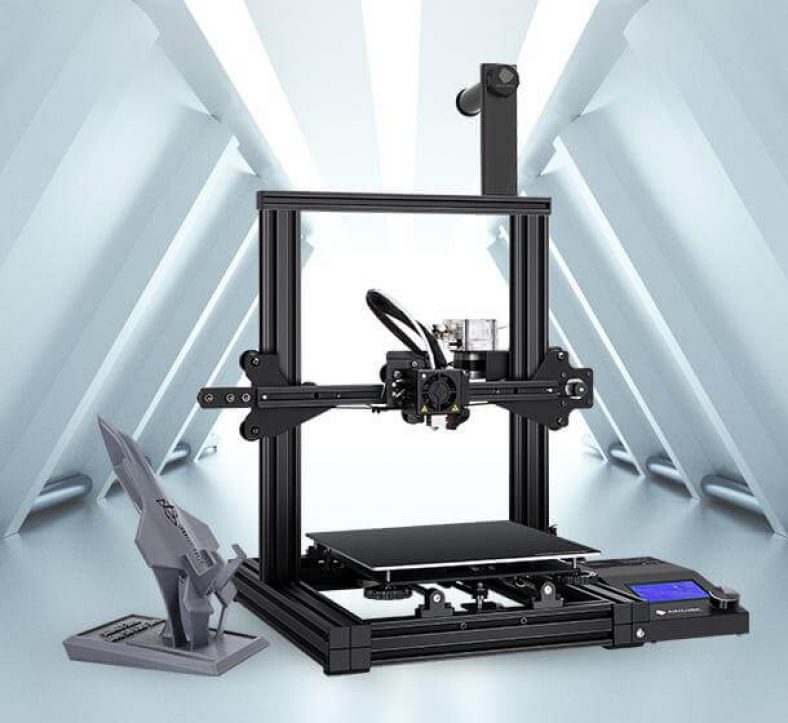 Anycubic helps you save a lot of transportation costs by using a partially assembled design. Hence, the different components could snuggle inside a smaller package with a lighter weight.
The components are well managed with separated foam cabins for safe delivery. Apart from the printer components, you can find a cutter, spatula, as well as sample filament.
Hence, you can start working with the model prints right away after setting your 3D printer. You also get a manual with photos of the setup for a hassle-free experience.
Further, the website of the company explains the entire assembly through a video featured for the right audience.
The components are defined with isolated power cables for a no-fuss setup. Therefore, all you need to do is, open the package, set up your 3D Printer, and start creating.
Setup
As mentioned already, the setup of this partially assembled printer does not horrify anyone. In contrast, it is fun and a great learning experience for users wanting to start their journey with additive manufacturing.
The modular design helps in easy assembly. Above all, you get all the resources required to put those pieces together from the company itself.
Leveling may come as a challenge at first. This is because of the confusing firmware that may restrict you a bit from finding the right way through its options for leveling the bed.
But this is just a one-time thing. Once you locate the settings, you can easily carry leveling with a simple location of build plate corners.
After level, you must deal with the traditional scroll dial to further set the machine for printing the first 3D model. Do not forget to load the filament before you start operating the machine.
Printing Type/Cost
Mega Zero 3D printer is based on FDM 3D printing technology. Hence, the printer uses a hot extruder to melt the filament and create one layer at a time. After the melted material solidifies, the printer extruders another layer on top of the prior one.
In between, the build plate moves one layer apart for the creation of the next layer in a row. This process continues until the model completes.
The printing cost isn't too expensive when choosing an FDM 3D printer. However, one must take into account a lot of factors such as wall thickness, layer height, design, etc before calculating the printing cost. And, this will differ based on a variety of parameters.
Print Quality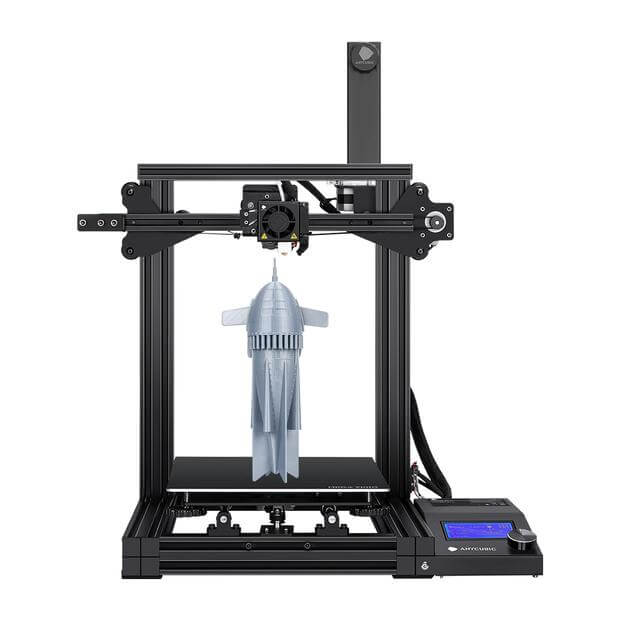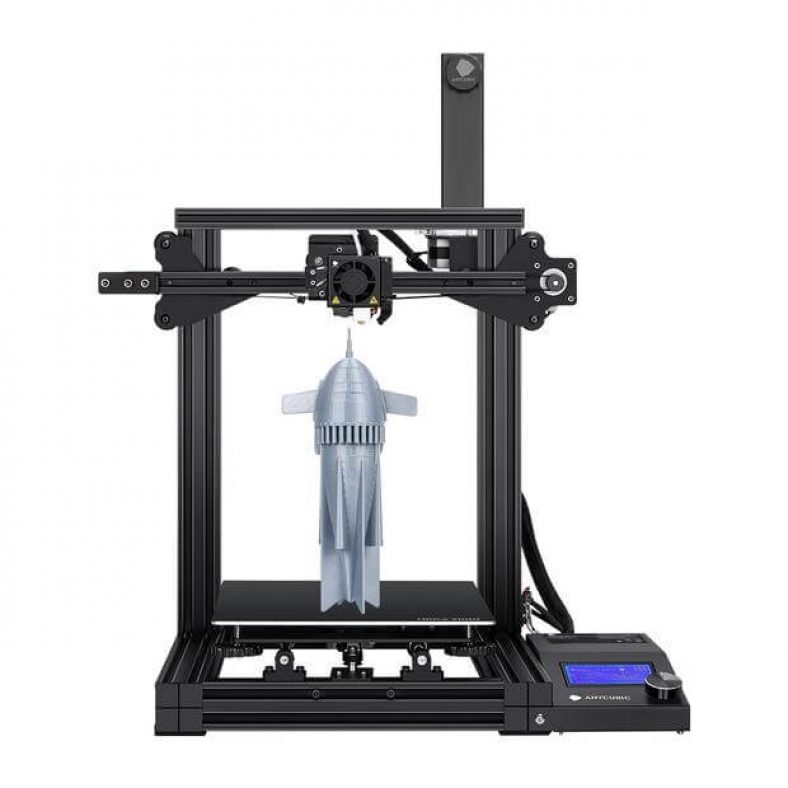 When considering print quality, one must not forget the price of the printer. However, you will be happy to know that the printer is capable of creating decent parts.
You can work with difficult geometries. However, the choice of filament available may come as a limitation for some.
Software
Anycubic Mega Zero 3D printer is compatible with Cura. One of the most popular slicing software available for users.
The application is user-friendly and very advanced. You can make a lot of setting changes using this software.
Customer Service
It is easy to reach support, either using the email service or phone. Although the phone service is only available in Spain, the support team ensures to respond as quickly as possible to those e-mailing their issues.
Apart from that, they have pretty profound and detailed resources available on the website to help users. You can read guides, check videos, and other stuff in case of any problems related to the settings of the printer.
Parameters Influencing Buying Decision
If you feel a lot of reading seems overwhelming, why not take a quick peek at the briefs.
3D Printer cost: Very affordable. Anyone planning to learn about 3D printing can certainly opt for this budget printer.
3D Print quality: Decent quality. And, best when considering the price tag.
3D Print speed: Industry standard.
3D Printer capability: You can work with different filaments, such as PLA and TPU to create high-quality parts and components.
3D Printer Practicality: For home users, especially those who would like to get into 3D printing with an aim to educate themselves.
3D Printer User expectations: Weighing the savvy design and great quality at such a price, the printer beats every expectation of the user without any doubt.
The Verdict
Knowing that you can now own a 3D printer by paying less than $200 sounds like a great proposition. And, if you are wondering how the printer performs, you can always check the detailed Mega Zero review to clarify your confusion. We do recommend this printer for those who are new to additive manufacturing.
Made to impress, the 3D printer ticks the right boxes and promotes a high-quality experience at a cheaper cost. You can now think of becoming a 3D printing professional when getting the first break at just $179. Sounds justified? If you think this deal gets what you are looking for, Anycubic Mega Zero is worth the attention.