Anycubic Photon S
Anycubic Photon S produces phenomenal and highly-detailed prints and the credit for this is also given to the fact that SLA 3D printers produce a print of higher quality than FDM.
PROS
Has amazing print quality for the price
It is easy to use and set up.
CONS
Manual bed leveling can be a hassle
The printer has flimsy housing
You cannot connect with this printer using any kind of network/internet connectivity
Product
Specification
Videos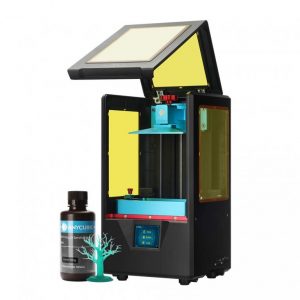 Based on LCD based SLA 3D printer, Anycubic Photon S is the most affordable choice considering its competitors. Designed for hobbyists who wish to ...
| | |
| --- | --- |
| Model | Photon S |
| Manufacturer | ANYCUBIC |
| Price Range | $ 469 |
| Release date | 2019 |
| Country | China |
| Availability | Available |
| Classification | Desktop |
| Technology | Resin (SLA- DLP…) |
| Generic material | Yes |
| Max. build size | 115 × 65 × 155 mm 4.53 × 2.56 × 6.1 in |
| Max. build volume | 1.16 L |
| Heated print bed | No |
| Heated build chamber | No |
| Automatic calibration | No |
| Closed frame | No |
| Dual extruder | No |
| Independent Dual Extruder | No |
| Full color | No |
| LCD screen | No |
| Touchscreen | No |
| On-board camera | No |
| Mobile app | No |
| 3D scanners | No |
| CNC mill | No |
| Electronics 3D printing | No |
| Laser engraving | No |
| Conveyor belt | No |
| Air filter | No |
| Pellet extruder | No |
| USB | No |
| Wifi | No |
| Bluetooth | No |
| SD card | No |
| Ethernet | No |

Table of Contents
The Anycubic Photon S is an SLA printer and why we are mentioning this out to you at the start of the article is because there aren't many desktop printers that are based on this technology. Most of the desktop printer's use FDM 3D printing technology.
Anycubic Photon S produces phenomenal and highly-detailed prints and the credit for this is also given to the fact that SLA 3D printers produce a print of higher quality than FDM.
Photon S is an upgraded version of the original Photon which showcases numerous improvements to its predecessors. In this review guide, we'll try to cover the most important features of the Photon S.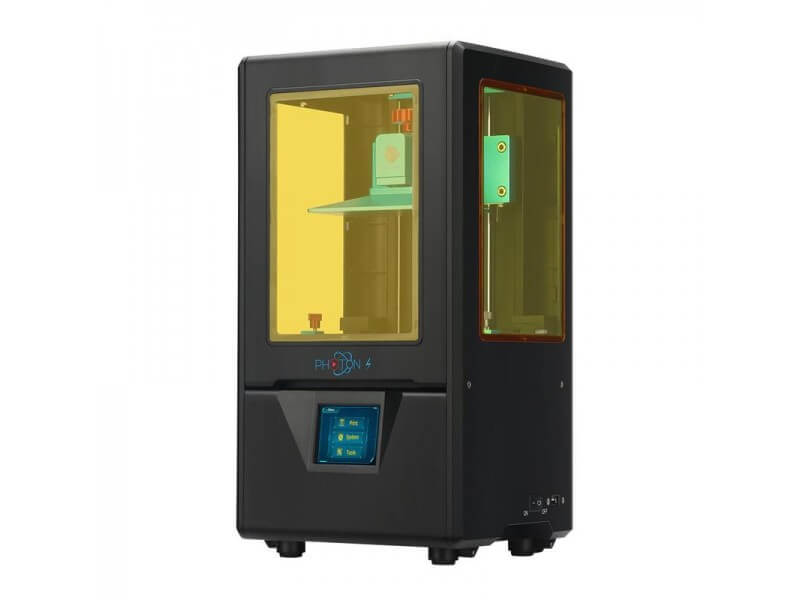 But before that, we will answer two questions for those who are looking for answers to that question i.e. how Sla printer differentiates themselves from others? And how the Photon S works?
The Anycubic Photon S uses a high-powered UV lamp to solidify/cure each layer of your model. The building of part is done from a vat of plastic resin. When you slice your model, a digital flipbook of each layer is built with each frame and projected onto the printer's build plate.
SLA printers are fundamentally different from FDM printers in the sense that they melt a spool of plastic to form each layer. The result is a stunningly-high resolution print.
Anycubic Photon S is an ideal printer for printing figurines, jewelry, and other small models. Now let's take a look at the amazing list of features that this 3D printer has got.
Features
If you have read the features of Photon, you would find the features of Photon S familiar. There is a lot of similarities between the Photon and Photon S as we discuss the Photon S's features.
The reason behind this is that they're almost the same machine except for a few key details. Just to give you an example, the Photon S shares the same build volume of 4.5 inches x 2.5 inches x 6.4 inches.
The total physical dimensions of both printers are also quite similar i.e. 9.0 inches x 7.8 inches x 15.7 inches.
The Photon S also shares the same 2k resolution masking screen although the light array has been changed in Photon S to a UV matrix that results in better exposure and about 10W more power than the original Photon.
This also means that the prints can develop a little faster in the former than the latter. The Photon S also features a large and thankfully responsive touchscreen which is a big improvement to its predecessor. Now let's take a look at the features one by one.
User-Friendly While Operating: Chances are that you're new to SLA printing so, even if you have years of FDM printer experience, you don't know much or anything about SLA. That's why the Photon S's user-friendly operation is so important. It has a new and improved touchscreen and interface, it's now easier and less frustrating to communicate with your machine. The fact that the printer comes with an auto-leveling feature that has been reduced to a single-screw operation in which most users get running in under 30 minutes.
Affordable Printer That Has Overcome Limitations Of Its Predecessors:  The Anycubic Photon S does offer improvement and upgrade over its predecessor which denotes that the manufacture has learned from its users. The company has addressed an infrequent complaint of wobbling in the Z-axis with the original by doubling up on linear rails on either side of the lead screw. Compared to the original Photon, Photon S should stand firm against any wobble that may occur, especially at the limits of the build volume as per the company guarantee.
Good Design and Build Quality: Anycubic Photon S is astonishingly well-built for a printer that's so budget-friendly. Technically, the build plate and resin tub, for example, are made from machined aluminum, while the machine's frame is made from stamped sheet metal which is all impressive.
Fabulous User Interface And Software: The Photon's onboard user interface is about as simple and straightforward as one would expect it to be. The menu directory of this user interface is extremely bare-bones, so you'd be hard-pressed to get lost or confused. Plus, the fact that it's all touchscreen, so navigating between menus is highly intuitive so, if you can use a smartphone, you can use this printer.
Anycubic's proprietary slicing program, called Photon Slicer, is also quite simple and even non-technical people won't get confused while using it. Though it's not a little bit on the primitive and utilitarian side and not very pretty to look at and feels a bit like using a CAD program from 1997, the upside is that it's also quite minimalist.
Specifications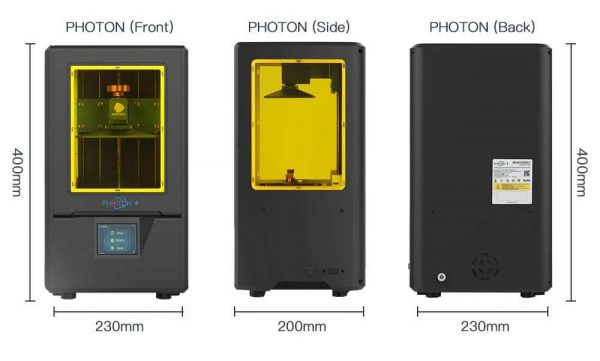 The printer is based on LCD based masked SLA technology which is rare to find in printers of a similar price range. Anycubic Photon S has a 5.2 inches 2K LCD screen which lets you monitor and operate while the printing process is going on.
The build volume of the printer is 115 mm * 65 mm * 65 mm and the Z-axis resolution of it is 47 microns. For ease in the user interface, the printer comes with a 2.8-inch Color TFT Touchscreen.
You can connect to the printer by using a USB cord. And unlike other printers, the makers of Photon S have kept a manual build platform leveling.
The materials with which you can print using these printers are any resins that are suitable for LCD 3D printers with a wavelength of 405 nanometers.
Price
The printer is priced at $419. Seeing the technology that it is based on, it is commendable that the Anycubic has kept its price as such.
But that's the fun and philosophy of this company i.e. to make technology available to small businesses and this is no less than a breakthrough 3D printer.
SLA 3D printers are yet to come in the range of desktop printers because the technology is still growing. Even apart from the technology offering, the printer offers a standard build volume that is just in the range of its competitors.
First Impression
AnyCubic Photon S looks like a cool SLA 3D printer that's almost the size of an air filter because the build quality of the plastic casing seems to be well above average than the competitors'.
Anycubic Photon S sheds more than a pound of weight than its metallic predecessor Anycubic Photon which arguably some users might still prefer to use thinking it is sturdier built.
If you push the printer from the back or other sides, you'll feel some resistance when trying to knock it to the ground. So, that's the balancing issue that users will have with the Photon S. Although the overall stable design makes up for this and does make it look like a minute issue.
Setup
Initially, you will end up playing with the Photon S as a 10-year-old does with his/her new toy. You will want to move its print platform up and down with the help of built-in controls.
But soon, the tough part will come when you will have to set this printer up and get it to work correctly. It's hard to find it by trying to figure it out on your own and after spending about a half-hour with Photon S, you will manage to put all the things in place.
The company's Youtube tutorial video would be of help while doing this exercise. It's mentioned in the video that the user manual would be helpful for all those over-confident ones out there.
While leveling the print platform, you'll need to put a piece of paper below it and lower it down until you feel the resistance while pulling the paper. If anyone watches the video, the whole setup process shouldn't take more than 20 minutes.
Printing Type/Cost
Photon S allows users to print with various resins and the cost of these resins is generally affordable.
This printer does not utilize much electricity like other SLA 3D printers, but yes definitely more than FDM 3D printers because this printer has an additional light source that also needs to be operated. Yet overall, the printing cost is justified.
Print Quality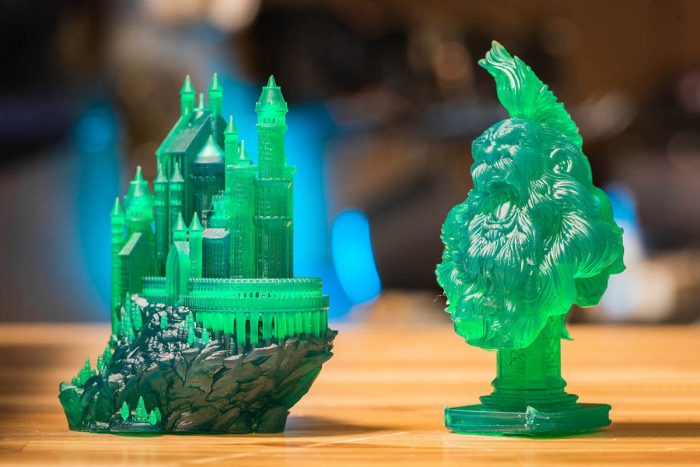 We can only use one word to describe the quality of the prints from the Photon S and that's phenomenal! For the price, that the 3D printer comes in, we don't think you'll find an SLA printer that produces better prints.
No budget FDM printer on the market can come close to the print quality you'll get from a good resin printer.
The Photon S provides a Z-layer resolution of 10 microns (0.01mm), and an X- and Y-resolution of 47 microns (0.047mm) which makes Photon S an ideal for small, highly-detailed prints of all types.
Software
Slicing is the other part of configuring your 3D print design and in this printer, it's done using the AnyCubic Photon Workshop slicer software.
This software is present in the flash drive in the printer's retail packaging. You don't need to be a pro from day 1 and start making your own models.
You can find free to download 3D models on various online platforms and spend some time learning them. Photon S can be operated from other software as well.
Customer Service
It's not the easiest to get in touch with Anycubic, since they only have a contact form and no phone number, but they do have a handful of helpful videos on their website and official YouTube channel.
This printer also includes a 12-month warranty for everything besides the UV LED/2K LCD screen, which is limited to 3-months and all these can suffice.
Parameters Influencing Buying Decision
Anycubic Photon S's cost, quality, speed, capability, practicality, and your expectations sum up and compel you to buy. Let's have a brief about each of those before providing the final verdict.
3D Printer Cost: The 3D printer is affordable and offers enticing price for starters and beginners. However, if you are looking to buy a machine for engagement, you can go for even cheaper counterparts.
3D Print quality: The print quality is better than most. The printer can produce amazing results for its price.
3D Print Speed: Photon S, like other, is a desktop printer that produces an industry-standard speed of somewhere around 15 to 18 mm per second.
3D Printer Capability: Overall, Photon S is as or even more capable as the competitors in this price range.
3D Printer Practicality: Small businesses that are typically looking to produce parts with more precision than FDM technology will definitely love to opt for this printer because it is based on Masked SLA technology.
3D Printer User Expectations: The printer does work great for its price and highly satisfies the user's expectations i.e. producing cheaper 3D printers and making sure the technology which wasn't available to a specific economic class is available through them.
The Verdict
The Photon S takes Anycubic's winning formula and makes minor changes which are of course for the better. The printer hosts a user interface that is changed from the previous version and this one makes the machine more comfortable to handle.
If it's easier to handle, it can obviously ensure even better quality prints than the predecessor in which printing was a pain in the arse.
The Anycubic Photon S is bound to be a phenomenal success because it's one of the first successful brand's attempt to bring a technology that was never available to the small business, available to them.
So if you have your own small business are tired of printing with FDM 3D printing and want desperately to improve your print quality, Anycubic Photon S is your go-to printer.
The printer can also be used by academic institutions to teach their students about this new technology that promises to produce higher quality prints than FDM.