JGAurora A5S
JGAurora A5S is an affordable 3D Printer that's suited for beginners. If you are looking to add more quality to your parts instead of opting for a $150 machine, this is your go-getter.
PROS
Full metal construction
Full-color LCD touchscreen
Filament run-out sensor
Easy to assemble
USB stick
Power off recovery
CONS
Produces lots of noise while printing
Hard to work on
Product
Specification
Videos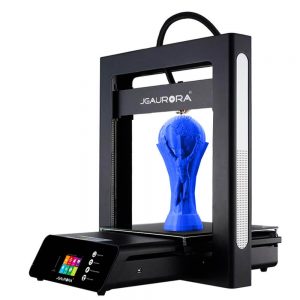 Want to bring a desktop 3D printer home that isn't limited to a few inches of print volume, yet slim to handle? If that is the case, do not forget to ...
| | |
| --- | --- |
| Model | A5S |
| Manufacturer | JGAURORA |
| Price Range | $ 399 |
| Release date | 2019 |
| Country | China |
| Availability | Available |
| Classification | Desktop |
| Technology | Extrusion (FFF- FDM…) |
| Material | ABS, Other plastics, PLA |
| Filament diameter | 1.75 mm 0.07 in |
| OS compatibility | Linux, Mac OS, Microsoft Windows |
| Generic material | Yes |
| XY accuracy | 0.1 mm 0.004 in |
| Max. build size | 305 × 305 × 320 mm 12.01 × 12.01 × 12.6 in |
| Max. build volume | 29.77 L |
| Max. print speed | 150 mm 5.91 in /s |
| Min. layer thickness | 0.1 |
| Dimensions | 536 × 480 × 543 mm 21.1 × 18.9 × 21.38 in |
| Weight | 13.8 kg 30.42 lb |
| Nozzle diameter(s) | 0.4 mm 0.02 in |
| Heated print bed | No |
| Heated build chamber | No |
| Automatic calibration | No |
| Closed frame | No |
| Dual extruder | No |
| Independent Dual Extruder | No |
| Full color | No |
| LCD screen | No |
| Touchscreen | No |
| On-board camera | No |
| Mobile app | No |
| 3D scanners | No |
| CNC mill | No |
| Electronics 3D printing | No |
| Laser engraving | No |
| Conveyor belt | No |
| Air filter | No |
| Pellet extruder | No |
| USB | No |
| Wifi | No |
| Bluetooth | No |
| SD card | Yes |
| Ethernet | No |

Table of Contents
If you have used the JGAurora A3 model, the predecessor of this model, before, you will not be satisfied with its print volume.
Realizing the necessity of manufacturing a printer that has a bigger build volume, the manufacturer has come up with this model. A5S comes across as a pleasant surprise making you wonder about its large print volume.
The JGAurora A5S 3D printer has a lot of features seeing the price range that it falls into. JG Printers, the manufacturer of this printer have considered the feedback of users of their previous model and by studying that, have made improvements that fill their users with a sense of trust that the manufacturer hears.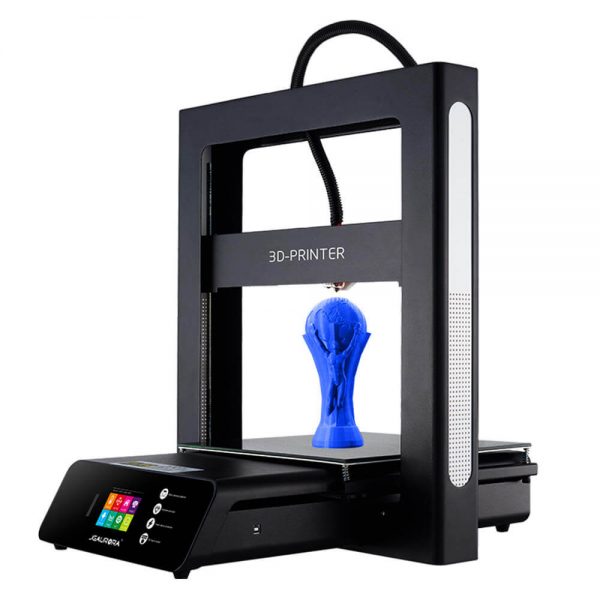 Apart from having a huge build volume, the A5S model boasts of new features such as a high definition of the full-color touchscreen as well as power recovery, etc.
Let's go through these features one after the other so you gain some confidence in your buying decision as to whether to buy this model or not.
Features
Boasting of a sleek and simple design, this 3D printer has a metal frame that is overall, light in weight. However, AS5 is not as sturdy as it looks, because you can feel the frame bending while you are pushing the unlock button of the extruder button for loading the filament.
User-friendly Interactive Touch Screen
Considering that the printer is low in price desktop 3D printer, you would be pleasantly surprised by the high definition LCD touchscreen that it has.
This feature allows you to access several settings named "heat," "move," "home," and "print". Each of these settings has a different role that is mentioned below.
The heat option allows you to pre-heat the print bed or extruder of the printer. It is helpful while loading the filament or while speeding up the setup time.
The move option permits users to move the extruder to different parts of the print area manually. And we guess that there is no need to explain the "home" and "print" options, as they are self-explanatory.
The printer also includes an additional "extrude" setting i.e. for loading and unloading of filament. You could use the "fan" option for adjusting the speed of the fan for cooling the part that is printed.
The "set" option permits you to access in-depth control of the settings of the printer and the "more" option allows you to access even more advanced settings.
Generous Build Volume and Easy Setup
A5S has a build volume of 305 x 305 x 320 mm which puts many of its competitors to shame because of the price at which this printer is available, it's next to impossible to find a printer with such a huge build volume.
But you need to be aware of the point that, in turn of this huge print volume, you would have to make sure you have enough desk space.
Although the printer comes partially assembled from its manufacturer, the setup process is easy and straightforward enough to say that it comes fully assembled.
All you need to do is to connect the base of this printer and the frame using a few screws and plug in a variety of power connectors.
Note that with A5S there is no soldering required, so even if you are not experienced with a desktop printer or electronics in general, the assembly process of A5S should not take you more than 30 minutes and if it is taking, then you should probably call the company or read it's guidelines.
Custom Heat Sink
The printer's hot end has a custom heatsink bed that is said by the manufacturer as a "Black Diamond Glass Heated platform." This platform is a glass plate with some additional coating that can be compared to Anycubic's (another manufacturer of the 3D printer) Ultrabase.
This black diamond heated glass platform is an anomaly in itself because never before has any company used such material for the print bed.
What this print bed basically claims is that it improves adhesion of the material that is placed above it and makes it easy to remove when the 3D printing procedure is completed, effortlessly.
Hence, you do not have to use masking tape as in the case with other printers. Also to note is that this printer has a print tolerance of .2, something that the majority of printers struggle to have.
Specifications
The printer is based on FDM technology and has a single extruder. It has a build volume of 305 mm * 305 mm * 320 mm and a layer resolution range of 0.1 to 0.3 mm.
One can connect to this printer even with a USB. JG Aurora AS5 has a print speed of up to 150 mm per second and a filament diameter of 1.75 mm. The nozzle diameters that be fitted in this printer range from 0.4 to 1.75 mm.
The maximum extruder temperature that this printer can withstand is 260 degrees Celsius. This 3D printer supports printing with PLA, ABS, PETG, HIPS, and Wood.
Price
The JGAurora A5 3D Printer is an excellent printer considering that its price fluctuates anywhere from $320 to $459. It easily beats other costlier printers that offer print volume as much as it does.
Both the build quality and the print quality of this printer are excellent. The navigation and user interface of this printer are also easy and simple, when in use.
First Impression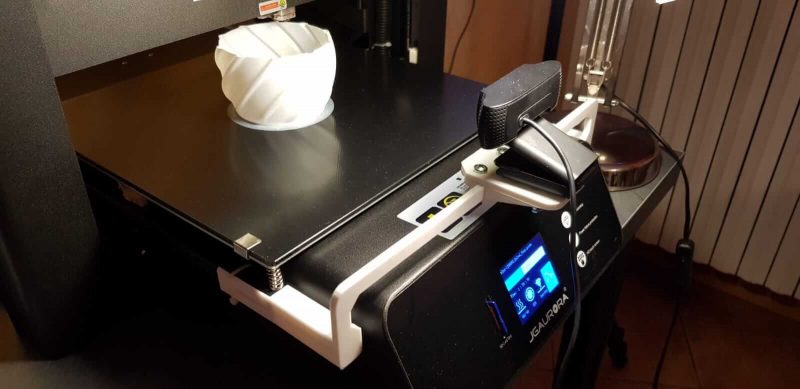 Credit: Reddit
Taking note of the print area that this printer has, you would expect that the JGAurora A5 would come in a box that's not much huge in size.
But the packaging of this printer is gigantic, you would soon realize that it is necessary for the printer to come in such a packaging because the entire printer's frame is split into just two large sections.
The first section has the printer's base to unearth from the styrofoam-laden packaging. This also includes the large build platform, along with a high-definition touchscreen LCD screen, USB and SD card slots, as well as three-wire ports.
While, perpendicular to the base of this 3D printer is the frame, which is equipped with the extruder, transom board, and Z-axis motor.
Outside of these two components, there's also an assortment of tools and accessories that are needed for fixing the printer and assembling it.
Then there's a spool of PLA and filament holder that you will need while attaching to the back-left side of the frame. A cardboard toolbox is also there, you'll need that for the easy assembly process.
Setup
The printer's assembly instructions list only three steps to putting it together. The first step is to pull all of the machine parts out of the box, which you would have already done while unboxing it.
So there are remaining two steps that you need to undergo. But as discussed above, the printer comes in just three parts: the sheet metal frame, printer base, and filament holder so step one will take time. The other two steps are:
To assemble the frame and base. For doing this all you have to do is pass the printer base through the frame and fix it between the slots.
After this, you need to ensure that the JGAurora A5 base and frame are both facing the right direction. For this, you have to use the large screw and attach the two main components.
The other side of the frame is where the filament holder is supposed to be installed. Then comes the final step, which is to connect the electronics into the connectors.
This is another task that has been made simple for the JGAurora A5, as the wiring is neatly grouped and placed next to the connectors.
Overall this complete installation can take some time, but once done, you will get used to it. Use the manual that comes with the printer to ensure that you do not go wrong at any step and if needed call the company.
Printing Type/Cost
Printing cost depends on the material that you use for printing the part or type. Other things would matter too such as design infill, complexity, layer height, and various other factors. You can print large as well as small parts as long as it fits inside the printer without an issue.
The part quality is great. However, when working with more challenging materials such as materials apart from ABS, spool storage outside of the system due to the small spool capacity can be a challenge.
Print Quality
You'd feel that almost any printer can print well if it's given enough understanding, time, and effort and your feeling is correct! However, it's always a surprise when some model prints turn out extremely well right out of the box.
This is something that A5S does, and so is the perfect beginner's printer that it makes you realize that you have learned to print even if it's the first time you are printing.
It's right up there in output quality whether you are printing the Tevo Black Widow or a Tornado. With the Tornado especially, you will have to install the TL Smoothers on the X and Y motors to remove the salmon skin from the prints.
There are salmon skin lines on the print that looks like a piece of sliced salmon. However, this issue is no big deal and it's easy to fix. The PLA filament that comes with the printer is probably some cheaper stuff. Overall, the print quality is commendable.
Software
It's a belief in this market that the cheap printers always arrive with free open-source software and JGAurora proves this belief to be true.
It re-marketed its version of Cura 2.5 which is open source and let's that come on the USB stick. Luckily there are other software too which you can download and the printer are compatible with, such as Slic3r and Craftware.
Customer Service
Another belief in the market is that customer service for Chinese brand 3D printers can often be lacking, but all credit to JGAURORA, because they have very positive customer feedback.
When you read the reviews, you get to know how the company has helped its users! Their service center is located in Beijing, so you have to wait until around 8 pm CET before getting a response but that is the case with every printer, you need to wait till the country its manufacturer is located starts.
However, the company is more than willing to offer help on skype or via email for any issues.
Parameters Influencing Buying Decision
To help you shape your buying decision, here are a few parameters in brief.
3D Printer Cost: This is an affordable 3D Printer that's suited for beginners. If you are looking to add more quality to your parts instead of opting for a $150 machine, this is your go-getter.
3D Print Quality: Although cheap in cost, the printer can produce pretty fascinating print results.
3D Print Speed: You can count on its print speed which is average and enough for most of the users.
3D Printer Capability: The printer is capable of producing complex geometries with dimensional accuracy.
3D Printer Practicality: Desktop printers by the manufacturer help small businesses grow, whilst industrial-grade printers help manufacturers to build in bulk amount.
3D Printer User Expectations: The printer does work well and helps the user meet their expectations.
The Verdict
Your initial experience with the JGAurora A5 is bound to be a sort of a roller coaster ride that has its own ups and downs.
Despite the problems that you will face with the design of the printer, it's difficult to ignore the print quality and build volume being offered at such a low price point.
However, at the end of the day, the JGAurora A5 presents itself as a cheap version of the Creality CR-10.