Monoprice MP Maker Pro Mk.1
Small businesses would easily associate with Monoprice MP Maker Pro Mk.1 3D printer seeing the fact that this printer can allow them to print huge volumes that they always wished to without spending much.
PROS
The printer has a build volume that is unmatched in the price range it is listed in the market. This enables small businesses that cannot afford to buy printers which offer build volume also to print parts and functional prototypes of huge build volume.
Overall the printer is very easy to use and comes with a user-friendly touch screen interface.
MP Maker Pro MK1 comes with an auto bed leveling feature.
The print bed is positioned with the help of magnets that are liftable so removing of parts becomes easy.
This 3D printer has a steel construction that provides it a rigid structure that does not vibrate with the printing process is going on.
CONS
Lower print speed.
Temperature adjustment for parts like ABS is an issue.
The open frame is something that not many users like to rely upon.
Product
Specification
Videos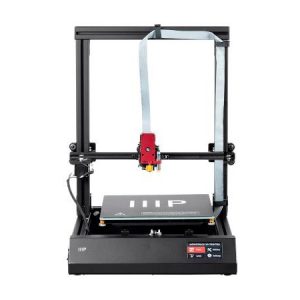 The printer is almost ready to print as soon as it arrives at your place. Monoprice Maker Pro Mk1 has an open frame, because of which you would have ...
| | |
| --- | --- |
| Model | MP Maker Pro Mk.1 |
| Manufacturer | Monoprice |
| Price Range | $ 399 |
| Release date | 2018 |
| Country | United States |
| Availability | Available |
| Classification | Desktop |
| Technology | Extrusion (FFF- FDM…) |
| Material | ABS, Other plastics, PLA |
| Filament diameter | 1.75 mm 0.07 in |
| OS compatibility | Linux, Mac OS, Microsoft Windows |
| Generic material | Yes |
| XY accuracy | 0.01 mm 0 in |
| Max. build size | 300 × 300 × 400 mm 11.81 × 11.81 × 15.75 in |
| Max. build volume | 36.00 L |
| Max. print speed | 70 mm 2.76 in /s |
| Min. layer thickness | 0.1 mm 0.004 in |
| Dimensions | 615 × 600 × 490 mm 24.21 × 23.62 × 19.29 in |
| Weight | 20 kg 44.09 lb |
| Nozzle diameter(s) | 0.4 mm 0.02 in |
| Power input | 110 VAC or 250 VAC | 50/60Hz | 4A |
| Heated print bed | Yes |
| Heated build chamber | No |
| Automatic calibration | Yes |
| Closed frame | No |
| Dual extruder | No |
| Independent Dual Extruder | No |
| Full color | No |
| LCD screen | No |
| Touchscreen | Yes |
| On-board camera | No |
| Mobile app | No |
| 3D scanners | No |
| CNC mill | No |
| Electronics 3D printing | No |
| Laser engraving | No |
| Conveyor belt | No |
| Air filter | No |
| Pellet extruder | No |
| USB | Yes |
| Wifi | No |
| Bluetooth | No |
| SD card | Yes |
| Ethernet | No |

Table of Contents
Currently available for a 25 percent discount on the original price, the Monoprice MP Maker Pro MK1 is a desktop 3D printer which is the last printer released by its manufacturer.
While enquiring about this printer you would find it replicating the Wanhao Duplicator D9 in many ways. However, there are some features that this printer has which Wanhao doesn't.
And we will tell you about those features in this article in the next section but before that to give you a little more introduction about this printer. It's a printer based on FDM technology, the technology that is the most used by 3D printers worldwide to produce parts and functional prototypes.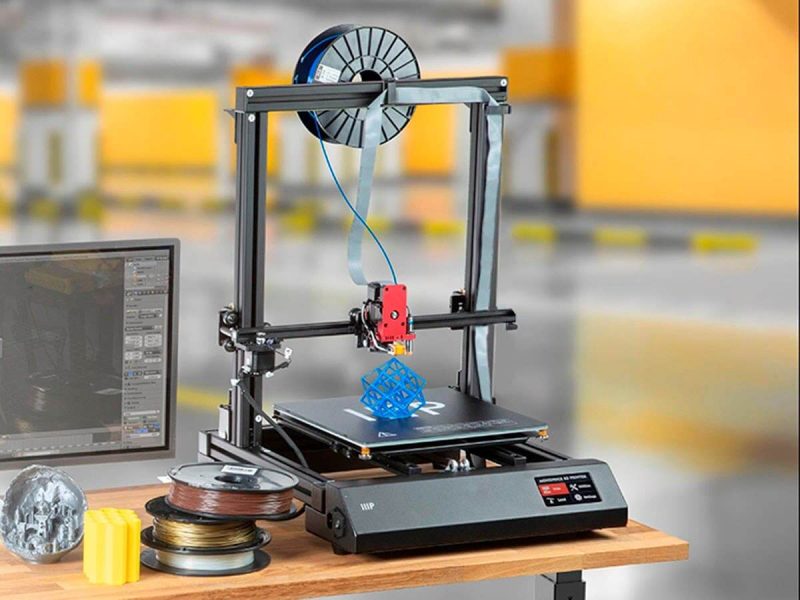 Monoprice has with this printer primarily targeted small business owners, hobbyists, schools, universities where 3D printing is taught, and designers who don't like to spend much for their hobby of 3D printing parts and prototypes.
Known for mainly making desktop-sized printers, Monoprice seems to have expertized the art of making printers in this area. We say this seeing all the previous 3D printers released by this manufacturer in this area, turning out to be a hit.
Having said that, let's explore some features of this printer and attempt to think what does it take for a manufacturer to build its hold over a certain domain of 3D printers?
Features
If you are coming to this printer after seeing many other printers in the same range, let us tell you that there are some features in this printer that you might not have encountered before.
But then the list is also full of many features that you would have encountered and got tired of hearing or reading about. A summation of both of these makes up for the list of features that Monoprice MP Maker Pro MK 1 has. So let's begin.
Preassembled Printer That Has Open Frame: Monoprice MP Maker Pro MK 1 needs to be unwrapped from the packaging and plugged in to start the printing process.
The print bed comes leveled, there are no screws and bolts that need to be fixed before starting the printing. All you need is the filament that you wish to print with.
So, ready, steady and go! Open Frame! Yes! The printer has an open frame and sometimes, this feature that is purposely kept by manufacturers is viewed very negatively. In the sense that kids are at home and it's difficult to manage.
But, this feature has its positives. To start with, you need less effort to cool down the printed part and prototype because the air is simply helpful. You don't need a fan in the extrusion system to help you cool it. Of course, if you wish to cool it, you can bring a cooling fan separately.
And because of this feature, the air is consistently available to all the parts equally. So, printers that have a complaint about the visibility of layers on one end of the part and not on the others, this is not a problem with Monoprice MP Maker Pro MK1.
Build Volume Offered Is More Than Most Others In The Same Price Range: Objects of 300 mm * 300 mm * 400 mm i.e. 36 liters can be created by this printer.
Now whether you wish to create that sized object or not is up to you. But before buying a 3D printer in a similar price range, we advise you to check out some of the printers that come in the similar price range and compare their build volumes with this printer, you'd hardly find any other that offers a similar build volume.
Automatic Detection When The Printer Runs Out Of Material And A User-Friendly Touch Screen Interface: You probably know the first one that's mentioned here if you have researched about 3D printers, but for all those who haven't, here you go.
In FDM technology, the material that you print with is fed into this printer in a filament. These filaments are not of the same size that you need the material to be, they might be more or less.
So, while printing a part or functional prototype if it so happens that your printer runs out of material, Monoprice MP Maker Pro MK1 would detect this and let you change the filament and resume the printing process.
Like other desktop printers in the industry, this one too has an LCD touch screen interface that lets you operate the printer with ease.
So all you have to do to communicate with this printer is to press a button and it will obey you. And if you need any help with understanding the commands, you can take the help of the video tutorials that are available or even contact the makers.
Specifications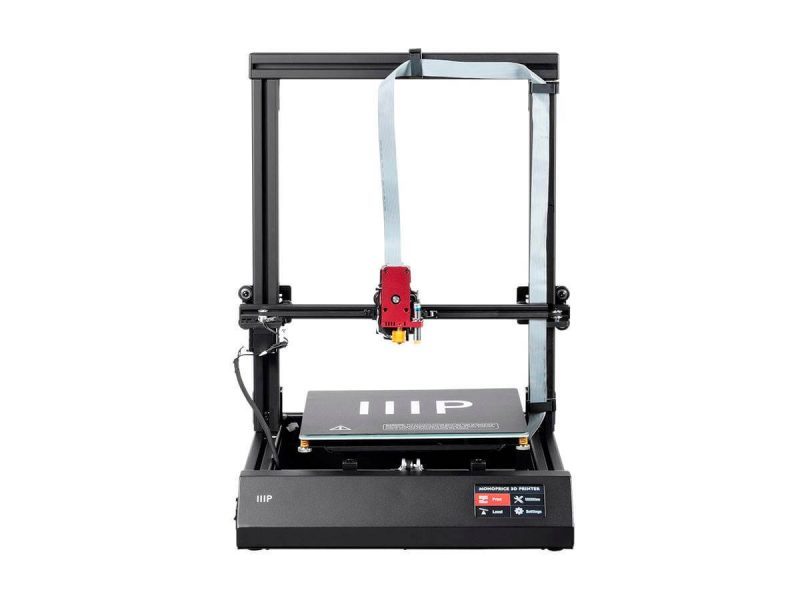 A lot of specifications is what we have already mentioned while listing down features like, the printer is based on FDM technology. Another one is that printer has an open-frame design and how this is good.
But it's also bad because the filaments are going to take a longer time to get heated up than if it were in an enclosed printer, but so is so. The overall frame material using which frame of the printer is made is aluminum.
The print area offered by Monoprice MP Maker Pro MK1 is 300 mm* 300 mm * 400 mm and its print speed is 70 mm per second. While the maximum nozzle temperature that can be developed on this printer is 250 degrees Celsius.
You can print using PLA, ABS, and PETG filaments. Apart from these materials, the manufacturer claims that this 3D printer is 3rd part filament compatible.
The nozzle diameter that the printer has is the industry standard 1.75 mm. MP Maker Pro MK1 has an XY resolution of 120 microns, while the Z resolution of the printer is 40 microns.
Price
On the website of its manufacturer, the printer is priced at $399.99. If you are studying desktop 3D printers for making your purchase you'd notice how by its features this printer stands out that others.
Setup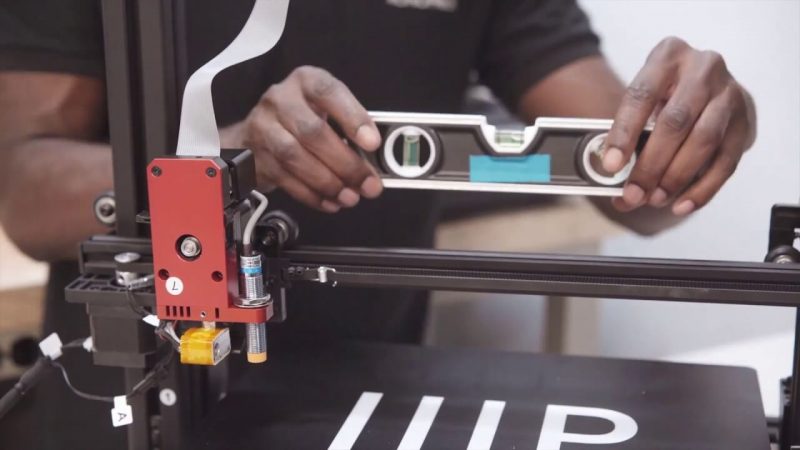 As mentioned above, the printer pretty much comes assembled so all you need to do is plug it and give some electricity and start printing using this printer.
There is an important feature that will help you every time you are setting up this printer for another print after one and that is auto bed leveling.
There are printers available in the market that demands its users level their bed manually. In those cases, if there isn't an experienced hand on the printer, leveling becomes difficult as it sometimes changes from one part to another, and so on.
Because MP Maker Pro MK1 has auto bed leveling, you don't need to adjust the bed every time you complete the print which is again a rare feature that you'd find in printers of a similar price range.
Printing Type/Cost
As mentioned in the specifications, the print speed of this printer is 70 mm per second which is below average than the industry standard for desktop 3D printers.
Because the print speed is low, you would take more time in printing a geometry with this 3D printer, which will in turn increase your operating cost.
Seeing that the printer allows its users to print using 3D party filament, this operating cost of yours is going to vary while printing with one material than another.
Apart from these factors, the cost will also vary depending upon whether you wish to achieve dimensional accuracy in prints of large volume or not, because that would, in turn, require you to work more.
However, according to results published on the websites the printing cost of Monoprice MP Maker Pro MK1, when compared with other FDM 3D printers, is a little more than others in the price range.
But the fact that it enables you to produce parts and functional prototypes of build volume like no other, it's understandable. Isn't it?
Print Quality
With features such as open frame, auto bed leveling, filament detection when filament runs out, Maker Pro MK1's print quality is above industry standard that is there for a desktop 3D printer that costs $399.99.
The open frame ensures that airflow is consistent with the part that has been printed. While auto bed leveling takes away the headache from your head and the effort that it takes to manually level your bed.
The filament detection feature lets you pause and resume even between the printing processes.
And on top of all these, you even don't need to worry if the electricity of your house runs out for some reason.
Makers of this printer have enabled memory in this device that stores all the information and allows its user to start exactly from the point where it left out when the electricity ran out.
Parts and functional prototypes printed using this printer can be used in various areas like aerospace, jewelry, toys, etc.
Software
Cura and Repetier-Host are the two software that is recommended by the manufacturer. Both of this software easily run on computers that have Windows 7 or above operating systems, Mac or Linux.
So slicing of files is not difficult. Both the software mentioned above are well-known software that gives out files in extensions that can be opened using other software too. So in case you are a designer, don't worry, the printer won't hassle you while exchanging the files that you slice on it.
Customer Service
It's while setting up the printer that you realize the user-friendly nature of the manufacturer. The way they have indicated every minute detail of how the printer works and the buttons or facts about the printer that you need to know is just too helpful.
It makes you familiar with the printer in no time. This will let you wish to contact the company, without any hesitation as with other companies.
Monoprice has never had issues with someone complaining about how they haven't heard complaints of him or her. The company has been appreciated for hearing out to their customers and implementing the same in their upcoming 3D printers.
There are many options to connect with the company, the best one of them being on skype wherein you can exactly ask the person to help you in the matter that you are stuck. However, you can also call or email the company.
Parameters Influencing Buying Decision
After reading the complete article, we want you to go through some of the important criteria for buying a printer and they are listed down in brief.
3D Printer Cost: MP Maker MK1's cost is just as much as any other cheap desktop 3D printer is.
3D Print Quality: Better than average.
3D Print Speed: Lower than the industry standard for desktop 3D printers.
3D Printer Capability: The printer is capable of producing parts and prototypes of build volumes larger than its competitors.
3D Printer Practicality: It's easy to set up and allows you to print with various types of filaments.
3D Printer User Expectations: Small businesses would easily associate with the printer seeing the fact that this printer can allow them to print huge volumes that they always wished to without spending much.
The Verdict
Practically seeing, CR-10 allows you to produce parts of build volume that Monoprice MP Maker Pro MK1, so it isn't that bad call to make, seeing that the printer is priced $0.01 less than $400, yeah?