Asiga Max
Asiga Max offers you the benefit of manufacturing objects that can be used within three different fields with precision like no other.
PROS
Excellent precision in even small manufactured parts.
Parts find application in more than one industry.
Smart positioning system technology.
Open material system allowing you print with more than 380 materials.
Product
Specification
Videos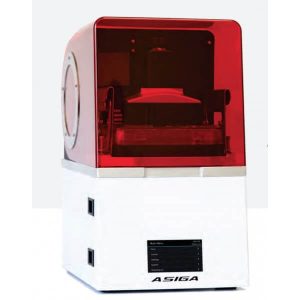 Available in two different versions, Asiga Max is a professional DLP 3D printer that allows the curing of parts using a 405 nanometers UV LED as well ...
| | |
| --- | --- |
| Model | MAX |
| Manufacturer | Asiga |
| Price Range | $ 10990 |
| Release date | 2016 |
| Country | Australia |
| Availability | Available |
| Classification | Professional |
| Technology | Resin (SLA- DLP…) |
| Material | Liquid resin |
| Max. build size | 119 × 67 × 75 mm 4.69 × 2.64 × 2.95 in |
| Max. build volume | 0.60 L |
| Heated print bed | No |
| Heated build chamber | No |
| Automatic calibration | No |
| Closed frame | No |
| Dual extruder | No |
| Independent Dual Extruder | No |
| Full color | No |
| LCD screen | No |
| Touchscreen | No |
| On-board camera | No |
| Mobile app | No |
| 3D scanners | No |
| CNC mill | No |
| Electronics 3D printing | No |
| Laser engraving | No |
| Conveyor belt | No |
| Air filter | No |
| Pellet extruder | No |
| USB | No |
| Wifi | No |
| Bluetooth | No |
| SD card | No |
| Ethernet | No |

Table of Contents
Max is a multi-functional desktop 3D printer based on DLP 3D printing technology.
It is one of those rare 3D printers which are useful for producing parts and functional prototypes for more than one industry i.e. Dental, Audiology, and Jewelry.
All the products made by this printer are known to have excellent precision, dimensional level accuracy, and great surface finishes.
Max by Asiga makes use of Smart Positioning System Technology that guarantees the pitch-perfect formation of every layer. And the same level of consistency in every part while you are mass-producing.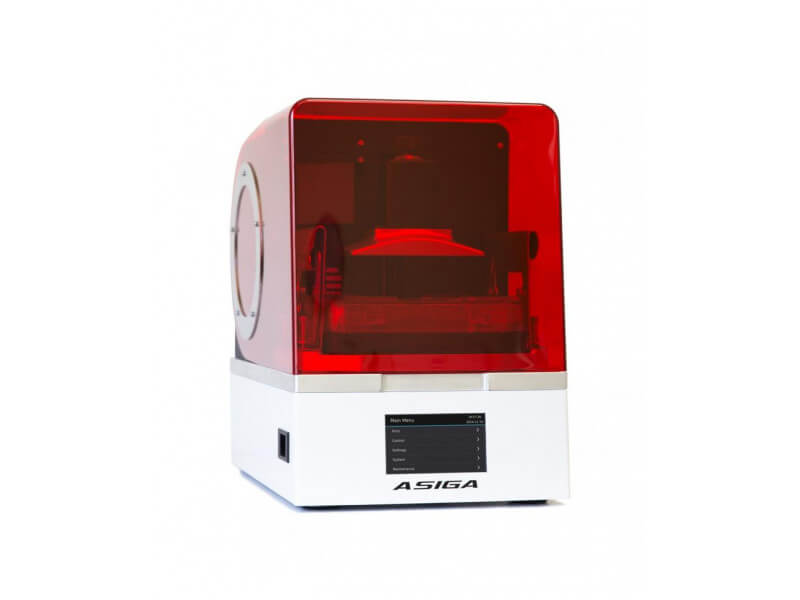 So, ultimately if you buy this printer, you are not gifting yourself a desktop 3D printer. Instead, you are gifting yourself an industrial-grade DLP 3D printer at the price of a desktop 3D printer.
This article is meant to take you through the components and their specificities that make the printer as a whole. Asiga has put in some amazing features which are to be held responsible for the printer's outstanding output. So, for all your curiosities related to the printer, don't worry, because we've got you covered.
Features
There are a few characteristics that differentiate one 3D printer from the other. Apart from applications and the technology on which they are based, features make up for the most part of that differentiation.
So, let's find out what separates Asiga Max 3D Printer from other DLP 3D Printers in the same price range. And what are the features that will help you print precise parts on the printer after buying it? Well, let's check out.
62 Micrometers Print Precision
Asiga has designed and manufactured Max in a way that it can be easily used not only for dental and audio labs but also for clinical environments. Not all the printers that you will come across in the price at which this one's available have the ability to produce such precise parts and functional prototypes.
Clinical environments require a certain specific sort of printer that is able to produce objects which are very close to your imagination.
It should be able to translate thoughts into reality to the closest amount and that's what Asiga Max is capable of doing.
62 micrometers is the level of the printer's accuracy that it's able to get in every produced object.
Smart Positioning System Technology
In 3D printing technology, a lot of roles are played by the part's position. Especially when it's about printing the first layer of any part, you need to ensure that components reach out to the correct point at the correct time. And for making certain the similar thing, Asiga has got into place state-of-the-art smart positioning system technology.
This technology guarantees that every layer that is formed on the printer is accurate, as fed to the printer via part's geometry.
The printer manufacturer takes immense pride in claiming this technology as the reason behind Max's consistency while delivering mass production projects in a minimal time frame.
Open Material System
DLP 3D printers do not offer much choice for 3D printing in terms of the materials. But that's not the case with Asiga Max.
The manufacturer of the printer lets you select from a varied range of Asiga materials with the added benefit of using almost any material from any manufacturer you wish to.
There are almost over 380 materials that Asiga offers for 3D printing with Max. And this is one of the main reasons that separates it from other printers in competition.
Fastest Material Changeover
Because it's DLP 3D printing technology, you are dealing with liquid 3D printing materials and not solids as in FDM 3D printing. So, material changeover does become a point of hassle with most DLP 3D printers.
But that's not the case with Asiga Max. The printer manufacturer claims how material changeover time on Max is less or equal to 30 seconds.
If that is true, your overall 3D printing time will decrease which would, in turn, mean, an increase in inefficiency.
Single Point Calibration
Max uses a simple platform calibration which is a piece of cake even for beginners in the field of 3D printing technology. Often 3D printers, employ a much hard way of calibrating which not everyone can do.
This 3D printer is equipped with an internal radiometer that lets you automatically calibrate. It also has an LED that displays the status of calibration.
Standard 385 Nanometers UV LED Light
For faster curing of liquid into parts and functional prototypes, Asiga Max uses deeper UV wavelengths in the order of 385 nanometers. This will reduce the XY scattering and will make certain that you do not over-cure the part.
As a result, you will get a part that has sharp detailing with lots of accuracy to the dimensional level. You are also guaranteed reliable production and the ability to process water-like clear materials.
Suited for Audiolab Production and Trusted by Labs Globally
Max is well-suited to fabricate ear shells, ear molds, and silicone ear molds that are standard products used in Audiology.
As mentioned above, the printer is designed in such a way that it will perform even in the most challenging production environments.
Labs wherein there is a very strict requirement regarding the quality of the parts, Max can outdo every competition that's inline.
Also to note, the printer finds immense use in manufacturing dental orthodontics, crown, and bridge, surgical guides, dental models, custom trays as well as partial dentures.
So, you get a three-in-one useful 3D printer that's meant to deliver not only in Audiology but also in Orthodontics and Jewelry. How cool is that?
Specifications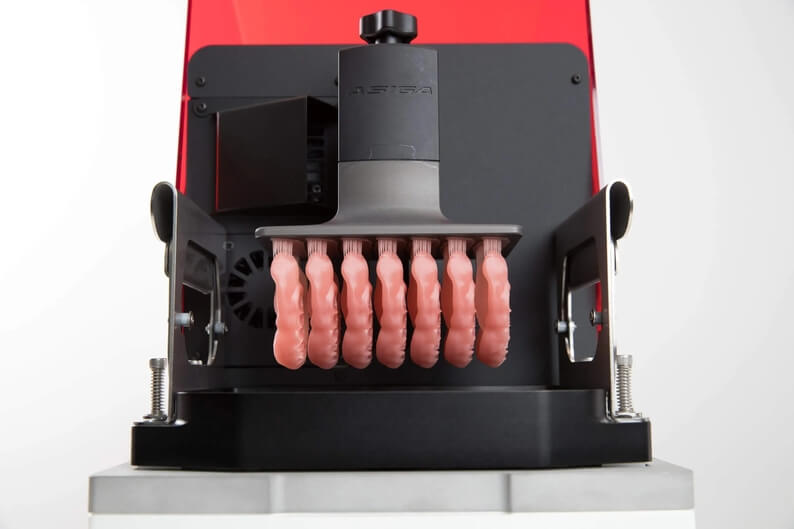 Credit: sgdentalshop.com
The maximum build volume of part or functional prototype that you can build on Asiga Max is 119 mm * 67 mm * 75 mm. As mentioned above, it offers a pixel resolution of 62 micrometers in every object.
The printer used DLP 3D printing technology for making parts and employs 385 nanometers or 405 nanometers in wavelength UV LED.
As far as the printer's material compatibility is concerned, Max complies 100 percent with all the open materials. So, you have the freedom to use almost any suitable third-party resin with Max.
For connecting with the printer there are three modes offered by the printer manufacturer, they are: a) Wi-fi, Wireless Direct, and Ethernet.
Max requires 100 to 240 Volt current, 50/60 Hz using 2 or less than 2 Ampere current. The printer is sized 260 mm * 385 mm * 370 mm.
You get a warranty of 12 months by Asiga on its product and there is unlimited technical support included, of course. The printer weighs 17.5 kilograms.
Price
The official price mentioned on Asiga Max's brochure available from its website at the time of writing this article is $13990.
First Impression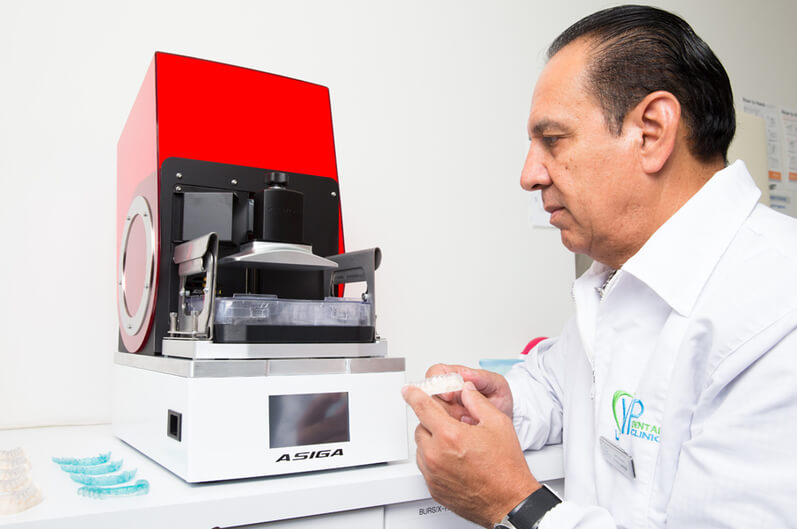 Credit: articon.com
First glance at Asiga Max gives you a very intriguing impression of the printer. Especially considering the top of the printer which can also be considered its print chamber!
Inside of which is neither completely visible nor completely opaque. You can see that there is some sort of a mechanism employed, but due to the dark neon type color of it, the inside goes a little bit translucent.
The front of the Max is also a host to the display screen from which you can change some of the settings that are present inside the printer. Moreover, you can also auto-calibrate simply by tapping the touch screen.
Of course for cleaning and material changeover, you can access the inside mechanism and by opening the dark neon-colored box.
Setup
The printer comes readily with four other companions i.e.
Composer: A software interface that is powerful, intuitive, and free.
Asiga Flash: A post-curing device for curing parts after 3D printing.
Calibration Toolkit: It contains the entire toolkit that you need to play with the printer!
Material Pack: One liter of Asiga material pack included in it which comprises of one material bottle and one-liter build tray.
Asiga Max is a plug-and-play type 3D printer that will not take much of your time to set up.
All you got to do is start the printer, initiate the setup process, and connect to it by one of the many modes of connection to upload the sliced file on the printer and then start feeding.
Once this is done, you can start printing with it. All of which shouldn't take much time.
Print Type/Cost
DLP 3D printing technology belongs to the vat polymerization category of 3D printing which is known to produce some great quality prints. Herein the resin vat is placed above the projector.
Unlike SLA 3D printing you do not need to wait for point-to-point individual curing of parts. Instead, the complete surface is in front of the projector gets cured at once. Hence, DLP 3D printing is faster than SLA 3D printing.
Also, instead of galvanometers, you have many DMD's installed in the printer which makes sure that the light is reflected enough times before curing so that its intensity is increased. After all the quality of prints depend on the UV light source that you use for curing.
Printing cost with such a technology is somewhere about the same, low or a little bit more than SLA 3D printing, depending on the geometry of the part, the resin used for making it, the cost of that resin, and the support structures needed, if any.
Print Quality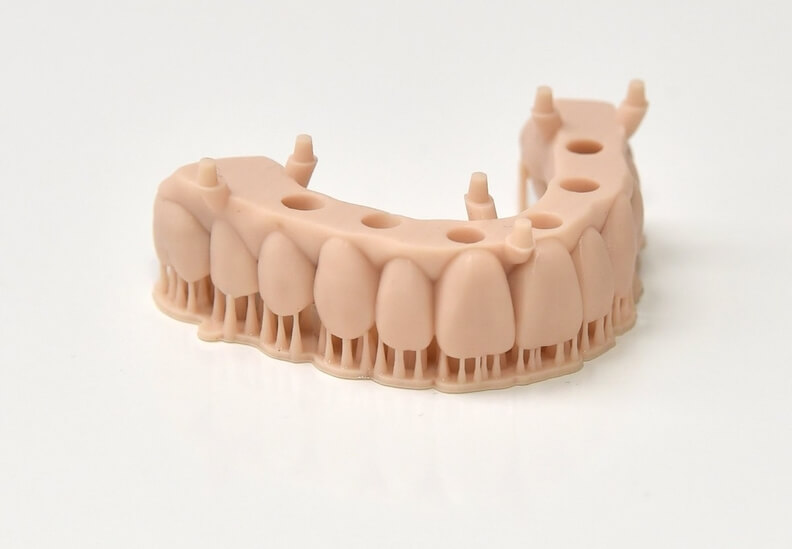 Credit: twimg.com
As mentioned above, the print quality of parts Max manages to sustain is in the order of pixel resolution 62 micrometers. Also, it is imperative to notice how the printer manufactured parts are used in three fields.
All of which demands extreme precision and dimensional accuracy. Thereby indicating that the printer is a master in offering exceptional productivity in a small footprint!
Software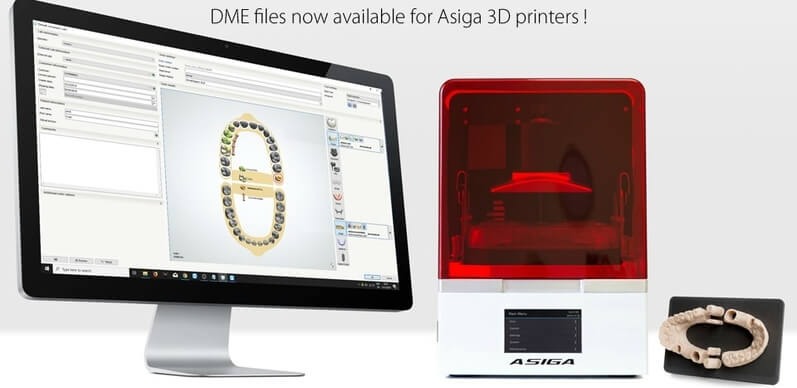 Credit: digitalsmiles.gr
Asiga Composer is the name of the software that is compatible with the printer. Buying the printer would mean, buying the lifetime updates of the software. The software can take in file formats such as STL, SLC, PLY, and STM (Asiga Stomp file format).
Customer Support
To access the technical support, you can generate a support ticket from the printer manufacturer's website. The technical support for every printer that you buy from Asiga is free and unlimited.
You need to set up an account on the printer manufacturer's website to have an access to the Support section. Apart from this, you can always contact Asiga with your concerns via phone and email.
Parameters Influencing Buying Decision
The points that do actually make an impact on your buying decision are mentioned in brief below.
3D Printer Cost: Considering the quality of parts made on Max, the cost is worth it.
3D Printer Quality: The printer stands unmatched in terms of the finesse it can bring in parts and functional prototypes printed on it.
3D Print Speed: Neither too low nor too fast.
3D Printer Capability: As mentioned above, Max is able to print with more than 380 materials.
3D Printer User Expectations: Professionals in the field of 3D printing are a group that the printer mainly aims to cater to. If you are a manufacturer of audiology, orthodontics, or jewelry-related parts, Max will stand upon your expectations like no other.
The Verdict
Max offers you the benefit of manufacturing objects that can be used within three different fields with precision like no other. The areas where you have to compromise a little are the build volume and the budget.
Having stated that, you will be astonished by the kind of quality the printer is able to bring to the table so much that after a point those two points will no longer occupy any space in your brain.