B9 Creations B9 Core 550
B9 Core 550 has all that you'd expect a professional 3D printer of this price range to have. It has incredible speed, delivers phenomenal part quality, and is used in numerous industries. So, if you afford a printer of higher-end and delivering quality and not quantity is your main preference, go for b9 Core 550.
PROS
Plug and play operation.
Wide selection of resins.
Out of box 3D printing in 15 minutes.
Fastest DLP 3D printer.
Reduced post processing.
CONS
You will have to figure out ways to manufacture big build volumes as the printer cannot offer more than 96 mm * 54 mm * 127 mm.
Product
Specification
Videos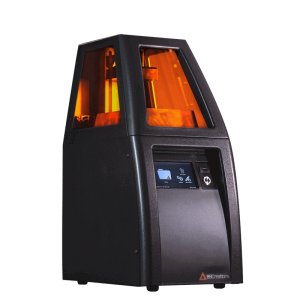 The B9 Core 550 is a DLP 3D printer created by B9Creations, a manufacturer from the USA. Using an industrial UV LED light engine in order to cure a ...
| | |
| --- | --- |
| Model | B9 Core 550 |
| Manufacturer | B9Creations |
| Price Range | $ 9955 |
| Release date | 2017 |
| Country | United States |
| Availability | Available |
| Classification | Professional |
| Technology | Resin (SLA- DLP…) |
| Material | Liquid resin |
| OS compatibility | Linux, Mac OS, Microsoft Windows |
| Generic material | Yes |
| XY accuracy | 0.003 mm0 in |
| Max. build size | 96 × 54 × 127 mm3.78 × 2.13 × 5 in |
| Max. build volume | 0.66 L |
| Min. layer thickness | 0.01 mm0 in |
| Dimensions | 597 × 419 × 267 mm23.5 × 16.5 × 10.51 in |
| Weight | 17 kg37.48 lb |
| Power input | 5A @ 100-240V | 50/60Hz |
| Heated print bed | No |
| Heated build chamber | No |
| Automatic calibration | Yes |
| Closed frame | Yes |
| Dual extruder | No |
| Independent Dual Extruder | No |
| Full color | No |
| LCD screen | No |
| Touchscreen | Yes |
| On-board camera | No |
| Mobile app | No |
| 3D scanners | No |
| CNC mill | No |
| Electronics 3D printing | No |
| Laser engraving | No |
| Conveyor belt | No |
| Air filter | No |
| Pellet extruder | No |
| USB | Yes |
| Wifi | Yes |
| Bluetooth | No |
| SD card | No |
| Ethernet | Yes |

Table of Contents
B9Creations claims its Core series to be "the fastest DLP printer with unparalleled precision." Core 550 is primarily meant for those businesses that require repeatability, precision, and surface finish.
All of that, the printer aims to offer at low operating costs, networkable architecture for scalability, and ease of use.
It is a machine that's ideal for high-volume requiring businesses where operators are required to focus on production and not on tuning and calibrating the devices.
B9 Core 550 printer is meant for various industries such as:
Jewelry and Casting.
Model making and entertainment.
Prototyping and manufacturing.
Research and education.
Aerospace and Defense.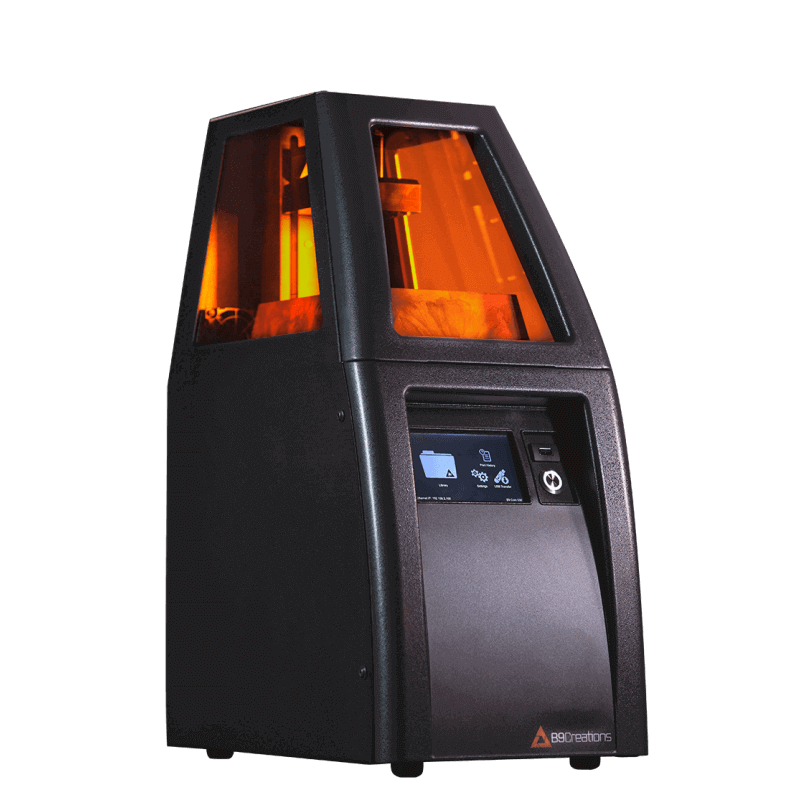 So, basically what's in it that makes the printer such a useful one? Well, we have an in-depth answer to this curiosity. And that's exactly what this article is meant for.
We are going to explore various sides of the printer which is not revealed by its first looks. These are the pointers that sum up to make its complete functionality. Without further ado, let's get started.
Features
B9 Core 550 is engineered to bring unmatched quality precision and surface finish. It will increase your speed to market, and maximize your businesses' productivity.
As mentioned above, you require no calibrations or other such efforts. Just fast printing even applicable to parts and functional prototypes with complex geometries! This is without sacrificing print resolution or surface quality.
And for making sure all of these are not just words by delivering evidence, the printer manufacturer has put into place many amazing features in it.
These are the ones that differentiate the printer from others in the same price range. So, let's go through them to know the printer better than just its looks.
Ease of Use, Precision, and Performance
Speed is a major issue when it comes to DLP 3D printing. But with B9 Core 550 that is not an issue at all. It's the fastest DLP 3D printer in the market.
The printer offers unbeatable ease of use, precision, and repeatable performance which helps you moves without any hiccups.
Starting from the prototyping phase to the production runs, the printer assists you to make thousands of parts and functional prototypes.
You'd be able to start your first 3D print within 15 minutes of time after the printer will be received by you. The print speed of Core 550 is 100+ millimeters per hour.
Its XY resolution is less than 25 micrometers, while its Z-axis resolution is only 10 micrometers. So, imagine the beauty and dimensional accuracy that you'd be able to achieve with the printer!
Truly the quality of objects manufactured on Core 550 is unmatched. Additionally, when it comes to delivering, the printer is fabulous because it offers you the freedom to design and engineer with a wide range of castable resins.
It has a low cost per unit of throughput and resin vat that will last for thousands of prints.
Repeatable Performance
This feature is one that you would not get to see in many 3D printers. Core 550 lets you queue the job. So say you are printing a part currently and you are sure about the next part that you wish to 3D print.
In such conditions, the printer manufacturer has equipped its machine to facilitate you with the freedom of feeding it with the next print. In this way, you can plan in advance.
Moreover, Core 550's management system is architecture in such a way that it allows for multi-printer management.
So, in case you have a print farm at your end, you can operate, control and monitor various printers from your device. This will give you the sheer joy of working with the printers of the B9 community.
Also, to ensure consistency, the printer manufacture has put into place a light engine, the one that usually gets utilized in industrial 3D printers.
Thereby, making Core 550 no less than an efficient industrial 3D printer delivering excellent quality parts and functional prototypes!
Operational ease
Core 550 is a plug-and-play type 3D printer. As soon as you receive it, you'd be able to just unwrap it, give it power consumption, and start your 3D printing process.
There is no need for calibrating or bed leveling or any other step before 3D printing your first part. In addition to this, the resin vats of Core 550 last over 1250 prints and that's huge.
The benefit of having such ease is something that you'd realize only after long-term use of any DLP 3D printer.
Also, the printer gives you immense design freedom by letting you select from a wide range of resins.
It's even open to third-party materials which most DLP 3D printers in the same price range are not. And when you do not have many choices, there is a sense of limitation and your creativity will not expand after a certain stage.
Value for Money
Core 550 by B9Creations offers the lowest cost per unit of throughput. It's a budget-friendly printer and above all to help you buy the printer in an even more convenient fashion B9 has got the financing available.
Because of its unmatched speed and dimensionally accurate part deliverance, the printer is claimed to give you a return on investment within 12 to 18 months from your buying date.
Also worth noting is how Core 550 can assist in building parts and functional prototypes of more than one industry.
It builds excellent quality jewelry and casting, does accurate model making, prototype, and manufacturing, assists in research and education and in aerospace and defense which is too much for a DLP 3D printer.
Specifications
Core 550 by B9 offers an effective X, Y resolution of fewer than 25 micrometers in the parts and functional prototypes it manufactures. The maximum build envelope that you can create with this printer is 96 mm * 54 mm * 127 mm.
Depending on the geometry of the part that you are willing to print the print speed range with which you can play on the printer is 25 millimeters per hour to 100 millimeters per hour.
The Z-axis resolution offered by Core 550 is 10 micrometers depending on three important aspects i.e.
Material with which you are manufacturing that part.
The model geometry.
The slice thickness.
Stating about the heart of this DLP 3D printer, it cures objects using industrial level HD UV LED light engine of 405 nanometers wavelength.
You can create parts and functional prototypes using B9Creations resins and third-party materials. For connecting with the printer you can either use Wi-Fi, Ethernet, or a USB drive.
The printer's dimensions are 597 mm * 419 mm * 267 mm. It weighs 17 kilograms and can be operated using power consumption of 12 Volts DC, 5 Amperes. Core 550 comes with a year's warranty.
Price
B9 Core 550 has a printed price of $9955 including a finishing kit, two DuraVats, and Factory startup assistance.
You can also buy the complete package which includes B9 Clean worth $595, a curing unit priced at $495, and an extended warranty of $1250, thereby costing you $12295 on a whole.
First Impression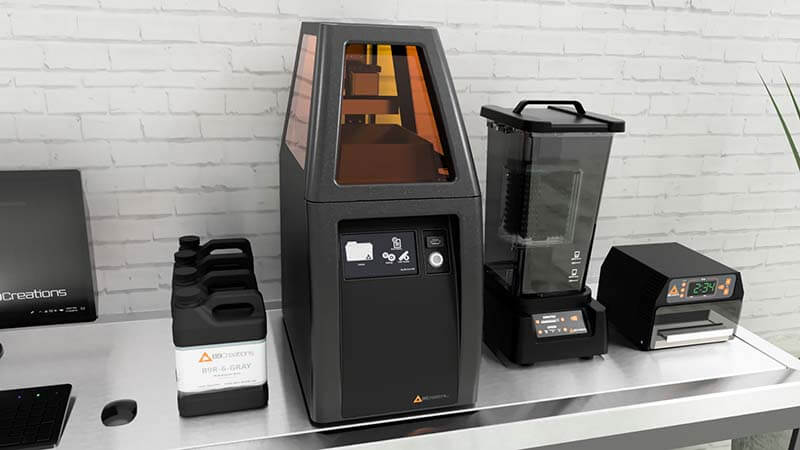 Credit: imakr.com
First glance over B9 Core 550 speaks to you of the three-sided monitoring facility given by the printer manufacturer. And this is rare to find in similar priced 3D printers.
It does have a transparent frame with not exactly dark neon color, but close to it.
Although the inner mechanism is visible to you, efforts would have to be made. Coming to the shape of the printer, it's neither cubical nor cuboidal.
The printer can be divided into two compartments:
The upper one consisting of a transparent frame print chamber.
The lower one comprising of the UV LED light source, the touch screen interface, and the USB slot.
Core 550 stands upon four legs that will help the printer travel from one place to the other at your workplace. Of course, you open the front of the print chamber to access its inner by a top-down method.
Setup
When the printer arrives at your place it is fitted with the following list of things:
1 kg of Resin, the one that you choose.
2 DuraVats by the printer manufacturer B9Creations.
Finishing Kit.
Remote Factory Startup.
1-year warranty.
As mentioned above, it's extremely easy to set up the printer. It'll take no more than 15 minutes.
Print Type/Cost
DLP 3D printing makes use of photopolymer resins to make extremely detailed parts and functional prototypes.
Typically in printers such as Core 550, a UV light source is placed at the bottom compartment, above which is a projector screen which is present just below the resin vat on which the resin is stored.
This process is much faster than other vat polymerization processes such as SLA 3D printing. The reason why it has an extra level of speed than SLA is because DLP 3D printers cure resins on a projector screen in one go.
Whereas SLA 3D printers cure resins via a point-to-point manner individually! Also, the cost of 3D printing a part with DLA 3D printing is almost similar to SLA 3D printing i.e. generally more than FDM 3D printing.
However, the overall cost depends on many factors starting with the geometry of the part, the type of resin used in it, the cost of that resin, support structures used in making that object, the wavelength of the light source, etc.
Print Quality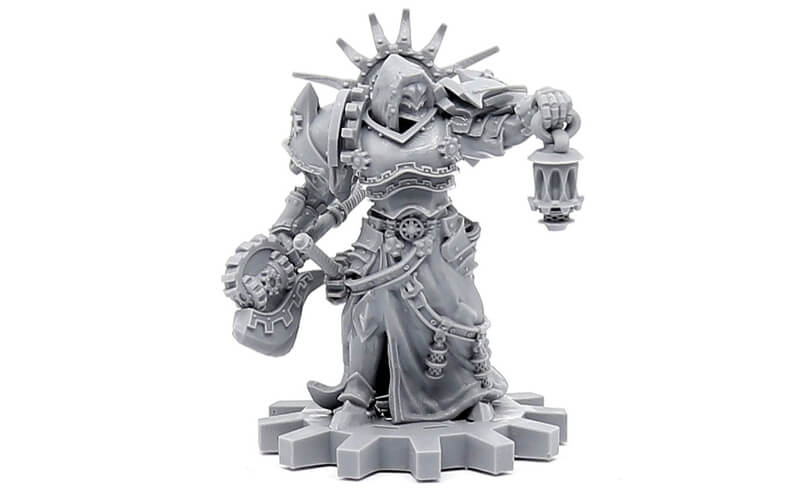 Credit: imakr.com
Core 550 is known to produce excellent quality parts and functional prototypes. They possess an X, Y resolution of fewer than 25 micrometers and a Z-axis resolution of 10 micrometers.
Having already mentioned the industries in which parts printed using Core 550 are put into application, it's easy to guess how intricate geometries it can print.
Software
B9 Create 2.0+ is the name of the software that comes compatible with Core 550. It is easy to use the software even for users with a nontechnical background. At the same time, it provides experts with an insight to go in-depth with the part and print settings.
Customer Support
B9Creations is known to offer excellent solutions for all your technical queries. You can reach out to the company via Facebook, Twitter, Youtube, Instagram, Google plus, and Linkedin. Obviously, their technical team can be connected with email and call as well.
Parameters Influencing Buying Decision
The summary of the main points about Core 550 is mentioned in brief below.
3D Printer Cost: DLP printers are generally on a higher-end compared to other 3D printers. However, if you do not look for print volume, but quality, the printer is definitely affordable!
3D Printer Quality: Core 550 is able to deliver parts with dimensional accuracy. Literally, your thoughts would be converted into objects exactly how you imagined them to be!
3D Print Speed:  The printer is a part of the series that's claimed to be the fastest DLP 3D printer.
3D Printer Capability: Core 550 is capable of letting you play with a wide range of resins.
3D Printer Practicality: Ease of use is one of the main backing points of the printer.
3D Printer User Expectations: The printer primarily manages to address the needs of professional 3D designers.
The Verdict
Core 550 has all that you'd expect a professional 3D printer of this price range to have. It has incredible speed, delivers phenomenal part quality, and is used in numerous industries. So, if you afford a printer of higher-end and delivering quality and not quantity is your main preference, go for Core 550.