BQ Ciclop
BQ Ciclop has a simplistic design and extremely affordable pricing. Available under $250, it manages to surprise users by offering extraordinary features.
PROS
The scanner has a simple design that is easy to understand even for beginners.
It features a dual laser setup allowing for maximum accuracy while capturing objects.
Extremely reliable Logitech C270 HD camera captures fine details of any object and translates it into computer images that can even be manipulated for betterment.
Being an open-source 3D scanner, its information is completely accessible to the masses online.
CONS
The scanner is available in a DIY kit and hence would consume more time while setup. Also, it would require you to go through the stepwise documentation available online.
Table of Contents
Ciclop is a desktop 3D scanner designed in kit form by the manufacturer BQ – based in Spain. The machine's flexibility is displayed from two of the most striking features i.e. open-source and affordable.
Its hardware and operating software are called Horus; both of them are available under a creative commons attribution and share-alike license, and general public license respectively.
The scanner allows scanning any physical object that fits on its circular rotating platform of 9.8 inches * 8 inches.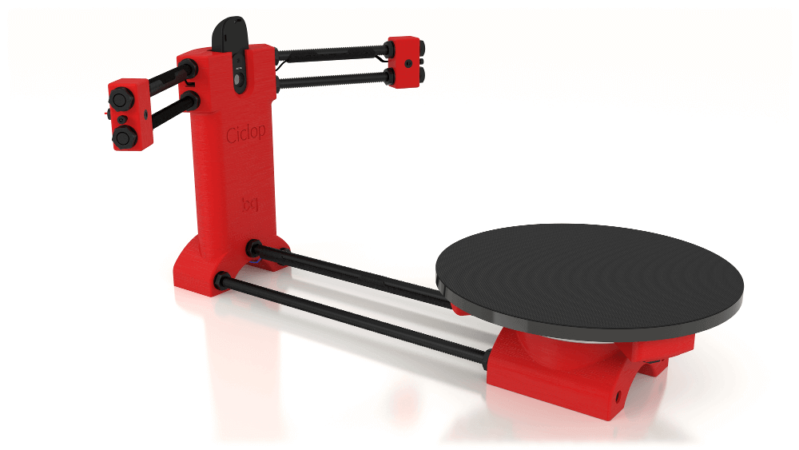 The manufacturer also allows users to manipulate objects even after they are scanned, which is a huge plus when compared to scanners falling in the same price range. But, to know whether the scanner offers value for money, let's dive through it in-depth.
Features
Ciclop is specially designed keeping in mind easy installation. The set that's delivered to you contains all the assembly parts with instructions necessary for building the machine. Below mentioned and explained are some of such striking features that the scanner possesses.
Dual Laser Setup
Ciclop hosts not just one but two laser sources present on each side of the rotating platform. These are class one lasers that can deliver extremely high precision while scanning parts and functional prototypes. The manufacturer claims how lasers, in combination with the camera, are able to capture details up to 500 microns.
DIY kit
To ensure all its users know the exact mechanism and function of each and every component the scanner is designed from; BQ offers it in the form of a DIY kit.
Also, the entire information about the scanner is available on open sources making it extremely accessible for the operators to follow. Moreover, by keeping it as a DIY kit, BQ allows you to do things differently. Like, simply designing your own parts that can be used on the scanner for increasing its functionality! Amazing, isn't it?
Open-source
As mentioned above, Ciclop's specialty is that it's open-sourced. And this is what makes it an ideal scanner for the masses.
Open-source technology makes it accessible to anyone who wishes to get their hands on the files needed to operate the scanner easily. All the documentation related to Ciclop can be found online including important aspects such as mechanical design, algorithms, mathematics, and experiments.
So, with the files already present online, all you need is the hardware to create the structure. Meaning that after buying the scanner, you are good to go independently. How cool is that!
Proprietary Horus software
Capable of controlling, not just one, but many 3D scanners is the company-made Horus software. It manages the complete communication that takes place between the computer and the scanner. Not only that, its multi-purpose use extends to capturing and syncing of data, image processing, and also calibrating the scanner.
The application is completely reliable as one of the best 3D software for dealing with an open-source scanner. It can be run on Windows as well as Mac operating systems. Users can juggle up with numerous useful tools and advanced calibration capabilities. The software can also be fine-tuned for improvement via GitHub.
High definition camera
To ensure its users can capture high-quality videos with 1280 * 720 pixels and images up to 3 megapixels, BQ has put in place a Logitech C270 HD camera.
This component does an excellent job of not only capturing finer details of any object but also translating them into computer images for you so that you can manipulate them in the future.
The camera hosts a VGA image sensor that runs on Right Light Technology which enables it to capture clean and sharp images even in low natural light areas.
Simple design
Ciclop works on an easy mechanism that can be duplicated also. Its main structure consists of 3D printed parts. The rest of the hardware comprises a few M8 threaded rods and screws, with some M3 screws, nuts, and washers. And the object sits on a 9.8 inches non-slippery methacrylate platform.
Specifications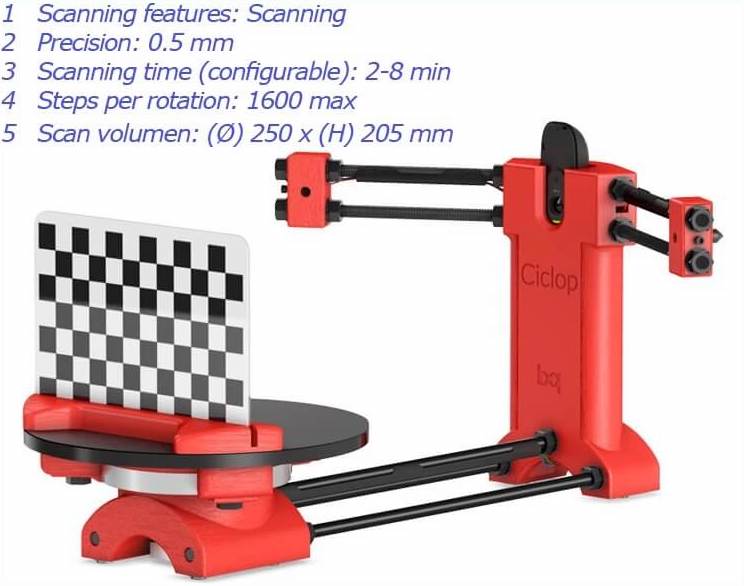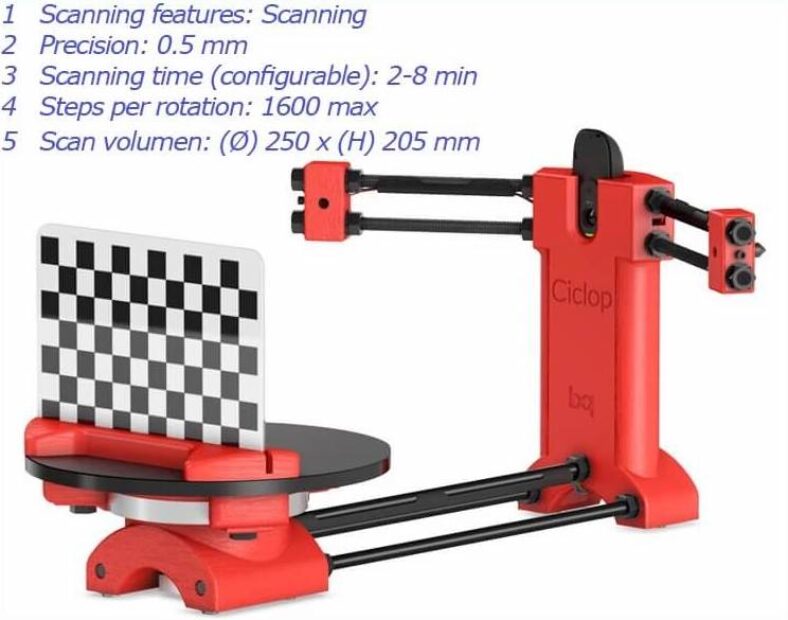 BQ Ciclop allows users to scan objects with a maximum area of 250 mm * 205 mm weighing 3 kilograms. It offers a scan precision ranging from 100 to 300 microns.
Operators can scan their objects using dual lasers that are fixed at two sides of the scanner. A Logitech C270 HD camera promises highly accurate images and videos that can be converted into models for creating detailed parts and functional prototypes.
The scanner undergoes a maximum of 1600 steps per revolution. It needs a power supply unit of 12 Volts and 1.5 Amperes. The scan speed of Ciclop ranges anywhere from 2 to 8 minutes!
Price
BQ Ciclop is available for $219.
Setup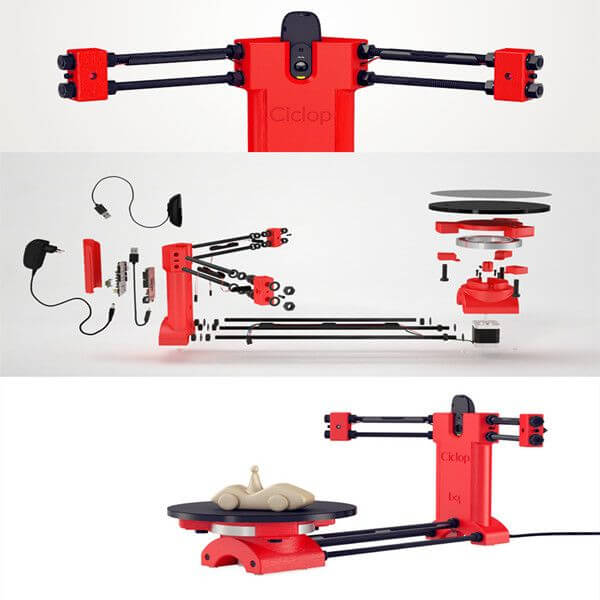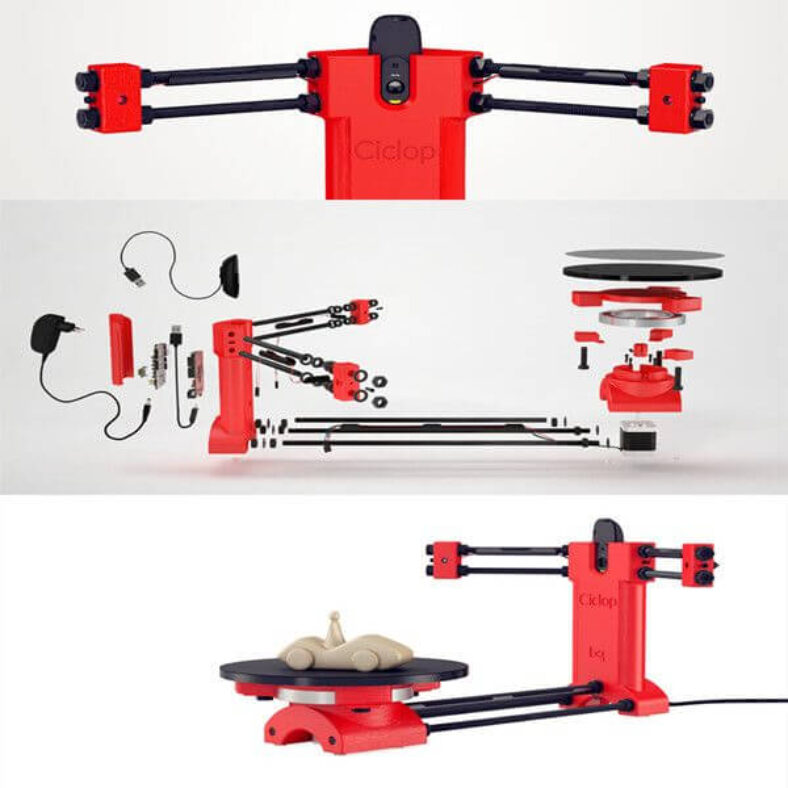 Credit: pinimg
As BQ Ciclop is delivered in a DIY kit, you'd have to take some time out in constructing the scanner. But given the fact that the stepwise instruction manual guides you all the way through the setup, it's entertaining.
In fact, it's enriching in terms of learning the exact mechanism the scanner works on. So, if you have any fault during its operation, it can be corrected easily.
Scan Type
Based on Laser triangulation technology, Ciclop accurately scans an object by capturing it in millions of points. In fact, the dual laser setup takes it to the next level by projecting multiple laser lines onto the part or functional prototype you are willing to scan.
Once the capturing in points is done, its reflection is apprehended with multiple sensors that are located at a fixed distance from the source. This allows for accurate point measurements by even calculating the reflection angle of the laser light.
Scan Quality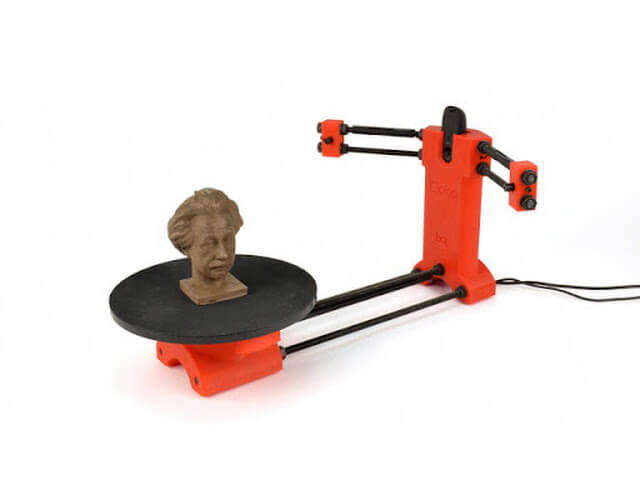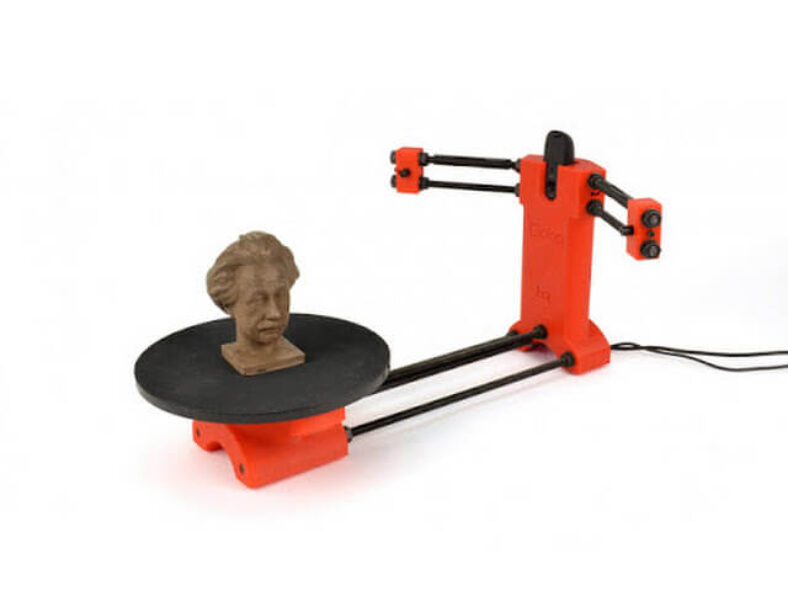 The dual laser set up on each side of the platform and Logitech C270 HD camera ensures that each and every scanned object is of fine quality.
While the former is capable of capturing details up to 500 microns, the latter enables apprehension of clean and sharp images even in low light areas.
Customer Support
Answers to all your queries related to the scanner and its functioning are available online. But, if you wish to contact the technical team over the phone and by email, it's possible.
Software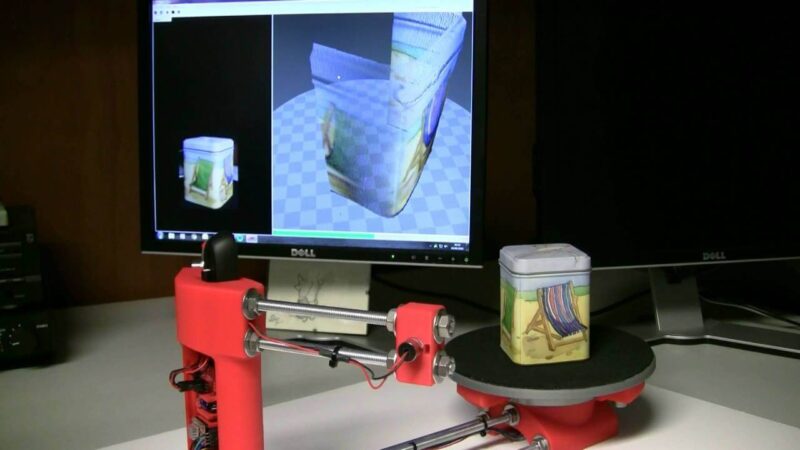 Credit: instructables
The scanner comes integrated with Horus software that is a multi-platform application capable of controlling more than one scanner at a time. It handles complete communication between the computer and the scanner.
Windows, as well as Mac operating systems, are compatible with the software and it comes with advanced calibration capabilities. Because of this, first-time users can have a run-through in the pre-scanning phase!
Parameters Influencing Buying Decision
Below mentioned is a summary of all the main points that are worth checking out before making your buying decision.
3D Scanner Cost: Considering the scan area it is capable of processing and other striking features $219 is a very affordable cost for BQ Ciclop.
3D Scan Speed: Compared to other scanners in the same price range, Ciclop's scanning speed is commendable. It's above the industrial average of small to mid-range scanners.
3D Scan Quality: The scanner offers a scan precision of 0.5 mm which means, each and every part that you process on Ciclop will have fine detailing.
3D Scanner Capability: Users can utilize the dual laser setup for objects with a scan area of 250 mm * 205 mm. The scanner is capable of capturing particularities up to 500 microns.
3D Scanner Printability: The scanner is designed keeping in mind the beginner-level scanner users in mind and that's why it's kept completely open-source. Its information can be accessed online for free.
3D Scanner User Expectations: Novice-level individuals that make use of scanners and are willing to learn how to set up a scanner from scratch will enjoy using it the most.
The Verdict
In a nutshell, Ciclop turns out to be great value for money. Its simplistic design and extremely affordable pricing make the scanner beginner-friendly.
Available under $250, it manages to surprise users by offering extraordinary features such as dual laser setup, extremely easy functioning software, high-definition camera, and a lot more.
Above all, its open-sourced nature lets you comfortably tweak and juggle around with this newer technology. Yes, there are a few complaints about the parts that the manufacturer supplies for its construction, but they are not a huge turn-off especially after taking into consideration the striking features that the scanner is a host to.