Monoprice Mini Delta
Monoprice Mini Delta is not only easy to assemble, but olso its sturdy design offers stable 3D printing at a higher speed. With proper settings, the users certainly can create amazing designs with complex geometry.
PROS
Available at an affordable cost.
Has simple controls.
Gives decent print quality.
CONS
USB connection is not reliable.
Configuration with the software is a must.
Table of Contents
Product
Specification
Videos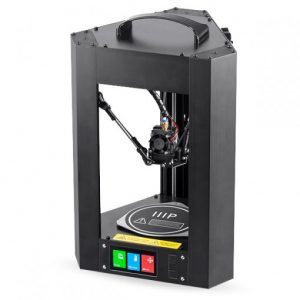 A plug-and-play delta 3D printer, Monoprice Mini Delta is ready to print right out of the box. Offering a faster production rate, the machine can ...
| | |
| --- | --- |
| Model | MP Mini Delta |
| Manufacturer | Monoprice |
| Price Range | $ 159 |
| Release date | 2017 |
| Country | United States |
| Availability | Available |
| Classification | Desktop |
| Technology | Extrusion (FFF- FDM…) |
| Material | ABS, Other plastics, PLA |
| Filament diameter | 1.75 mm 0.07 in |
| Generic material | Yes |
| Max. build size | 110 × 110 × 120 mm 4.33 × 4.33 × 4.72 in |
| Max. build volume | 1.45 L |
| Max. print speed | 150 mm 5.91 in /s |
| Min. layer thickness | 0.05 mm 0.002 in |
| Weight | 1.8 kg 3.97 lb |
| Nozzle diameter(s) | 0.4 mm 0.02 in |
| Heated print bed | Yes |
| Heated build chamber | No |
| Automatic calibration | Yes |
| Closed frame | No |
| Dual extruder | No |
| Independent Dual Extruder | No |
| Full color | No |
| LCD screen | Yes |
| Touchscreen | No |
| On-board camera | No |
| Mobile app | No |
| 3D scanners | No |
| CNC mill | No |
| Electronics 3D printing | No |
| Laser engraving | No |
| Conveyor belt | No |
| Air filter | No |
| Pellet extruder | No |
| USB | Yes |
| Wifi | Yes |
| Bluetooth | No |
| SD card | Yes |
| Ethernet | No |

Monoprice, a 3D printer manufacturer that aims at making additive manufacturing accessible to beginners has come up with its new addition, Mini Delta. Available for under $200, this amazing 3D printer is capable of creating high-quality parts.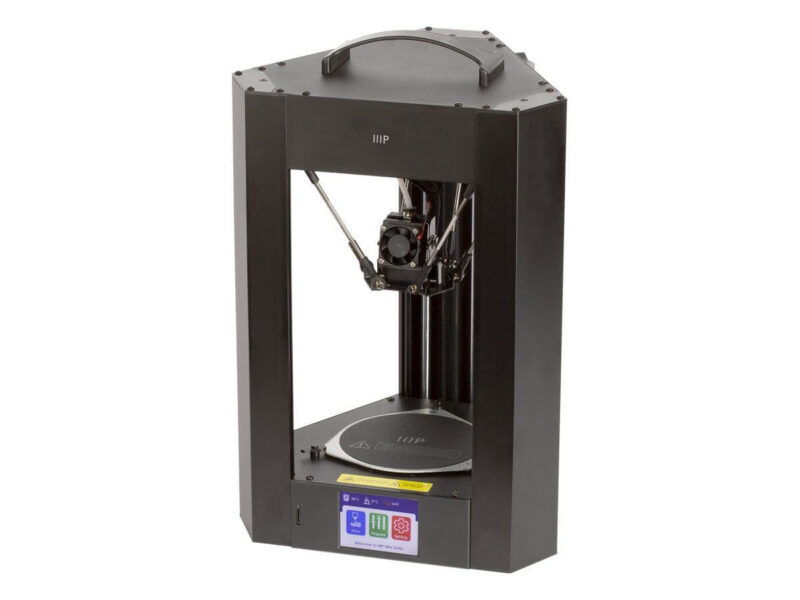 Talking about its features, the printer packs a lot of surprises for its users. Not only users can print complex designs with intricate geometries but can work at high speed. So, let's explore the printer in-depth review to find more interesting facts about it.
Features
Below mentioned are some of the most striking features that Mini Delta houses.
Rapid Printing Speed and Good Resolution
Being a delta 3D printer, Mini Delta carries forward its reputation of being fast. The maximum printing speed that users can achieve while working on the printer is 150 mm per second. Moreover, the printer does not lag on quality. Users can achieve a layer resolution as minute as 50 microns. In short, its speed is coupled with quality. That too for such a small price. Interesting, isn't it?
Auto Leveling
Monoprice has included an easy auto-leveling and calibration feature to ensure seamless operation for beginners. Therefore, it does not take a lot of time to set up the machine. Moreover, with auto-leveling, there is no chance of manual error. Hence, one can create parts with utmost accuracy, over and over again.
Simple Construction
Mini Delta is a very robust 3D printer. At the same time, its simple construction makes the machine easy to manage, even for first-time users.
Safe and Convenient Printing with ABS and PLA
The combination of a heated print bed and extruder makes Mini Delta capable of handling ABS as well as PLA materials. The printer uses 1.75 mm filament. In addition, users do not have to depend on the company's proprietary filament.
On the contrary, it allows printing with filaments from third-party manufacturers as well. Hence, allowing individuals to choose from a wide array of brands available.
DIY Setup
MP Mini Delta is a simple printer, easy to set up. All that user needs to do is unpack it, remove some packing tape and foam, plug it in, and get started. After this, operators can use the LCD screen and controls present on the printer for loading the filament with the reel hanging on a hook on the back of the printer body.
For setting up the software, users need to install Cura, the open-source application that comes with a microSD card. Overall, this entire process is simple but it does require some care. For the same reasons, the printer comes along with a detailed manual assisting users with the correct settings of the 3D printer.
Multiple Modes of Transferring Files
Mini Delta includes a microSD card port, a micro-USB as well as Wi-Fi connectivity. In short, it is not necessary to connect the printer to the desktop using a wired connection at all times. Instead, the Monoprice Mini Delta 3D printer can run as a standalone machine.
Minimal but Functional Interface
There aren't a lot of controls present on Mini Delta. In addition, it does not have a touch screen interface. On the contrary, it houses a simple three-inch LCD screen with a few buttons to switch between settings.
However, the interface is user-friendly and allows users to easily navigate through the setup process without any hassle. Users can carry operations such as starting a print, loading filament, and more.
Overall, it's a simple yet effective system that works fine. However, when wanting to cancel the print operation in between, users must scroll through a certain number of options before getting to the cancel-print option.
There is one more button located at the back of Mini Delta. It allows you to change the print mode. Also, the button comes in handy when using the microSD memory card to print the parts.
Specifications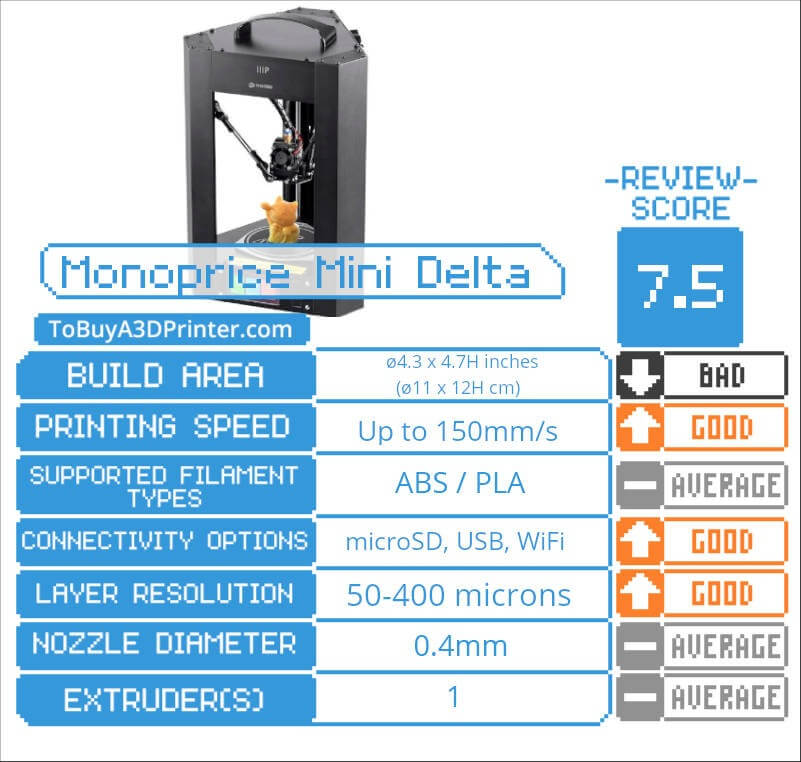 Credit: tobuya3dprinter.com
Mini Delta 3D printer prints using FFF 3D printing technology and offers a maximum build volume of 110 mm * 110 mm * 120 mm. The layer height ranges from 50 to 200 microns.
It features a Bowden-type feeder system with a nozzle size of 0.4 mm and has a Delta-style construction. The printer's extruder and print bed are capable of withstanding 260 degrees and 60 degrees Celsius temperature respectively.
Mini Delta's frame is made up of Aluminum material that gives the printer the amazing stability it needs to ensure seamless printing at a higher speed. It features an open type print chamber and contains an automatic bed leveling system.
Users can connect with Mini Delta using USB, SD card, and Wi-fi. The printer allows operators to print with a wide range of filament materials such as ABS, PLA, Wood Fill, Copper Fill, Steel Fill, Bronze Fill of 1.75 mm diameter. Also, the printer permits printing with 3rd party filaments.
Price
Monoprice Mini Delta is available for $180.
First Impression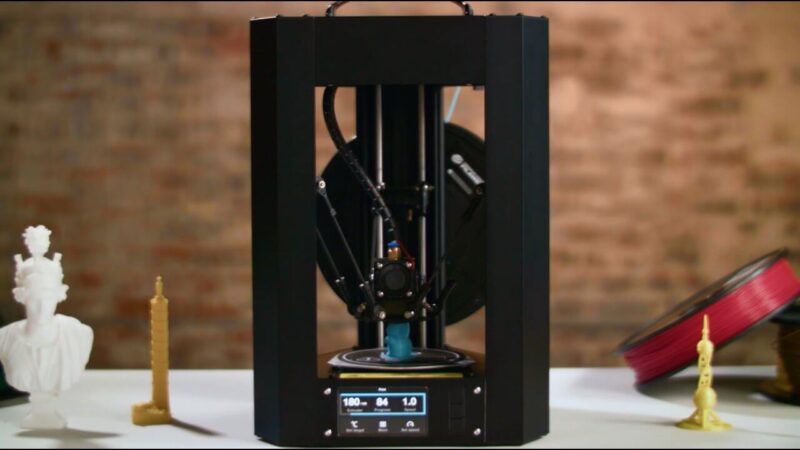 Mini Delta is a tiny-looking 3D printer standing just 15 inches tall and less than 10 inches deep. It houses a build area smaller than most of the average Delta 3D printers. The printer is cylindrical and works fine for small to medium-sized models.
For larger objects, users will have to plan an assembly job. The machine has an open build area, and simple construction providing plenty of scope for modification. It is really a great experience working on this machine.
In short, the printer has a small footprint, a cool appearance, and higher speed than most of its competitors.
Setup
The printer is very easy to set up. Being a plug-and-play machine, the 3D Printer comes completely assembled. You do not need to attach any component before starting your prints.
On the contrary, all you need to do is unpack the machine and connect it to the power supply. Later, use the LCD screen for loading the filament with the reel hanging on the hook present on the back of Mini Delta's body.
Moreover, the automatic bed leveling is simple and does not require much human intervention during the process. With just a few clicks, users can level the bed and prepare the printer for the first print. It is as easy as it sounds.
And, in case of any confusion, you can always refer to the instruction manual that comes along with the package. Not only is it detailed but easy to comprehend. Every step is clearly mentioned. If followed, the setup process won't take more than a few minutes.
Print Type/Cost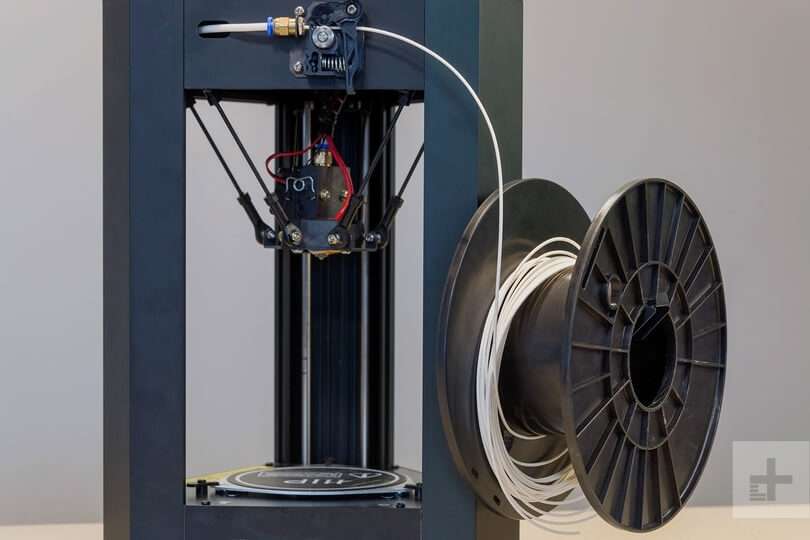 Credit: digitaltrends.com
FFF 3D printing is another name for FDM 3D printing which is the simplest yet efficient 3D printing technology. Although it has the basic schematic like any other 3D printing technology, it differs in the way of application. The process starts with fusing layers of materials in a pattern to create an object.
The material is melted past glass transition temperature and then extruded, one layer at a time. After each layer is created, the build plate moves downwards. The entire process continues until the part is printed completely.
The good news is that printing with FDM 3D printers is the most economical. Unlike technologies that are difficult to afford in the first place, FDM printers not only are comparatively cheap but contribute to minimal cost per part.
This is so because the printer does not use lasers or other light sources as it's the case with SLA printers. Additionally, users do not require cooling sources, one of the prominent additions found with powder bed fusion, vat polymerization, or other 3D printing technologies.
However, when calculating the cost of printing each part, one must include various parameters. For instance, the part size, infill percentage, layer height, and more.
Print Quality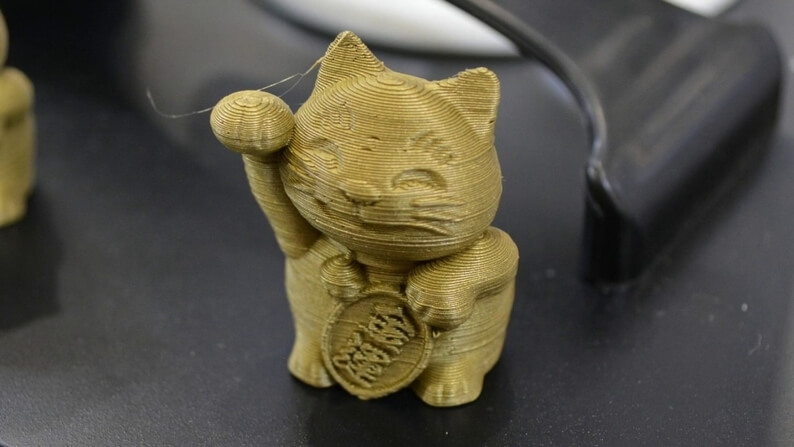 Credit: Youtube / HACKADAY
Mini Delta offers amazing print quality. The printer manufacturer recommends lowering the print speed to enhance the surface finish of the 3D models. As a matter of fact, with the slowest print speed, users can create parts with almost invisible layer differences.
Apart from PLA and ABS, the printer can also print with PETG material and wood-infused filaments. So, as a user, you get a lot of flexibility working with Mini Delta.
Software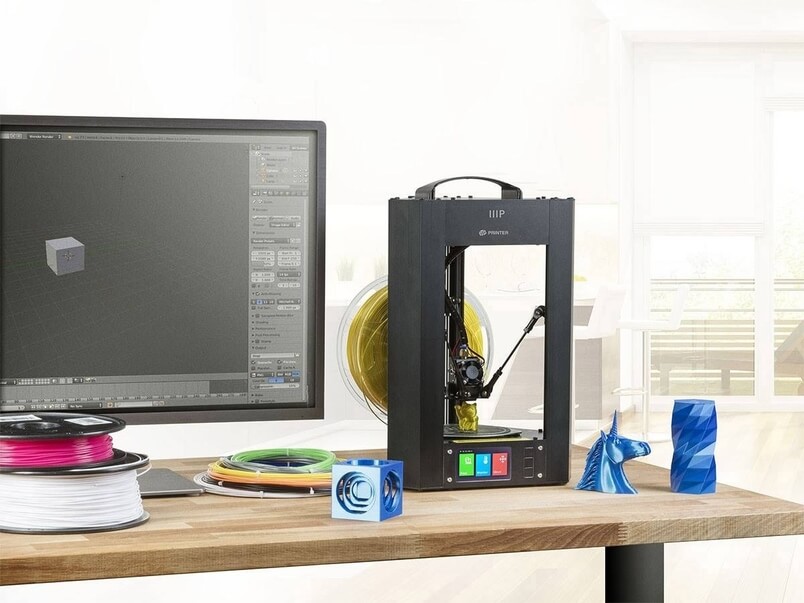 Credit: conrad.com
Monoprice Mini Delta is compatible with Cura software that is compatible with Windows, macOS, and Linux operating systems. It works with multiple file formats such as STL, OBJ, DAE, and AMF. In addition, it is one of the simplest yet efficient applications available for beginners as well as seasoned users.
The manufacturer sends the software saved on the SD card that comes along with the printer's package.
Customer Support
The printer manufacturer's website offers general FAQs and troubleshooting information for various 3D printers including Mini Delta. Hence, users can easily access these tips to better their printer's performance.
Apart from this, users can always get in touch with the technical team via email, phone number, and live chat. Also, Mini Delta comes with a 30-day money-back guarantee. Overall, the manufacturer ensures that the users get the most from what they invest in their printer.
Parameters Influencing Buying Decision
The key factors about Mini Delta are mentioned in brief below.
3D Printer Cost: Mini Delta is currently offered under $200 which is a very affordable price considering the type of features that the printer offers to its users.
3D Print Speed: Delta 3D printers are known for providing high-speed 3D printing and Mini Delta stands true to this claim. Parts that took more than 4 hours to print with other 3D printers, take half the time owing to Mini Delta's print speed.
3D Print Quality: Although the printer is known to offer tremendously rapid print speeds, Mini Delta does not compromise on quality. Even complex parts are printed with dimensional accuracy using the printer. Layer surface finishes provided with Mini Delta surprise viewers and make them question the claim of whether Mini Delta is an FFF 3D printer!
3D Printer Capability: Mini Delta is held by three arms, operated with three motors that help the print head reach every part of the circular print bed. It can print with different materials including the two most popular filaments, ABS and PLA. Apart from printing with the company-made 3D printer filaments, the printer manufacturer also allows printing with third-party materials.
3D Printer Practicality: The most lucrative benefit of Mini Delta is that it has a very easy setup. All it requires is unpacking the printer and plugging it into the power connection. From auto-leveling to easy filament loading, most of the task is hassle-free. Making this printer the best choice for beginners and home users.
3D Printer User Expectations: Without any pinch of doubt, the 3D Printer stands true to its claim. And, offer users the best 3D printing solution at a very competitive price tag. Hence, it does fulfill expectations by all means.
The Verdict
Monoprice Mini Delta is a very intriguing machine. Its attractive features, bundled with an even attractive price tag are difficult to ignore.
Not only is it easy to assemble, but its sturdy design offers stable 3D printing at a higher speed. With proper settings, the users certainly can create amazing designs with complex geometry.
In short, the printer is affordable as well as provides decent print quality. And a blend of these perks is what makes Monoprice Mini Delta a rare printer in its niche.