With the development of 3D printer filaments, almost every brand available in the market claims to be the best one. But not all of them are trustworthy and reliable.
And so, if you happen to bump into any conductive filament claiming itself to the best one, it has the possibility of turning out to be the worst one.
It can cause jams, warps, and whatnot. Also, it's important for any brand of conductive filament that you buy to suit your 3D printer. That's the most basic requirement because without that, even if it's the best, it wouldn't let you achieve what you wish to.
So, we present to you the list of reliable manufactures and their brand of conductive filaments. You can use them for a wide range of applications. They come in a diverse range of colors, composites, and properties.
Our selection is based on two of the most important criteria i.e. Price and Quality. So, without wasting any further time, let's get straight into the heart of the matter.
List of Best Conductive Filaments PLA
If you are someone who prints in 3D, you'll most likely know Polylactic Acid as PLA. It is a raw material used to create 3D parts and also the most popular 3D printing materials around.
Used for building prototypes and models of solid objects and various components, PLA is something scientists call a thermoplastic polyester. In nature, it is biodegradable and bioactive.
These properties make even more intriguing than other filaments in the industry. The material is a derivative from various renewable resources differing depending on the country that produces the PLA.
In the US and Canada, PLA is made from corn starch, in Asia, it's typically starch and tapioca roots and the other places around the world uses sugarcane.
Hatchbox PLA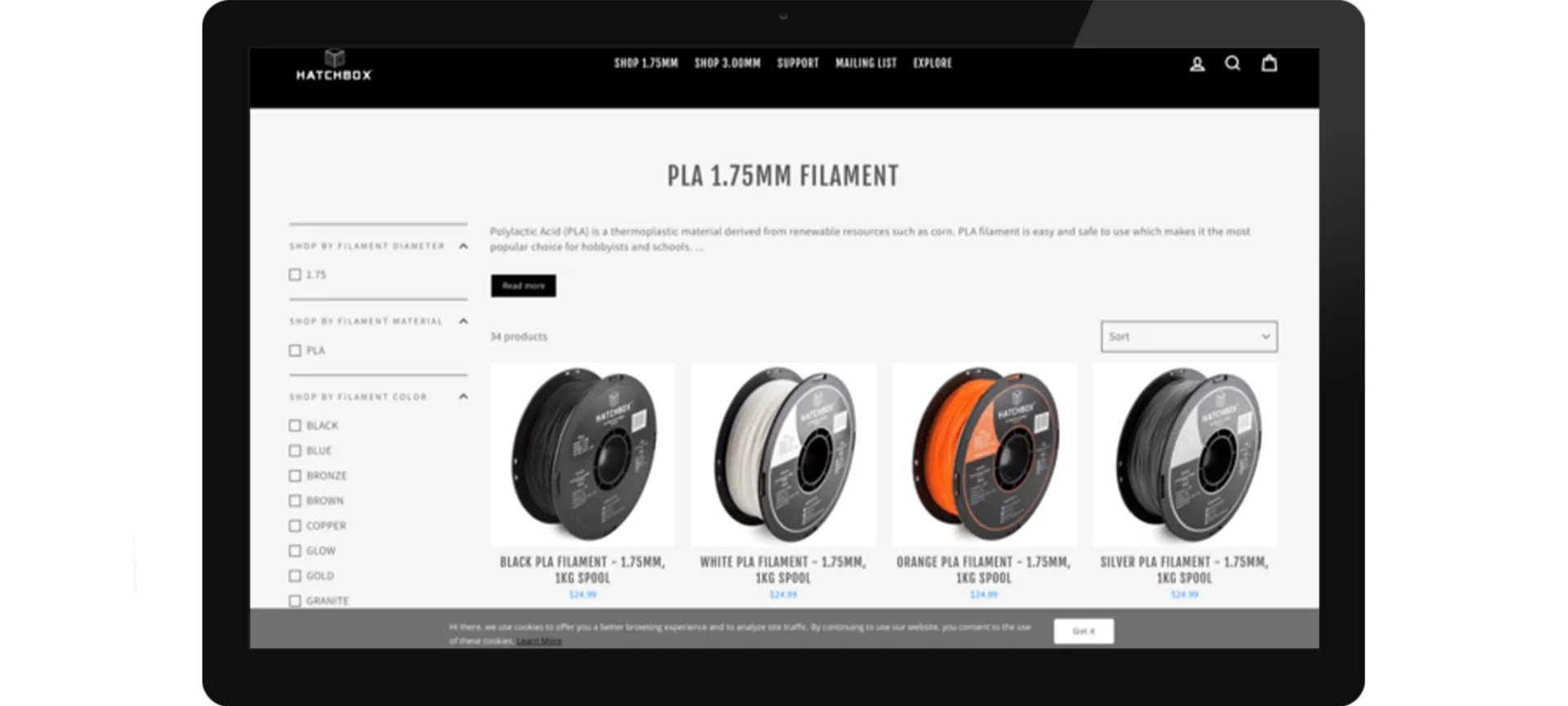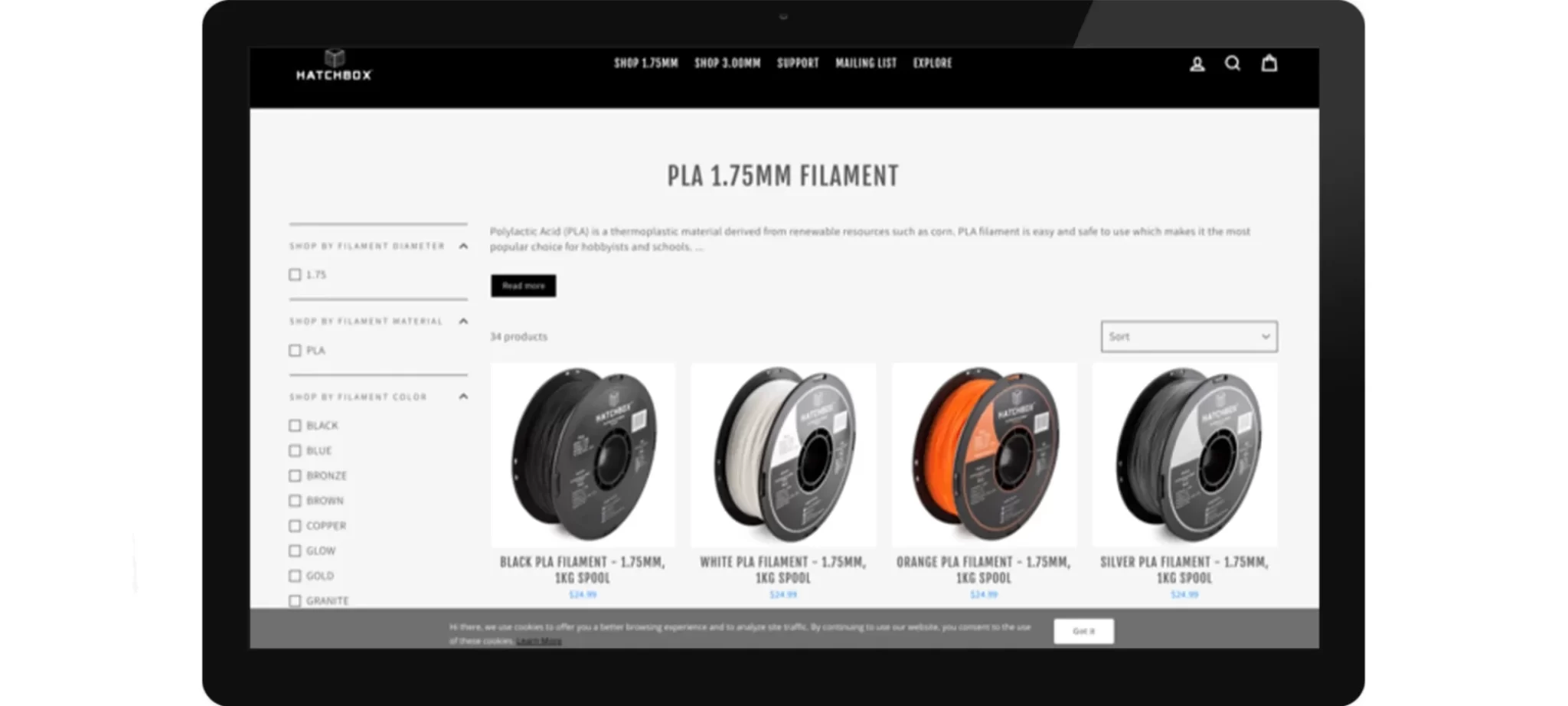 Not only does Hatchbox PLA have a huge fan base but also thousands of positive customer reviews online. The reason that Hatchbox PLA is so popular is that the printer filament has a large community that can vouch for its quality.
Almost everyone who has purchased the filament has been satisfied with its tolerances, color range, and print quality. Best of all is that this filament is always available, even when others are not.
The filament is available in Yellow, red, black, white, blue, purple, red, gold, glow-in-the-dark, and others. In 1.75 mm diameter, 1-kilogram spool.
Printer Settings:
The recommended temperature for printing Hatchbox PLA is 200 degrees Celsius for the extruder and 45 degrees Celsius for the printer bed. The infill range should be anywhere from 20 to 80 percent depending on the application.
In terms of performance, the difference between Hatchbox PLAs and the more expensive PLAs is only noticeable in highly specific applications.
Like the ones that are used to make very specific functional parts, like some types of gears or cases for electrical devices.
But apart from that for everything else, whether you are printing jewelry or bobbleheads, these are a lot more than just fine.
The last thing to keep in mind about the company is that it does come from a large manufacturer in China, so it's not like other designer filaments such as ColorFabb or Proto-Pasta.
Prusament PLA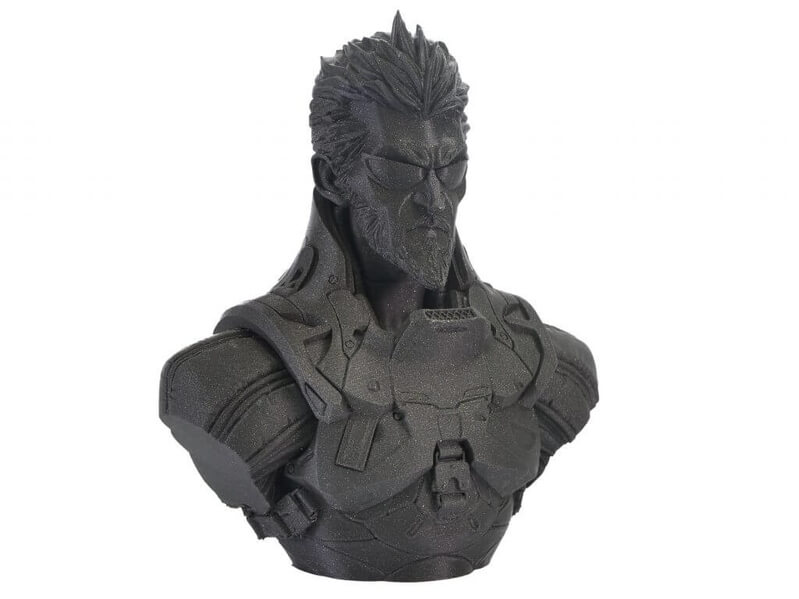 If you think that Josef Prusa and his team at Prusa Research are only into 3D printer making you are wrong.
His company is also the only 3D printer manufacturer with its own filament production. And their tagline for the same is very interesting i.e. Affordable filament for everyday printing in premium quality.
Prusa's quality assurance offers premium material and this is achieved with nothing else but thorough testing. As a basic ingredient, the inventor uses Natureworks resin, which is one of the best and most widely used in 3D printing.
Printer Settings:
Keep the nozzle temperature range of your printer anywhere from 200 to 220 degrees Celsius. And the bed temperature range while printing with Prusament PLA should be anywhere between 40 to 60 degrees Celsius. Also, you are allowed to go in the matters of print speed up to 200 millimeters per second.
Moreover, the manufacturing precision of their filament is because of the differentiating factor. Most of their filament has a 0.02 mm precision, as compared to the standard of 0.05 mm.
As a matter of their quality control assurance, customers can inspect the testing parameters of every filament online. Prusament PLA is available in 1.75 mm diameter, in many different and vibrant amount of colors.
Polymaker PLA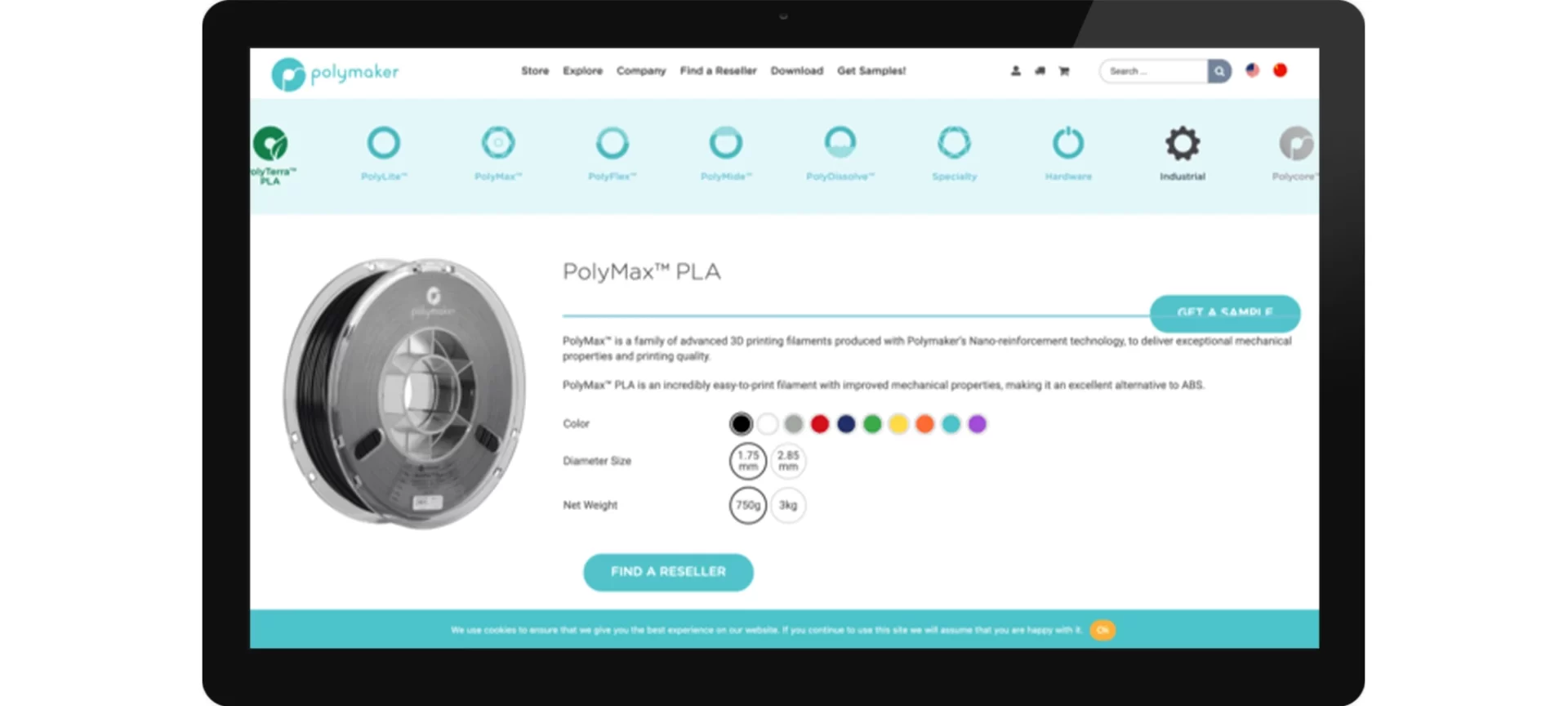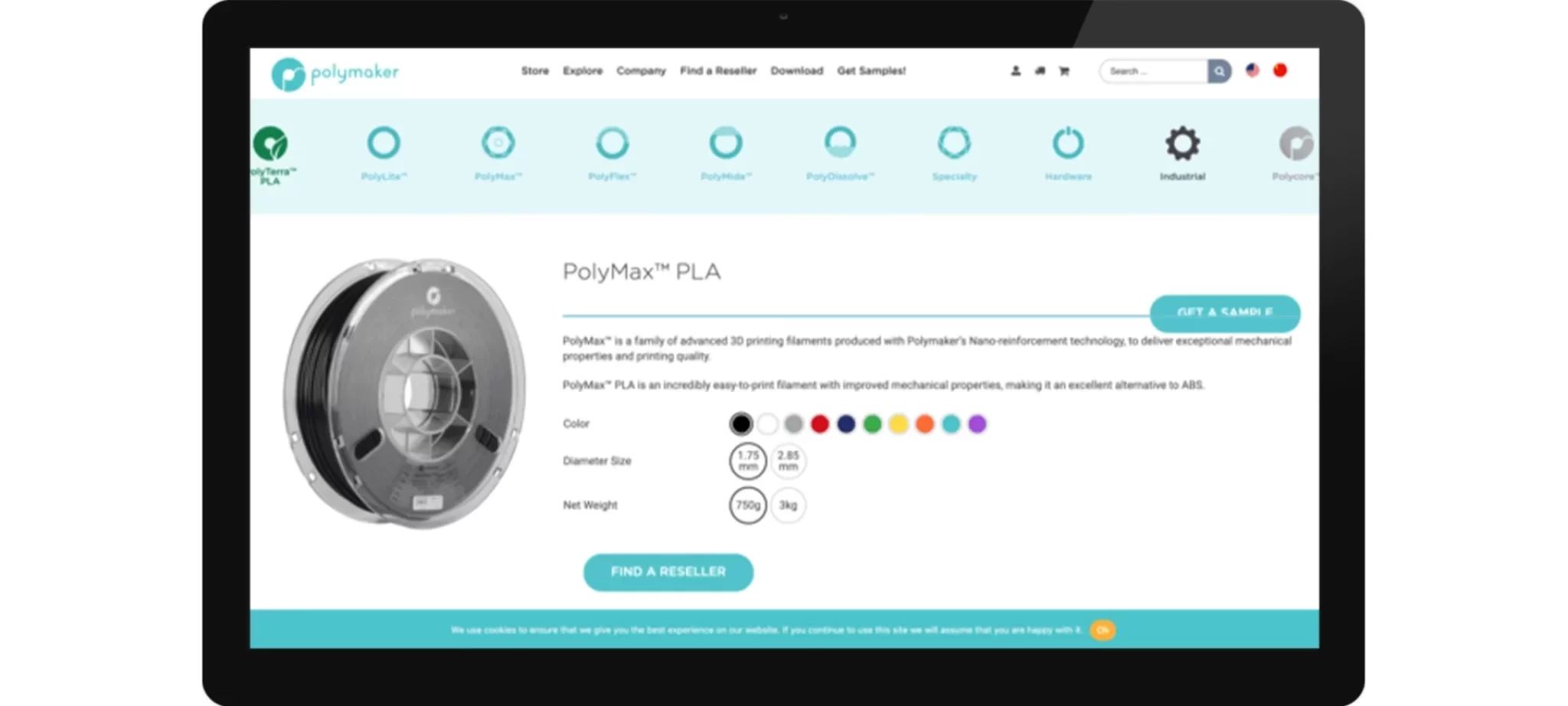 Polymaker is a filament manufacturer based in China. As per the claims on their website, their PLA has an impact resistance somewhere approximately nine times that of more regular PLA filaments.
Additionally, user reviews and high ratings back up this brand's excellence. A combination of this makes the brand Polymaker a brand to have, not only with regular PLA filaments but specialty materials too.
This makes PLA filament by Polymaker not the cheapest, but not even the most expensive one. Overall, buying this brand means buying an assurance that you are not buying into a false economy product either.
Printer Settings:
Your printer's nozzle temperature should be in the range of 200 to 230 degrees Celsius. As far as bed temperature range is concerned it should be around 60 to 70 degrees Celsius.
It is to be noted that by choosing cheap PLA you only lead to greater frustration and expenditure in the long term anyway.
Also remarkable is the fact that Polymaker was also one of the handpicked PLAs that made its place in the Natureworks 3D Printing Suppliers Guide in 2016.
Natureworks LLC is the biggest producer of top-quality PLA. This is another reason which we have to trust Polymaker, for if they wouldn't have been worthy, they would not have been mentioned.
Polymaker has made its presence known with its finest PLA filaments, and it still continues to deliver on its promises.
Protoplasta PLA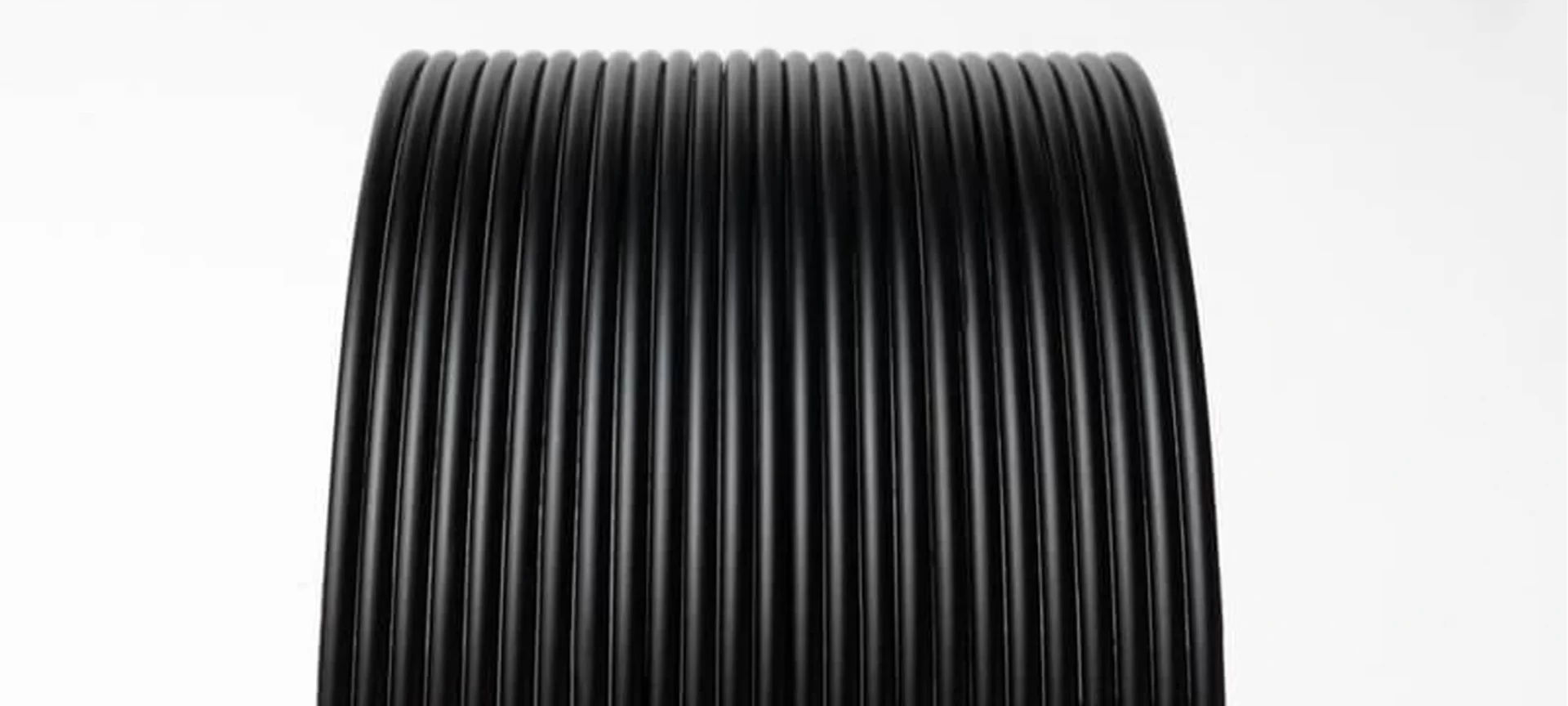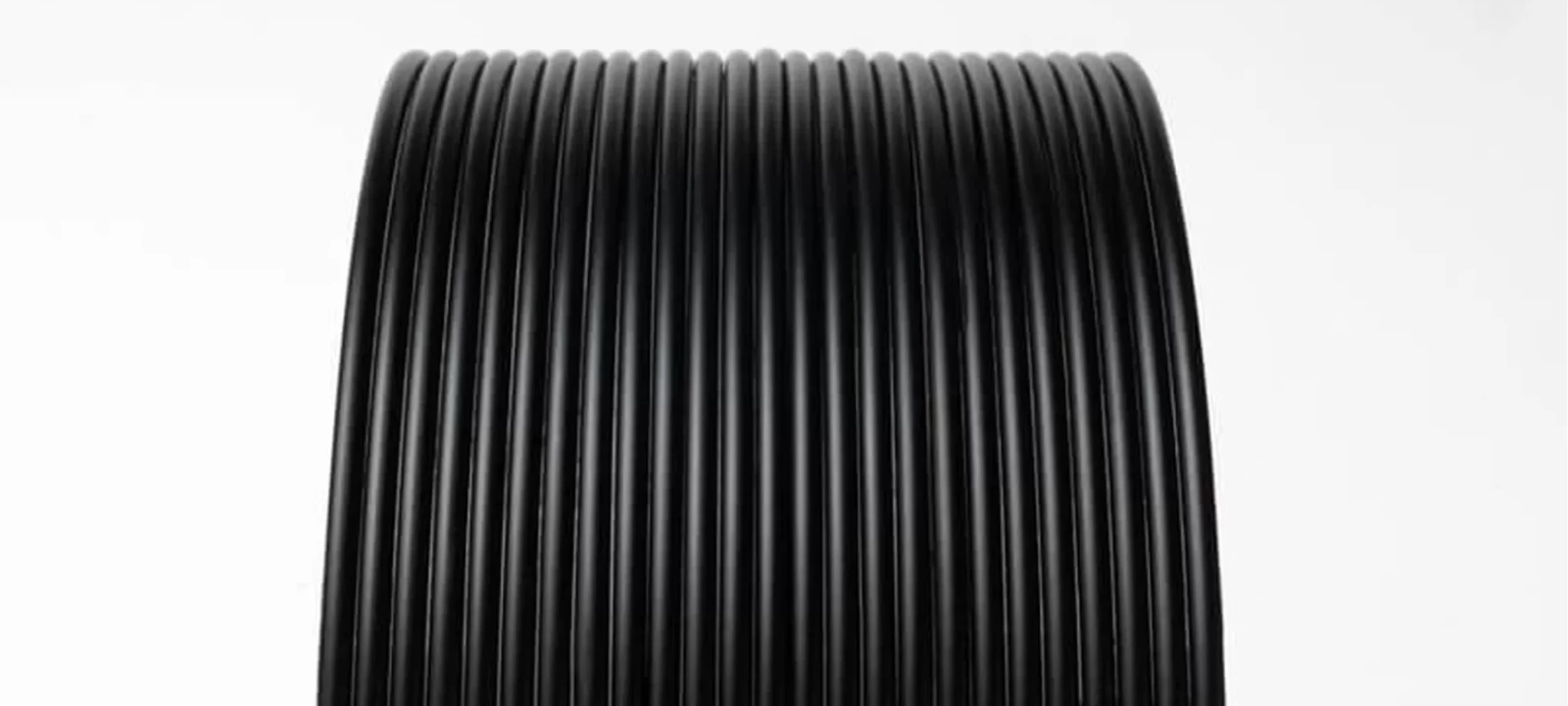 Manufactured by ProtoPlant in Vancouver, Washington, USA, Protoplasta PLA is an innovative 3D printing material that started via Kickstarter.
The start-up was founded by a small group of material scientists in 2013, while in their way on a mission to develop the world's best 3D printing materials.
Their specialty PLA filaments are stiffer than regular PLA and that is tried, tested as well as proven. Their PLAs have better dimensional stability than others, which aids warp-free printing.
Not only have that, but also these special-type PLA materials have superb layer adhesion and trouble-free supported removal!
Printer Settings:
You are advised to keep your printer's temperature in the range of 195 to 220 degrees Celsius and the bed temperature at 50 degrees Celsius. You are not required to keep have a heated bed for printing with Protoplasta PLA.
What gives them a space in our list is because they are high-quality materials with reliable tolerances. Not only the 3D parts printed from them look great, but also the filament performs to perfection.
The smell that the filament manages to leave after the printing process is also pleasant. Experts recommend, in case you're creating a 3D model including electronics Proto-pasta conductive filament is the best one to go with.
For that task in particular a carbon fiber finish original Proto-pasta, black carbon fiber is suggested.
And in case the task is to build a 3D one that needs to act like pure iron and respond to magnets, they've got you covered with that too.
However, the difference being in the latter you are recommended a spool of Proto-pasta's, gray, rustable magnetic iron.
Faberdashery PLA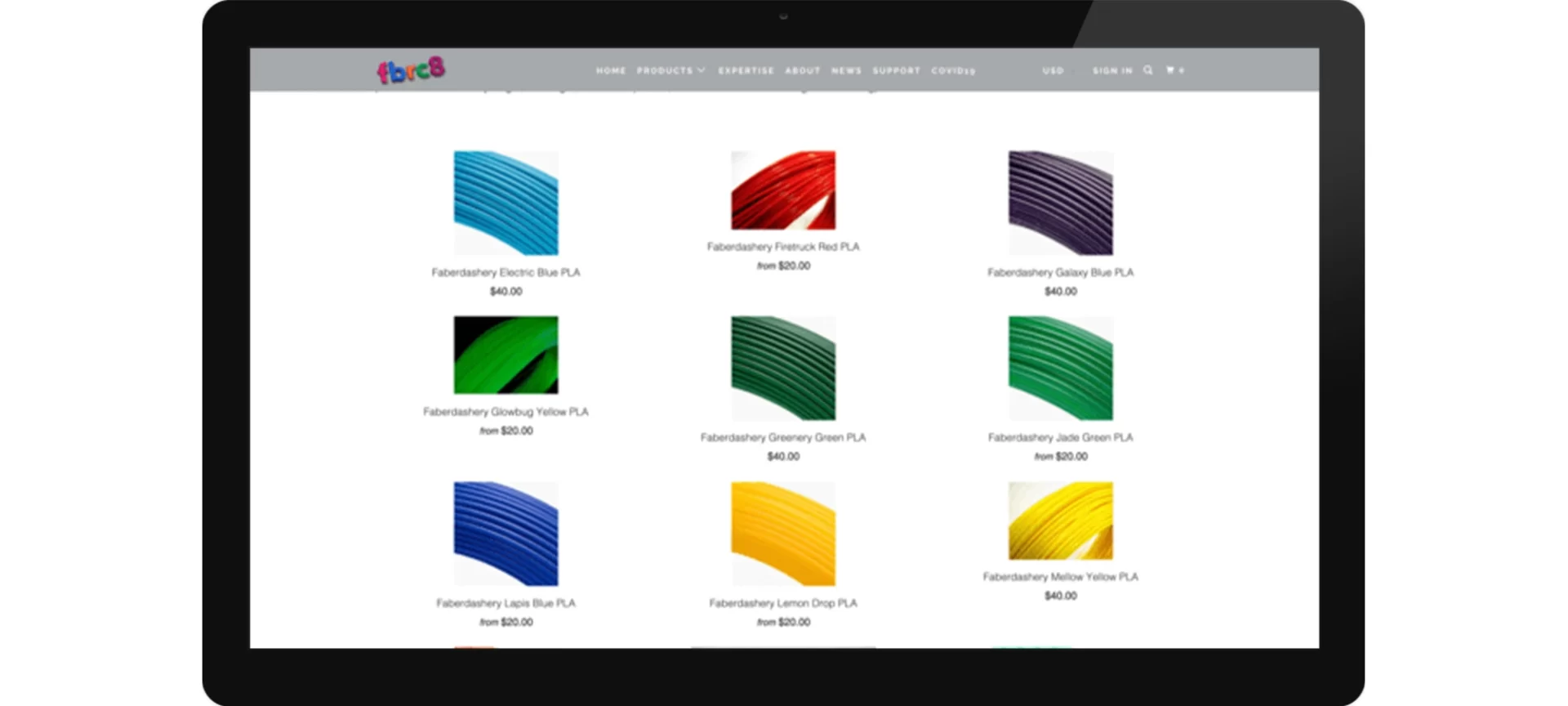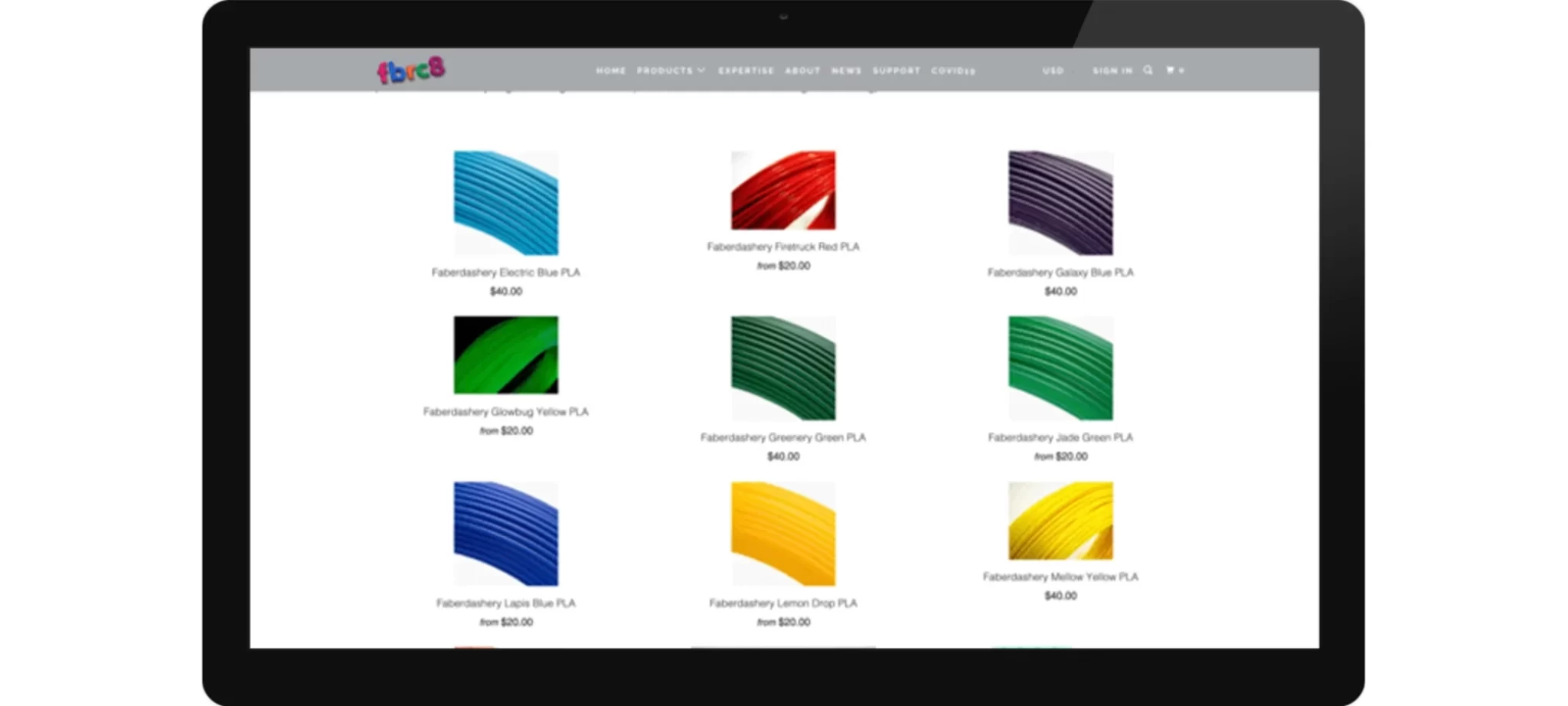 Faberdashery is a classic filament brand with its founders having close ties to the RepRap project. They are based in the same part of England.
Claire Cunningham, the CEO, claims to be the father of the RepRap project and approves of this filament brand. Apart from that Faberdashery PLA filament is actually an incredible product and why do we say so?
Because it is amongst those very rare brands that are only into PLA making! If their founder, Claire is to be believed, this is because of environmental sustainability.
Like many others in the 3D printing world, he too strongly believes that PLA is the best material to print simply because it is biodegradable and this is why it is favored more than ABS.
Faberdashery nails all of the key indicators of a high-quality PLA, their tolerances are fantastic to the extent that the brand offers no clogging at all.
We suggest taking a look at our PLA vs ABS for more information.
Printer Settings:
The melt temperatures of Flaberdashery PLA are in the range of 190 to 210 degrees Celsius, which means that purity is high.
The filament is not only strong mechanically, but also has a nice matte surface finish. One of the more eccentric aspects of the Faberdashery business model which sets them apart from other brands is that they sell their filaments mostly by the meter.
This means that you can buy exactly the amount of filament you need and no more, no less. Also meaning that you will have to check directly on the Faberdashery website for exact prices.
However, to give you a general idea, a 100-meter coil of PLA costs as much as an entire 1 kg. spool of regular quality PLA.
Faberdashery is the best of the best mentioned on this list, so it is bound to be expensive as they only deal with PLA and no other filaments.
Makerbot PLA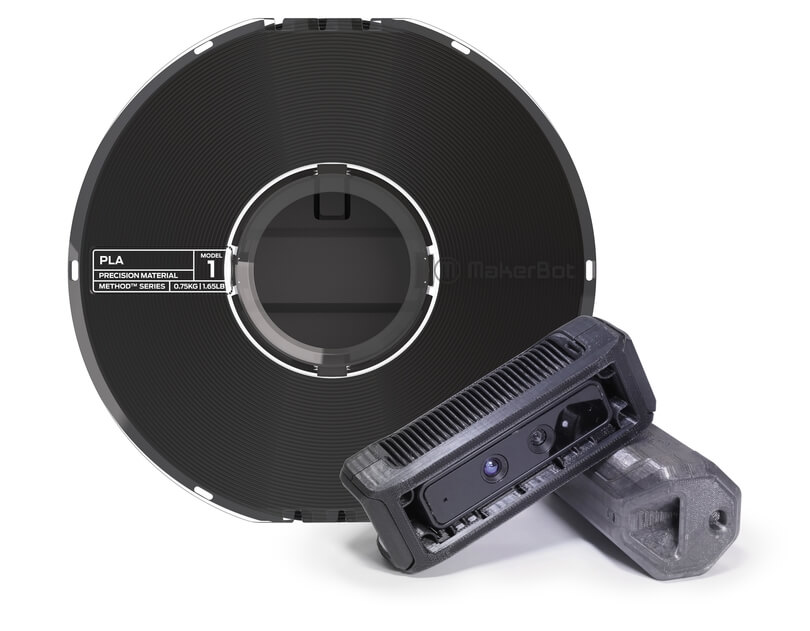 In case you own a MakerBot 3D Printer yourself, this is by far the best and most consistent PLA filament for your machine. It's a product made in the USA that's quality-tested every step of the way.
In fact, this is the reason why MakerBot has such a great reputation in the market, not only for 3D printing filaments but also for top-notch 3D printing machines.
Makerbot PLA filament is one of the topmost high-end 3D printing materials when you want to create parts with zero warpings.
Printer Settings:
While printing with Makerbot PLA you need to ensure the temperature ranges between 190 to 200 degrees Celsius. You do not need to have a heated print bed. The temperature of the bed can be around 60 to 70 degrees Celsius.
For other 3D printers, you are also recommended another filament from the same brand i.e. jumbo XXL 10 lb. spools of MakerBot PLA that'll keep you going for a long time.
And in case you don't have a MakerBot Replicator 3D printer, this conductive filament works just as well with any type of modern Fused Deposition Modeling (FDM) printer.
Buying this PLA filament by MakerBot is like buying assurance of top-quality prints every time. You'll experience fewer 3D printing problems and thus reduce downtime that often occurs with lesser brands.
These filaments are available in 30 plus colors including red, white, grey, and translucent, neon, and glowing finishes. They are available in 1.75 mm filament diameter in 1-kilogram spools.
The Conclusion
So here you have it! The above-mentioned are the best conductive filament brands because they are strong and have fantastic tolerances.
Our list here is not conclusive as there are other quality PLA materials available in the 3D printing market doing excellent quality of serving you as well.
And of course, new names always keep popping up all the time, thanks to the accessibility of 3D printing technology.
Our selection of the mentioned materials is because of the great care, based on real user feedback and overall ratings. All of these brands depict great strength and amazing tolerances.
In case you find the cost a little bit on the higher end, that's natural for PLA. It is costlier than ABS or any other brand for a reason that they last longer, produce better results, and cause fewer headaches.
But when seen in longer-term, premium PLA filament will cost you less money and save your precious time. Overall it's fun to print with conductive filaments because of their unique nature, strength, and flexibility.